Don't know what to wear to a music festival in the winter? Come pick from these 50 best winter festival outfit ideas!
Whether you're looking for simple, casual, trendy, rave style, or glitter ideas, you'll be sure to find a festival outfit that matches your style!
Before we start, you might find these resources useful to nail your festival look:
Let's dive in!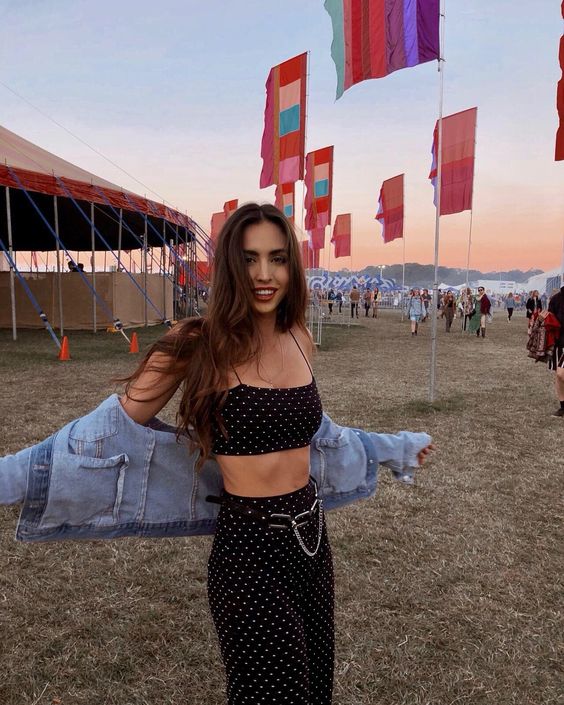 You should wear an outfit that includes a second layer such as a jacket, coat, or hoodie in order to keep you warm.
Boots with good feet support is also a great option to wear to a winter festival.
Although festivals in the winter can get cold, keep in mind that dancing all day can heat you up fast. Make sure that under layer is still breathable and fun!
Best Winter Festival Outfit Ideas
Here are the 50 best festival outfits for winter that are guaranteed to keep you warm and stay stylish!
1) Statement Pants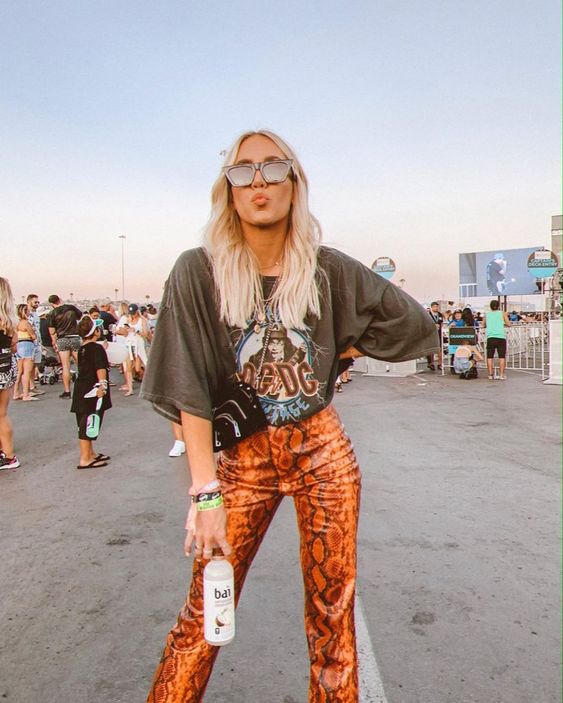 Winter festival outfits don't have to be boring! Make a statement with bold pants paired with a graphic tee or sweatshirt for the perfect Pinterest worthy outfit!
2) Leather Moto Jacket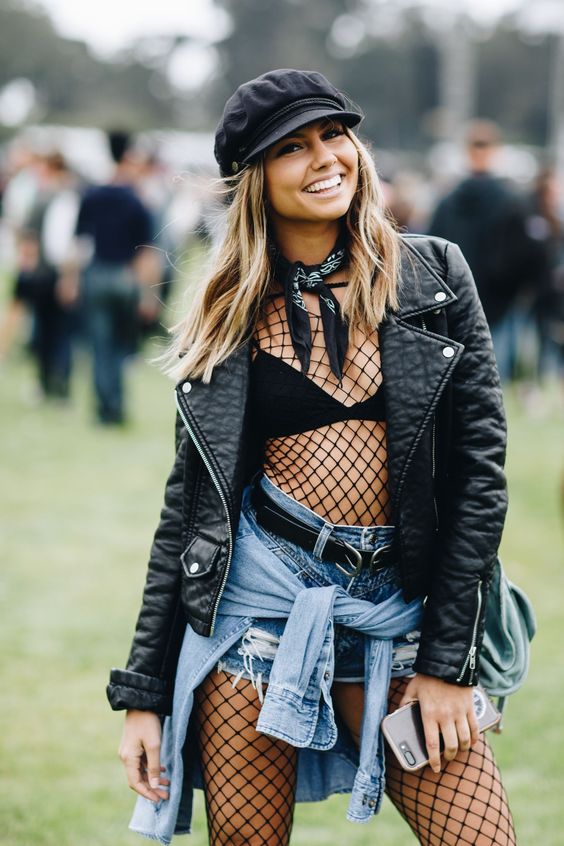 A leather moto jacket is a great pairing on top of any festival outfit, no matter how cold or warm it is, especially when paired with a matching hat and boots.
3) Teddy Jacket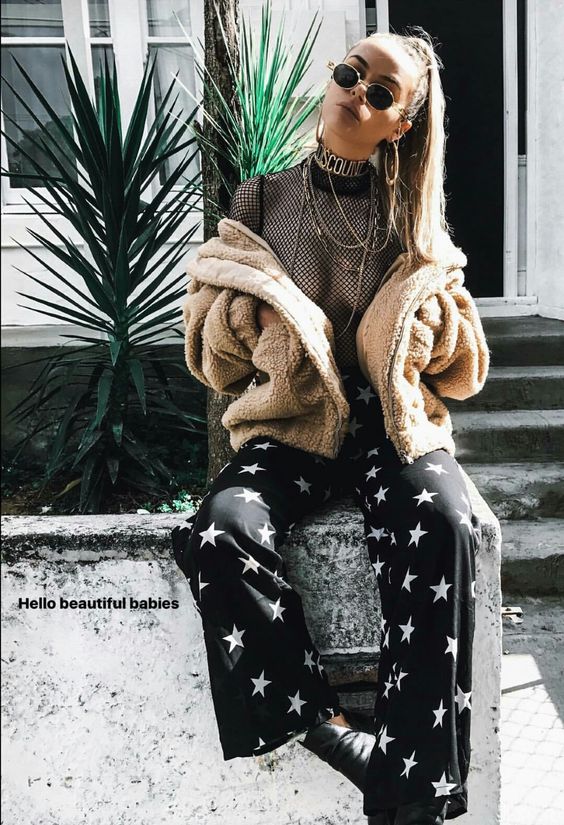 One of our favorite cold winter festival outfit ideas is so simple to achieve and can be worn all day long.
All you need to do is throw on a warm and comfortable Teddy jacket on top of your festival outfit!
4) Ankle Boots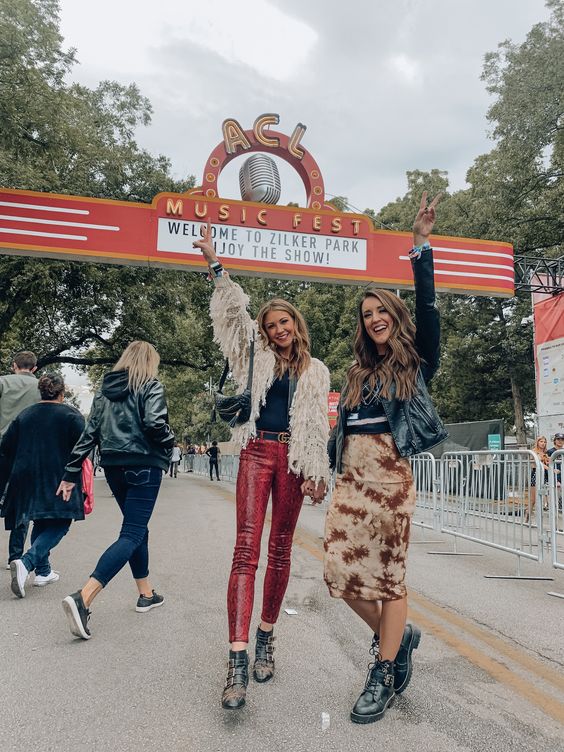 Ditch the sneakers for something warmer this winter.
A great festival outfit for winter always involves ankle boots and goes with any outfit!
5) Zebra Pants
We love how bold and fun Zebra printed pants are, and they make for the perfect statement item for your winter festival outfit!
A pair of Zebra pants can immediately elevate your 2023 rave or festival outfit, and can easily be paired with black accessories including boots, a purse, and jacket.
6) Glitter Embroidered Set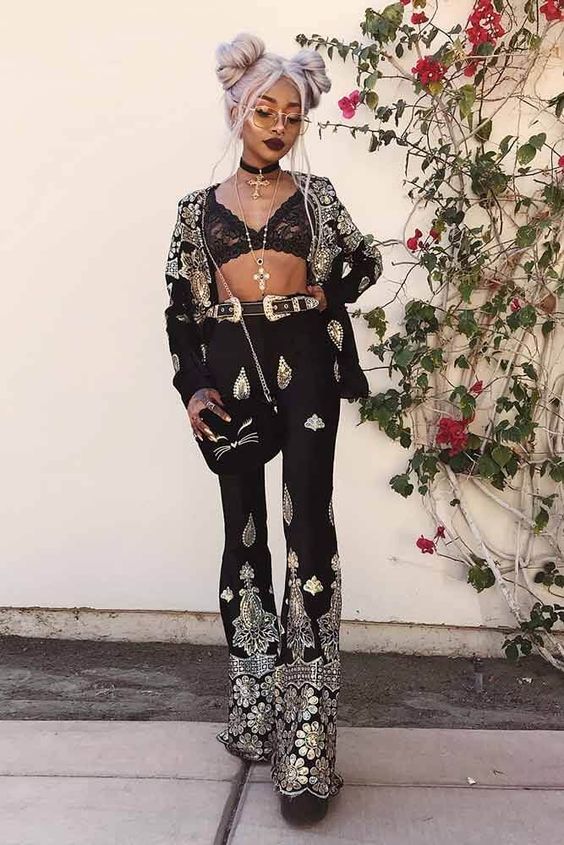 If you want the perfect 2023 winter festival outfit idea, then you have to get yourself a glitter embroidered set!
This cardigan and pant combination is stunning and will have you wanting to take OOTD pictures all festival long.
7) Flare Pants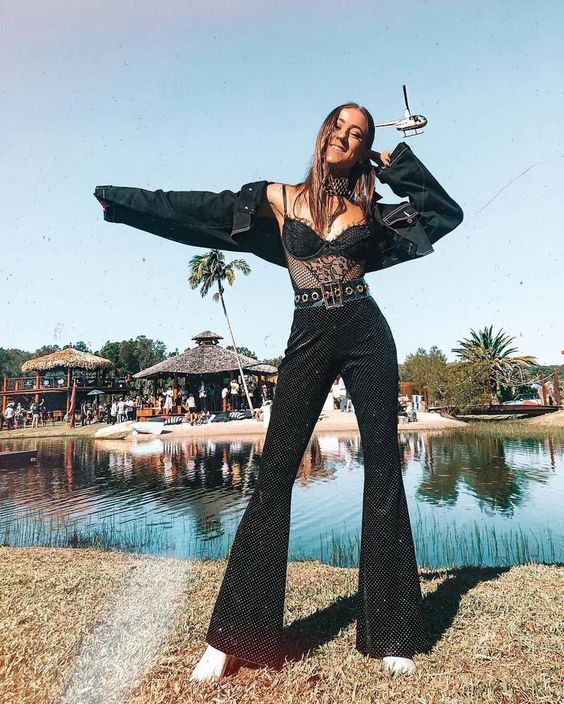 Flared pants are one of our favorite go-tos for any winter festival outfit idea, especially when it's cold!
Flared pants don't only look good, but when paired with a denim jacket and boots, they can keep you warm throughout the festival.
8) Colorful Statement Coat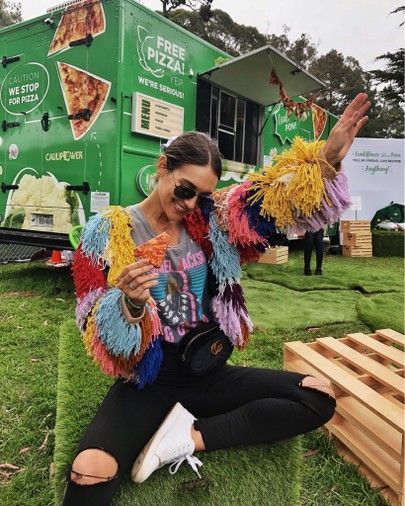 Be bold and have fun at your next cold winter festival or rave with a colorful statement coat that everyone will be jealous of!
You can either find these jackets at the thrift store, or head online! A unique statement coat is sure to make you the trendiest girl at the festival.
9) Oversized Cardigan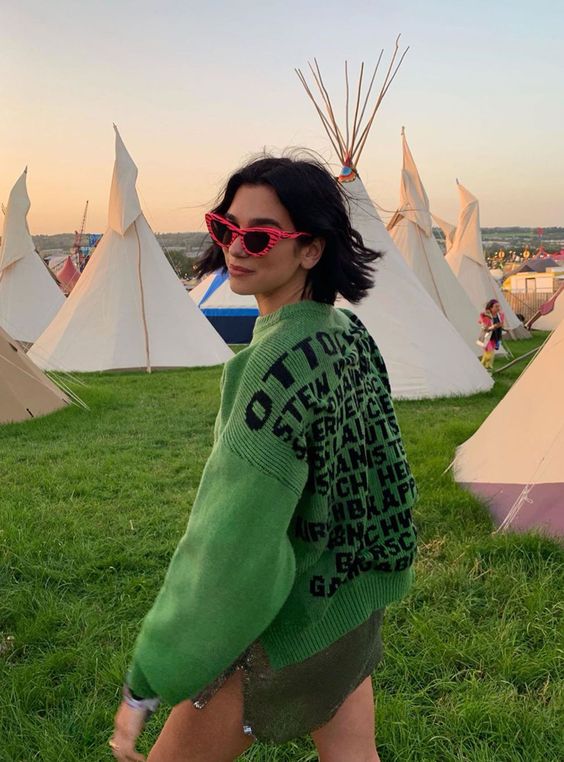 Even at the coldest winter raves, it will get hot when you're in the middle of a crowd, so it's important to be able to take off your layers when needed.
An oversized cardigan is a simple and effective go-to for layering up when it's cold, and taking off when it's warm.
We highly recommend getting an oversized cardigan in a bold color, like green, pink, or blue, or with a fun print!
10) Neon Tracksuit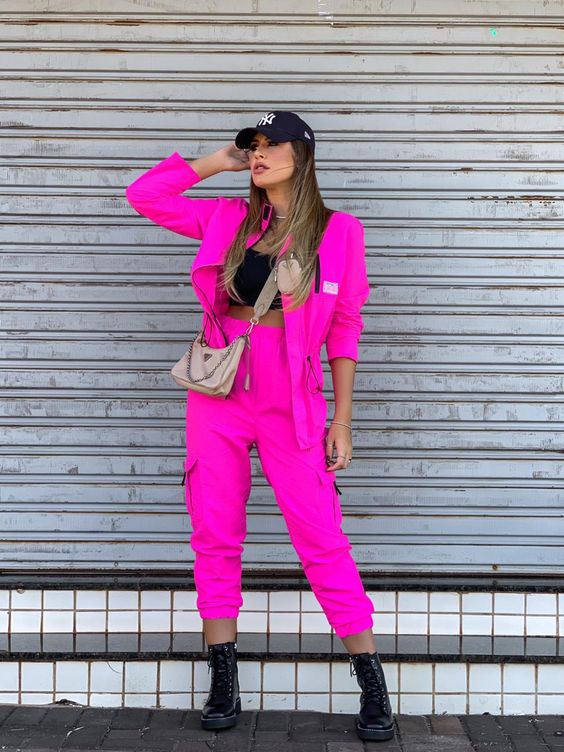 Who doesn't love a neon outfit for a winter rave or festival? It's 2023, color is in!
The next time you're wondering what to wear to a winter festival, go out and grab yourself a neon pink tracksuit that can easily be dressed up or down depending on the music festival vibe.
11) White Puffer Jacket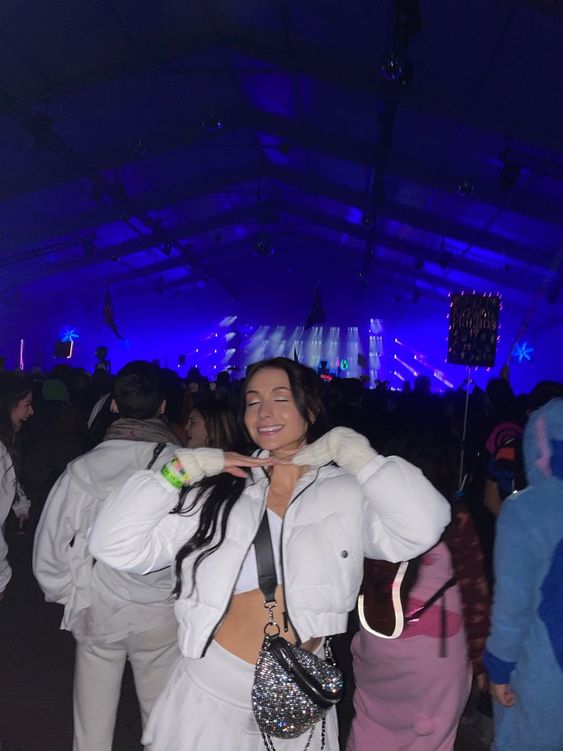 A puffer jacket is a must for a cold festival outfit, and can look so cute when paired with a matching monochromatic look!
A white puffer makes for one of the best winter festival outfit ideas because it looks stylish and keeps you warm when you're dancing outside!
12) Faux Fur Coats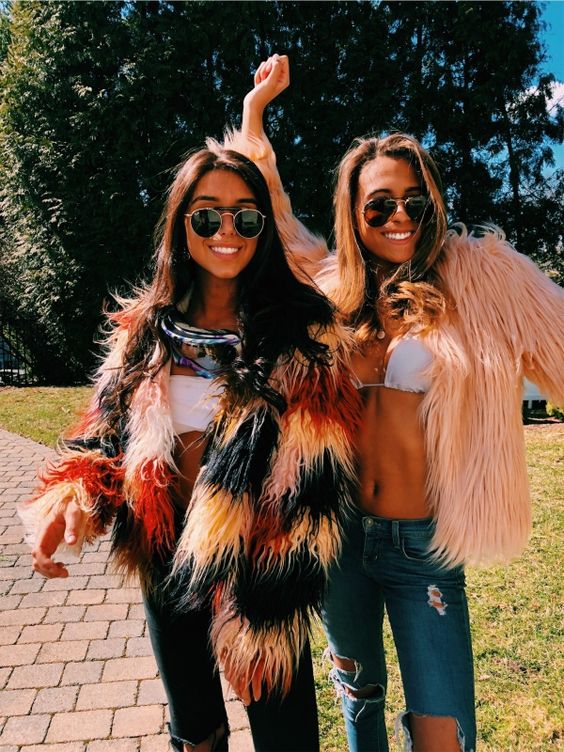 A faux fur coat is easily one of our favorite items to throw on when planning a winter festival outfit in 2023.
You can pair a faux fur coat with almost anything and they're super comfortable, so you can have a hassle free festival all weekend long.
13) Colorful Graphic Outfit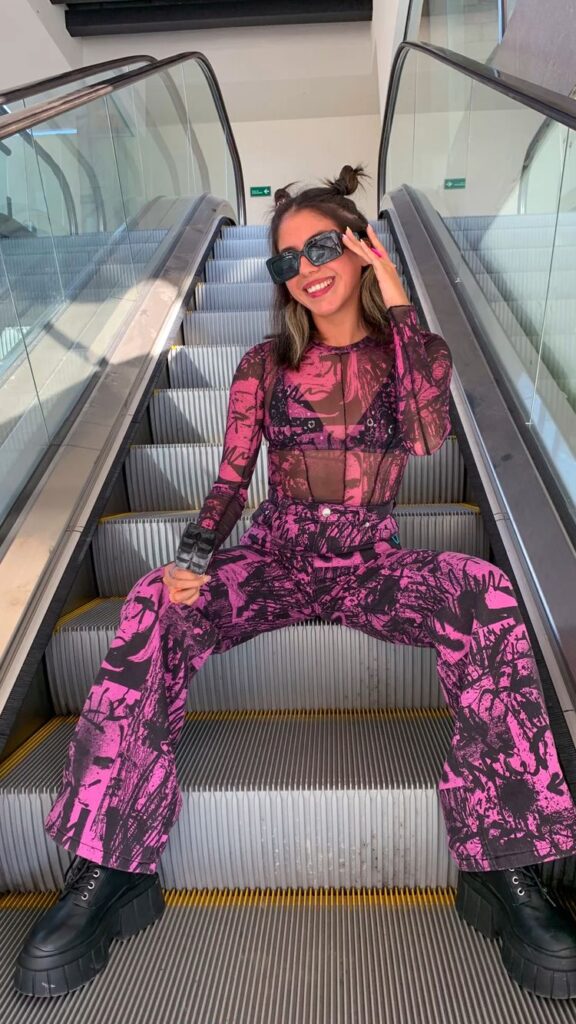 Why get one graphic statement piece when you can have a whole statement outfit?
We love the look of a trendy matching graphic set and how perfect it looks when at a winter festival.
Have fun with this look and grab a matching graphic set in pink, purple, blue, or green!
14) Trendy Track Pants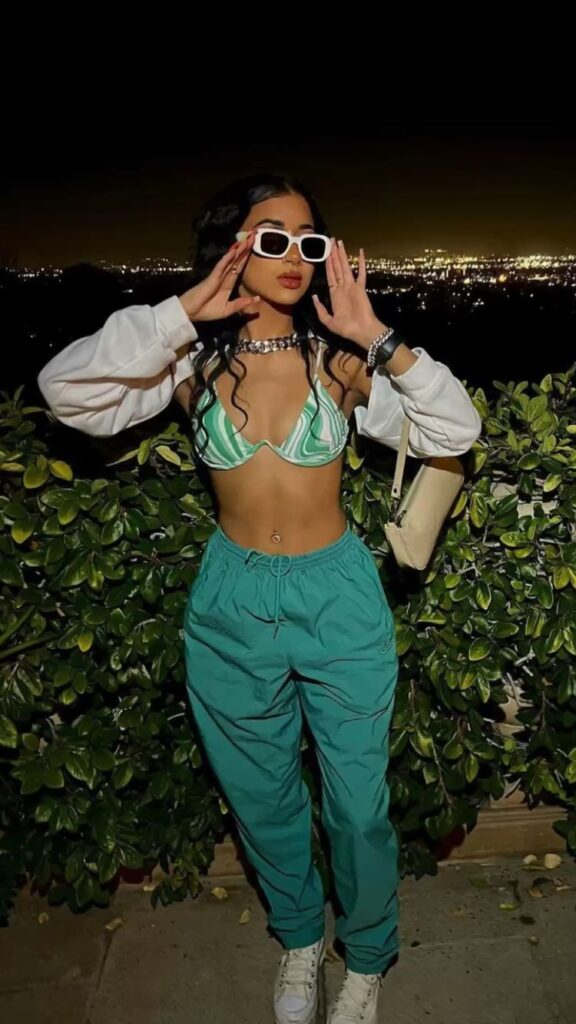 Track pants have become an instant TikTok hit and look amazing when paired with a little long sleeve top, especially for a winter festival.
Colorful track pants are not only trendy, but they are super comfortable and easy to pair with whatever you want to wear!
15) Layered Graphic Tee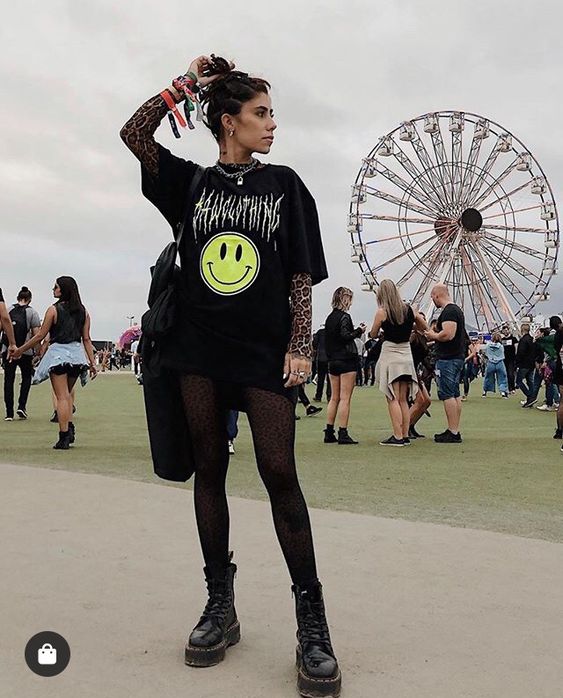 If you're really wanting to wear an oversized graphic tee to a cold winter festival, then have no fear, we have a solution for you!
Try pairing your oversized graphic tee on top of a long sleeve, leggings, and boots for a warm outfit that's still comfortable and trendy.
16) Pink Queen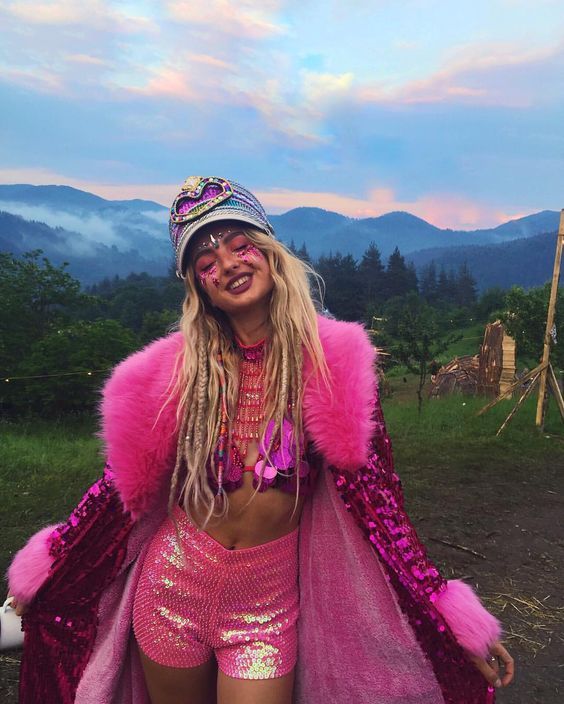 Be the queen of pink with an outfit that's made for the trendy and bold.
This all pink glitter outfit is jaw-dropping stunning and when paired with a pink printed oversized coat, perfect for any cold winter festival outfit.
So channel your inner festival Barbie girl and be the queen of pink all weekend long.
17) Blue All Over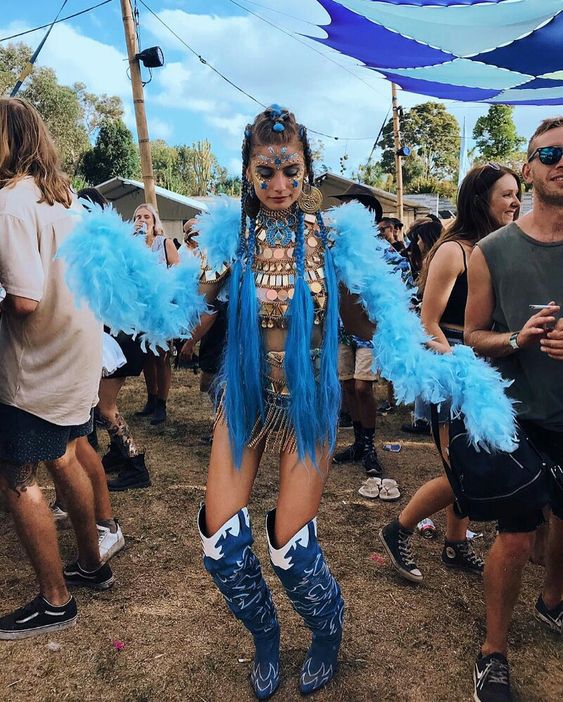 Nothing beats a monochromatic outfit for a winter festival, especially when you have fun with accessories.
We love how the knee high boots, feather boa, and matching makeup and hair create a statement look that also helps keep you warm.
18) Shimmer Set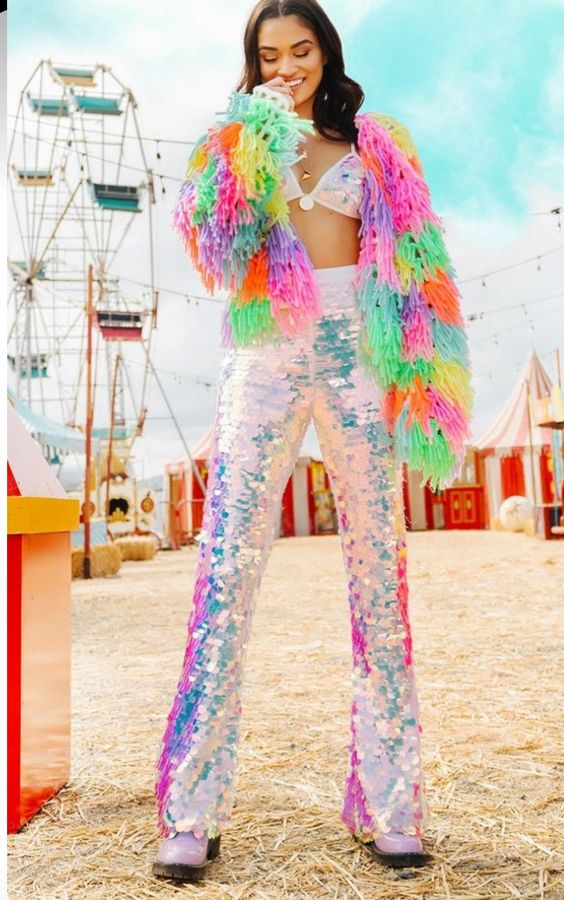 Be the star of the winter festival with a shimmer set that everyone will be taking pictures of!
A shimmer set is a great way to stay warm, and trendy, throughout the festival.
We especially love how it's paired with a rainbow faux fur coat for a pop of fun and color!
19) Colorful Kimono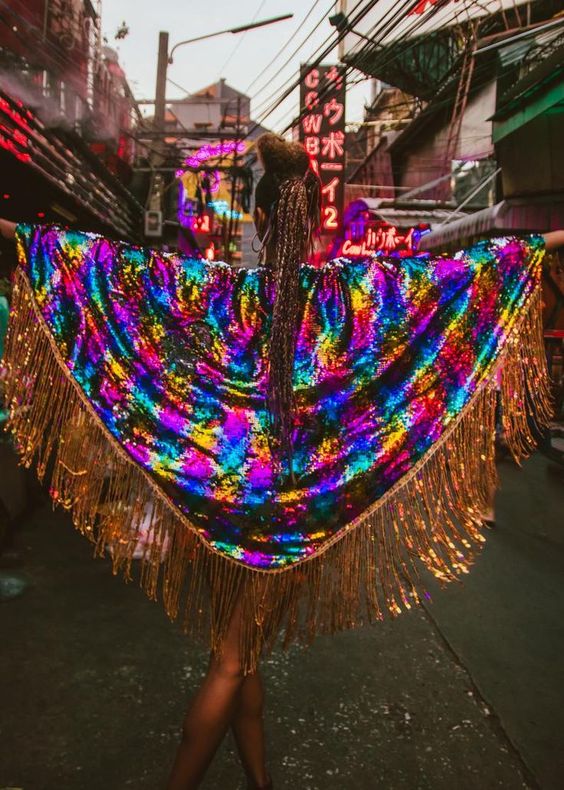 Wrap yourself in color and warmth with a rainbow glitter kimono that is sure to make a statement at your next winter rave or festival.
Kimonos are a great way to dress up your outfit for a festival while still being warm and comfortable!
If you're looking to get one, try supporting a small business and getting a handmade kimono from Etsy.
20) Leopard Coat
Whether you're channeling your inner Cheetah girl, or looking for a trendy statement piece, a leopard coat should always be in your closet.
These winter festival outfit ideas would be complete without a comfortable and trendy leopard print coat, especially one that's cropped.
21) Winter Mermaid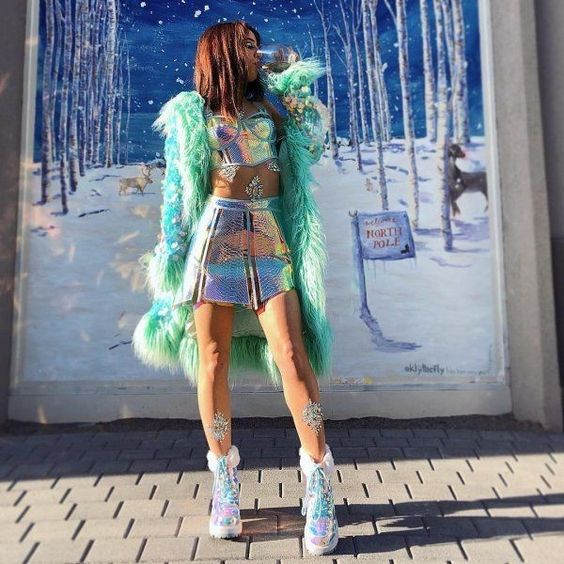 Channel your inner winter mermaid with a teal and shimmer snow inspired outfit.
The holographic outfit, boots, and teal faux fur coat create a winter festival outfit that we're loving, especially in 2023.
22) Retro 70's Hippie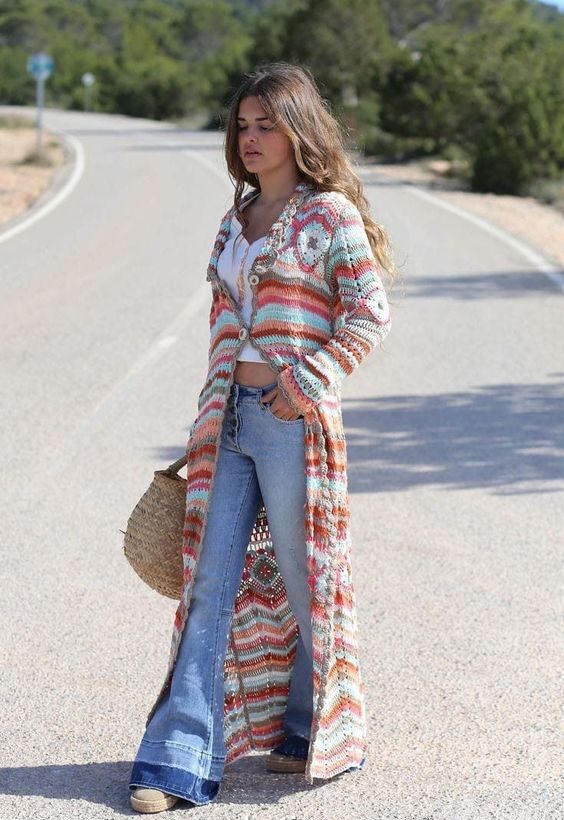 There's nothing like throwing it back at a winter music festival than with a 70's inspired retro hippie look.
We love how the flared jeans, paired with the crochet cardigan, create a perfect homage to the 70's that's still fashionable and trendy.
23) Printed Jumpsuit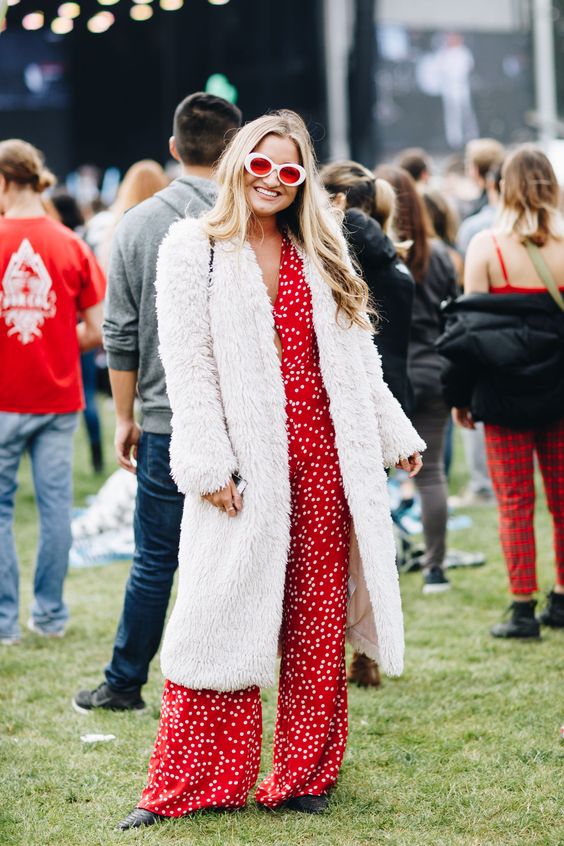 One piece of clothing? Done!
A printed jumpsuit is a classic for a winter festival outfit idea, especially when paired with an oversized matching coat.
24) Faux Fur Vest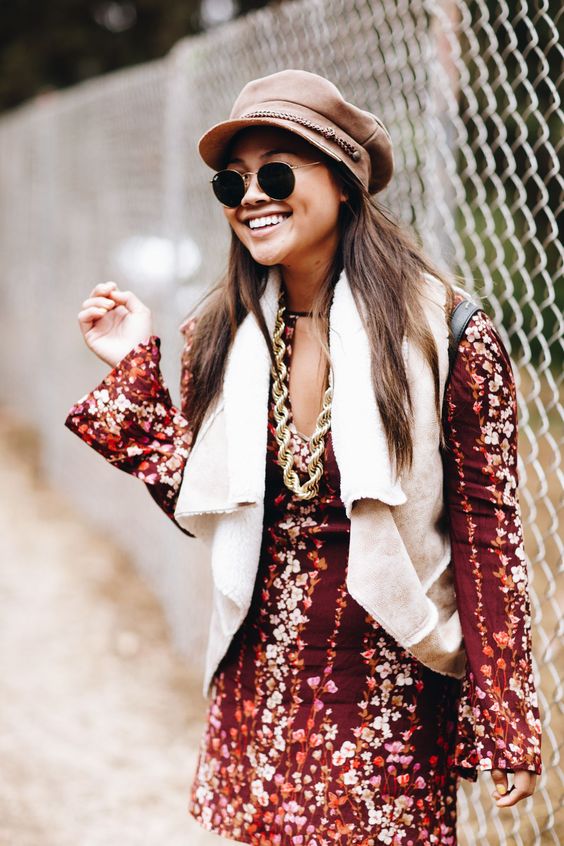 If you want to stay warm at a cold winter festival but don't want to get too hot, try throwing on a faux fur vest on top of your festival outfit.
A vest is easy to throw on and take off, and doesn't take away from your cute outfit!
25) Denim Overalls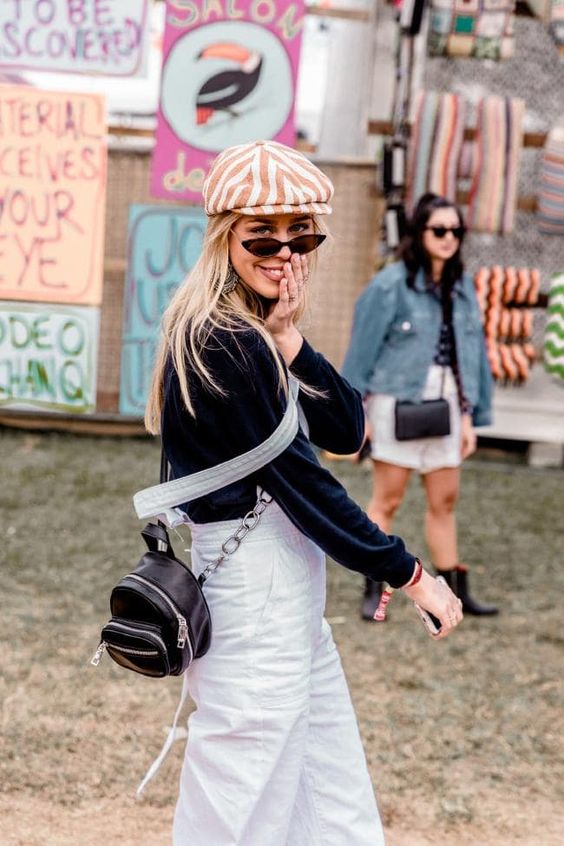 We've been obsessed with denim overalls lately, and so has TikTok, so you know it's an easy and safe bet for a cute and trendy winter festival outfit idea.
Try pairing your favorite overalls on top of a long sleeve sweater for a simple and easy festival outfit.
Final Thoughts
Hopefully you found your favorite winter festival outfit to wear this year from this list!
Remember to dress comfortably as well as stylish just in case things get too warm or too hectic out there.
And definitely check the night time weather for the days you're going. The evening cold is the real killer.
Stay safe and have fun at your next festival!
If you have any comments, questions, or suggestions leave them down below. Thanks for reading!