Exercise for teenagers is crucial to stay healthy and build muscle. Here's an easy full body workout for teenagers at home without any equipment!
Before we begin though, you should note that a few muscles will not be targeted in this workout. Muscles like your back and biceps are very hard to workout at home and I didn't want to lie to you with some magical exercise without any equipment.
Aside from that, this full body workout will hit your abs, legs, shoulders, chest, triceps, and more! Plus, this exercise will give you an excellent cardio workout to get your heart going.
This is a 5-step exercise that will be done twice (minimum). You can skip to the end for the full workout summary in a list format, but I recommend reading through to make sure you're doing everything properly.
Let's dive into this workout for teenagers…
Burpees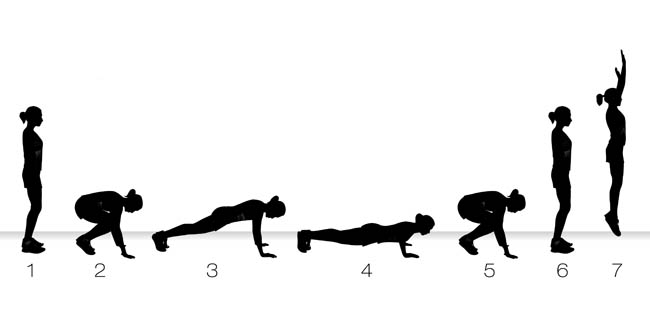 Burpees are an excellent workout for teenagers at home because you just need some space and your bodyweight to do them.
If you haven't heard of or done burpees before, here's how they're done:
Start standing
Reach your arms up high and jump
Get down into a pushup position
Do 1 pushup
Come back up
Do this 10 times. When you do it all together, it should look like one fluid exercise. Try not to stop in the middle, or crawl your way back up from the pushup. Please, don't skip the pushup either!
This workout is meant to be explosive. So when you jump… jump high. Kick your feet out into pushup position and you'll really feel the cardio.
This works out the chest, legs, and gives you a great warm up into the next workout…
Related Post: Ab Workout for Teenage Guys at Home
Air Squats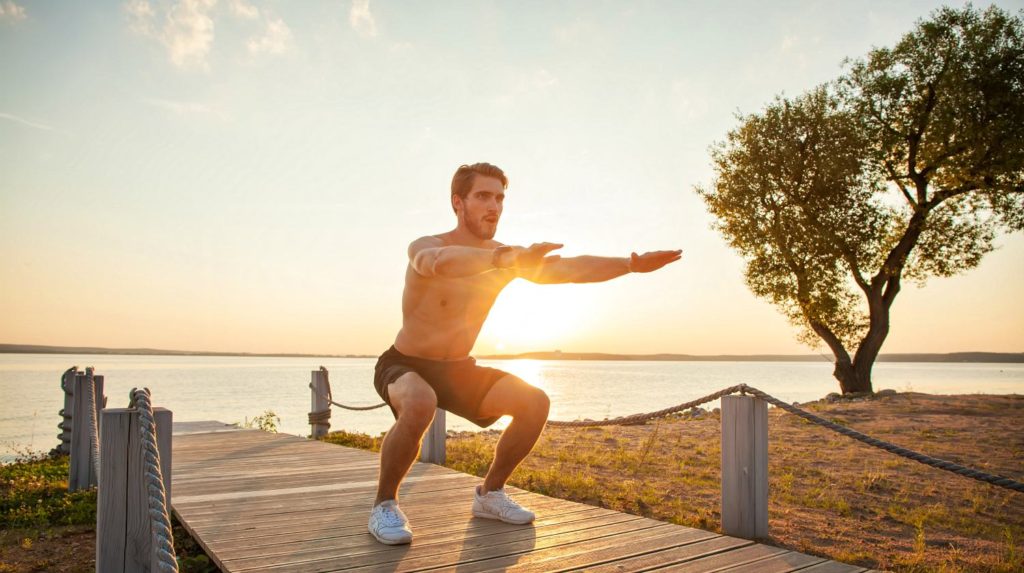 Now we've all heard of squats, but let's make sure that you're doing them properly. This is an air squat, meaning no equipment necessary!
Stand slight more than shoulder width apart
Keep feet flat and back straight at all times
Arms out in front of you
Squat all the way down (no cheating!)
Make sure your knees never go past your toes
Come all the up and squeeze your glutes
Do this 30 times. It may seem like a lot, but this is the only real leg workout on the list and it really does burn.
Do not cheat or try to rush this leg workout! The next exercise will give you a break from your legs…
Plank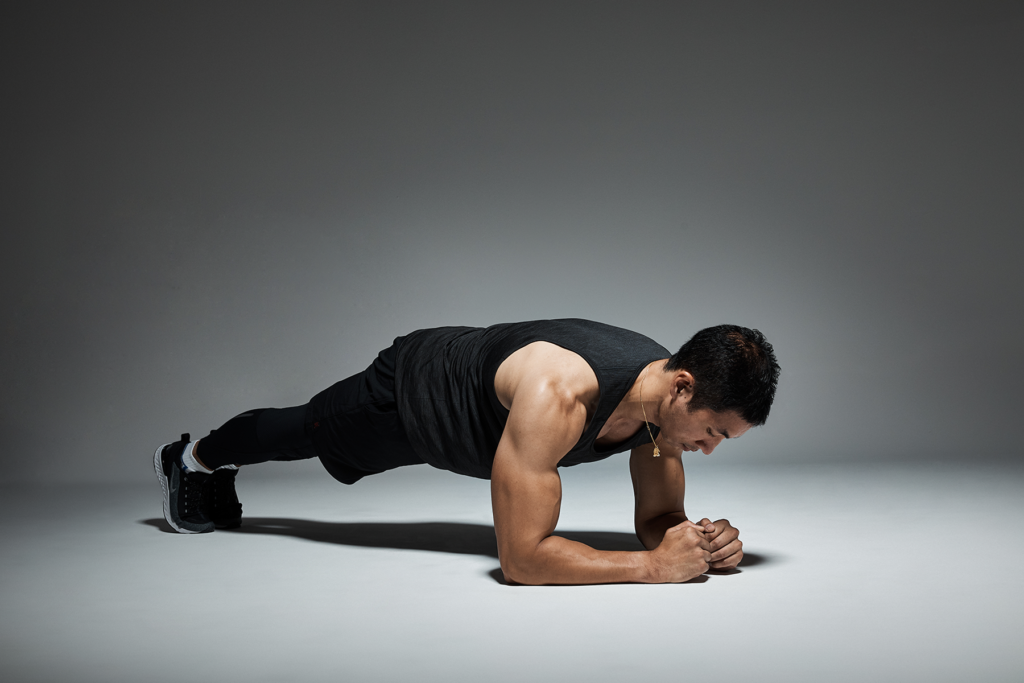 Time for an ab workout! This is your chance to fight the voices in your head telling you to give up at this point. This is how to perform the plank:
Start in a push up position
Get your whole body flat
Forearms touching the ground
Hands together
Squeeze your core
(Use image above as a guide)
Hold this position for 1 minute. Try to have some sort of timer in front of you or do this with a friend and have them time you.
If at any point the plank gets too hard, try lifting your butt into the air and bring it back down. This will give you a tiny break and reset your mind for the rest of the plank.
Once your 1 minute timer is up, get prepared for this next triceps workout…
Related Post: 60 Best Hairstyles for Teenage Guys
Dips
Dips are an excellent exercise for targeting your tricep muscles! Find a low bed frame, side of a couch, or even a chair to perform the exercise. Here's how you do them:
Place your hands behind you (shoulder width apart)
Have your fingers point towards your body
Legs flat out in front of you (heels touching the ground)
Bring your body down as far as you can go
Use the bend of your elbows to come back up
Do this 10 times. These burn so much, but that just means it's working! If you think you can do more, do more. The workout might be slightly more or slightly less effective depending on what you're doing the dips on.
Your body doesn't need to be completely flat like a plank. Let your butt relax because you're still lifting the same amount of bodyweight.
Now keep that chair or whatever you're using, because you'll need it for the 5th and final workout for teenagers at home…
Elevated Pike Pushups

Elevated pike pushups are a great way to workout your shoulders while you're home. No you don't need that bench, you can use anything to get your feet up. If you've never heard of them before, here's how they're done:
Find a chair, bed, or side of a couch
Place your toes on it while hanging off the side
Put your hands in a pushup position (shoulder width)
Make your torso as vertical as possible (bend your hips for this)
You should be in a handstand position with your feet on the chair
Do a push up straight below your head
Come back up
Do this 10 times. It may be quite tricky to get down at first, so I recommend trying it before doing the whole workout. Use the picture above to get a better idea.
If it's too hard for you to get to 10, just do your best. Eventually your muscles will get used to it. You really feel the burn in your shoulders when you do it right and it's a great way to end the full body workout.
Related Post: 15 Most Popular Shoes for Teenage Guys
So let's recap…
Full Workout for Teenagers at Home
Now that you know how to do every exercise, let's make a summary list of the full workout:
Burpees (10 Times)
Air Squats (30 Times)
Plank (1 Minute)
Dips (10 Times)
Elevated Pike Pushups (10 Times)
Repeat!
Take 10 Second Rest Between Each Workout
Take 30 Second Rest After 1 Full Cycle
That's it! A simple 5-step workout to get your heart going and workout your whole body. Try it out and leave your feedback below!
I recommend you do this every other day if you want to do it consistently. It takes around 15 minutes to complete depending on your pace, so there's no excuse to not do it.
Keep your form in check and push yourself to do your best. You got this!
If you have any comments, questions, or suggestions leave them down below. Thanks for reading!