Don't know what to wear to Coachella this year? Come pick from the 50 best Coachella outfits to wear in 2023 and look amazing!
These Coachella outfit ideas range from simple to fancy and are practical enough to dance in all weekend long.
Whether you're looking for actual clothing items to buy or just want some outfit inspiration from your favorite celebrities, you'll be sure to find an outfit that matches your style!
Before we start, checkout these extra resources to help complete some of these looks:
Let's dive in!
What Should I Wear to Coachella?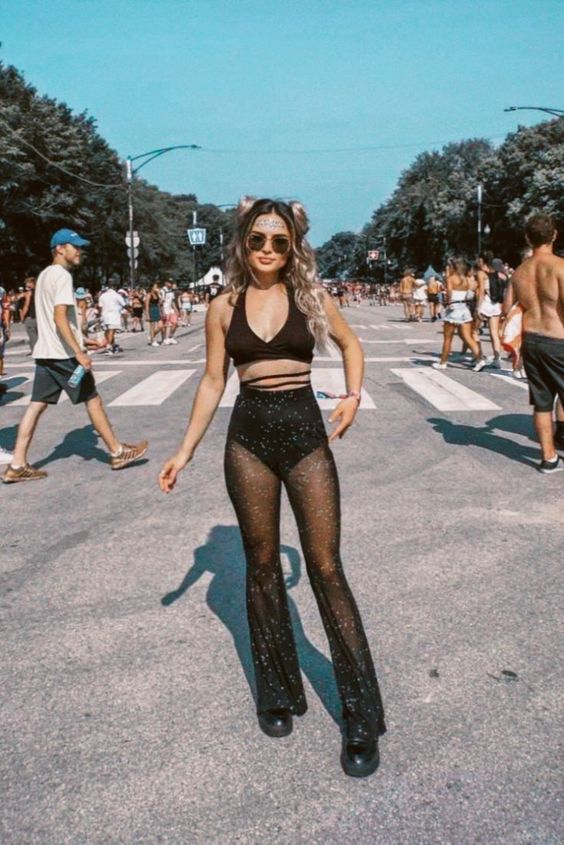 You should wear very thin and breathable clothing to Coachella because you will get hot and you will be dancing.
We recommend a crop top, tube top, or bra on top and shorts, skirts, or breathable loose pants on the bottom.
A lot of popular Coachella outfits also include a sheer cover up to go over your clothes.
What Shoes to Wear to Coachella?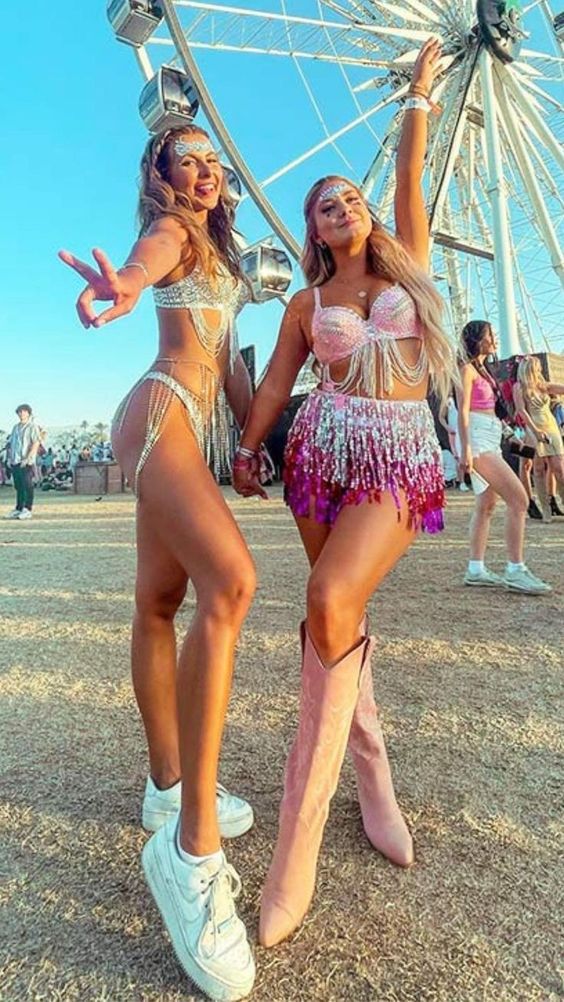 The best shoes to wear to Coachella are sneakers or boots that will last you an entire day of dancing without killing your feet.
The 3 most popular shoes to wear to Coachella are:
No matter what you go with, just keep in mind the amount of hours you'll be outside at Coachella for!
Best Coachella Outfits
Here are the 50 cutest and trendiest outfits to wear to Coachella this year that are guaranteed to be IG worthy!
1) Black & Glitter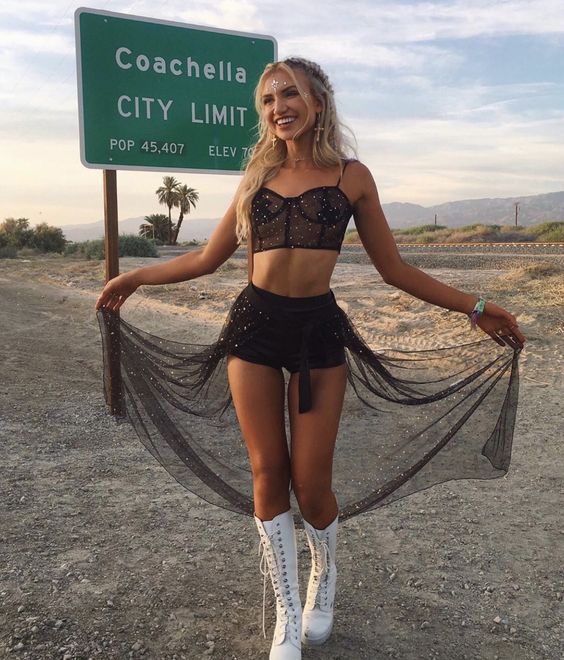 Coachella outfits are never complete without glitter, and this black glitter and rhinestone set is perfect for any girl!
2) All White Outfits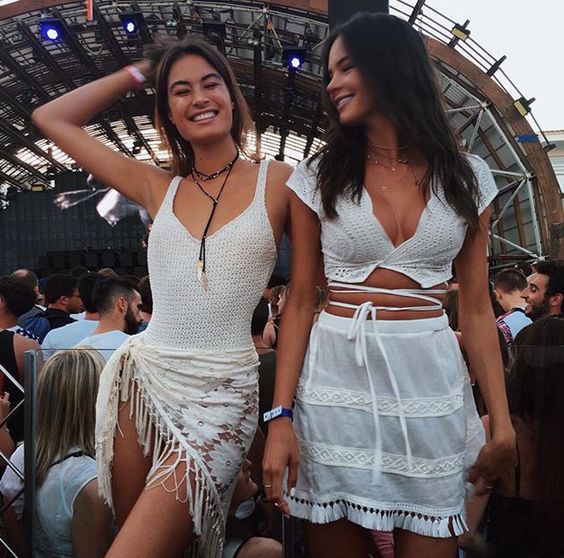 Nothing says stylish desert vibes more than an all white set for your 2023 Coachella outfit.
3) Barbie Pink Set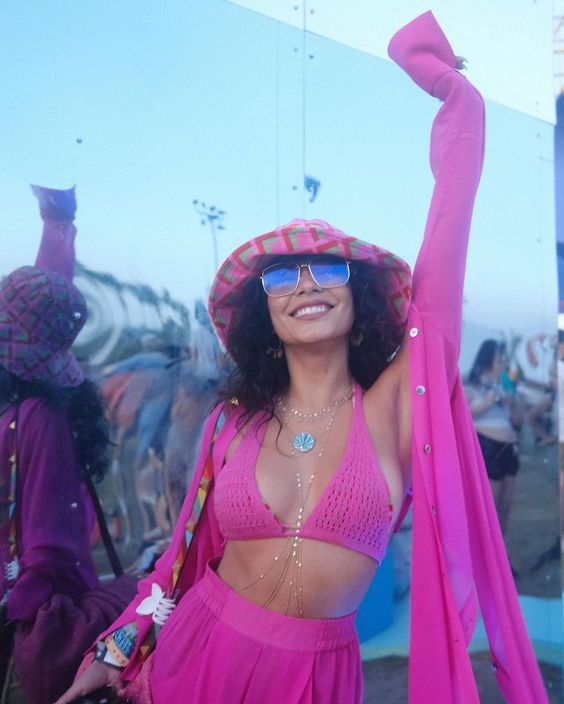 Leave it to the queen of the best Coachella outfits, Vanessa Hudgens, to inspire us yet again to rock a Barbie pink set to Coachella in 2023.
Related Post: Best Frat Party Outfits for Girls
4) Butterfly Top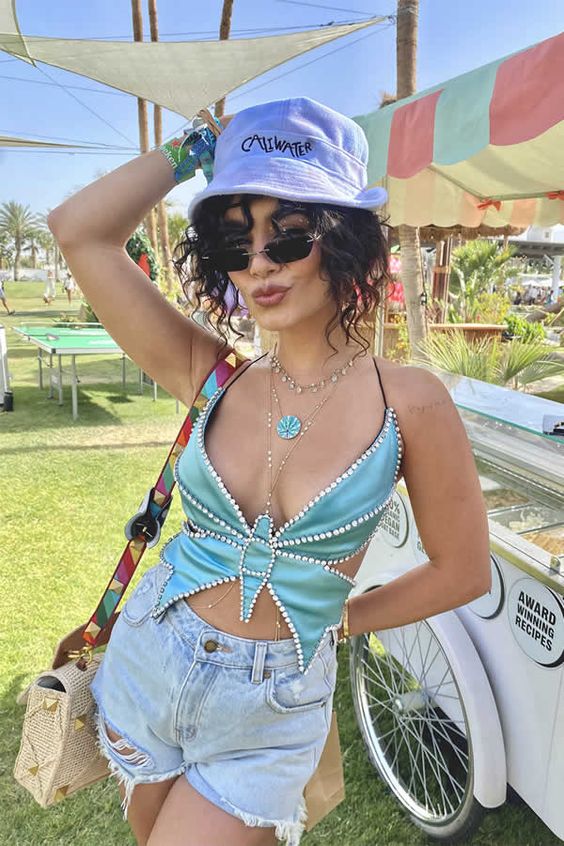 A list of Coachella outfit inspiration wouldn't be complete without the trendy butterfly and rhinestone top every influencer is rocking.
5) Yellow Lace Set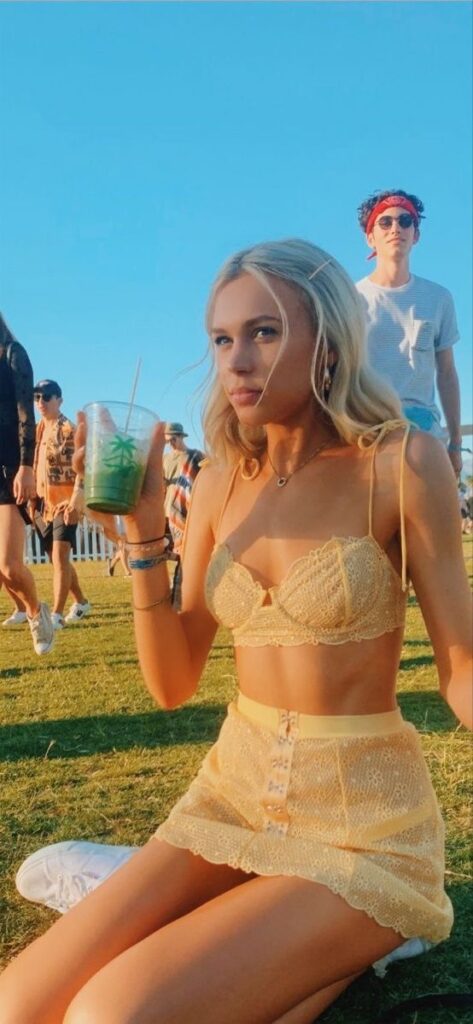 We're obsessed with yellow in 2023 and we know that this lace set is perfect for your 2023 Coachella outfit.
6) Sheer Mesh Skirt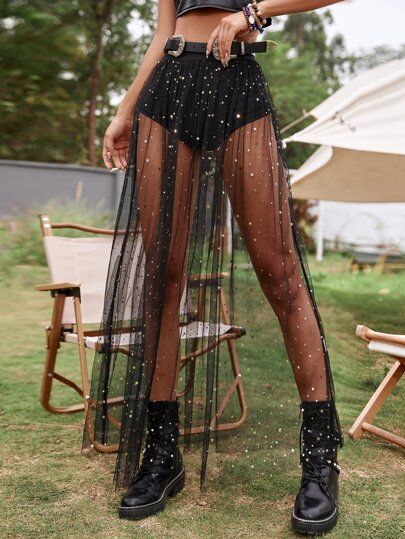 One of our favorite Coachella outfit ideas always involves a sheer mesh skirt embroidered with glitter rhinestones.
7) Lace Corset Top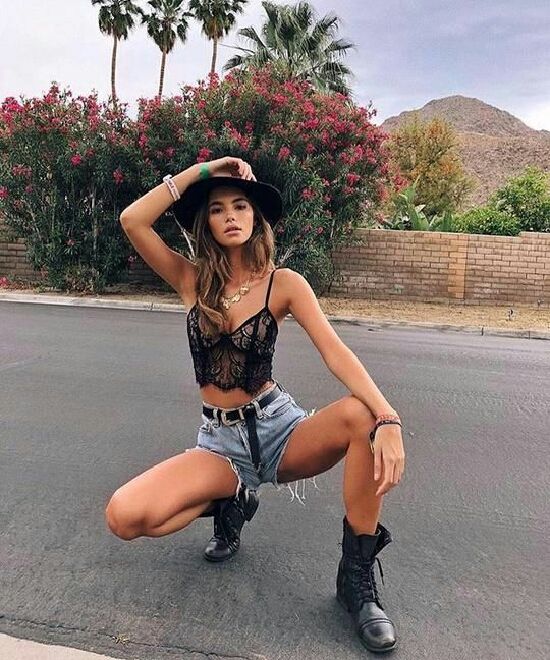 Corset tops have become the hottest trend this year and we know it will make for the perfect addition to your 2023 Coachella outfit.
8) Metallic Skirt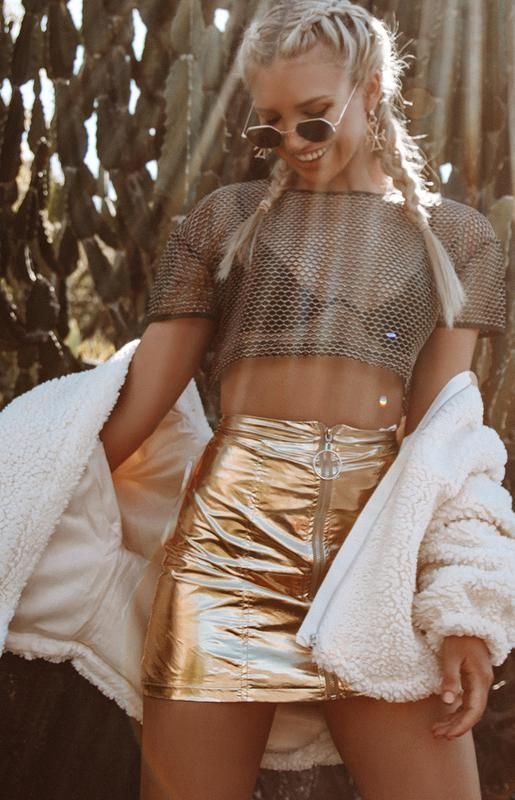 If you're wondering what to wear to Coachella, look no further than a fun and stylish metallic mini skirt.
9) Star Spangled Coachella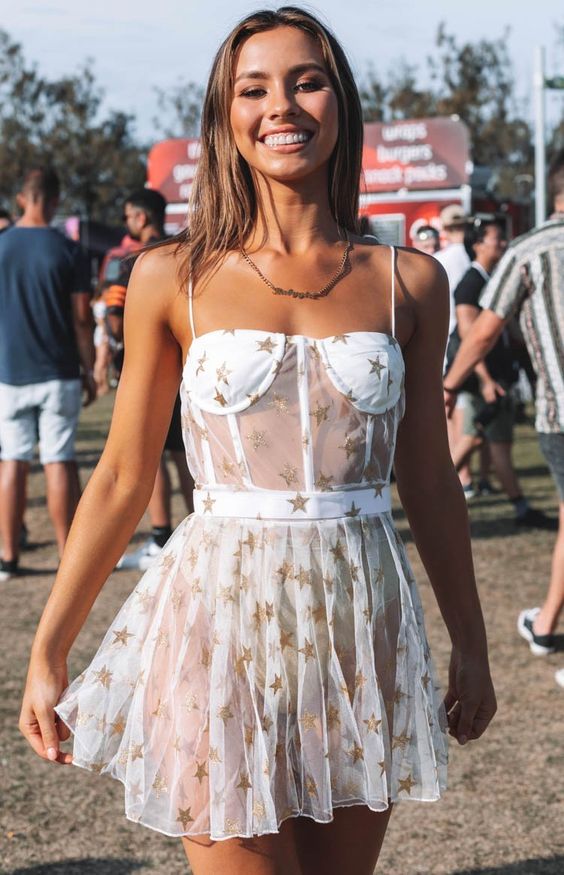 Feel like a star at Coachella with a boho white and gold star printed dress.
10) Crochet Pants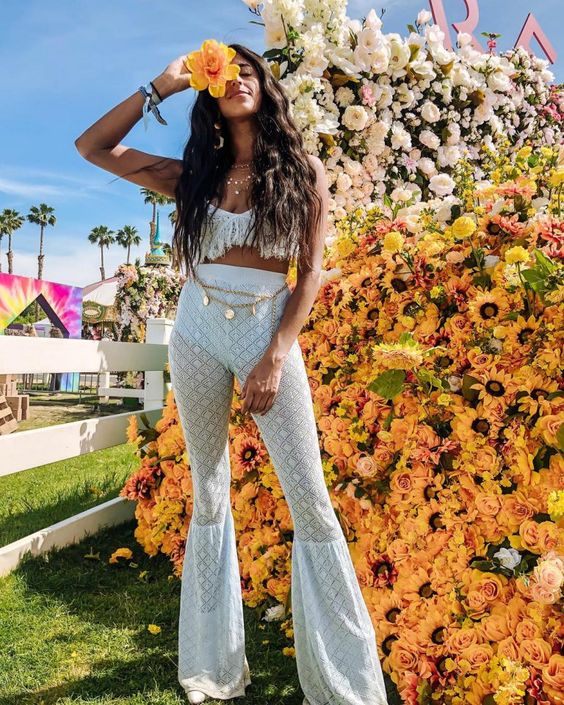 Some of our favorite Coachella outfits for girls always include a crop top and a fun pair of crochet pants.
11) Boho White Dress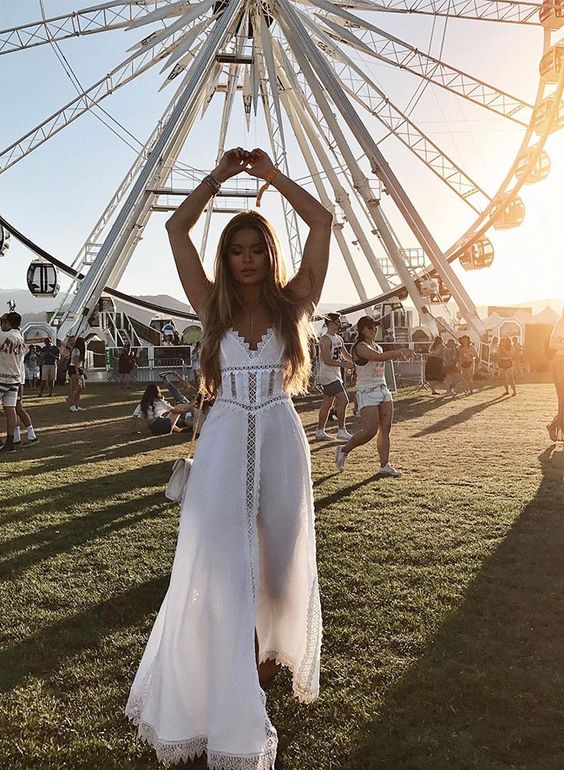 Channel your inner bohemian queen by rocking a gorgeous white lace maxi dress to your next Coachella.
12) Fringe Kimono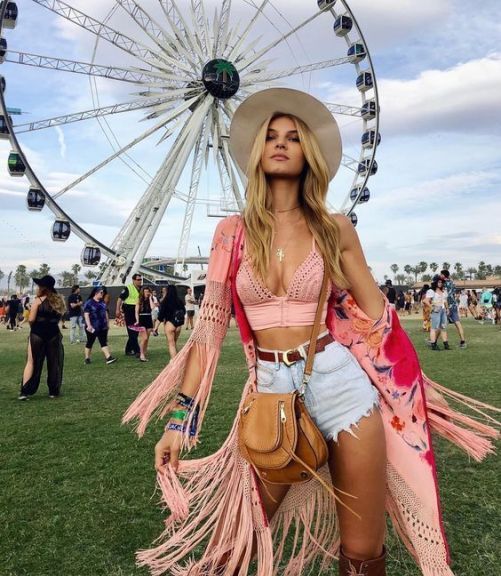 It's a must to have a layering piece for your Coachella outfit so why not make it fun with a colorful fringe kimono?
13) Floral Printed Dress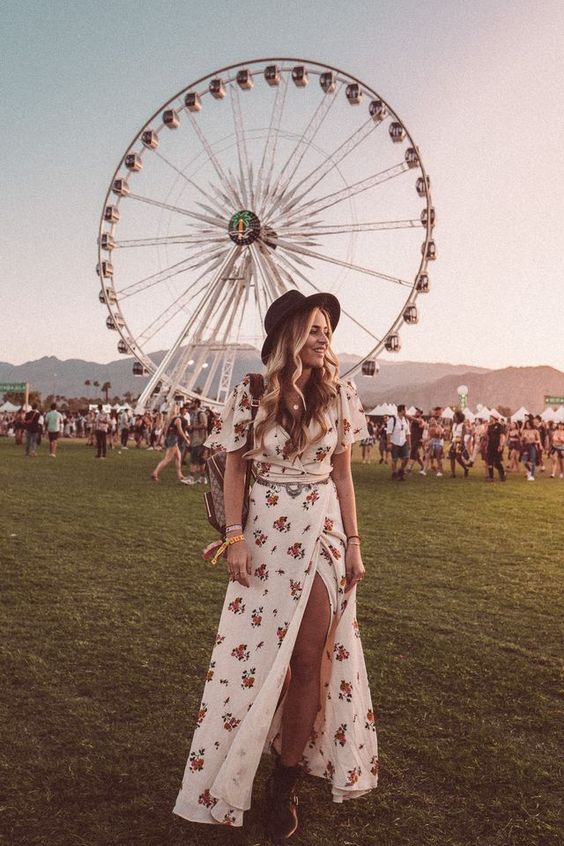 If you want to rock a boho inspired look for Coachella, try pairing a floral maxi dress with ankle boots and a fun hat.
14) Yellow Crochet Set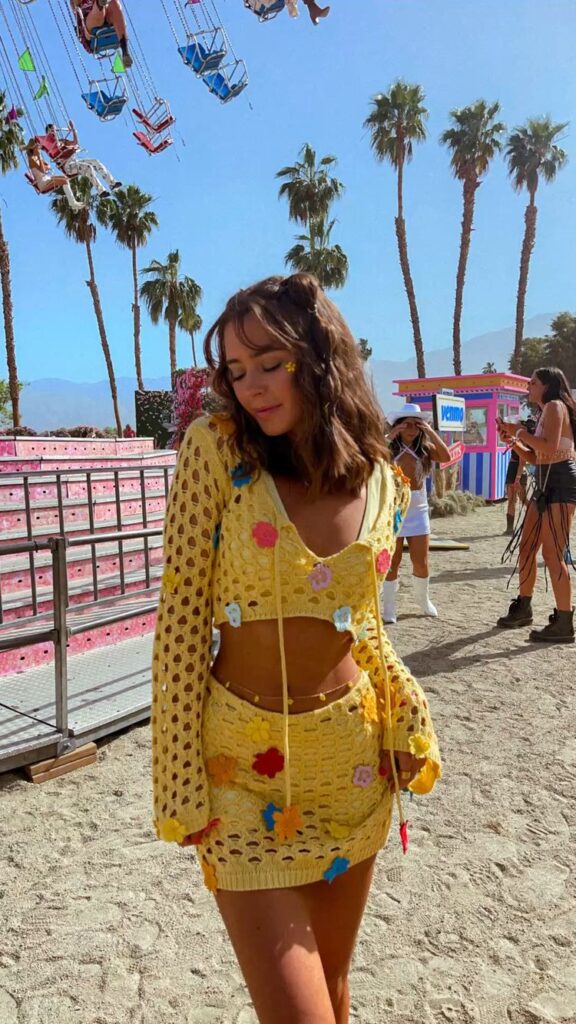 We're obsessing over how cute and perfect this yellow crochet set is for any 2023 Coachella outfit.
15) Mesh Layers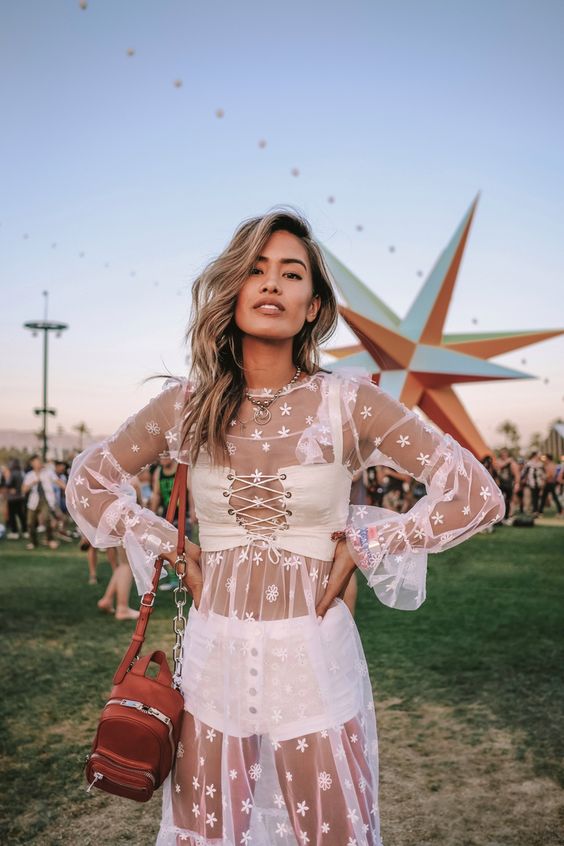 We found the perfect Coachella outfit inspiration and it consists of embroidered mesh and tons of layers.
16) Bandana Top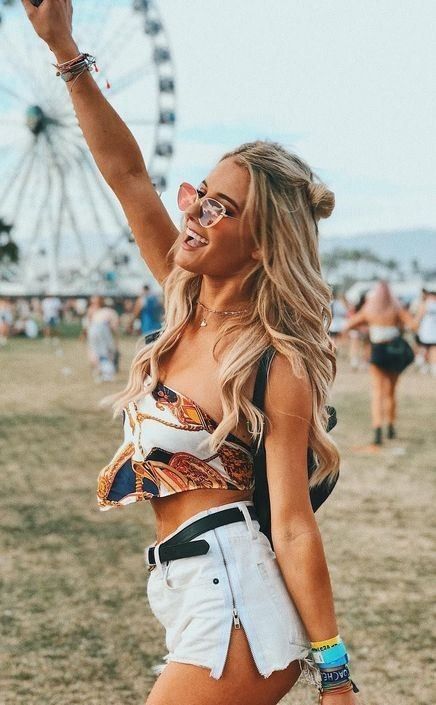 One of our favorite Coachella outfits for women is the trendy bandana scarf top look that can be seen on every influencer.
17) Ruffle Maxi Skirt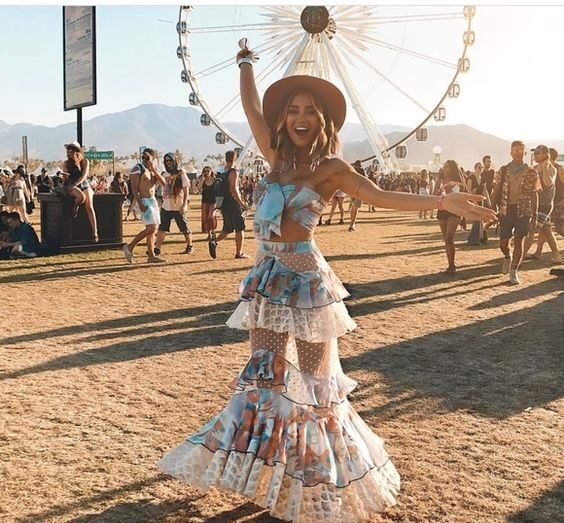 Have fun with your next Coachella outfit inspiration with a ruffle tiered maxi skirt perfect for all of your Instagram photos.
18) Abstract Set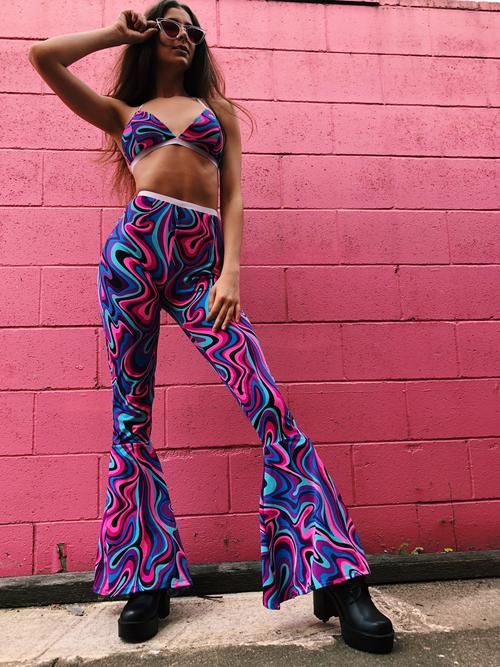 What better way to stand out from the Coachella crowd than with a colorful abstract set?
19) Rhinestone Fringe Shorts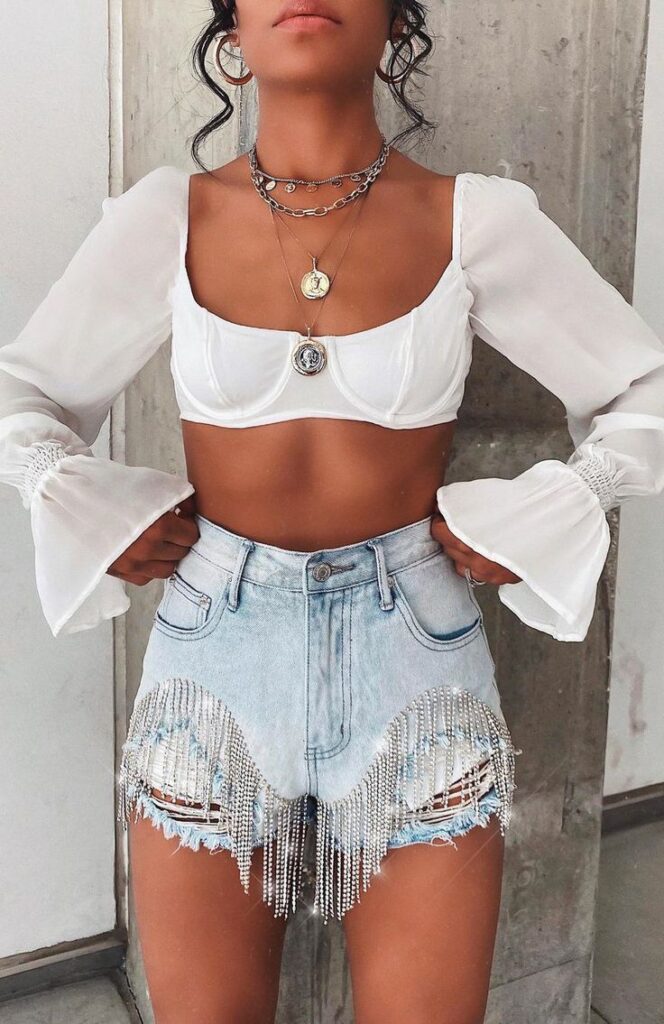 Stop wondering what to wear to Coachella and grab yourself a pair of rhinestone fringe shorts.
20) Colorful Checkered Set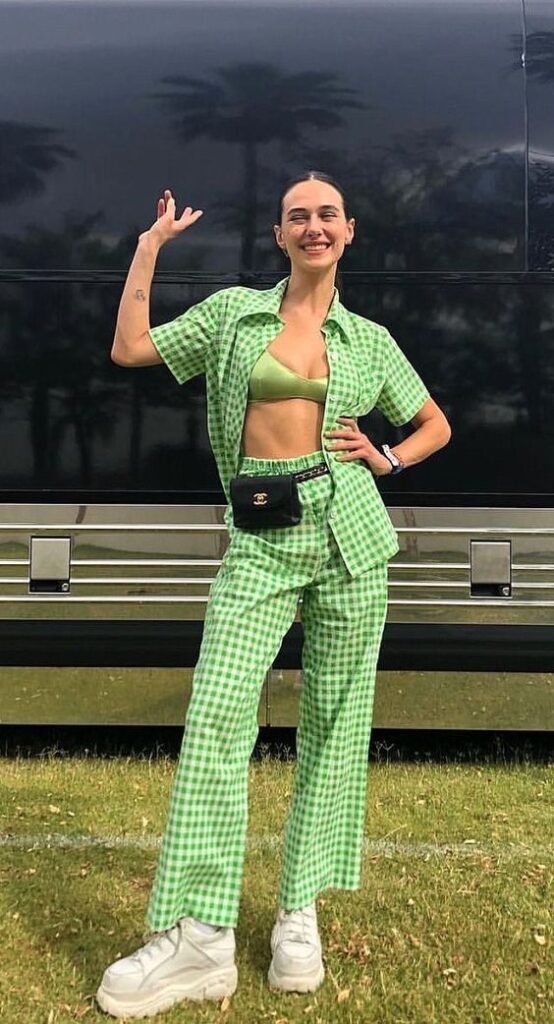 This simple and stylish colorful checkered set is the perfect Coachella outfit inspiration for 2023.
21) Watermelon Colors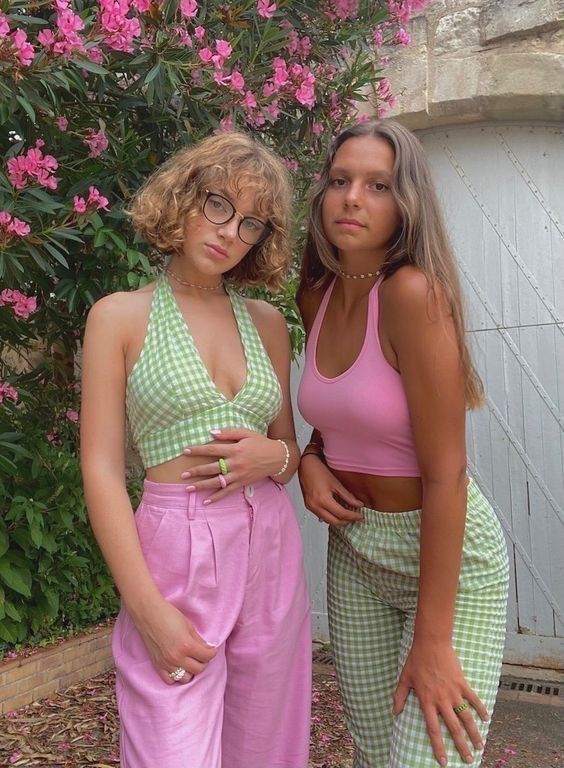 Stay cool during the hot Coachella days with a pink and green watermelon inspired outfit that you can rock with your bff.
22) Satin Corsets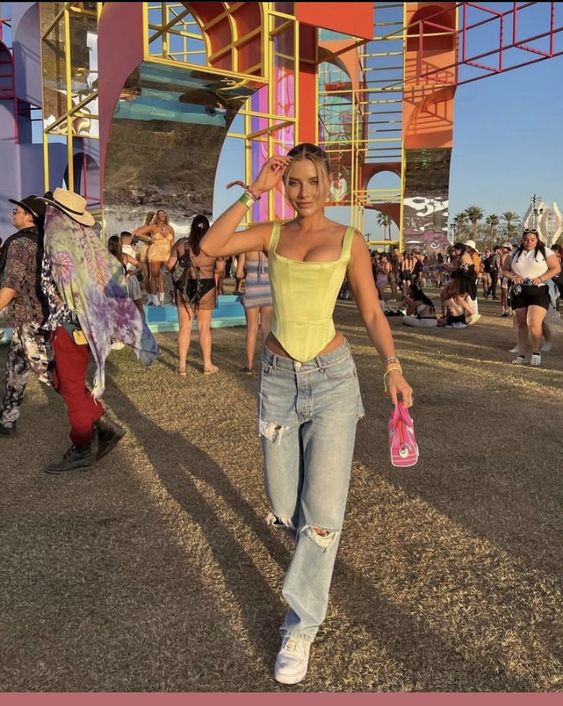 Satin corsets are a must for any Coachella outfit, especially when paired with a simple and trendy pair of boyfriend jeans.
23) Denim on Denim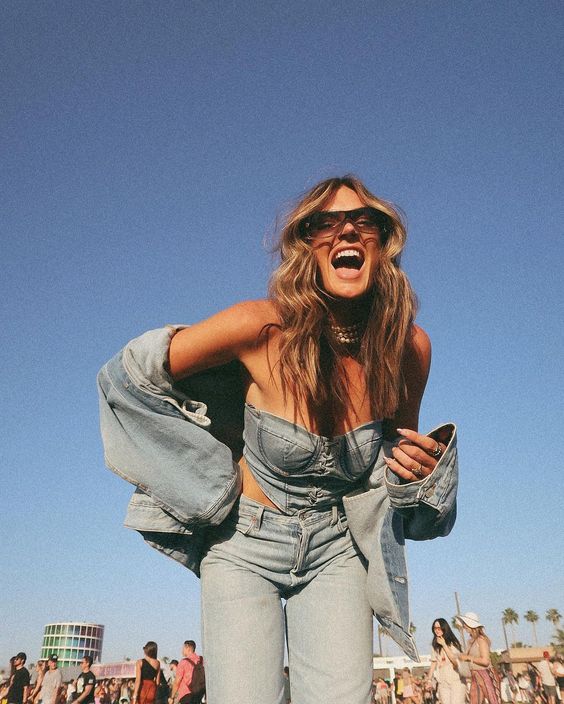 Much like our favorite influencers, we also can't resist a denim on denim look for our next Coachella outfit inspiration.
24) Glitter Trousers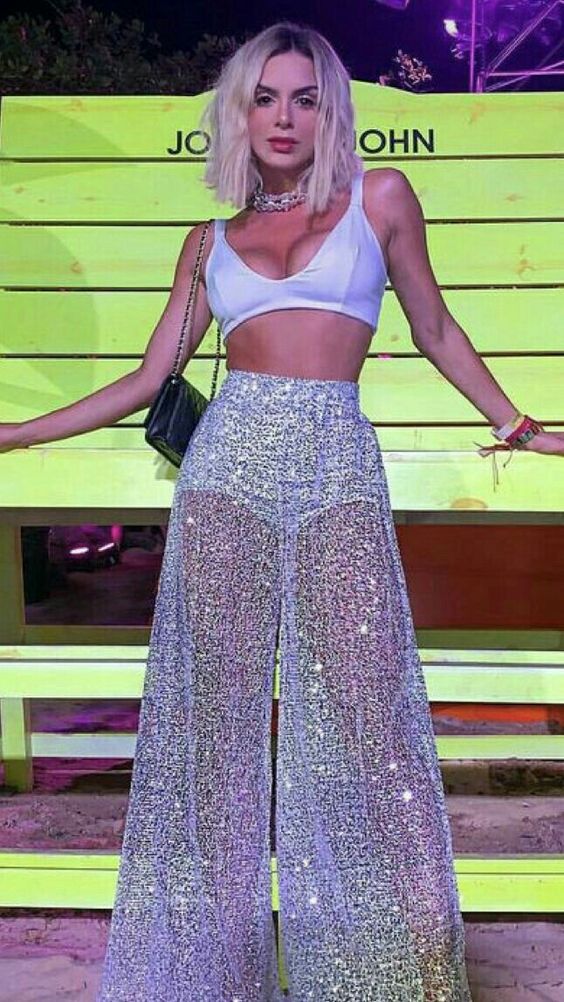 Glitter trousers are one of the best pairs of pants you can wear when wondering what to wear to Coachella in 2023.
25) Pink Glitter Set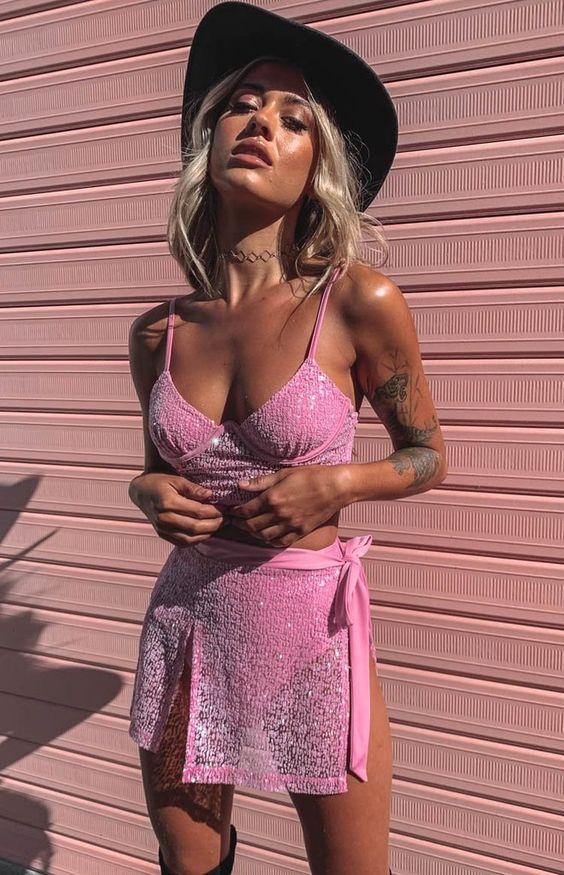 We can't stop obsessing over this baby pink glitter set and how perfect it would look as your next stylish Coachella outfit.
26) Graphic Pants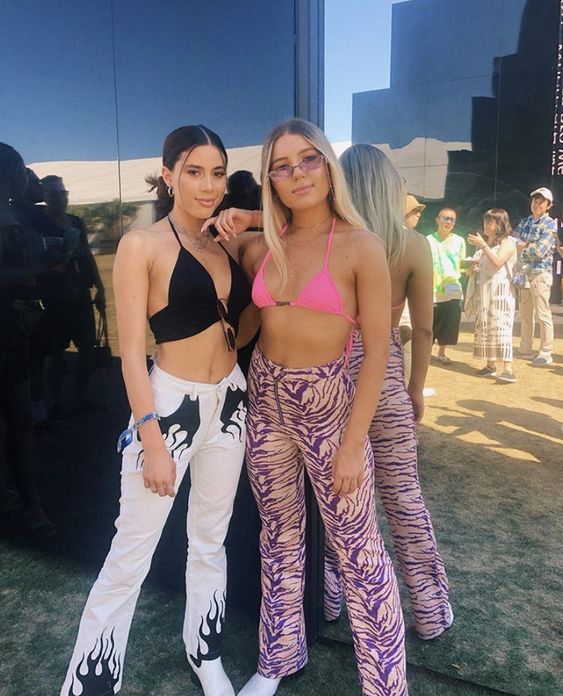 A great Coachella outfit for girls and women consists of abstract graphic pants and a simple bralette.
27) Linen Set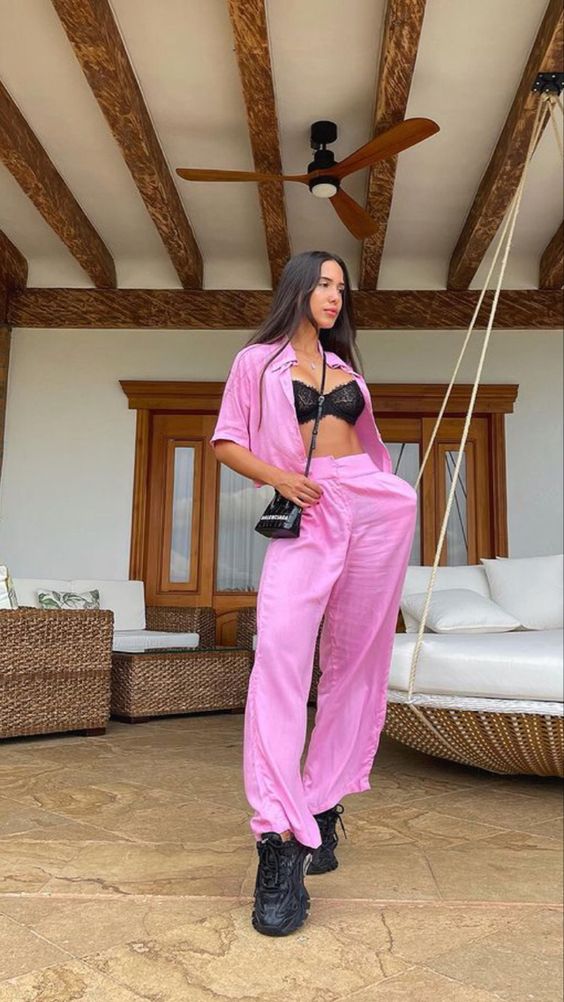 We love a linen set in the summer, especially in colorful colors that will make your Coachella outfit pics pop.
28) Head Scarf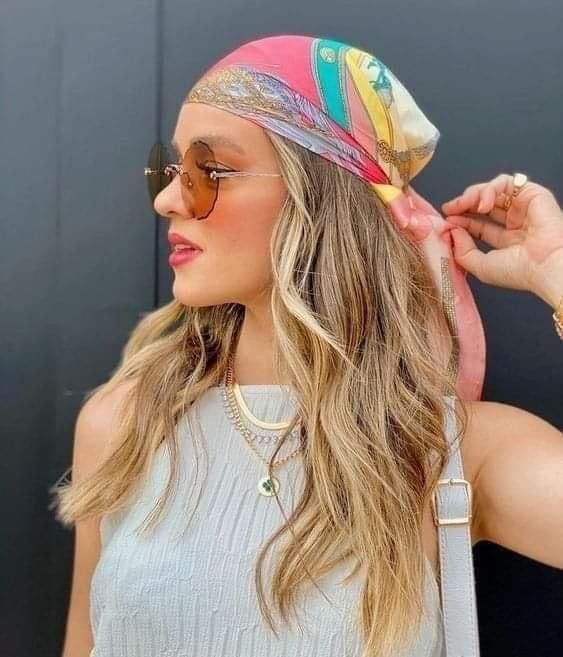 A fun and colorful head scarf is a great way to add extra style to your Coachella outfit and protect your hair from the dusty winds.
29) Denim Jackets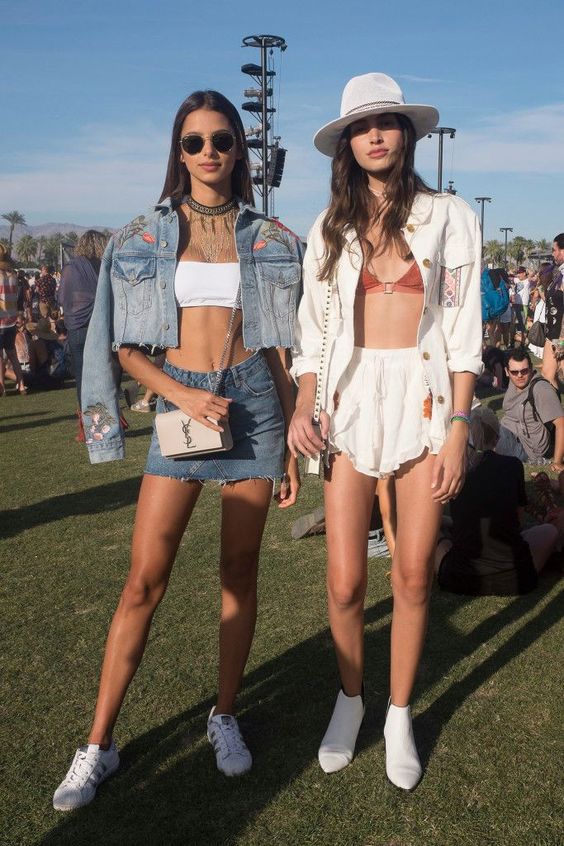 When wondering what to wear to Coachella, always remember to bring a denim jacket for the colder desert nights.
30) Graphic Tee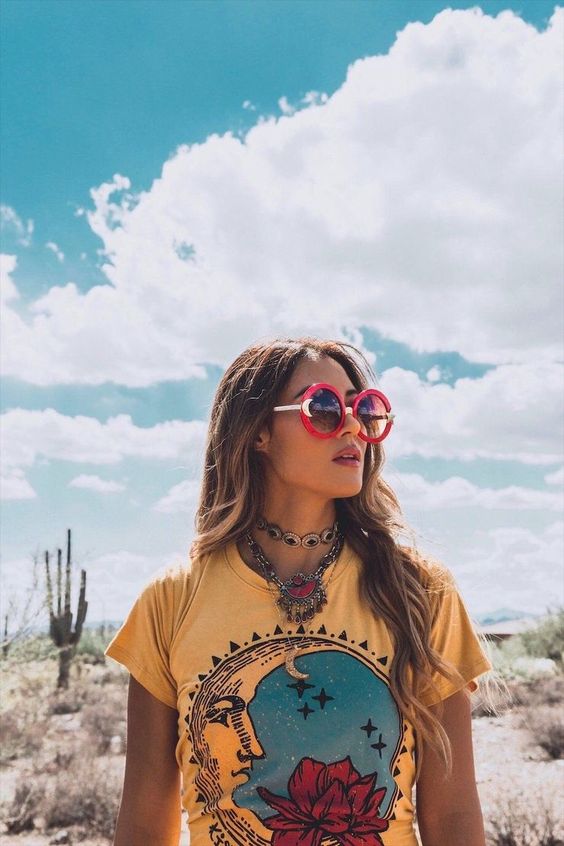 You can never go wrong with a fun graphic tee as a go-to Coachella outfit in 2023.
31) Fringe Cowboy Boots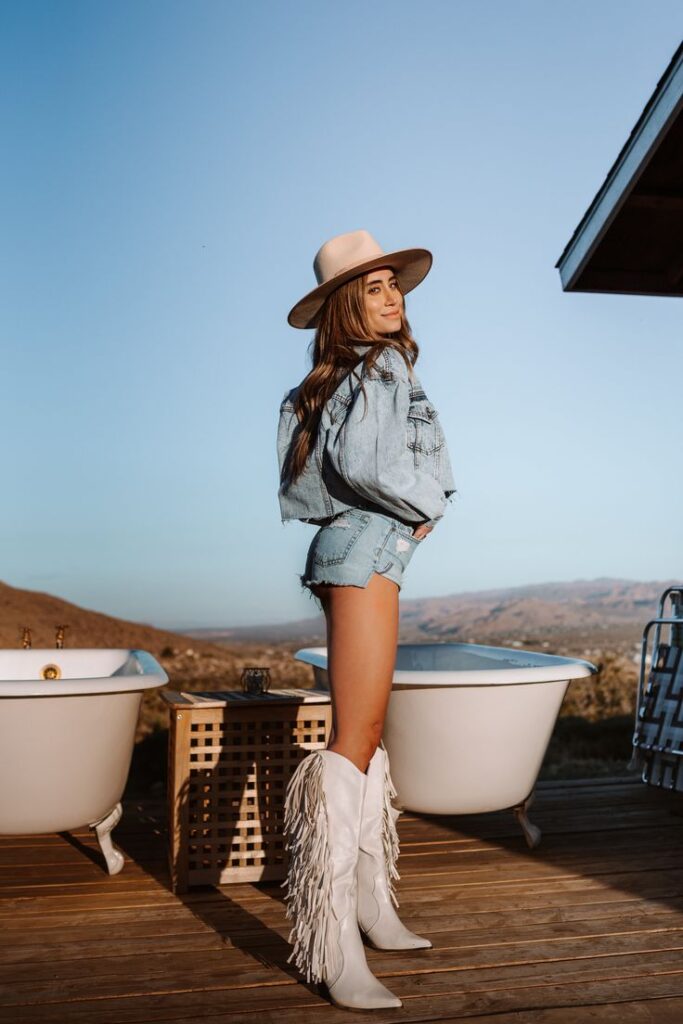 Make a stylish statement this year at Coachella with these white fringe cowboy boots that everyone will be obsessing over.
32) Metallic Set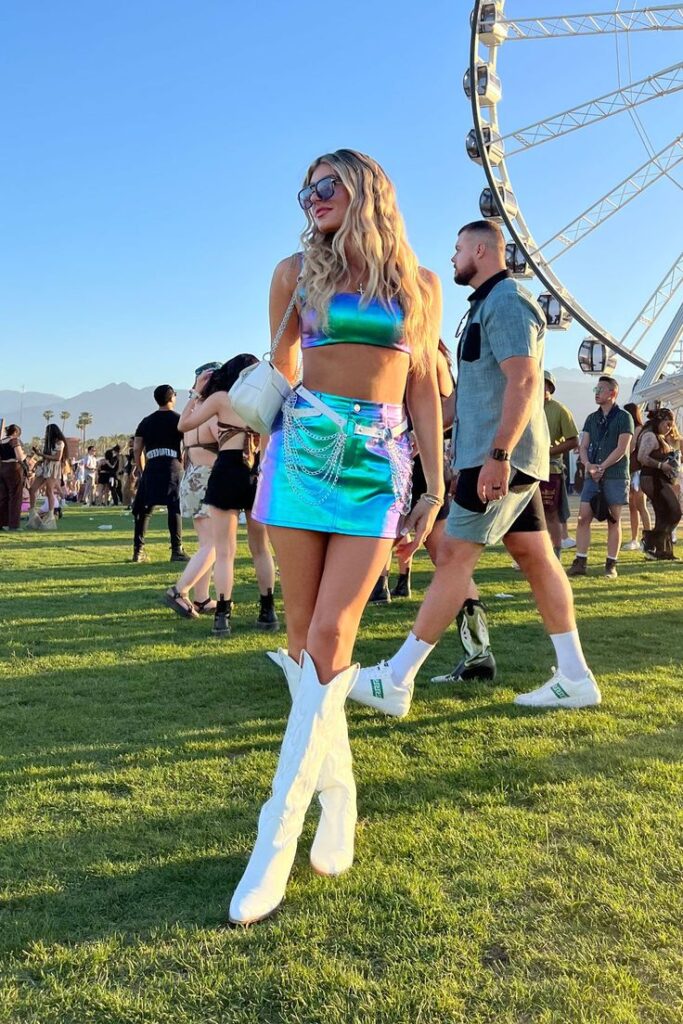 Metallic sets are the biggest trend in 2023 so you can safely add it to your Coachella outfit ideas list.
33) Feather Details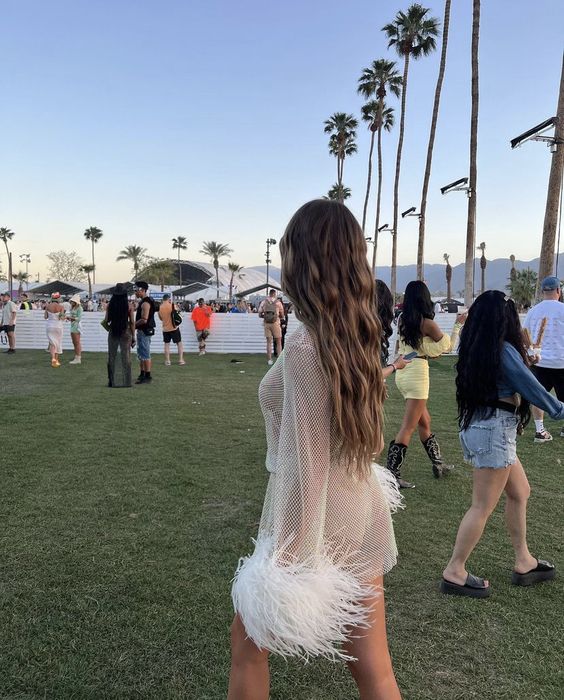 The details matter at Coachella and we're loving how feathers easily make your outfit that much more stylish.
34) Satin Boxing Set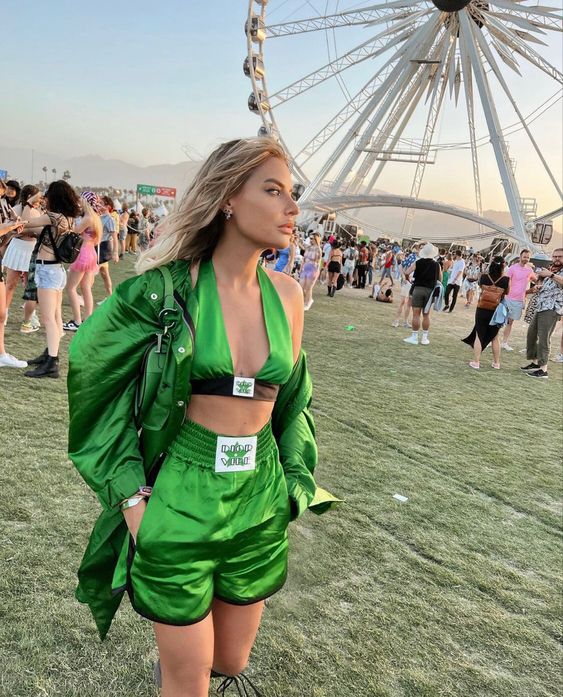 We never expected to love a satin boxing set for Coachella but now that we see it, we know it's a winner.
35) Neon Retro Dress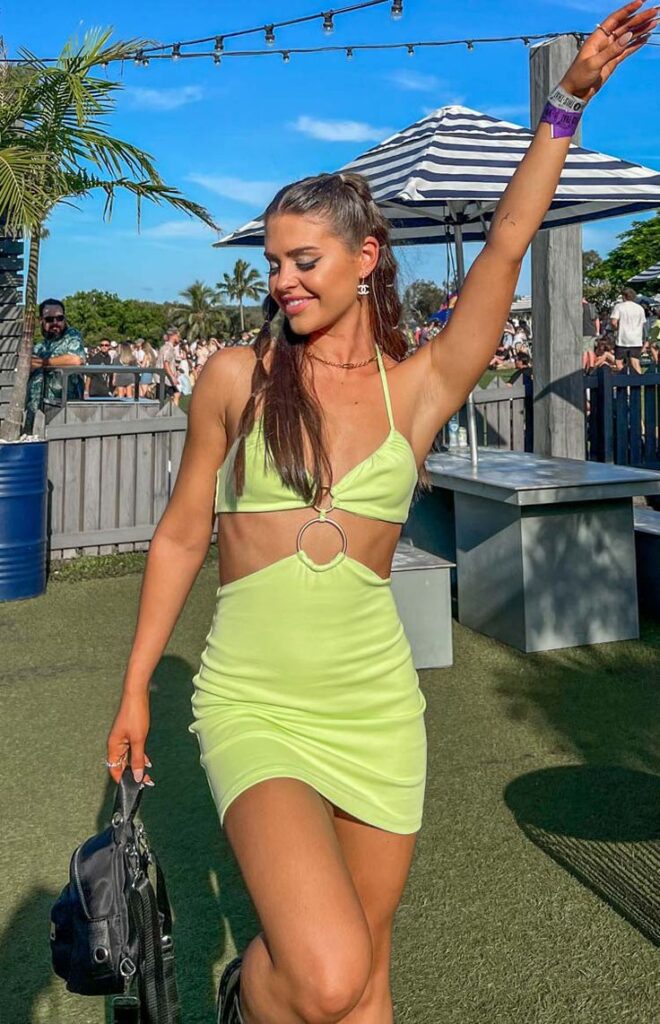 Be a retro disco queen at Coachella with a simple and stylish neon dress paired with white boots.
36) Cargo Skirt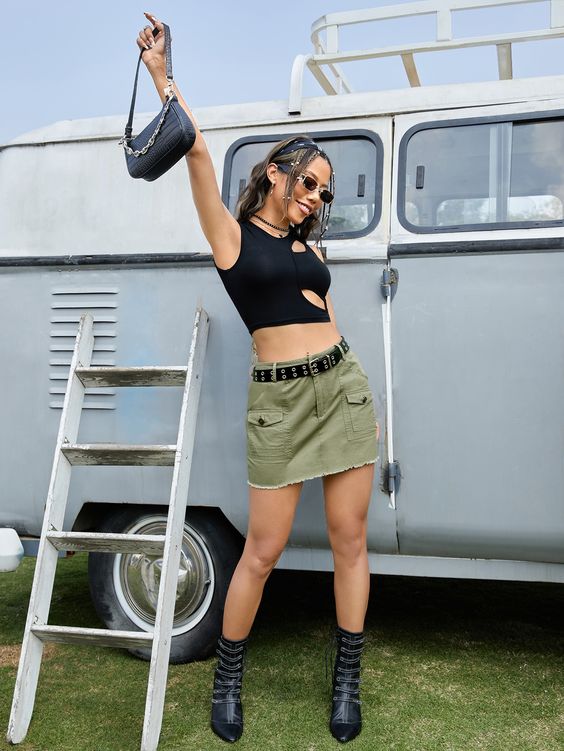 Cargo skirts are a great way to be comfortable, practical, and stylish, all day long at your next Coachella festival.
37) Gold Glitter Set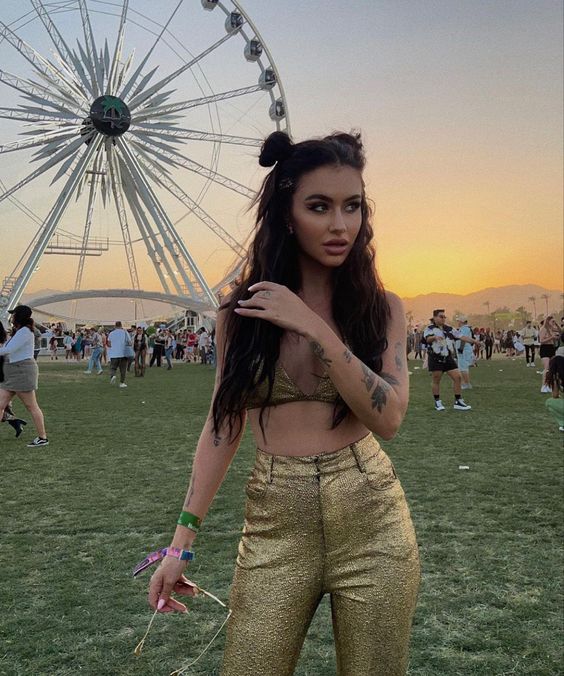 One of our favorite Coachella outfit ideas is a stylish gold glitter set that looks like a desert sunset.
38) Pastel Pants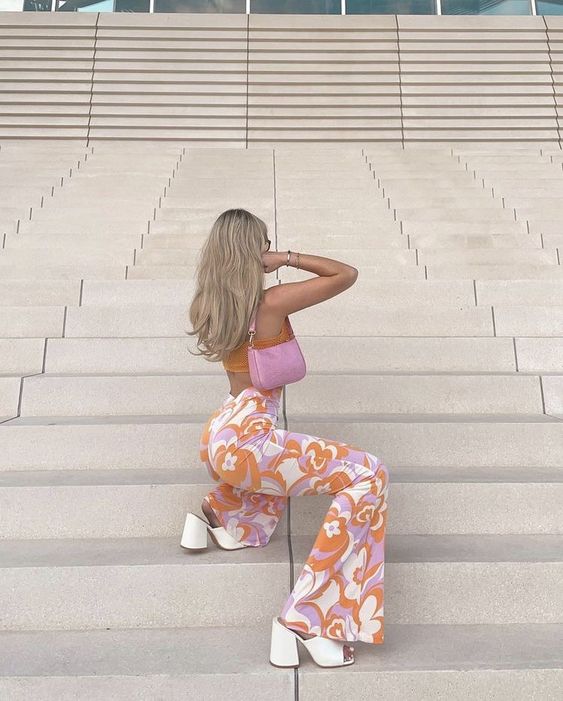 Pastel 70's inspired pants are such a fun way to bring color into any Coachella outfit in 2023.
39) Glitter Sleeves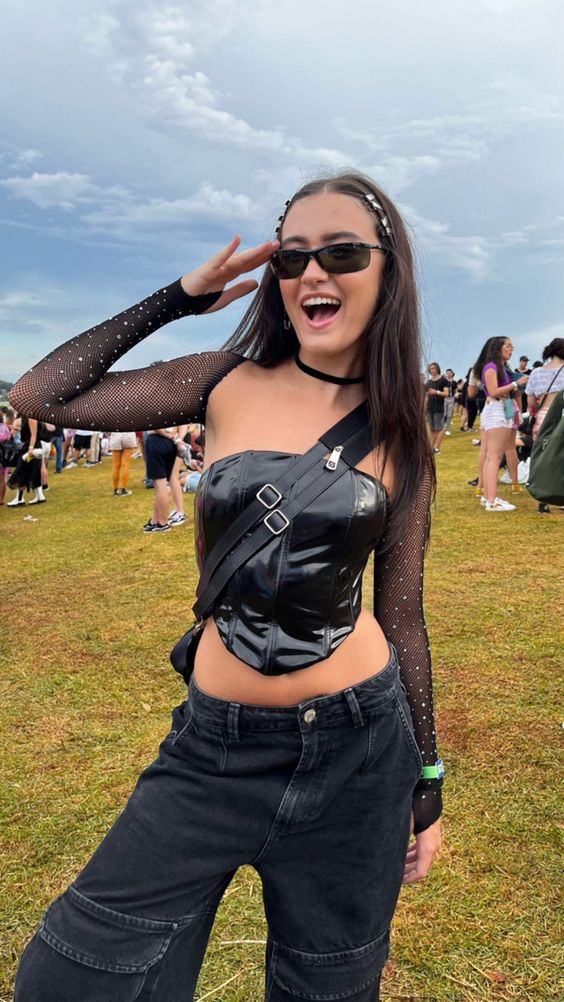 Add glitter sleeves to any of your Coachella outfits for the perfect IG worthy look.
40) Green Queen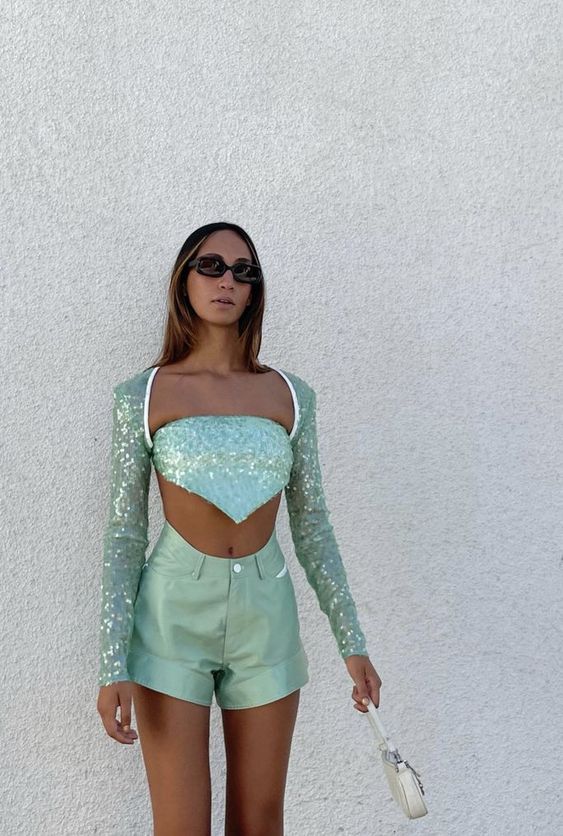 Be the queen of green at Coachella with this cute and stylish monochromatic Coachella outfit inspiration.
41) Mini Skirt & Graphic Tee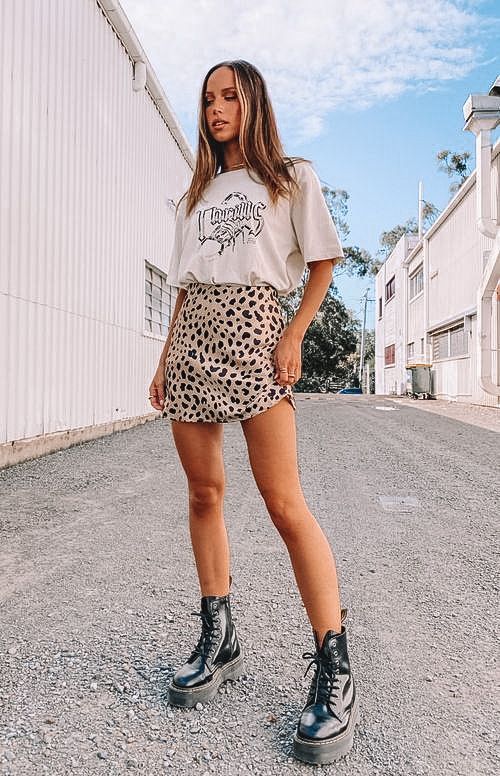 A mini skirt and graphic tee combo is a great, simple, and easy to put together Coachella outfit idea for girls and women.
42) Silk Dresses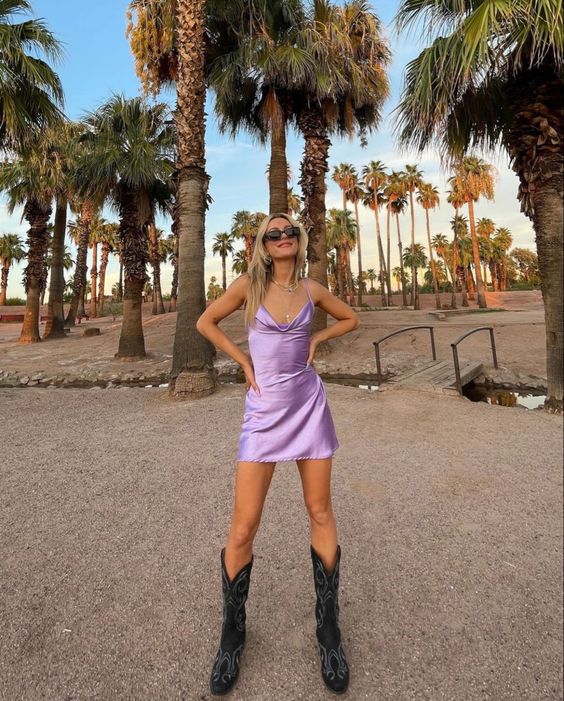 We have been loving silk cowl neck dresses and when paired with cowboy boots, they make for the perfect Coachella look.
43) Asymmetric Skirt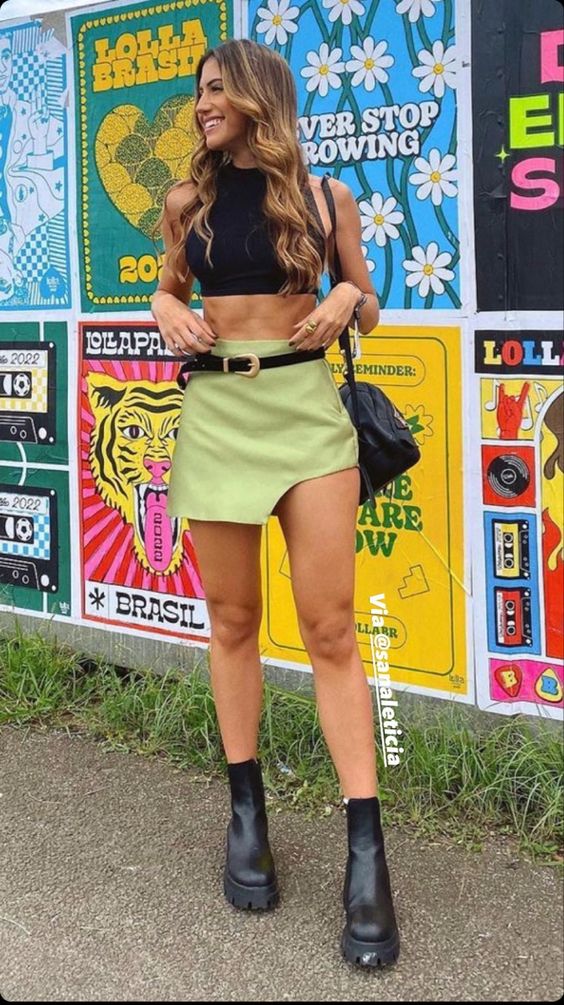 An asymmetric skirt is a great way to easily elevate your look into a more stylish Coachella outfit.
44) Cowgirl Approved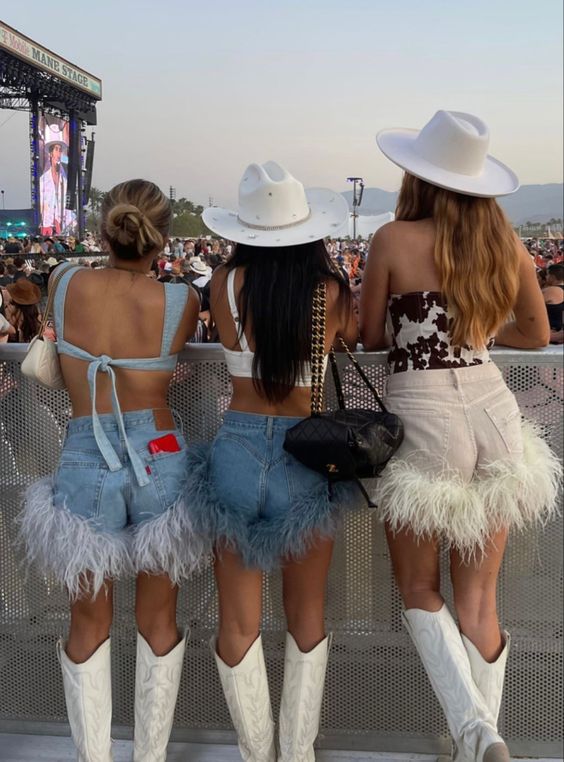 Grab your bffs and create a matching cowgirl inspired outfit for Coachella 2023 with the cowboy hat, shorts, and boots.
45) Layered Jewelry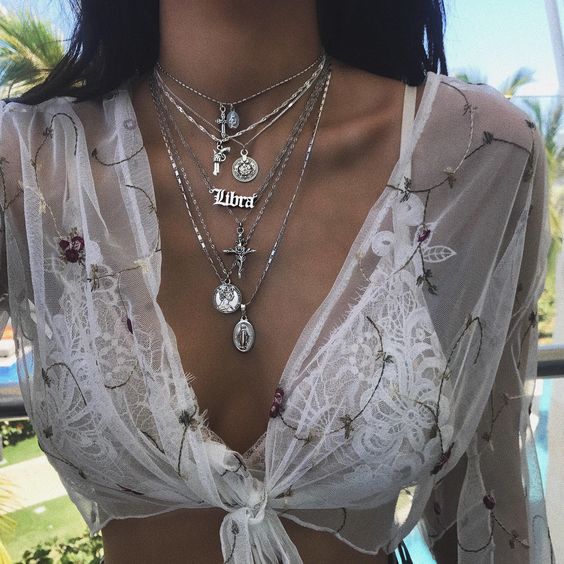 Don't be afraid to layer on all of your favorite necklaces for Coachella, the more the better!
46) Little Boho Dress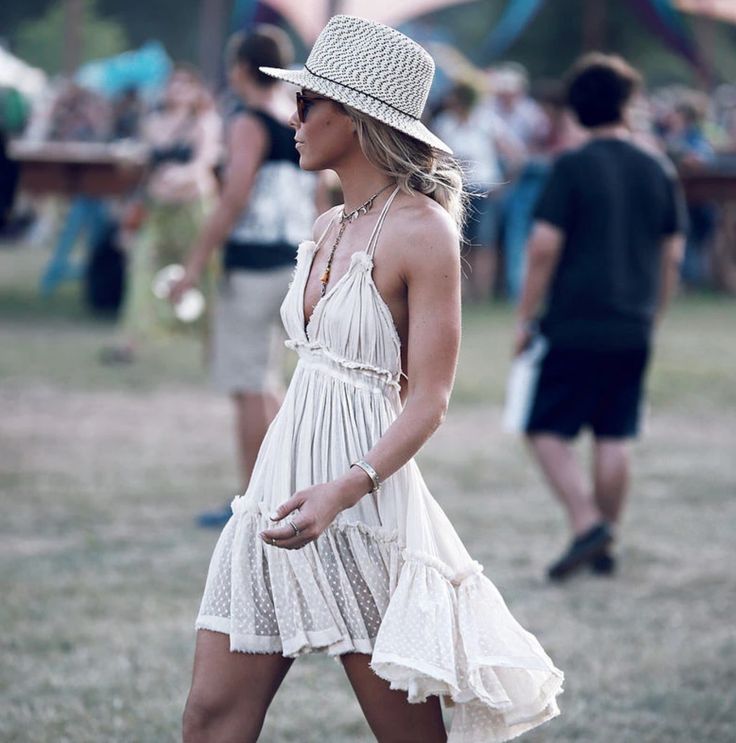 At Coachella, LBD takes on a whole new meaning: little boho dress, aka the perfect Coachella outfit for all girls and women.
47) Colorful Trousers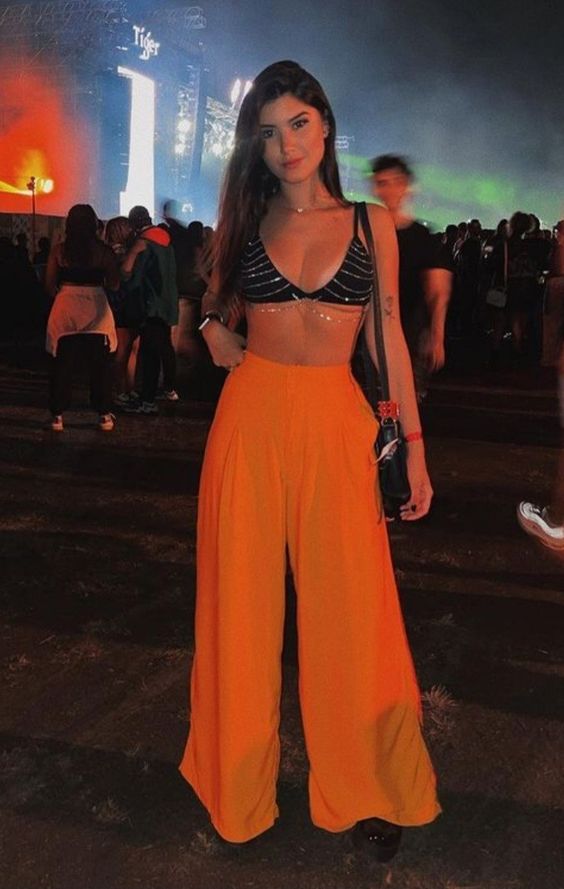 Trousers have made a huge comeback in 2023 and rocking them to Coachella is an easy and comfortable way to slay all weekend long.
48) Leopard Skirt Set
A great way to stand out from the crowd and add a boho twist to your Coachella outfit is with this gorgeous leopard maxi skirt set.
49) Disco Top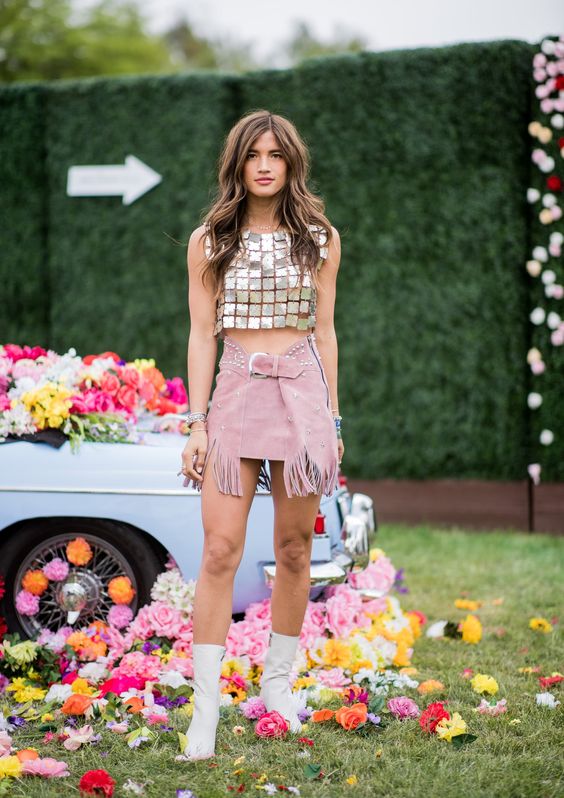 We're obsessed with how this disco top pairs with the Western fringe skirt to make the perfect Coachella outfit inspiration.
50) Pastel Perfection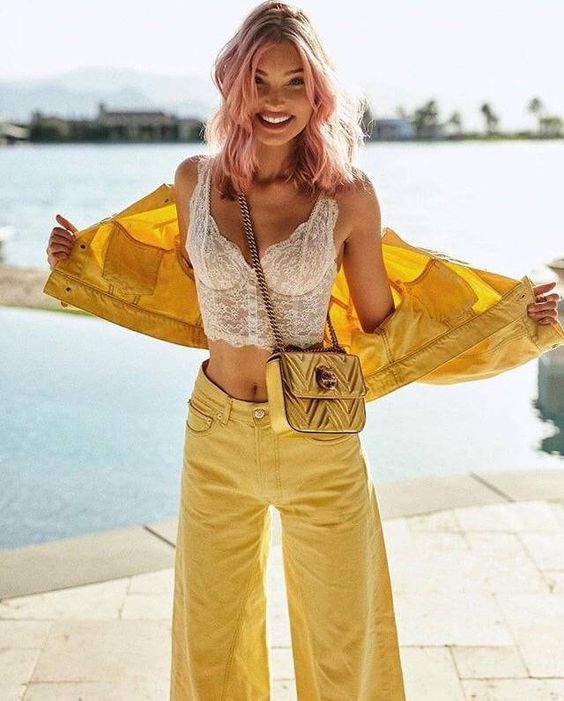 A stylish and simple way to create a Coachella outfit you love is by color coordinating a monochromatic outfit around your favorite pastel color.
Final Thoughts
Hopefully you've found your Coachella outfit inspiration to wear to this year's festival!
There's always a way to mix and match inspiration with your own style to create a really unique outfit.
Just be sure to dress light in the summer and bring a jacket for the winter when you're partying.
Stay safe and have a ton of fun at Coachella!
If you have any comments, questions, or suggestions leave them down below. Thanks for reading!