Want to upgrade your fashion with all the graphic tees in your closet? These outfit ideas will show you how to style a graphic tee perfectly!
These outfits will include casual, trendy, fashionable, and dressed up ideas.
Either way, you'll be sure to find a graphic tee outfit that matches your style!
Let's dive in!
Paired with Biker Shorts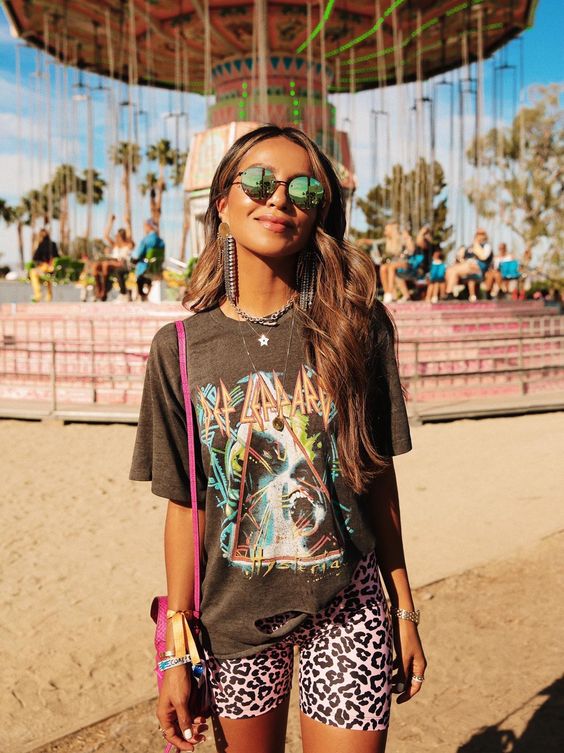 One of our favorite ways to style a graphic tee is by keeping it simple and casual by pairing it with your favorite biker shorts.
Biker shorts are trendy, chic, and oh-so-comfortable.
Try styling them with a bright color biker short like this one, or a fun and bold animal print!
With a Midi-Skirt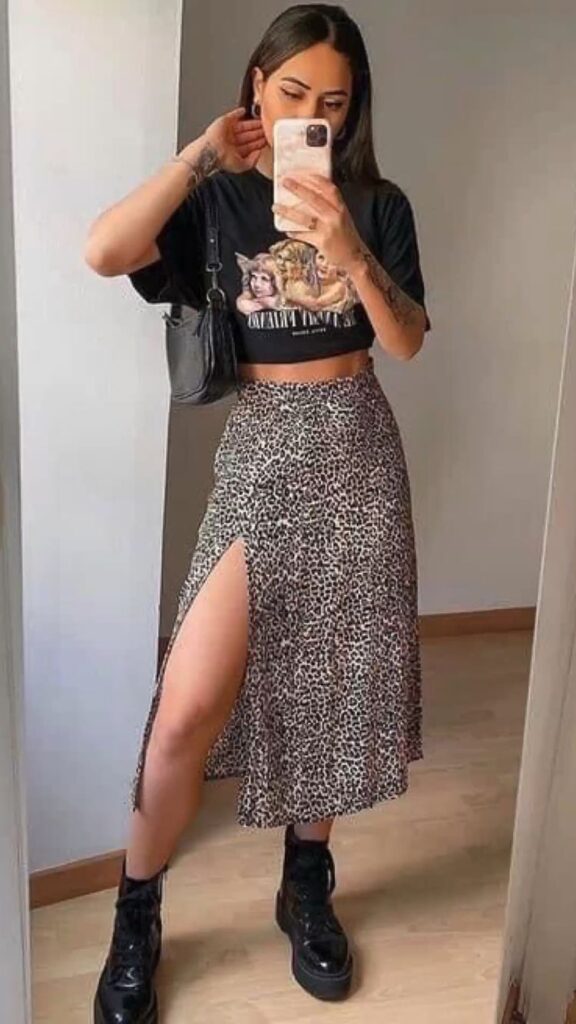 Dress up any graphic tee into something more trendy and chic with a midi-skirt.
And the best part is there is no limit to what type of midi-skirt you wear!
Be fun and colorful with an animal print, or refined and simple with a solid neutral color.
Dressed Up with Trousers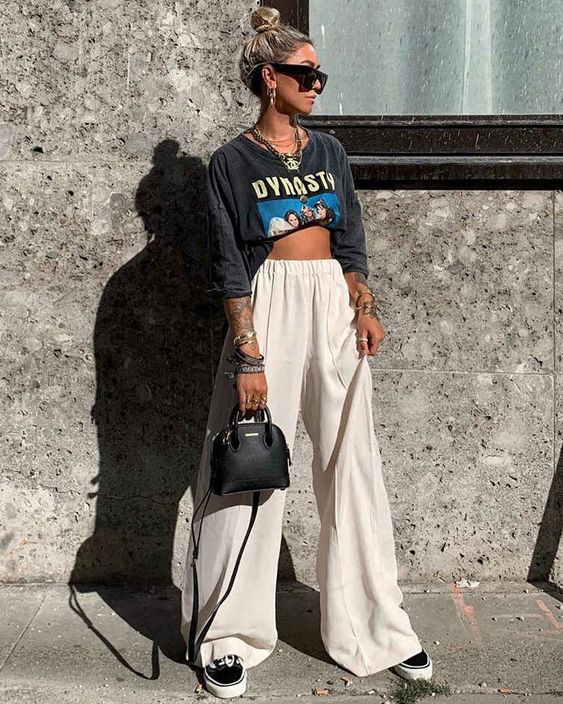 Don't sleep on trousers. Not only are they the pants of the season, but they're super comfortable and instantly elevate any outfit, even with a graphic tee.
Although you normally wouldn't put these two fashion pieces together, they end up creating a stylish and trendy outfit.
Related Post: 15 Popular Jeans for Teenage Girls
High Waisted Shorts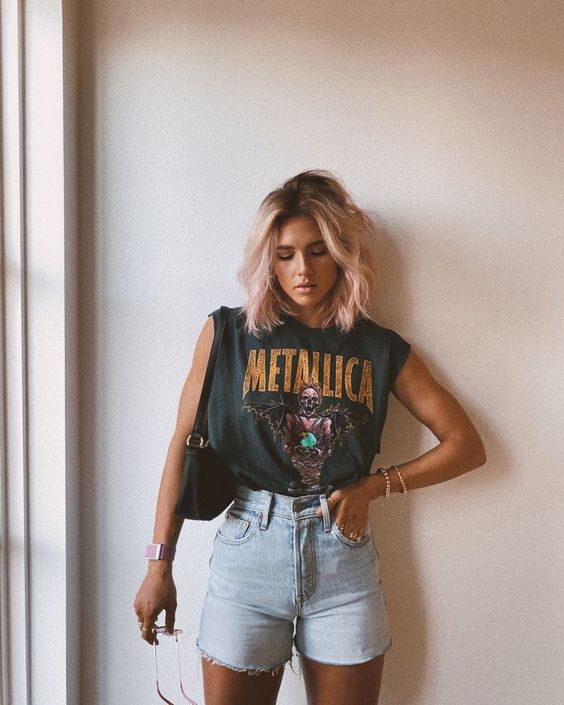 A great spring/summer outfit idea for styling a graphic tee is by going back to the rock and roll roots with high waisted denim shorts.
Next time you grab your graphic tee, try tucking it into your favorite pair of denim shorts to create a cool and stylish outfit.
Crazy for Cowboy Boots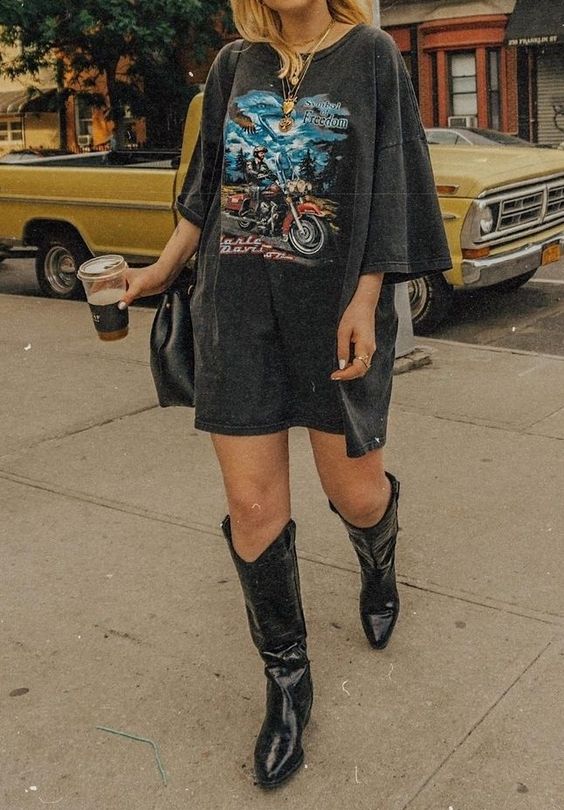 We're obsessed with cowboy boots but we're especially obsessed when you pair them with an oversized graphic tee.
This outfit is cool, stylish, and trendy. But don't just listen to us, this look came straight from the paparazzi pictures of tons of celebrities.
Fangirling Over Fun Pants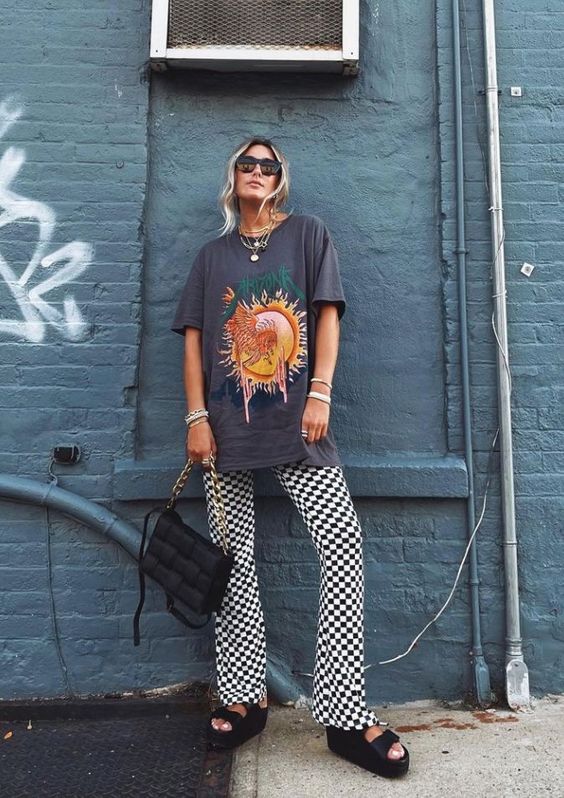 Who said pants have to be boring? Graphic tees were practically meant to be worn with a pair of fun printed pants.
Whether you're going with a fun color, animal print, or pattern, you can't go wrong with pairing your graphic tee with a pair of your favorite statement pants.
Cut & Cropped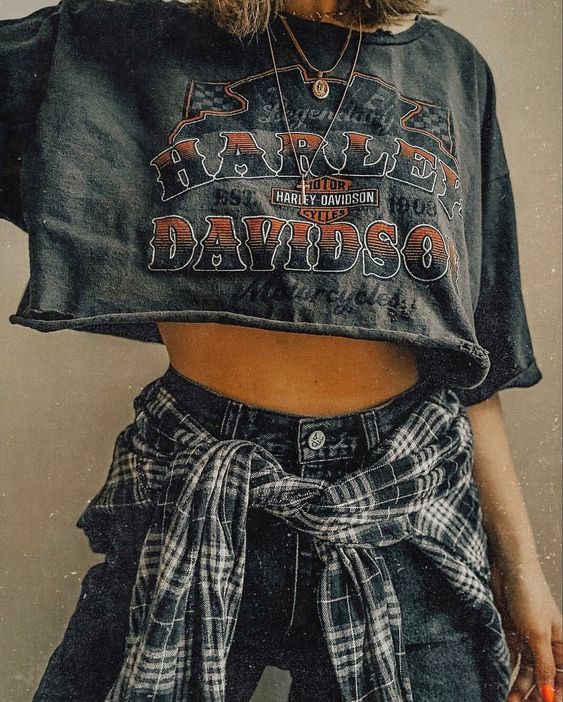 Style a graphic tee by cropping it with a pair of scissors and pairing with denim and a flannel to make it a bit more edgy.
This look is super stylish and easy to make. Head to your local thrift store, grab an oversized tee, and get chopping!
Mini Skirt & Boots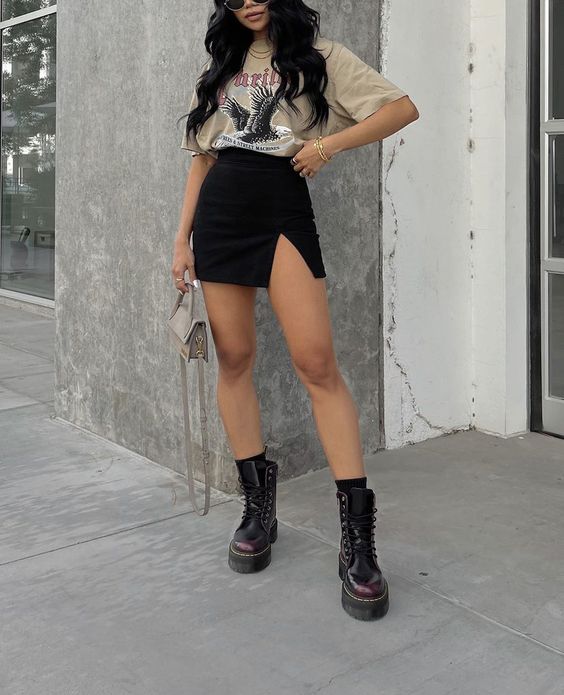 Nothing says Fall more than a transitional graphic tee outfit.
Next time you're getting dressed for the season, try layering your graphic tee on top of a simple long sleeve, and pairing it with your favorite mini skirt and boots.
Don't forget, the chunkier the boots, the better!
Matchy Matchy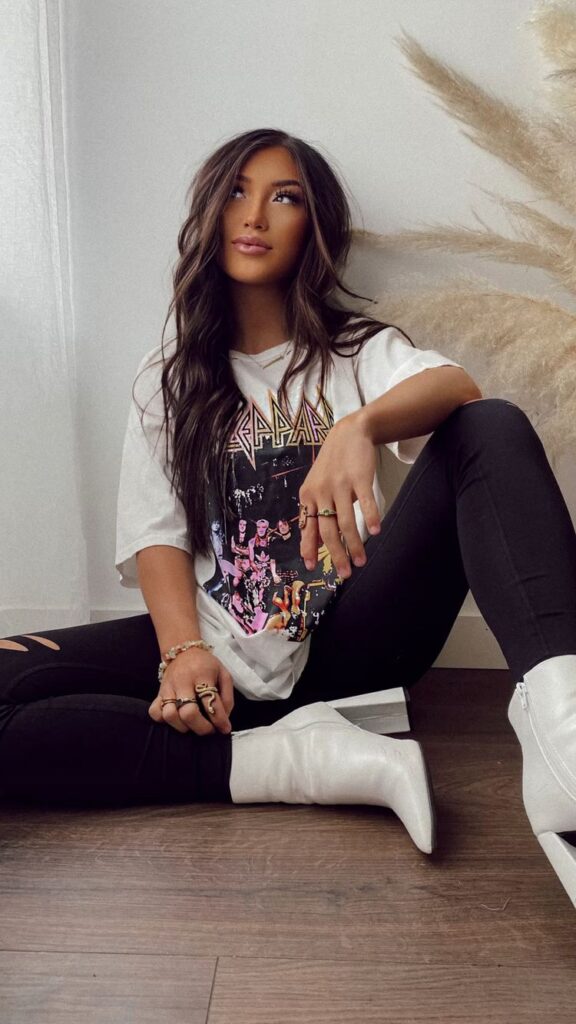 Be that girl this season and match your graphic tees with your boots to create the ultimate stylish and trendy it girl outfit.
This outfit is a statement that's easy to put together and makes you look like the ultimate cool girl.
Related Post: 60 Best Hairstyles for Teenage Girls
Keep it Neutral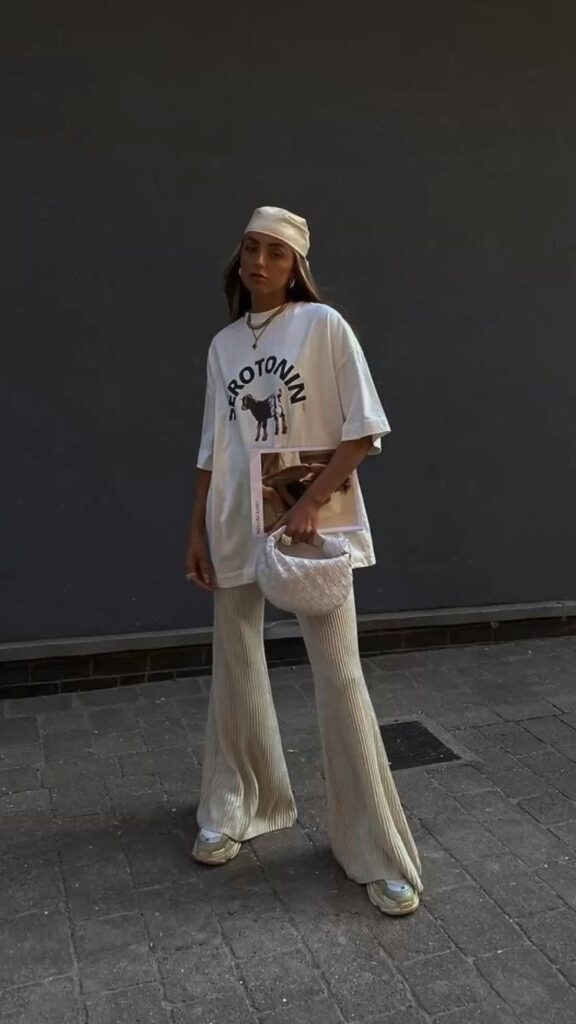 If you're looking for a chic and simple way to elevate your graphic tee, try a neutral tone outfit!
This monochromatic look comes straight from the closets of your favorite influencers and instantly enhances your outfit, without having to try too hard.
Style your graphic tee with matching pants, shoes, and accessories.
Boho Chic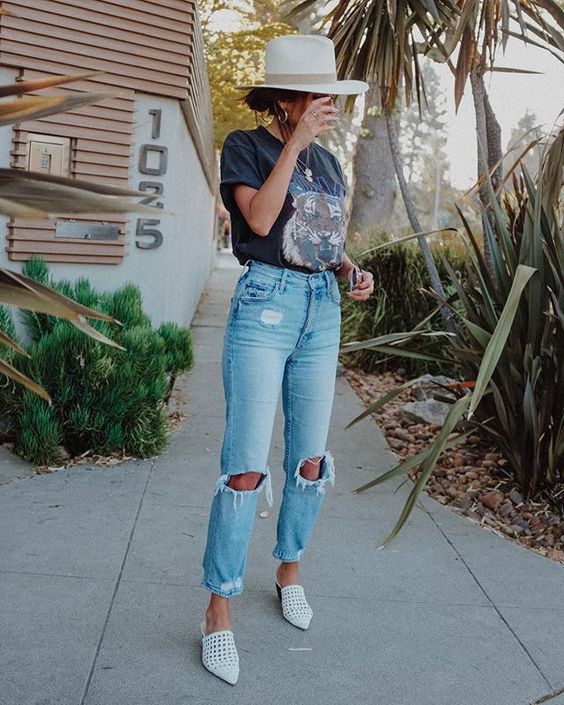 A great way to style your graphic tee, no matter the season, is by creating a timeless boho chic look.
Pair your graphic tee with straight leg jeans, mules, and a fun wide brimmed hat to create a boho inspired look in seconds!
Oversized Queen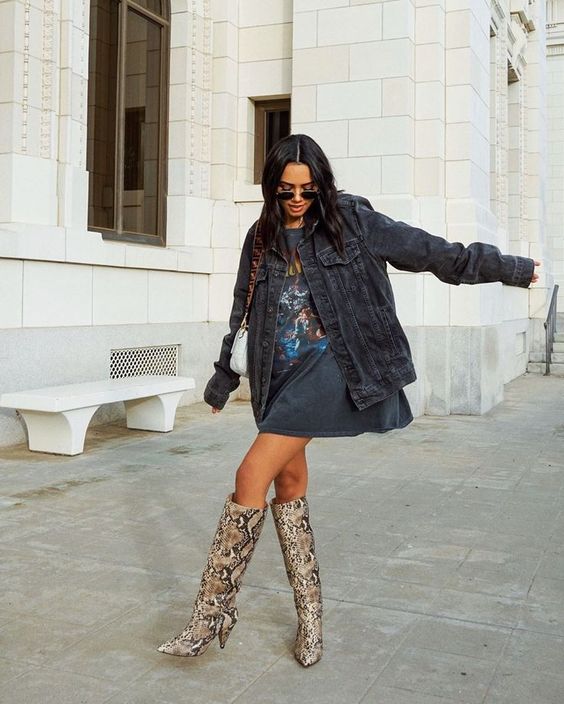 Create the perfect insta-worthy outfit, just like your favorite fashion influencers, while still being super comfortable in this oversized fit.
Style your oversized graphic tee with a matching oversized denim jacket to create a fun, loose, and flowy look.
Either pair this with statement boots, or keep it more simple with a pair of Converse or Vans.
Boyfriend Jeans Lover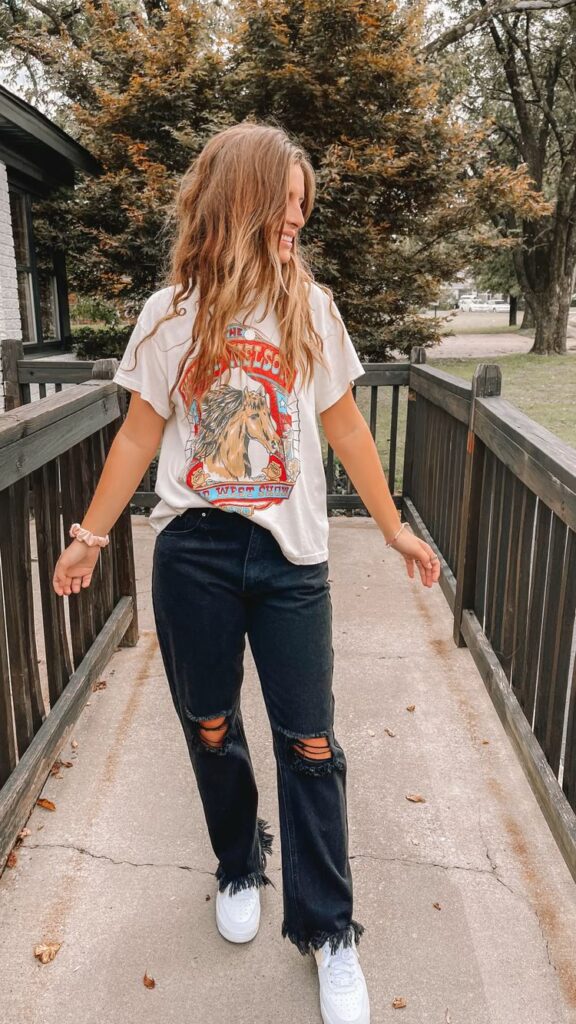 If you want to keep things simple, but still be stylish, try pairing your graphic tee on top of your favorite fitting boyfriend jeans.
Sometimes simple is better and this look is great for keeping it cool, while feeling cool.
Layer It Up
When the weather gets colder, don't give up on your graphic tees!
Layer your graphic tees on top of your long sleeves to create a trendy cold weather look.
We recommend pairing with a pair of straight leg denim jeans and a classic winter boot.
Baggy Like Billie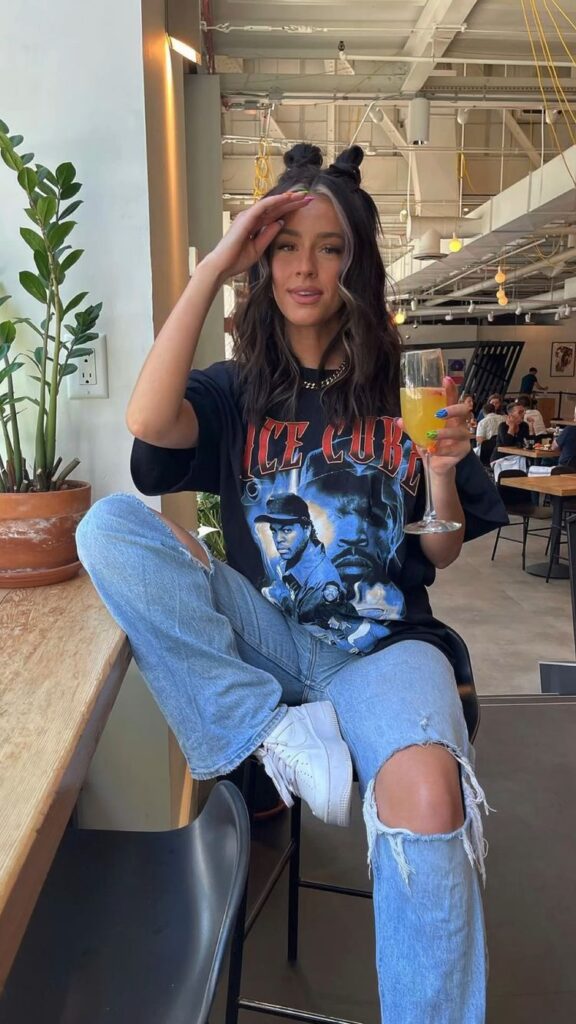 Billie Eillish made it popular, we're just helping to bring it to your closet.
Keep the baggy look going from your favorite musical artist by pairing a graphic tee with loose, baggy jeans and chunky sneakers.
This look practically screams "cool girl" without you even trying too hard, just like Billie.
The Millennial Skinny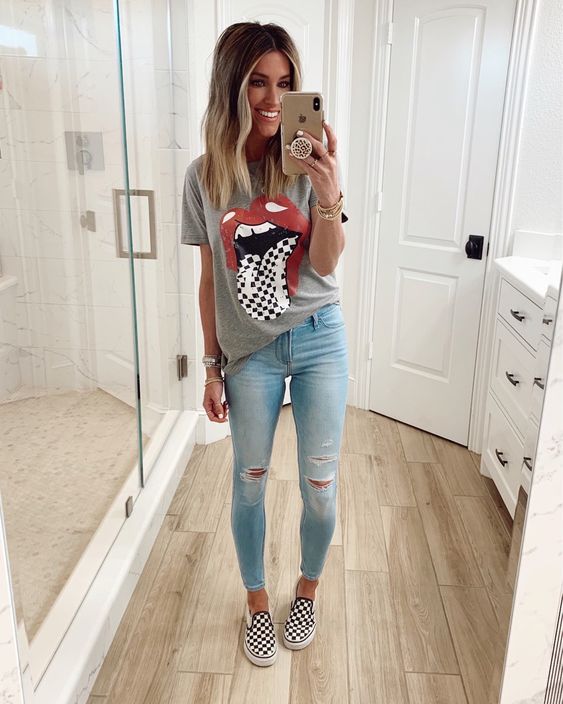 I know we all like to say skinny jeans are for millennials, but what if skinny jeans actually made your graphic tees look better?
The next time you reach for your favorite band tee, try rocking it with a pair of skinny jeans and the classic checkerboard Vans.
This look is an instant classic.
Related Post: 20 Best Frat Party Outfits for Girls
Running Errands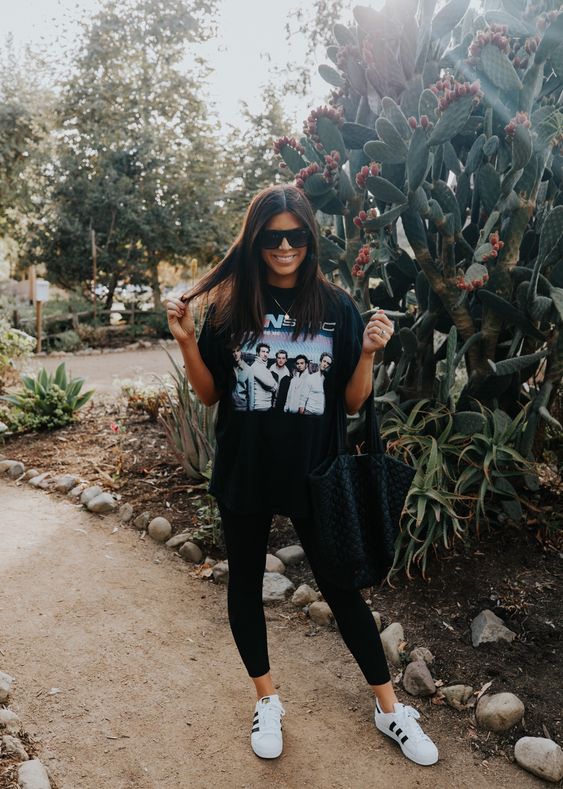 If you're running errands or walking around a lot and just need to be comfortable, keep things simple with an athleisure inspired look.
Rock your graphic tee with comfortable leggings and sneakers and you have a simple, yet effective, outfit to tackle all of your to-dos.
Flannel & Docs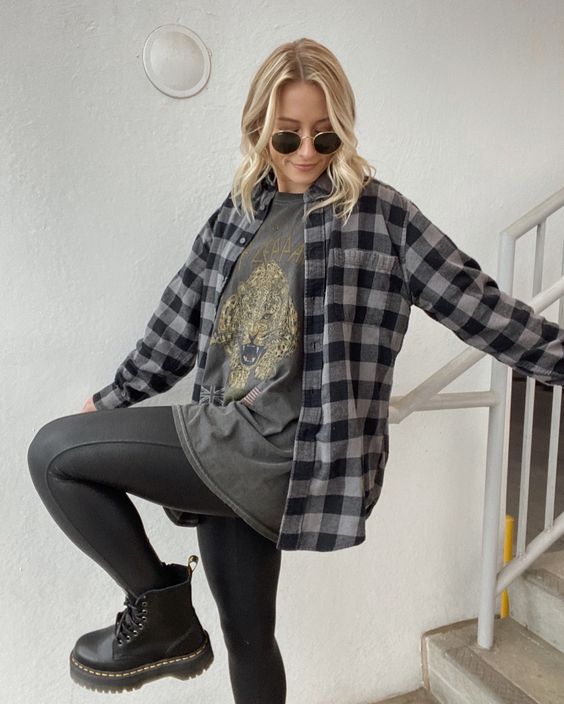 The two staples to any fall outfit: an oversized flannel, and a pair of black chunky Doc Marten boots.
If you really want to be on trend this Fall, pair your graphic tee with a comfortable flannel and your worn-in Doc Martens for an outfit you can always default to.
And don't forget to complete this outfit with a Pumpkin Spice Latte.
Flared Up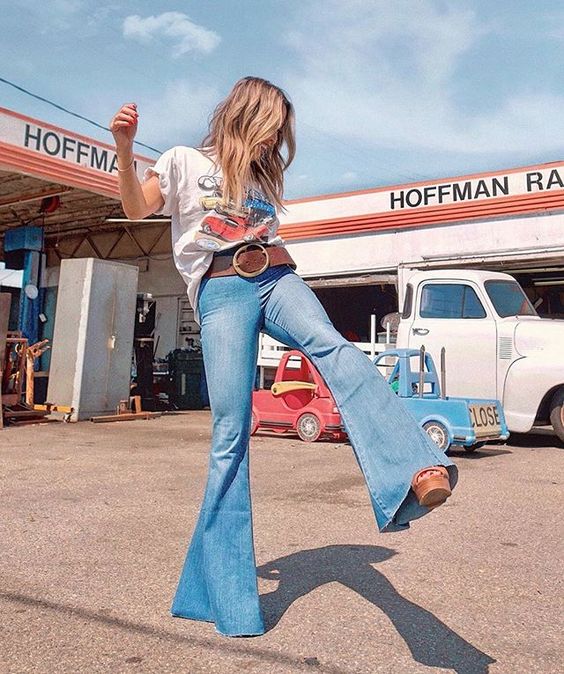 What better way to pay homage to our 70's Western Rock & Roll hearts than with a graphic tee and flared jeans combination?
Even if you don't love Western Cowboys or Rock & Roll, this outfit is still one that you can rock.
We recommend pairing your graphic tee with the celebrity approved Free People Jayde Jeans.
Rocking with a Leather Jacket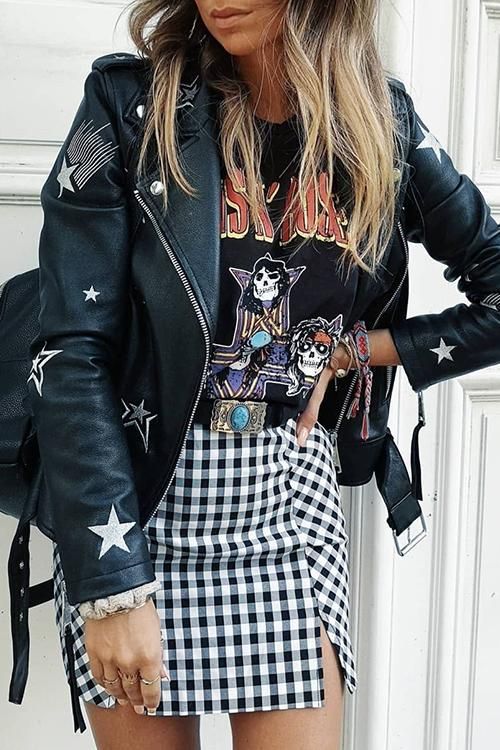 Leather Jackets were practically made for wearing on top of graphic tees. And that's a fact.
Next time you're looking to style a graphic tee, pair it underneath your favorite leather jacket for an outfit that is sure to make a statement.
Falling for Fishnets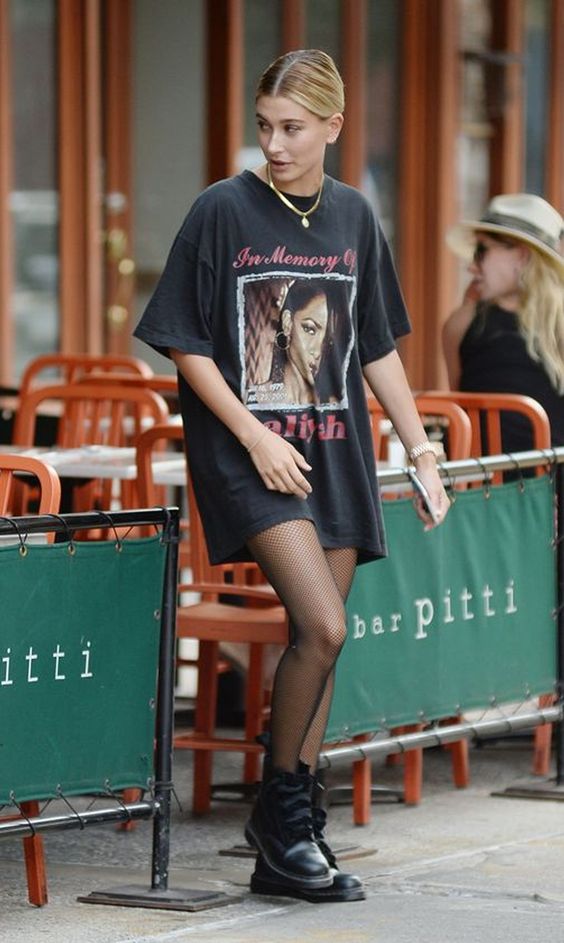 Take it from the queen of fashion herself, Hailey Bieber, who is single-handedly making fishnets cool again.
This graphic tee outfit is sure to be an instant hit, and it's so easy to recreate!
Just wear an oversized graphic tee on top of black shorts, fishnets, and black boots.
Add on chunky jewelry and a slicked back bun for the perfect Hailey inspired look.
Cargo Chic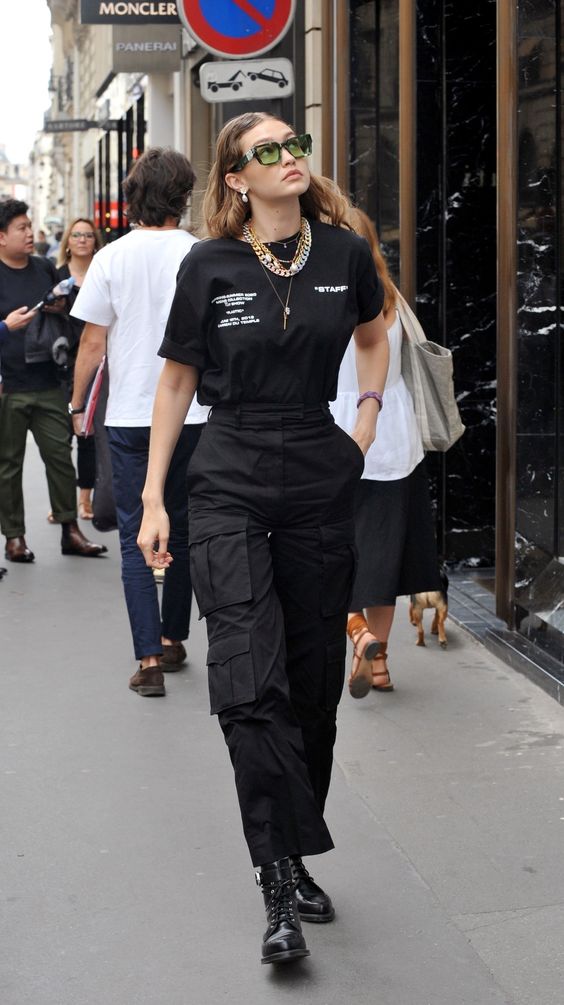 A cool and edgy graphic tee outfit brought to you by another style icon, Gigi Hadid.
To recreate this look, pair your graphic tee with oversized cargo pants and military inspired boots (like Doc Martens) for a fit even Gigi would approve of.
Miley Inspired
We saw Miley Cyrus in a graphic tank top, so we had to make a graphic tank top.
Next time you're spending a hot day wondering what to wear, take a page from Miley's style cheat-sheet and try rocking a raw cut band tee.
Lay on a ton of jewelry for a simple yet effective cool girl outfit.
Related Post: 50 Creative Festival Makeup Ideas
Coupled with a Cardi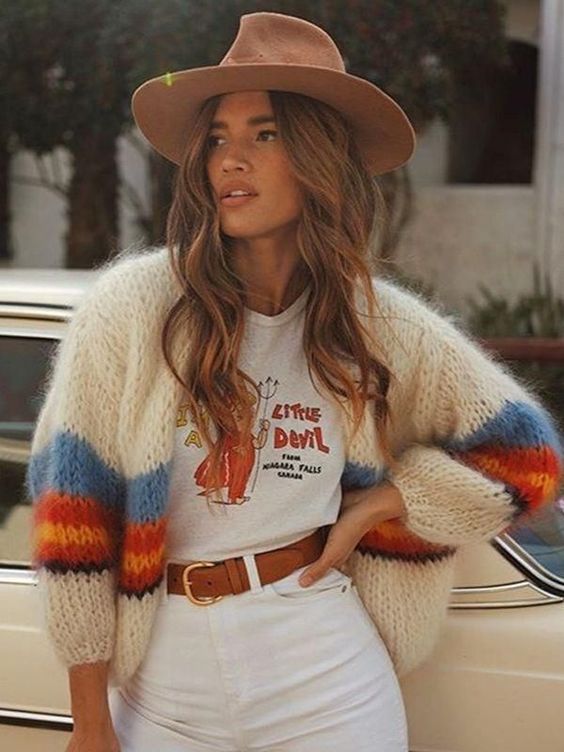 When the weather gets cooler, it only means one thing… sweater weather.
Rock your graphic tee with a chunky knit cardigan and neutral pants to create a cozy and warm outfit you'll be loving all season long.
Layering with Leather Pants
If Kendall Jenner is your style icon, like she is ours, then you have to recreate this simple yet chic graphic tee outfit this fall/winter.
Rock your favorite band tee on top of your trendy leather pants to create a look that will last all year round.
Hopefully you've figured out how to style a graphic tee after going through this list! Surely you've found an outfit to wear the next time you go out.
If you have any comments, questions, or suggestions leave them down below. Thanks for reading!