Are you a teen boy looking for some inspiration for your next haircut? Here are the 15 best hairstyles for teenage guys with wavy hair!
A lot of guys see wavy hair as a disadvantage. However, there are so many endless possibilities for your hair type that can't be beat!
You should note that some of the pictures do not include teenage guys. They are just examples to be used for the purpose of demonstrating the hairstyle.
Whether you have short, medium length, or long wavy hair, you'll be sure to find your favorite hairstyle in this list!
Let's dive in!
Messy Side Part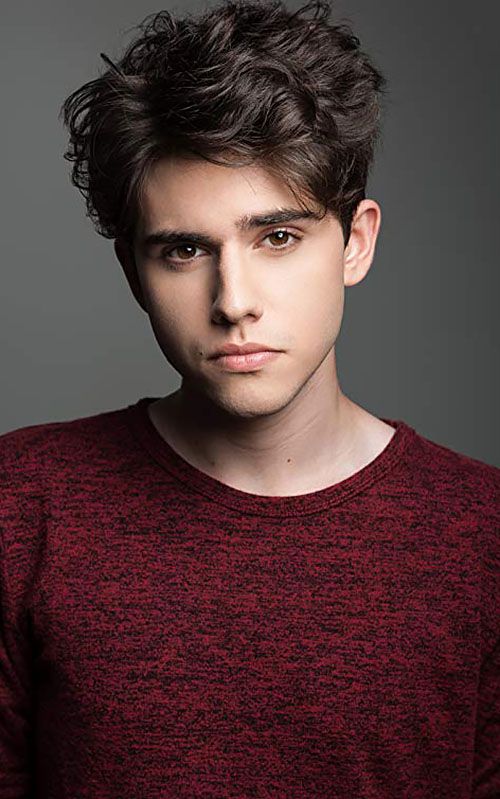 If your wavy hair tends to get a bit out of control, take advantage of it with this hairstyle!
For this haircut, all you need to do is grow out your hair to a medium length. After that, part your hair on one side.
Bring the shorter half down towards your ear. Take the longer half and brush it over to the opposite direction with your fingers.
Long Sides and Volume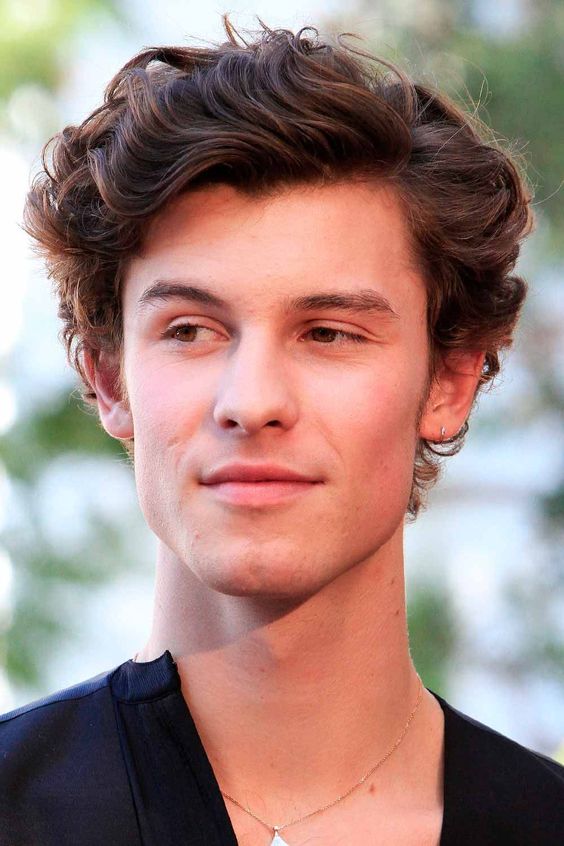 Long sides and volume is an easy way to capitalize on really wavy hair. It requires haircuts less often and is not super hard to maintain.
You can incorporate a side/middle part to this if desired. On top of that, having longer sides makes your face look skinnier and smaller.
It does, however, make the top of your head appear larger. Keep that in mind when deciding the right hairstyle for you.
Wavy Quiff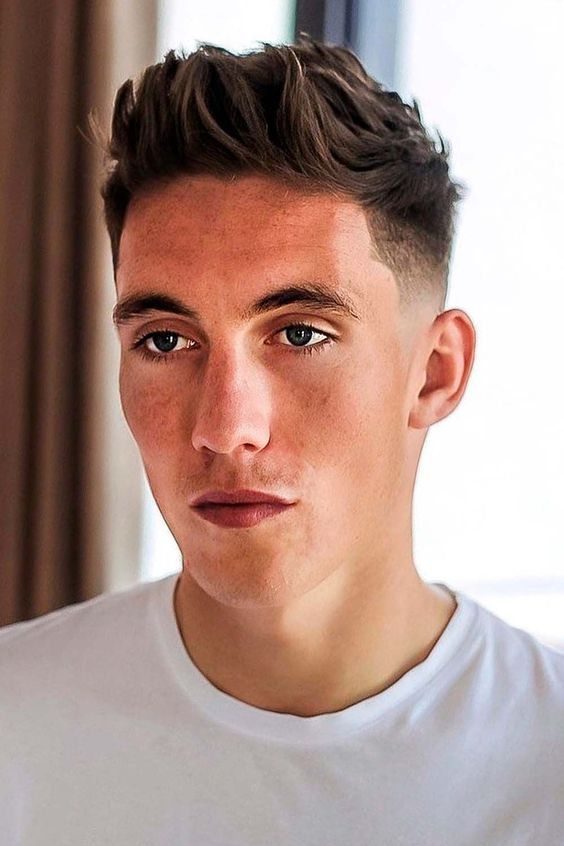 The wavy quiff is one of the best hairstyles for teenage guys with wavy hair! It's clean and modern for any teen boy.
It works mostly for short to medium length hair since you want enough hair in the front, but not too much that it gets messy.
For this hairstyle, ask for a short buzz on the sides. Brush the front of your hair upwards and bring the rest of your hair towards the front!
Related Post: 10 Stylish Fall Outfits for Teenage Guys
Textured Quiff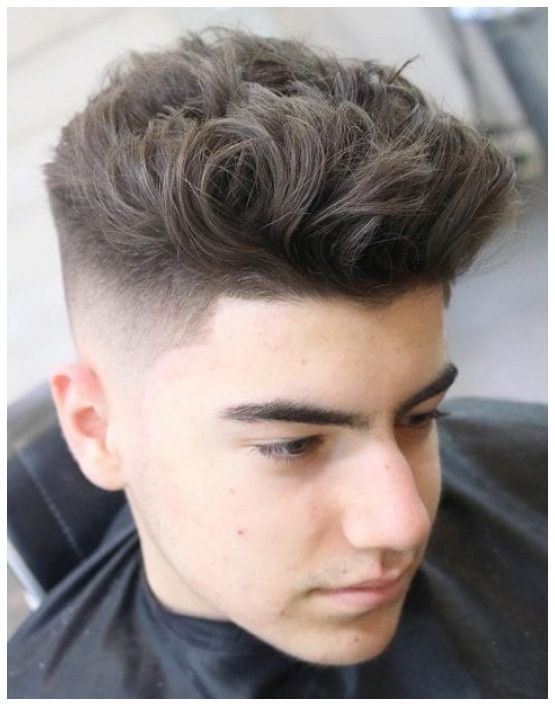 The textured quiff is very similar to the wavy quiff above. However, there is one main difference…
Most of the hair in this hairstyle is brushed up and textured, instead of all the hair going forward.
This can be useful for adding more volume to your look, appearing taller, or having more style with an outfit!
Brushed Back Waves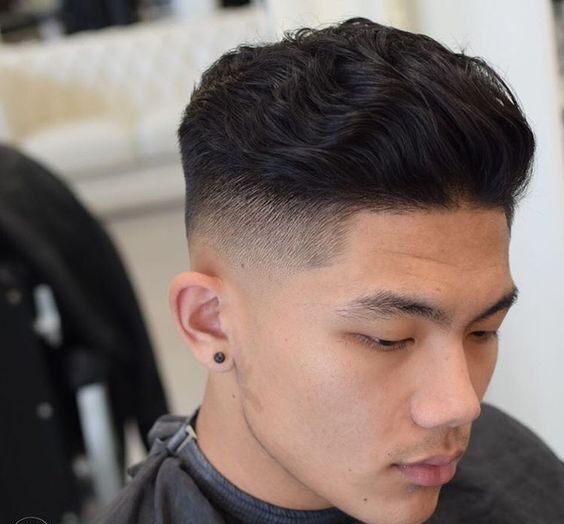 The brushed back waves are essential for maintaining a clean look when it comes to wavy hair!
Wavy hair can be styled like many straight hairstyles. Plus, wavy hair has access to even more possibilities.
However, it can be uncontrollable. With this hairstyle, you can use a bit of product to keep things under control and slick everything back.
Buzz the sides and keep the top as long as you desire. It might help to use a comb for this type of hair.
Short Hair Fringe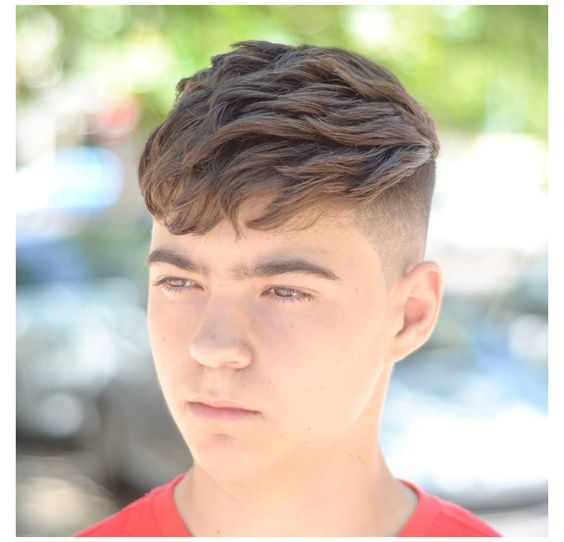 If you have short wavy hair, the short hair fringe is one of the best hairstyles for teenage guys with wavy hair.
All you need to do is buzz the sides super short. Then, bring all that wavy hair forward so that it sits over your forehead.
If you have acne on your forehead, you might want to stay away from this hairstyle since it locks in sweat.
It also doesn't give your forehead room to breathe, but it does offer a bit of natural protection from the sun.
Waves Haircut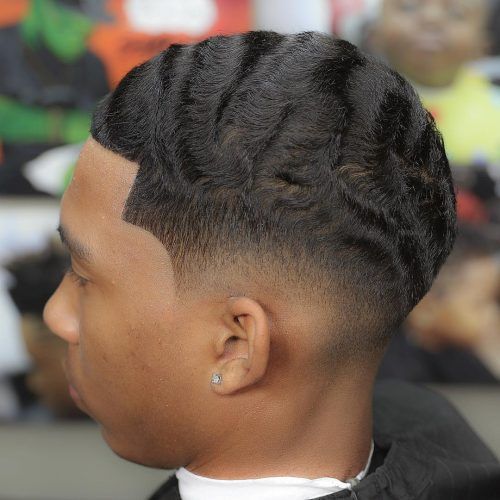 For all the black teenage guys out there, definitely consider getting waves for your next haircut!
It's easy for short hair and only requires a bit of maintenance compared to many other popular hairstyles.
Just remember to keep brushing consistently and consider wearing a durag at night to prevent the hairstyle from coming undone.
Related Post: Ab Workout for Teenage Guys
Medium Length Wavy Undercut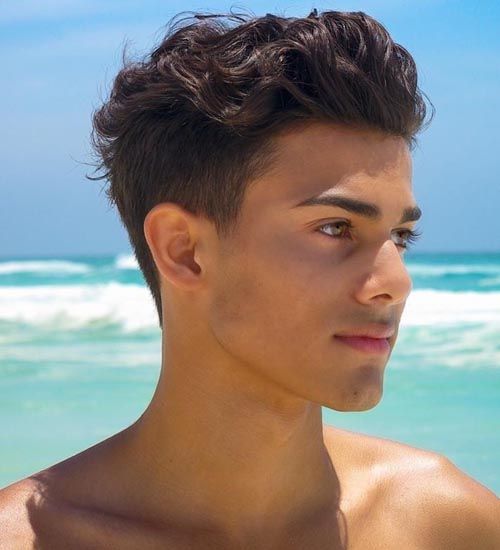 The medium length wavy undercut is one of my favorite hairstyles for teenage guys with wavy hair because of how good it looks!
For this haircut, buzz the sides somewhat short and leave as much hair as you can on top.
Let the top of your hair hang slightly over the buzzed sides to complete the undercut look. Use the model above as a reference.
This hairstyle is especially nice for teen boys with thick hair as well!
Short Hair Side Part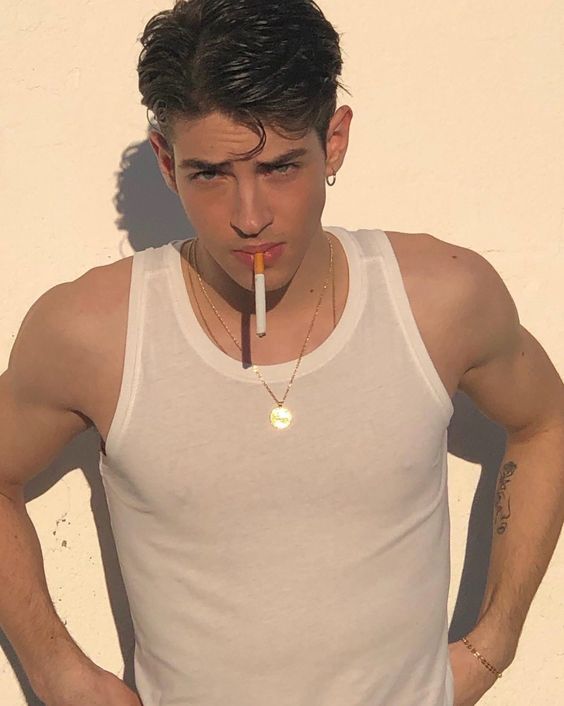 If you have thinner and shorter hair, this hairstyle is definitely for you!
A simple side part on top is all you really need to keep this hairstyle alive. Buzzing the sides is optional, but recommended for a cleaner look.
You can also let a few hairs hang over your forehead (like the model above) for a bit of added "bad boy" style.
Textured Fringe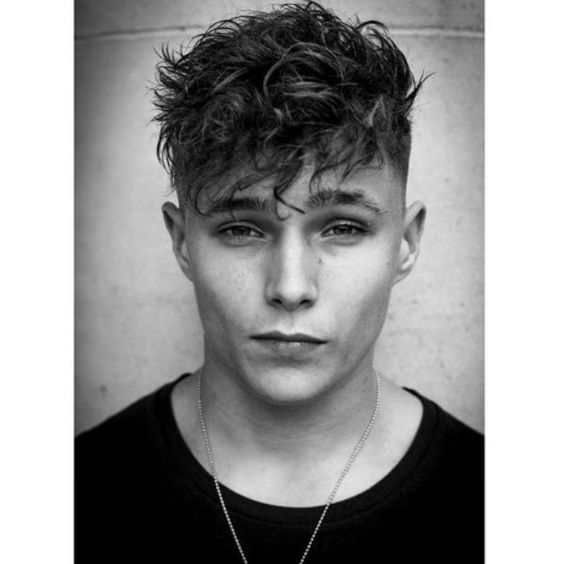 The textured fringe looks like a hairstyle that is uncontrollable, but you meant it that way. Think of it as a preplanned mess in the best way possible.
A fringe is simply a term used to describe a hairstyle that hangs over the forehead. The rest is really up to you, but adding a bit of texture here works really well!
Using a bit of product will help raise those hairs from your head and increase the overall volume on your head.
Slicked Back Pompadour
When you combine a slicked back look and a quiff, you get the ultimate hairstyle… the slicked back pompadour.
A lot of times, slicking your hair back means that you're sacrificing volume for maintenance. However, the pompadour allows you to slick everything back and keep the front nice and high.
Cut your hair just enough so that you don't have excess hair near the back of your neck. Aside from that, the length is really your choice!
Related Post: 10 Coolest Backpacks for Teenage Guys
Medium Length Middle Part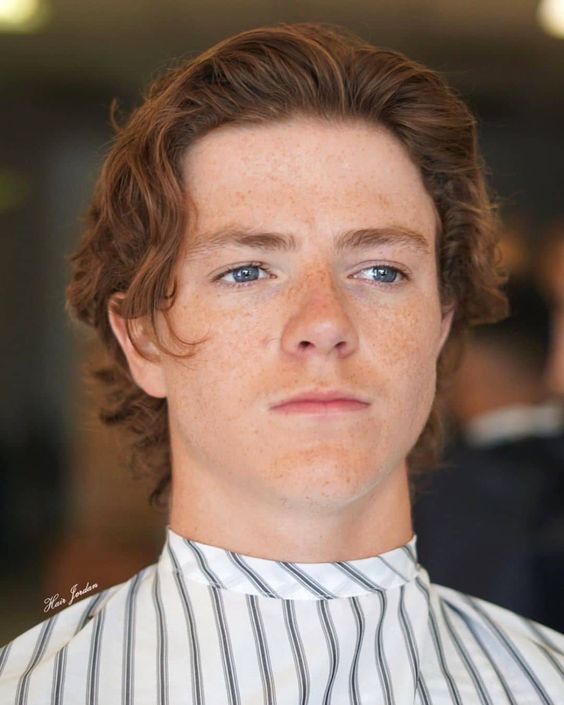 For those teenage boys with longer hair, a middle part might be an excellent way to go.
Your hair can stay pretty messy as long as the middle part is noticeable.
Many notable celebrities with medium length hair have copied this hairstyle for years, including Tom Holland.
High and Tight Fade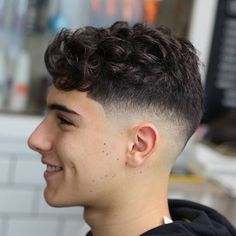 Not sure whether your hair falls under the category of wavy or curly? Go with this hairstyle and it won't even matter!
Get a tight fade that leads up to the top. Clean up some of the straggler hairs at the very top to modernize the look.
Combining the high and tight look together gives you an easily manageable wavy hairstyle as a teenage guy.
Heavy Fringe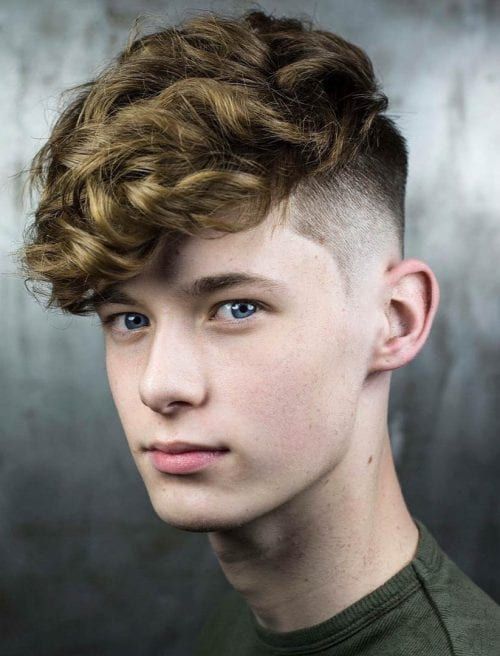 If you have heavy, wavy hair to begin with, then consider this heavy fringe look.
This hairstyle allows you to keep all the volume in the world without sacrificing buzzed sides or frequent haircuts.
For this, get the sides buzzed and bring all your hair forward (allowing it to hang over your forehead).
Again, if you have a lot of forehead acne, this might not be the hairstyle for you.
Related Post: How to Get Clear Skin for Teenage Guys
Textured Pompadour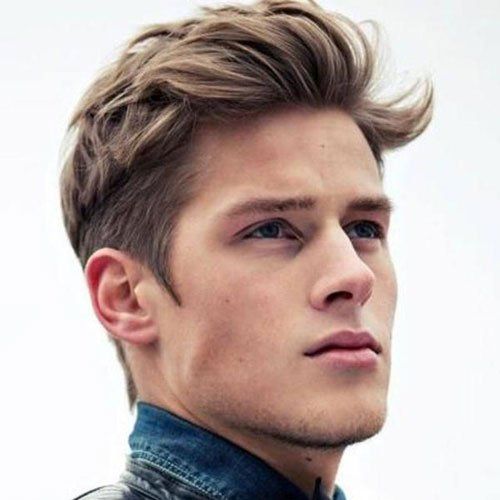 The textured pompadour is one of the most stylish hairstyles for teenage guys with wavy hair. As a teen, you want something simple that still looks fantastic.
This is exactly the haircut for that. The sides are not buzzed super close and the top has a bit of freedom around the top.
You can brush the front slightly in one direction (as shown above) to add a bit of direction to your hair. Product will probably be needed for styling this.
There you have it! The 15 best wavy hairstyles for teenage boys in 2021. Hopefully you found some inspiration for your next haircut.
If you have any comments, questions, or suggestions leave them down below. Thanks for reading!