Don't know what to wear to a music festival in the summer? Come pick from these 50 best summer festival outfit ideas!
Whether you're looking for simple, casual, trendy, rave style, or glitter ideas, you'll be sure to find a festival outfit that matches your style!
Before we start, you might find these resources useful to nail your festival look:
Let's dive in!
What Do You Wear to a Summer Festival?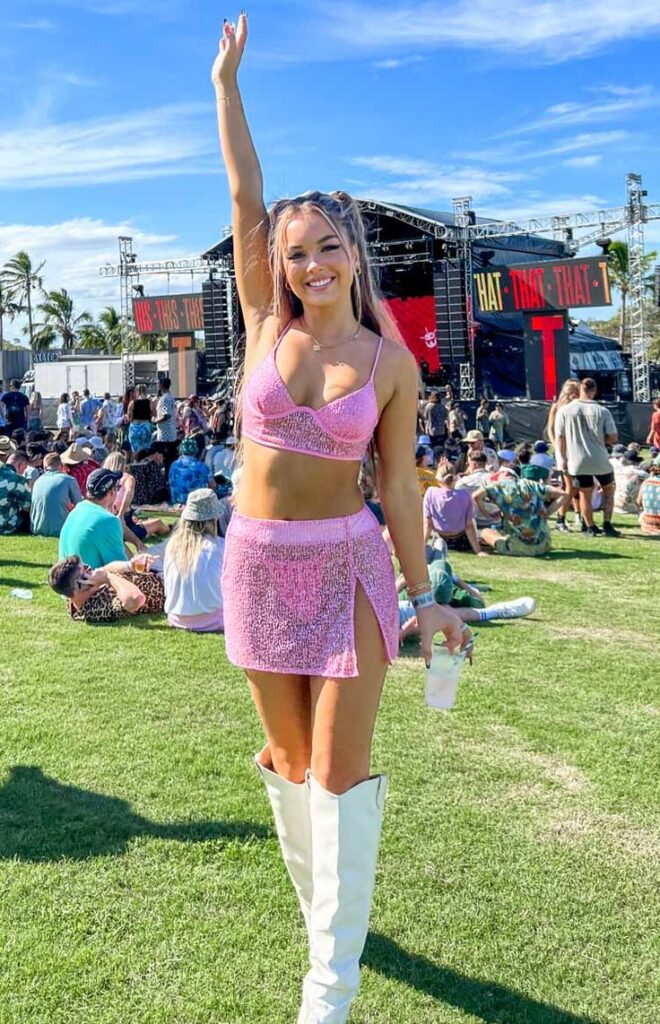 You should wear light and breathable clothing to a summer festival that you can dance in all day long without overheating.
You should also bring sunglasses, a hat, sunscreen, and shoes/boots that will keep your feet comfortable during the festival.
Aside from that, the outfits are completely up to you! Take a look at some of our favorite inspiration to copy from!
Best Summer Festival Outfit Ideas
Here are the 50 best festival outfits for summer that are guaranteed to get you a bunch of IG worthy pics and have a ton of fun!
1) Neon Crop Top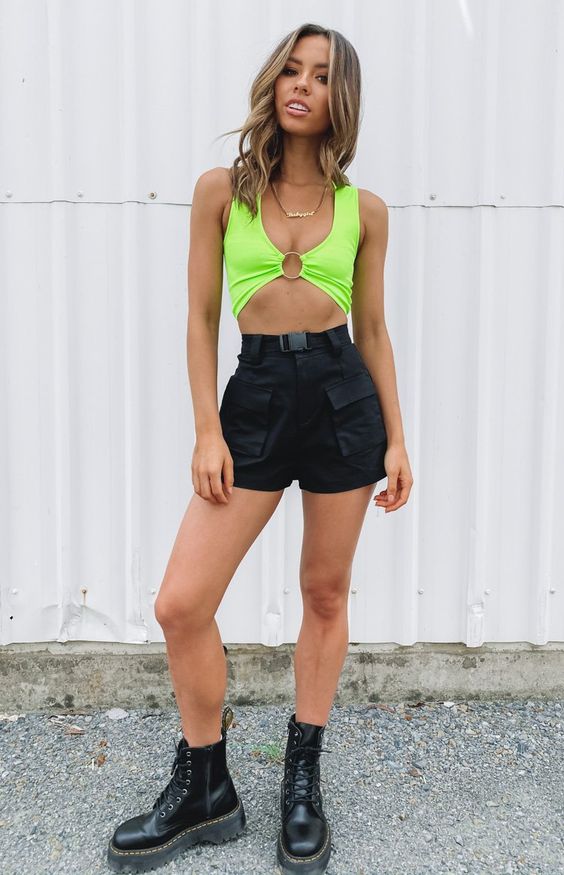 The best summer festival outfit ideas always involve something with neon! Neon is such a fun color for any festival and when worn as a neon crop top with an all black outfit, it's perfect.
2) Animal Print Skirt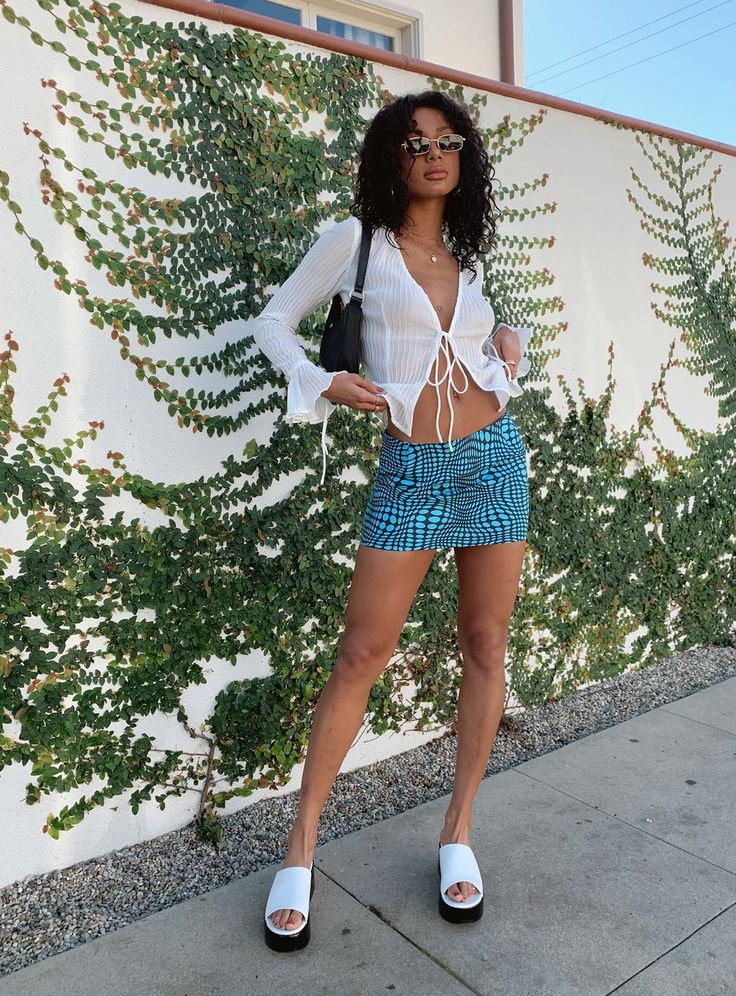 If we're bringing Y2K fashion back, then you have to bring back the animal print skirts. And what better way to rock it than at a summer festival?
3) Animal Print Pants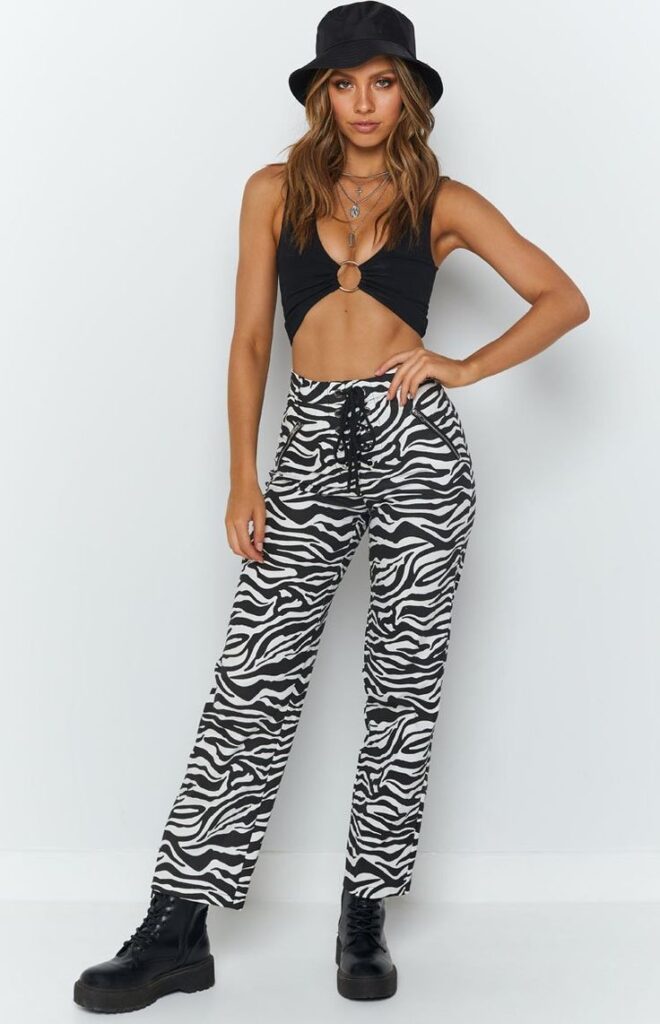 Similar to the animal print skirt, the pants are a great option for any teen girl looking for a bit more comfort and coverage at a summer festival.
4) Matching BFF Outfits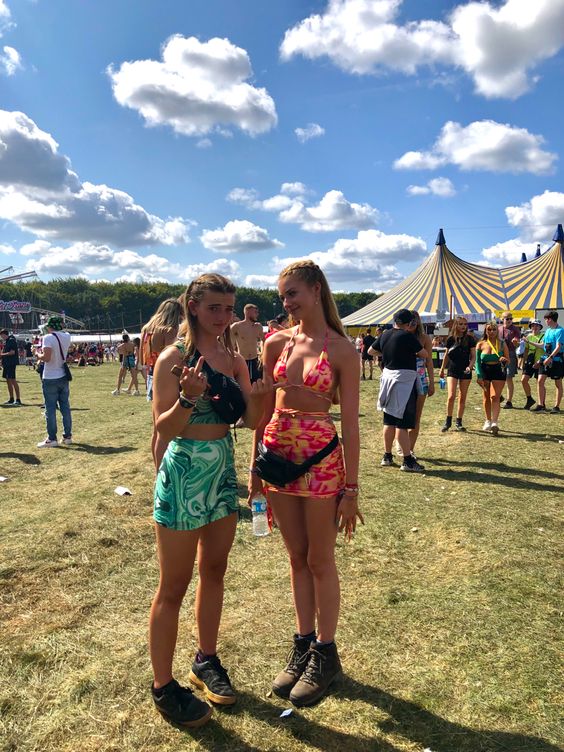 If you're looking for the perfect summer music festival outfit for you and your bff, try matching with neon tie dye sets!
5) Groovy Skirts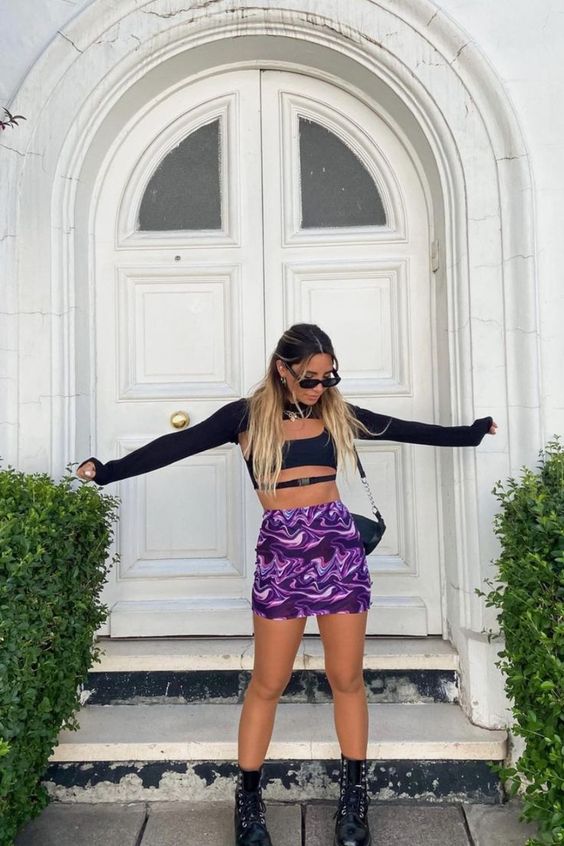 Try rocking a groovy 70's inspired skirt with a modern top to your next festival for an outfit you, and everyone else, will love.
6) Crochet Sets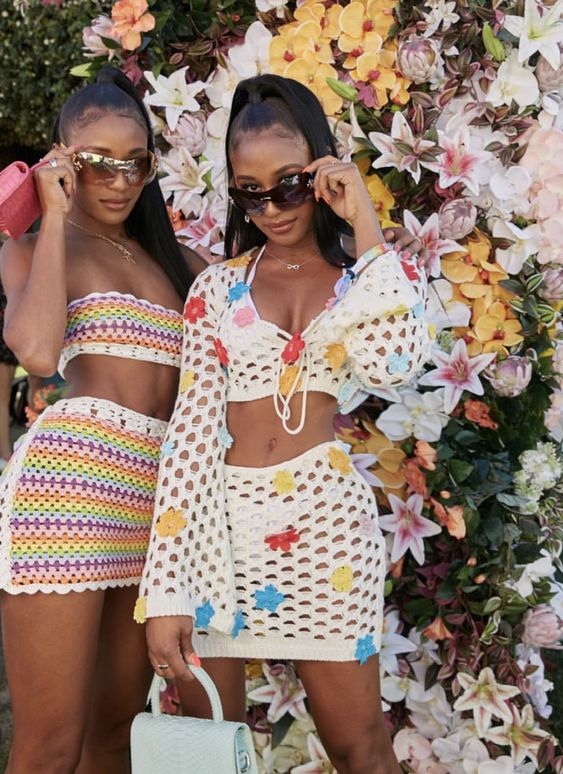 We love how trendy crochet sets have made a comeback in 2023 and we know you'll be loving it at your next summer music festival.
7) Checkered Pants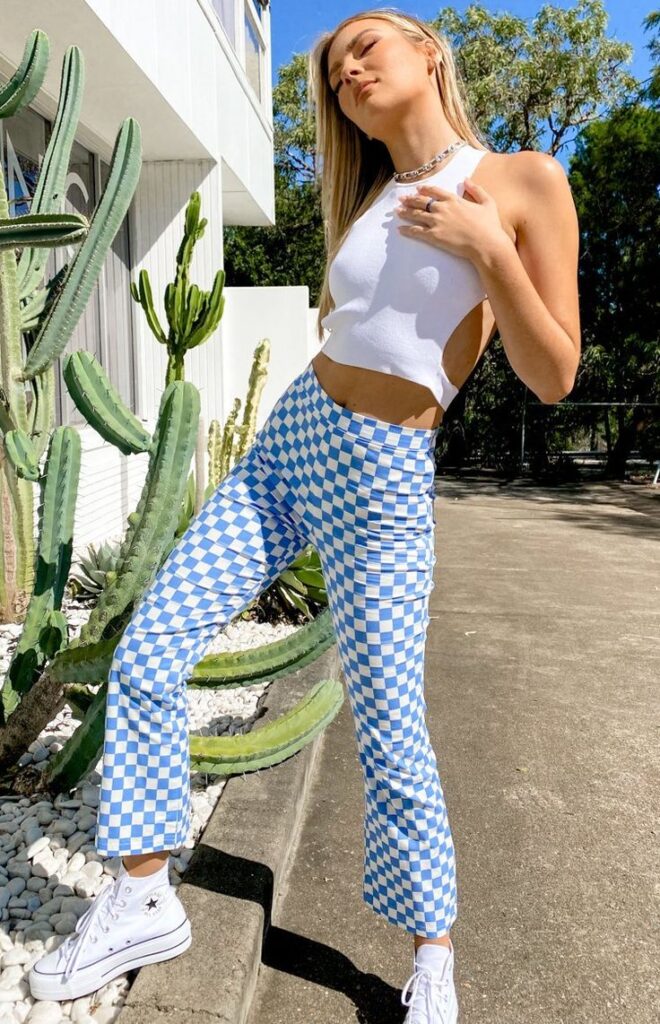 Checkered pants have become the trendy teen girl clothing item, and they're perfect for any festival, rave, or outdoor summer party.
8) Neon Button Down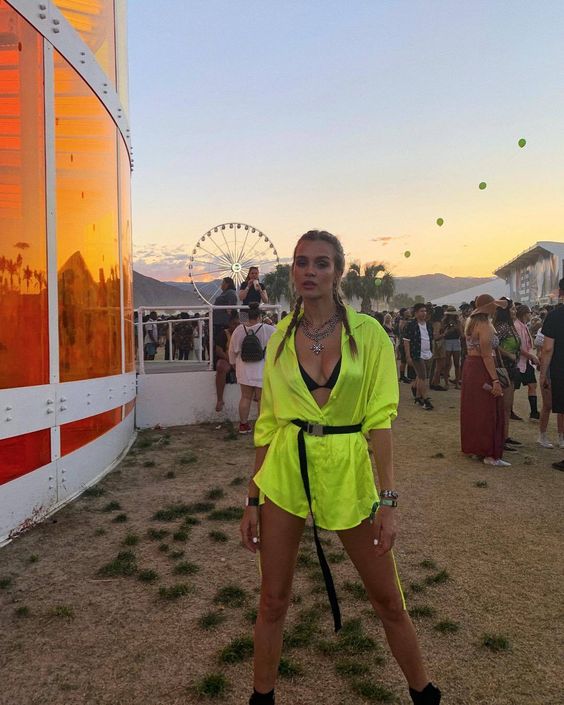 A list of summer festival looks wouldn't be complete without an oversized neon button down.
9) Rhinestone Everything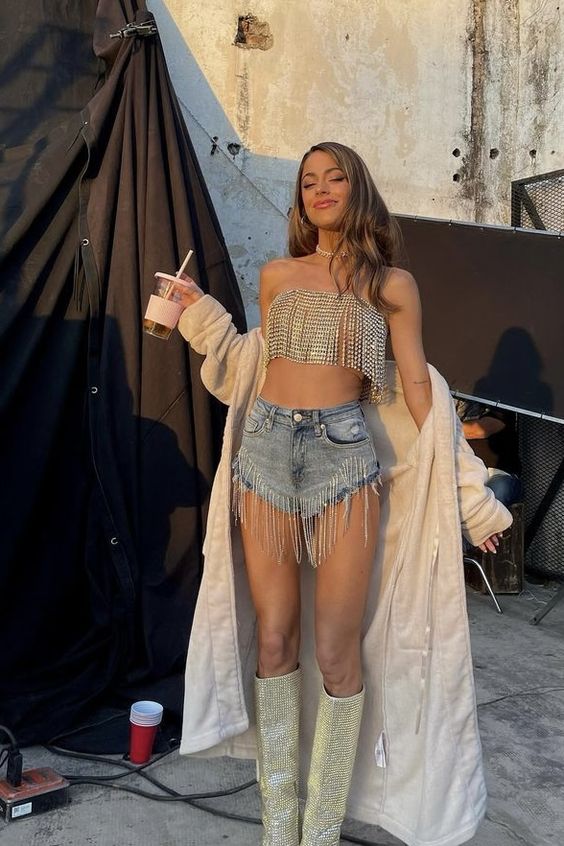 One of our favorite summer festival outfit ideas consists of one thing: rhinestones. And the more you wear, the better!
10) Small Top, Baggy Pants
One of the trendiest outfits in 2023 is the small top, baggy pants trend. All you need is a tank top, crop top, or any other small top, paired with your favorite pair of baggy pants.
11) Group Color Coordination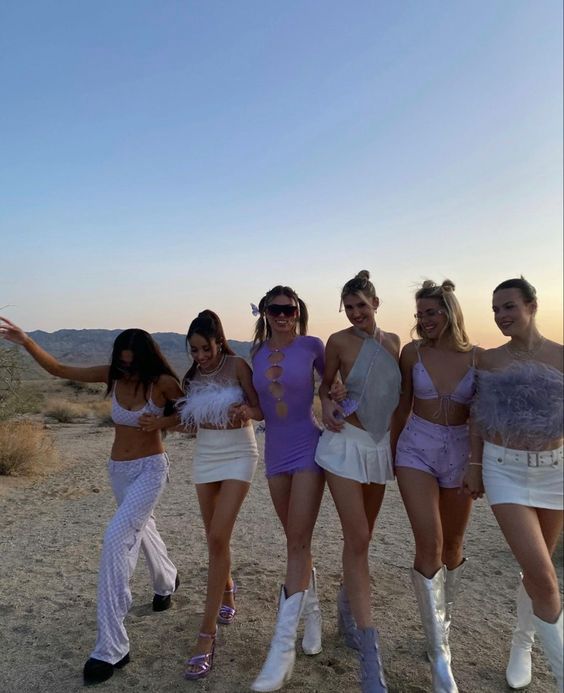 If you're looking for a group summer music festival outfit idea, then try color coordinating with your BFFs!
12) Denim Shorts & Cowboy Boots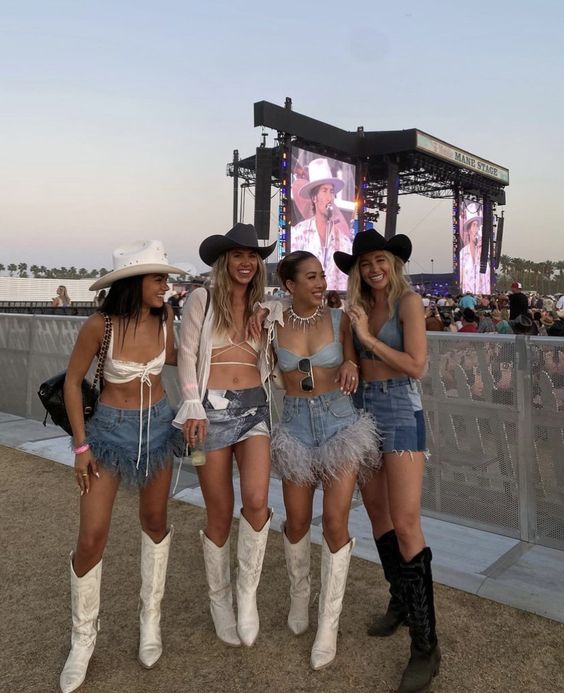 You can never go wrong with a pair of fun denim shorts paired with cowboy boots for an IG worthy summer festival look.
13) White Fairycore Dress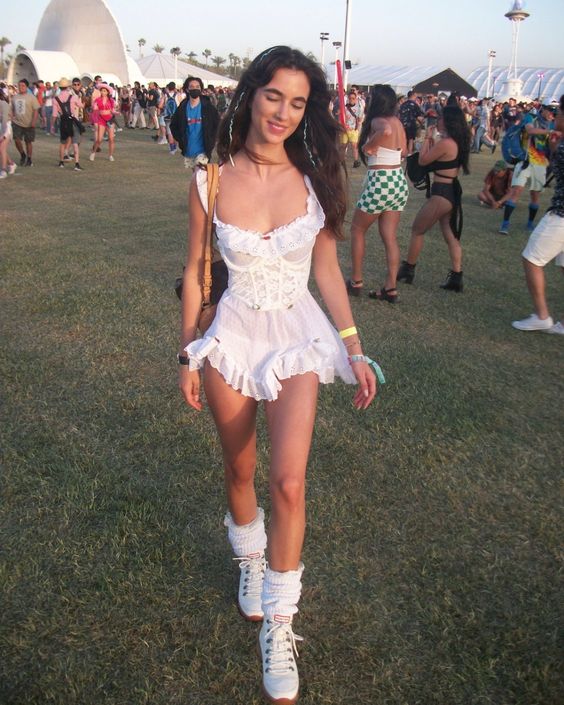 Live out your wildest fairycore dreams with a cute and feminine white dress you'll want to wear to every summer festival.
14) Rhinestone Set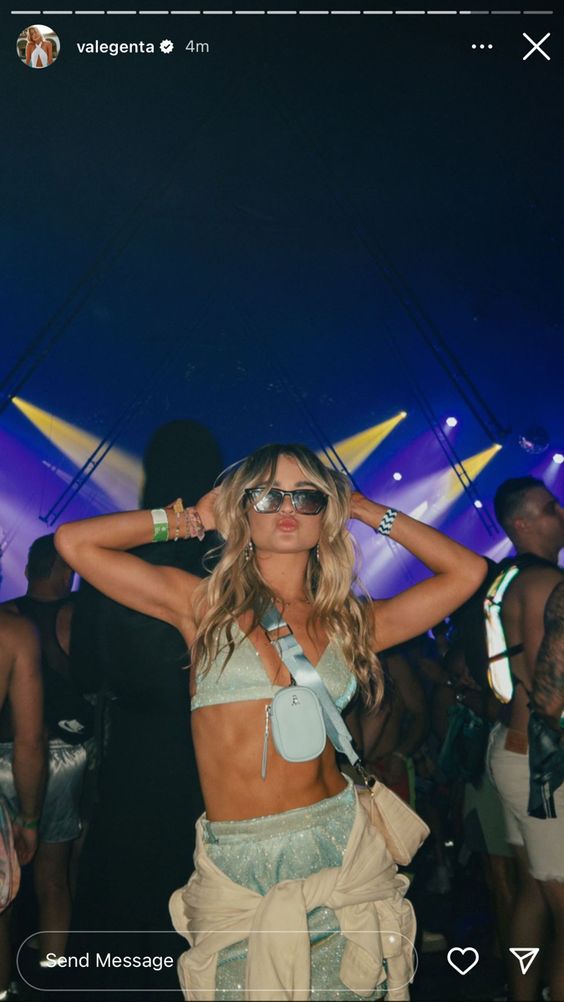 No rave outfit is complete without a rhinestone set that's perfect for your IG flash photography.
15) Barbie Pink Set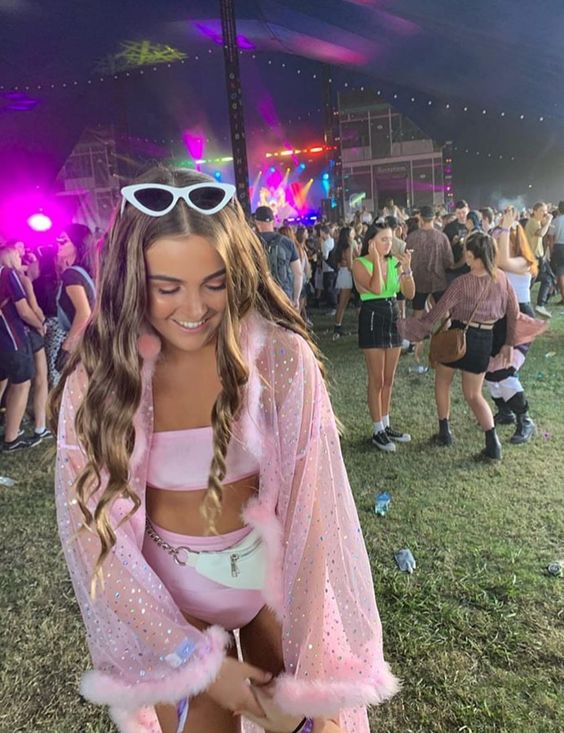 Nothing says summer festival look more than a cute and trendy Barbie pink satin and feather set.
16) Pink Palazzo Pants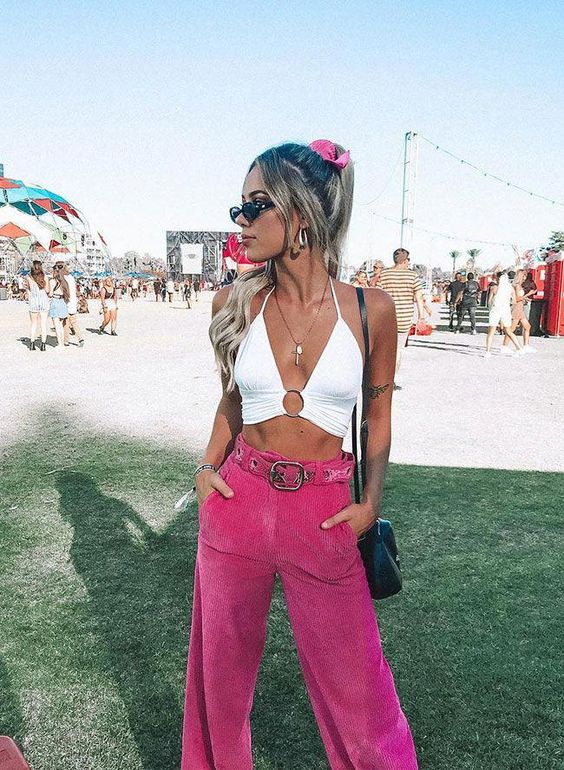 Palazzo pants and trousers have taken 2023 fashion by storm, and where better than to rock them at a summer music festival?
17) Oversized Kimono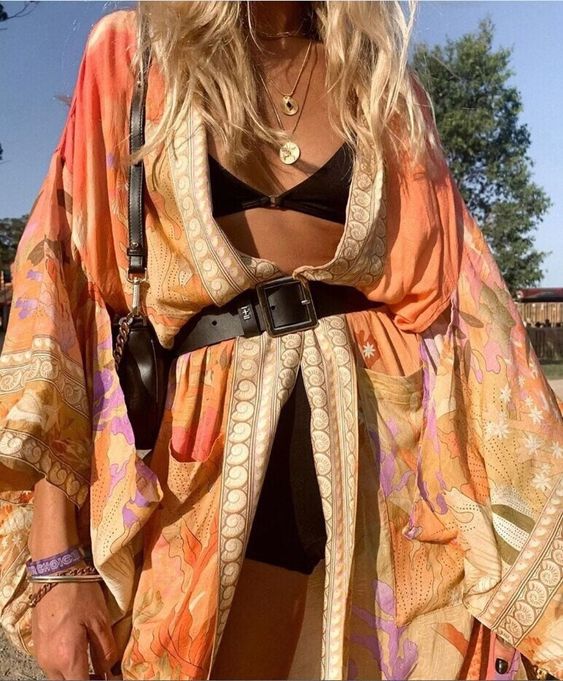 An oversized kimono is the perfect summer festival outfit idea for any teen girl who wants to have fun, look cute, and be comfortable.
18) Metallic Blue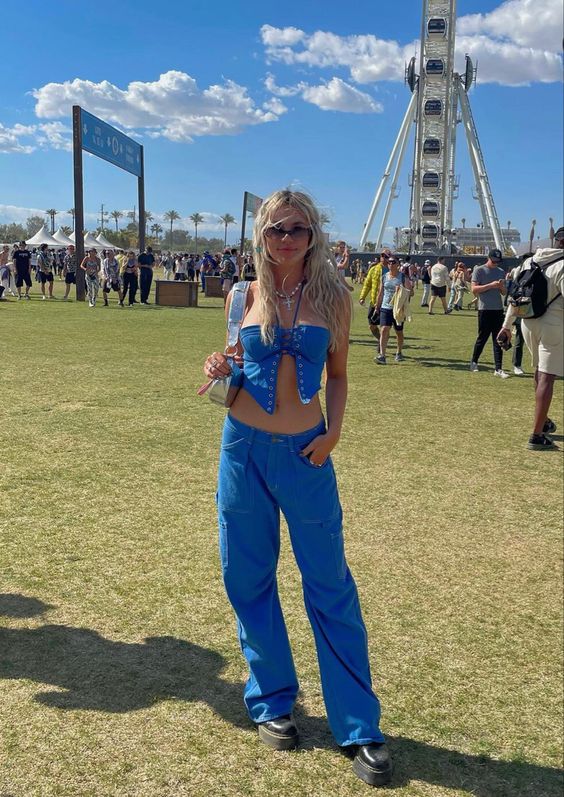 A metallic blue color coordinating outfit is absolute perfection for any summer festival look.
19) Abstract Pants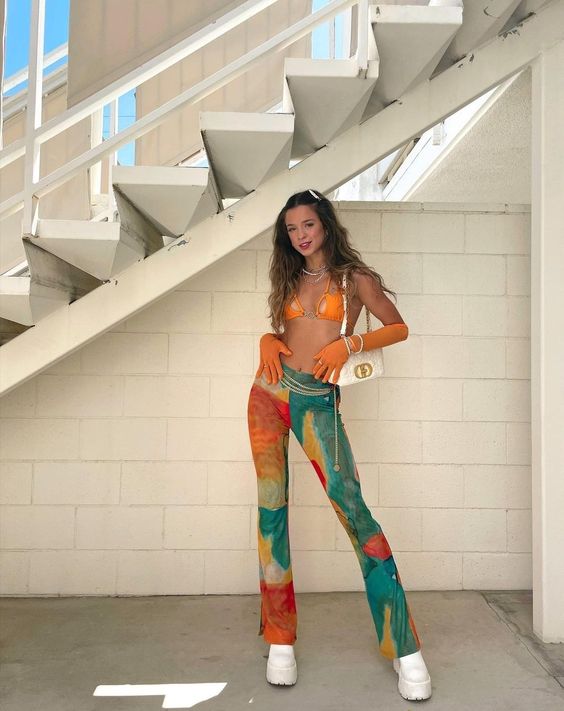 Have fun with your summer festival outfit with a colorful and abstract pair of pants that'll catch everyone's eyes!
20) Sheer Tops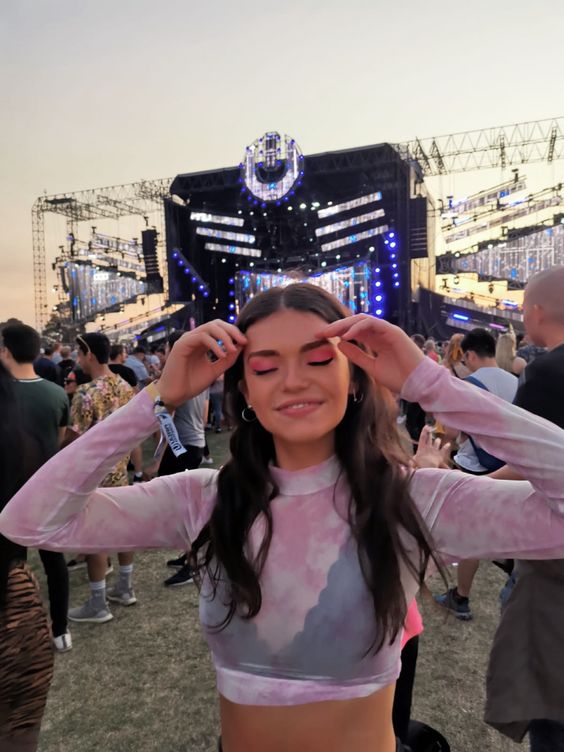 Sheer tops are a great way to add a bit more coverage to your summer festival look without taking away from it's cuteness.
21) Butterfly Top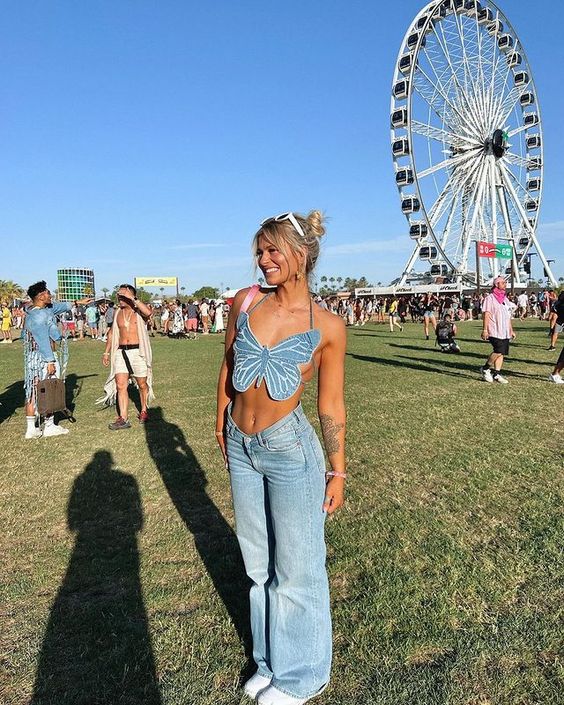 The butterfly top got its start in 2022 and has been trending into 2023 ever since!
22) Denim on Denim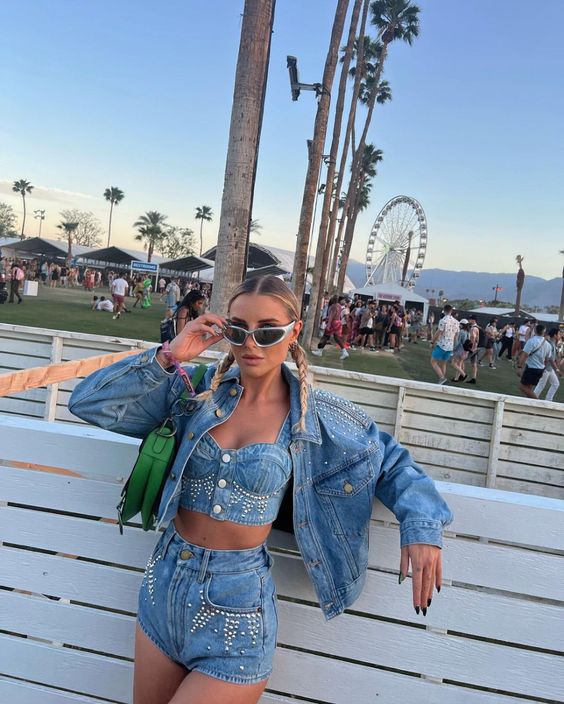 Denim on denim, or the Canadian Tuxedo, is always a great go-to choice for any summer festival outfit.
23) Disco Ball Inspired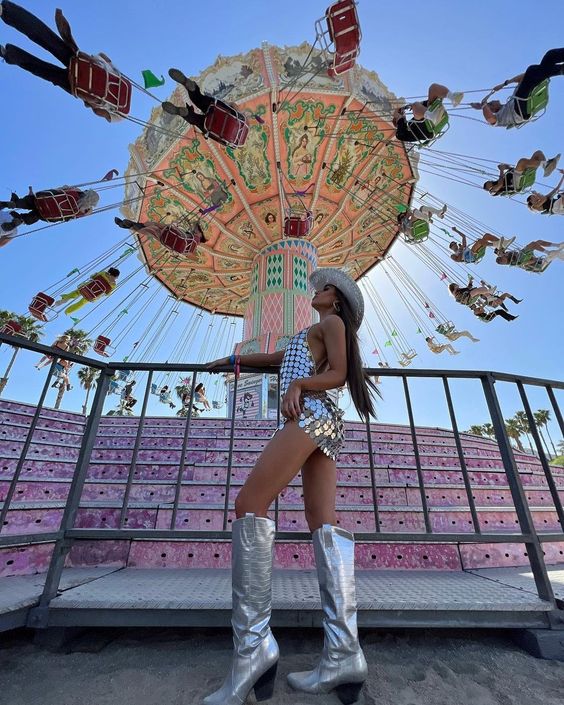 Rock a disco ball inspired outfit with metallic silver boots and a shimmer outfit for a festival look that wows.
24) Little Lavender Dress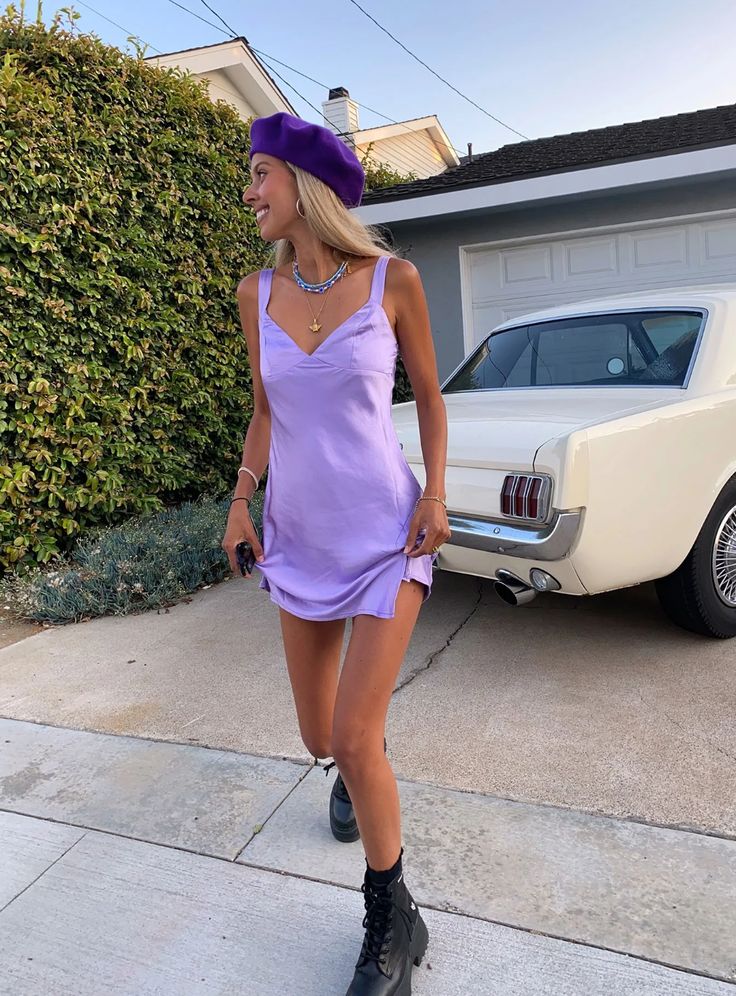 Who doesn't love a little lavender silk dress for a summer music festival?
25) Denim Skirt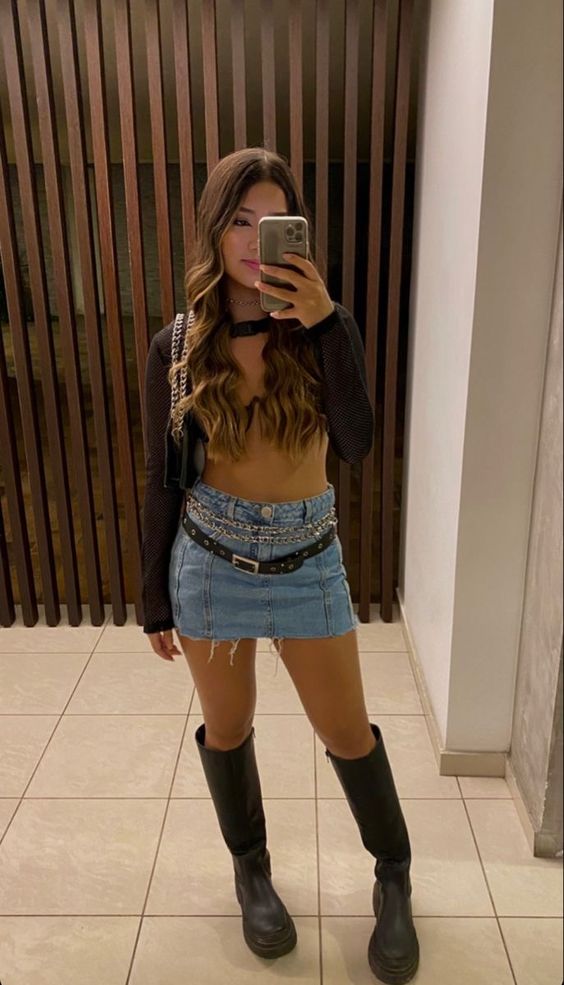 A denim skirt paired with a crop top and black boots is a must for any summer music festival or rave.
26) Flower Pants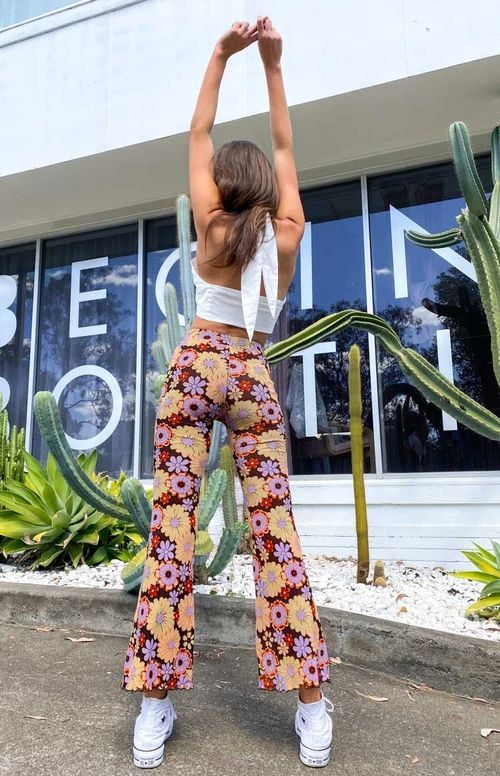 Embrace your flower power at your next summer music festival with a pair of cute and trendy floral pants.
27) Oversized Mesh Tee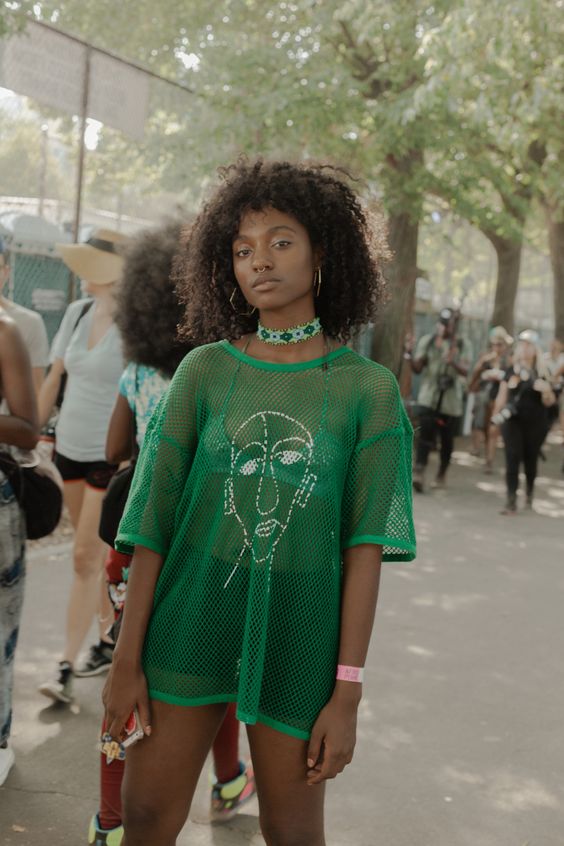 An oversized tee, especially one that's mesh, is a great option for any girl looking for a trendy and comfortable festival look.
28) White Jumpsuit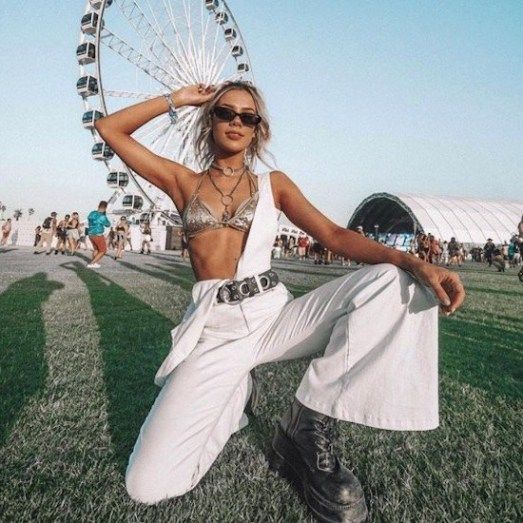 A white jumpsuit is a bit risky at a music festival but if you can pull it off, it will truly steal the show.
29) Retro Set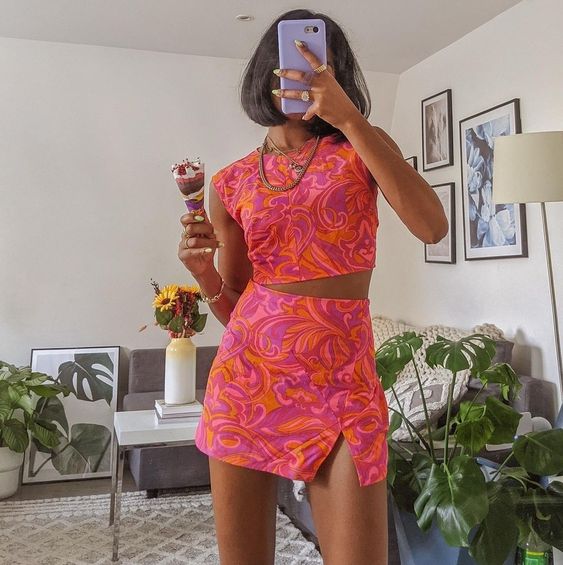 A colorful retro set is one of our favorite go-to choices when planning our summer festival outfit ideas.
30) White Tiered Skirt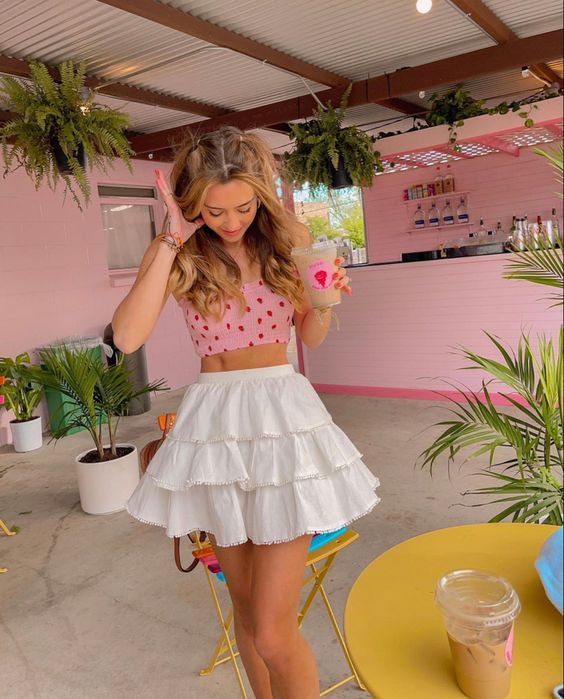 If you want a summer festival look that's comfortable, trendy, and cute, then try adding a white tiered skirt to your outfit.
31) Rhinestones & Leather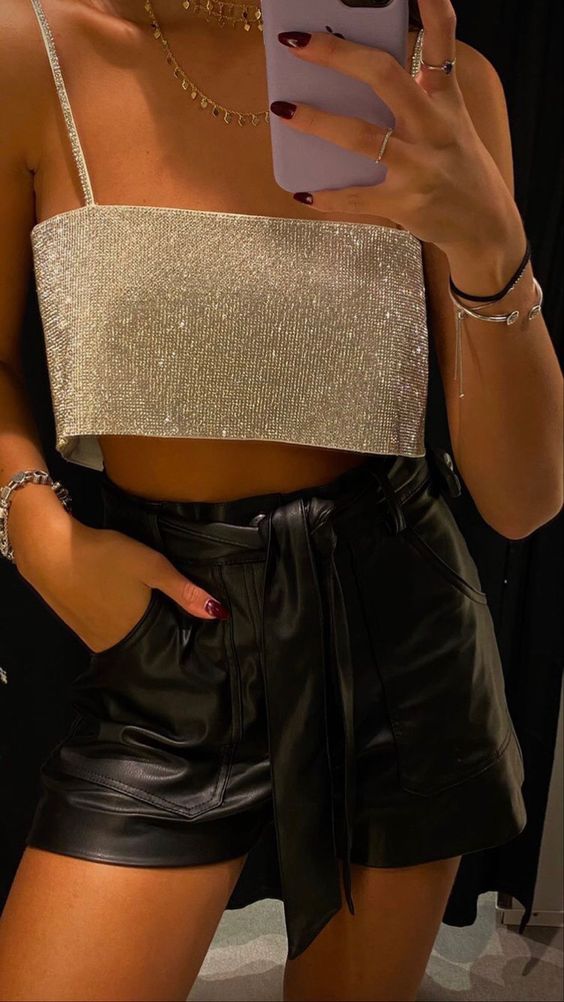 Make a statement at your next festival or rave with a rhinestone and leather outfit you'll be loving all night long.
32) Sequin Pants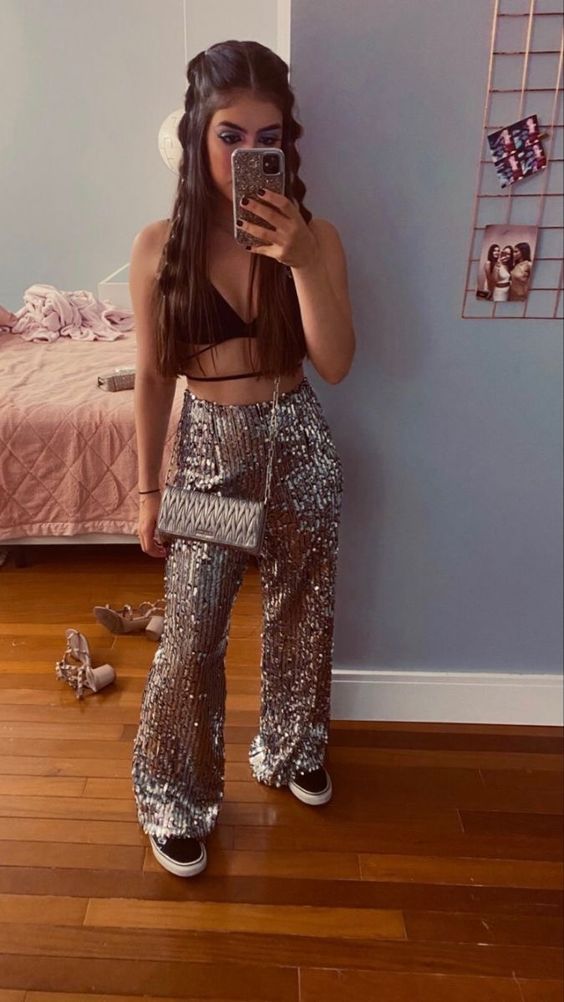 For a fun and trendy summer festival outfit idea, try rocking these super cute sequin pants.
33) Hot Pink Dress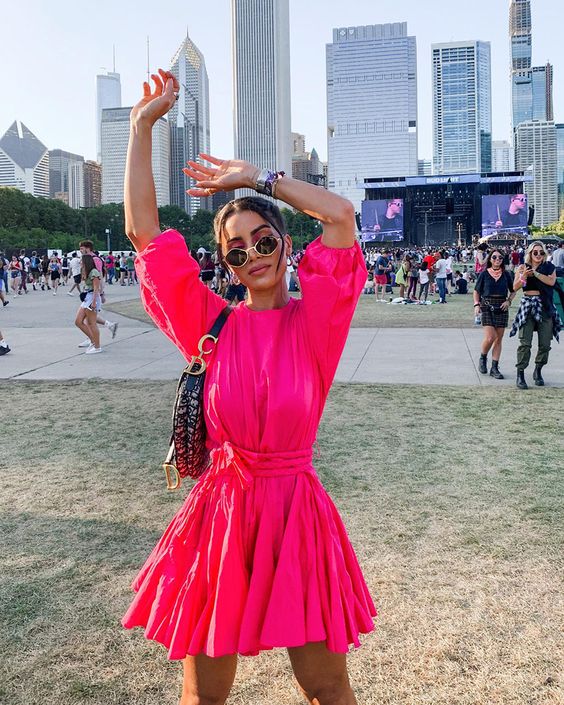 A hot pink dress is always an easy, comfortable, and cute option when planning your summer festival look in 2023.
34) All White Set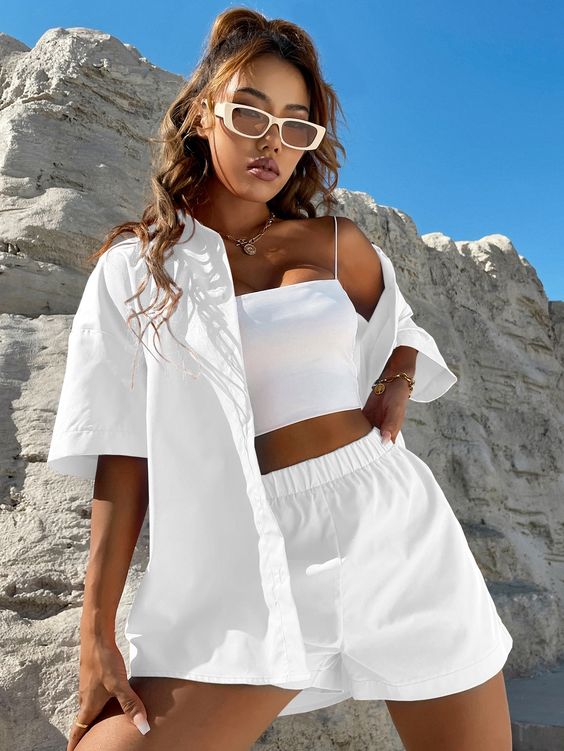 We love how easy and trendy this all white set is for any summer music festival or rave.
35) White Tassel Set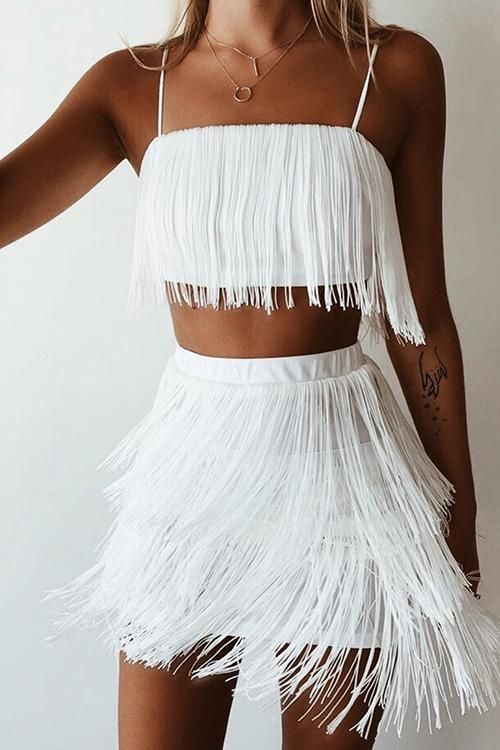 What better way to have fun at your next summer festival or rave in 2023 than with an all white tassel set?
36) Colorblock Pants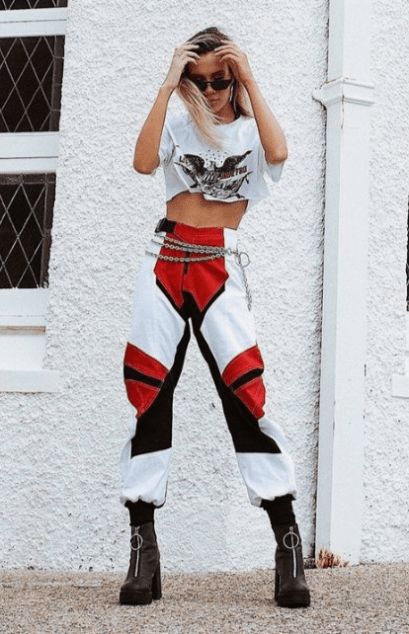 If you want to be the most stylish and fashionable girl at your next rave, you have to rock a pair of colorblock pants paired with a cool graphic tee.
37) Kill Bill Set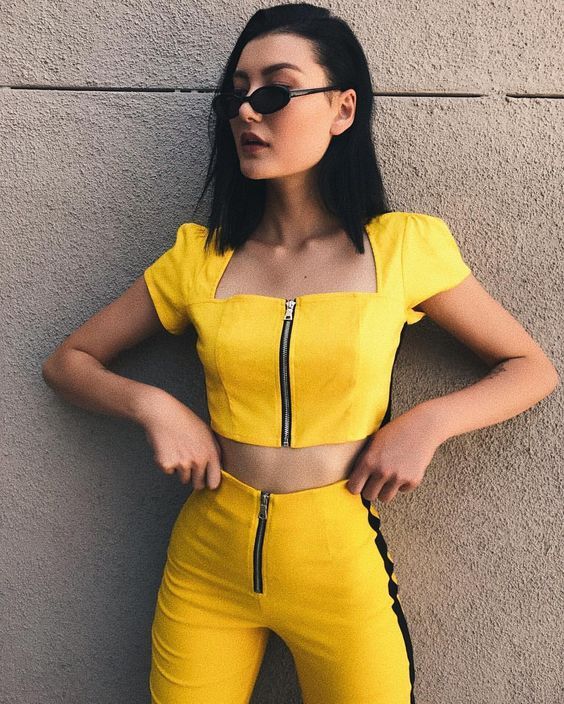 We love how the kill bill yellow set has become one of the trendiest outfits for raves and festivals in 2023.
38) Neon Track Pants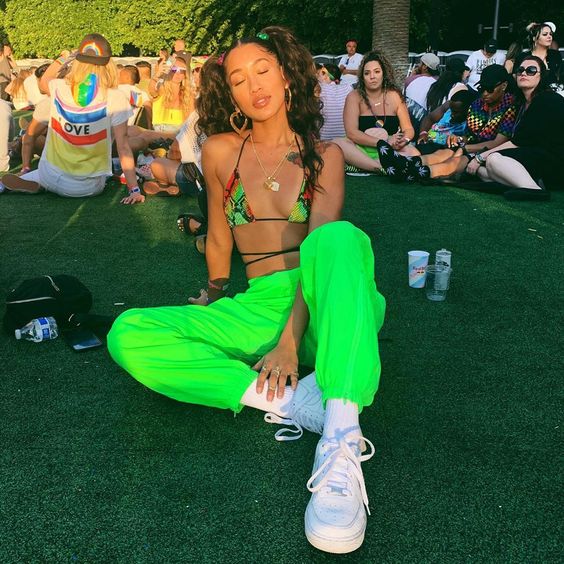 Who said track pants were just for working out? Rock them in neon for your next trendy summer festival look.
39) Red Leather Pants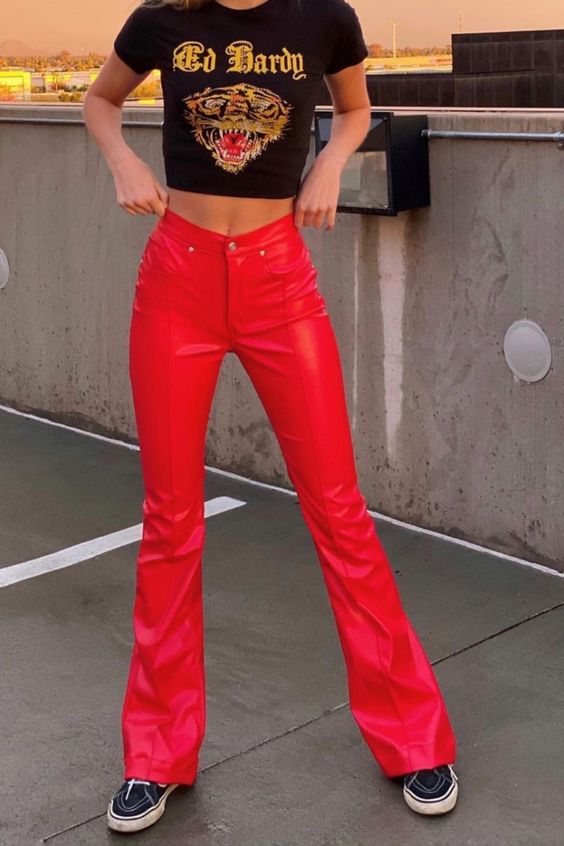 We highly recommend rocking red leather pants at any summer night rave for a look that kills.
40) Athletic Shorts Set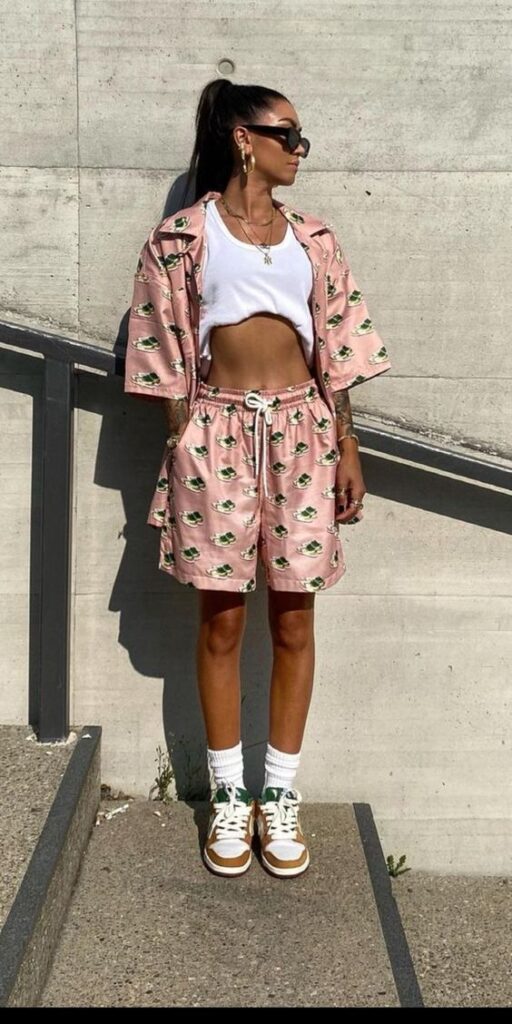 If you want a summer festival outfit idea that is a bit more athletic and less feminine, try this athletic shorts set paired with Nike dunks.
41) Baseball Tee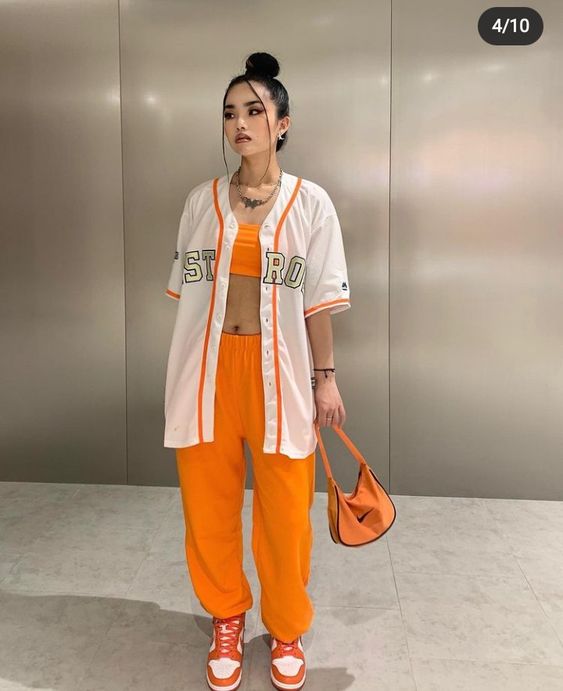 When thinking of your next festival look, just remember that a baseball tee makes for a great layering piece on top of a color coordinating set.
42) Colorful Halter Top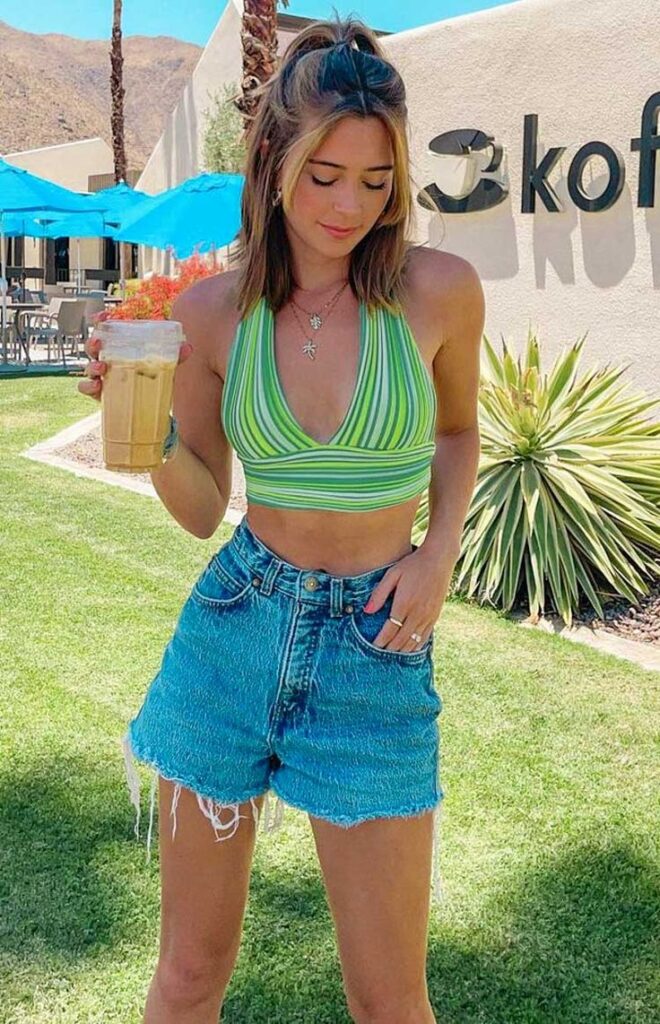 We love how easy it is to style a colorful halter top for any festival outfit for summer.
43) Cargo Shorts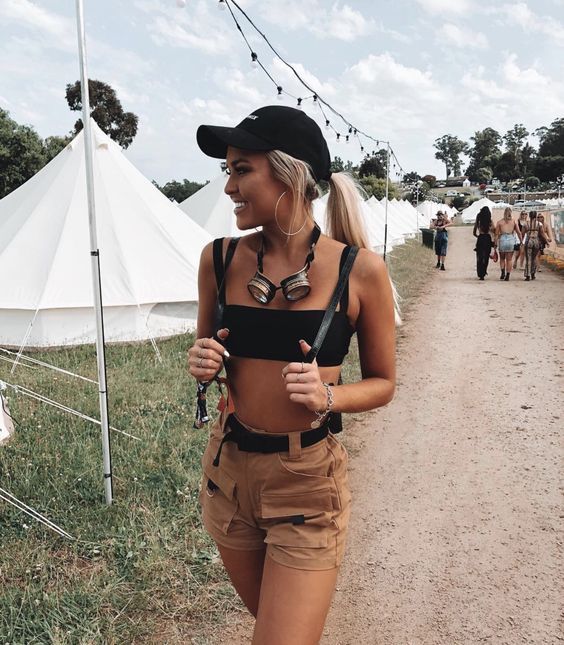 Cargo shorts have made a comeback in 2023 and we know you're going to love them for your next festival or rave.
44) Camo Pants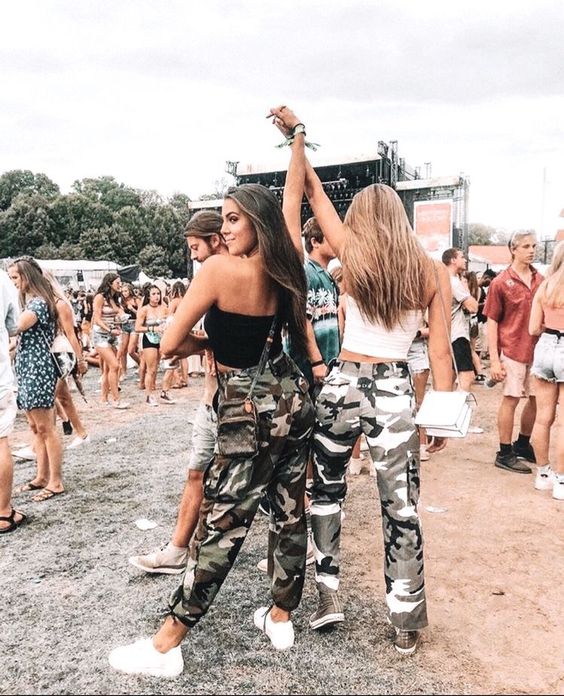 Y2K fashion is everything and in 2023 if you aren't wearing camo pants to a festival, what are you doing?
45) Midi Dress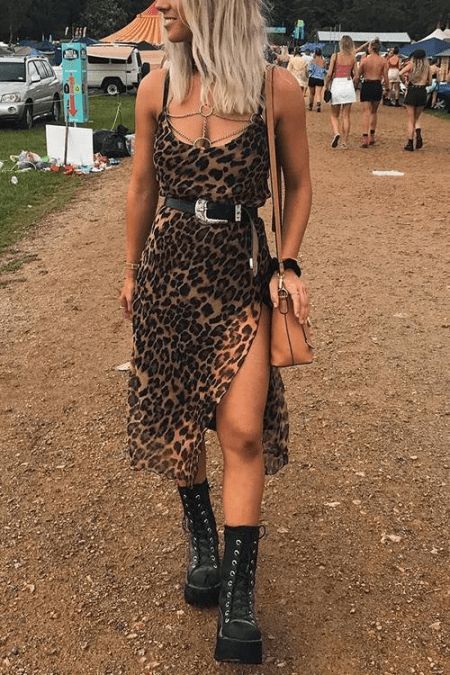 A midi dress is one of the trendiest summer festival outfit ideas you can wear in 2023 because it's breathable and stylish at the same time!
46) Fringe Belt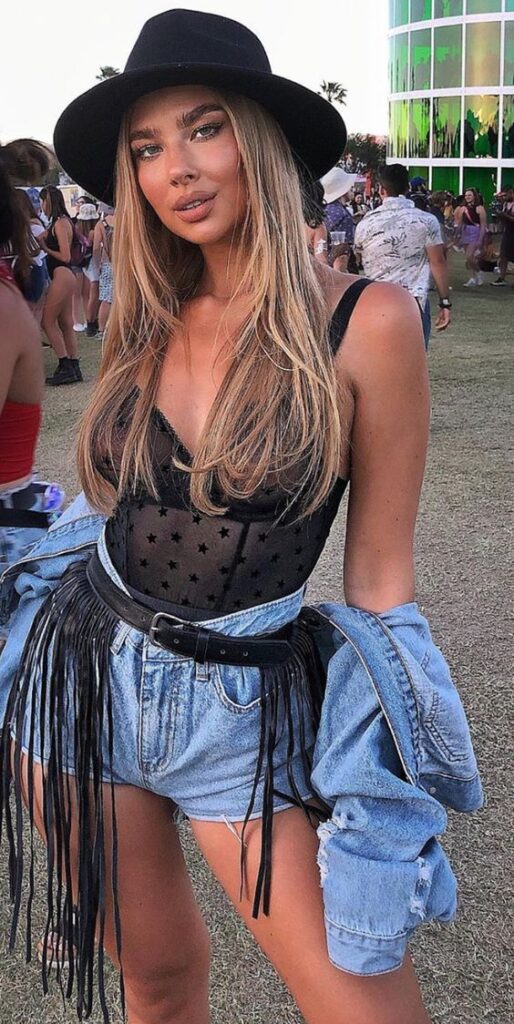 Try accessorizing your next summer festival look with a fun and trendy fringe belt.
47) All Black Festival Outfit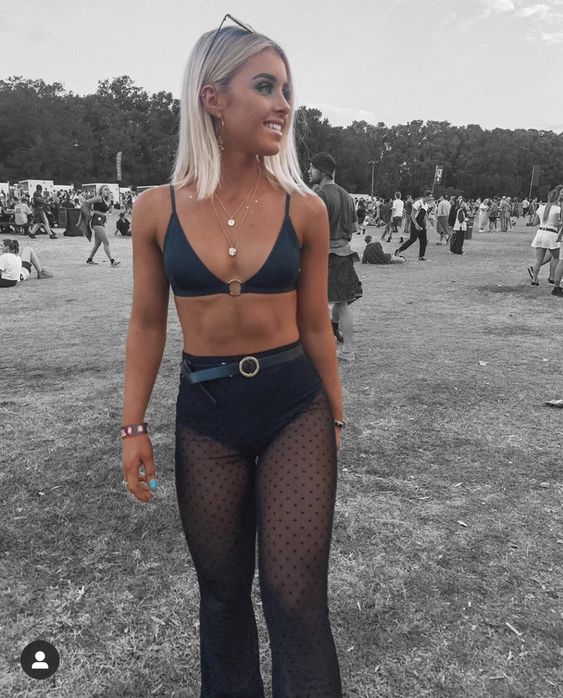 You can never go wrong with an all black look for your summer festival outfit idea.
48) Fringe Outfit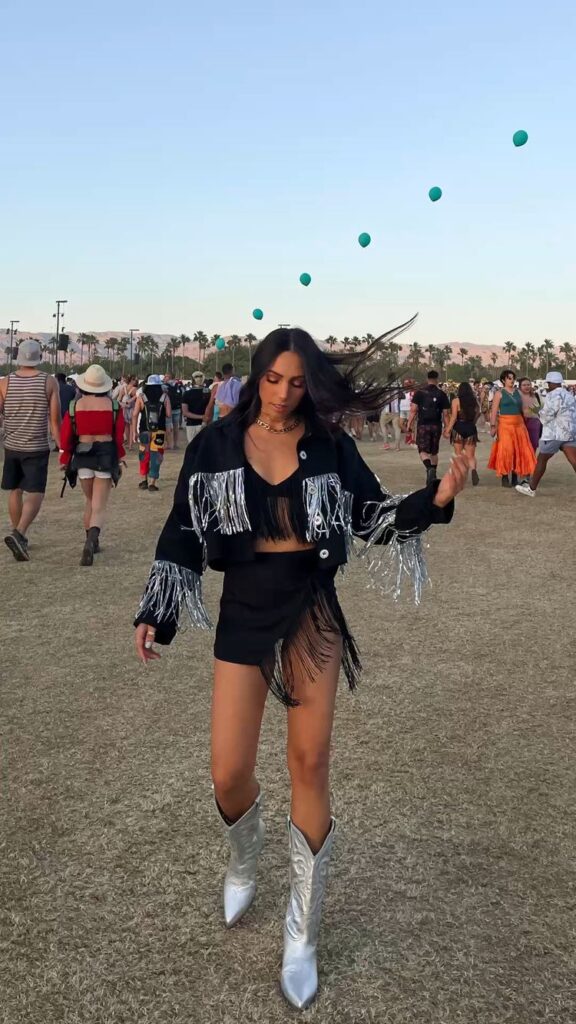 Go all out at your next summer music festival with this glitter and rhinestone fringe outfit.
49) Printed Biker Shorts
If you want to rock comfortable biker shorts to your next festival, try to get them in an animal print to elevate your look.
50) White Boho Dress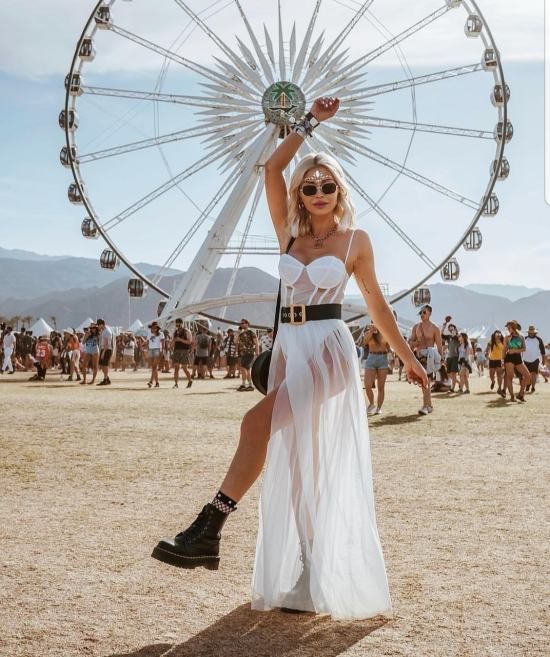 Channel your inner 2016 Coachella Queen with a white boho inspired dress and your favorite combat boots.
Final Thoughts
Hopefully you found your favorite summer festival outfit to wear this year from this list!
Remember to dress comfortably as well as stylish just in case things get too hot or too hectic out there.
Stay safe and have fun at your next festival!
If you have any comments, questions, or suggestions leave them down below. Thanks for reading!