Looking for some inspiration on how to decorate your car for senior year? If so, here are 15 awesome senior car decorating ideas in 2024!
In this list, you'll discover a variety of ideas, from basic color-coordinated options to creative themed choices. Whatever your preference, you'll be sure to find one you love.
Additionally, you'll find some unique themed car decorations that you might not have considered.
Want more senior ideas? Check out these posts:
Let's dive in!
Senior Car Decorating Ideas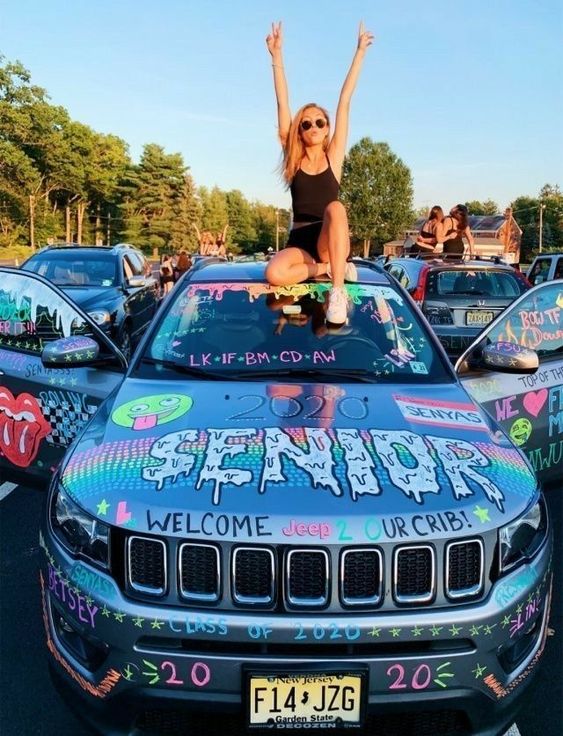 It's your senior year! Show off your new senior status with this bright and easy DIY senior car decorating idea.
Just grab some neon car paint from Amazon or your local craft store and get drawing.
And don't forget, in this scenario, more is better!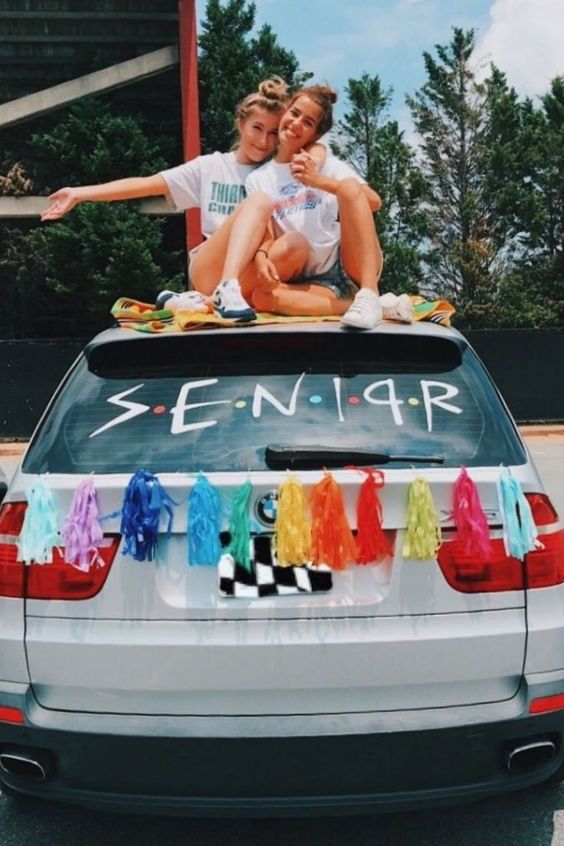 The one where they become seniors…
If you're the ultimate fan of Friends, this senior year car decoration is a MUST!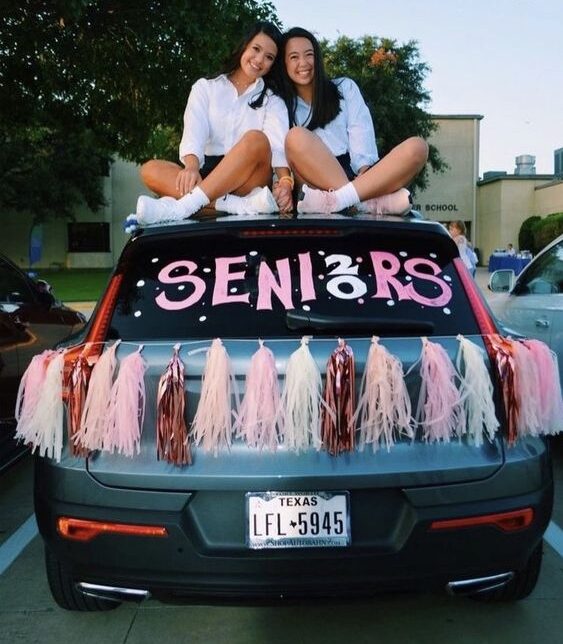 Nothing beats Barbie pink senior car decorating ideas for girls in the year of Barbie!
We're obsessed with the pink car paint and the DIY tassels.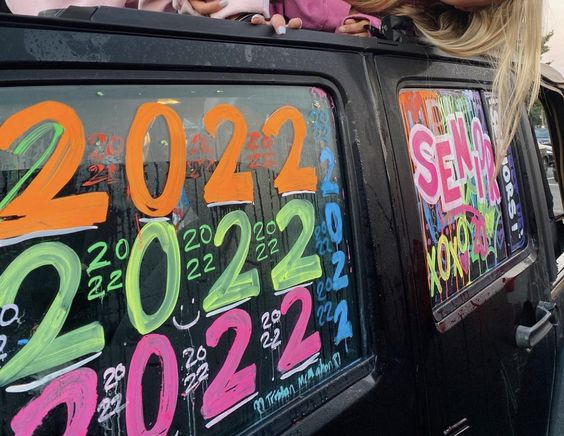 Why just paint one part of your car when you can paint every single window?
We love how creative and fun this senior car decorating idea is, even if it might be hard to see out of the windows.
Just make sure you're not painting the windshield.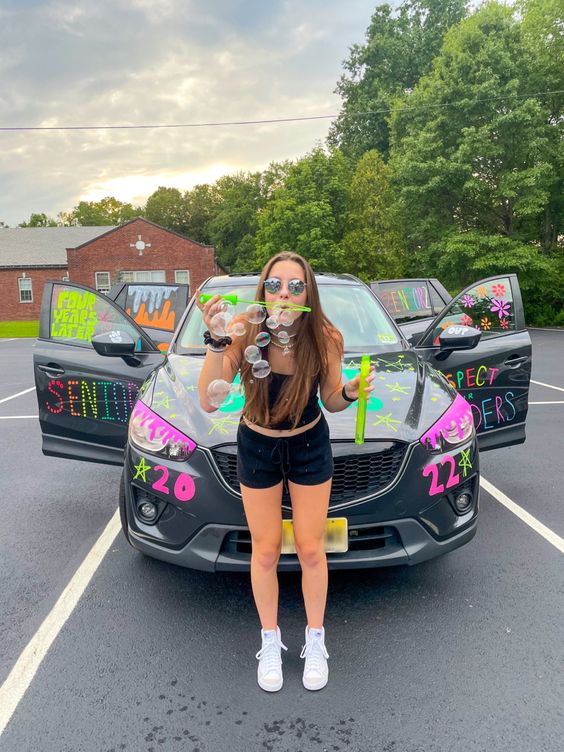 There's three levels to senior car decorations.
The first is just the back window. The second is having all of the windows painted. And the third is the entire care.
We're definitely level three car painters, we want to go all out.
Which one are you?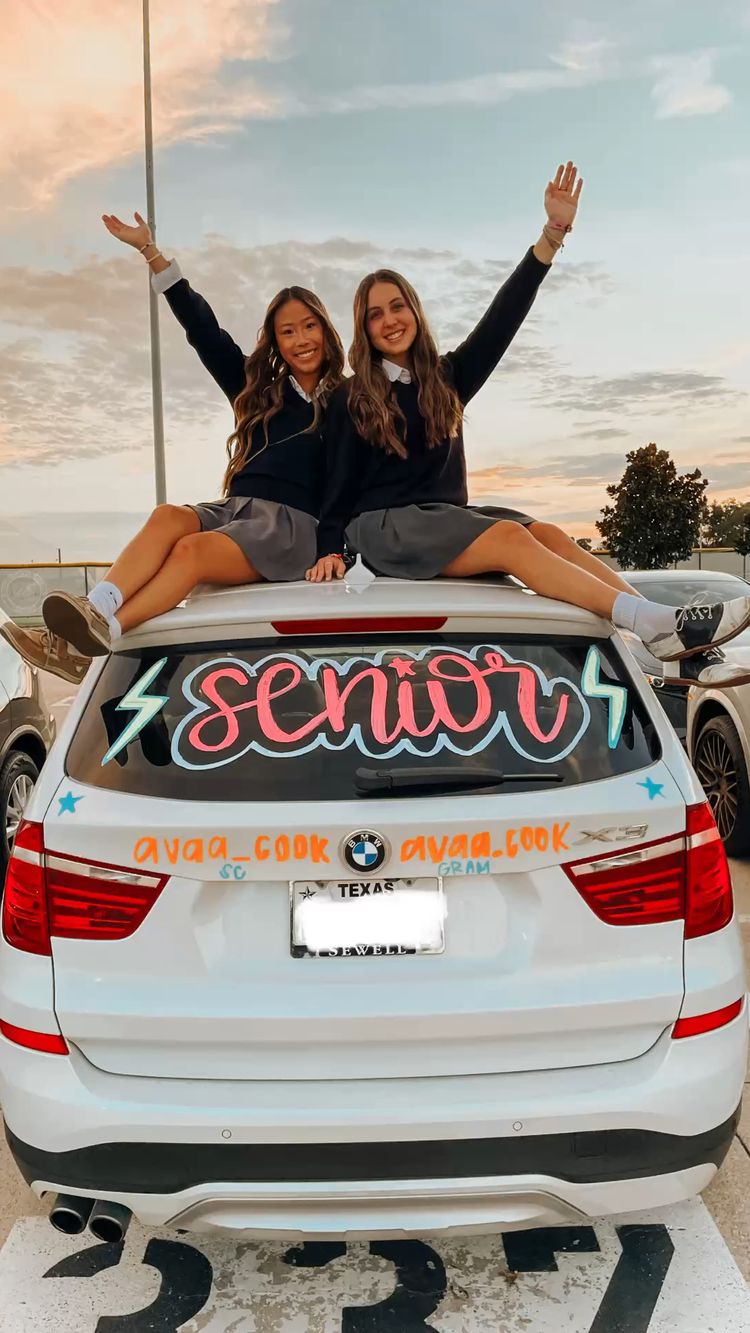 Don't just paint your car for senior year, plug your social media handles.
What better way to represent yourself and your social media than with high school senior paint featuring your social media usernames.
Watch your followers grow by the day!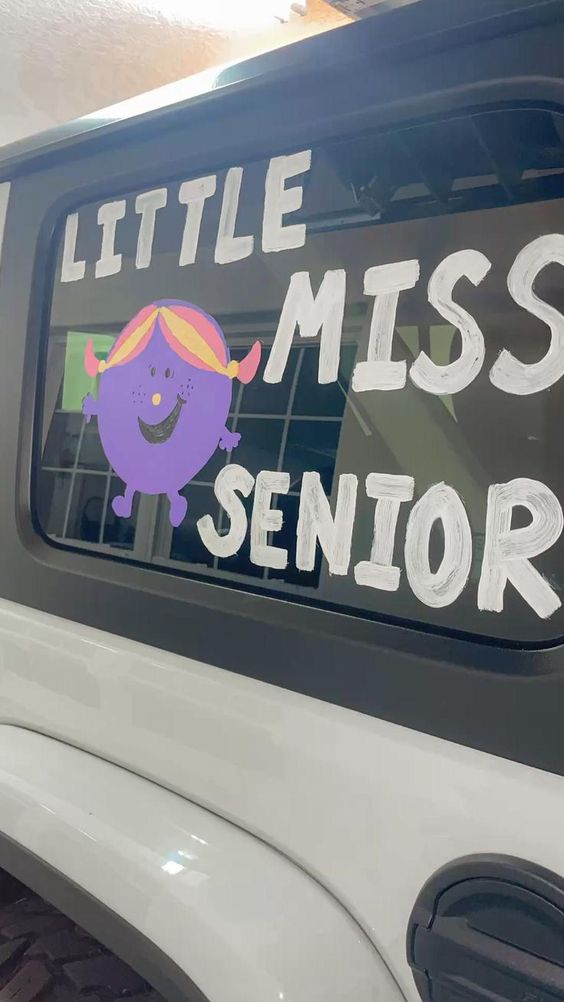 One of the best senior car decorating ideas for girls in 2024 is by bringing back the "Little Miss" trend.
This was a trend all over TikTok last summer and it's slowly making its way back!
So stay on top of the trends and be the little miss senior of your school.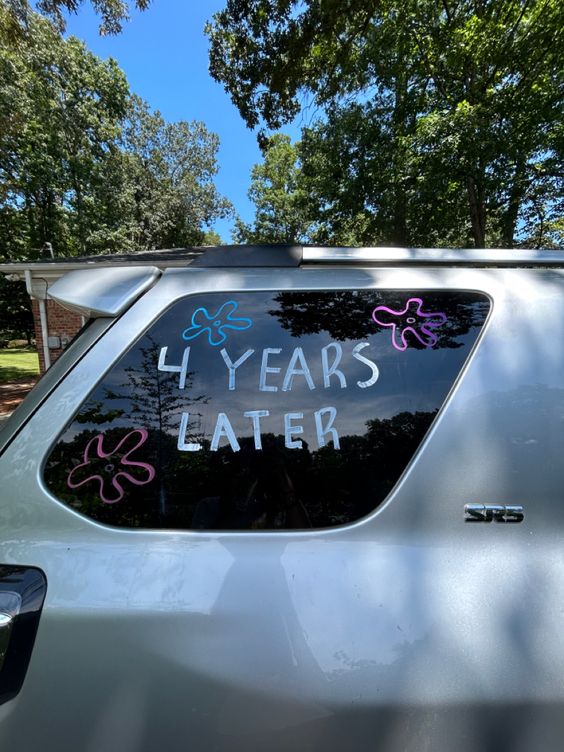 Who doesn't love a Spongebob inspired senior car decorating idea?
This is a fun idea for guys and girls looking for an easy way to decorate their car in 2024.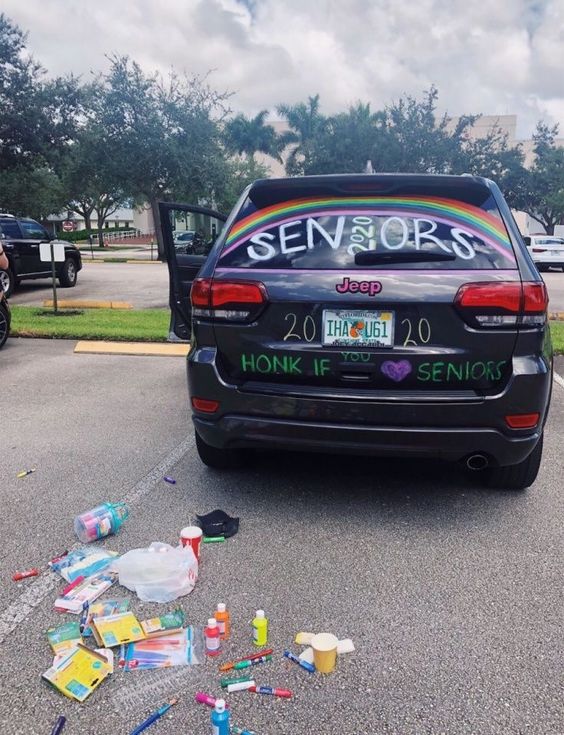 Make some noise around your home time by inviting other drivers to honk with your senior year car decorations.
This is a great way to spread some cheer around your town and get people honking.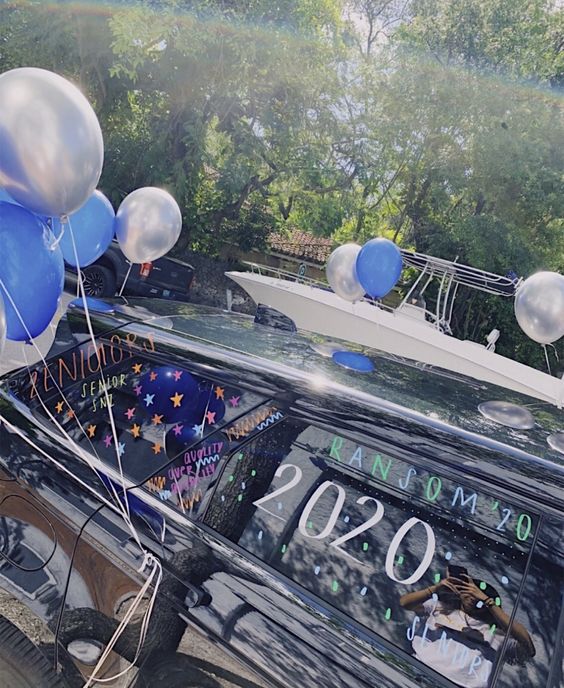 Bring your high school senior car decorations to life by adding on some balloons to your car handles.
By adding balloons in your school colors, you're guaranteed to win for the best senior car decorating idea.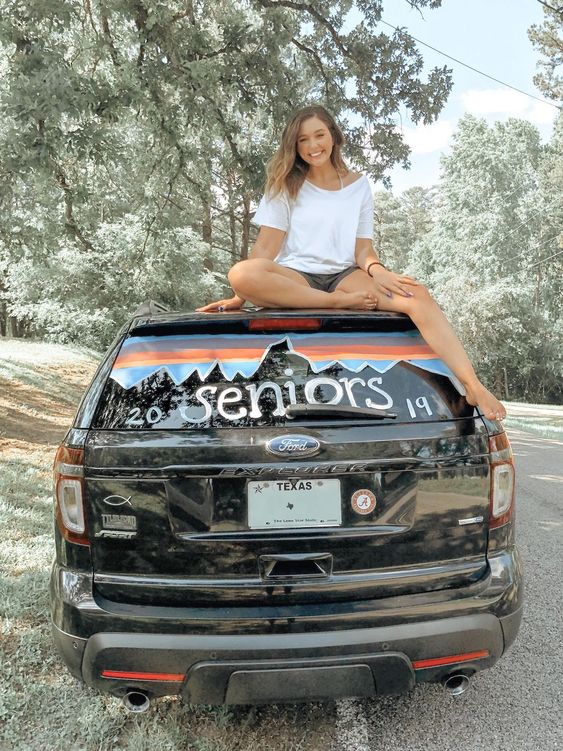 Don't just wear Patagonia on your body, wear it on your car too.
For the mountain girls and guys who love their Patagonia, represent the brand with this creative and surprisingly simple senior year car decoration.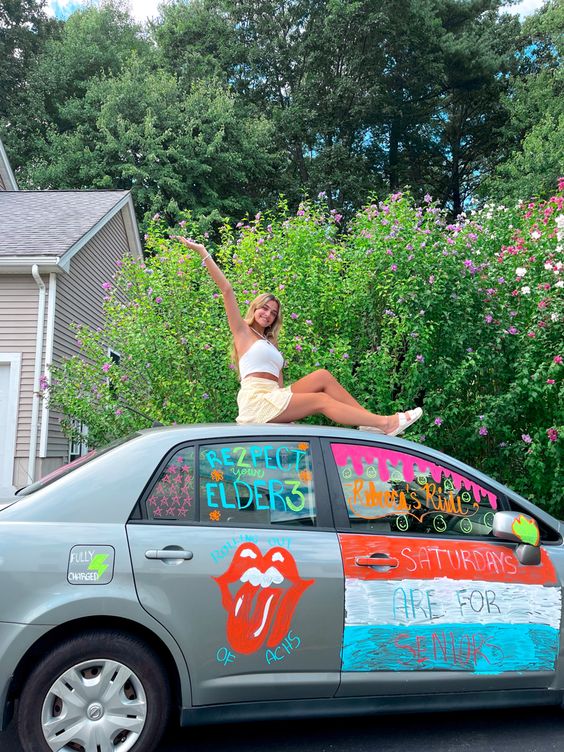 You heard it here first, Saturdays are for the seniors.
It's your time to shine at school and what better way than with bright, colorful, and creative car decorations.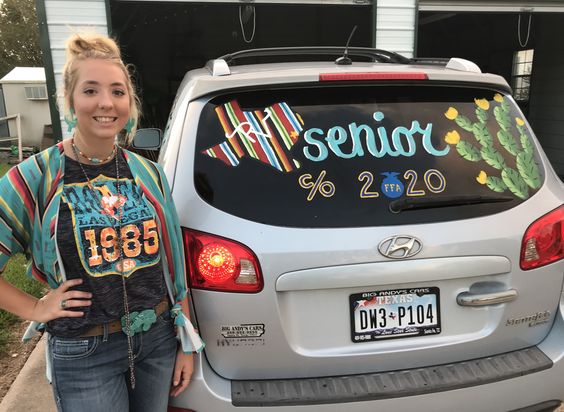 This Texas inspired car decoration got us thinking about how great of an idea this would be for students who want to represent their state.
Whatever state you're in, this senior car decorating idea is one you should try.
You can even use this idea to show the state you're in and the state you're going to for college.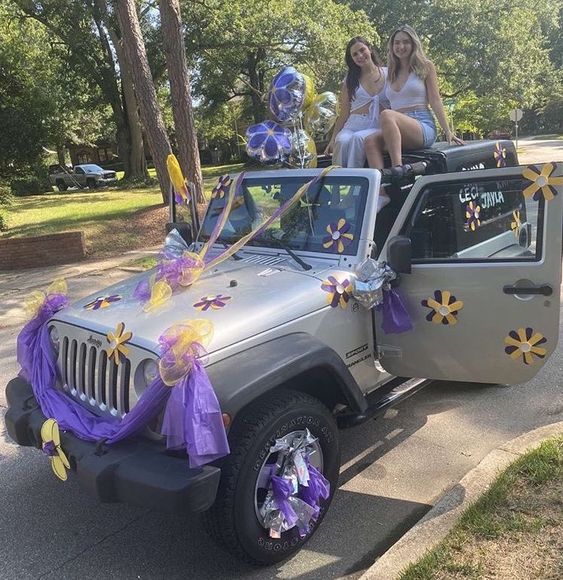 Streamers for your car? Count us in.
This is definitely one of our favorite senior car decorating ideas that we've ever seen.
With a little bit of time and patience, you too can have the coolest car in school.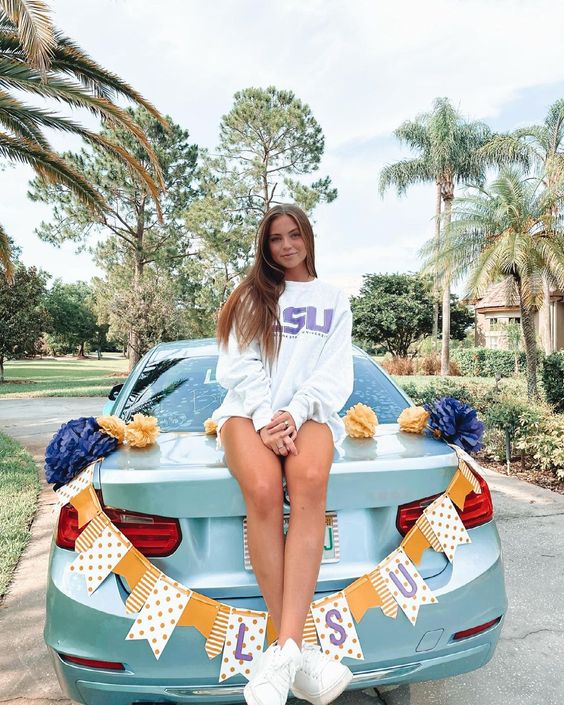 The best part about senior year is knowing what comes next. And if that's college for you, then you're going to want to show that off all the time.
Represent your next big move by decorating your senior car with a college bound banner.
You can even add additional paper mache decorations in your college colors.
How to Decorate a Car for Senior Graduation?
There are so many ways and ideas to decorate a car for seniors, but they all should start with one simple thing: paint.
Paint will be the foundation of your senior car decorations and will help fill up your car with colorful words and paintings.
You can even go one step further and add balloons, streamers, tassels, and other paper mache decorations to help decorate your car.
The best way to get decorating is by inviting a few friends over on the weekend and spending a few hours painting your cars together.
What Kind of Paint Can You Decorate a Car With?
There are many different kinds of paint you can decorate your car with:
Acrylic paint is regular craft paint that you can find from your local craft store, but you want to make sure you get a water based paint so it doesn't eat away at your car.
Chalk paint is also a great option and can be purchased from Amazon, Walmart, or your local craft store.
One of our favorite car decorating methods is with washable car paint and car markers that make it easier to get the fine line you might want in your lettering and drawings.
Whatever paint you choose, just make sure it's water based and is guaranteed to wash off. You don't want your senior decorations getting stuck on your car forever.
What Do You Need to Decorate Your Senior Car?
You don't need much to decorate your senior car, in fact you can decorate your car with just car paint.
But if you want to make your car decorations more fun and exciting, you can get creative with:
The options for what you can decorate your senior car with are truly endless.
Just make sure whatever you put on your car won't fall off when you drive and distract others on the road.
Hopefully you've found your favorite car decoration idea for senior year after reading this post!
If you have any comments, questions, or suggestions leave them down below. Thanks for reading!