Are you looking for a senior crown idea and need some help? Here are 25 cute senior crown ideas for girls!
From the floral crown types, to the color themed crowns, and crown ideas that are tv show themed, you'll be sure to find one that is to your liking.
Plus, we've included some crown ideas that involve you and your friends that would make you guys stand out.
Want more senior ideas? Check out these posts:
Let's dive in!
Senior Crown Ideas for Girls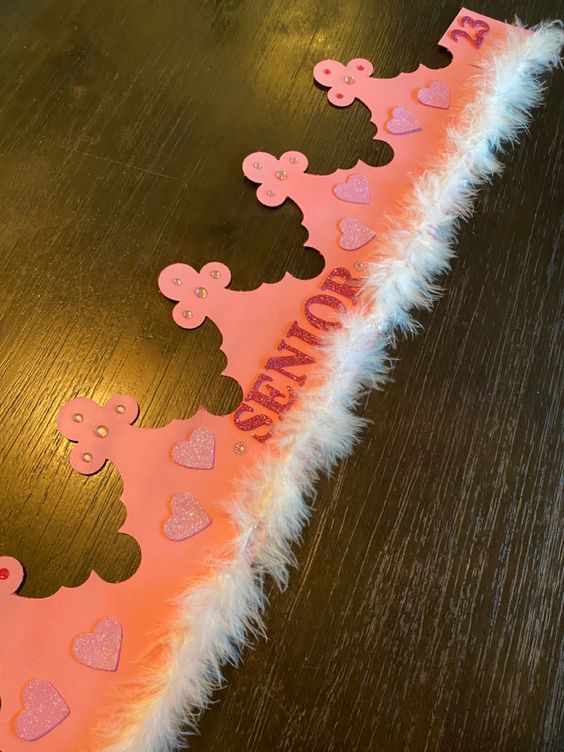 Be the real queen of hearts with a pink, white, and heart covered senior crown.
This DIY senior crown can be made with $10 of supplies from your local craft store.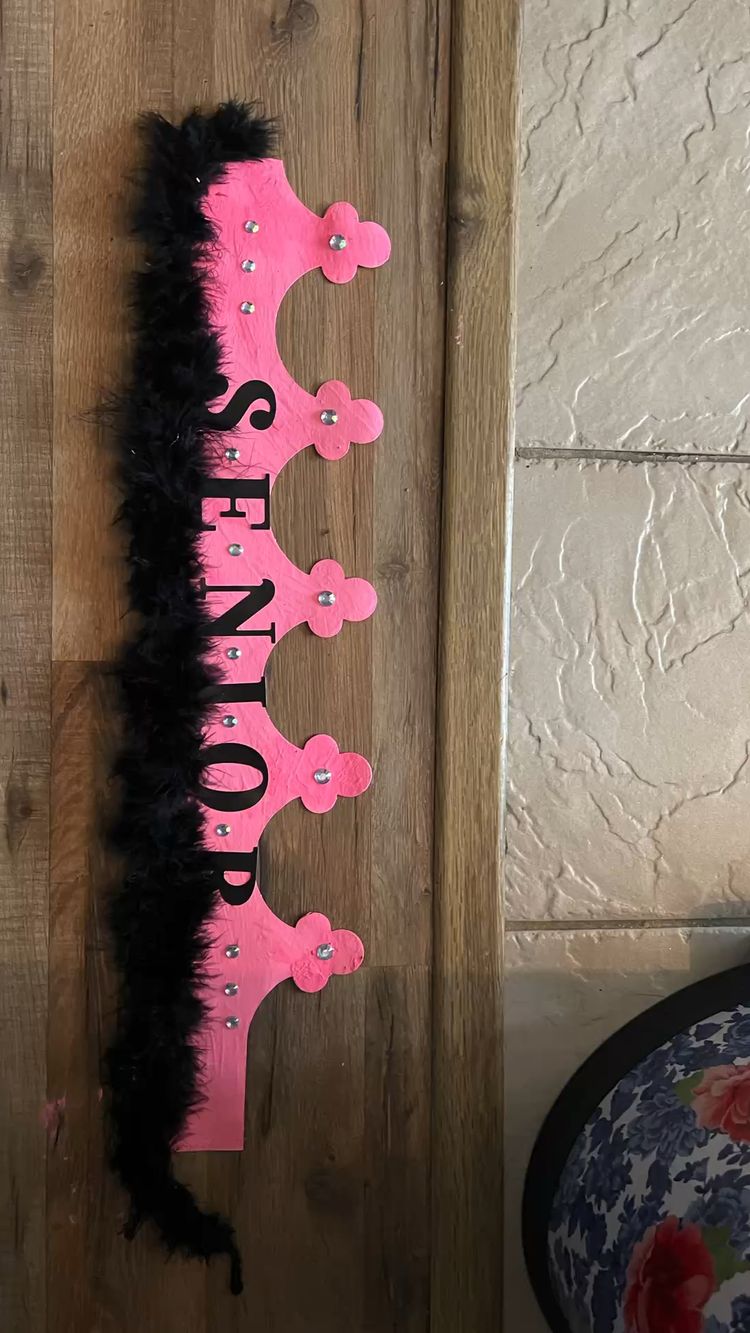 The best color combination for your senior crown in 2023?
Pink and black of course!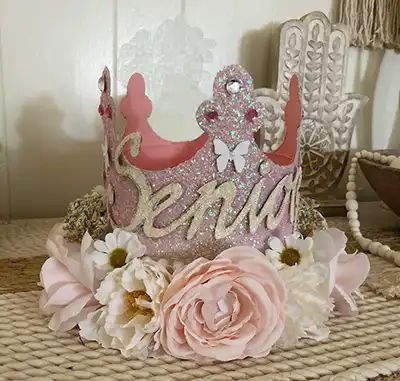 We love a cute senior crown with flowers.
This is one of the easier DIY senior crown ideas for girls and is one of the best we've seen in 2023.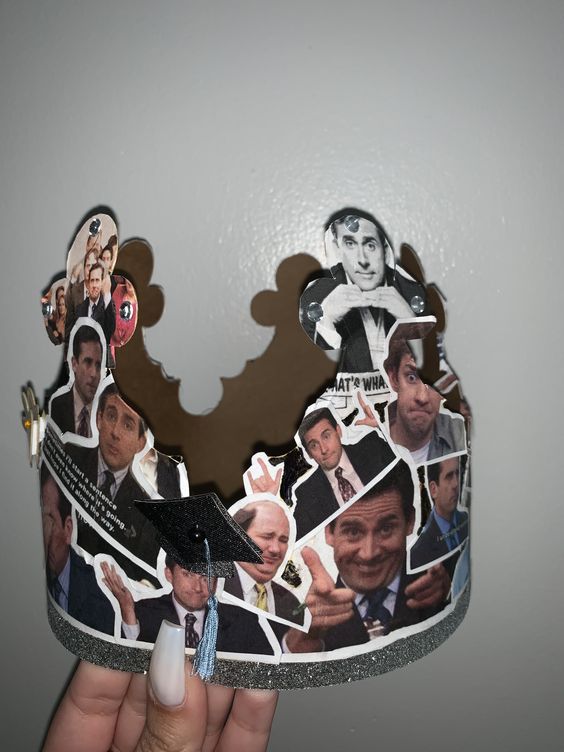 We're obsessed with anything to do with The Office.
So if you're a die hard fan of the show, you have to try this funny senior crown idea.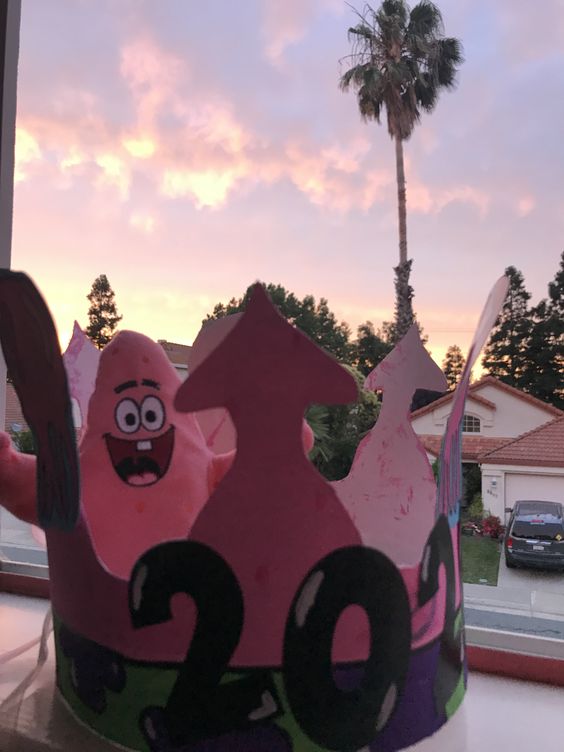 We are a Patrick Star fan account, period.
But in all seriousness, this funny spongebob themed senior crown will be the star of the show, get it?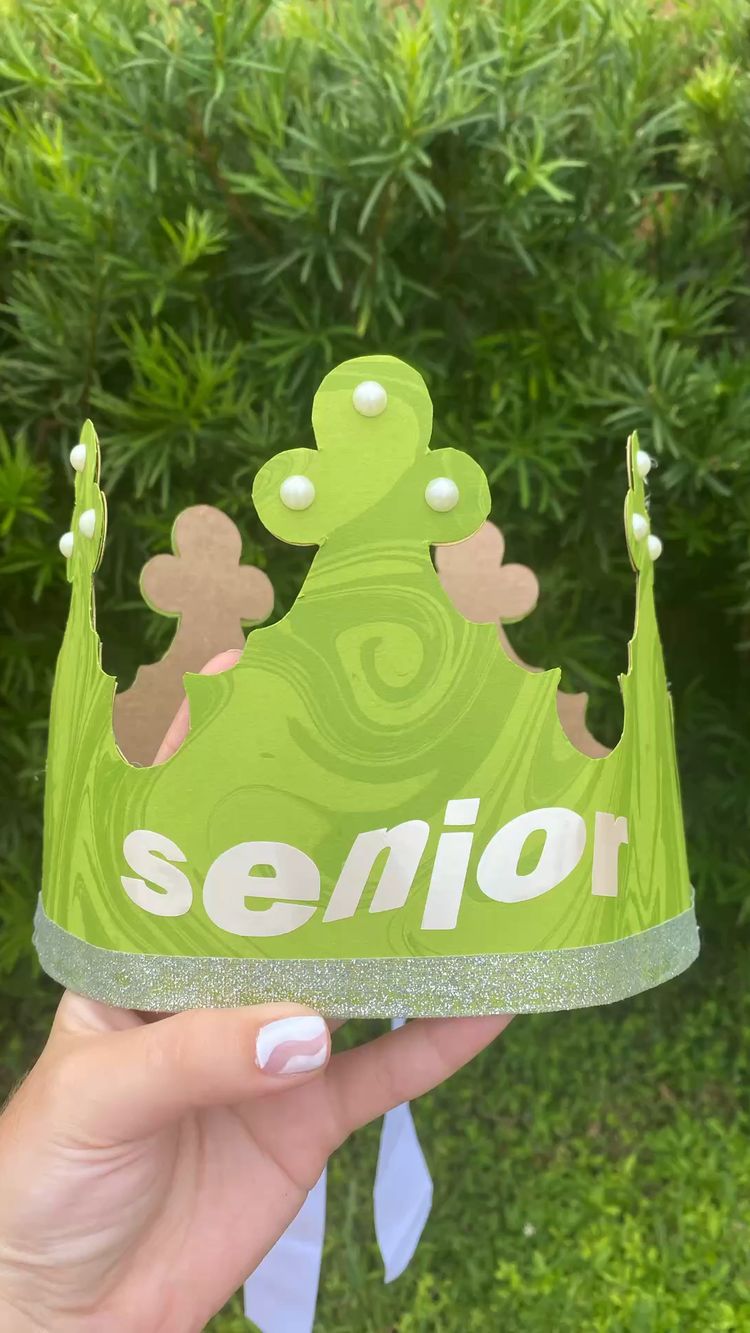 2023 is the year of green!
This groovy senior crown idea for girls is a simple, fun, and cute design that's easy to make.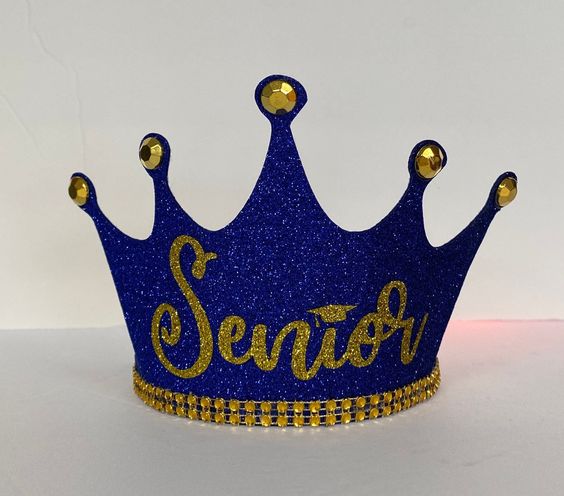 The Bratz called, they want their crown back.
Bratz are making a comeback, so what better way to get in on the trend than with a Bratz themed senior crown?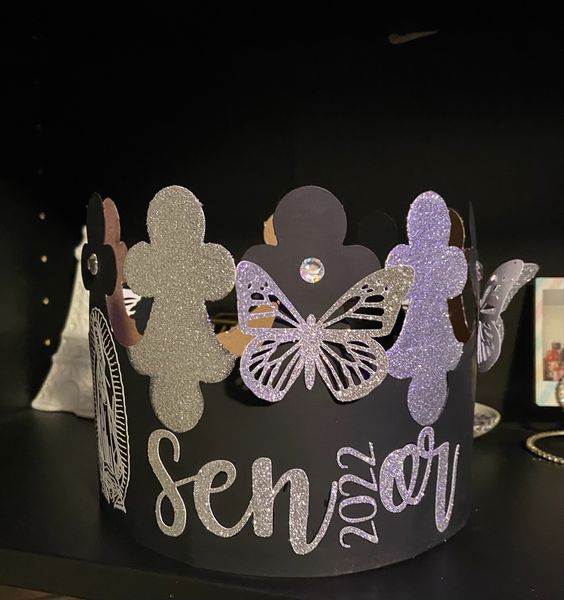 This butterfly crown has to be one of the best we've seen in 2023.
If you're a senior looking for a cute and unique crown, look no further.
This can also be a great senior crown template that you can build off of to make it your own.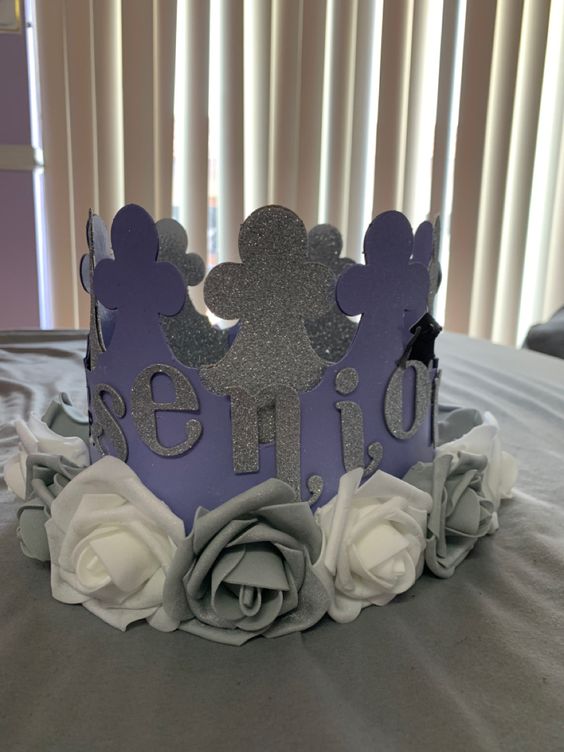 Keep things simple and classy with a two-tone rose trimmed crown.
We're a sucker for any senior crown with flowers, but this is definitely a favorite.
The key is to keep everything in the same color palette and use a complimentary color as your base.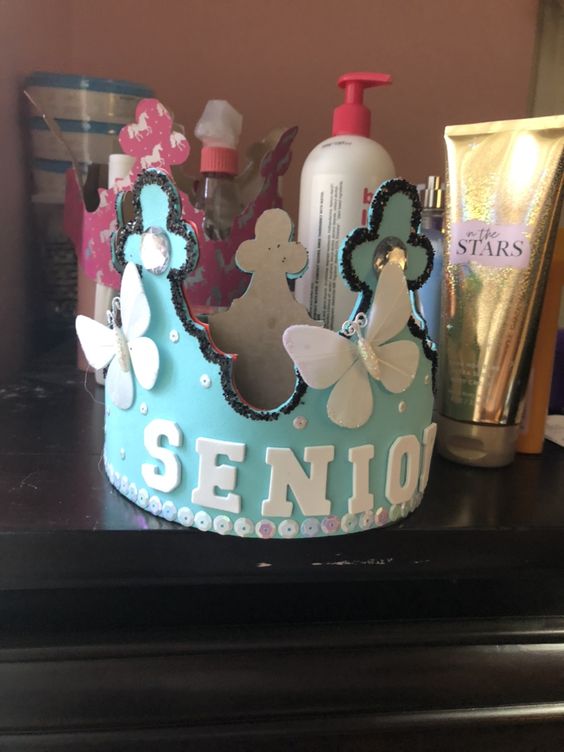 For all of our Tiffany & Co. fans, you're going to love this senior crown idea.
It's easy to make a senior crown when you're sticking with a beloved color combination like the classic Tiffany Blue and white.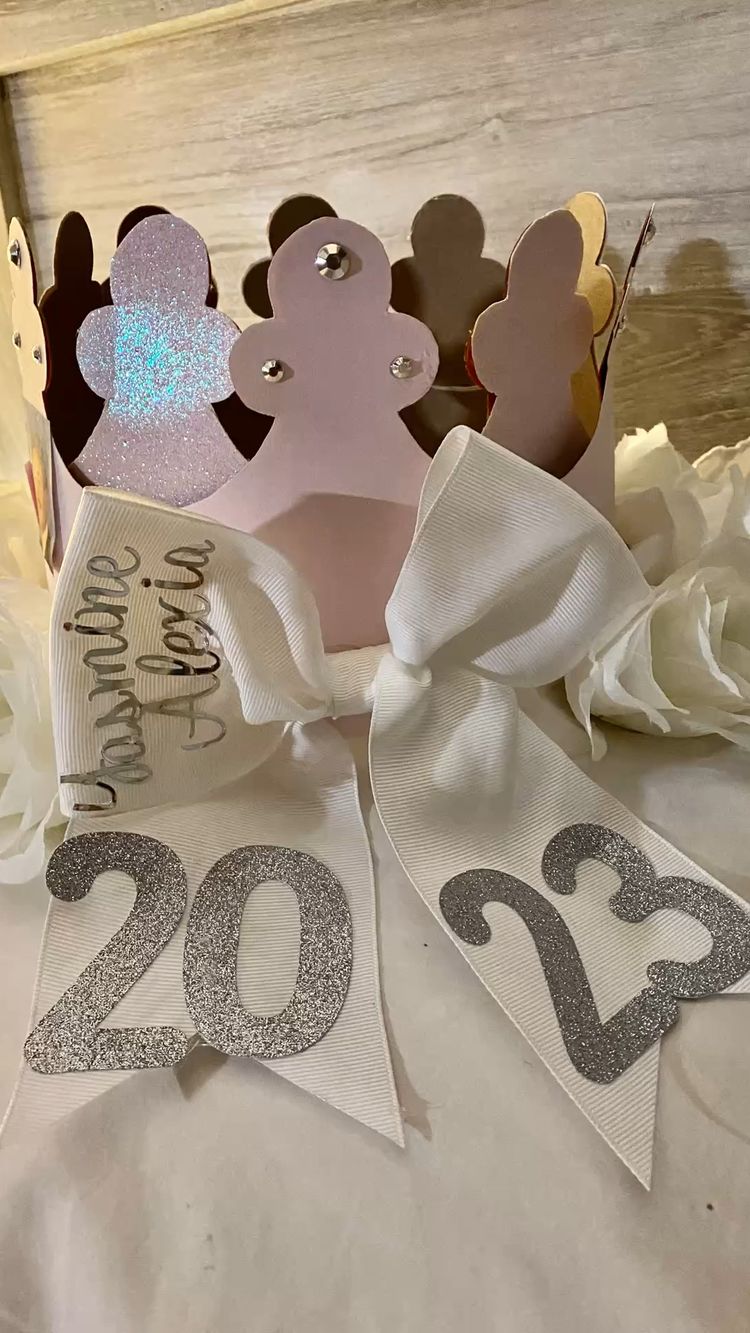 Aren't very creative and need an easy DIY for your senior crown?
Glue a mega bow on it with some oversized letters and call it a day!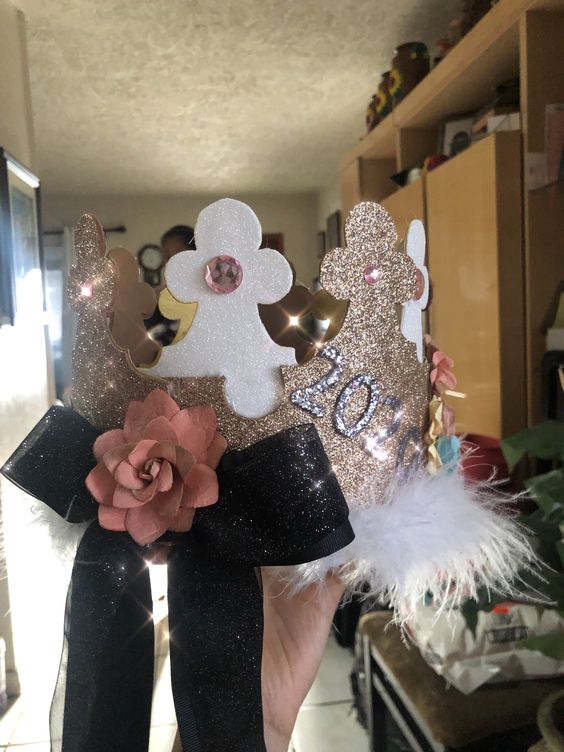 You can never have too much glitter, we promise.
With glitter and rhinestones becoming a hot trend in 2023, we can't think of a better girl senior crown idea.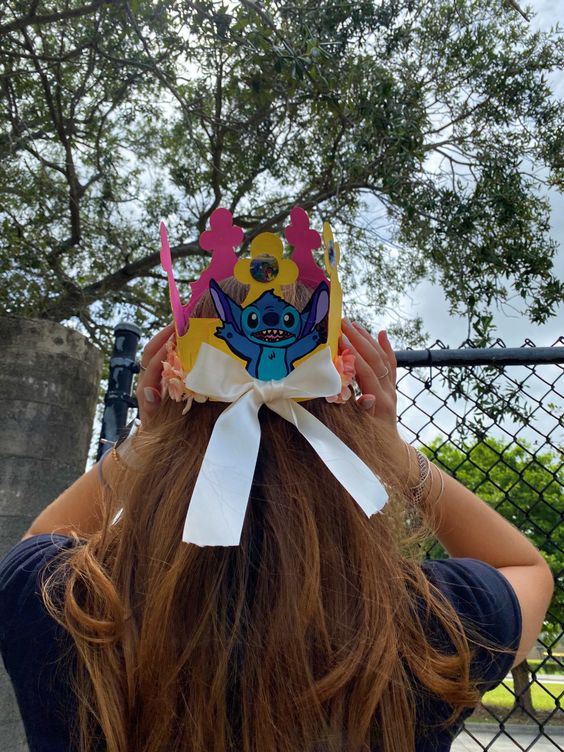 For all the Disney fans, we've found the best senior crown for you.
This Lilo & Stitch inspired high school senior crown is definitely a fan favorite.
And who can resist how cute Stitch looks?!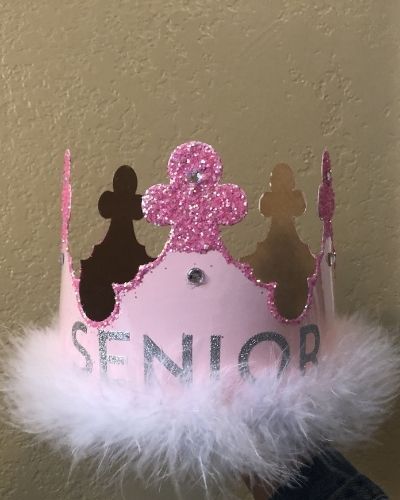 If you love all things pink, glitter, and feathers, we've found your perfect match.
This is the ultimate senior crown idea for the girly girl who just wants to rock what they love.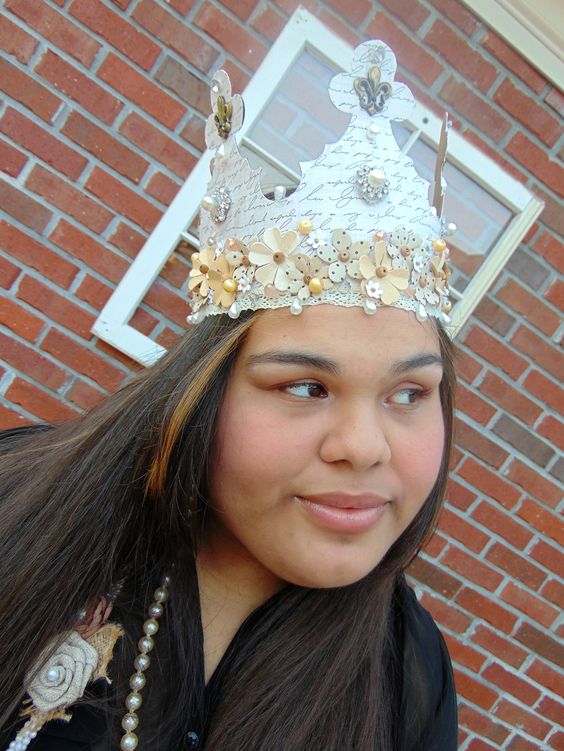 We've never seen a senior crown more unique, or beautiful, than this one.
We love how creative she got by adding a script background and paper flowers to her senior crown.
You can even take this a step further by using pages from your favorite book or poem.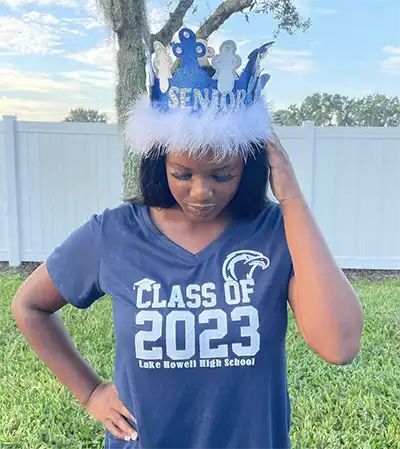 Keep it simple, senior.
Rock your school colors for one of the more easy and on brand senior crown ideas for girls.
Use the statement color as the base of your crown, and the accent color, like white or black, for the trim.
There are so many ways to make your senior crown and if you're a DIY queen, you'll want to go all out.
There's no right or wrong way to go all out, just add on as many details as you possibly can.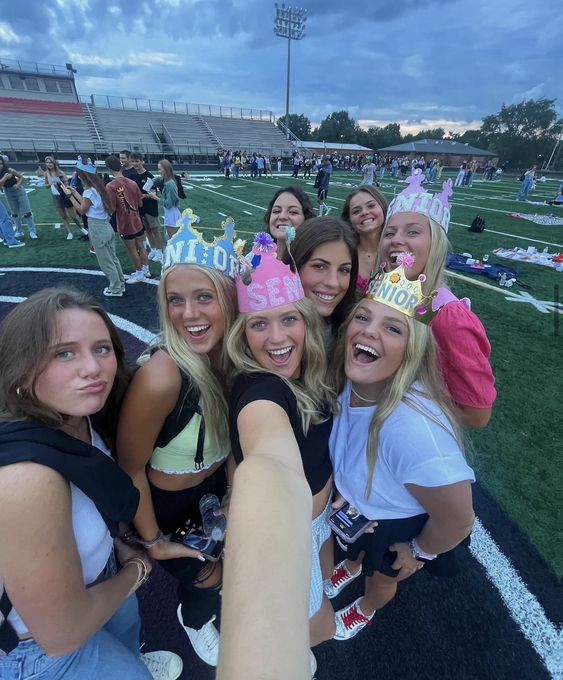 Want to match with your girl squad?
Get together with your BFFs and have a DIY design night and match all of your crowns together.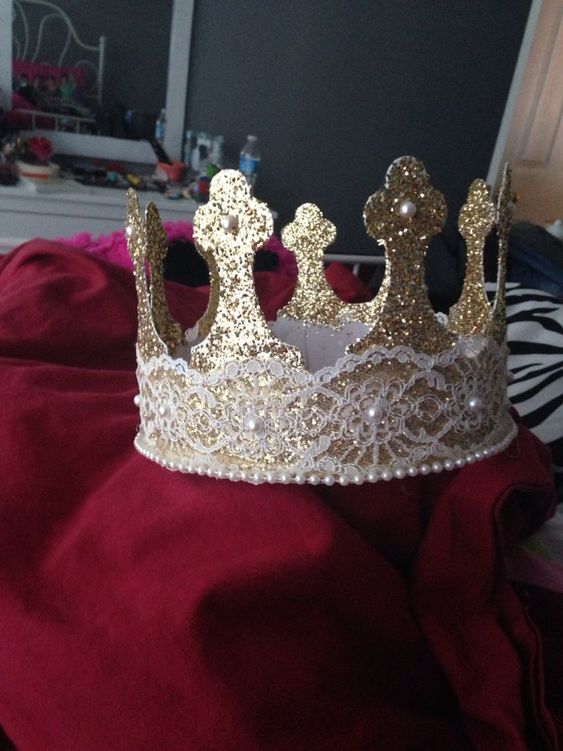 Classic. Simple. Elegant.
Three words to describe this champagne themed white & gold senior crown.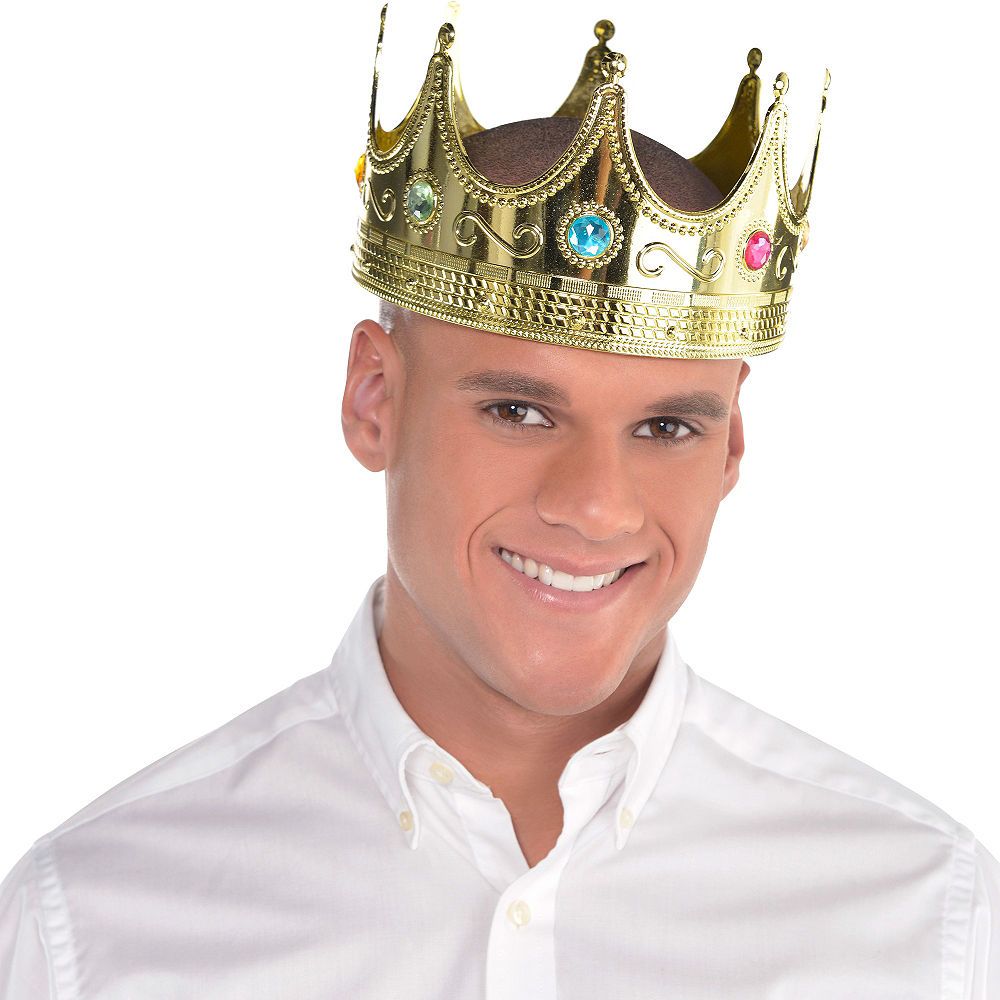 Another premade crown option that you can just buy and wear is this adult jeweled king crown.
It might not be personalized but it sure is an easy option for the guy that just doesn't want to DIY.
This is definitely one of our favorite senior crown ideas for girls.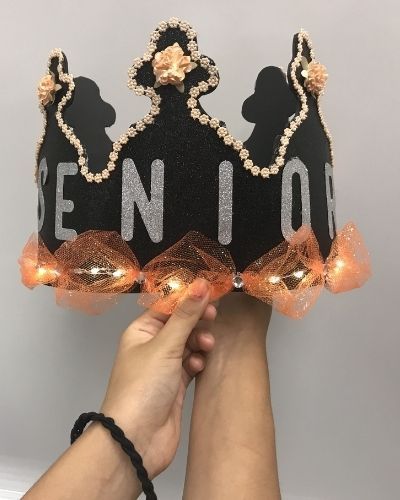 Tulle has become a big trend in the fashion scene in 2023, so why not add it to your senior crown?
These tulle bows help elevate this senior crown and it only takes a few extra minutes!
The best part is that tulle is super inexpensive and can be purchased at your local craft store.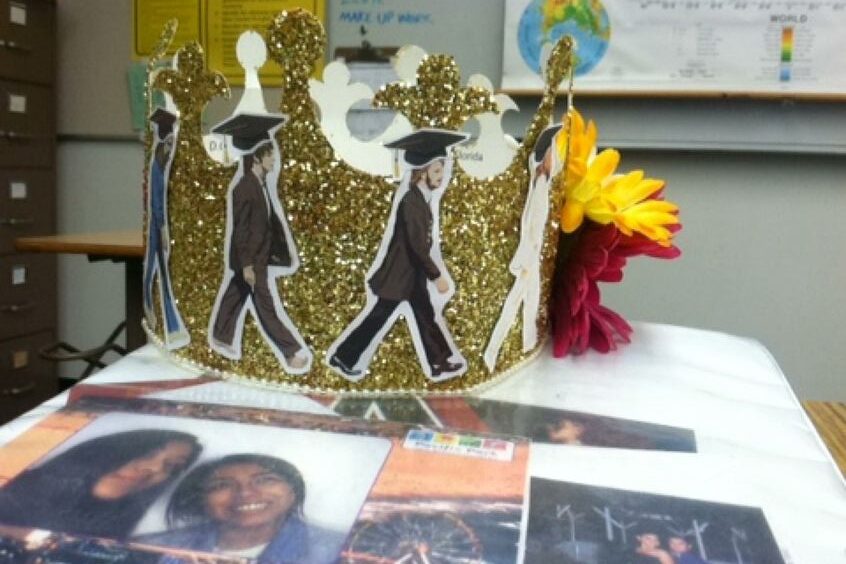 Even if The Beatles are not your favorite band, this is still such a fun idea!
Putting your favorite band on your senior crown is a great way to let your personality shine.
It's also a great way to pay homage to your favorite bang or singer.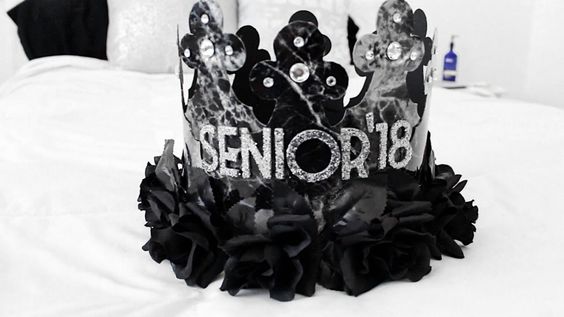 Sometimes an all black crown is just the way to go.
This senior crown idea for females is perfect for the girl who just wants a little less color.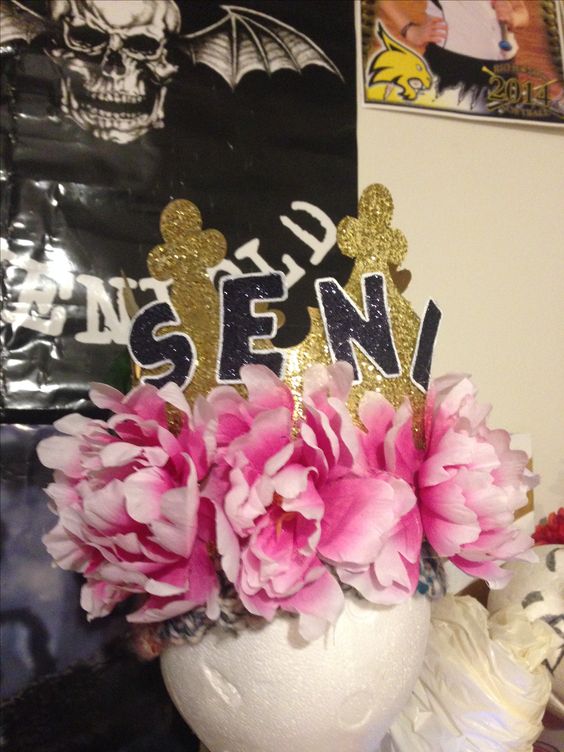 If you're wondering how to make senior crowns, we have two words for you, oversized flowers.
Why go for little flowers when you can really dress your crown up with large statement florals?!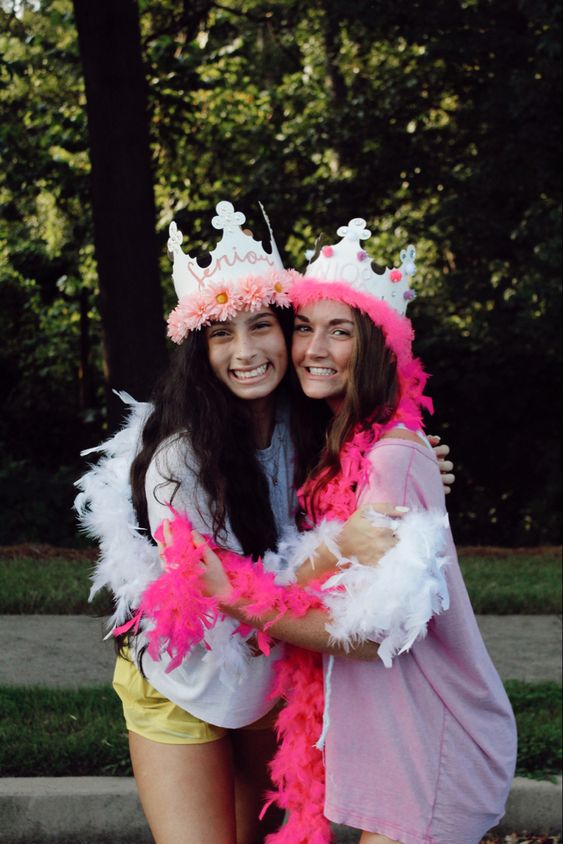 Nothing says best friends more than a matching senior crown idea.
We're loving how these crowns both look unique in their own way while still matching.
Make an event out of this and invite your BFF over so you can design your crowns together.
Hopefully you've found your favorite crown idea for senior year after reading this post!
If you have any comments, questions, or suggestions leave them down below. Thanks for reading!