Want some help finding a trendy birthday photoshoot? If so, here are 50 picture-perfect birthday photoshoot ideas!
We've included some photoshoot ideas that range from specific set themes for certain people, to the open-ended concepts that can suit various preferences. Whatever your preference, you'll be sure to find one that fits your taste.
In this list, you'll also find some color-themed photoshoot ideas that gives the more understated and elegant look.
Want more birthday ideas? Check out these posts:
Let's dive in!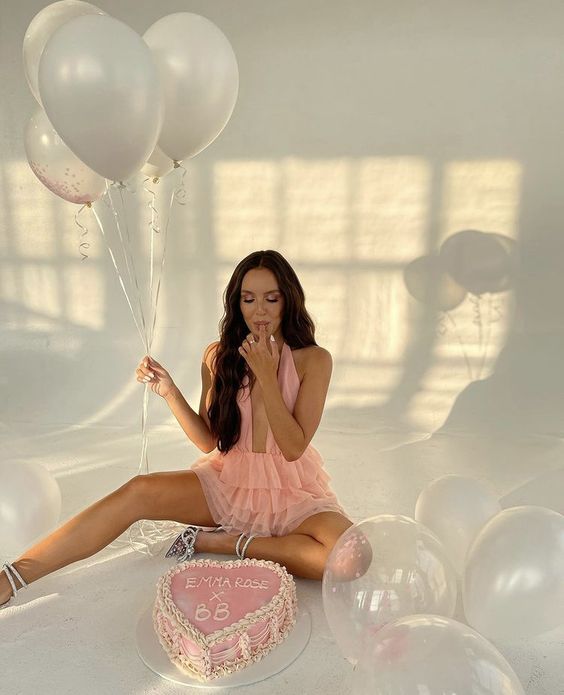 This baby pink Barbie girl photoshoot brings in all things pink and girly for one of our more dreamy birthday photoshoot ideas.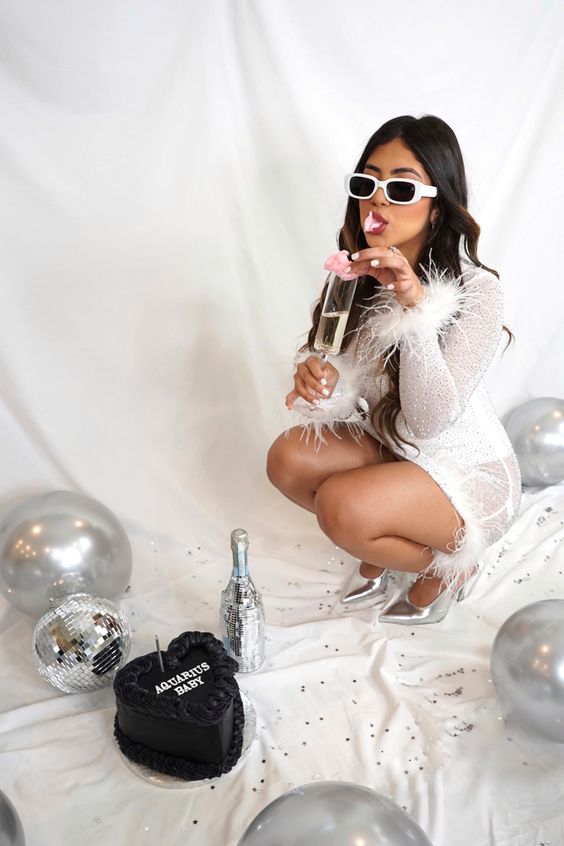 This silver birthday photoshoot idea is perfect for girls who want something cool without being too girly.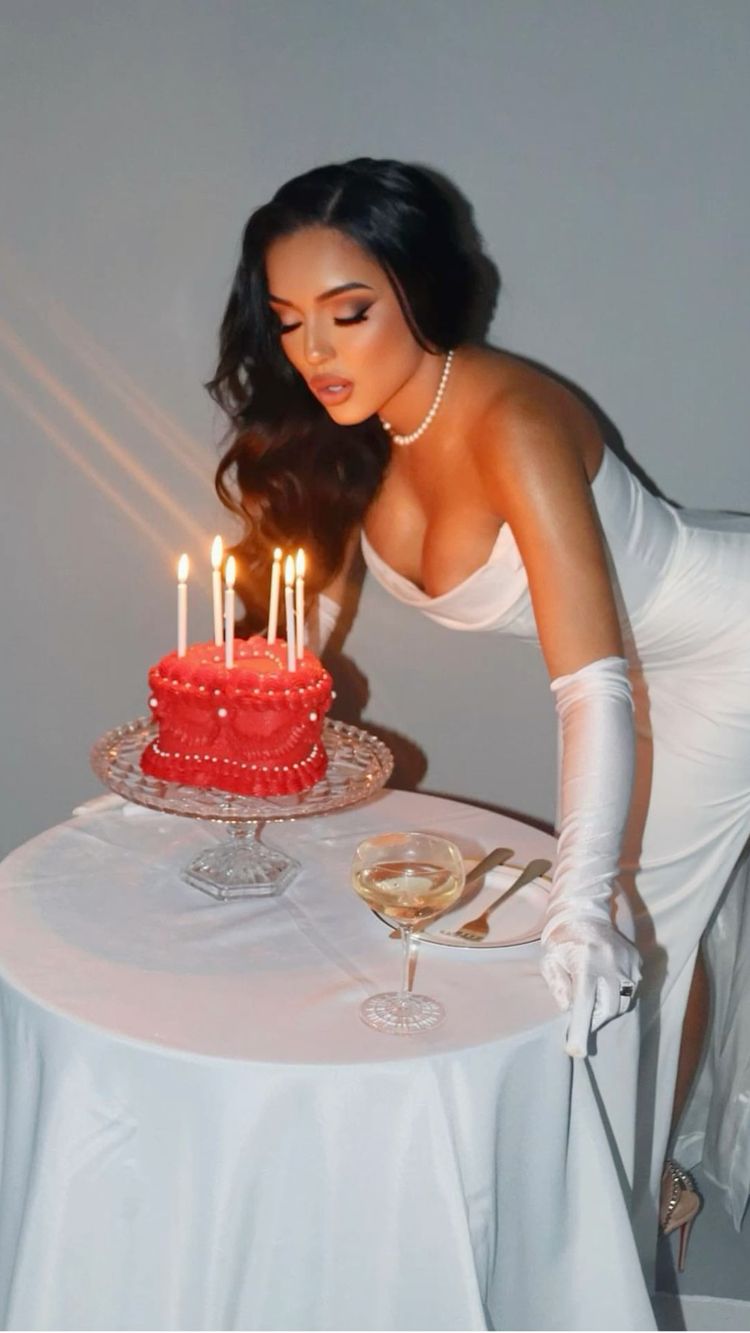 Nothing says turning 30 in style than a vintage Hollywood inspired 30th birthday photoshoot.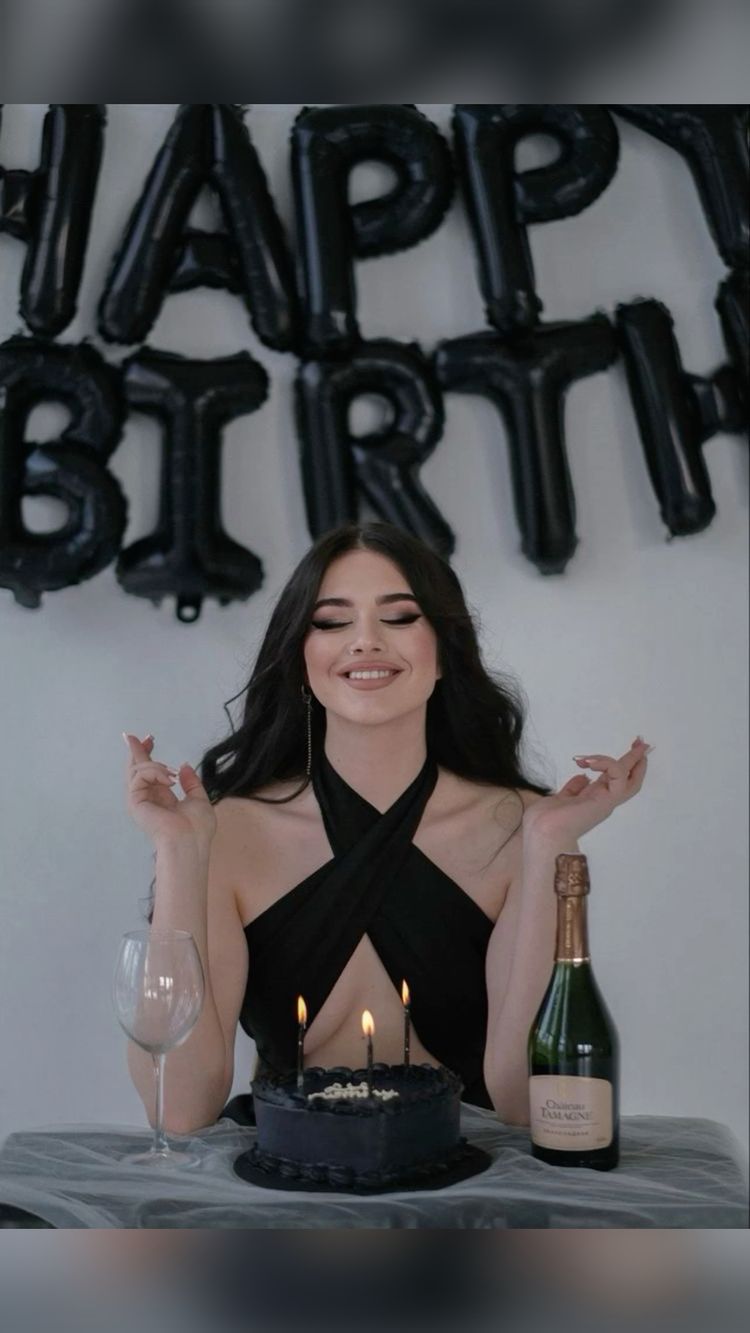 Turning 30? Have an all-black "RIP to my 20's" 30th birthday photoshoot with black balloons and cake.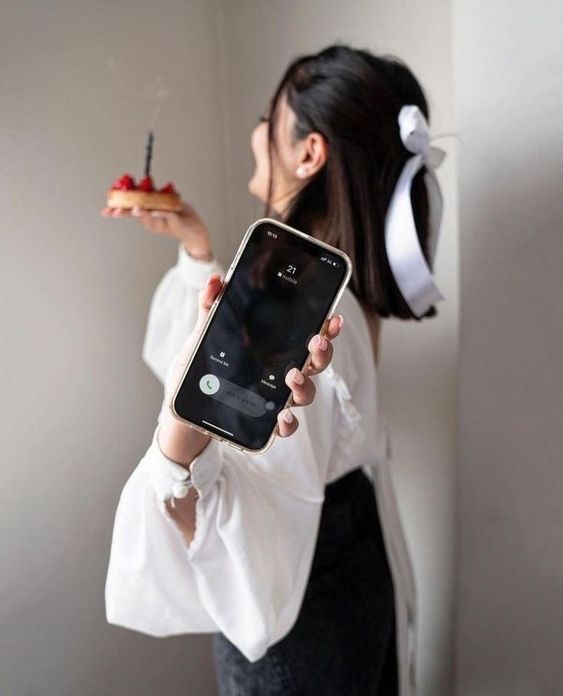 You better answer the phone, 21 is calling, and it's here to give you the best year of your life.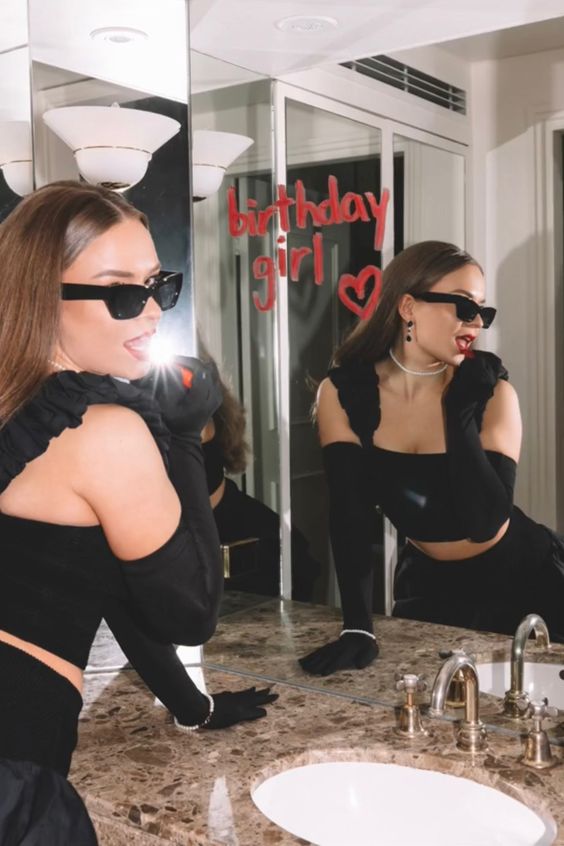 Get all glammed up for your birthday with this fun and creative getting ready photoshoot.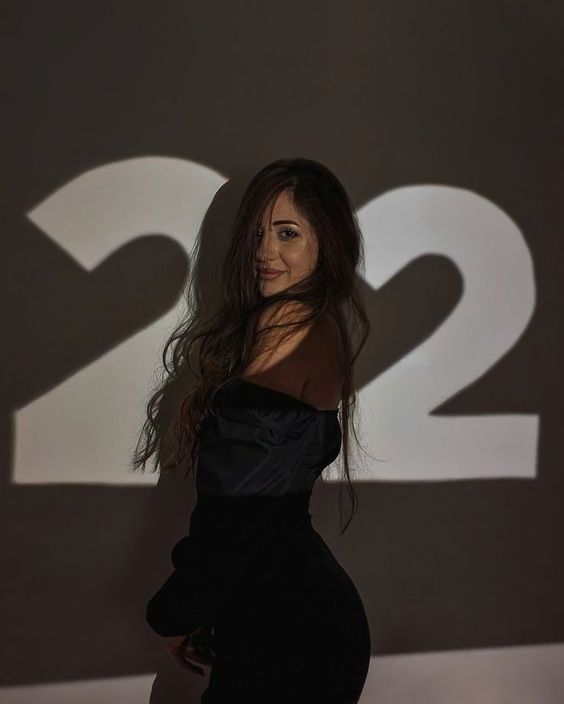 Save the money on all the expensive decorations and use this creative projector birthday photoshoot idea instead.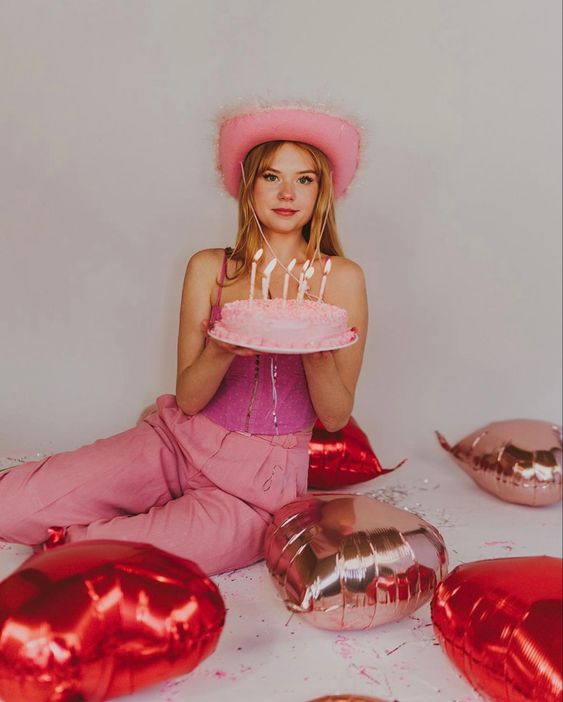 Think pink for this trendy cowgirl birthday photoshoot. The more the pink the better.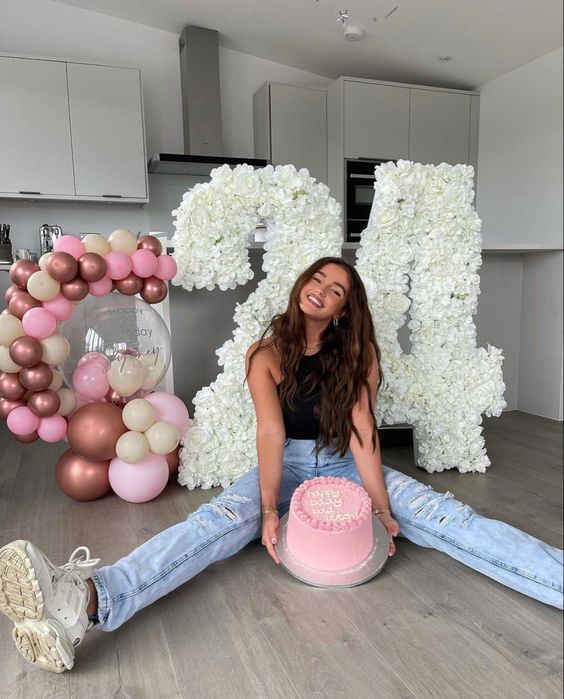 We love the idea of using giant floral marquee letters as the background for your 24th birthday photoshoot.
You can have your cake and eat it too in this 21st birthday photoshoot idea for girls.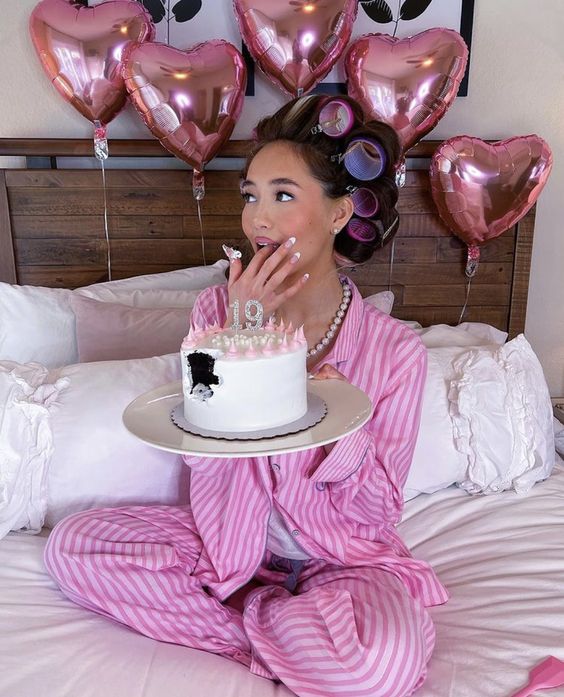 Ring in 19 with a pink pajama party photoshoot that you don't even have to leave your comfy bed for.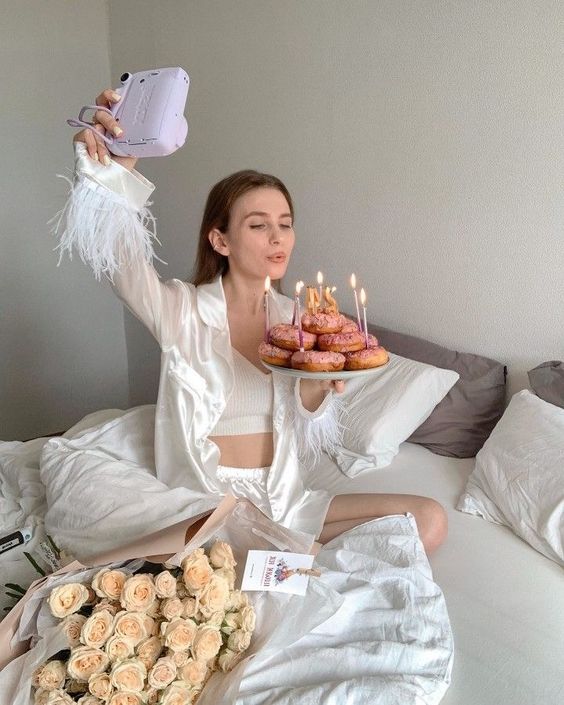 We're not fans of cake either so we're all about using birthday donuts as the focal point for your birthday photoshoot.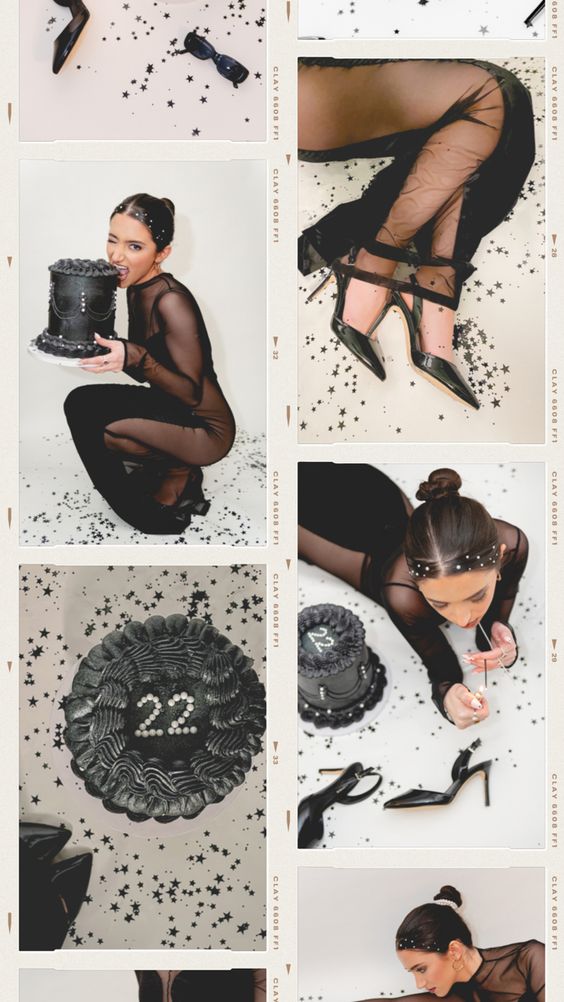 We're all about channeling our inner goth if it means recreating this super cool birthday photoshoot idea.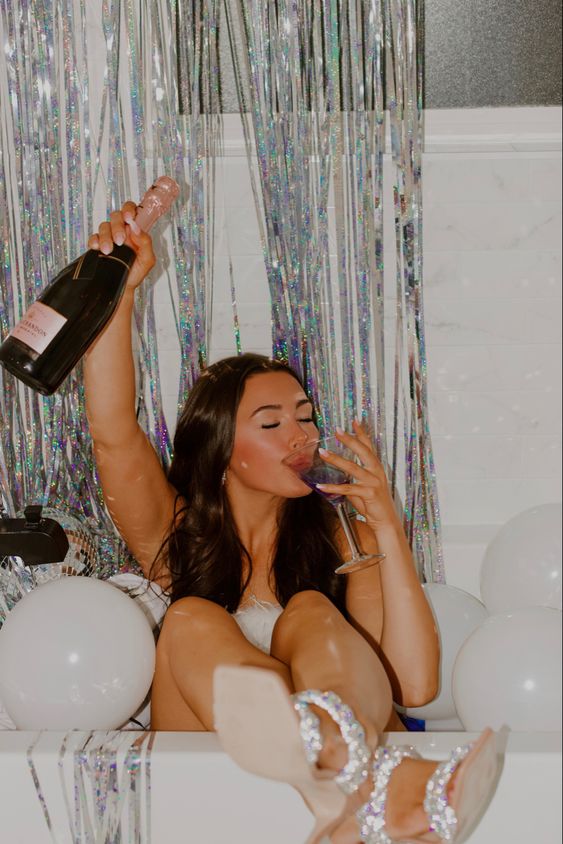 Pop open a bottle of bubbly for this unique 21st birthday photoshoot idea that takes place in a bathtub.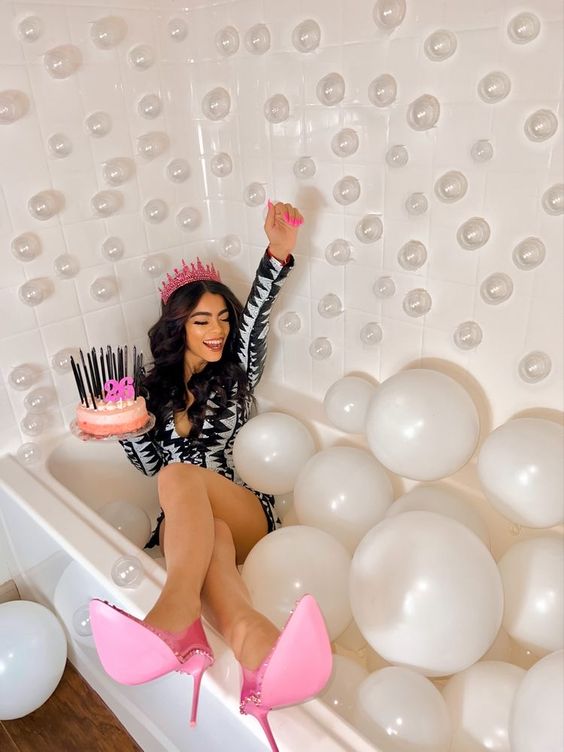 Another creative take on the bathtub photoshoot trend is by filling it with bubble inspired white balloons.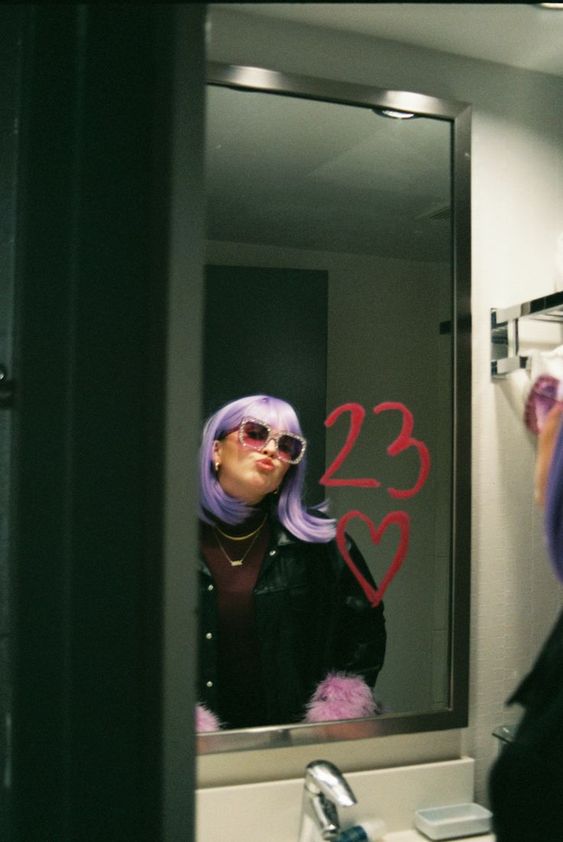 Get wiggy for your 23rd birthday with this creative and fun photoshoot idea.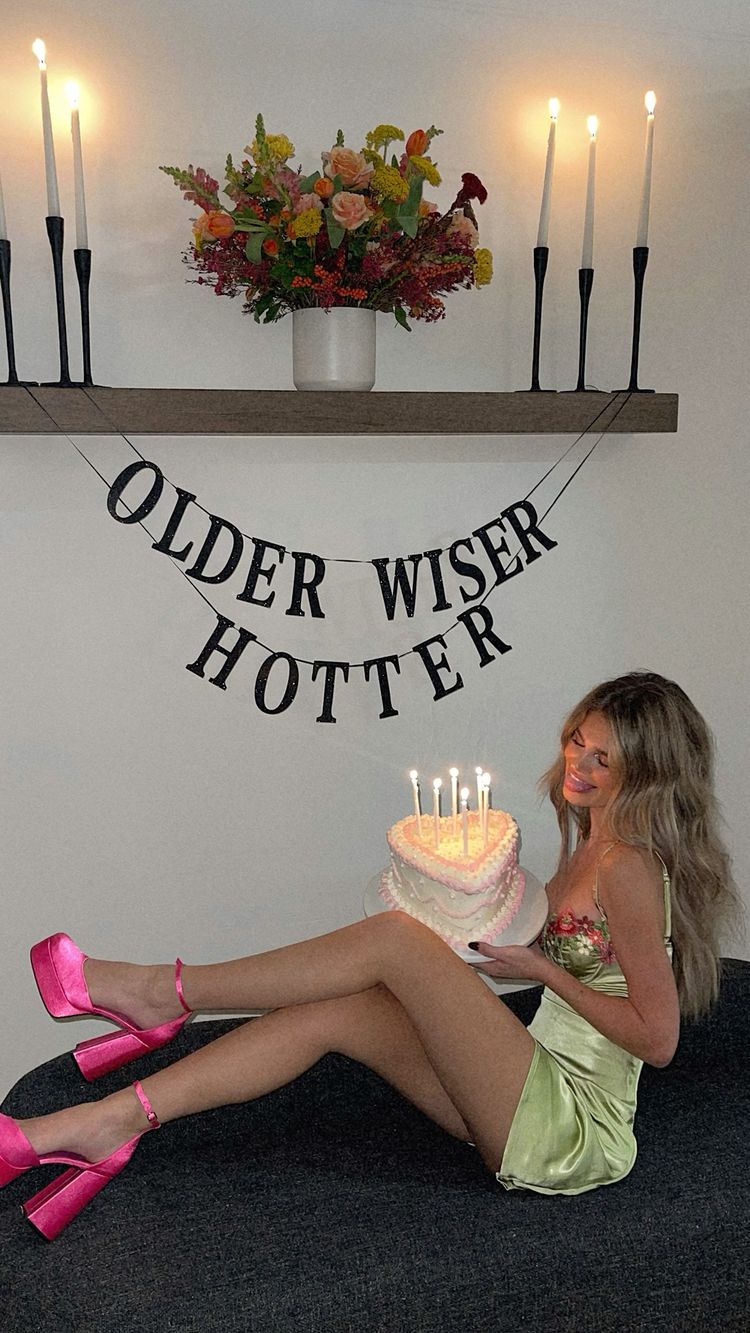 The only three things you need to tell yourself on your birthday: that you're older, wiser, and hotter.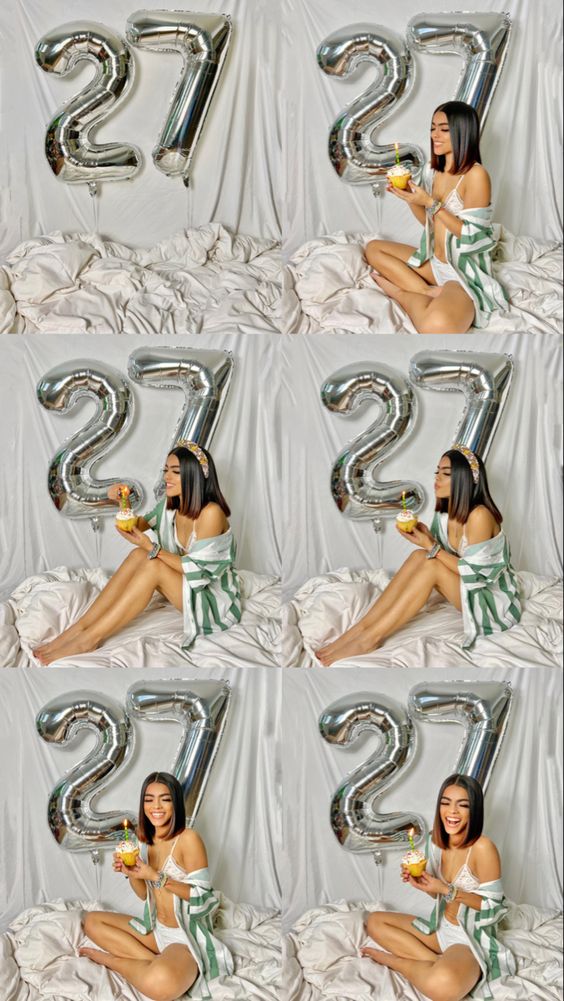 Whether you're turning 17, 27, or 37, giant silver balloons make for the perfect birthday photoshoot backdrop.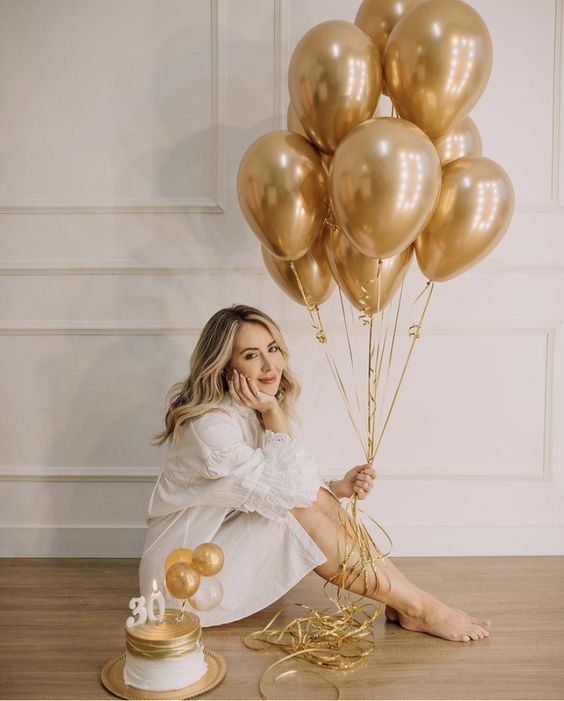 In the words of Harry Styles, "You're So Golden," and so is your 30th birthday photoshoot.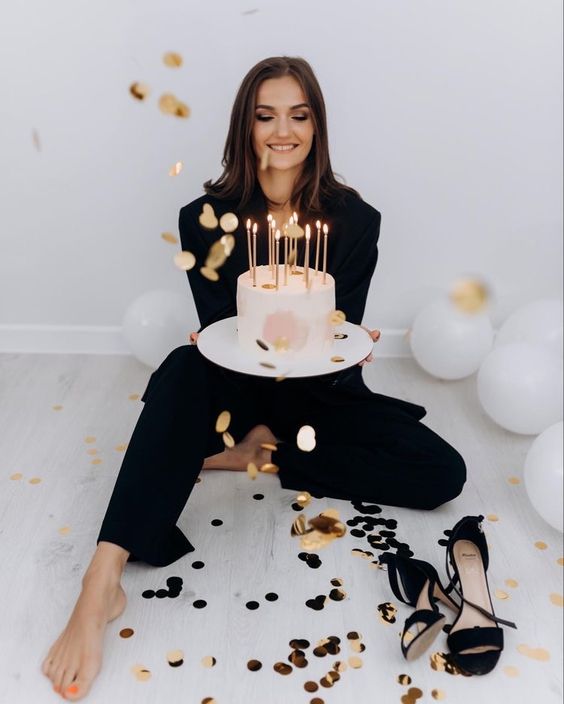 All you need for your at home birthday photoshoot idea is a pretty mini-cake and tons of confetti.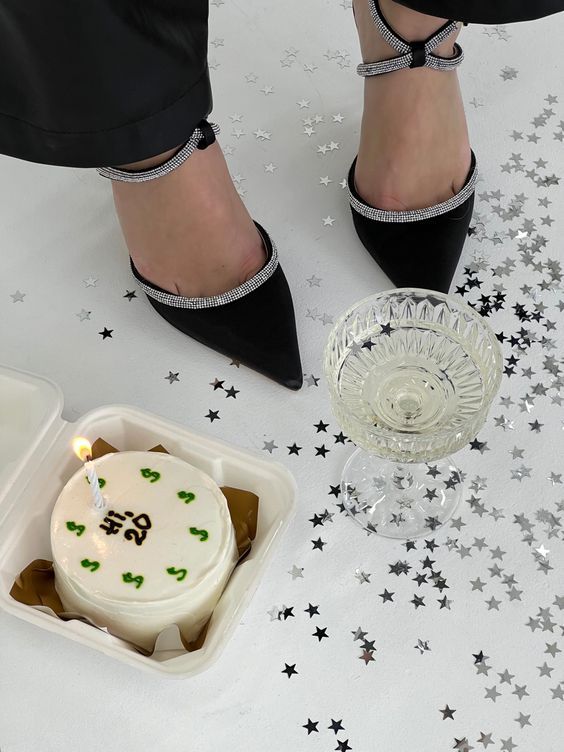 It's all in the tiny little details in this simple and gorgeous 20th birthday photoshoot.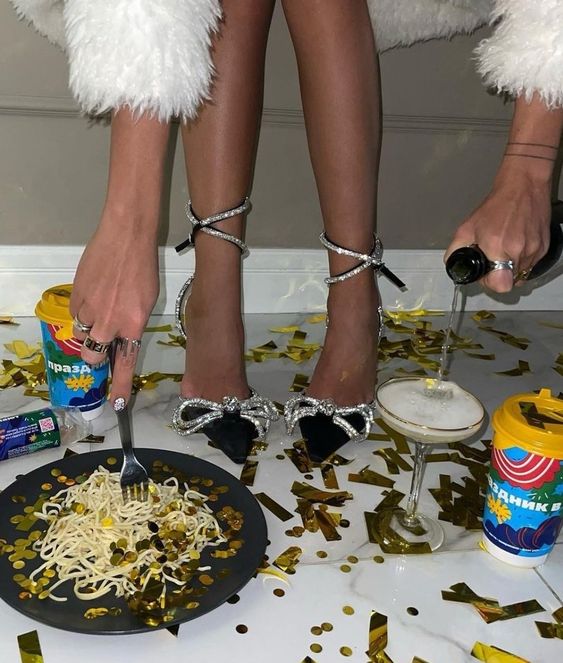 We couldn't relate more to this realistic birthday shoot that features a delicious plate of pasta and a glass of our favorite champagne.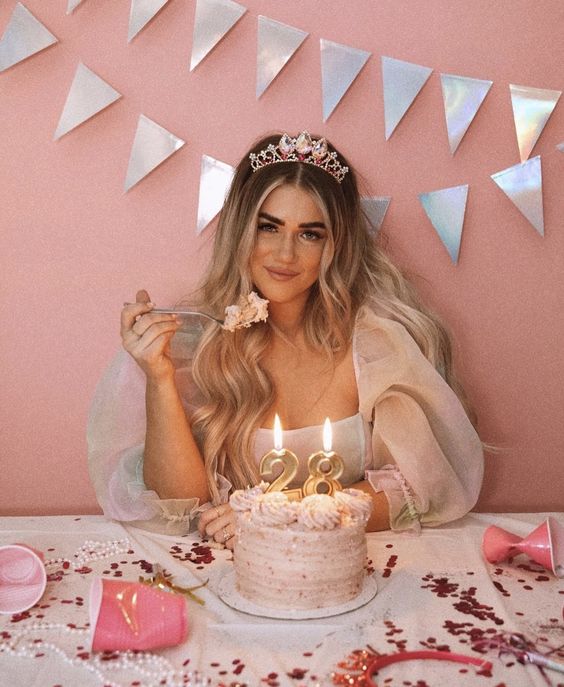 Get all dolled up in pink with one of our bright and creative 28th birthday photoshoot ideas.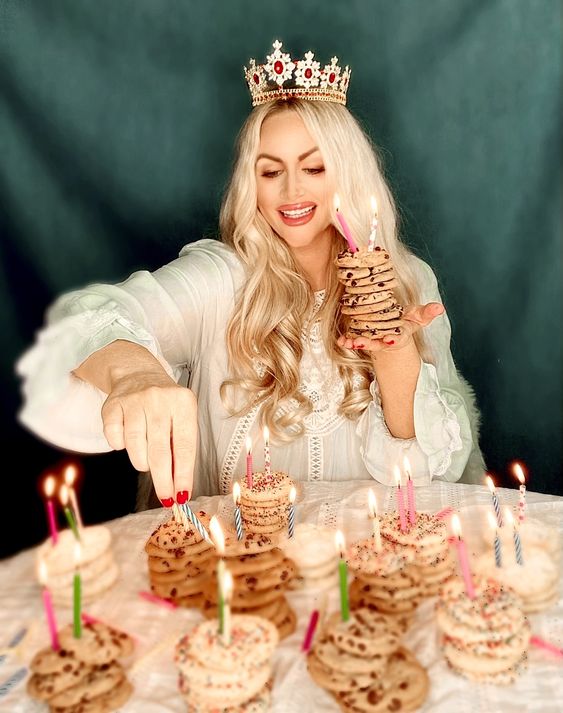 We hereby declare you the queen of cookies with this super sweet and delicious birthday photoshoot idea.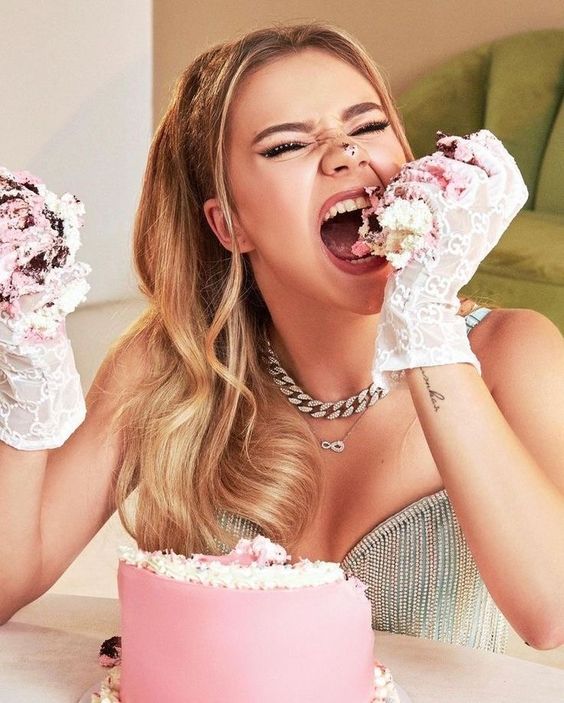 Don't be afraid to get messy with this cake smash birthday photoshoot idea that's perfect for any girl with a sweet tooth.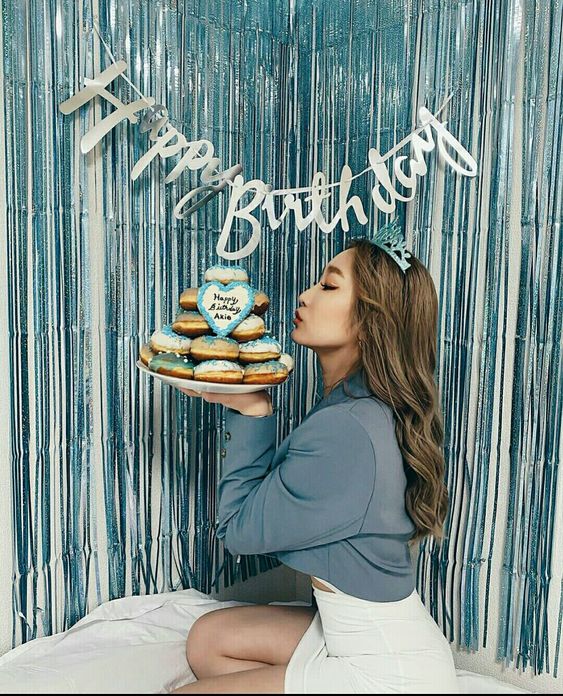 Bring in your favorite color to your birthday photoshoot backdrop with blue streamers and accessories.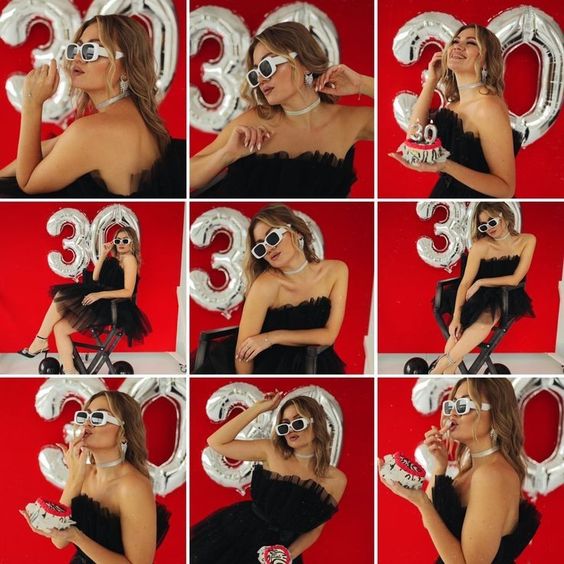 The three colors you need for a standout birthday photoshoot are red for your backdrop, black for your dress, and silver for your balloons.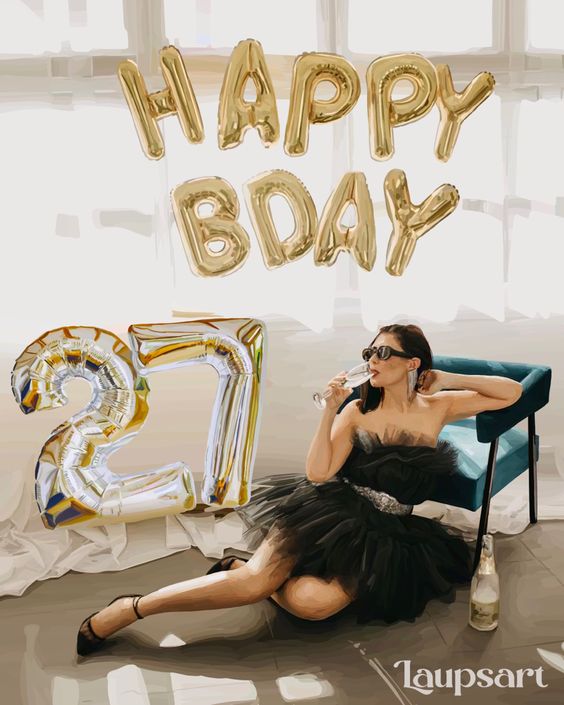 Have a toast to your 27th birthday with this easy at home photoshoot that only requires a few balloons.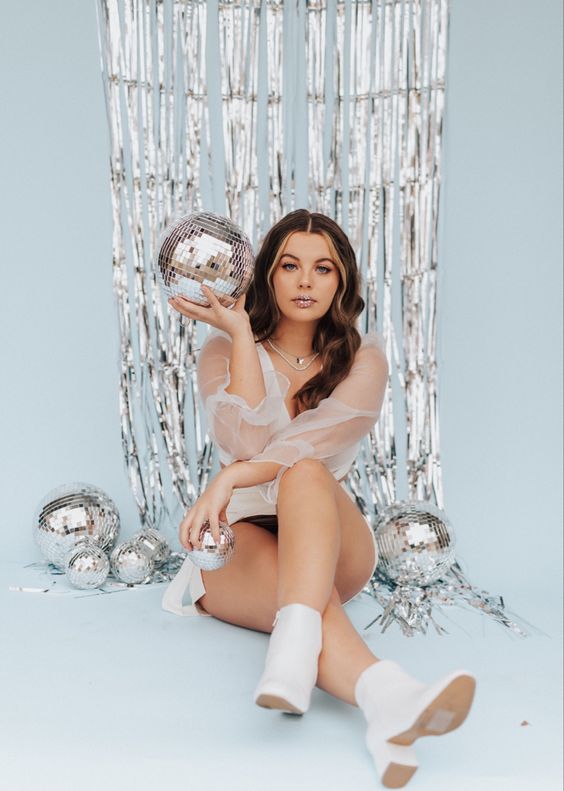 Be the dancing disco queen on your birthday with this silver disco styled birthday photoshoot.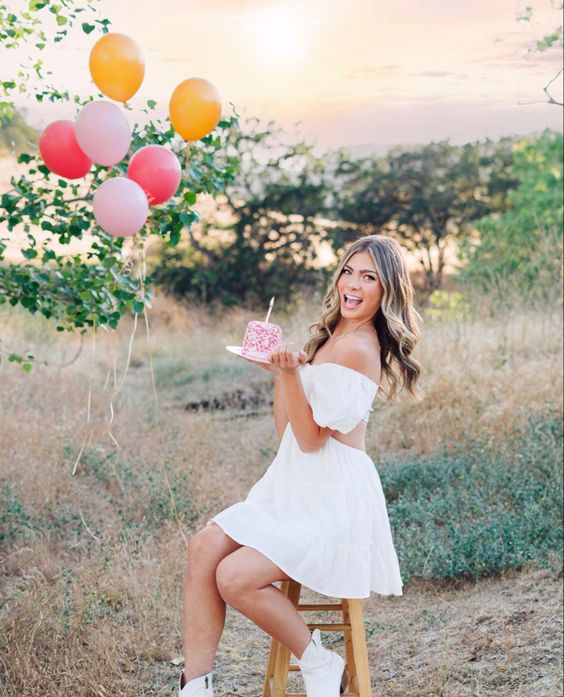 Take your birthday photoshoot to the great outdoors with some balloons and a mini-cake.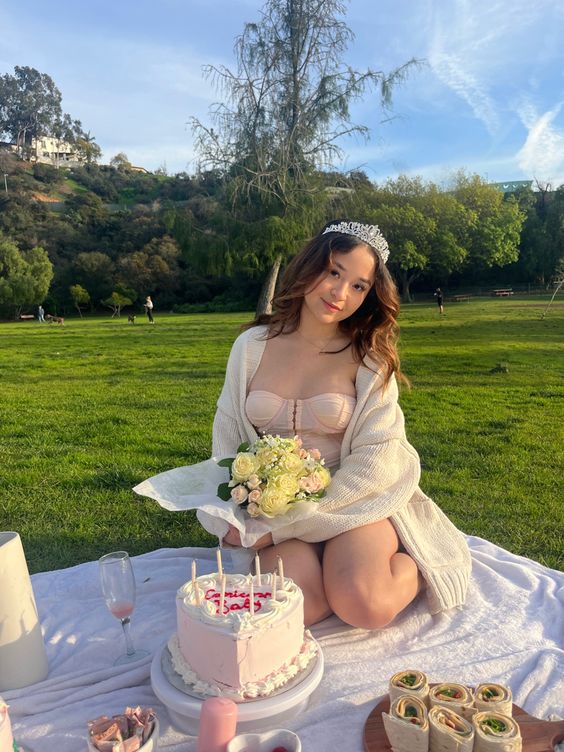 Go outdoors and have a birthday picnic with your best friends and turn it into the perfect photoshoot moment.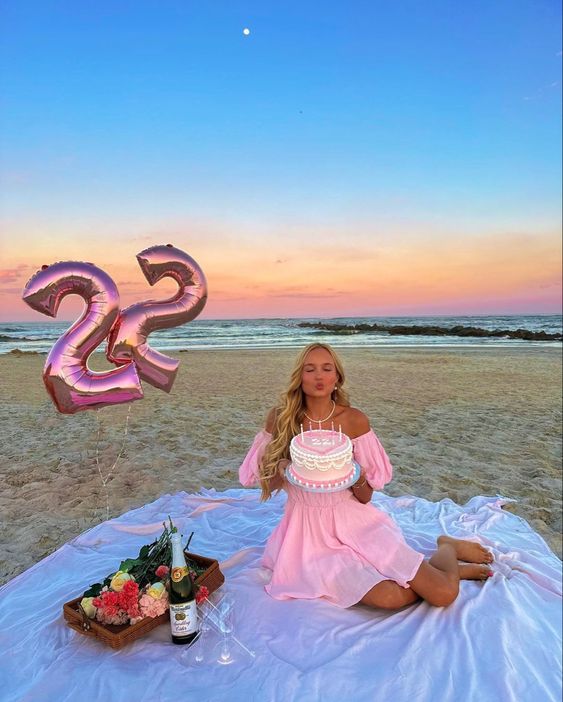 We're obsessed with the beach picnic birthday photoshoot for girls who live near the beach.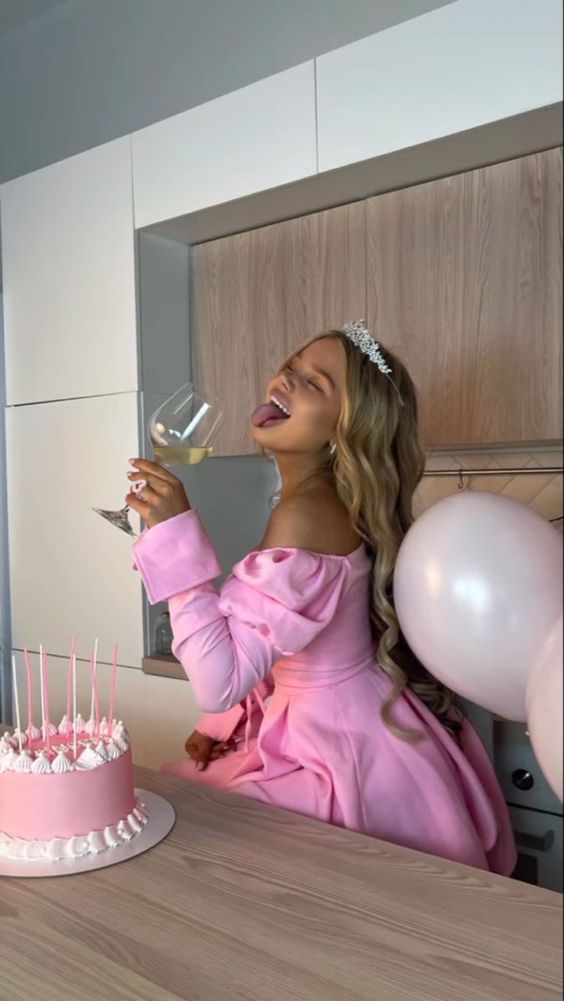 Don't forget to remind everyone that you're the birthday princess on your special day.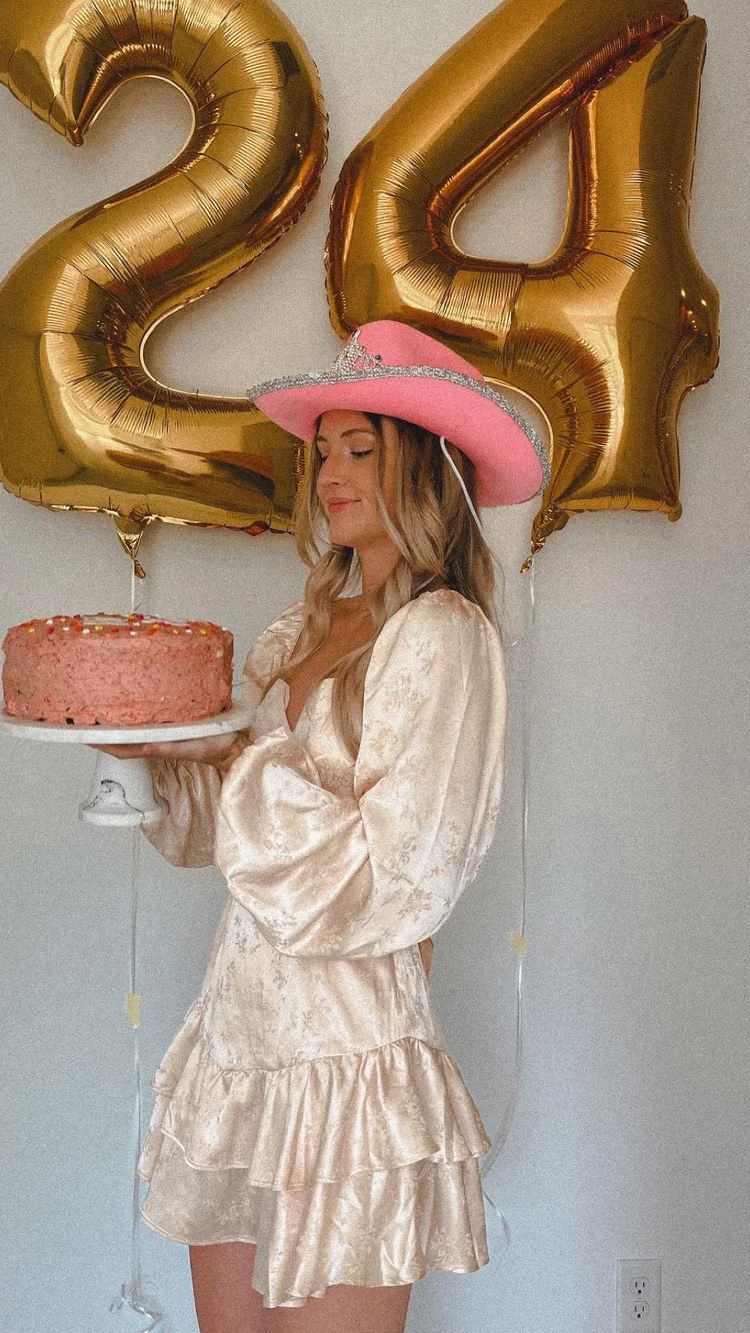 We've officially found our favorite birthday photoshoot idea and it's golden cowgirl themed.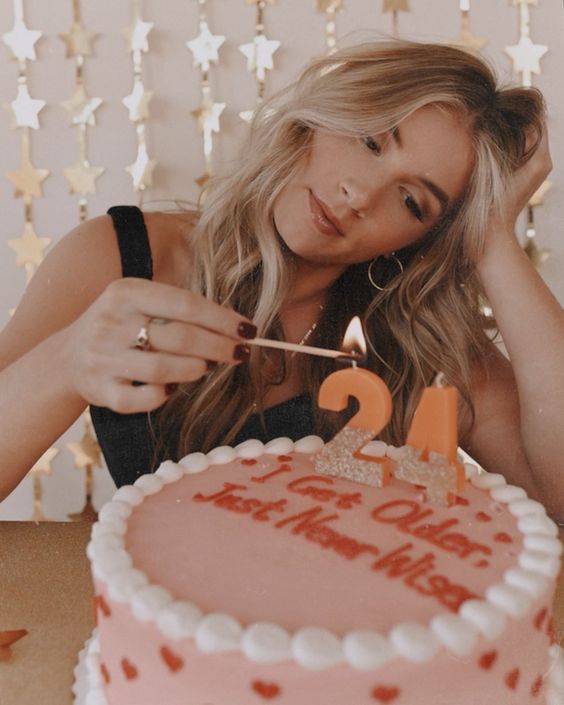 Have a funny birthday photoshoot with a cake that says, "I got older, just never wiser." Which might just be true for us.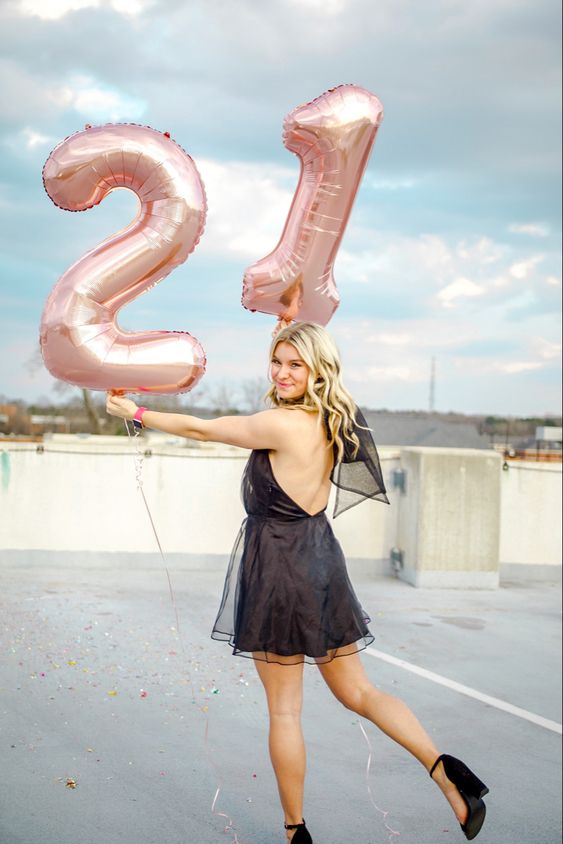 Another great way to go outdoors and get creative for your birthday photoshoot is by going to your parking garage rooftop.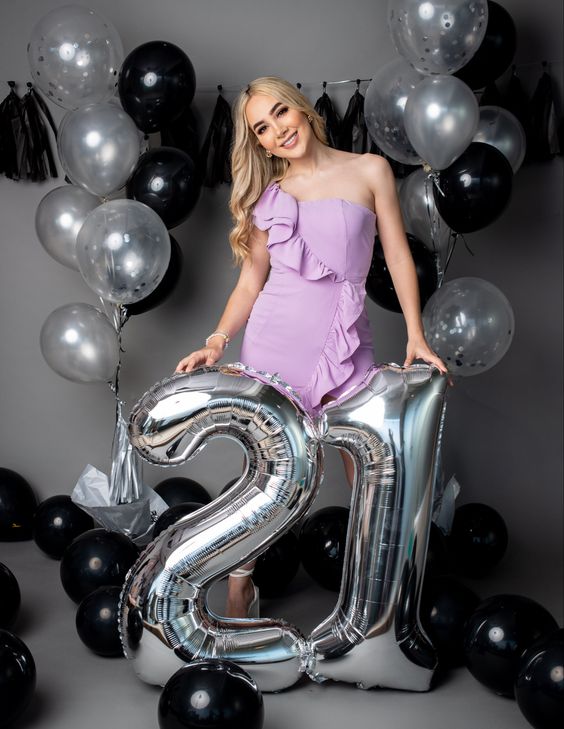 Stand out in your birthday photos by being the pop of color against your silver & black birthday backdrop.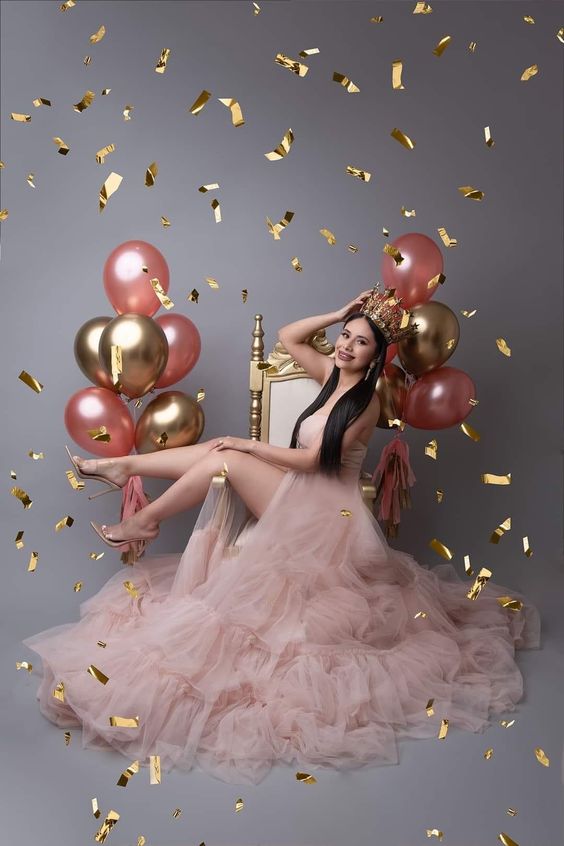 You can't be the birthday queen without a literal throne and crown in your birthday photoshoot.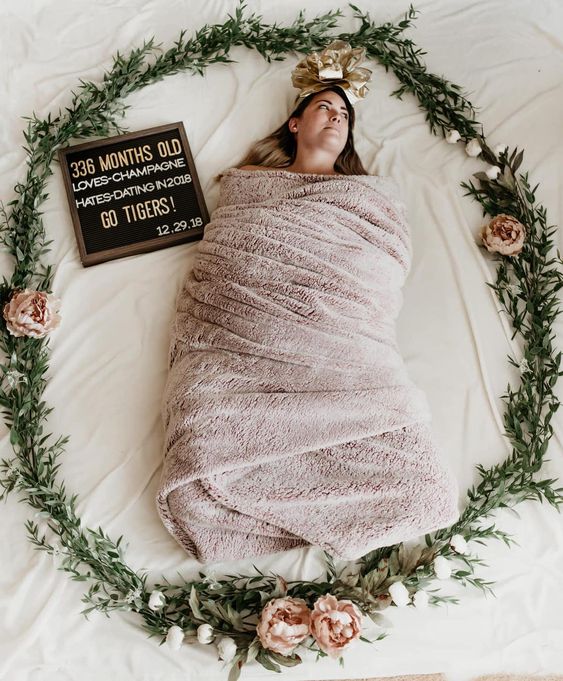 This hilarious take on baby portraits has to be one of the funniest birthday photoshoot ideas we've ever seen.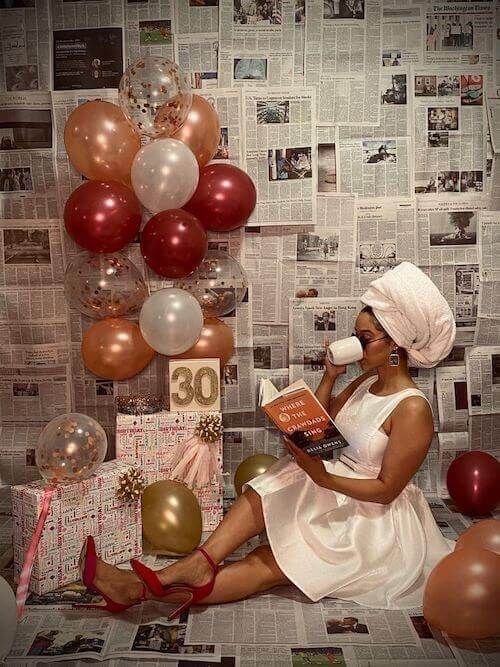 For all the newspaper loving girlies, turn your old newspapers into this creative photoshoot backdrop.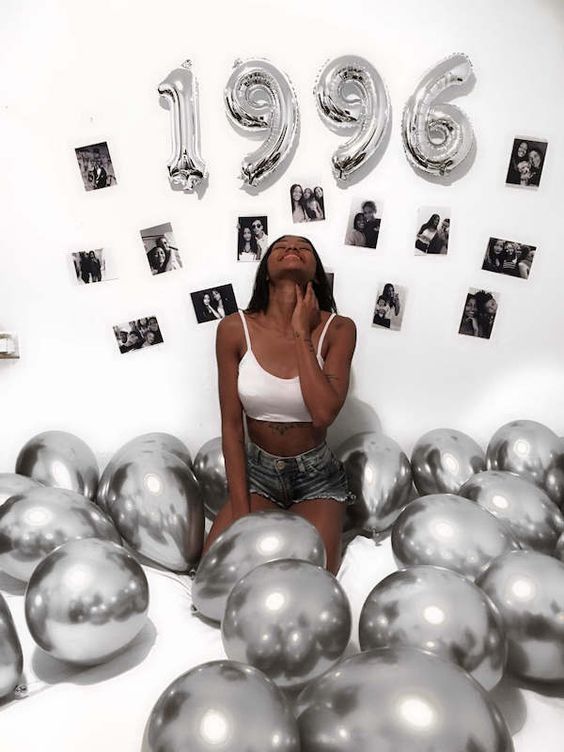 We love the idea of bringing in your favorite memories to your birthday photoshoot with a polaroid wall.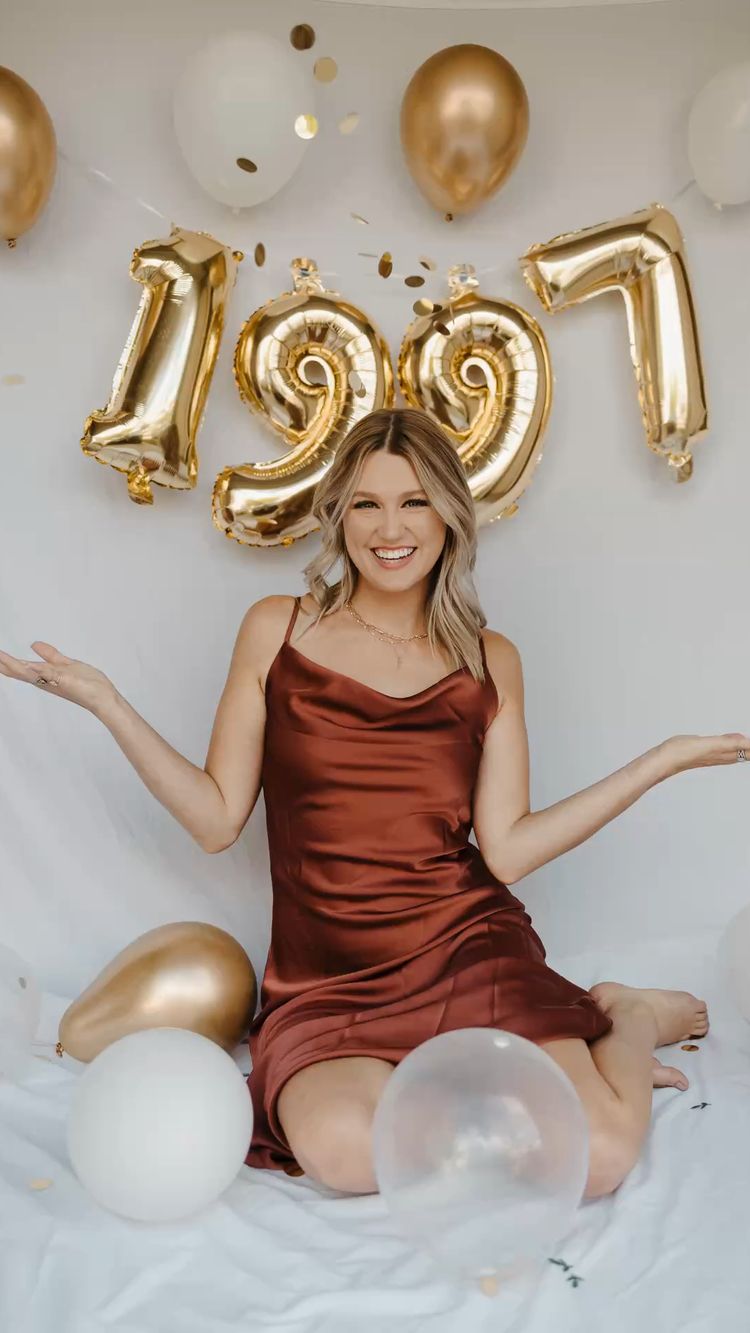 This creative take on a birthday backdrop creates a simple yet stunning birthday photoshoot idea.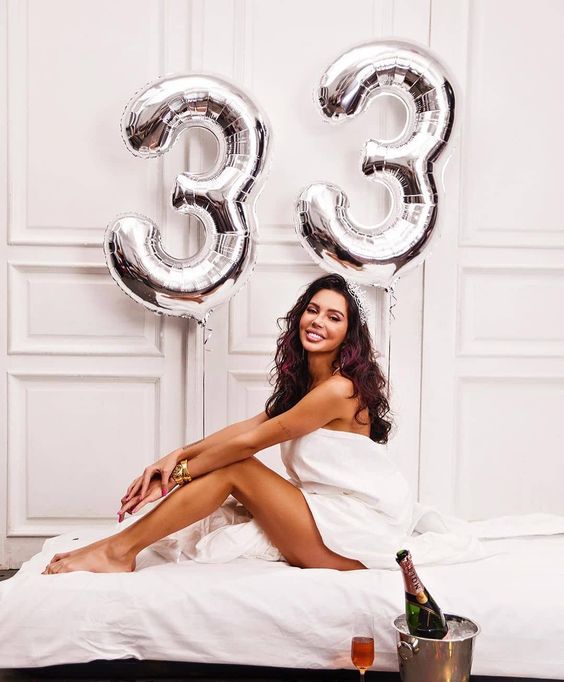 Once you ring in your 30th birthday, the one place you'll want to celebrate is the spa.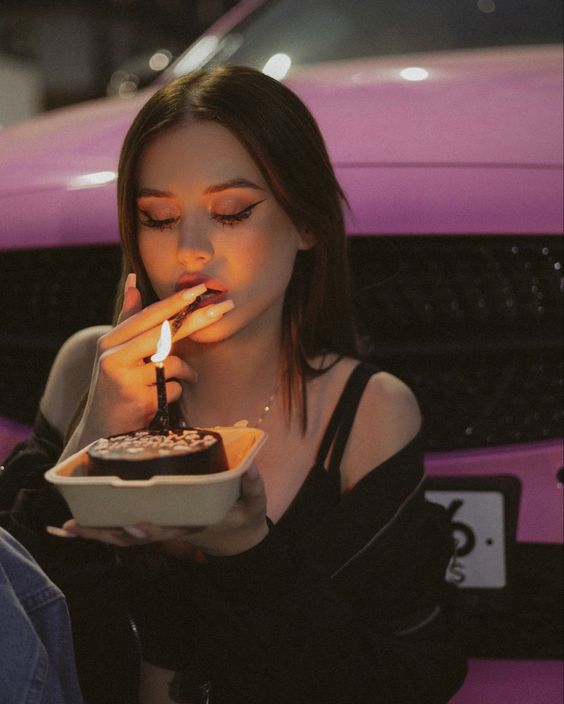 If you're a self-proclaimed car girl who takes pride in what she drives, use it as the backdrop for your birthday photoshoot.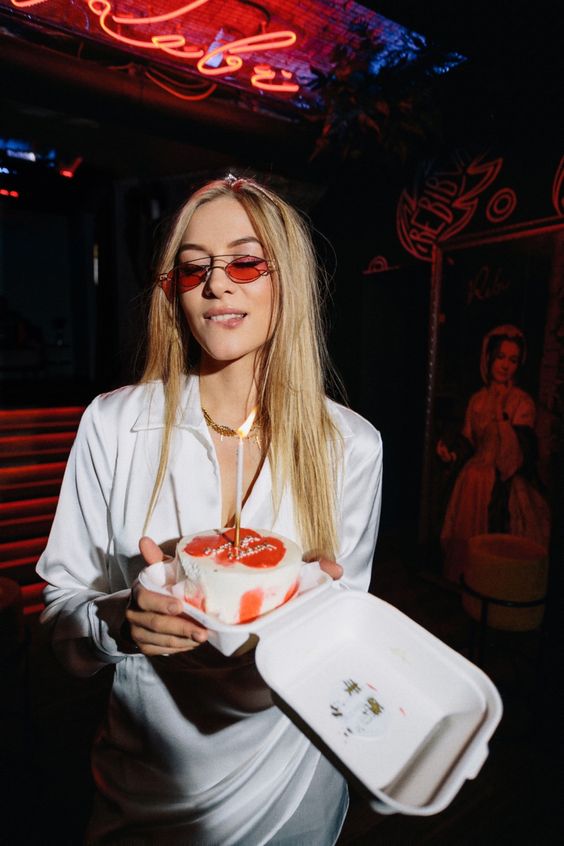 If you're ringing in your birthday at the club, use it as the background for your party-girl birthday photoshoot.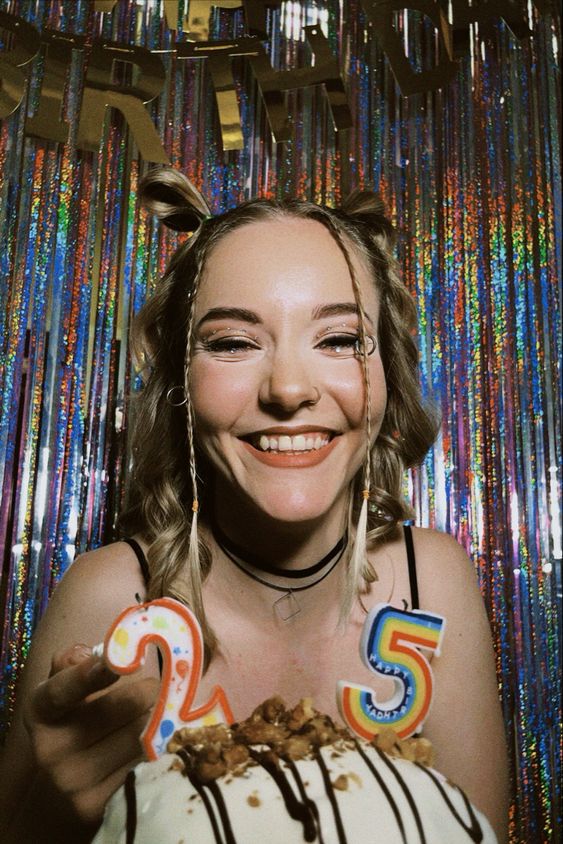 Have a birthday that's out of this world with this creative and colorful photoshoot idea.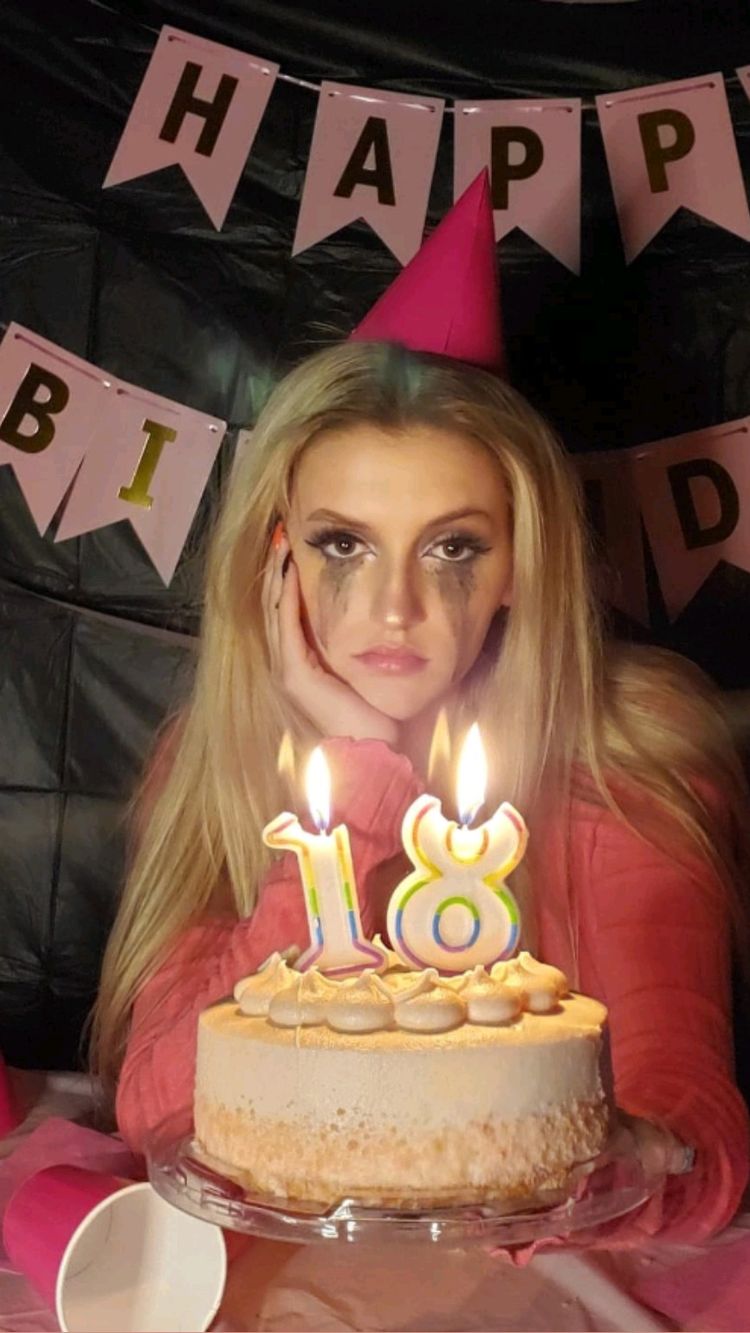 You can only throw yourself a pity party for one day, and only because it's for this funny birthday photoshoot idea.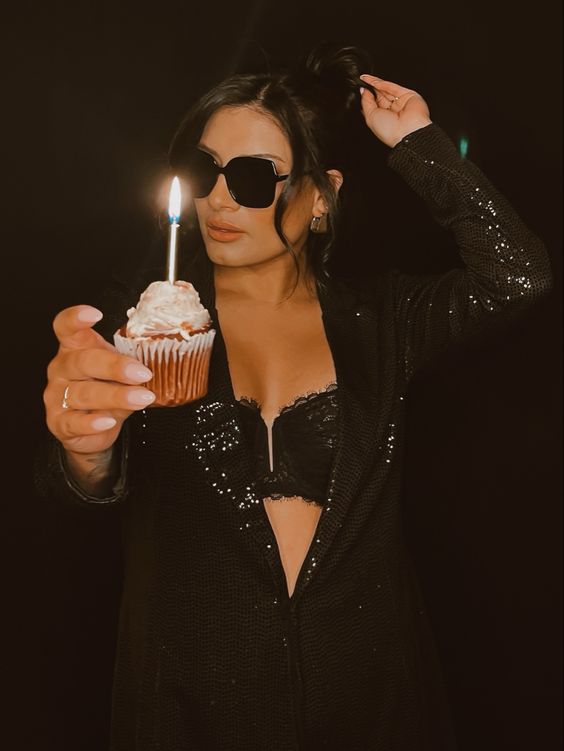 This simple birthday photoshoot idea doesn't require much, but it does look super cool.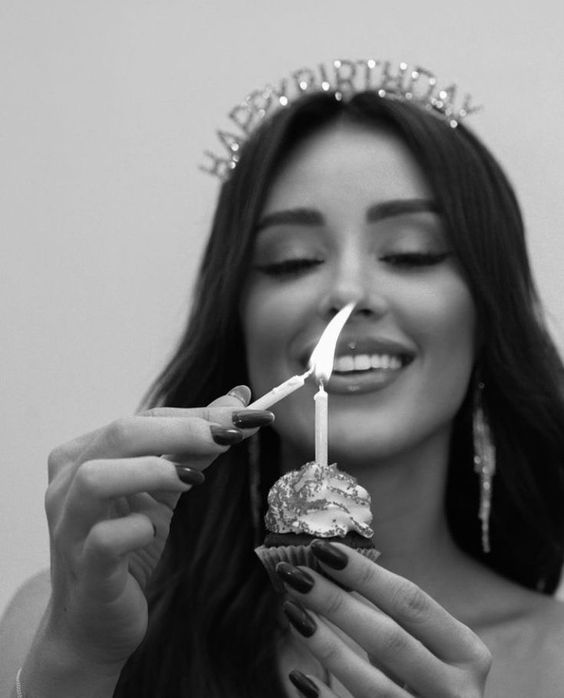 We're obsessed with these simple and stunning black and white birthday photoshoot ideas.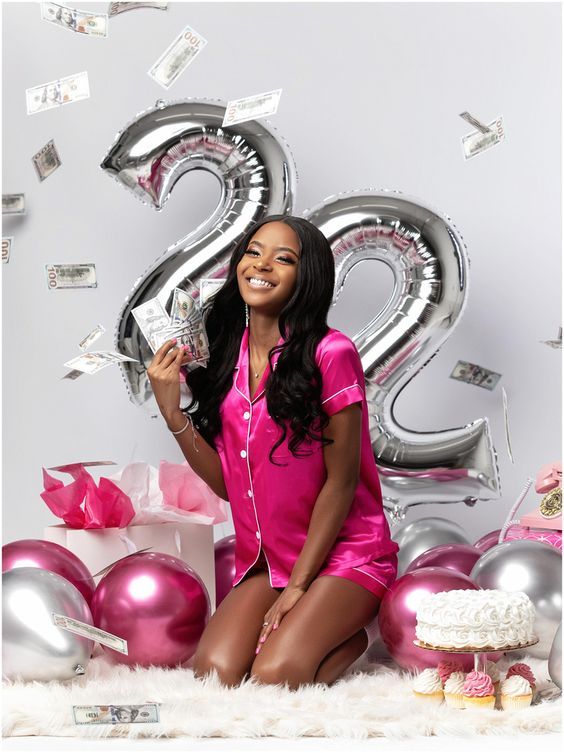 If there's one thing we want to wish for on our birthday, it's more money, and this birthday photoshoot idea is the perfect way to put that out into the universe.
Hopefully you've found your favorite birthday photoshoot idea after reading this post!
If you have any comments, questions, or suggestions leave them down below. Thanks for reading!