Are you going off to your college dorm soon? Here are the 10 best college dorm bedding for guys in 2023 that fit twin XL beds!
These bedding sets will range from anywhere between $30-$60, making them affordable for the quality that you're getting.
Before we start, you should note that you can get 6 months of Amazon Prime Student for free by signing up with your .edu email!
It can't hurt since all of these will be available to order directly through Amazon, along with all the other college dorm essentials for guys.
Let's get into the dorm bedding!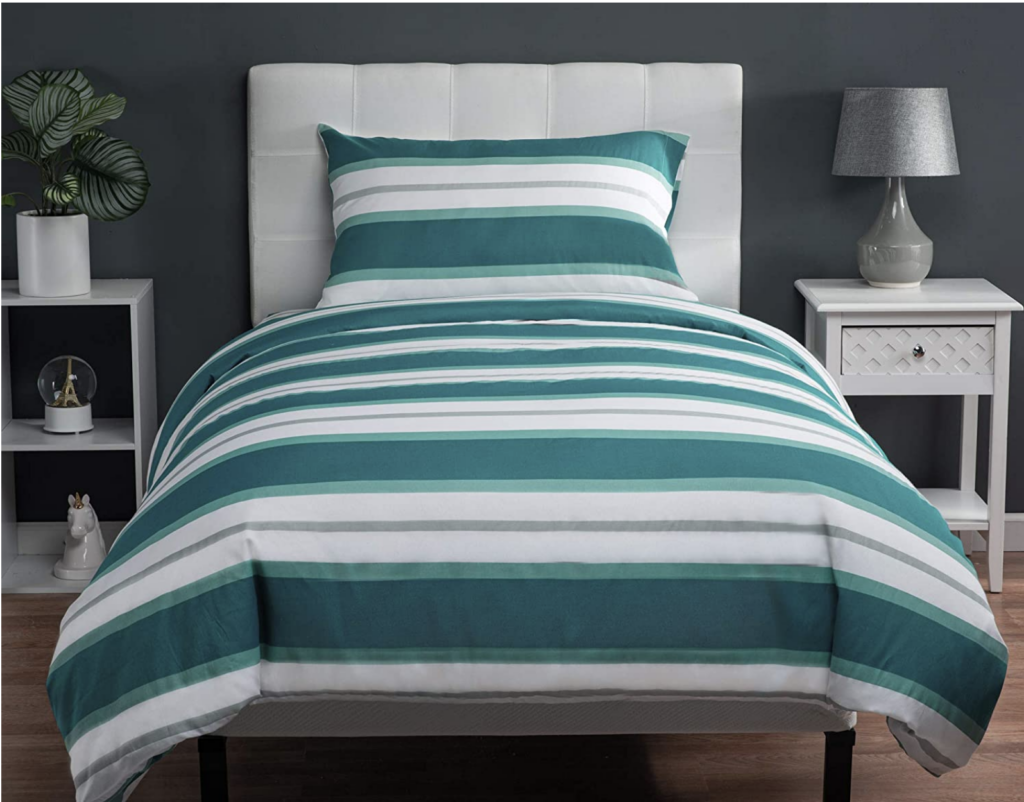 This twin XL bedding is an excellent choice for college guys who want a little brightness of color without overdoing it.
It comes with a comforter cover, bed sheet, and pillow case so that you can match your entire set with the same colors and patterns.
If you'd rather have a more patterned style bed, then consider getting this bedding for your dorm!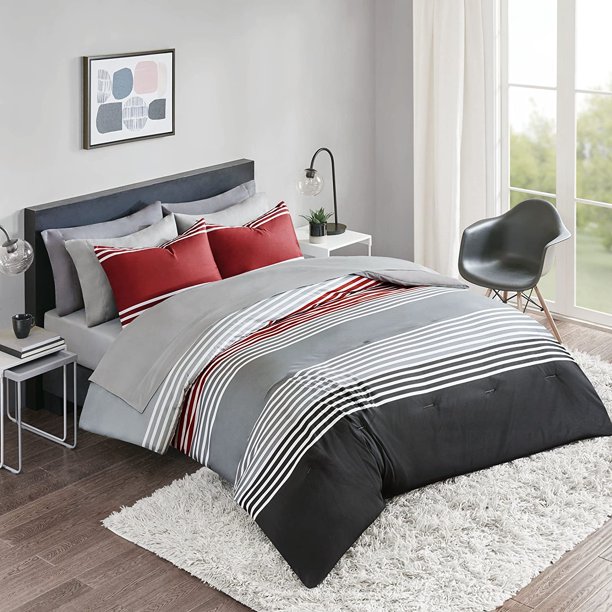 Gray, black, and red stripes is the best dorm bedding for guys who want a tiny pop of color with a simple design.
The little accents of red are what make this bedding stand out, while the grays and blacks keep it cool and masculine.
I definitely recommend picking up this bedding set if you want to turn your bed from boring to fun!
Related Post: College Dorm Room Ideas for Guys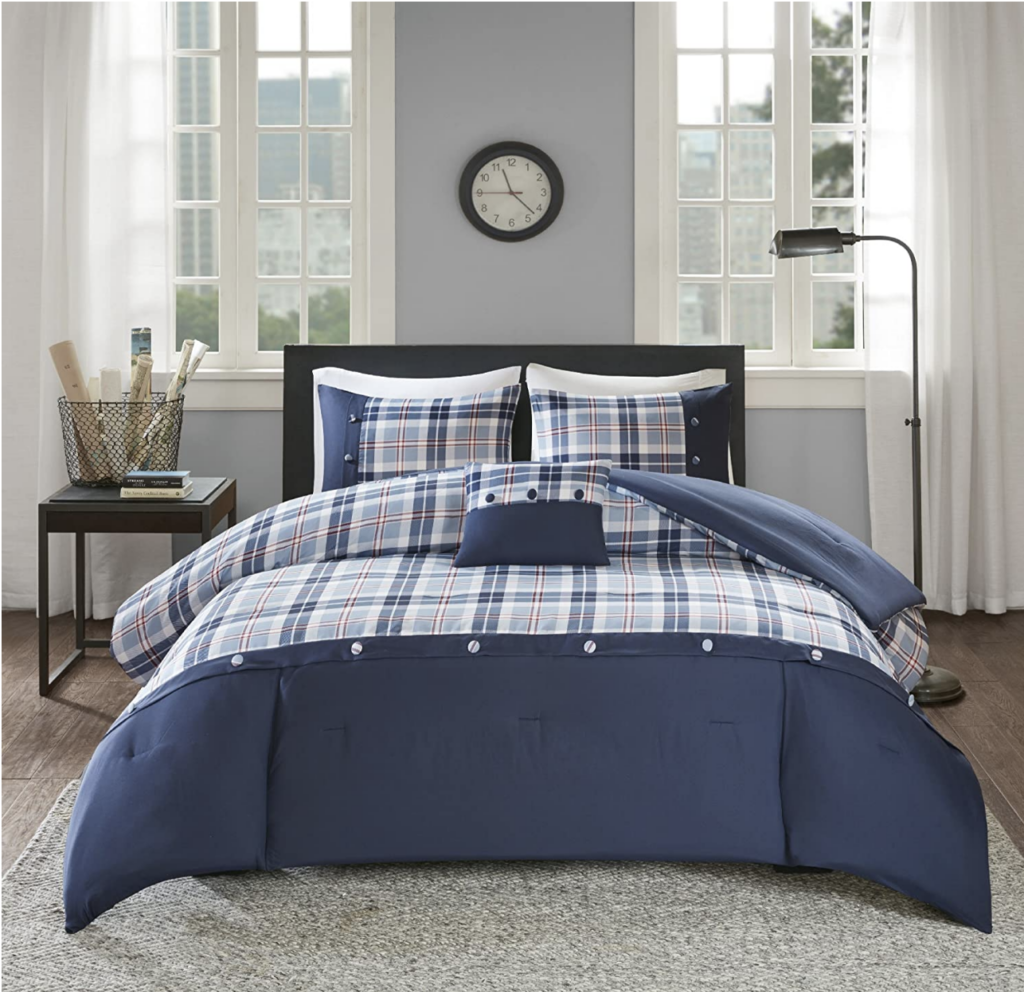 Plaid has always been a pattern that seems to suit college guys more than anyone else in the world.
This simple plaid blue bedding comes with a comforter, decorative pillow, and 1 sham.
If you need a bedding set that includes sheets, then you're probably better off with some other options on this list.
If you have sheets already, then this design is awesome for college guys moving into their dorm this year!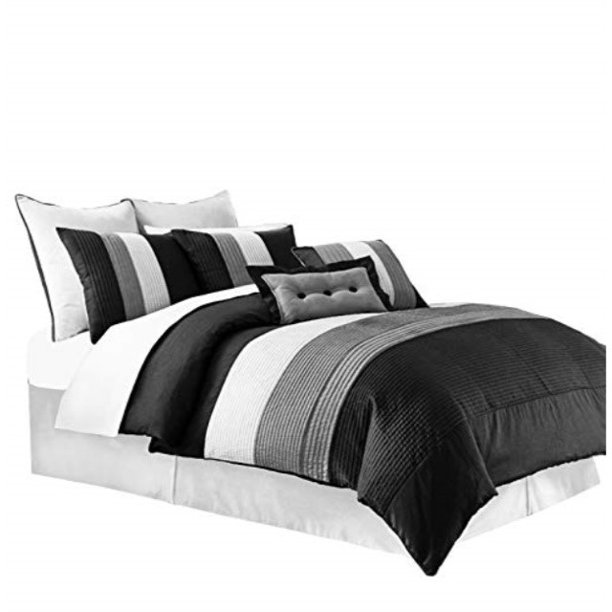 This 6 piece comforter set comes with a comforter, sham, bedskirt, cushion, euro sham, and breakfast pillow!
Again, if you don't have any sheets to go with your bedding, then this option may not be for you.
However, getting sheets to match this beautiful, yet simplistic design is one hell of a way to stand out in your college dorm room.
This specific set also comes with a few different color mixes on Amazon, such as beige and green!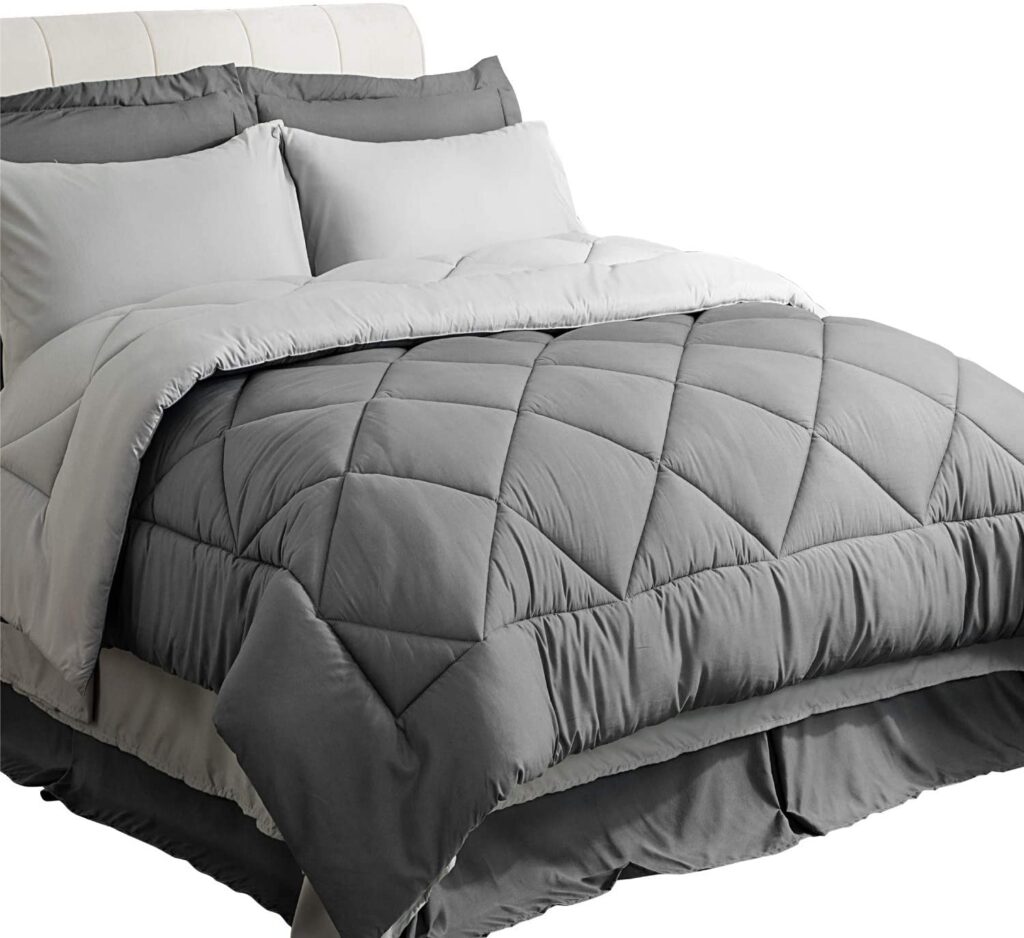 Look, not every guy wants to have all these patterns, designs, and popping colors.
The minimalists of the world with appreciate this all gray bedding that happens to fit perfectly for twin XL beds!
It comes with a comforter, pillow sham, flat sheet, fitted sheet, bed skirt, and pillow case.
Think of this one as the ultimate dorm bedding set for college guys since it comes with everything you'll ever need!
Related Post: College Dorm Packing List for Guys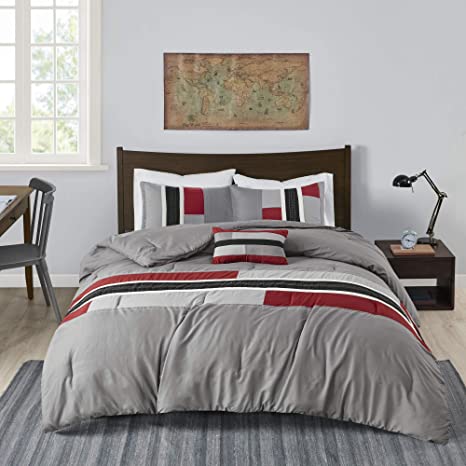 The tri-tone geometric stripes is not only good looking, but it's also unique to throw on top of your bed!
It comes with a comforter, sham, and decorative pillow. If you can find sheets to match, this is a fantastic design to keep with you through college and beyond.
Red accents throughout are what make with bedding stand out, while the geometric shapes make it extremely modern.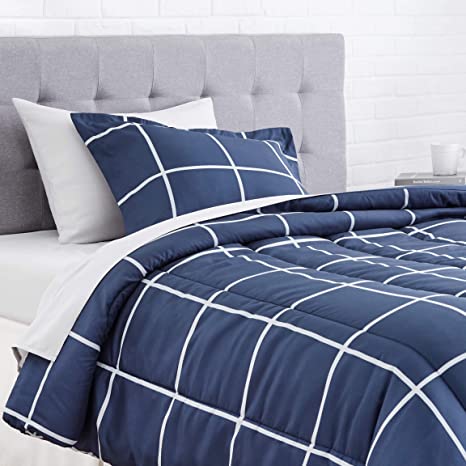 This 5 piece comforter bedding set is probably the best dorm bedding for guys in 2023!
It's sleek, simple, and has a perfect balance of minimalism and design. You can't go wrong with choosing this bedding!
It comes with a comforter, flat sheet, fitted sheet, sham, and pillow case. It's all you need in one package.
The navy and white combo fits a twin and a twin XL, so you don't have to second guess if you chose the right fit.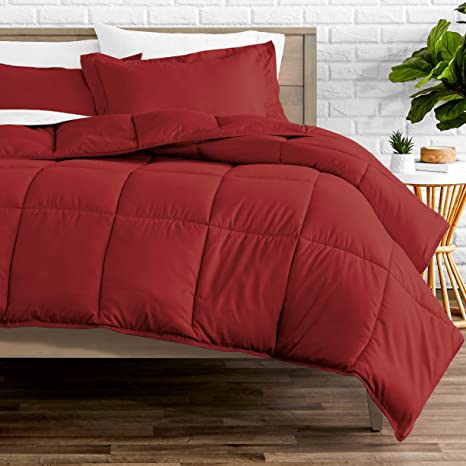 The all red bedding is for those college guys who want a bold, but modern color.
The centerpiece of their dorm room is going to be seen with a big pop of color that resembles their personality!
If he's on the verge of choosing between bright and minimal, go with this all red option. It comes with a comforter and pillow sham.
Any simple grey or white sheets will match this bedding perfectly!
Related Post: 15 Best Apps for College Students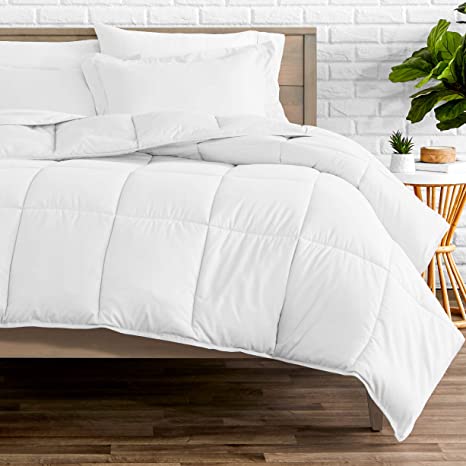 Nothing shows how dedicated a man is to being clean and modern like the color white does.
If this college guy isn't the most organized person in the world and wants everything in it's place, then this bedding wasn't meant for him.
The one who sleeps in all white knows damn well that those whites will never get stained. At the very least, he'll have so much of a crumb lying around.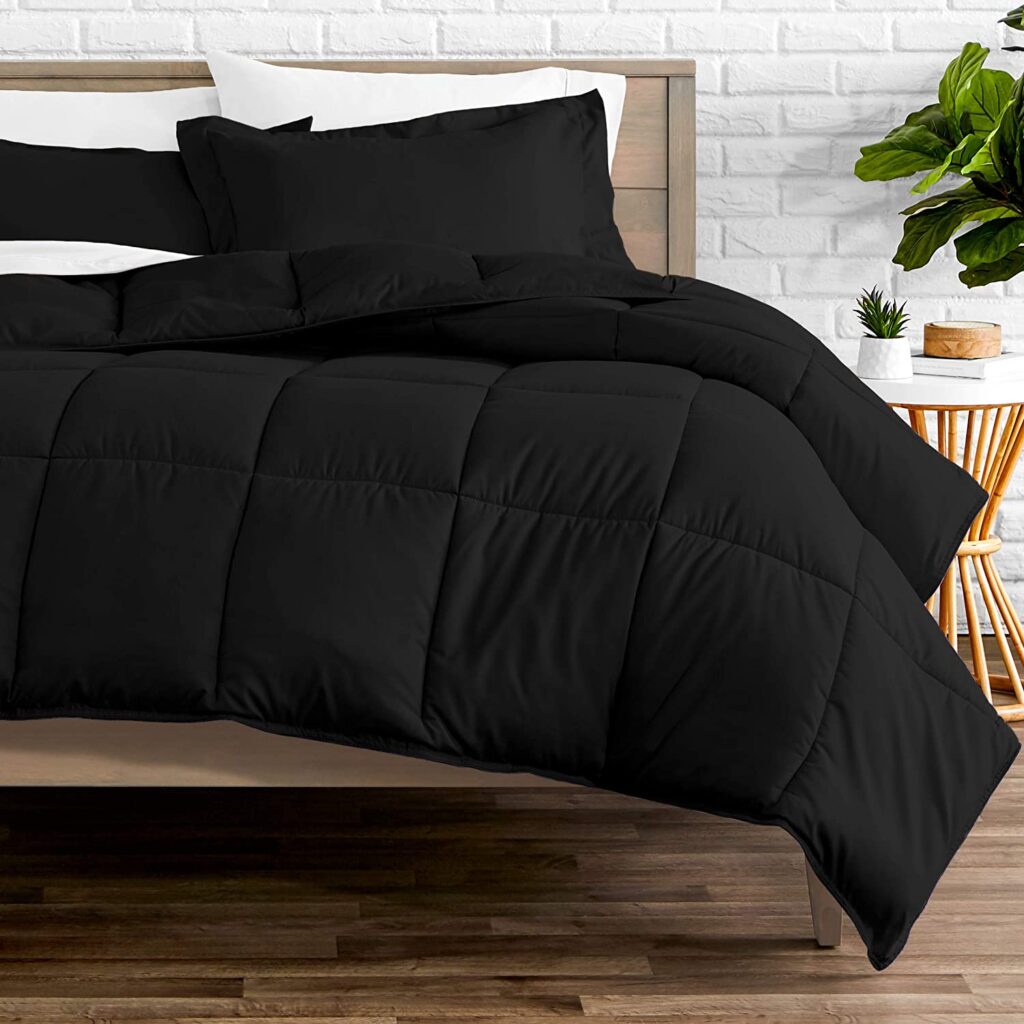 Last, but definitely not least, is the all black dorm bedding for guys. This is probably my favorite design and color to go with.
If you're a minimalist like me, you'll know the joy of putting on a clean black comforter to cover the entirety of your bed.
If you're a guy who likes some color, then a lot of the other options above will suit you more. For those who like the all black look, you can't go wrong with grabbing this option.
Hopefully these college dorm bedding ideas have helped you pick out the right design and color for you. Good luck in freshman year!
If you have any comments, questions, or suggestions leave them down below. Thanks for reading!