Considering getting the new Manscaped Lawn Mower 4.0? Here's a full and honest Lawn Mower 4.0 review to help you decide if it's worth it!
According to a study, 93% of women prefer men who groom below the waist.
However, grooming down there was never really discussed between men. There was no special way to do it and no tools for the job.
Manscaped had a different vision. A vision to create the best tool for below-the-waist grooming.
Hence, the creation of the Lawn Mower! Over the years, the company has developed multiple upgraded versions of the product until now.
In this Manscaped Lawn Mower 4.0 review, we'll be discussing the pros and cons of the product and what makes it unique!
Stick around until the end to find out if this new trimmer is worth it.
Let's dive in!
What is Manscaped?
Founded in 2016, Manscaped™ is a men's grooming company specializing in below-the-waist grooming and hygiene products.
The name was created after the word "manscaping". Manscaping is the removal or trimming of a man's body hair for cosmetic effect.
However, the company aims to help men do more than just aid their cosmetic effect. They want men to feel more confident, boost their hygiene, and make the little guy look bigger!
The owner, Paul Tran, wanted to transform such a sensitive subject into an open topic and discussion that men should have!
Related Post: Manscaped Perfect Package 3.0 Review
What's Included with The Lawn Mower 4.0?
Let's break down everything that's included in the box…
Here's what comes with the Manscaped Lawn Mower 4.0:
Lawn Mower 4.0 Trimmer
2 Adjustable Guards
Charging Dock
Cleaning Brush
Quick Start Guide & User Guide
Each of these items will be reviewed individually down below.
Lawn Mower 4.0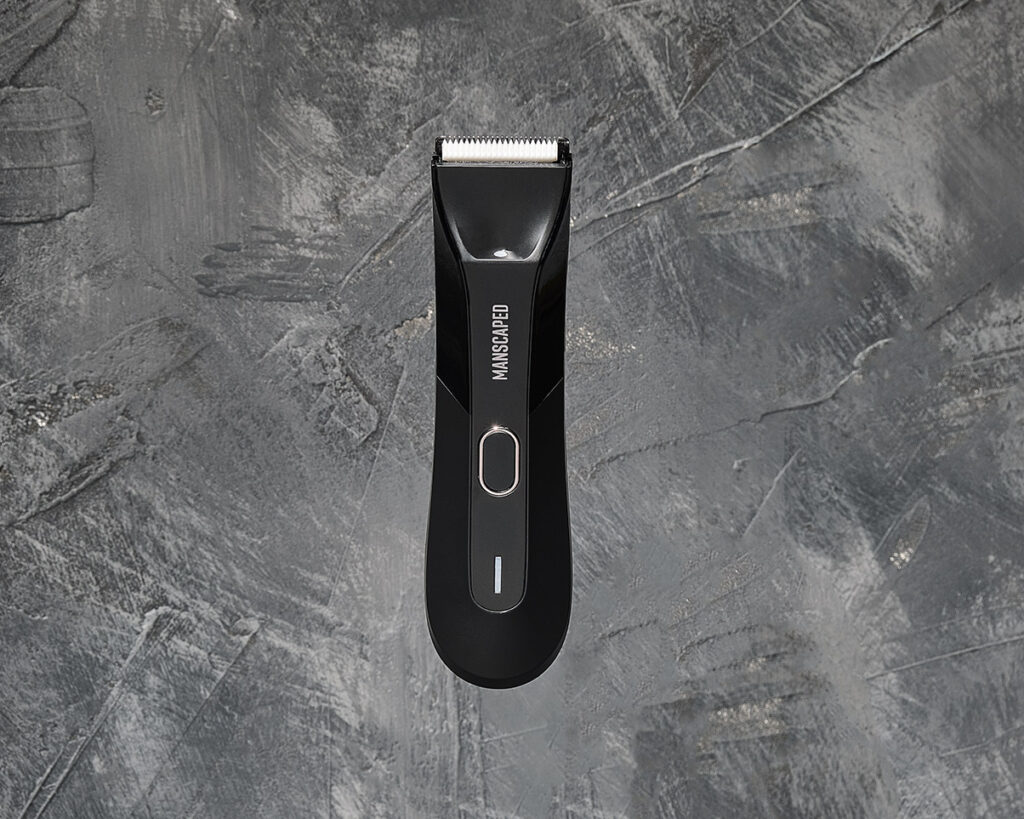 First of all, this trimmer is a work of art. The design is super clean and modern!
It has become the ultimate electric trimmer for men's body grooming from head to toe. Here are some of the features included in the Lawn Mower 4.0:
Half matte, half shiny black design
Ceramic blades
SkinSafe technology
LED light for precise trimming
Ergonomic grip design
Cordless
Waterproof
Up to 90 minutes of use
Extremely quiet (no one has to hear you manscape)
Power status indicator
Travel Lock
Replaceable blades
7,000 RPM motor
Wireless charging compatibility
All of this in one little trimmer! Yeah, it's that crazy.
Ceramic blades offer the safest possible way to trim areas that need that kind of safety. They are recommended to be replaced every 3 months.
If you don't shave that often, you can likely hold off for about 6 months or so. Keep an eye out for dullness of blades when you shave after a few months.
The travel lock is extremely useful on the go. Just click the power button 3 times rapidly and it will activate the lock. Same thing to unlock the trimmer.
Some more of the features will be further discussed in this Lawn Mower 4.0 review as we go through the other add-ons that come in the box…
Adjustable Guards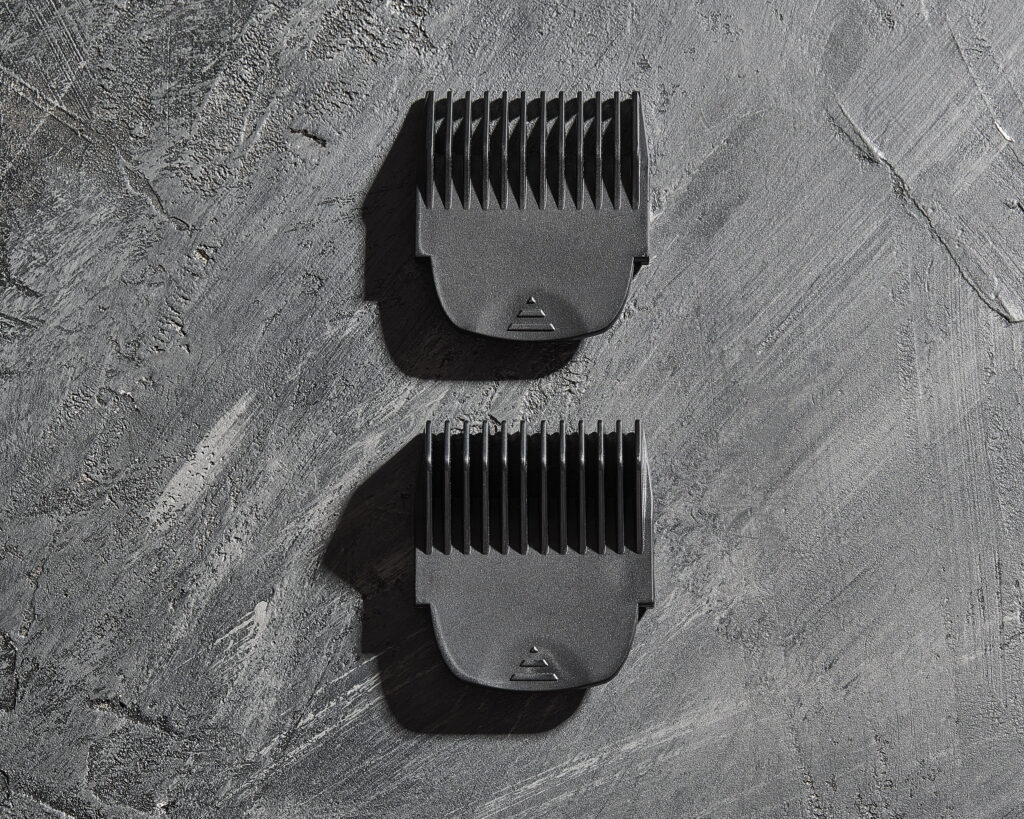 You will receive 2 adjustable guards to attach onto the Lawn Mower 4.0 trimmer for shaving down to the desired length.
Each guard has 2 different adjustments that you can slide up and down on the blades. That gives you 5 different lengths to choose from (including no guard at all)!
Here are the specs of each Lawn Mower 4.0 guard:
Flatter/Straight Edge Guard (3-6mm length)
Higher/Round Edge Guard (10-13mm length)
The flatter guard is excellent for trimming your shaft and getting some of those flatter areas on your body.
The rounder guard is best for your balls and those more sensitive areas. This guard feels like you can trim your balls with your eyes closed!
That's how well these guys work!
The only complaint I had about the guards is – because they are so good at making sure you don't get cut, they do seem to miss the hairs once in a while.
Again, you can use the trimmer without any guard at all for a much closer shave and you won't sacrifice that much safety.
Related Post: How to Groom Down There for Men
Wireless Charging Dock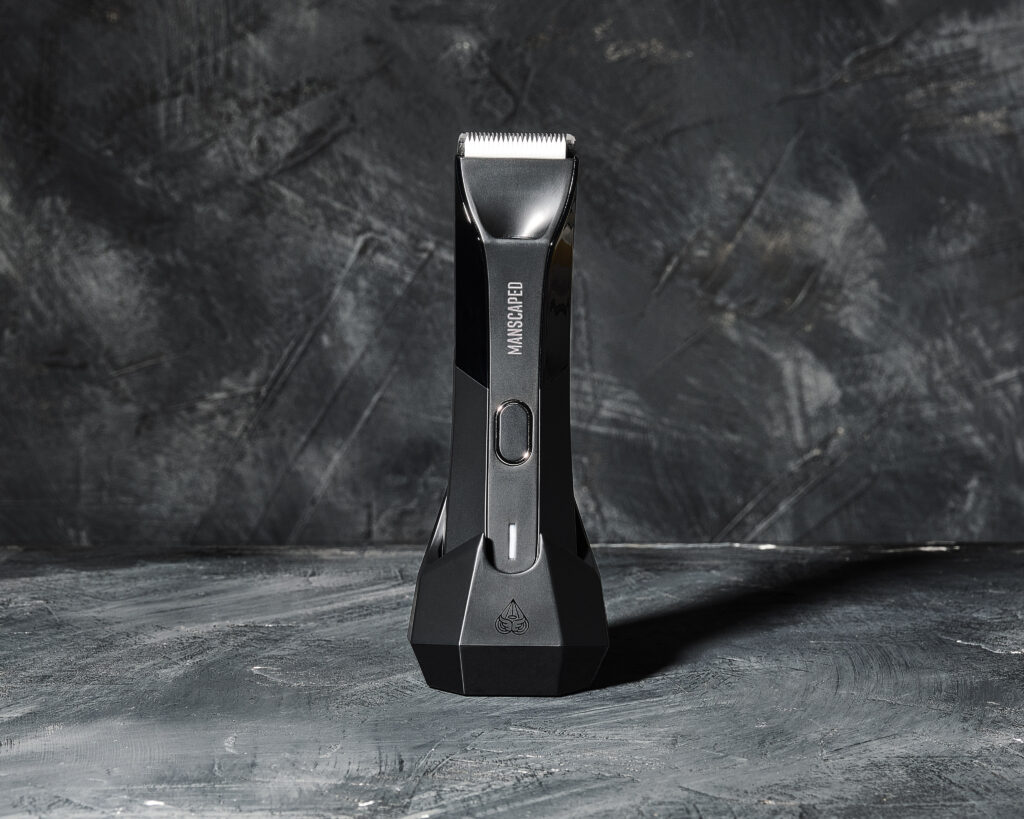 One of the biggest changes to the Lawn Mower 4.0 is the ability for it to charge wirelessly on its new and modern dock.
It has such masculine features and honestly looks so cool sitting on any counter top!
Similar to the trimmer itself, the charging dock has a mix of matte and shiny black finishes which compliments the trimmer perfectly.
You will receive a braided USB to USB-C cord and a power adapter to plug the wireless charging dock into the wall.
The Lawn Mower 4.0 never has to be plugged into anything in order to shave with it (compared to many other grooming tools out there).
A full charge will last you around 90 minutes of shave time. It takes around 90 minutes to charge from half-way to full.
Cleaning Brush
When you're done shaving with the Lawn Mower 4.0, the blades tend to get a lot of hairs caught between each other and inside the trimmer as well.
This is where the mini cleaning brush comes in…
It reaches the hairs in those hard-to-reach spots that your fingers or water are not capable of getting to.
It surprisingly does an excellent job at brushing out those frustrating little hairs inside the trimmer with ease.
You can also pop open the replaceable blades and clean inside the trimmer where the motor is to avoid clogging up the system (although the trimmer does a good job at managing this on its own).
Quick Start Guide & User Guide
These are the 2 pieces of instructions that come with the box.
The Quick Start Guide is a small 3 page (brochure style) pamphlet that shows you a few quick tips before using the trimmer.
You'll also learn how to shave properly so that you have a great first time trying out the Lawn Mower.
The User Guide is a slightly larger, more informative guide that goes over the following information:
Individual features of the Lawn Mower 4.0
How to charge the trimmer
How to use the adjustable guards
The multi-function On/Off switch
How to replace the blades
How to clean the Lawn Mower 4.0
I highly recommend you read both of these little manuals before use to fully understand what you're working with to avoid any issues!
Manscaped Lawn Mower 4.0 Packaging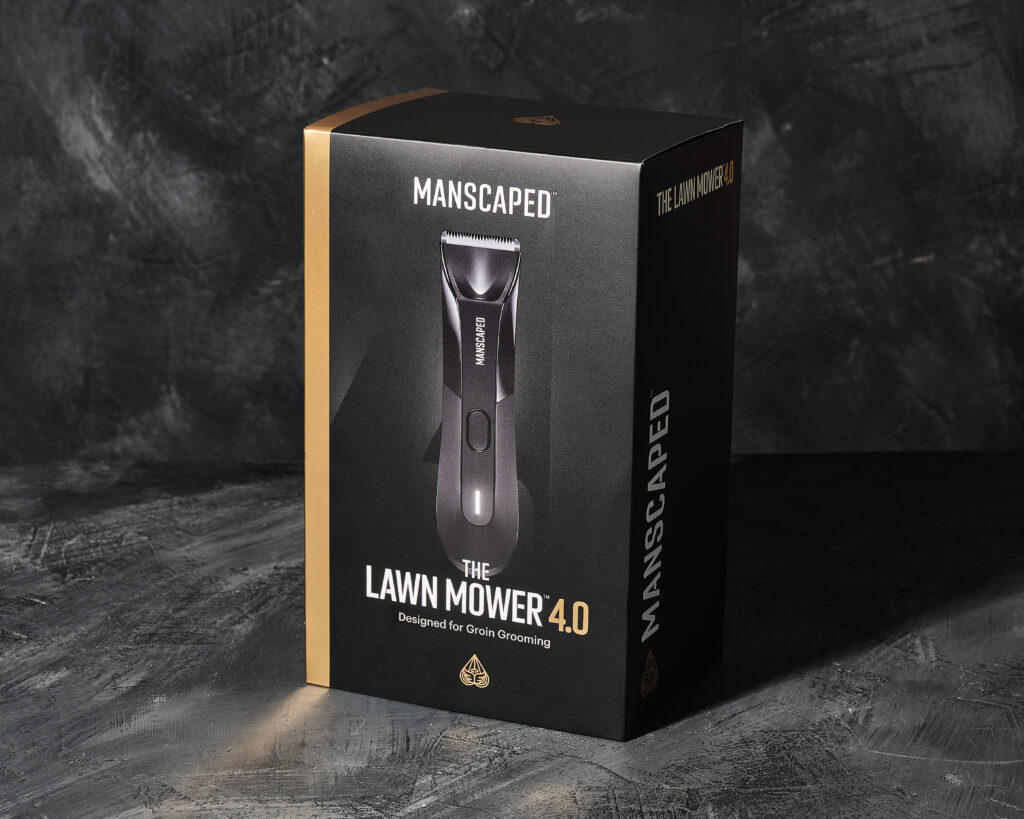 This is by far the best looking packaging that Manscaped has ever created!
With a modern logo and gold trimming all around, the unboxing experience is on par with some of the largest tech products in the world!
The box comes in a sleeve (shown above). When you take it out of the sleeve, you'll have an all black, magnetic-opening box.
You're immediately greeted by the brand new Lawn Mower 4.0 upon lifting the magnetic cover.
Underneath, you'll find the user guides along with all the other add-ons that are included in the box.
The inside of the little magnetic door reads, "It's a whole new balls game." Perfect, clean, and precise branding from Manscaped!
Here's an example of the inside of the box…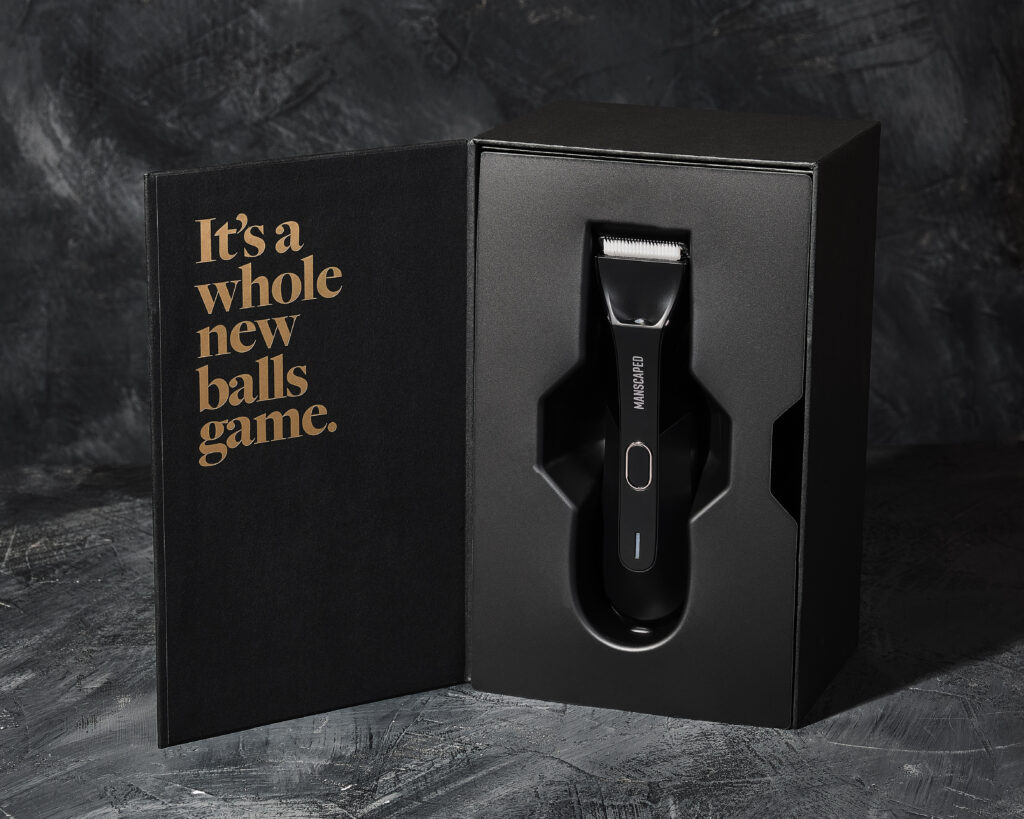 I simply can't get over the beauty of this design. It makes me proud to rock such a masculine tech product!
Related Post: How to Manscape for Teenage Guys
The Lawn Mower 3.0. vs The Lawn Mower 4.0 – What's the Difference?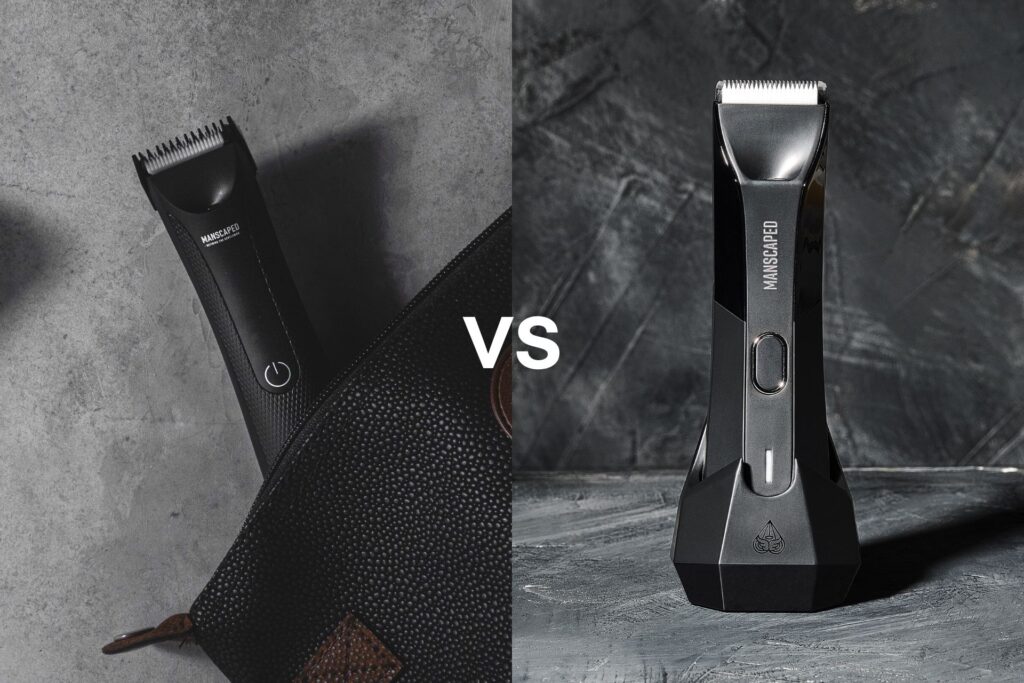 Having used the Lawn Mower 3.0 this whole time before switching to the 4.0, I feel qualified to explain the difference I've found using both…
Here are the main differences between the Lawn Mower 3.0 and Lawn Mower 4.0:
The 4.0 is smaller and thinner
4.0 weighs more
4.0 doesn't get as hot (the 3.0 used to heat up easily)
Equally quiet when turned on
Guards are much better on 4.0
3.0 doesn't have wireless charging
The 3.0 is all matte and rounded (4.0 is more edged)
New travel lock feature only on 4.0
Stronger waterproofing on 4.0
Are the differences drastic? Not necessarily, but there is definitely something to be said about the improvements with the Lawn Mower 4.0.
You can read a more full comparison between the trimmers here!
Frequently Asked Questions
If you're still considering the new Lawn Mower 4.0, hopefully these FAQs will help clear a few things up…
Can I Use The Manscaped Lawn Mower 4.0 on My Face?
The Lawn Mower 4.0 is designed for men's full body grooming, which includes your face.
However, it is recommended that you use this specific trimmer for "down there" and a different one for your face (to avoid cross contamination).
How Long Does the Lawn Mower 4.0 Last on a Full Charge?
The Lawn Mower 4.0 lasts around 90 minutes on a full charge. Always shave on a full charge when you can to get the most out of your trimmer.
What is SkinSafe™ Technology?
SkinSafe Technology is a design of the Lawn Mower ceramic blades that prevents nicks and cuts when you're shaving your sensitive areas.
This technology allows you to get extremely close to the skin without drawing any blood.
How Much Does the Lawn Mower 4.0 Cost?
The Lawn Mower 4.0 costs $89.99 by itself.
The Peak Hygiene Plan (which includes the Lawn Mower 4.0) costs $84.99 + $14.99 every 3 months for replacement blades.
Lawn Mower 4.0 Pros and Cons
This wouldn't be an honest Lawn Mower 4.0 review without discussing the pros and cons of the product…
Pros
SkinSafe technology to prevent cuts
Wireless charging
Waterproof
Better engineered blades
Modern packaging and unboxing experience
Better adjustable guards (compared to 3.0)
Quiet 7,000 RPM motor
Cons
Costs $10 more than Lawn Mower 3.0
Same motor speed as 3.0
Takes a while to fully charge
Guards tend to miss hairs when trimming
Not available in any packages
To be completely honest, I had to go out of my way to pick out the cons for this list. The experience with the Lawn Mower 4.0 is better than any other grooming tools I've tested!
Related Post: The Ultimate Guide to Personal Hygiene for Teen Guys
Final Thoughts – Is the Manscaped Lawn Mower 4.0 Worth It?
In short… Yes, the Lawn Mower 4.0 is worth it!
Here's what you should ask yourself though…
How do you feel about grooming your body and shaving down there? Is it something you value? Is it something you care about?
If you say "no", then you're probably better off getting a cheaper and lower quality trimmer to use on whatever basis that makes you comfortable.
If you say "yes", then I highly recommend you check out the Lawn Mower 4.0 for yourself and see if it's worth it for you!
There's no doubt that Manscaped is leading the industry with the best grooming tools known to man. And when we're talking about our balls, I'm going with quality over everything!
Hopefully this Lawn Mower 4.0 review has helped you decide whether or not it's time to switch out your old grooming tools and get started with the best of the best.
Big thanks to Nivi Shaham at Nivi Shaham Photography for all the fantastic photos of the products!
If you have any comments, questions, or suggestions leave them down below. Thanks for reading!