Men's grooming is often overlooked. We were never provided the proper tools to get the job done.
Manscaped is an affiliate of Modern Teen, but all opinions are completely my own.
According to a study, 93% of women prefer men who groom below the waist.
But there's one problem… nobody ever told us to take care of our goodies down there for hygiene, looks, and feel.
One company decided that this had to end. Manscaped decided that grooming below the waist should no longer be a struggle.
In this Manscaped Perfect Package 3.0 review, we'll be discussing if Manscaped products are worth it and what makes them such a special company.
Stick around until the end for my honest review after experiencing the Perfect Package 3.0 and a special discount code to get yours for 20% off!
Let's dive in!
What is Manscaped?
Manscaped is a men's grooming company founded in 2016. Two men started this company with one main vision in mind… to provide all men with a comfortable and efficient way to manscape their bodies with ease.
The term manscape refers to the removal or trimming of a male's body hair for cosmetic effect and hygiene.
Manscaped has even been featured on Shark Tank, the popular investing t.v. show, and managed to score a deal with Mark Cuban and Lori Greiner!
What's Included in the Perfect Package 3.0?
Let's break down every product that's included in this Perfect Package 3.0 review and discuss each one individually…
Lawn Mower 3.0
The Lawn Mower 3.0 is the ultimate electric grooming tool for full body manscaping.
Here are some of the features included with the Lawn Mower 3.0:
All black, sleek design
7,000 rpm motor
SkinSafe ceramic blades
Small brush for removing hair
Added light for clear trimming
Ergonomic grip design for proper handling
Cordless and Waterproof
Rapid Charging dock
Up to 90 minutes of use
Extremely quiet (so no one knows what you're doing)
All of this in one grooming tool! It doesn't get much better than that.
The Lawn Mower 3.0 also comes with a storage pouch for safe keeping. Plus, the engineering of this grooming tool allows you to open up the blades and clean it from the inside!
Ceramic blades are replaceable with a recommendation to switch them out every 3 months. It also includes an adjustable guard for different height settings and added protection against cuts.
Price: $79.99 (by itself – the Perfect Package includes much more)
Crop Preserver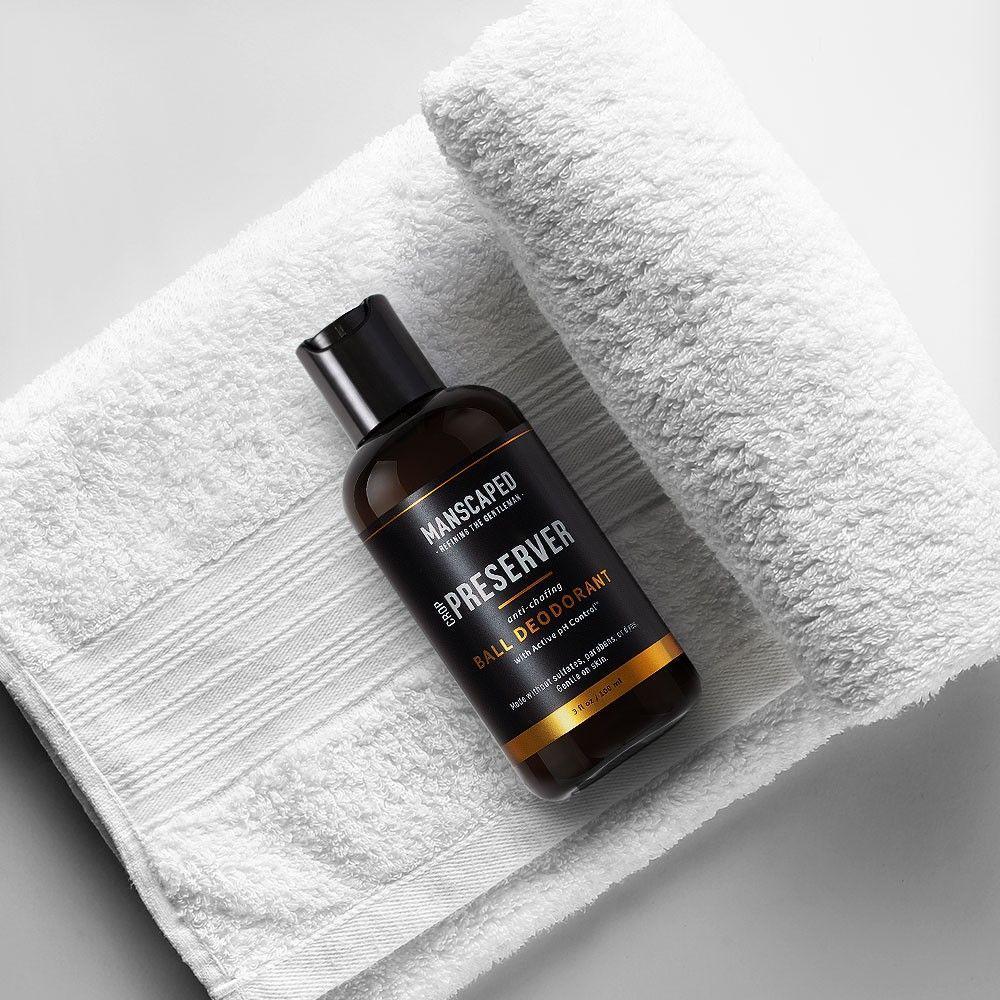 The Crop Preserver is a ball deodorant to stay fresh and smell amazing all day long.
The anti-chafing and active pH control maintain freshness for up to 24 hours! Not to mention the Crop Preserver acts like a deodorant and moisturizer all in one.
It absorbs quickly into the skin, smells fantastic, and provides a great antibacterial barrier.
Manscaped is very open about their ingredients and provides the list directly on their website. After doing a bit of research, I found that almost all the ingredients are natural and don't have any carcinogenic, allergenic, or harmful properties.
The Crop Preserver is sulfate, paraben, and dye free as well.
Price: $12.99 (by itself)
Crop Reviver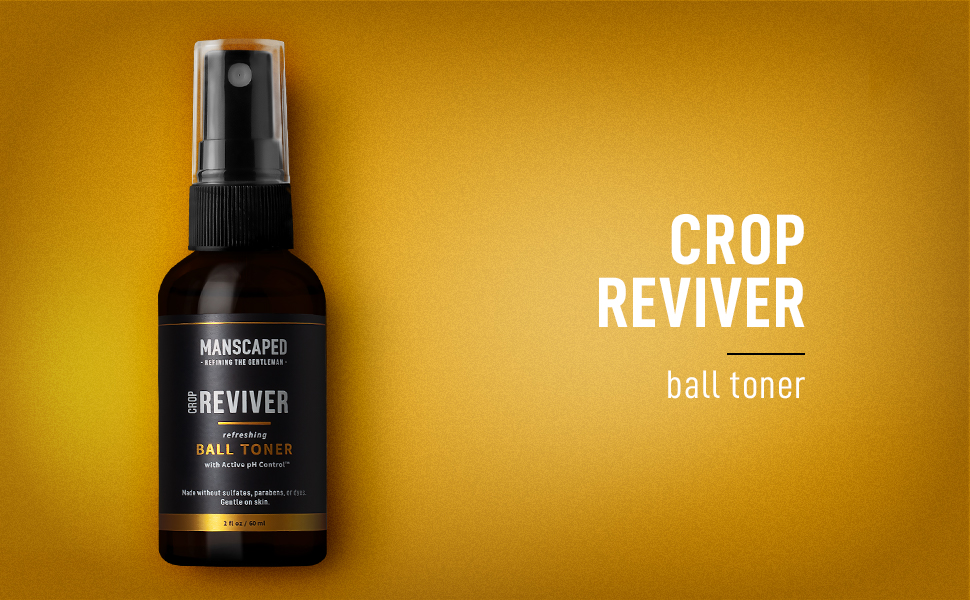 The Crop Reviver is a ball toner formulated to refresh sensitive areas of the body.
This has been incredibly useful after manscaping with the Lawn Mower 3.0 to calm down the area after shaving.
Although I didn't have any irritation after using the grooming tool, it still feels great to spray the area once or twice for a refreshing feeling.
I have been putting it on before the Crop Preserver and the combination of the 2 has been sensational.
The Crop Reviver smells even better than the deodorant (in my opinion) and really does calm down the jewels.
The ingredients for this are just as good as the Crop Preserver and because it's a spray, it feels a lot more gentle on the skin.
Price: $10.99 (by itself)
Magic Mat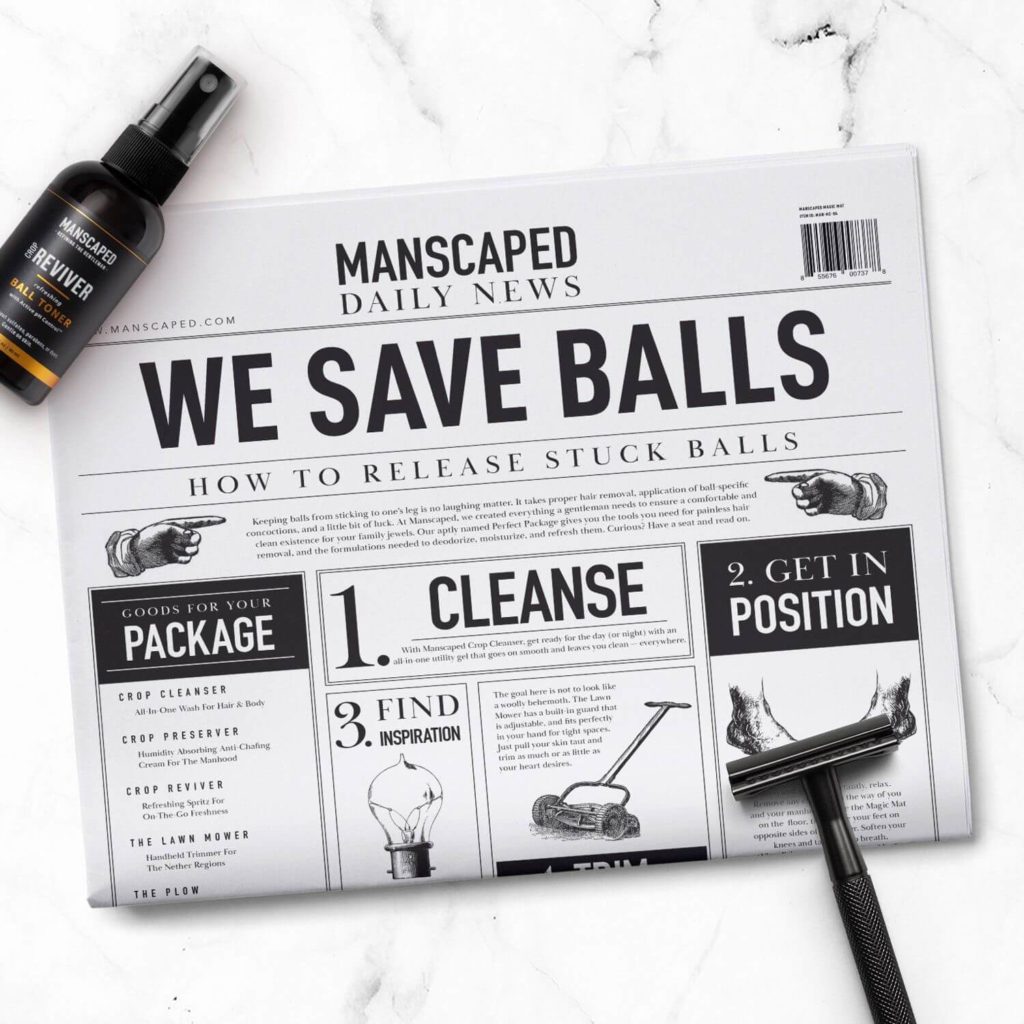 The Magic Mat is a shaving mat/newspaper for easy cleanup when you're finished grooming.
I have to say, these shaving mats included some of the funniest, yet useful, content I've ever read.
Not only are you grooming efficiently, but you get to read and enjoy the hilarious content while doing so.
They are not reusable unless you somehow get very creative. The Perfect Package 3.0 includes 3 disposable Magic Mats for your first few times of trying out Manscaped.
Price: $3.99 (by itself)
Extra Items Included in the Perfect Package 3.0
As a limited time offer, Manscaped has included a few extras that come with the Perfect Package 3.0 to make manscaping more enjoyable…
Manscaped Boxer Briefs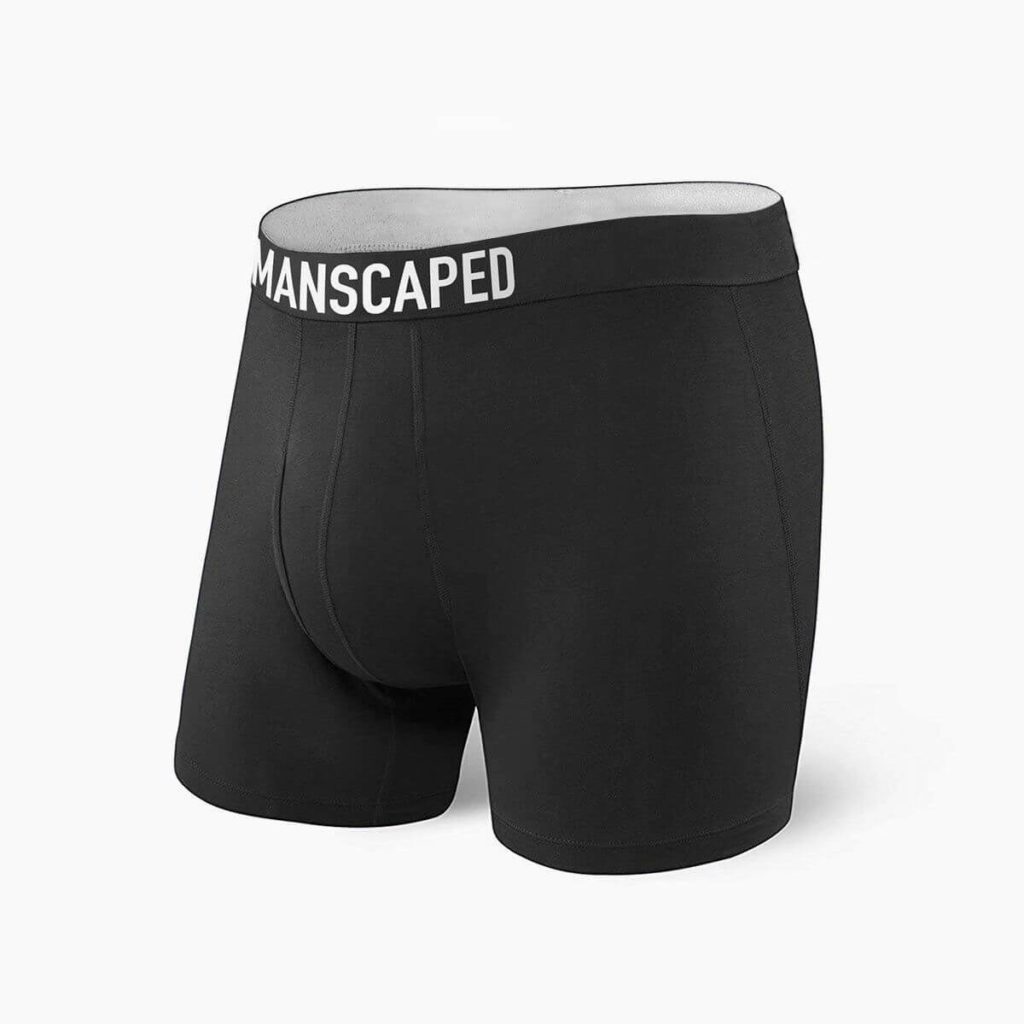 Manscaped boxers are anti-chafing, cooling, comfortable boxer briefs for staying dry all day long.
Guys, these boxer briefs feel amazing! For a company that does not specialize in apparel, I was extremely impressed when I tried these boxers on.
These are some of the softest boxers I have ever felt. I went for a run in them and I forgot I was wearing them – that's how comfy they are!
They are specifically engineered for anti-chafing which has been a very useful feature, especially when exercising.
Their Crop Cooling Technology prevents overheating down there and keeps a balanced pH control throughout the day.
Everybody hates "swamp crotch" and these sweat wicking boxers make me feel so much better!
Price: $19.99 (by itself)
The Shed Storage Bag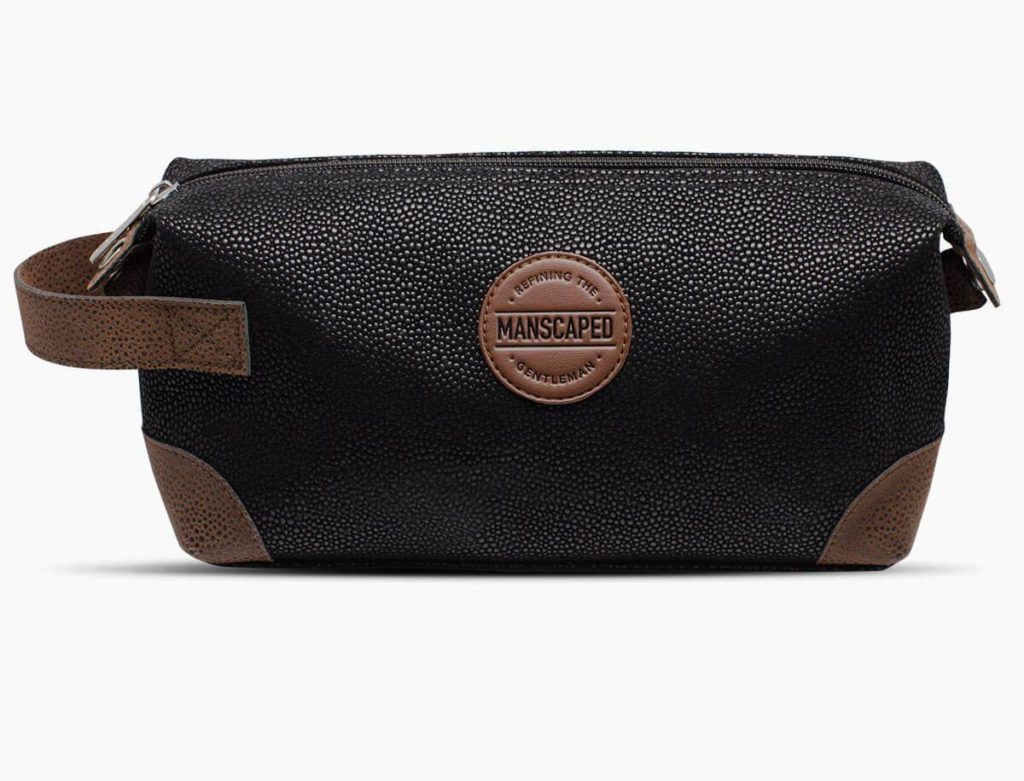 The Shed is a water resistant storage bag for all your Manscaped products whether you're at home or on the go.
The compact, but efficient size allows for storage of all your products under the sink or in a small drawer.
This bag feels like luxury, seriously. I didn't feel deserving of it (as weird as that sounds). The material is simply high quality with great design and detail.
I especially enjoy how manly it looks compared to other storage bags that make me feel like I'm carrying a makeup pouch everywhere.
The side handle for easy carrying is also a great bonus feature.
Price: $39.99 (by itself)
Manscaped T-Shirt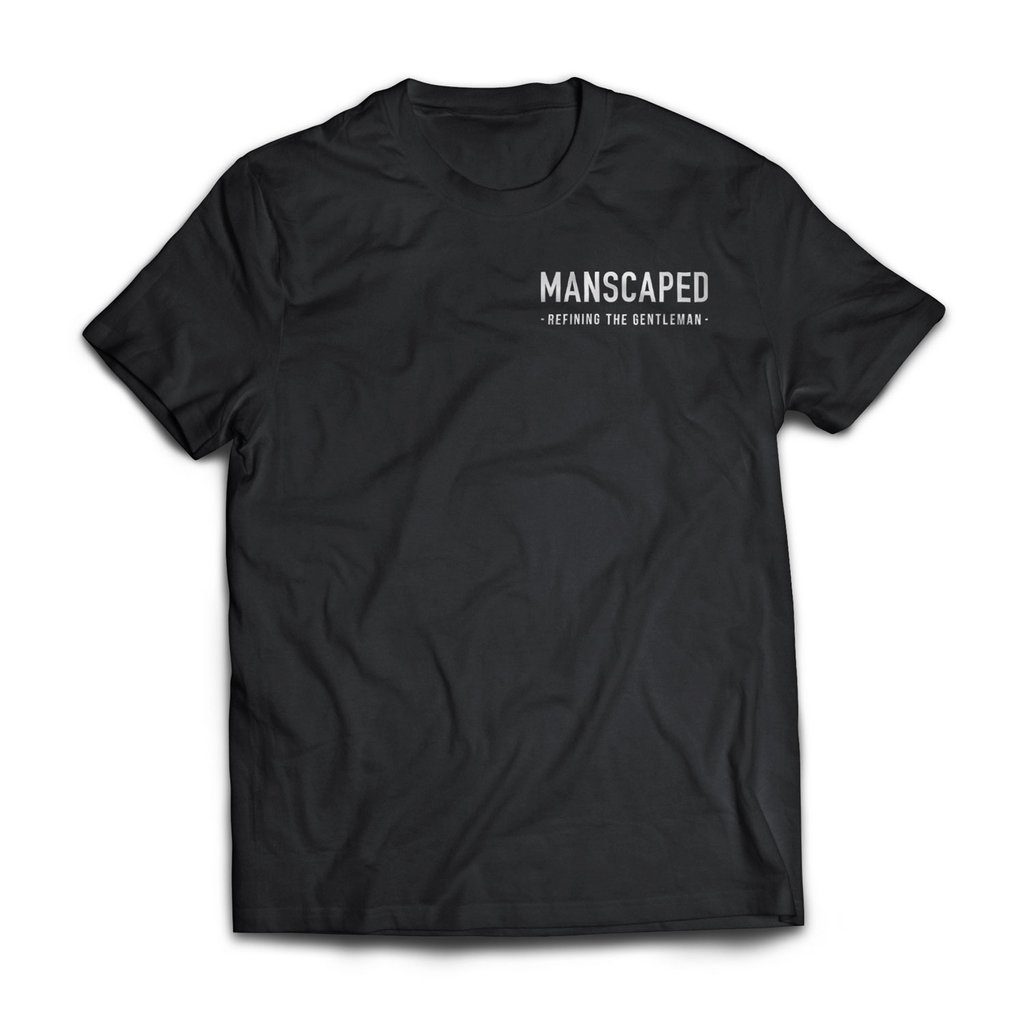 Although the Manscaped t-shirt is not included in the Perfect Package 3.0, I still felt the need to mention something about it after Manscaped kindly sent me this in the mail.
This t-shirt feels fantastic! Like their boxer briefs, I could feel the quality right away.
It is slightly heavy compared to a normal t-shirt, but I can understand that sacrifice in exchange for breathability and elegant material.
The t-shirt also included text on the front and back that says, "Manscaped – Refining the Gentleman" or "Your Balls Will Thank You" which I think is equally hilarious and cool at the same time.
You have to be a confident guy to be wearing one of these t-shirts outdoors.
Price: $19.99
Is Manscaped Actually Good? – My Honest Review
Is Manscaped actually good? My answer… Absolutely! Here's why…
After using the Perfect Package 3.0 for about 2 weeks now, I have felt more confident in my grooming habits.
A product (or package in this case) that provides you with the feeling of confidence is the best form of product there is.
It's the same reason women wear makeup and dress up nicely. It gives them a confidence boost.
When I tell you I have felt a change in my self-esteem, I mean it. The products make you feel like a man and that's a reason to get the Perfect Package 3.0 by itself!
---
Perfect Package 3.0 Price: $99.99
If you're worried about the price, Manscaped wants to help you out!
Get 20% OFF @manscaped + Free Shipping with promo code MODERNTEEN at MANSCAPED.com!
---
That brings the price down to $79.99 + free shipping!
By the way, the actual value of the Perfect Package 3.0 is $158 value, so you're getting the full kit for HALF the price!
Pros and Cons of the Perfect Package 3.0
This wouldn't be much of a Perfect Package 3.0 review if I didn't compare the pros and cons…
Pros
Quality ingredients and materials
Precise engineering
SkinSafe Technology to prevent cuts
90 minutes of Lawn Mower 3.0 use
Sweat wicking fabrics
110% Confidence Boost
Provides proper grooming hygiene
There are so many more pros that can be added, but the general idea is that I haven't experienced any real problems with the products.
Cons
Lawn Mower 3.0 blades get hot after a while
Recommended blade change every 3 months
Crop Preserver and Crop Reviver come in relatively small bottles
The blades got a little hot after use, but that's understandable with a 7,000 rpm motor! The other cons are minor.
---
Get 20% OFF @manscaped + Free Shipping with promo code MODERNTEEN at MANSCAPED.com!
---
Final Thoughts – Is the Perfect Package 3.0 Worth It?
Do you care about grooming your body to feel clean and look good? Do you want to smell fresh down there and enjoy your grooming routine?
If you answered no, then maybe the Perfect Package 3.0 isn't for you and that's okay! Not everyone cares about manscaping.
If you answered yes, then I 100% think you should give Manscaped a try today! You won't find a better grooming tool or company for men in the market.
That's just the truth.
Remember, the Perfect Package 3.0 is a $158 value that you can get for half the price ($79.99) by using my code: MODERNTEEN at Manscaped.com
I tried to give a completely honest review after using the products for around 2 weeks. Let me know what you think about Manscaped!
If you have any comments, questions, or suggestions leave them down below! Thanks for reading!