Struggling to find a unique centerpiece idea for graduation? Here are the 25 best graduation centerpiece ideas in 2023!
From rustic themed centerpieces, to the more personal and fun centerpiece ideas, you'll be sure to find one that catches your eye.
Plus, we've also included a couple of sports themed ideas and color coordinated ones that match what you're looking for.
Want more graduation ideas? Check out these posts:
Let's dive in!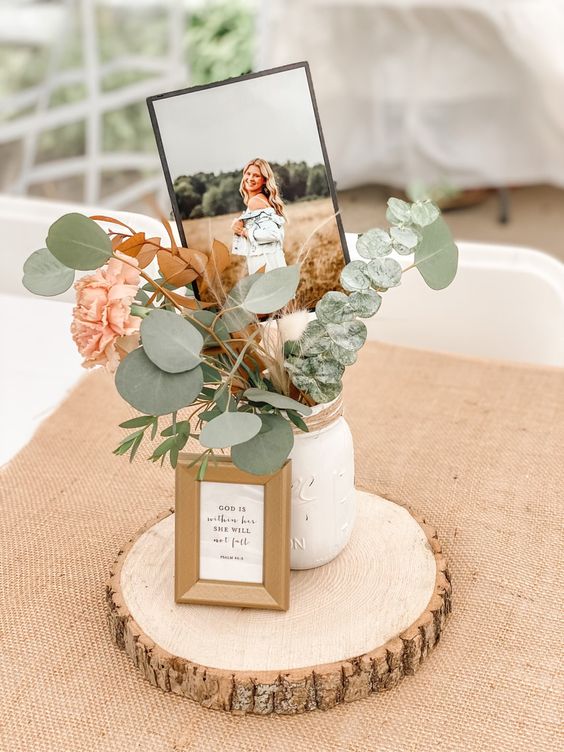 This simple rustic DIY graduation centerpiece is a great option for girls looking for a cost effective option.
With simple dried florals, eucalyptus, and a painted mason jar, you can have a cute centerpiece that everyone will love.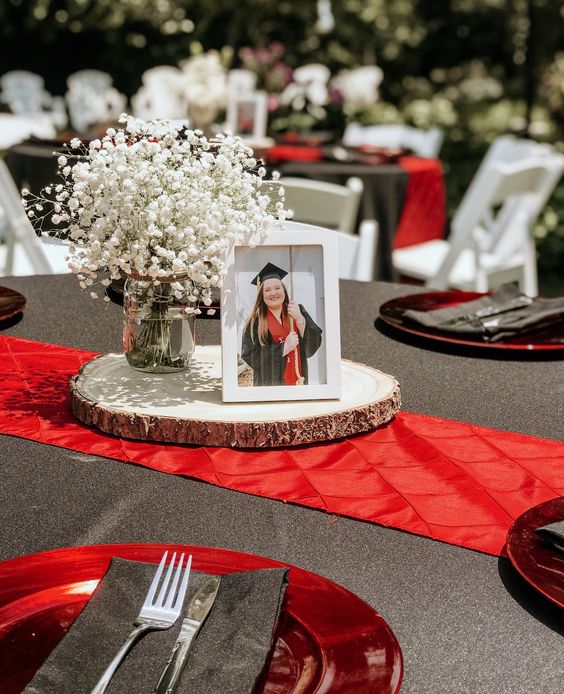 There is nothing we love more than baby's breath flowers.
They're simple, cheap, trendy, and brighten every room.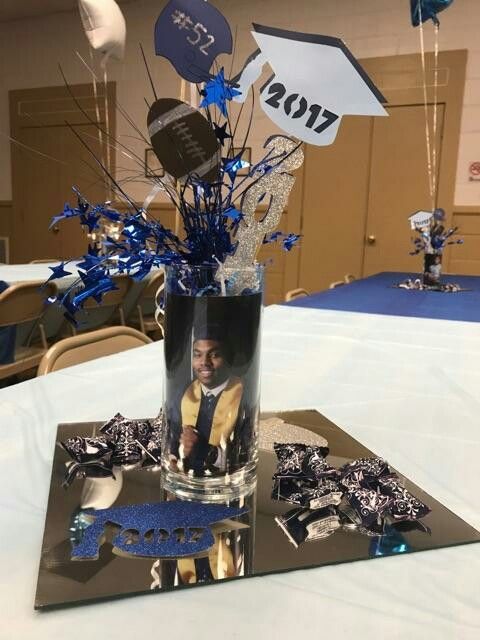 For guys who love sports or play on their school's teams, we've found the perfect graduation centerpiece.
Customize this centerpiece with cutouts from your favorite sport, whether it's a football, soccer ball, or basketball, the options are practically endless.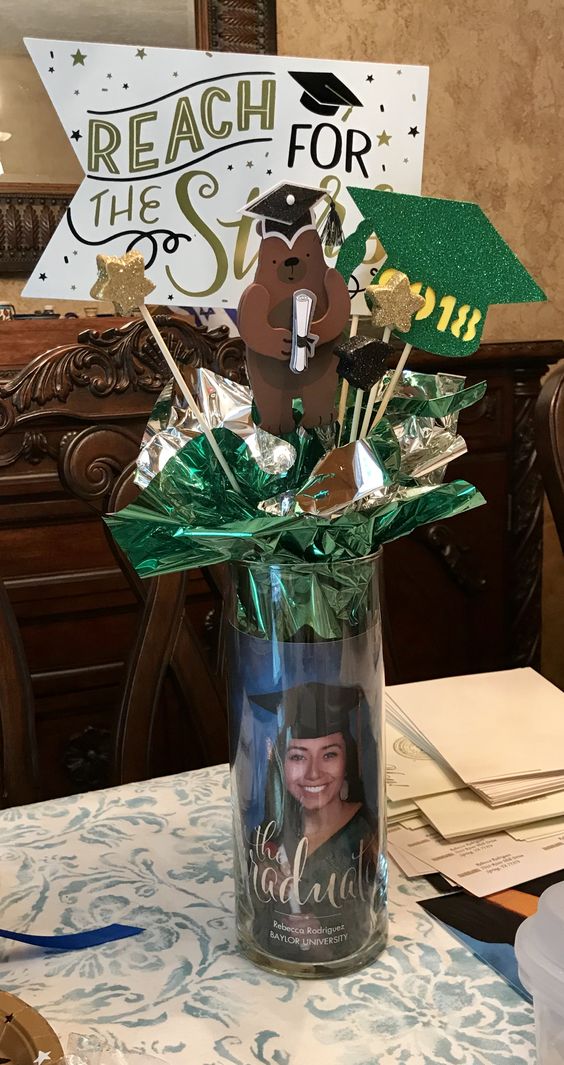 Nothing says school pride more than bringing your school colors and mascot to your graduation centerpiece.
We love how this bear brings the centerpiece to life and represents the school in a subtle, but cute, way.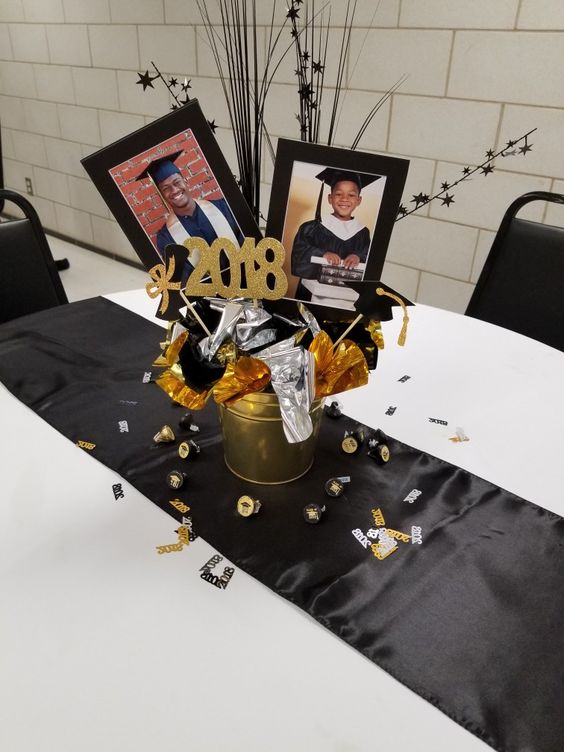 There's really nothing better than growing up and reflecting on how far you've come.
We love that these two side by side images serve as an incredible reminder on just how much time, work, and effort it takes to graduate.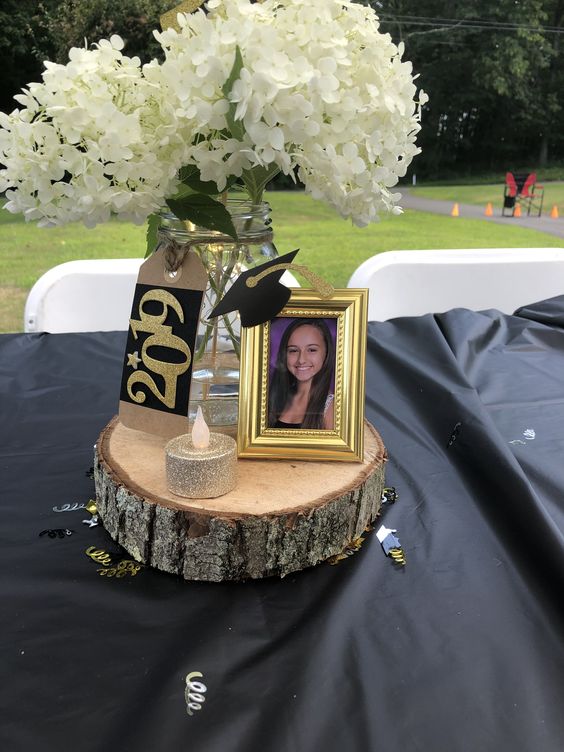 For girls who want a simple and cheap DIY graduation centerpiece, consider this idea.
With white florals, black & gold accents, and a simple wood platform, you too can have a cute centerpiece in minutes.
In fact, you can order most of this from Amazon, or you can stop by your local Dollar Tree.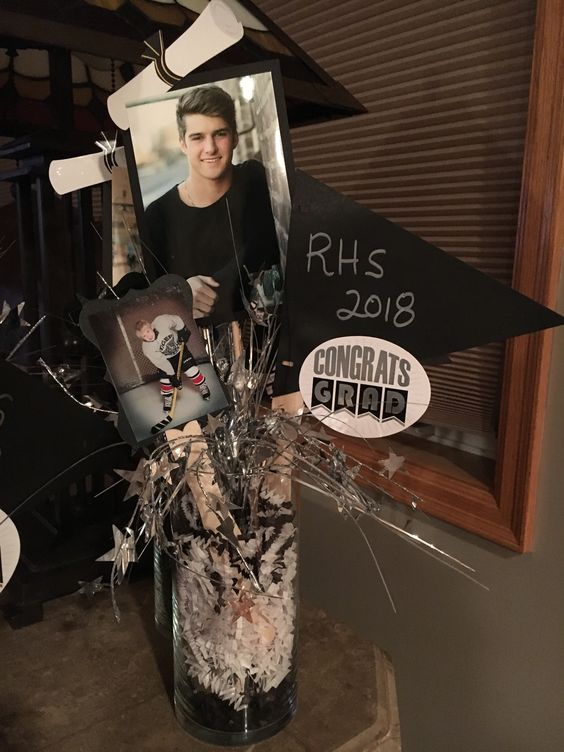 A classic centerpiece idea for graduation is one that sticks to the basics: black & silver.
This is a great centerpiece option for guys who want something simple and easy.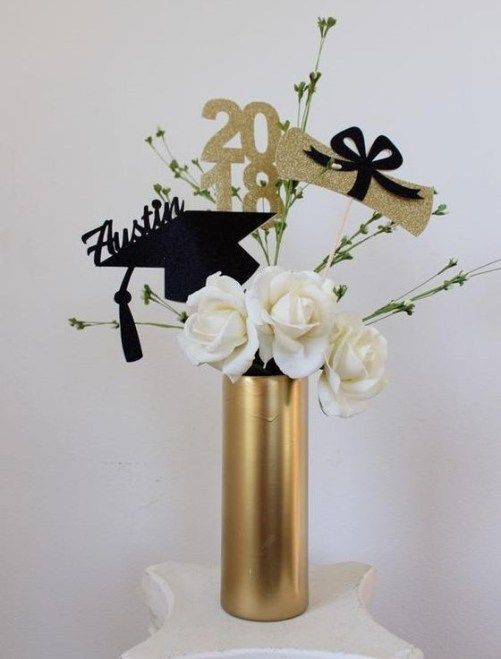 Just because it's a DIY centerpiece, doesn't mean people have to know.
By using a nicer gold vase and sticking with a classic white, black, and gold color combination, you've easily taken this from a 5 to a 10.
No one would even know that this cost less than $10 to make.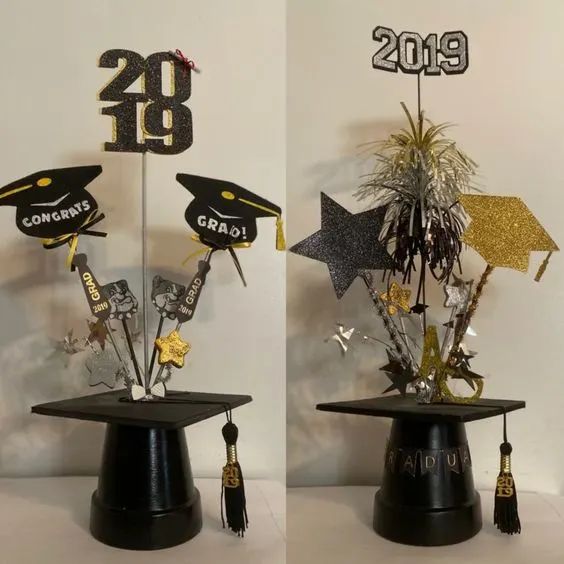 If you want a simple DIY centerpiece that will take center stage, you're going to want to bookmark this one.
This centerpiece only needs a few items to bring it to life, and spoiler alert, they're all affordable!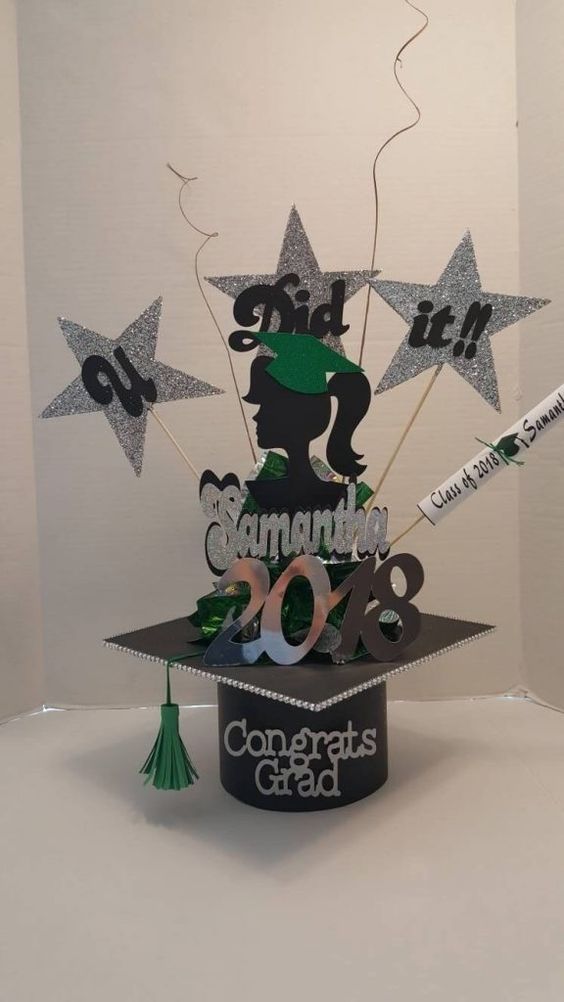 She's a Barbie girl graduating in her Barbie world.
This barbie inspired centerpiece is perfectly on trend in the year of all things Barbie!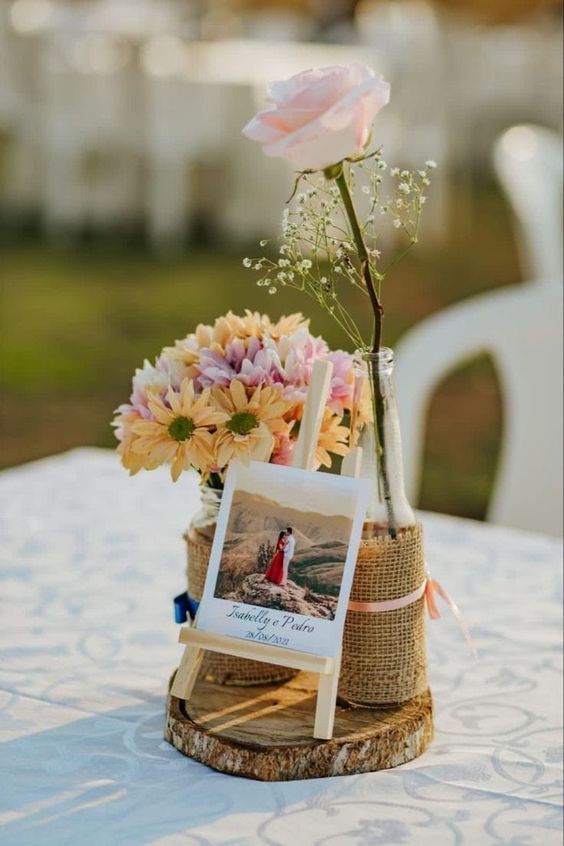 If you want a centerpiece for girls that they'll actually love, you've got to add in some fresh flowers.
Fresh flowers will bring any table to life, especially if you choose a colorful bunch.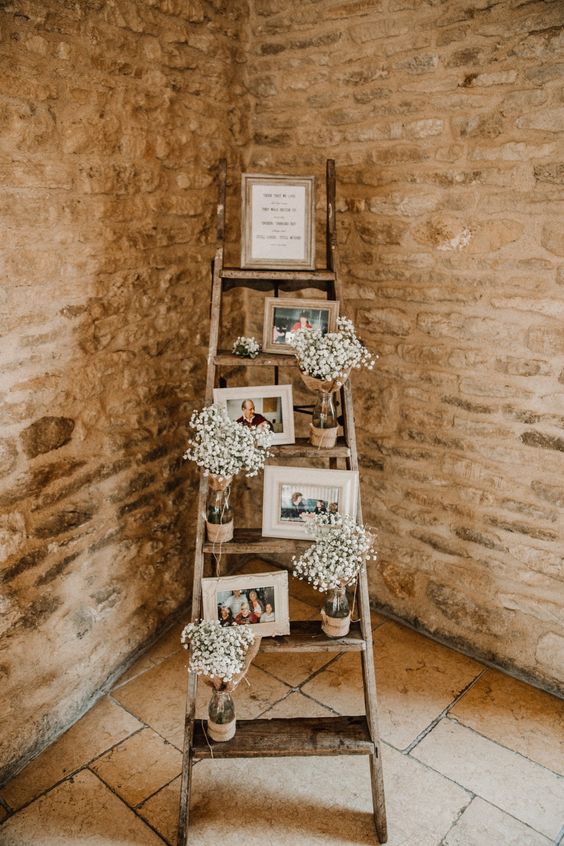 Make your graduation centerpiece more than just a table-top accessory and turn it into a memory lane ladder.
This also serves as the perfect graduation backdrop design for any party.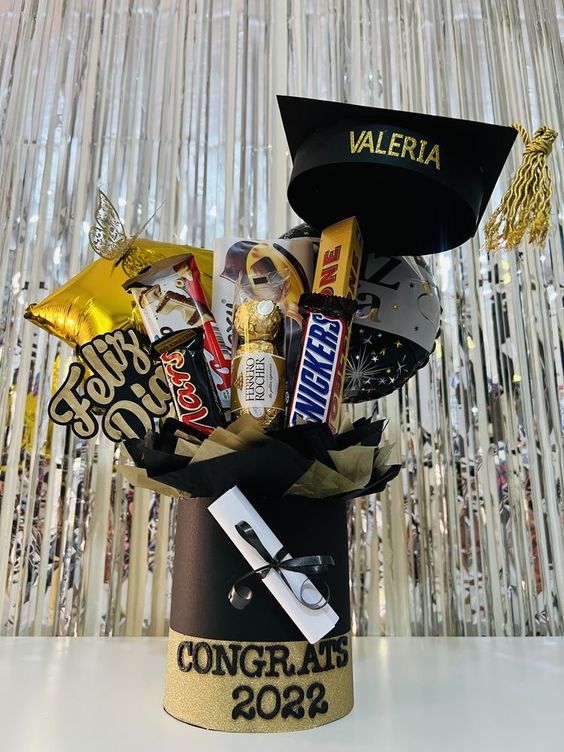 For all the candy lovers that are graduating, this centerpiece will surely appease their sweet tooth.
Their dentist might not like this centerpiece idea, but for girls and for guys, it doesn't get much better than this.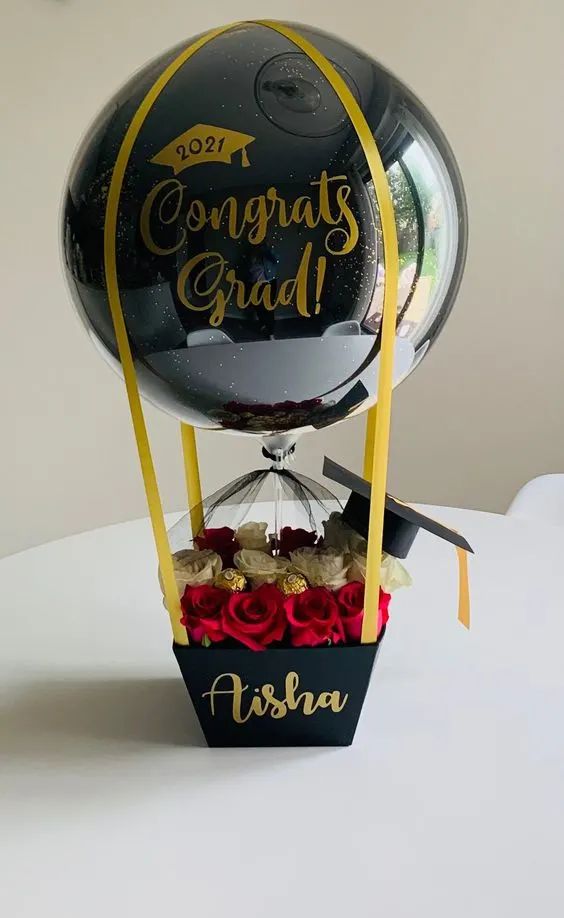 It's easy to make a statement with your graduation centerpiece.
All you need is a balloon, roses, chocolates, ribbon, stickers, and tulle.
Okay, it might not actually be easy to make, but at least you can order these online!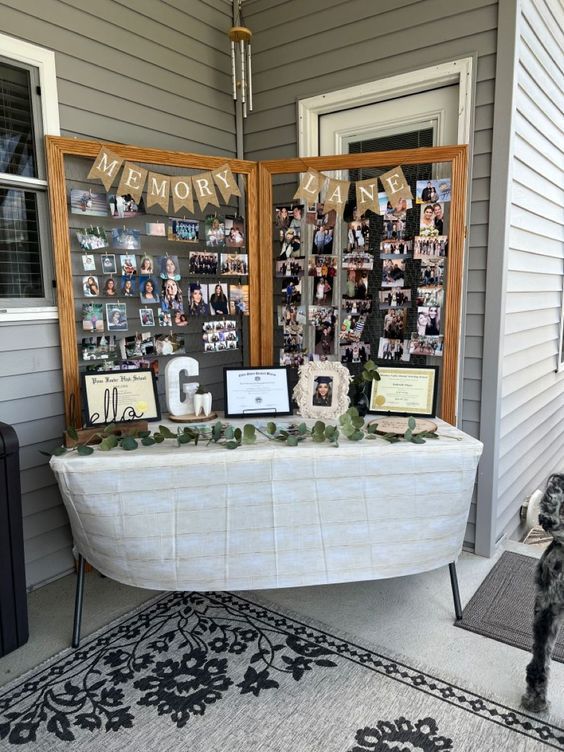 This large graduation centerpiece will take guests, and your graduate, down a sweet and emotion-filled memory lane.
Just make sure you have a large enough table because this centerpiece is a bit larger than most.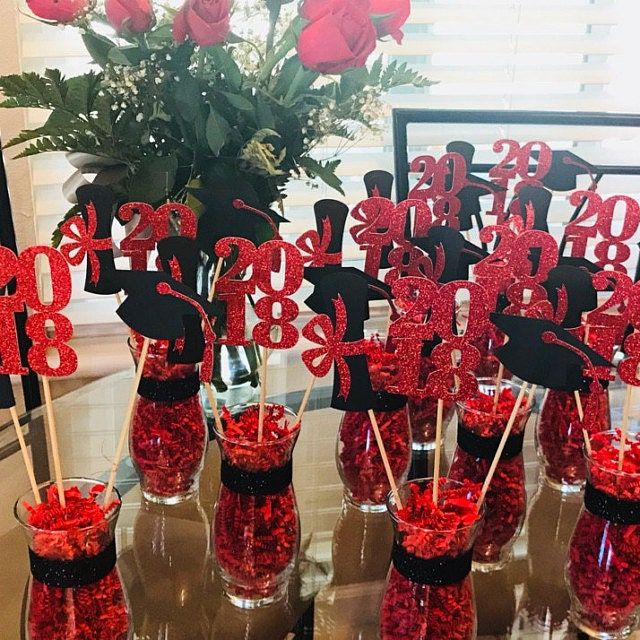 You don't have to over complicate your DIY graduation centerpiece ideas in order for them to look good.
This simple red & black idea is super cheap, can be done in seconds, and only uses items you can find at your local Dollar Tree or Dollar General.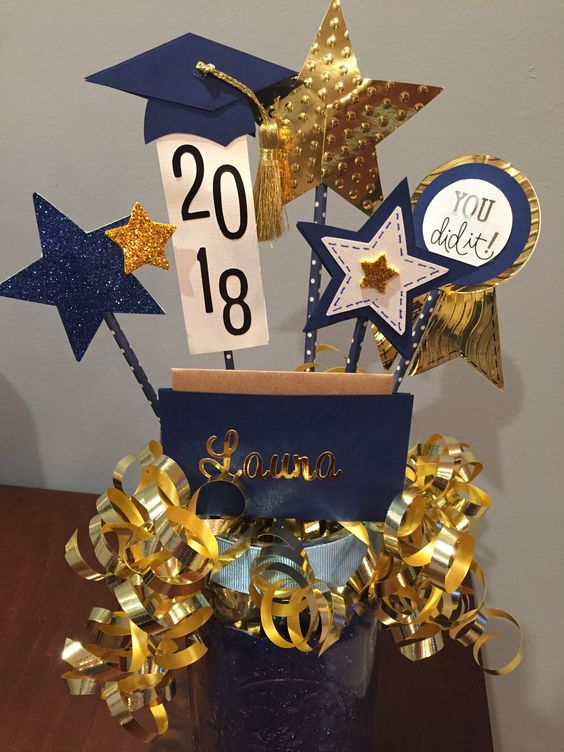 Make her feel like a star for graduation with this special graduation centerpiece idea.
Whether she wants to be an actress or she just loves to be the star of her own show, she will love this centerpiece.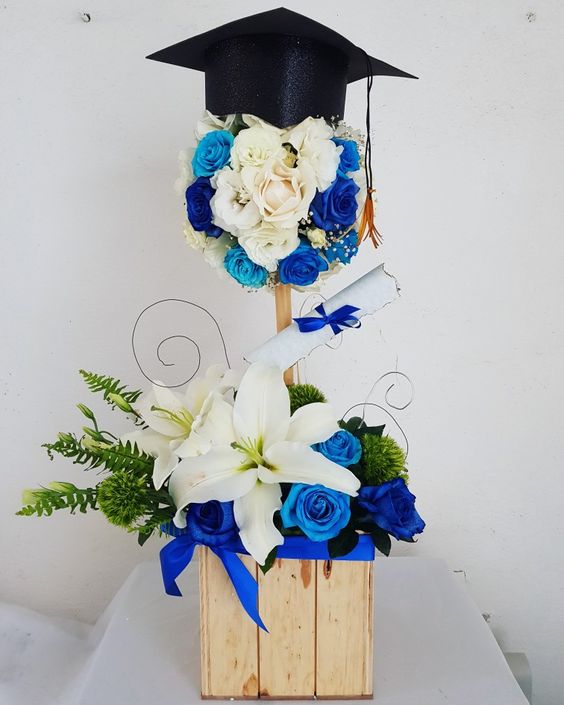 This might be one of our favorite graduation centerpiece ideas that we've ever seen, and not just because our favorite color is blue.
This floral basket is a stunning way to have a show stopping centerpiece that will last beyond the graduation party.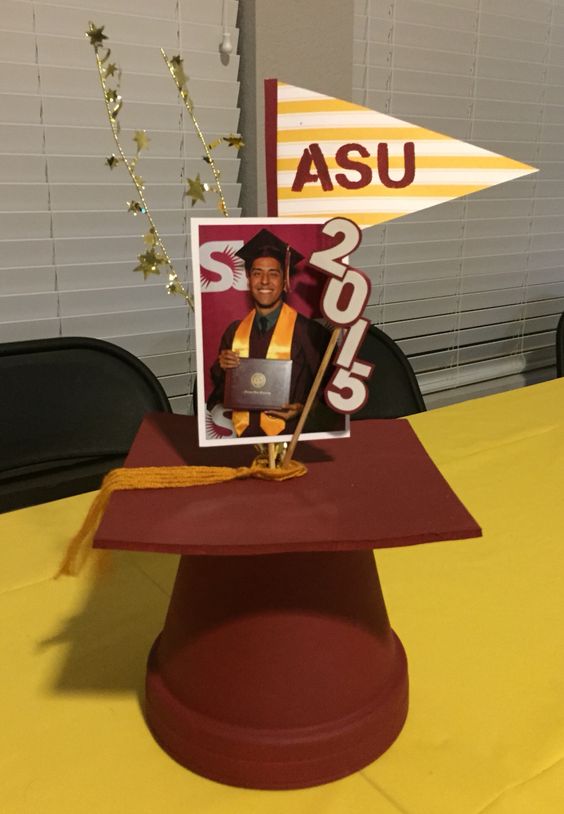 It doesn't take a lot of work to be creative and have fun with your centerpiece.
This graduation hat was made from a clay pot, a piece of foam, and some accessories.
Not too hard at all!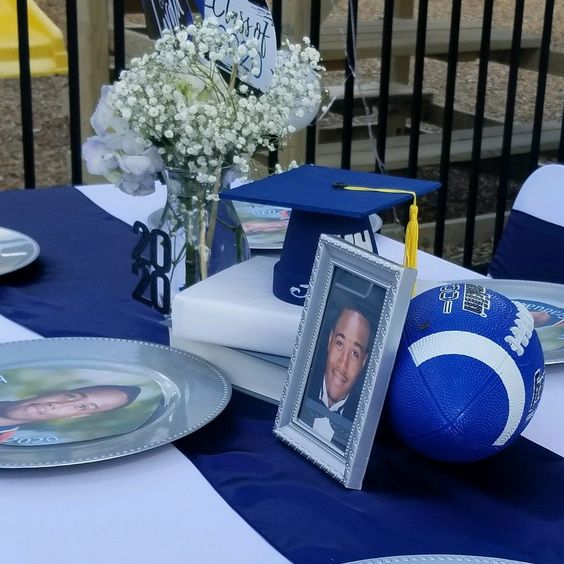 This centerpiece idea is for the college football athletes that want to show off their love for the sport at their grad party.
This centerpiece is made by bringing in multiple elements, like the football, flowers, photo frame, and graduation cap.
It might not be the quickest DIY, but it sure is the best looking!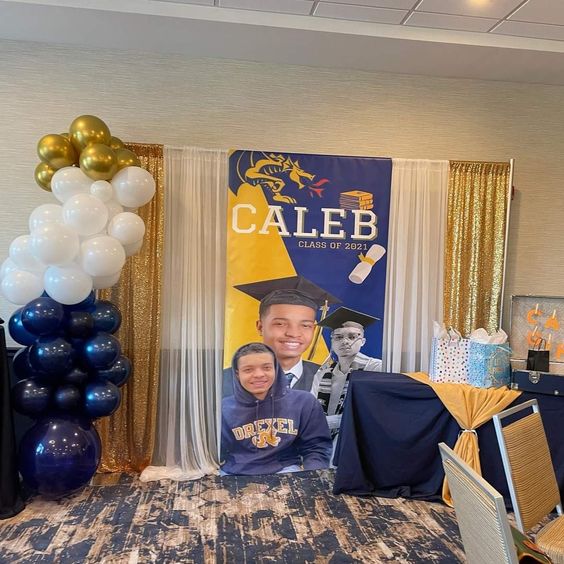 Looking for a photo-op moment?
Go beyond the table with a banner backdrop centerpiece that party guests can take photos with.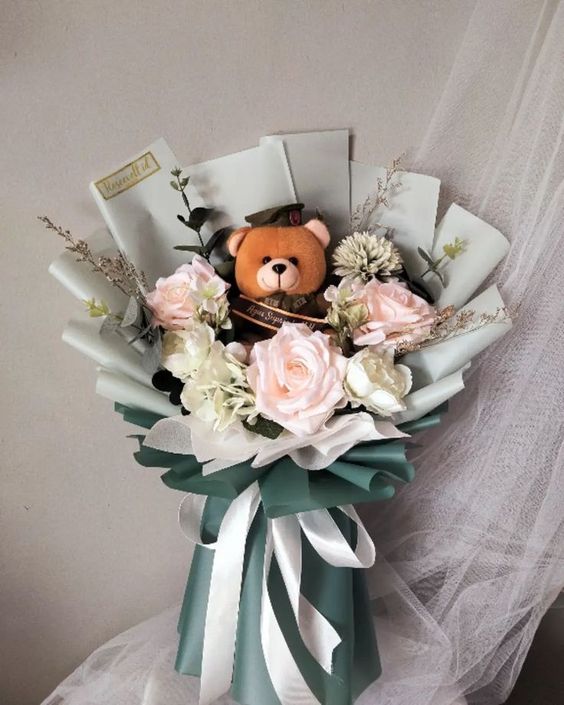 This might not be the cheapest centerpiece, but it is the cutest, and the prettiest.
With exquisite paper detailing, a cute teddy bear, and perfect floral accents, this centerpiece will be the star of the party.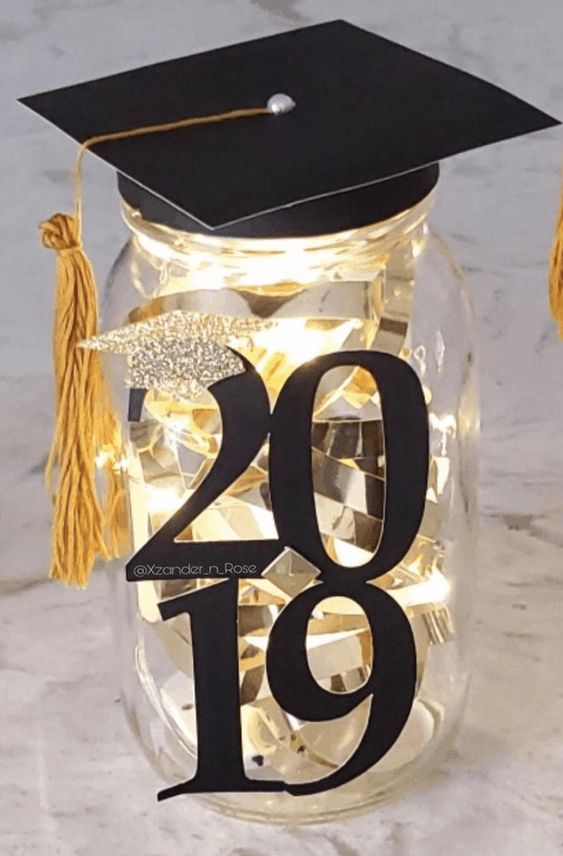 Light up the party with this easy DIY graduation centerpiece idea.
Just add some battery operated twinkle lights to a mason jar and you've got yourself table lighting that doubles as a centerpiece.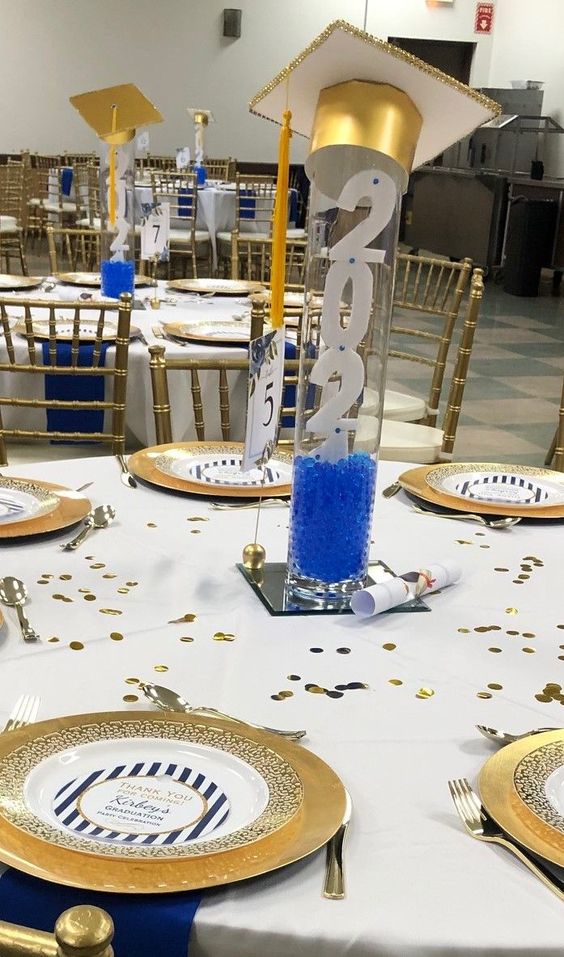 If you are anything like us, you also thought this was a super cool centerpiece idea the moment you saw this picture.
From the giant letters to the graduation cap on top, everything about this centerpiece is incredible.
We don't know what we love more, this balloon basket or the floral basket.
Either way, this is one of the most perfect graduation centerpiece ideas for any college graduating guy.
Hopefully you've found your favorite graduation centerpiece after reading this post!
If you have any comments, questions, or suggestions leave them down below. Thanks for reading!