Looking for a cool backdrop for your Friendsgiving party? Here we give you the 25 best Friendsgiving backdrop ideas in 2023!
We've included ideas ranging from the classic thanksgiving themed backdrops, to the more color coordinated party themed backdrop.
In this list, you'll be sure to find one that would match your vision for your Friendsgiving.
Plus, you'll find some more simple backdrop ideas if you're into the less extravagant, but still charming options for your Friendsgiving.
Want more Thanksgiving season ideas? Check out these posts:
Let's dive in!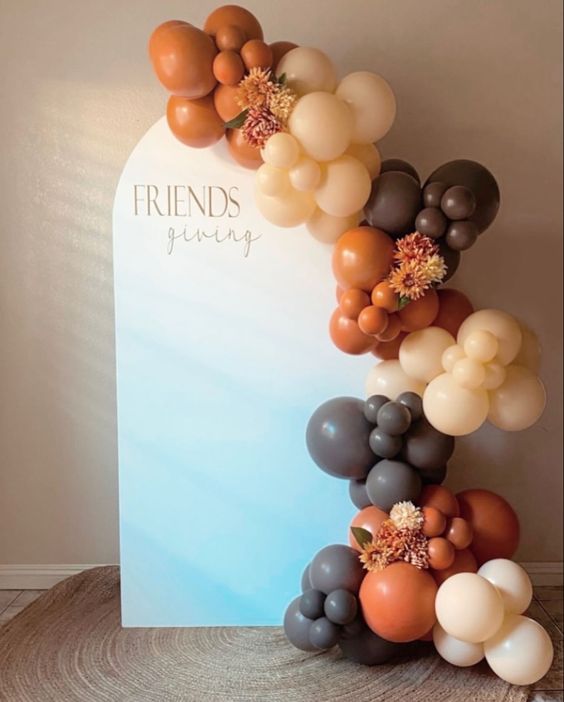 Arch backdrops have become one of the trendiest backdrop designs for parties because of how easy they are to make, and how affordable they are.
We consider this white arch with Fall colored balloons one of the best Friendsgiving backdrop ideas in 2023.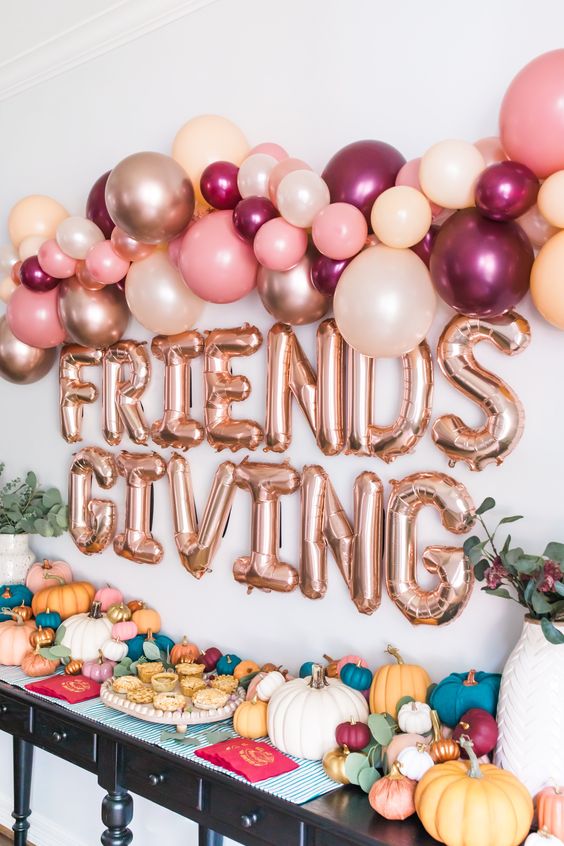 Letter Balloons are such a fun way to bring life to your wall and turn it into an easy backdrop.
With rose colored letters and color coordinating balloons, this Friendsgiving backdrop idea is one of our favorites!
The best part is that you can get all of these balloons shipped straight to your door from Amazon.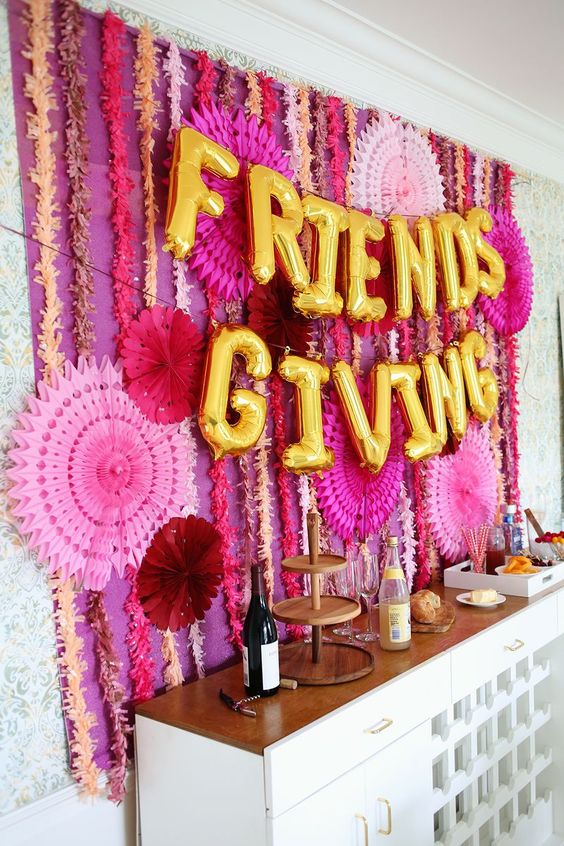 In the spirit of all things Barbie in 2023, why not have a hot pink backdrop for Thanksgiving with friends?
The hot pink color really brings this backdrop to life and makes for such a fun photo experience.
This would also look even better if you also had everyone dress in Barbie pink colors.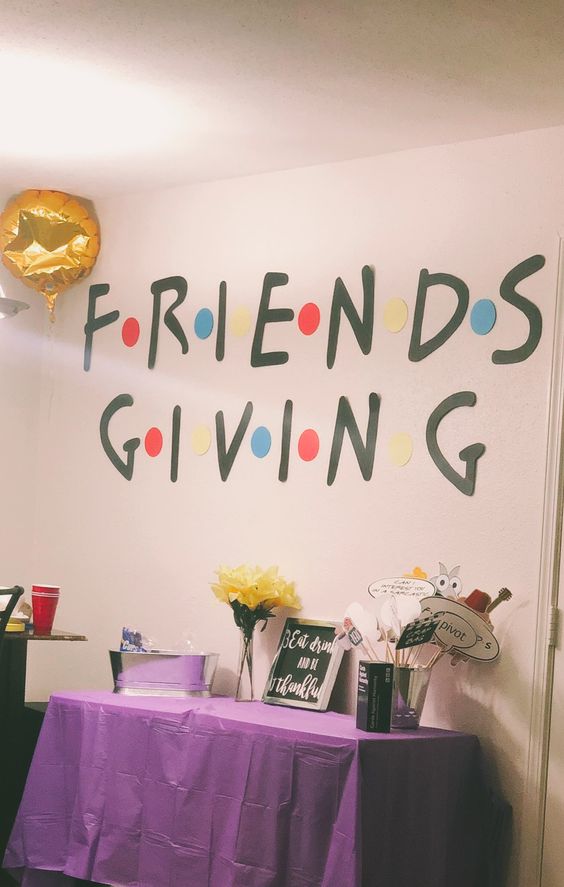 For all of our fans of the iconic 90's sitcom, why not have a "Friends" themed Friendsgiving party?
This is a simple, easy, and affordable backdrop idea for Friendsgiving.
You can even play a little game where everyone has to choose who is the Rachel, Monica, or Phoebe of the group.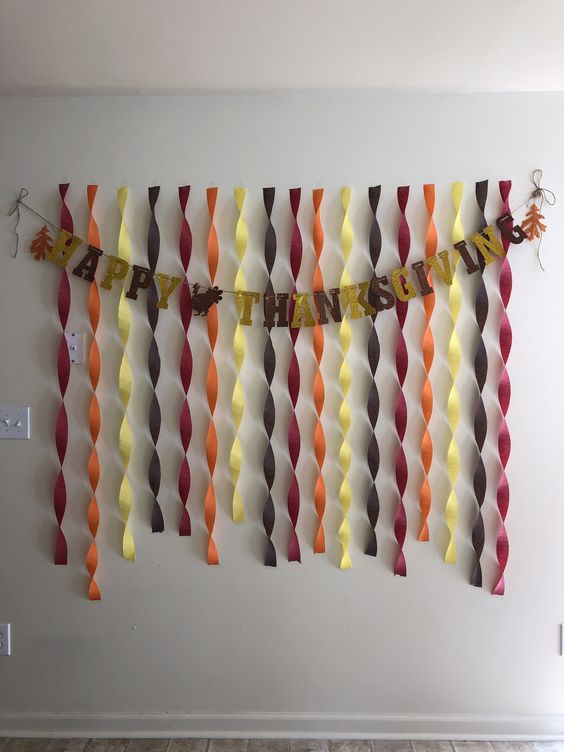 You don't have to spend a lot of money to have a great backdrop idea for Friendsgiving.
This orange, brown, and yellow paper streamer backdrop looks incredible, even if it is simple!
For all of our pumpkin pie sweet tooth lovers, we have found your perfect Friendsgiving backdrop idea.
We all know that no Thanksgiving meal is complete without a delicious pumpkin pie dessert.
Create a fun and unique Friendsgiving photo backdrop that everyone will adore.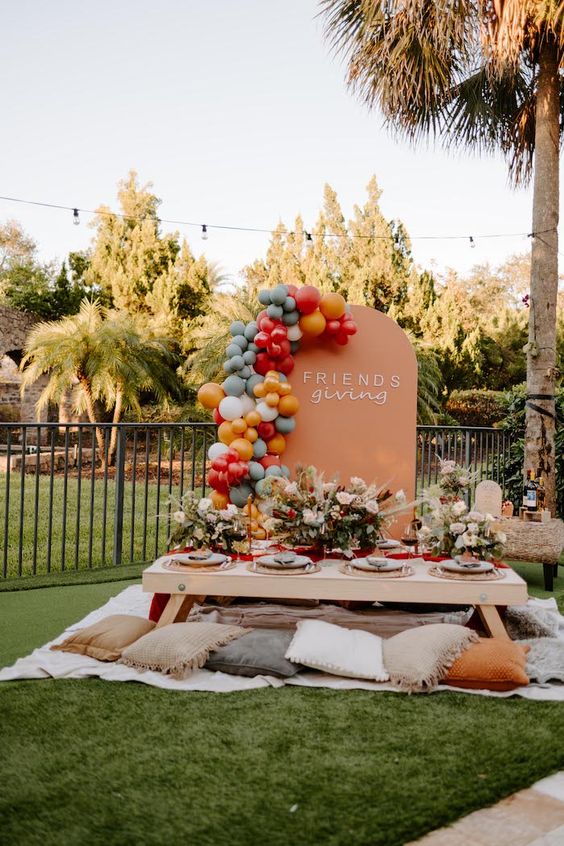 If you really want to go all out and have a Friendsgiving party that no one will forget, you've got to step it up with the Friendsgiving backdrop decorations.
This orange/rust colored arch paired with balloons and table top florals is to-die for.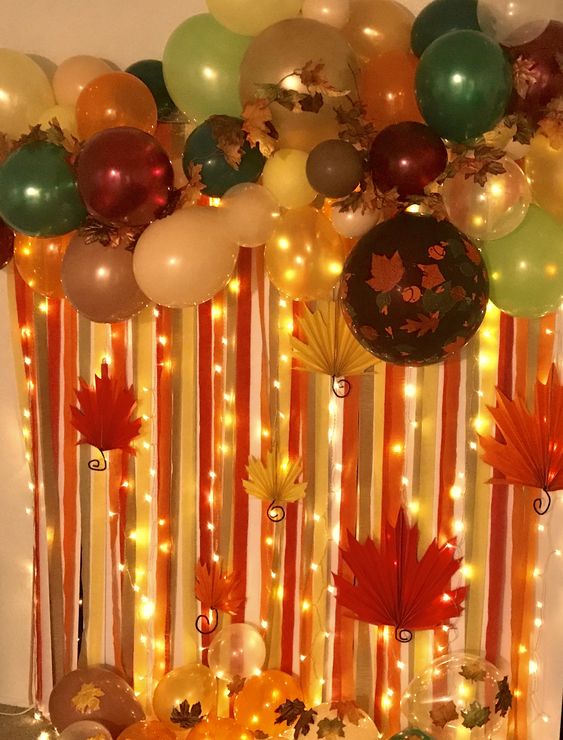 Channel all things Fall for your dinner party with the trifecta of Friendsgiving backdrop decorations:
Balloons

Fall colored streamers
When you bring these three together you make one of our favorite Friendsgiving backdrop ideas.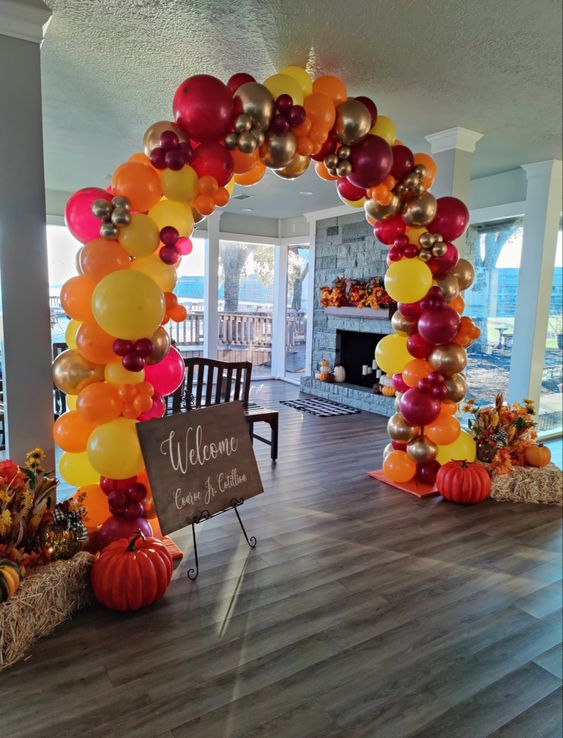 There's nothing like a balloon arch to bring a party to life.
This Fall colored balloon arch is one of the best Friendsgiving backdrop ideas in 2023.
Although it will take a lot of time and patience, it'll be well worth it in the end.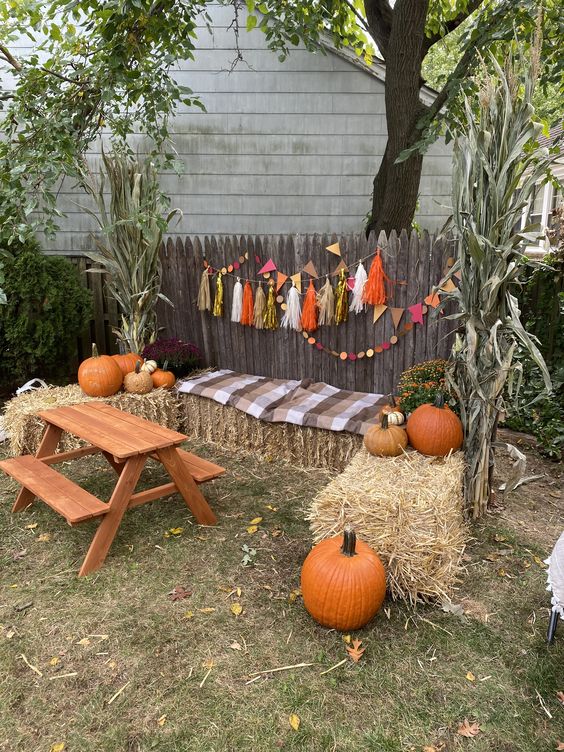 There's nothing we love more than an outdoor picnic in Fall, especially for Friendsgiving.
This Friendsgiving backdrop idea isn't just about what's hanging on the fence, it's about all of the elements coming together.
From the pumpkins to the haystacks, this Friendsgiving photo backdrop is perfect.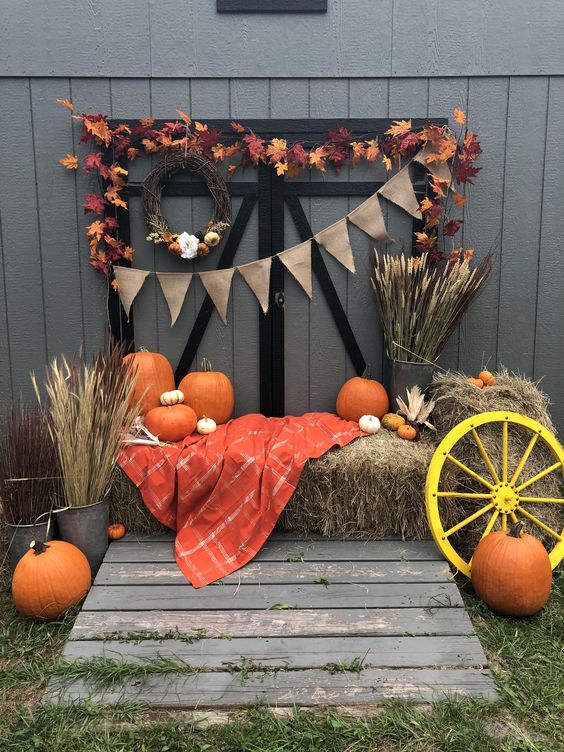 Similar to the outdoor picnic, this Friendsgiving photo booth takes all of those elements but condenses it into the perfect picture-taking location.
With a hay stack you can sit on with friends, the options for photos here are endless.
Grab a few pumpkins, wrap yourself in a blanket, or pose with the fall wheel.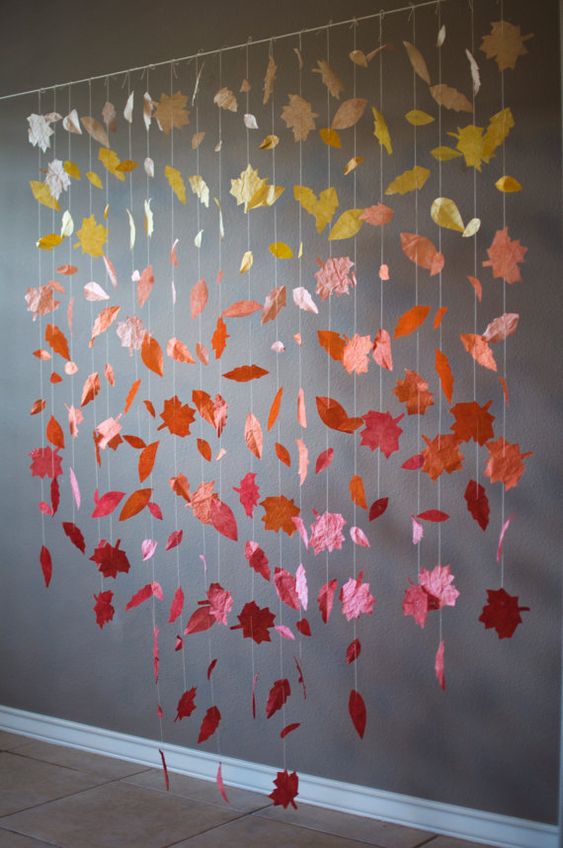 When you think of Fall what is one of the first things that come to mind?
If it was "fall-colored leaves" then you're exactly right!
Take one of the best elements of Fall and turn it into this gorgeous DIY Friendsgiving backdrop idea.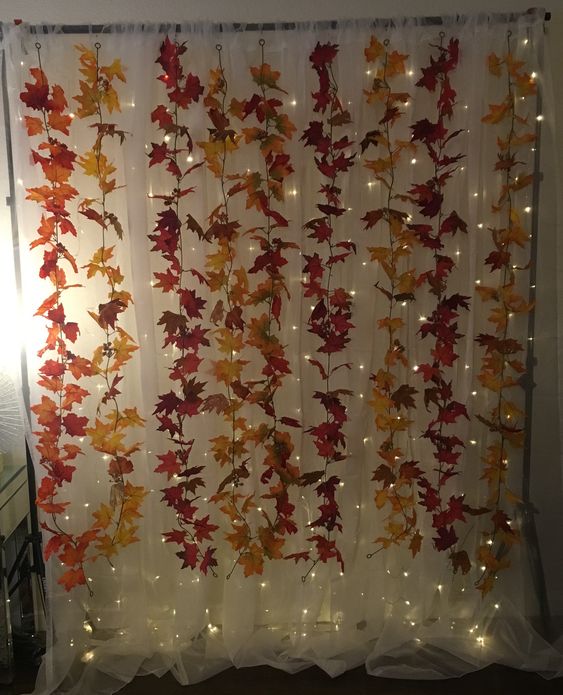 We've got the perfect Friendsgiving backdrop idea for you if you're looking for a simple and affordable DIY.
Just use a large clothing rack to hang a sheer curtain, string lights, and orange and brown colored faux leaves.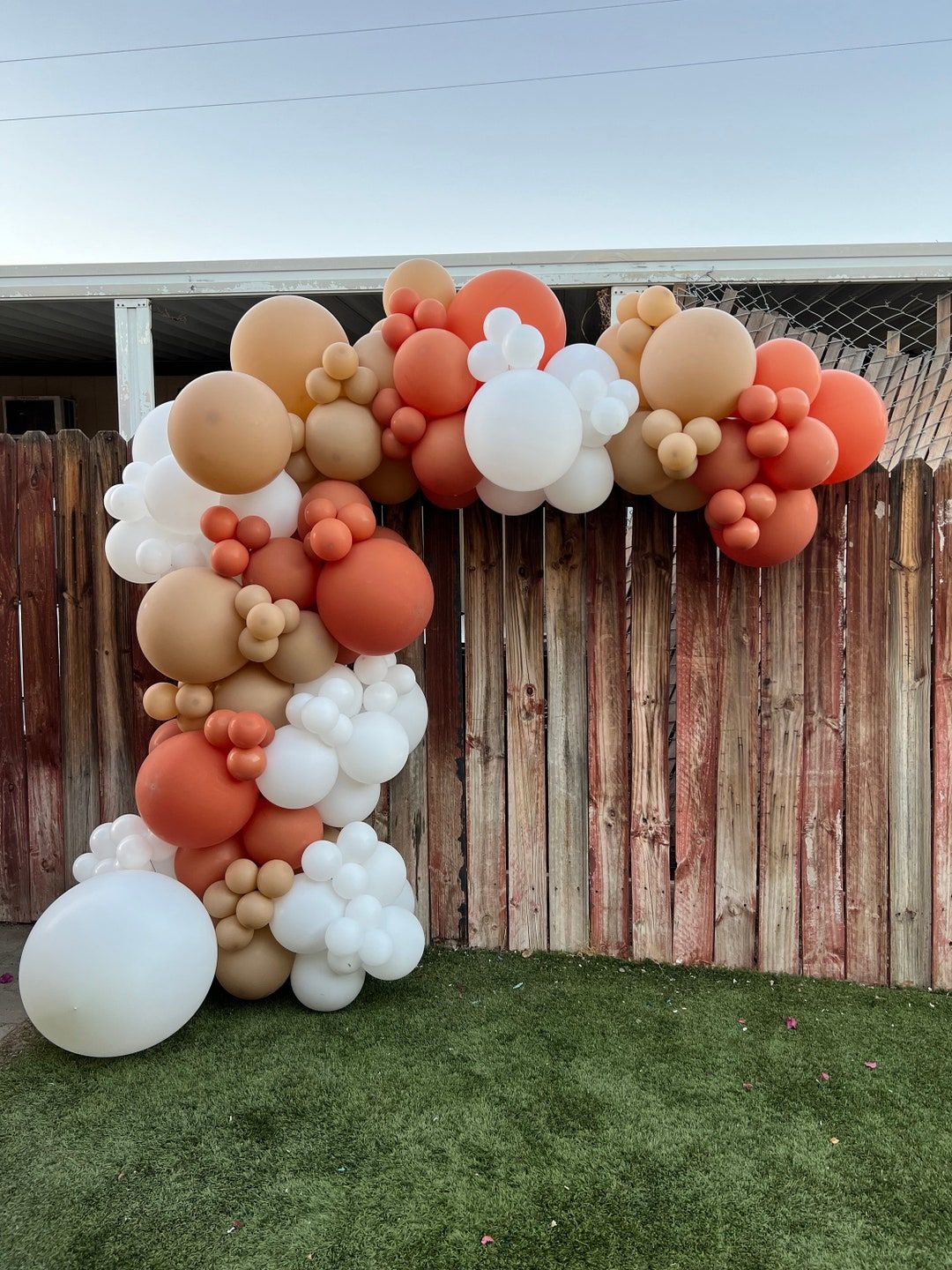 If you already have a wood fence outside, you already have half of this backdrop idea for Friendsgiving completed.
Now all you have to do is get white, orange, and brown balloons of varying sizes to create an oversized balloon garland.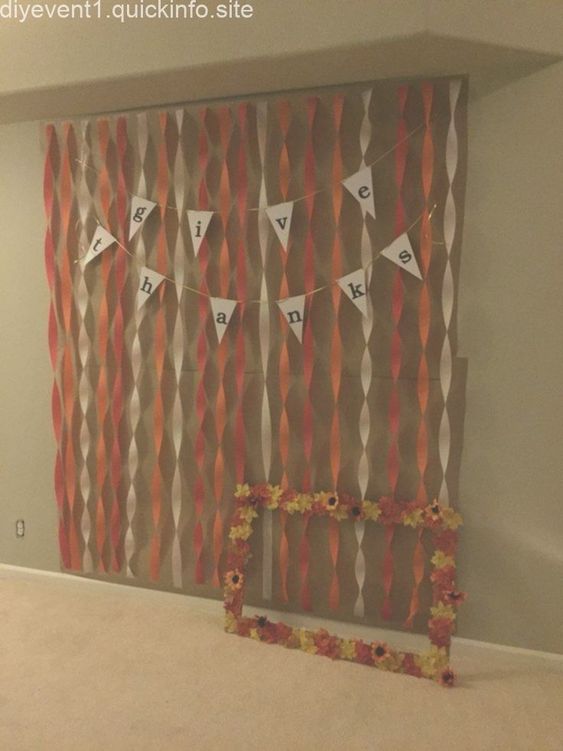 We've found a perfect Friendsgiving photo booth idea that's easy to create and so fun!
Use paper streamers as your backdrop and create a paper floral frame that your friends can use to take pictures with.
Not only is this easy to put together, it's such a fun idea for any group of friends!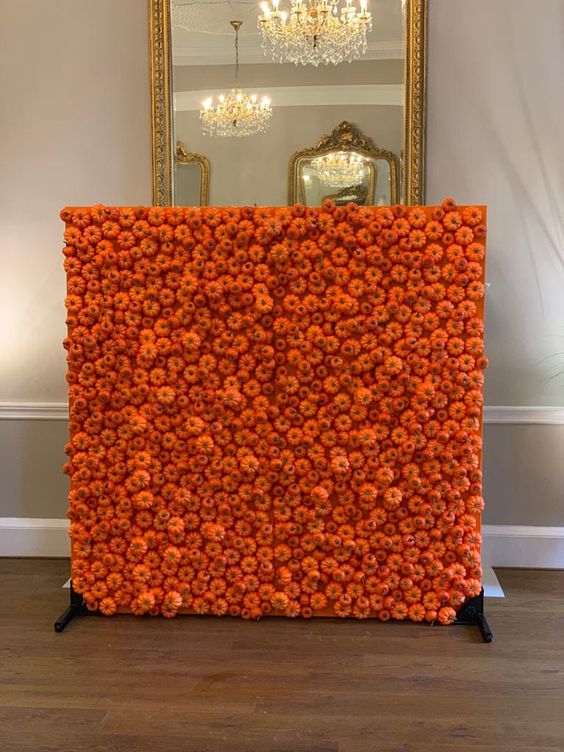 There is nothing we love more in the Fall than the mini orange pumpkins.
These are such a staple of the season and if you get a ton of fake ones from Amazon, you too can put together this backdrop for Thanksgiving with your friends.
Or you can simplify this by getting a mini pumpkin printed curtain and hanging it over a clothing rack.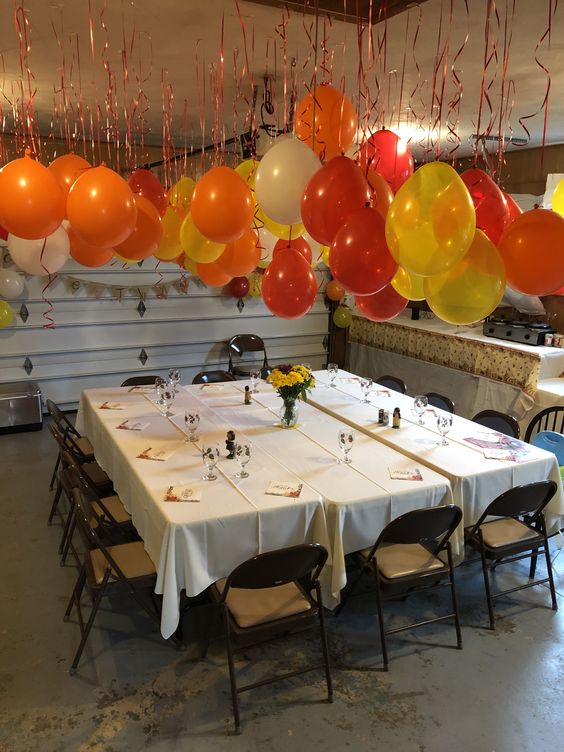 A Friendsgiving backdrop doesn't just have to be on a wall, it can be dynamic and take up space.
These hanging balloons are the perfect example of how you can easily bring your entire room to life.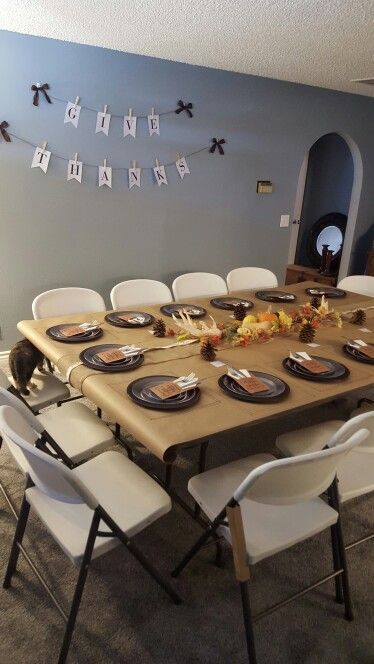 If you're looking for a simple and more classic backdrop idea for Friendsgiving, we've got you covered.
This minimalistic and cute backdrop only requires two things: a "Give Thanks" garland and black DIY bows.
By using a black color scheme throughout your Friendsgiving dinner, this will all come together perfectly.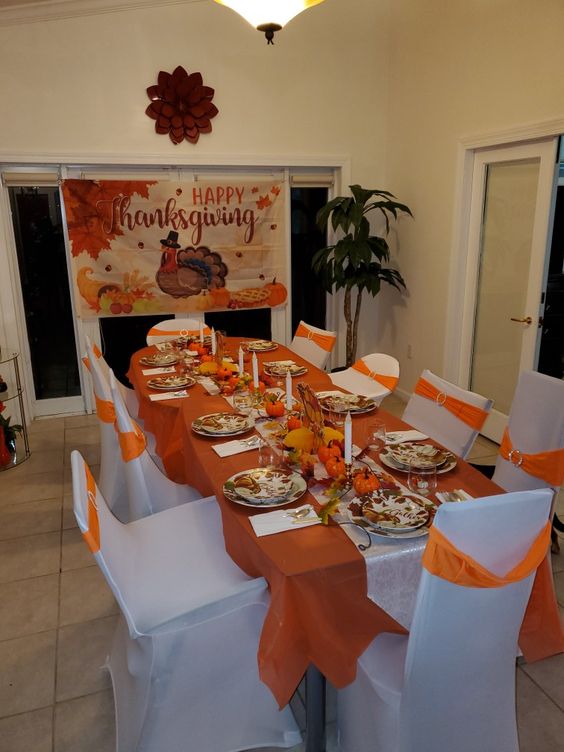 Keep it easy and classic with a Thanksgiving banner as your Friendsgiving backdrop.
You can get one of these from Amazon or Etsy and hang it up on your window, wall, or use a plastic stand.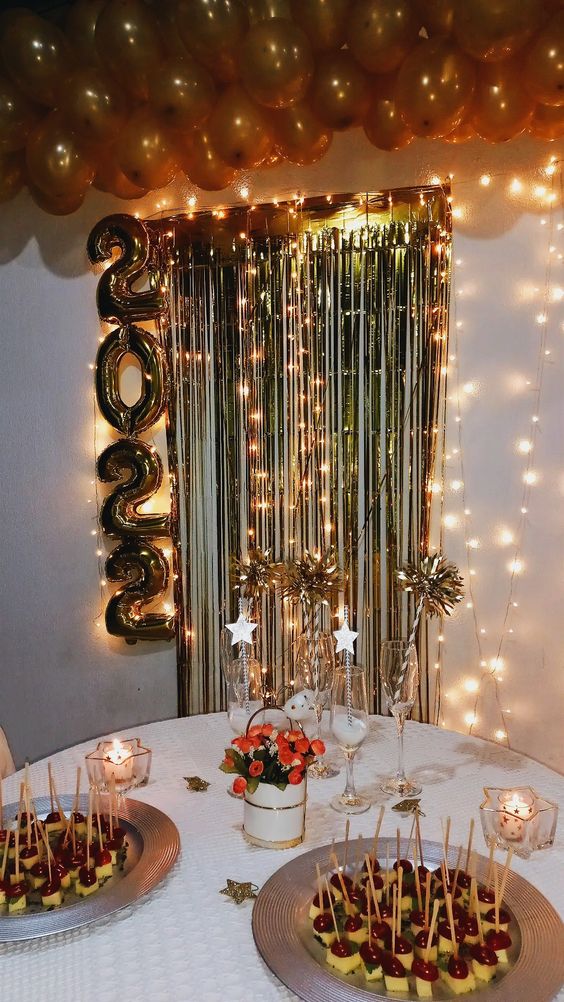 Gold is practically the color of the season in Fall.
You can never go wrong with going all out on gold Friendsgiving backdrop decorations for your dinner party.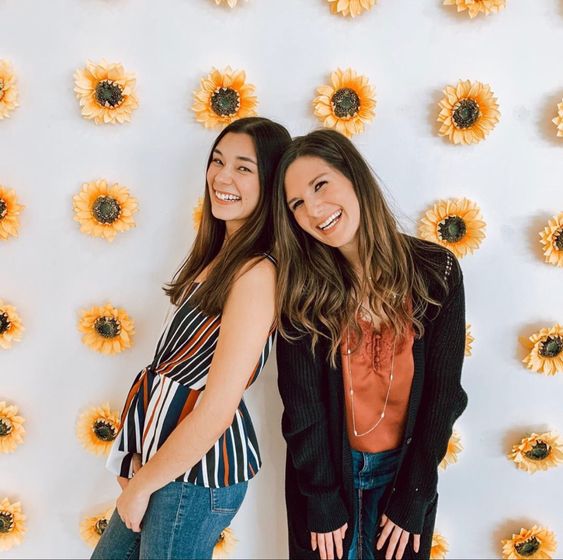 Sunflowers are one of our favorite flowers so of course we're in love with this Friendsgiving backdrop idea.
This is such an easy and fun DIY that you can do with your friends.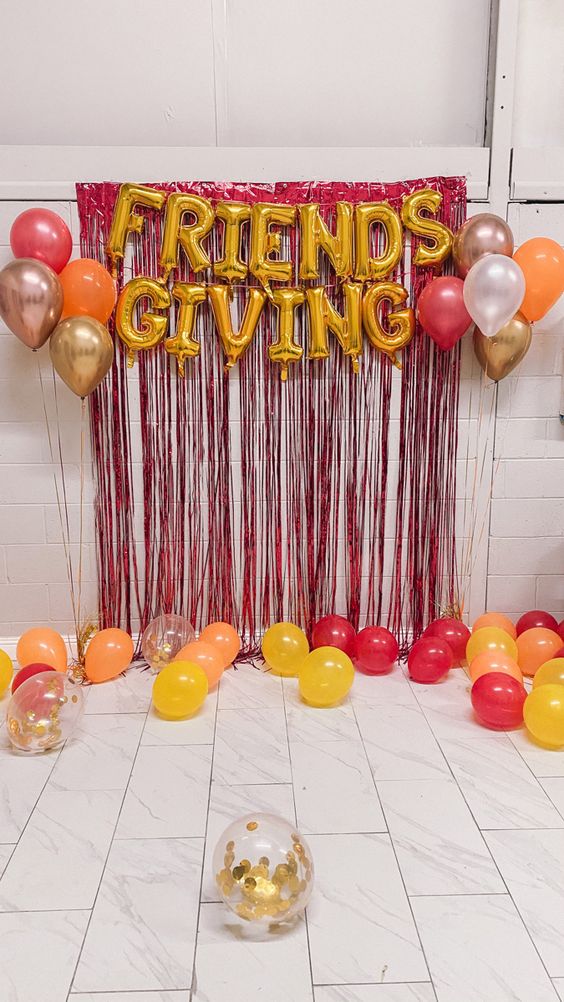 Some of our favorite colors of Fall are red, orange, and gold.
Combine these three colors to create the perfect Fall trifecta for your Friendsgiving decorations.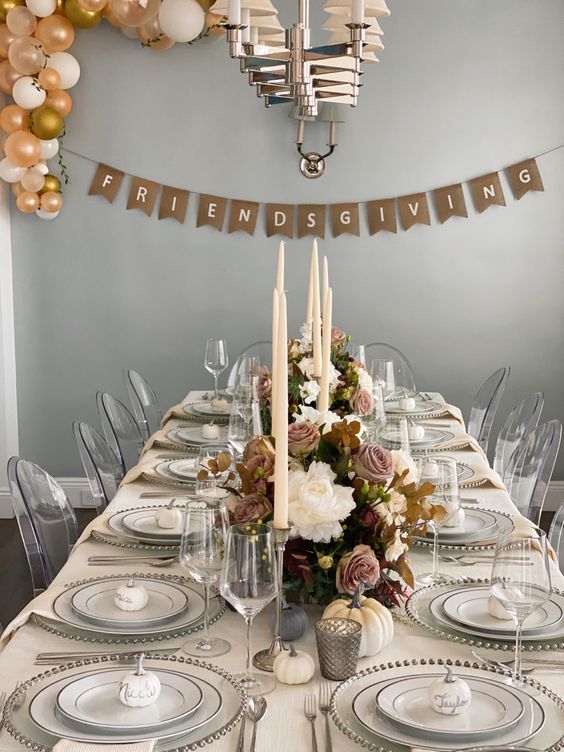 This simple, but super classy and elegant, backdrop is perfect for the girls looking for a more refined Friendsgiving dinner.
The taper candles and faux florals help elevate this tablescape into the perfect Instagramable dinner.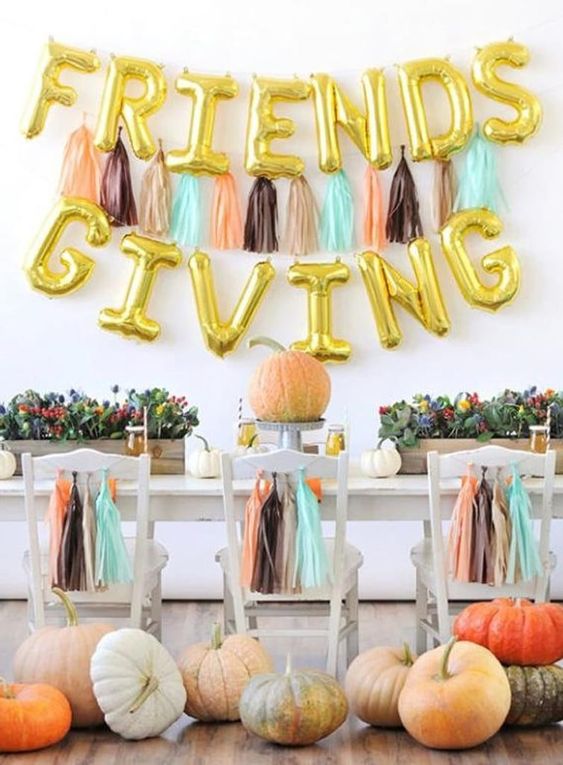 Don't underestimate the power of tassels.
Tassels can help elevate any one of our Friendsgiving backdrop ideas without taking up too much space like balloons.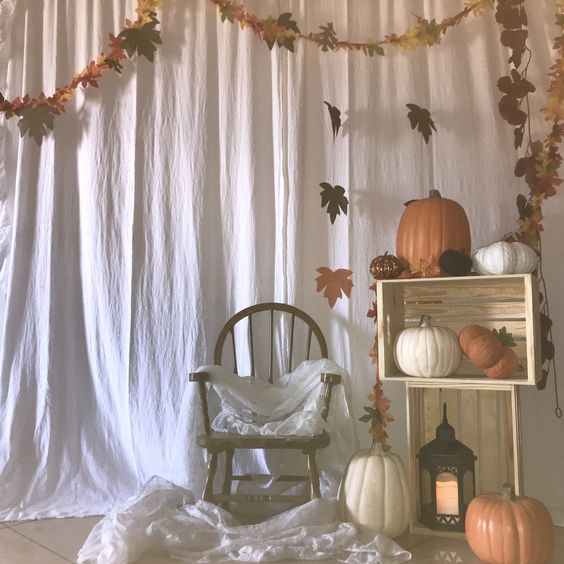 You can bring the perfect rustic Fall photo booth setup straight to your living room.
With some crates, pumpkins, and hanging faux leaves, you too can make the perfect photobooth for your Friendsgiving dinner.
Hopefully you've found your favorite backdrop for Friendsgiving after reading this post!
If you have any comments, questions, or suggestions leave them down below. Thanks for reading!