Want to get Instagram worthy pictures at your graduation party? Check out these 25 best graduation backdrop ideas to get inspiration!
From DIY backdrops to balloons and arches, you'll be sure to find a backdrop idea that works perfectly for your graduation party.
There's even inspiration for personalized banners, block letters and other simple panel designs!
Need a quick and easy backdrop for graduation photos? Check our favorite photo booth backdrop banners on Amazon.
Let's dive in!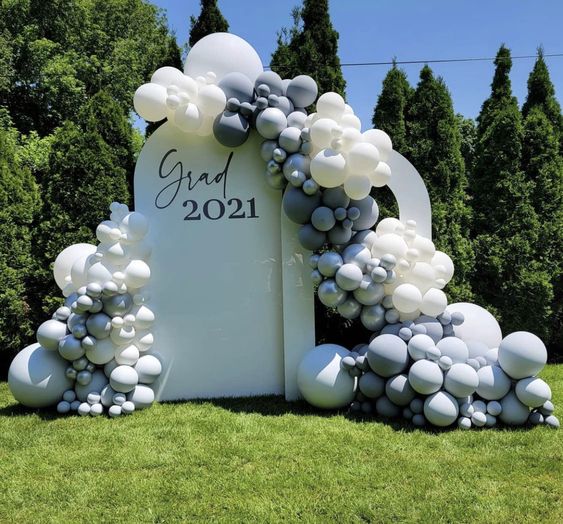 If you're looking for one of the best graduation backdrop ideas that is truly jaw-dropping, then you've come to the right place.
Arches have become the trendiest party decoration in 2023 and when paired with color coordinating balloons, we can see why!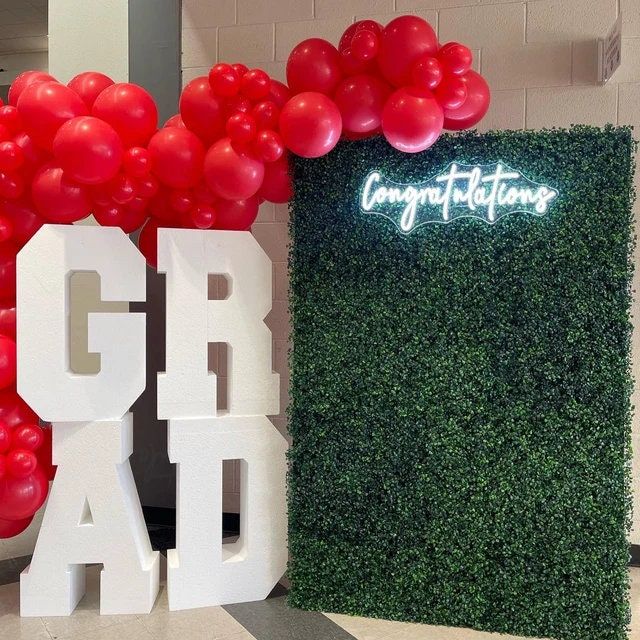 A simple yet super effective backdrop idea for graduation is this faux grass setup with block letters and balloons.
This backdrop may be simple, but it still looks incredible!
You can place a neon light in the background for decoration so that the entire backdrop will become lively and beautiful when taking graduation photos.
Consider customizing a graduation neon sign with special letters or a graduation cap pattern with a site like NeonSigns.com to look extra cool.
Related Post: 25 Amazing Photo Booth Graduation Ideas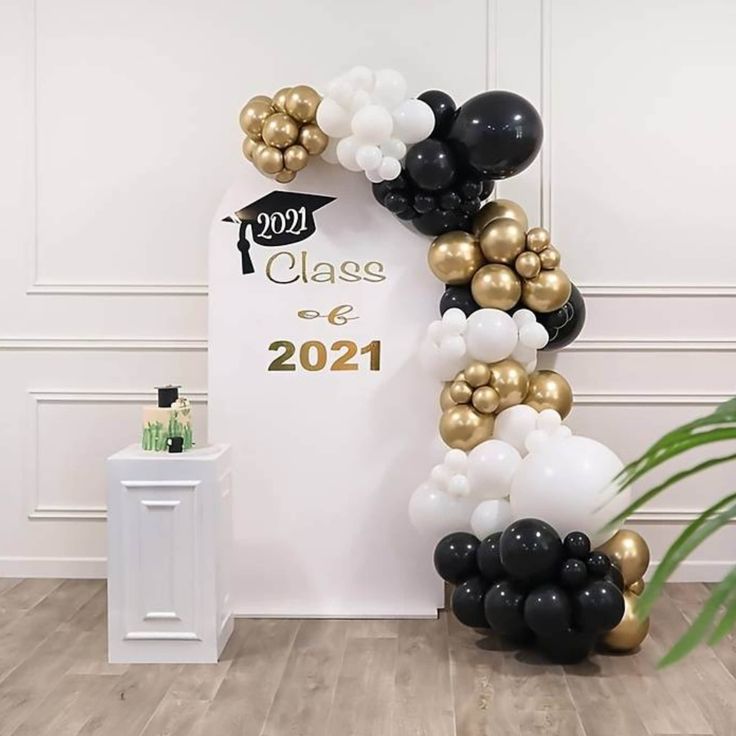 Keep things classy and simple with this easy DIY graduation backdrop that won't break the bank.
To create this backdrop, all you need are four things:
A backdrop frame stand cover

Your favorite paint color

A side table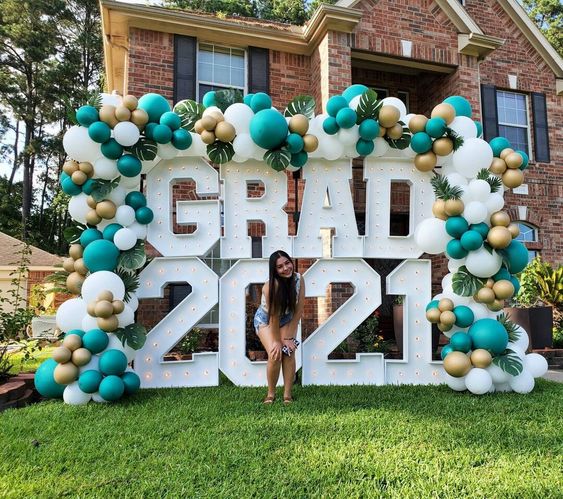 It's your graduation, so go big (or go home)!
This giant marquee letter and balloon backdrop is the perfect way to ring in your graduation and create the coolest 2023 backdrop.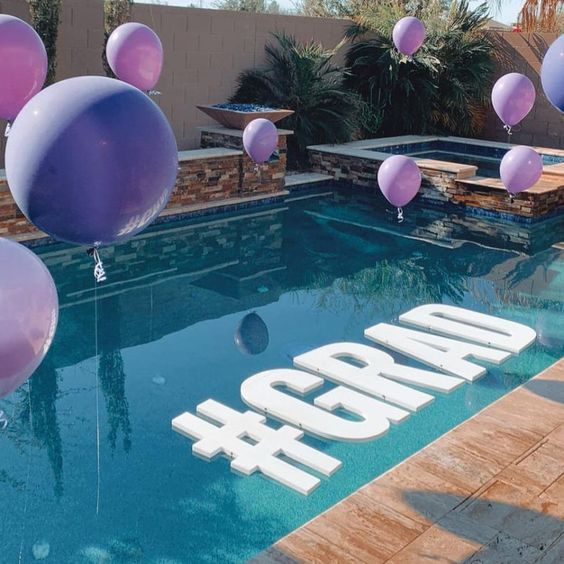 If you have a pool, we're already jealous of you, but if you have a pool and can use it as a backdrop, now we're even more jealous.
We've never thought to decorate a pool but now that we've seen it, we're convinced it's the best graduation backdrop in 2023.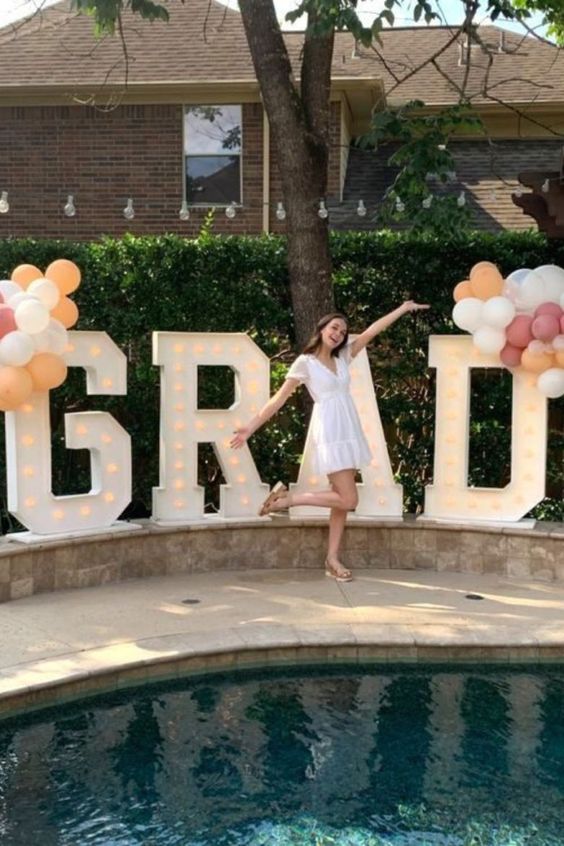 This GRAD Letter Lights backdrop is an easy DIY that can be done with rentable Marquee letters and balloons from your local party store or Amazon.
And if you really want to add in that final perfect touch, hang up some string lights.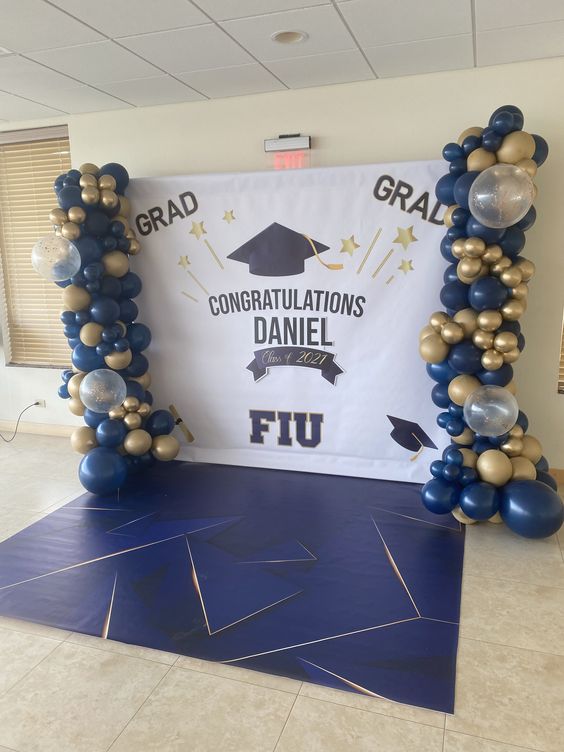 Personalized vinyl backdrops are a great addition to any 2023 graduation party.
The best part is you can have complete creative freedom with balloon colors and themes.
Your options for this personalized backdrop idea are unlimited!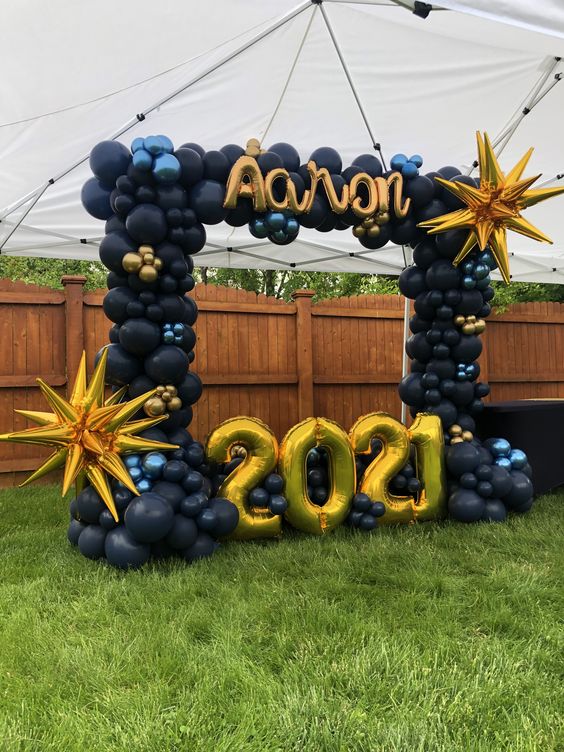 We love the look of a balloon arch, especially once that's as cool as this.
You don't need to go all out with different materials and objects to create the best graduation backdrop idea.
All you really need are balloons and some creativity.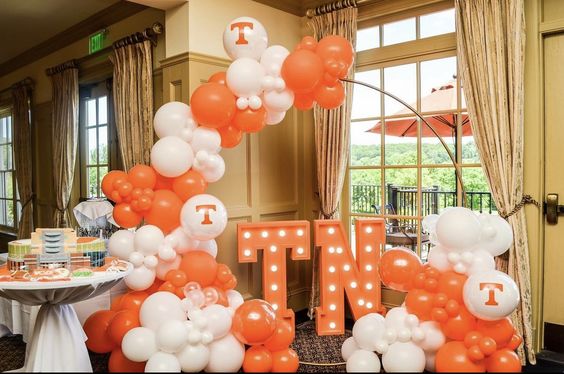 Show off your school pride with one of the coolest college themed graduation backdrop ideas.
This backdrop design is perfect for the student who is ride-or-die for their future college.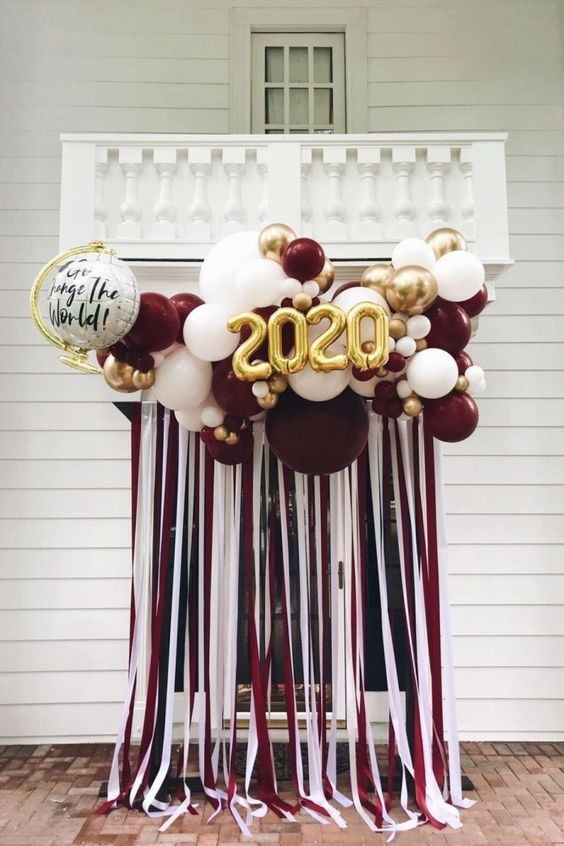 Make use of your backyard balcony by turning it into a super cool DIY backdrop.
With streamers and balloons, your balcony easily becomes the perfect 2023 graduation party centerpiece.
Related Post: 100 Best Graduation Cap Ideas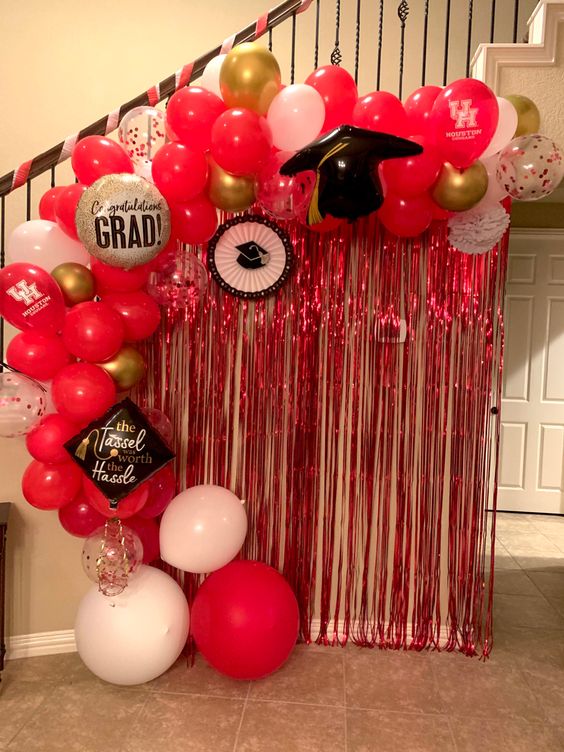 If you love the look of the streamer balcony backdrop, but don't have a balcony, try this instead.
Using an indoor staircase, you can create the same effect by hanging up streamers and balloons from the railing.
Not only are you working with your environment, but you're creating a cool DIY backdrop!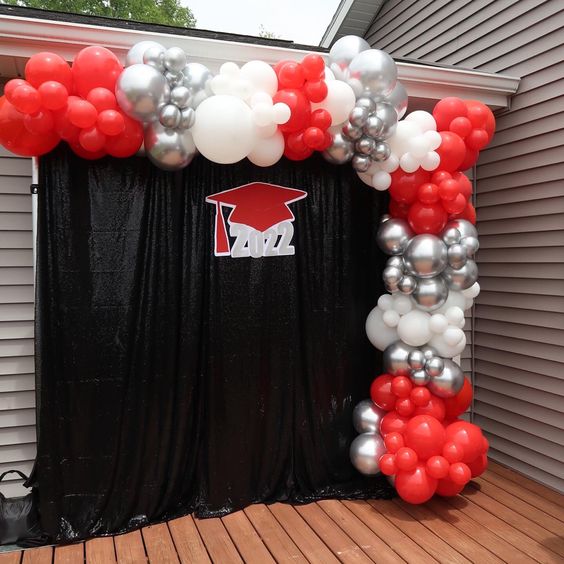 To create a graduation backdrop with limited space, try using a black tarp, cloth, or large piece of fabric with a stand.
The black backdrop can then be dressed up with vinyl cutouts, balloons, and streamers to make it more unique and visually appealing.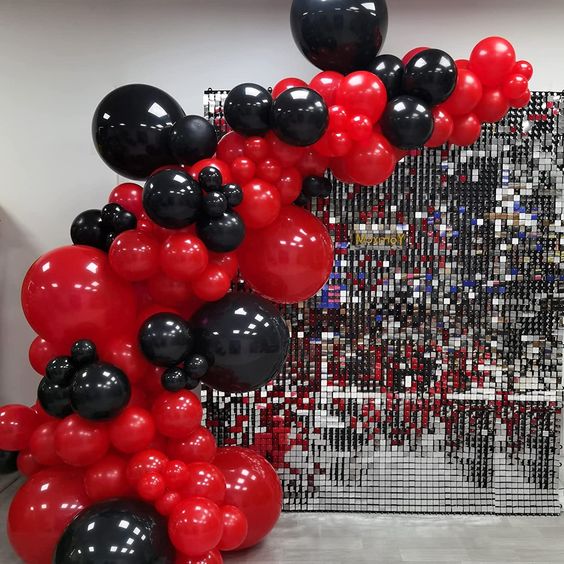 2023 is the year of shimmer, glitter, and bringing disco back.
This disco inspired shimmer wall panel makes for the perfect graduation backdrop that is fun, interesting, and easy to make using this shimmer wall on Amazon!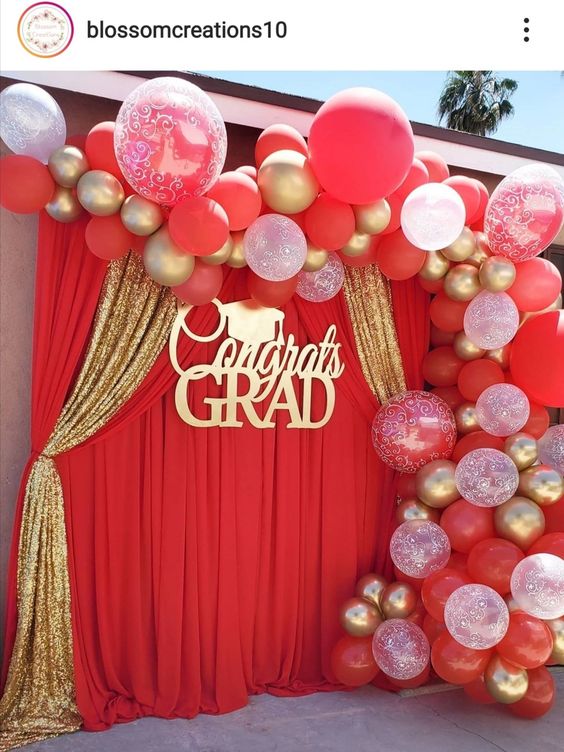 Another great way to create a backdrop with limited space is by utilizing curtains!
The curtains can either be on a stand or attached to an outdoor wall/roof.
You can even add in matching balloons on top of the curtains to create a more dynamic backdrop.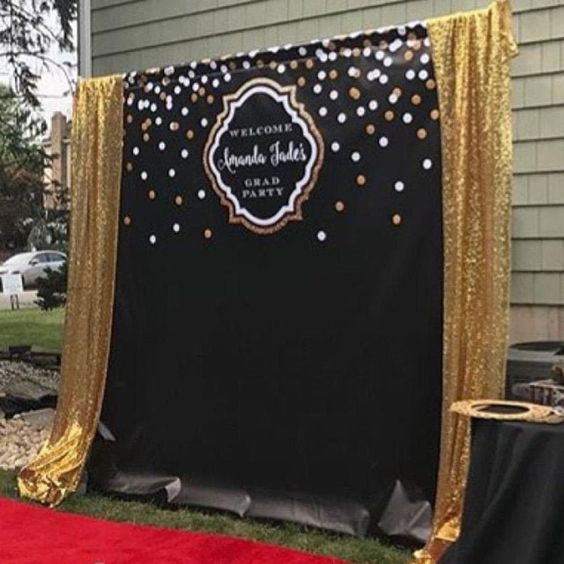 If you want a backdrop that's more personal to you and your graduation, we recommend ordering a custom vinyl banner from Etsy.
Once you put the banner on a stand, we recommend using balloons or matching fabric to make the backdrop really pop!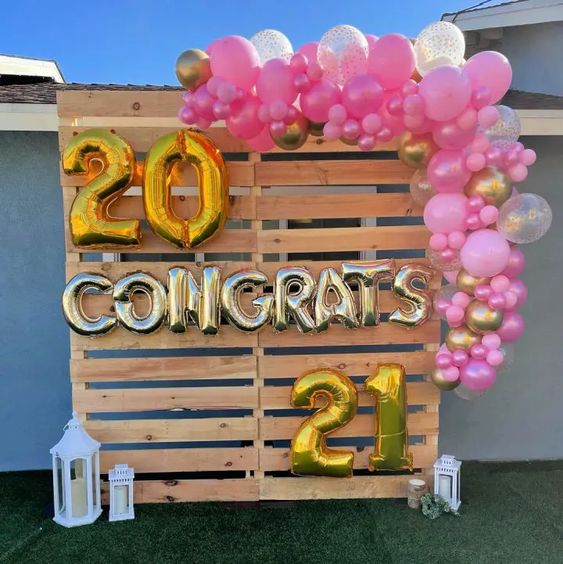 Go for a rustic theme backdrop using simple wood pallets and a balloon garland.
Pallet backdrops are a unique way to make use of items that might be lying around your house.
And don't forget, you don't need to break the bank to get a good backdrop!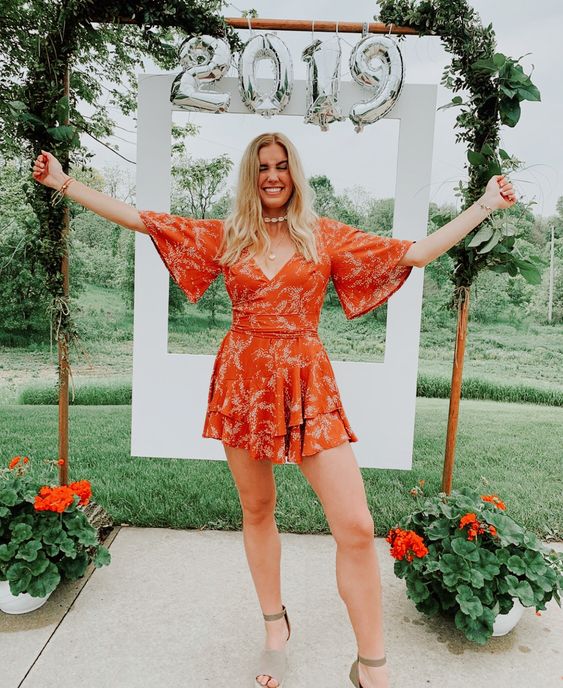 Who doesn't love a good polaroid picture?
This polaroid inspired backdrop is such a fun idea for the grads that can always be found taking pictures with their instant cameras.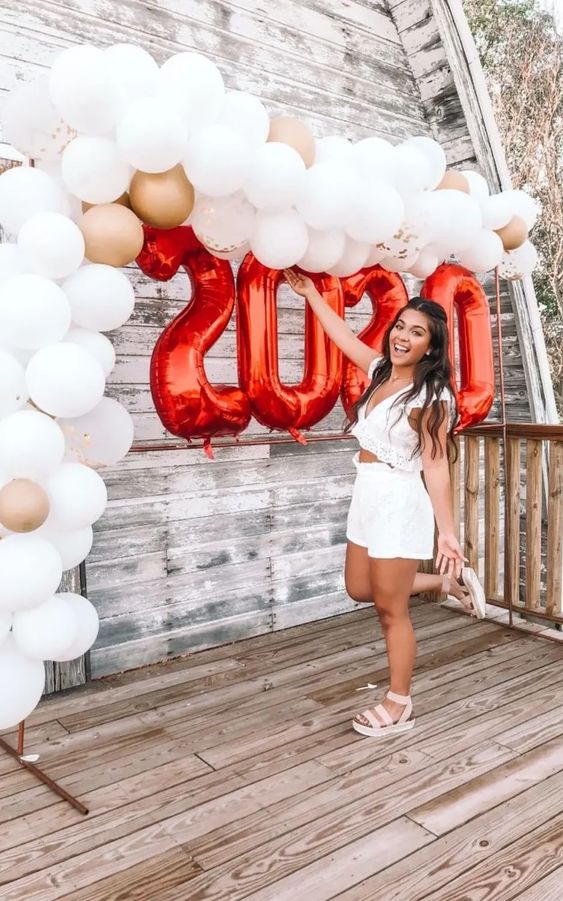 We love the look of this simple graduation backdrop that really only needs one thing: balloons!
This balloon garland is a great DIY for someone looking for a cool backdrop on a budget.
Related Post: 50 Best Graduation Dress Ideas for Girls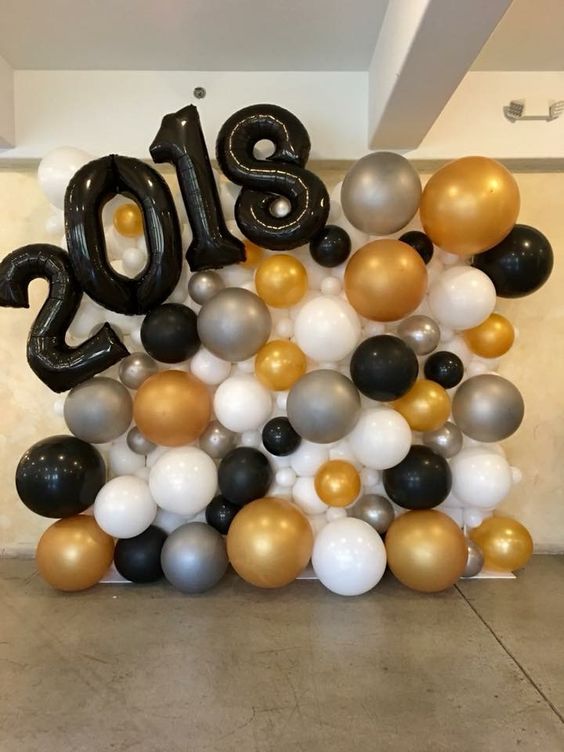 Why go for a balloon arch when you can go for an entire balloon wall?
This unique and easy DIY backdrop is such a fun way to go all out with balloons!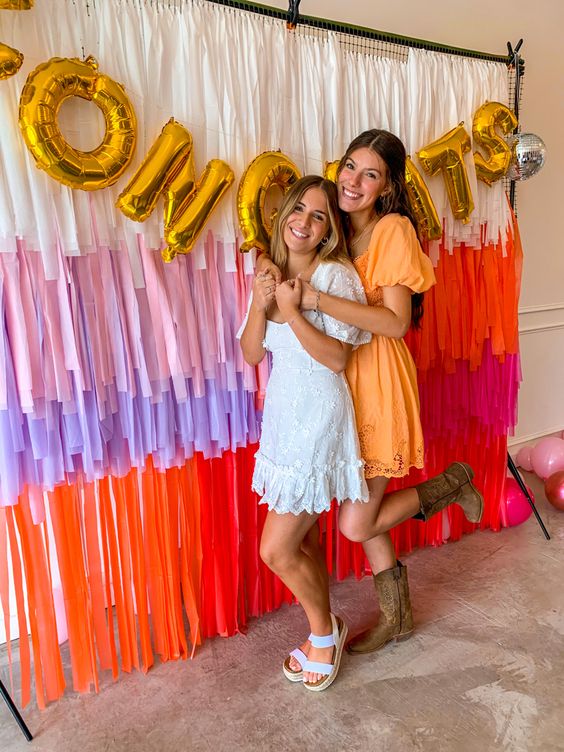 If you didn't already know, tassels are all the rage in 2023, especially when it comes to party decorations.
Tassel fringe backdrops are a super easy and affordable DIY that you can make at home with your friends.
Just order rolls of colorful large paper, a stand in the size backdrop you want, and cut away!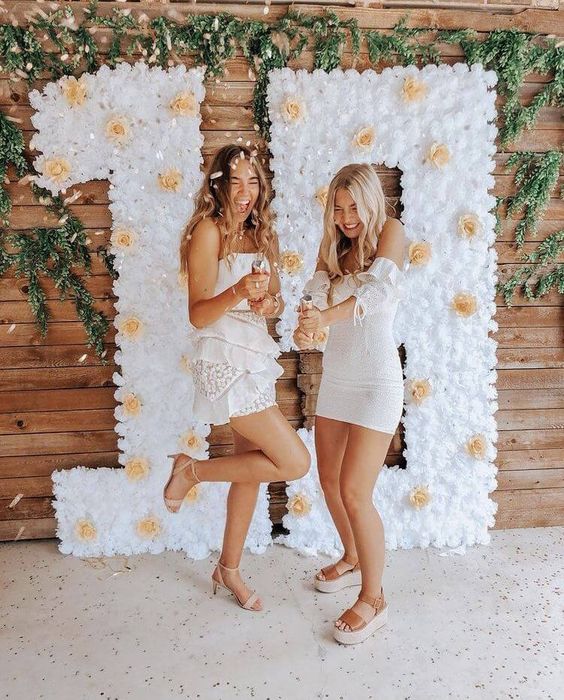 Feel the flower power at your graduation party with this floral inspired backdrop design idea.
These flower numbers are a great DIY for someone looking for an affordable backdrop idea that still feels unique and special.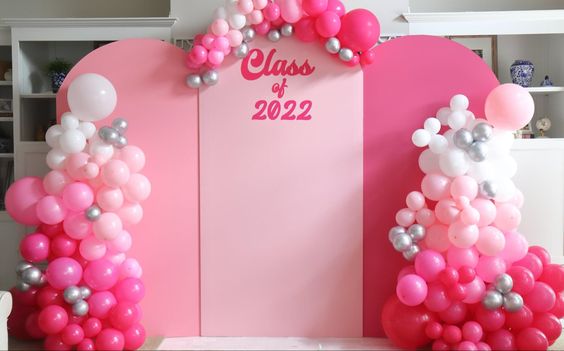 Calling all the Barbie girls in their Barbie world, this graduation backdrop idea is for you.
This Barbie inspired backdrop is such a fun and unique way to add color and personality to your graduation party.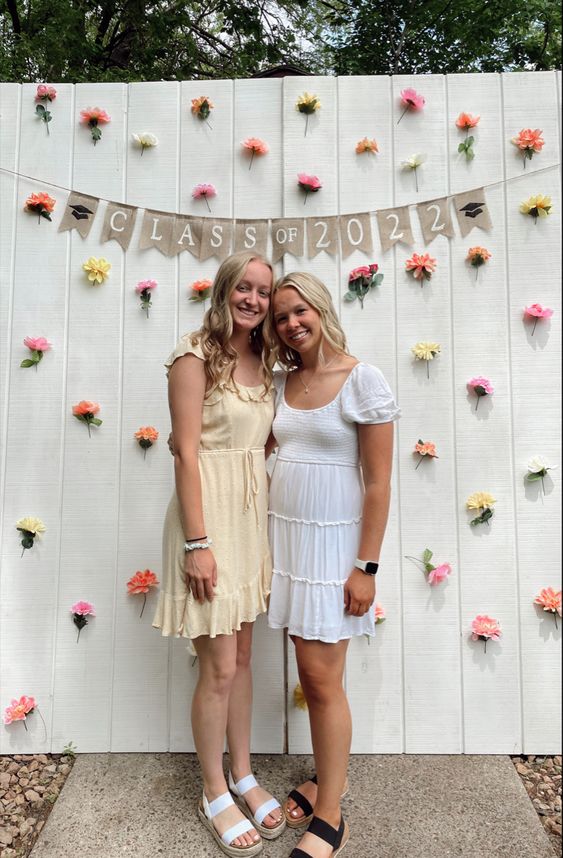 This dainty rustic floral wall has officially become one of our favorite graduation backdrop ideas for girls, especially for the summer.
This simple and affordable DIY background can be made with less than $20 and still makes a big impact.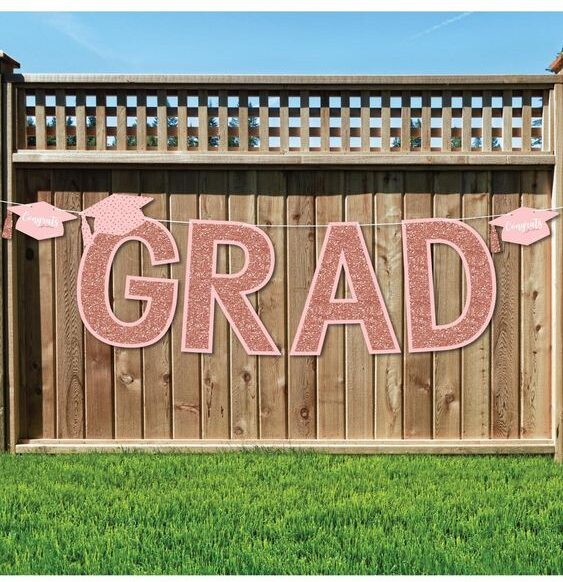 If you want a simple, affordable, but still super chic backdrop idea for your graduation, then pick up one of these grad banners.
These banners can hang right on your backyard fence and create the perfect backdrop for your photos and party.
No more worrying about a super complicated backdrop.
Photo stands are a great way to bring your memories to life at your graduation party.
For an added personalized touch, leave out a jar of sharpies and have your friends sign the back of the pictures they're in!
Not only are you bringing your memories to life, but you're creating more by letting them leave you messages.
Hopefully you found your favorite graduation backdrop idea in this list! Remember that a lot of these can be DIY at home if you're in a pinch.
Which idea are you going to copy?
If you have any comments, questions, or suggestions leave them down below. Thanks for reading!