Are you moving into your college dorm soon and want a tapestry to match your vibe? Come pick from these 25 best tapestries for dorm rooms!
From simple to funny tapestries, this list has tons of different popular styles to choose from.
Stick around until the end to see what size tapestry to get for your dorm room and how to hang one up!
Let's dive in!
Best Tapestries for Dorm Rooms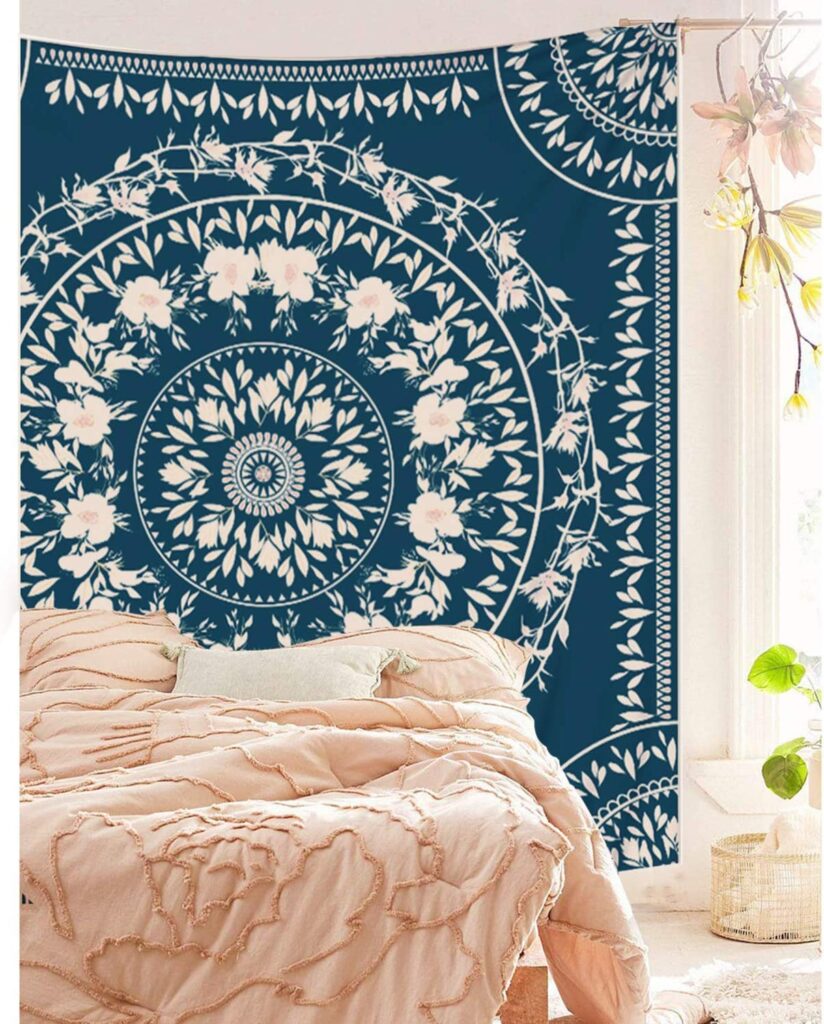 We love the way a tapestry can easily elevate a dorm room into looking effortlessly chic and this blue floral tapestry is one of our absolutely favorites.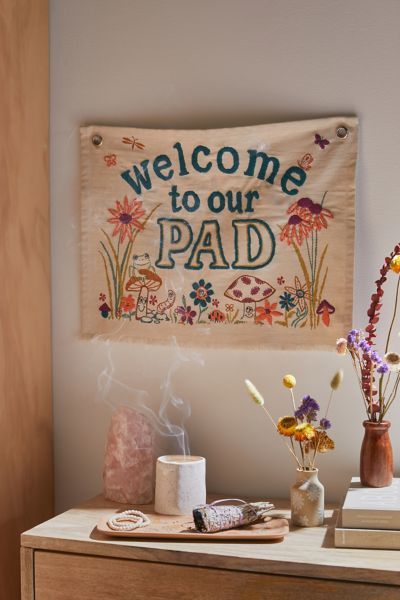 Nothing says inviting more than a welcome tapestry, especially since you can't have a welcome mat in most dorms.
This mushroom and forest inspired welcome tapestry is the perfect small tapestry to fill any small space while still being cool.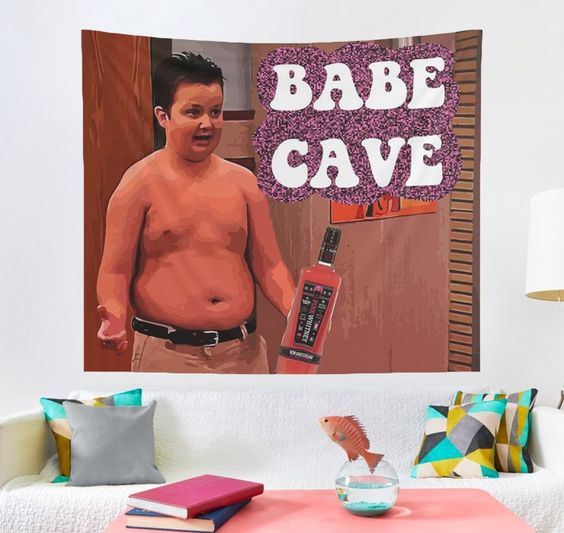 Calling all iCarly lovers, if you're looking for a funny tapestry that everyone will love, then we have the one for you.
Nothing says "Babe Cave" more than this Gibby inspired tapestry that will easily be the centerpiece of your dorm room.
Related Post: 10 Best Mirrors for Dorm Rooms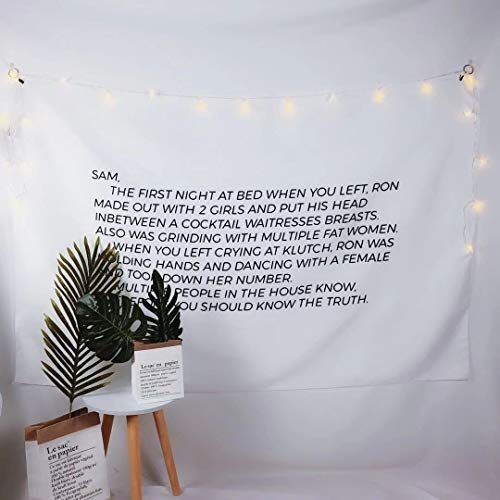 If you're a Jersey Shore fan, then stop what you are doing and order this tapestry ASAP.
Not only is this a truly show-stopper tapestry with how iconic this infamous letter was, it's a great conversation piece for when new people come over.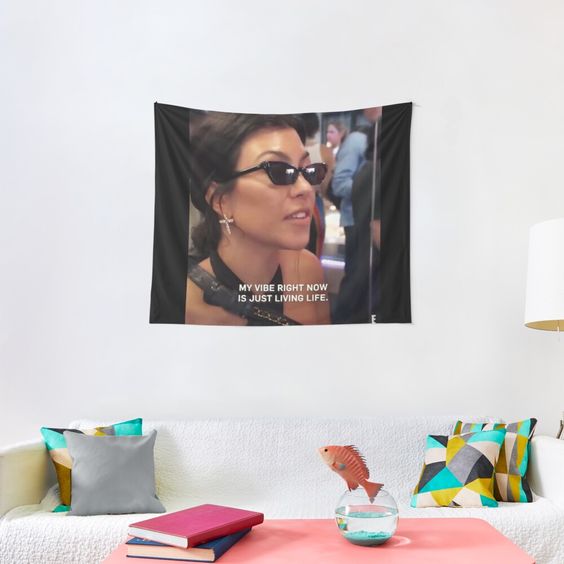 Our vibe is just living life how we want right now, and what we really want is this iconic Kourtney Kardashian meme tapestry for our room.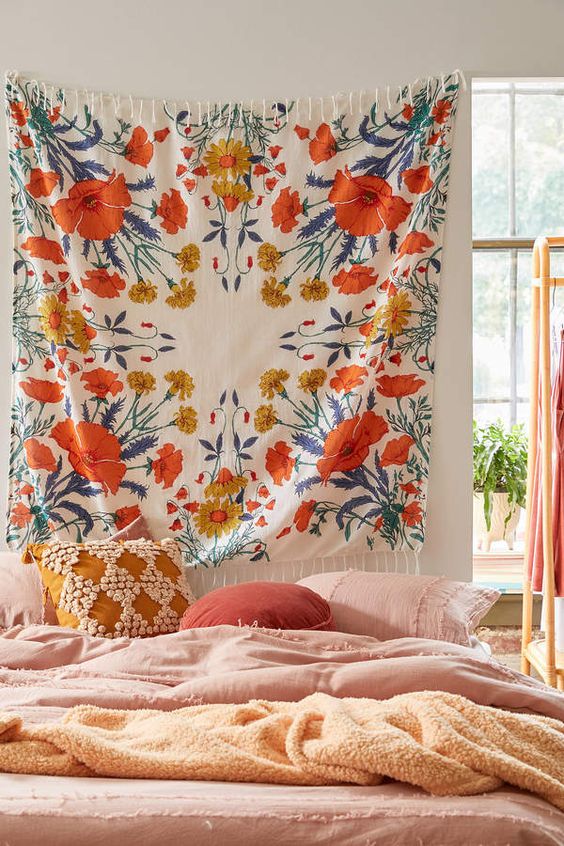 This Urban Outfitters tapestry is the best dorm room tapestry for girls, especially as Winter comes to an end and Spring comes around the corner.
With warm colors, tassels, and a gorgeous floral print, you can't go wrong with this tapestry for your dorm.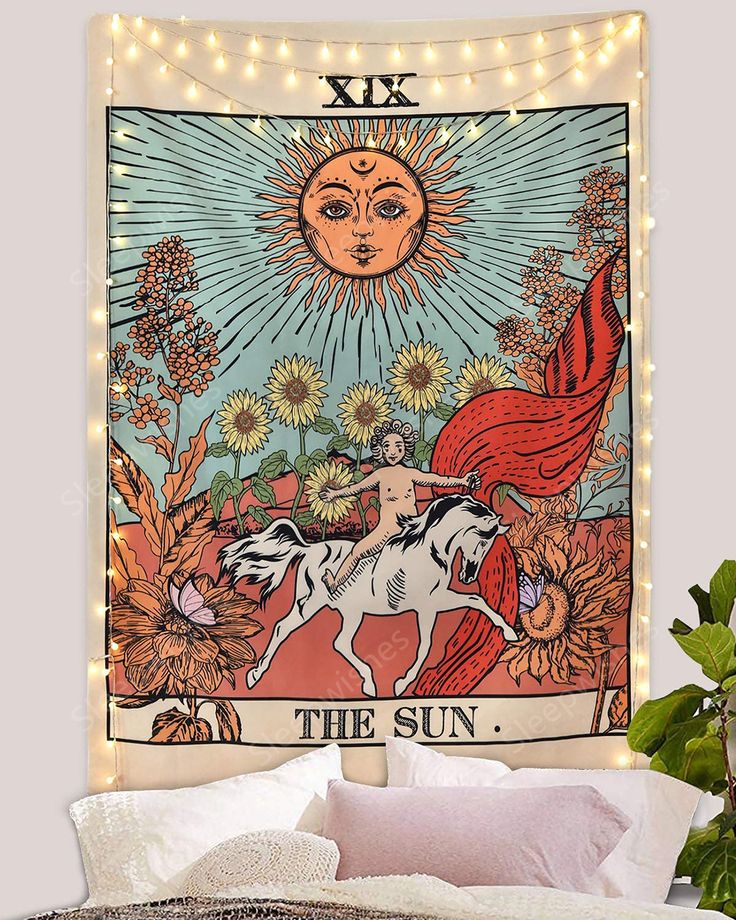 If you're into tarot and spiritual practices, then you're going to love this tarot tapestry.
With a cool print and bold colors, this is a great dorm room tapestry for girls.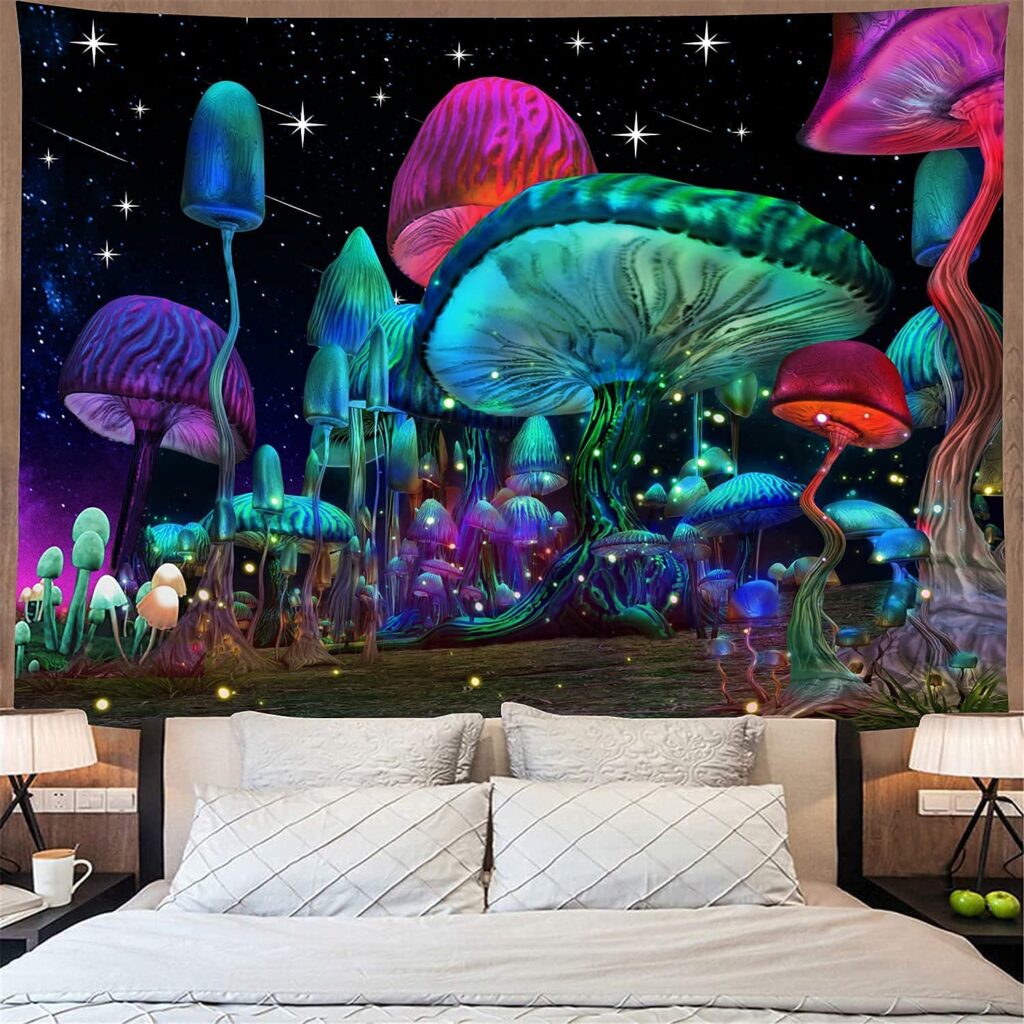 If you're going for a cool, spiritual, and trippy vibe for your dorm room, then this colorful mushroom inspired tapestry was practically made for you.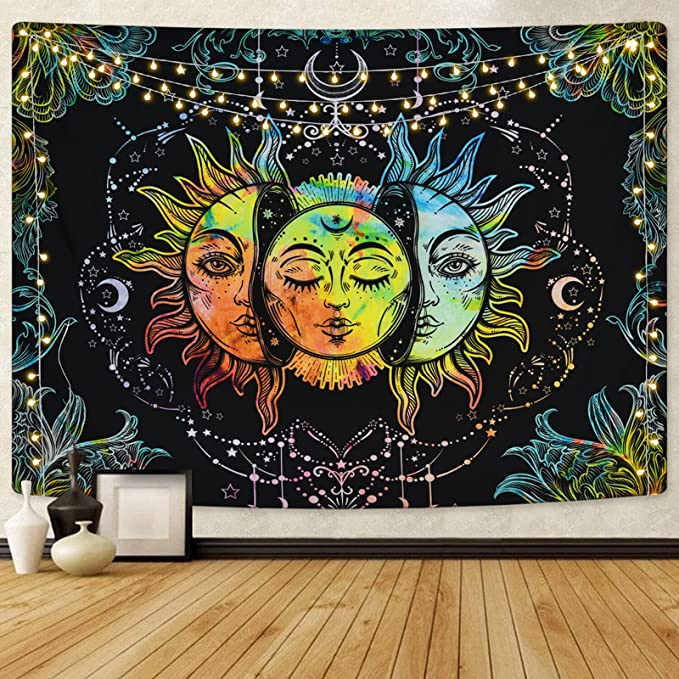 The best tapestries for dorm rooms are the ones that are bold, colorful, and unique.
This spiritual sun tapestry is great for girls and guys that want to add a psychedelic look to their dorm room.
Related Post: 10 College Dorm Essentials Every Student Needs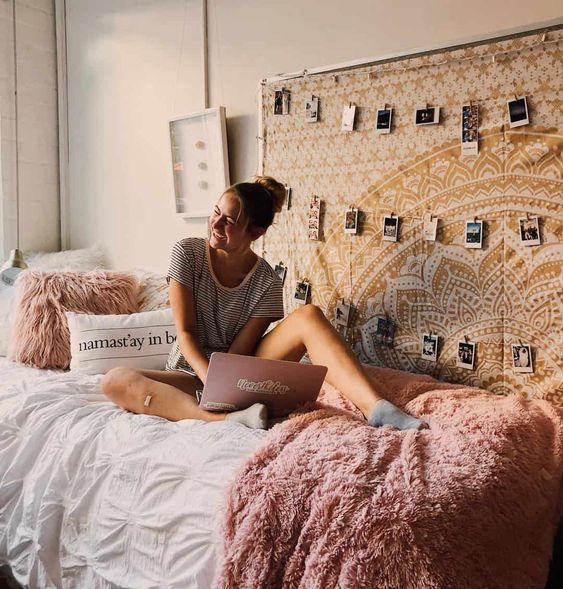 Add a bit of orange to your dorm room with an orange mandala tapestry perfect for any college girl.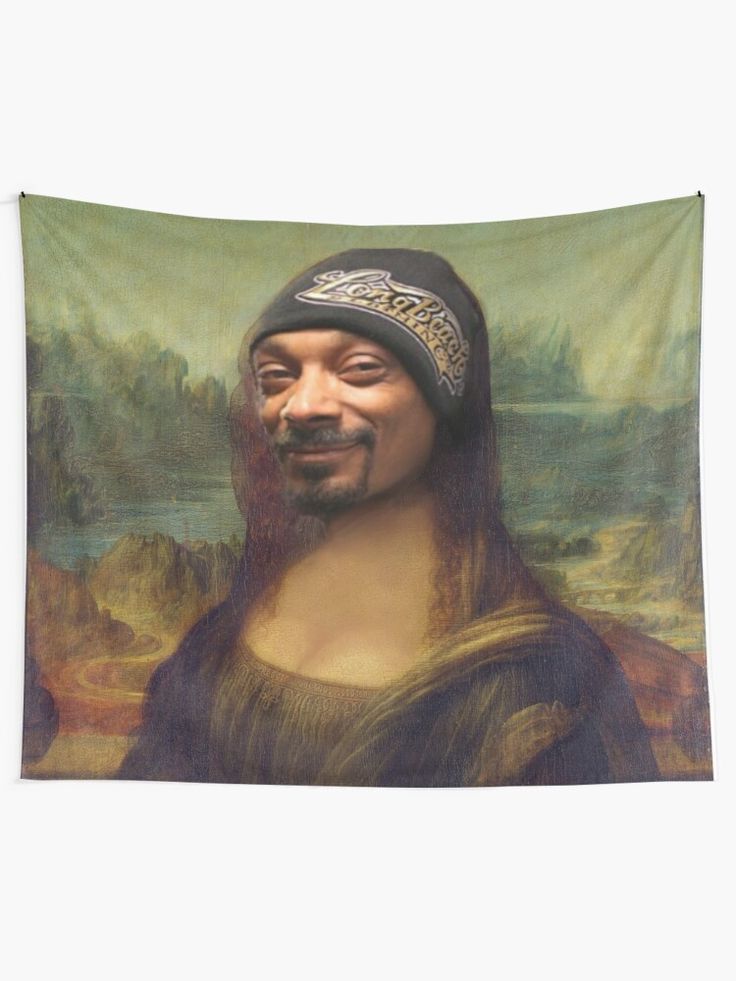 Is that the Mona Lisa? No, it's just Snoop Dogg.
This ridiculous and funny tapestry is such a great dorm room tapestry for guys and girls that want to add humor to their room.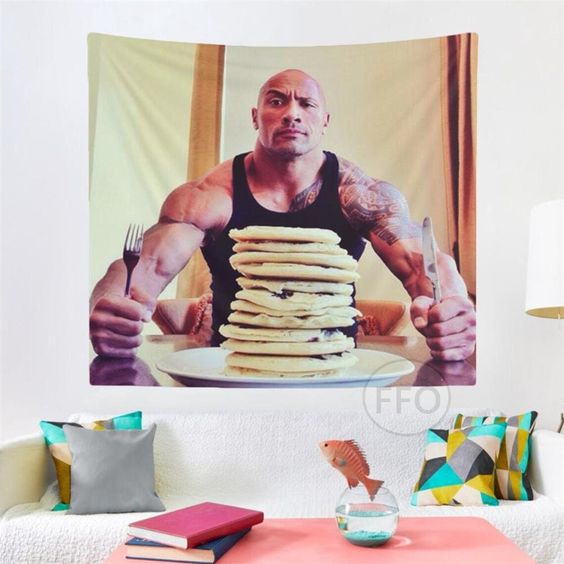 Inspired by The Rock? We are too, but even he can't resist a good cheat day filled with delicious pancakes.
This dorm room tapestry for guys is not only funny, but it's motivational in its own unique way. I mean, who doesn't want to be The Rock?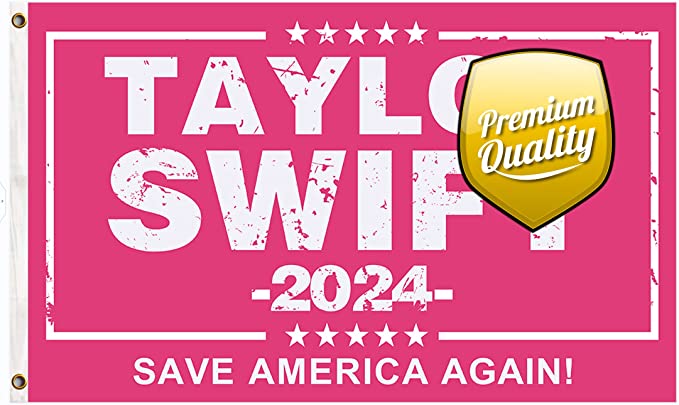 We're calling all of our Swifties to unite and get this hilarious tapestry that's the perfect way to show off your Taylor Swift fandom.
Looking for a way to add some nature to your dorm room? We've got the tapestry for you.
This mountain view tapestry is a great way to add some nature vibes to your room while still keeping it aesthetic and cool.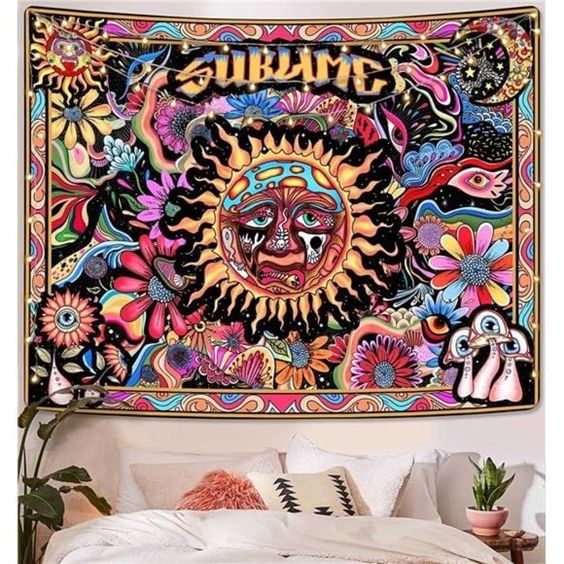 Calling all Sublime fans, we've found the best dorm room tapestry for you.
Whether this is going in a dorm room for guys or girls, if you're a Sublime fan, you're going to love how this colorful and psychedelic homage to Sublime looks in your space.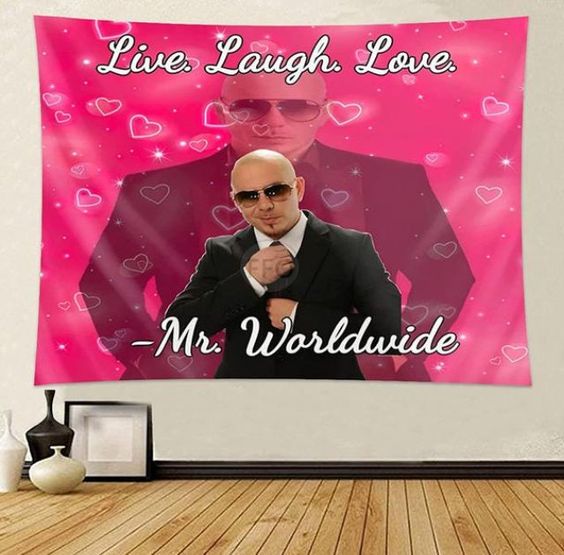 In the wise words of Mr. Worldwide, "Live, laugh, love."
This funny Pitbull tapestry has become such a crowd-pleaser in the last few years and we know you'll love this in your dorm room.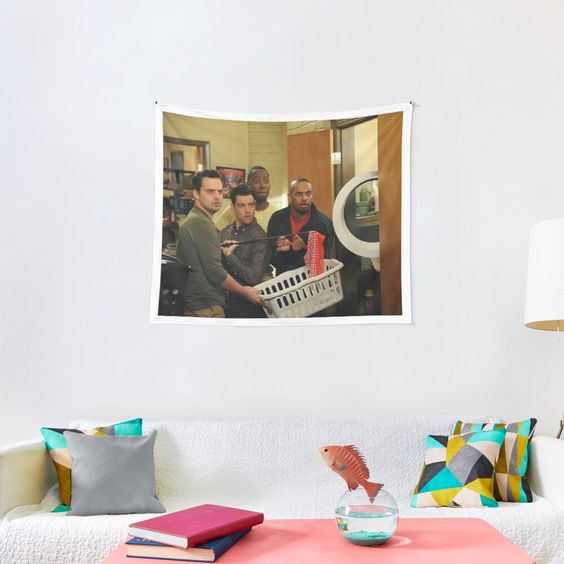 For all the New Girl fans, you can't go wrong with Nick, Schmidt, Winston, and Coach's faces on your wall, we promise.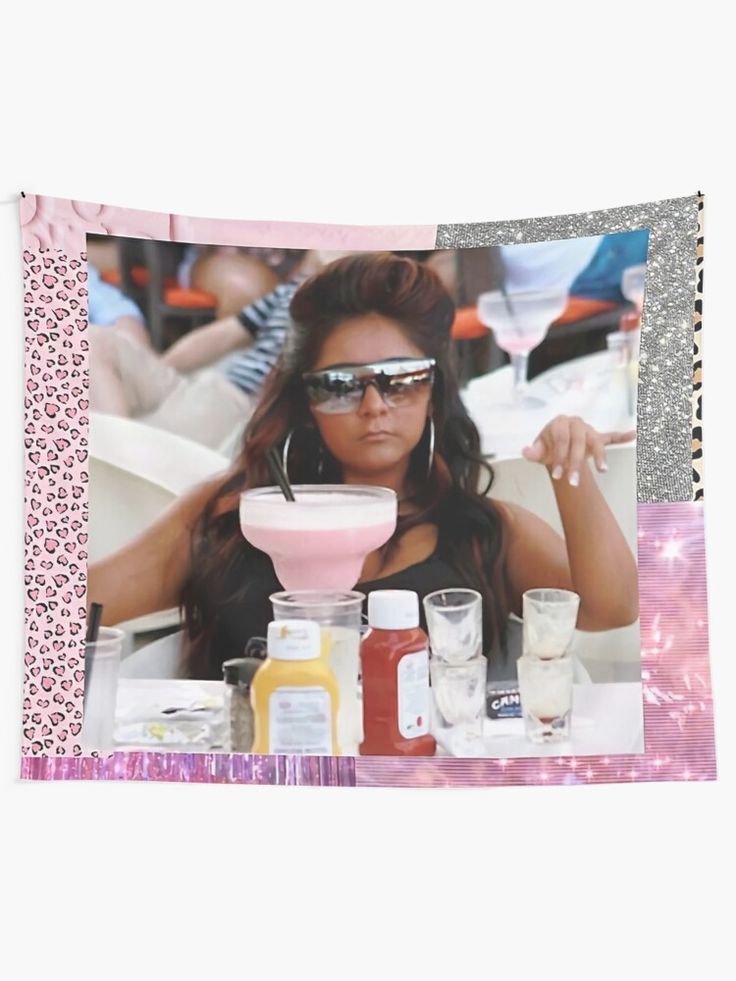 The best tapestries for dorm rooms are funny, culturally relevant, and represent your personality.
This tapestry checks all of those boxes for us, especially if you love Snooki.
Related Post: 10 Best Fans for Dorm Rooms
Our list of dorm room tapestries for guys and girls wouldn't be complete without a Michael Scott tapestry for all of our Office fans.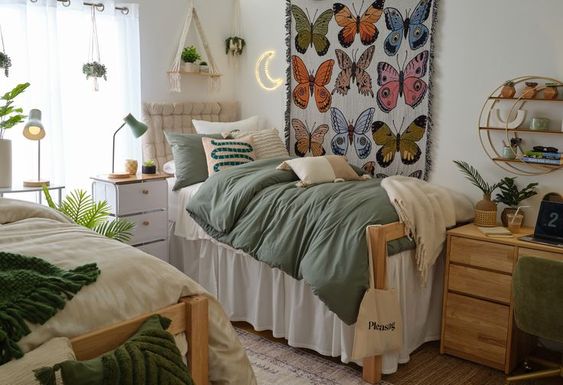 The best dorm room tapestries for girls are aesthetic, cute, and match with your color scheme.
So if you have a nature inspired room, you should definitely order this colorful butterfly tapestry for your space.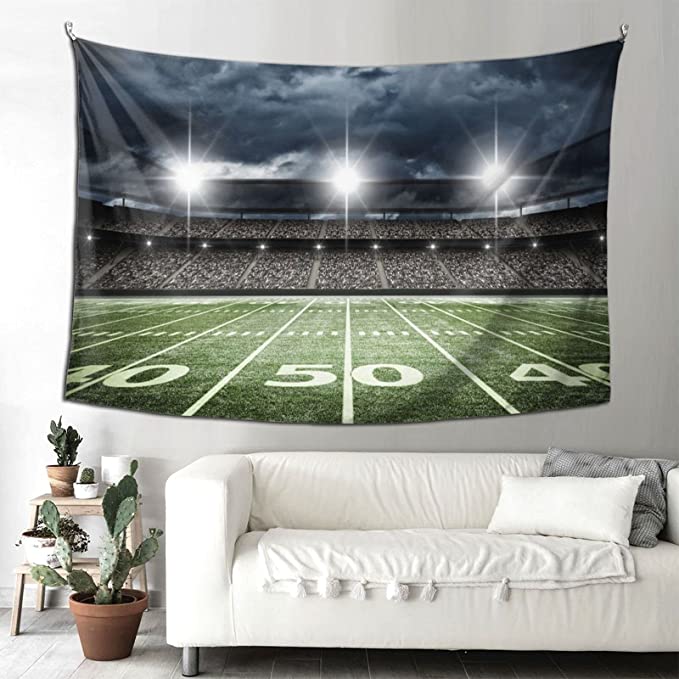 If your love for football runs deep and you need something to fill up some wall space in your dorm room, try this football field dorm room tapestry for guys.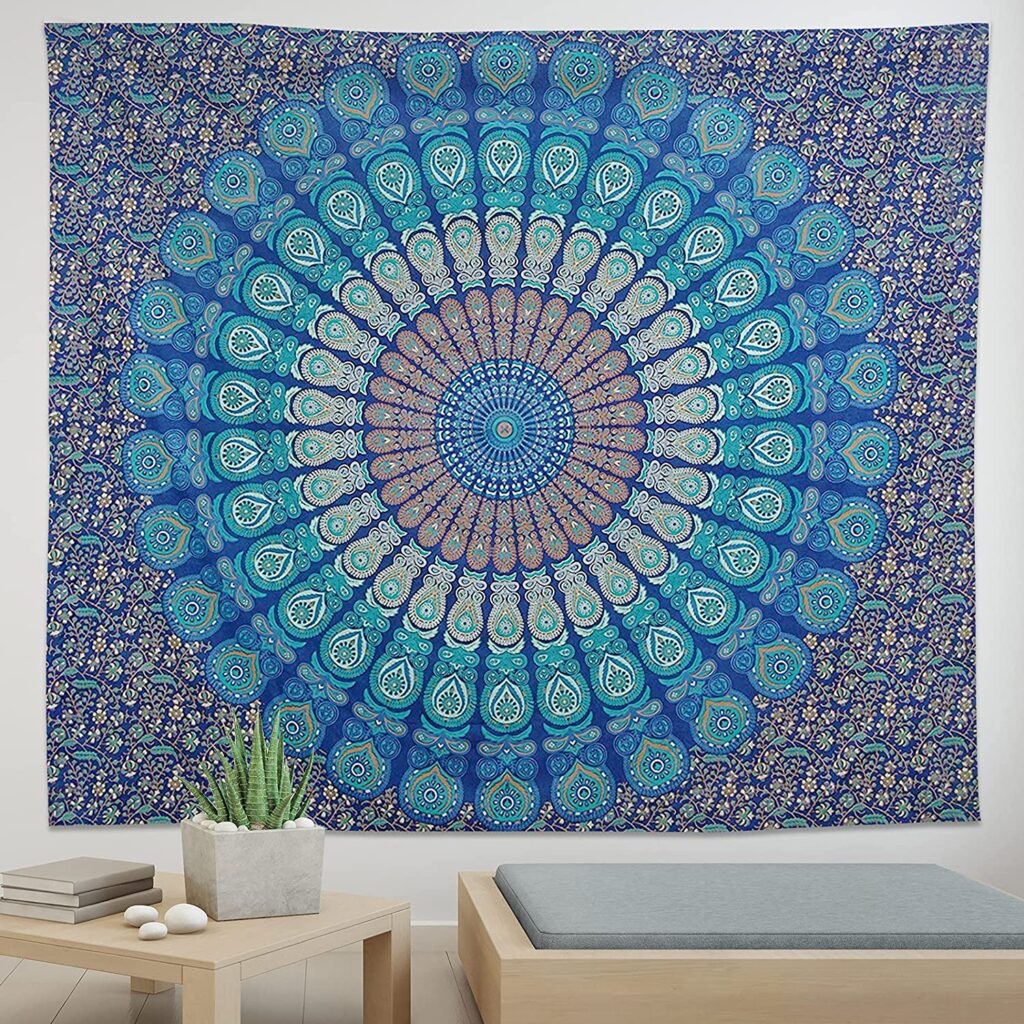 The classic blue mandala tapestry is super popular and looks great in almost any space.
Plus it's less than $10!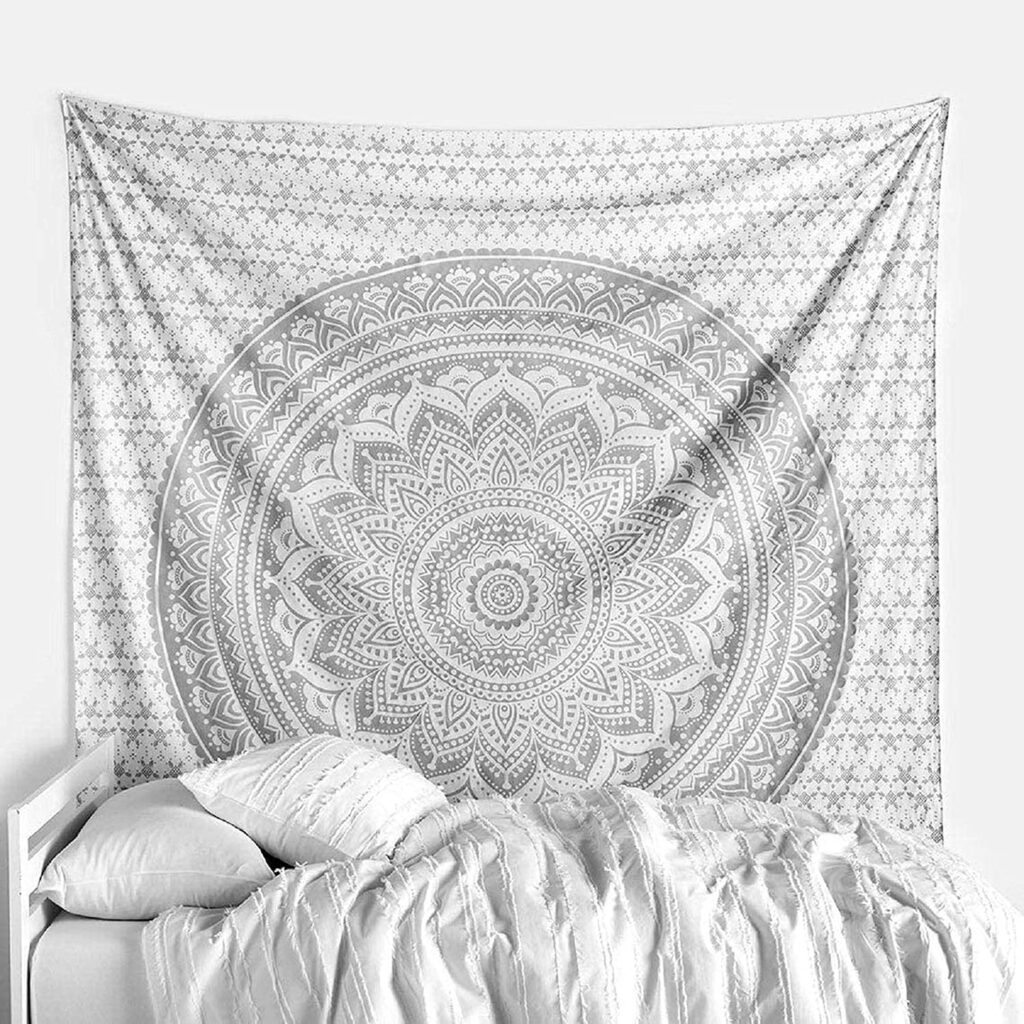 Maybe you're looking to add something to your dorm room walls but don't want anything too colorful or bold.
If that's you, try this $8 gray and white mandala tapestry for your dorm room.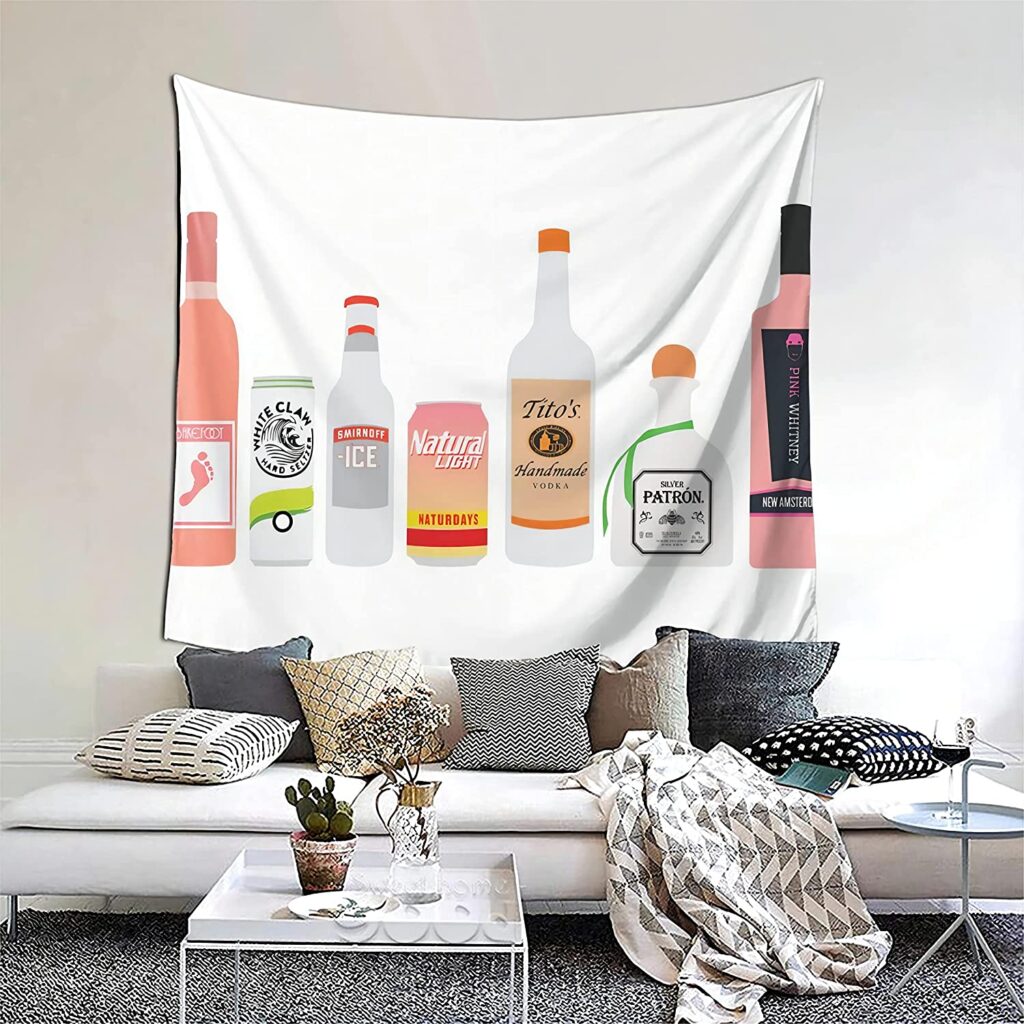 Have some fun with your dorm room tapestry with an alcohol inspired tapestry that is definitely only for students 21+.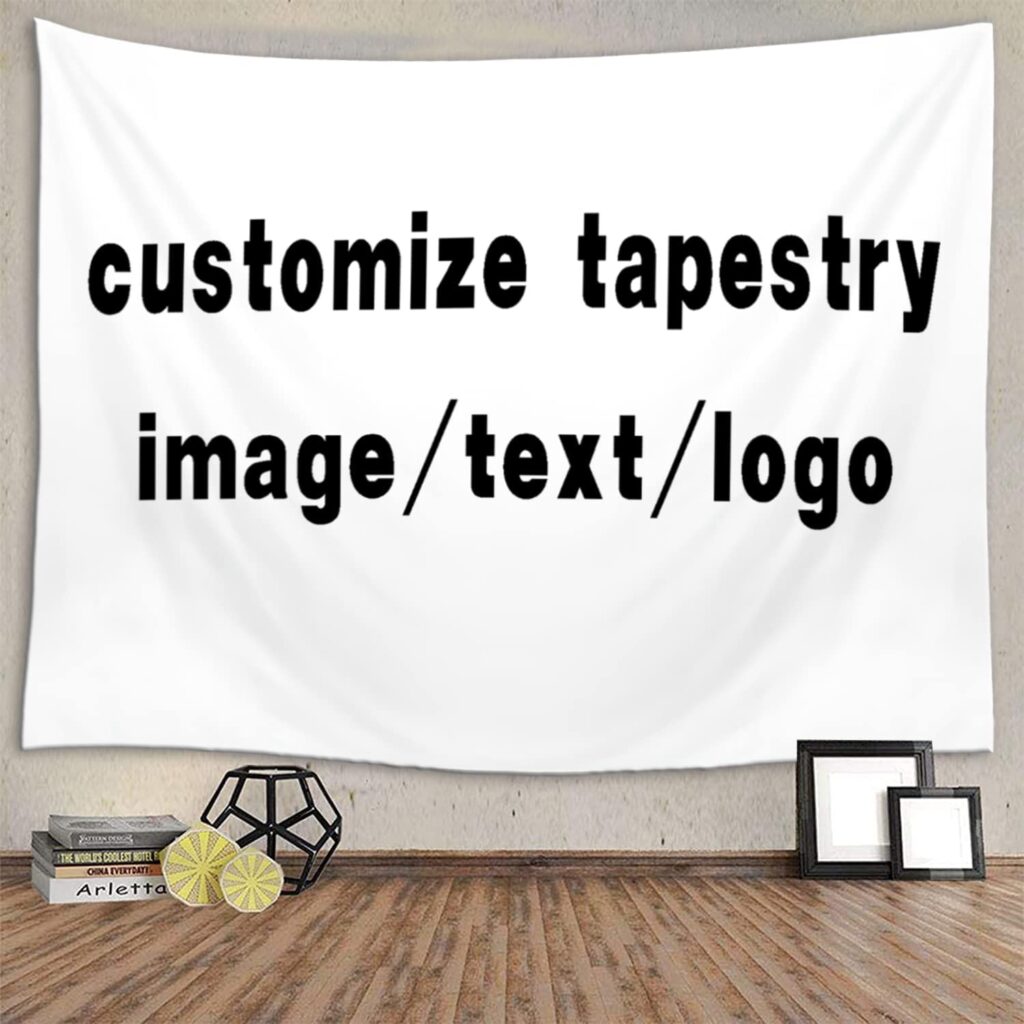 Out of all the tapestries you can get for your dorm, sometimes the best ones are the ones that are personal to you.
Try making your own tapestry with a custom order from Amazon using one, or several, of your favorite photos.
How Do You Hang a Tapestry in a Dorm Room?
If you want to get a tapestry for your dorm room but you're worried about hanging it, then don't worry, we've got you covered.
One of the first ways you can hang a tapestry that won't ruin your wall is through adhesive wall hooks from Command. These easily stick onto your walls and work well if your tapestry has holes.
Another one of our favorite ways to hang a tapestry is through velcro wall strips. These don't ruin your dorm room wall and can easily be taken down and put back up in seconds.
Velcro strips are also a great option if you want to change out your tapestries frequently.
What Size Should a Tapestry Be for a Dorm Room?
Tapestries can really be any size, it just depends on the size of your wall in your dorm room.
Our rule of thumb is that if you want to cover your whole wall, so get a tapestry that's at least 50×60 inches.
We recommend getting a 48×36 inch tapestry if you're looking to get something smaller.
Make sure to measure your wall space first before placing any tapestry orders.
Hopefully these 25 tapestries for dorm rooms helped you find a favorite. Which one are you putting in your dorm?
If you have any comments, questions, or suggestions leave them down below. Thanks for reading!