Need some fashion advice and outfit ideas for your next frat party? Come pick from these 20 best frat party outfits for girls in 2023!
These outfits include casual, stylish, fancy, trendy, and accessible ideas for any season or occasion.
No matter what you're looking for, you'll be sure to find a ton of inspiration in this list!
But first, what do most girls wear to frat parties?
What Do Girls Wear to a Frat Party?
Most girls wear a skirt, a crop top, and white sneakers to a frat party.
You can mix up the outfits by:
Wearing jeans instead of a skirt
Repping college apparel
Adding jewelry
Wearing fun face paint or stickers
Just keep in mind that frat parties can get pretty hot after dancing in a room full of sweaty people, so dress accordingly.
20 Best Frat Party Outfit Ideas
Take a look at this list of outfit ideas to give you inspiration for your next frat party…
1) Micro-Crop Top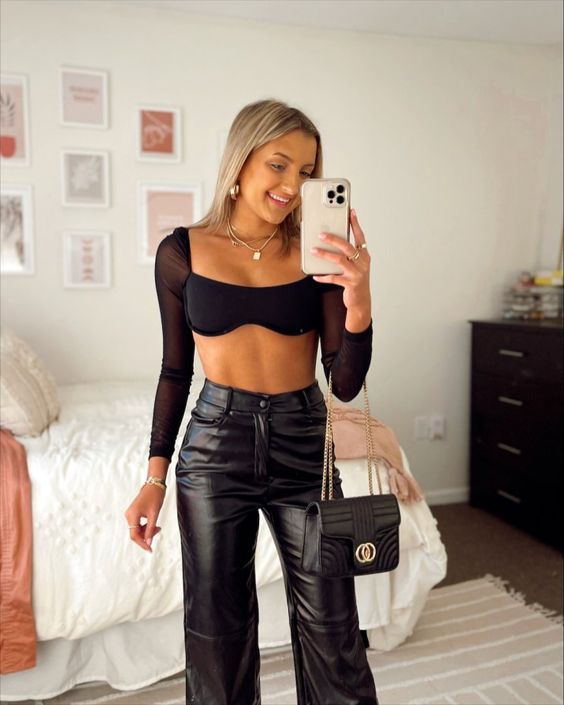 Micro crop tops are all the rage right now and a great way to add a trendy vibe to your outfit.
The first rule of going to a frat party is being comfortable, and not layering up too much – because they can get HOT.
So next time you're wondering what to wear, reach for your micro crop top and your favorite pair of pants.
2) Little Black Skirt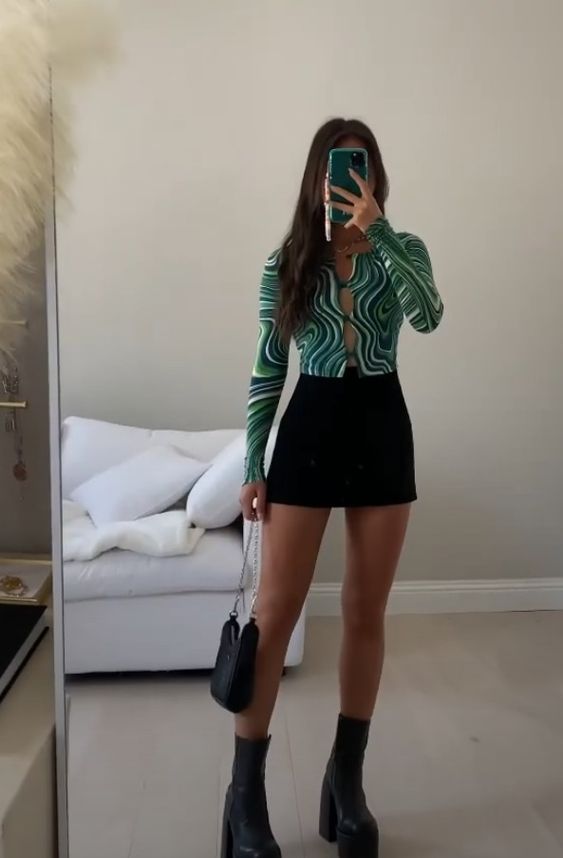 The black skirt is one of the most stylish and best frat party outfits for girls in 2023!
Not only will you be super comfortable, but you'll stay cool, while looking cool.
And don't forget, a black skirt goes with practically anything!
Related Post: 15 Popular Jeans for Teenage Girls
3) Your Favorite Blue Jeans
There's no better feeling than proudly wearing your favorite pair of denim jeans, so why not do it at your next frat party?
Blue denim goes with almost everything and is never out of style. Pair them with a cute corset or tank top and you have the perfect frat party outfit.
4) Little Black Dress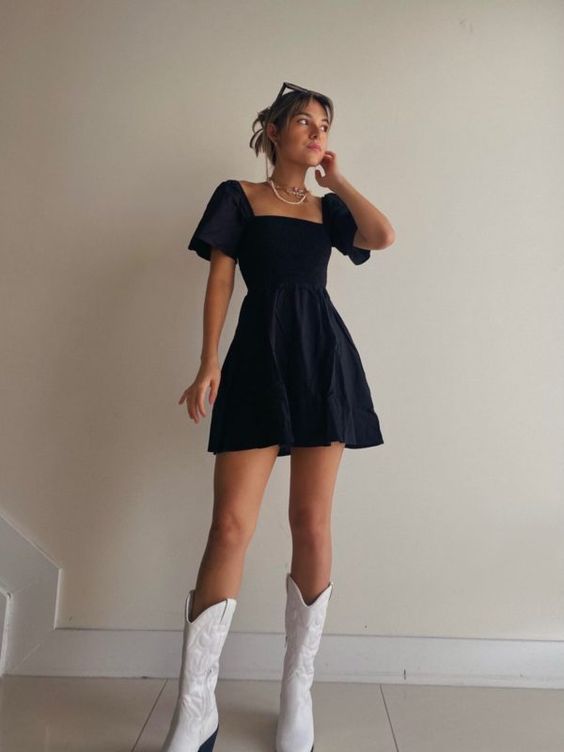 You can never beat a little black dress, no matter what the occasion is.
And if you're headed to a frat party, a little black dress might be your best bet to staying cool, and looking cool, even if you get a little bit of drink on you.
A little black dress can hide it all, while making you stand out. And that's why we love them!
5) Corsets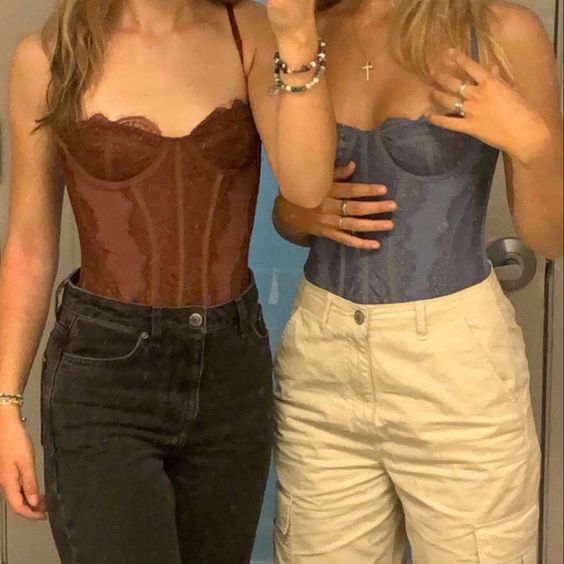 We are so into the corset trend and it's such a great top to wear to any college party, but more specifically, a frat party.
A corset makes you look stylish, trendy, and completely snatched, and they're comfortable!
So go on Amazon, and grab your next corset tanks in multiple colors because you'll definitely be needing more than one.
6) Denim Mini Skirt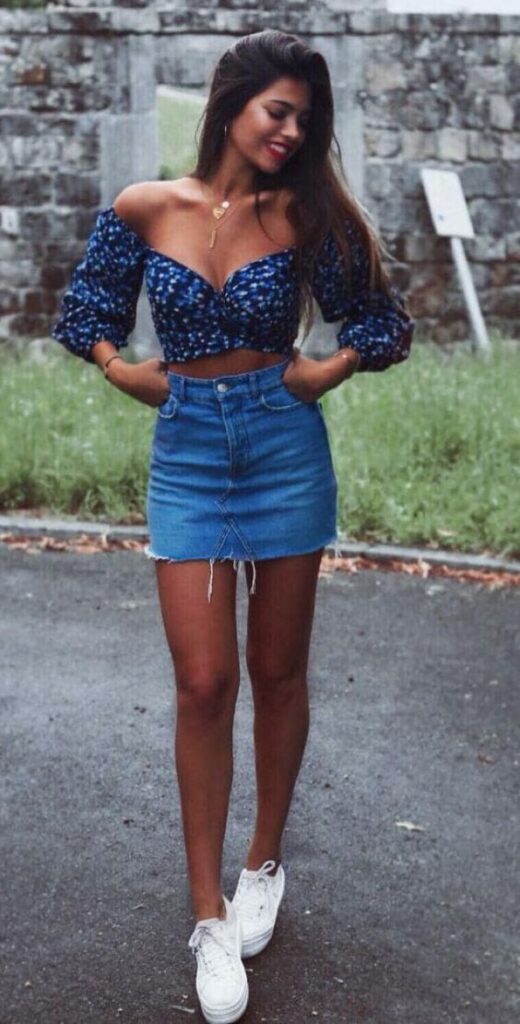 We've said it once, but we'll say it again, denim mini skirts will never go out of style.
Not only are denim skirts so comfortable, but they go with everything!
So putting together your next frat party outfit is as simple as grabbing you denim skirt and a cute tee-shirt.
7) Graphic Tee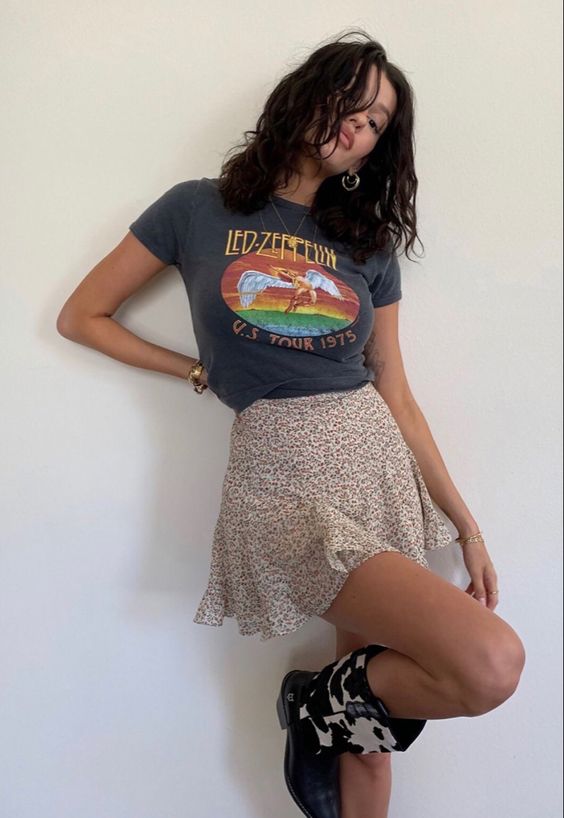 A graphic tee is never not a good idea when headed to your college frat party.
Graphic tees instantly turn any outfit into a more stylish "cool girl" version.
We recommend pairing it with a cute print skirt & your favorite pair of cowboy boots for the ultimate party outfit.
Related Post: 10 Sundress Outfit Ideas for Teenage Girls
8) Leather Pants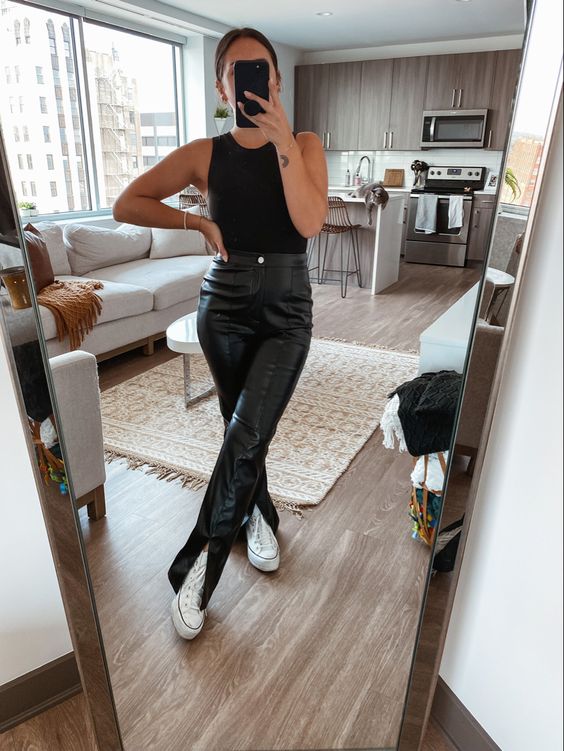 We're living for the leather pants moment, and so will you when you rock this as your next frat party outfit!
Leather pants are cool, stylish, trendy, and most of all, super comfortable.
So whatever you plan on wearing on top, you can be sure your black leather pants will be the perfect pairing!
9) Oversized Tee + Boots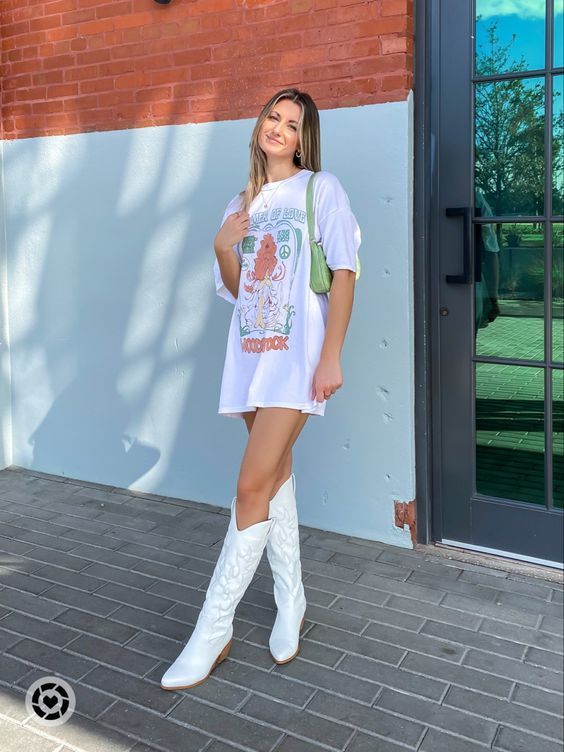 So you want to be comfortable, look cool, and be the "it" girl at your next college frat party? Then look no further because this outfit is for you.
Pair a fun graphic oversized tee with cowboy boots to create the ultimate cool girl look, all while being more comfortable than everyone else around you.
10) College Apparel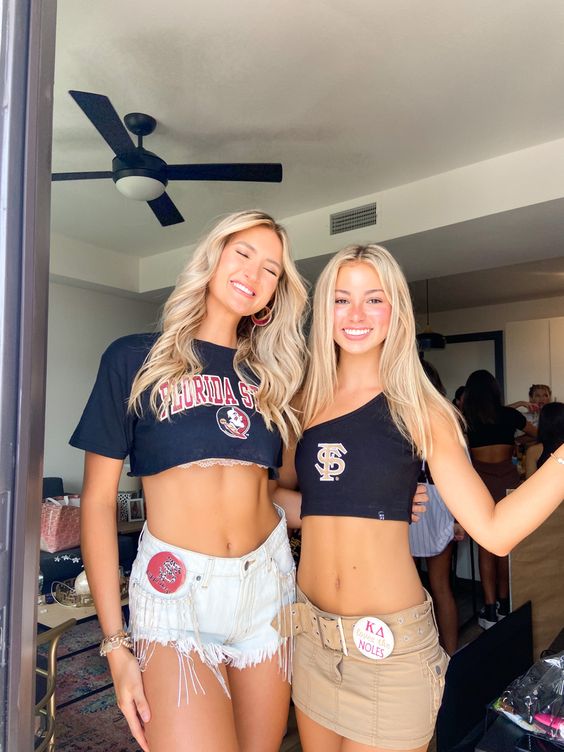 Who said college apparel had to be ugly?
College apparel is the one of the best frat party outfits for girls because of how fun they are!
Create the perfect party look just by using clothes that represent your school! This is a great way to show off school pride, especially during football season.
So go to your local on-campus clothing store and get ready to stock up on game day wear. You can even rock this look with a College Jersey.
11) Bedazzled Tank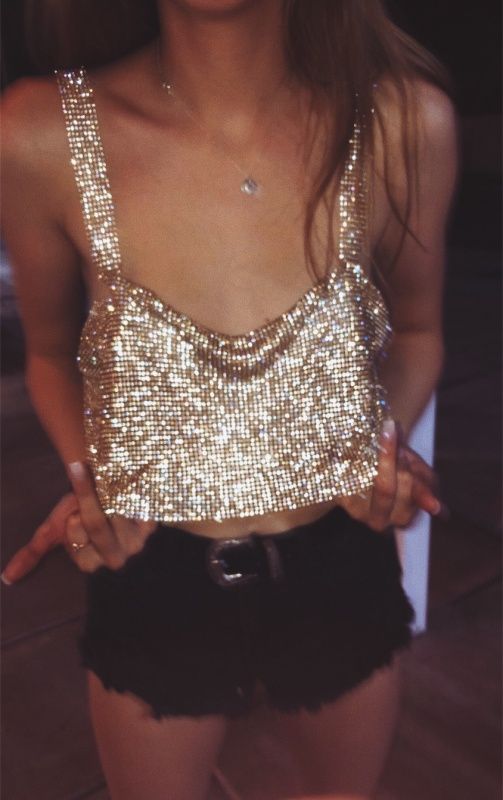 Be the center of attention, and the dance floor, in a gorgeous bedazzled tank top that is sure to catch the light, and the eyes, all around you.
This tank is a perfect way to easily dress up an outfit, without putting any extra time or effort into it.
You can find tops like this at Princess Polly or Zara!
12) Cargo Jeans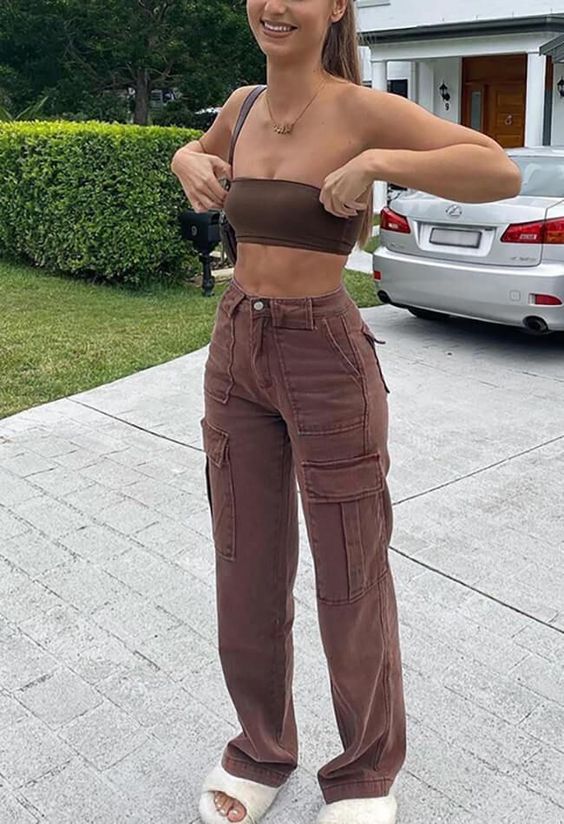 We are so happy cargo jeans are making their comeback as one of the cutest frat party outfit ideas for girls!
You can fit all of your belongings in the pockets, while still rocking a trendy and stylish frat party outfit – how can you not love them?!
Grab this exact pair on Amazon!
13) Printed Skirt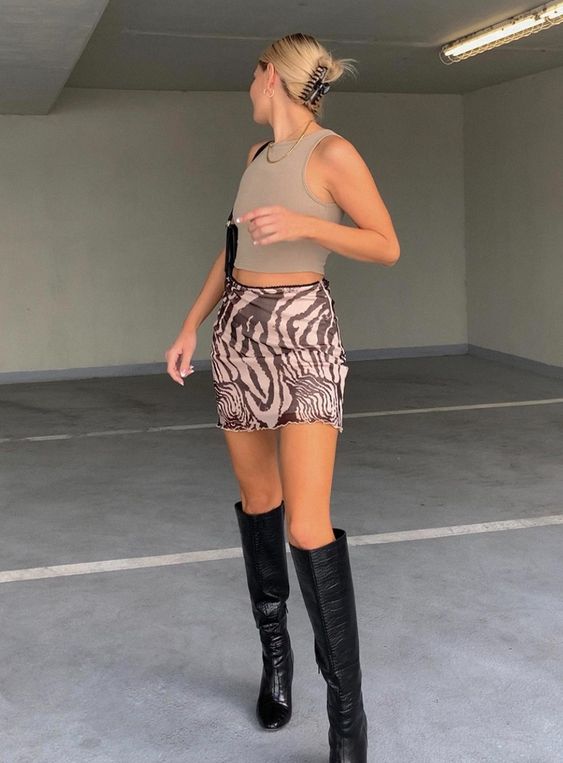 A great way to stand out from the rest of the girls at a frat party is by throwing in a bit of pattern into your outfit!
A printed skirt is a great way to add in a unique element to our look, without being too over the top.
Pair it with a neutral top and you'll be the trendiest girl there!
Related Post: Stylish Fall Fashion Trends for Teenage Girls
14) Coordinating Set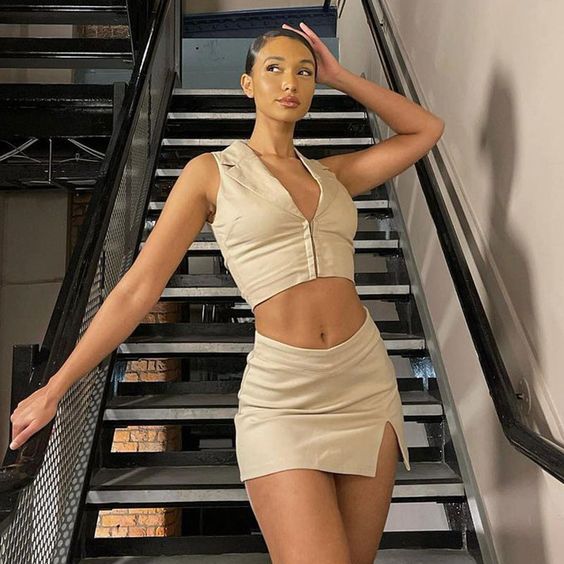 What better way to slay the fashion game at a frat party than with a coordinating set?
A matching set instantly makes you look like the most put together girl there. Plus, it makes deciding on your outfit that much easier.
You can find affordable sets on Amazon or Zara!
15) Oversized Flannel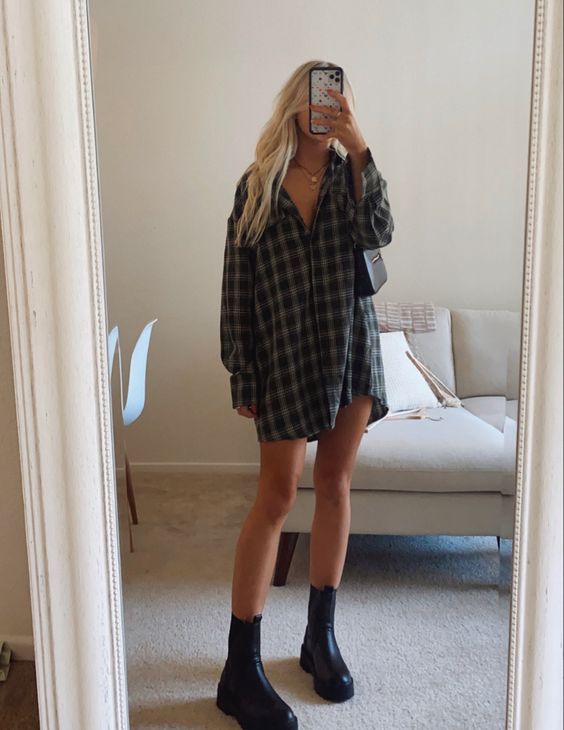 Oversized flannels make for a great frat party outfit, especially during fall and winter.
We know it gets cold where you are so this outfit keeps you warm as you go from party to party, but doesn't get too hot once you're inside.
So head to your local thrift store for the perfect oversized flannel!
16) Converse + Dresses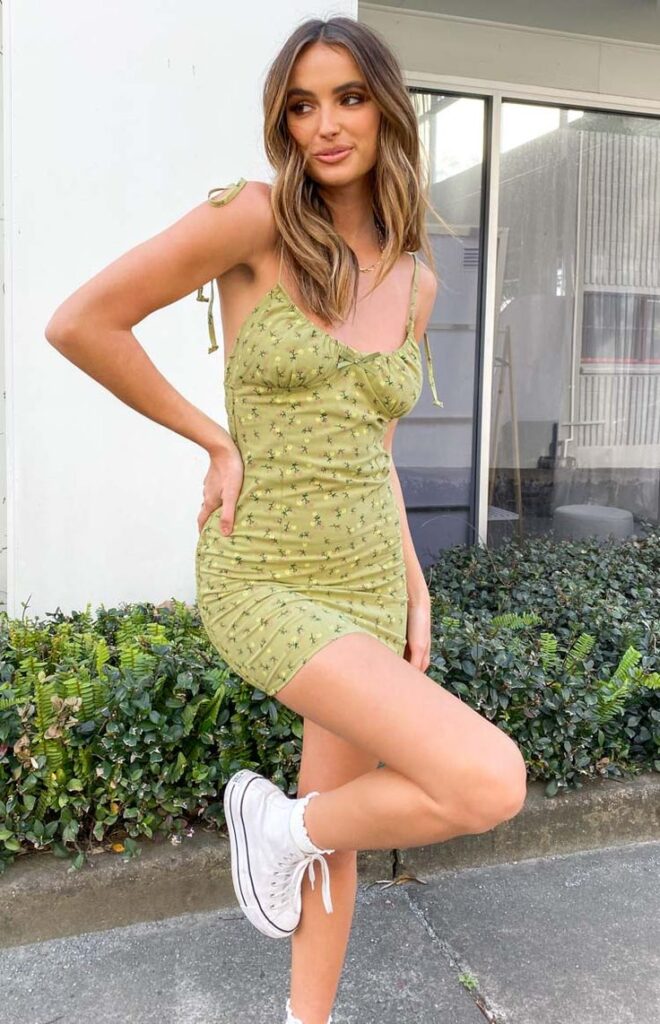 Demi Lovato once asked, "who said I can't wear my Converse with my dress?" and we're here to say we definitely did not, because we're obsessed with this outfit.
Pairing your high-top converse with a stylish dress is one of the best frat party outfits girls can wear to any party, not just a frat party.
17) One Shoulder Top
We love a good one shoulder top, especially in this style.
This specific top is such a stylish way to make your outfit stand out at a party, without looking like you're trying too hard.
And the best part? You can get this in dozens of colors on Amazon right now for less than $20!
18) Think Pink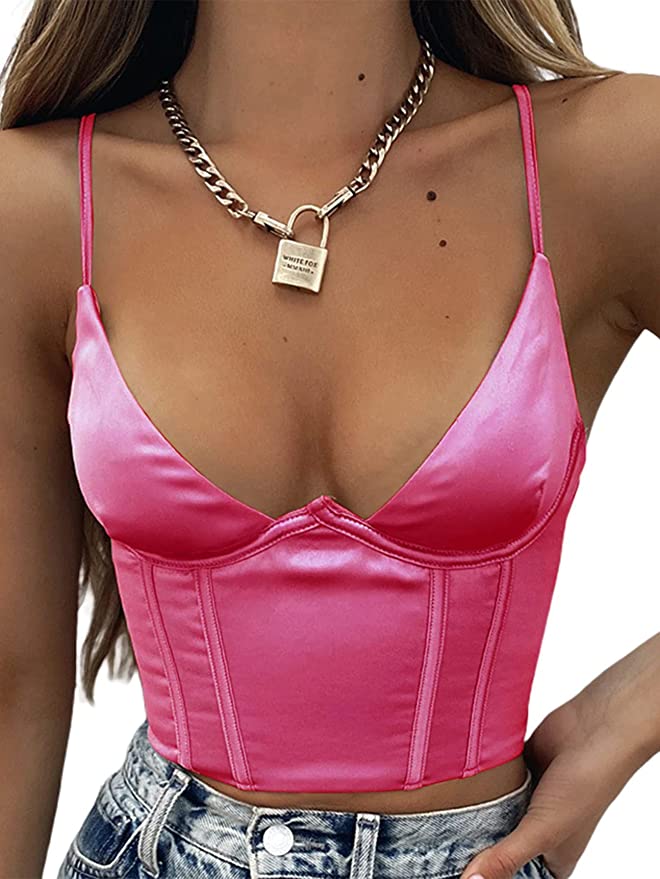 No matter the season or month, pink is always a good idea, especially for a party.
Rock your neon pink top to the next frat party you go to and feel your confidence rise as everyone has their eyes on you.
Pink is just one of those colors that not many rock, but when they do, everyone wishes they thought to wear it.
19) Slouchy Jeans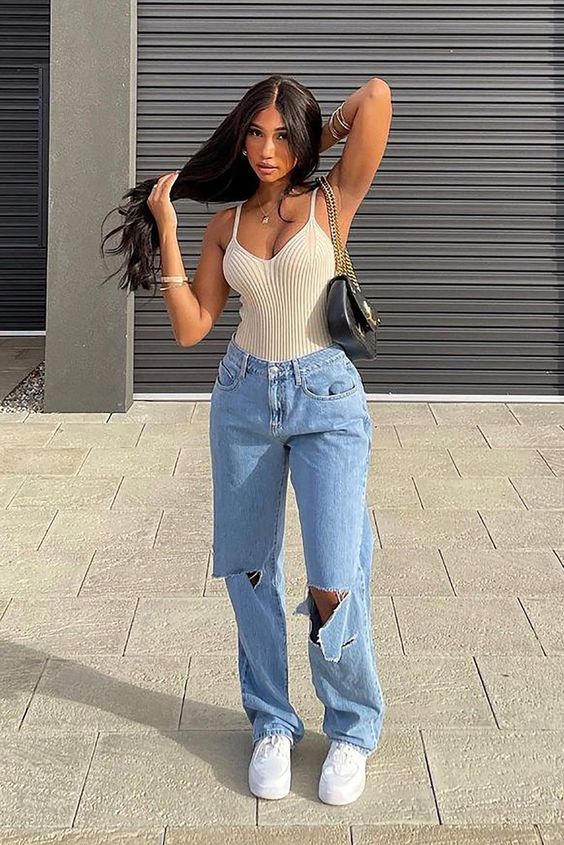 The next time you want a true "cool girl" IG worthy outfit, grab a pair of slouchy jeans and pair it with fresh white sneakers, and a form fitting tank top.
This look has been trending for years and it's not going away anytime soon.

It's easily one of the trendiest frat party outfit ideas in 2023!
Related Post: 60 Best Hairstyles for Teenage Girls
20) Sporty Spice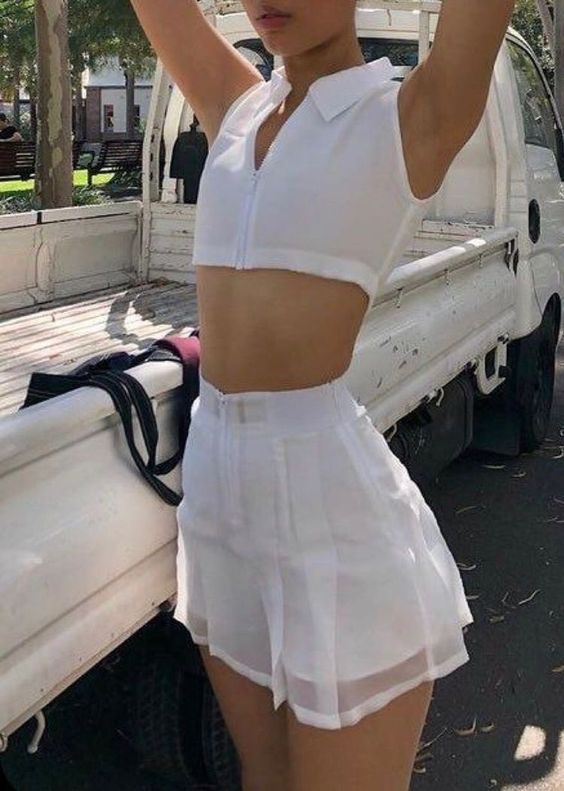 Keep it sporty with your next frat party outfit without looking like you're trying too hard or putting in too much time into your look.
Not only is this such a sporty vibe, but it's comfortable! So you can hang out and dance all night long.
Hopefully these 20 best frat party outfits for girls have given you a bit of inspiration for your next party!
If you have any comments, questions, or suggestions leave them down below. Thanks for reading!