Going to Coachella soon and need inspiration to look cute? Here are 50 fun and creative Coachella makeup looks in 2023 that you can copy from!
Some of the makeup ideas require just makeup, while other include add-ons like glitter, rhinestones, and matching outfits to go with the look.
Either way, you'll be sure to find your favorite Coachella makeup idea in this list!
Here are a few basic makeup necessities to nail your Coachella look:
Let's dive in!
Face Jewels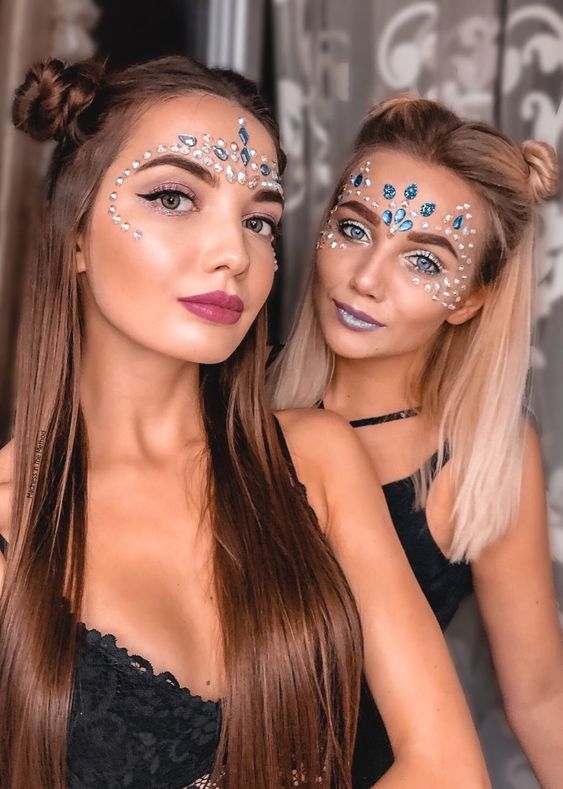 Nothing quite makes for the best Coachella makeup looks like fun and trendy face jewels that immediately elevate your style.
Gold Body Glitter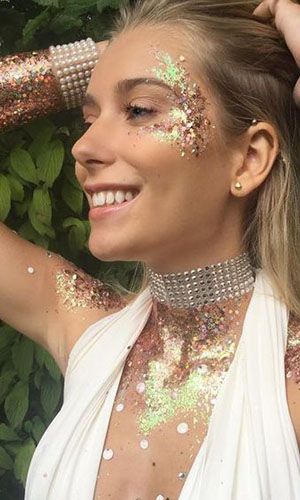 You can never go wrong with gold face and body glitter at an event, but especially at Coachella.
Star Spangled Makeup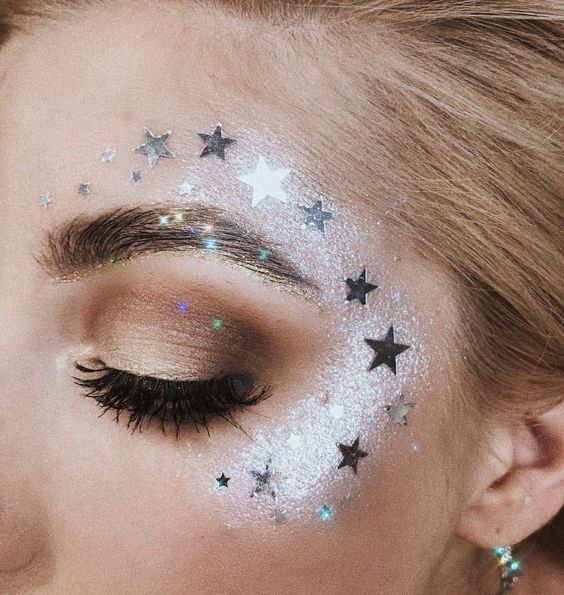 Go all out with a star inspired Coachella makeup look that is out of this world.
Rhinestone Eyebrows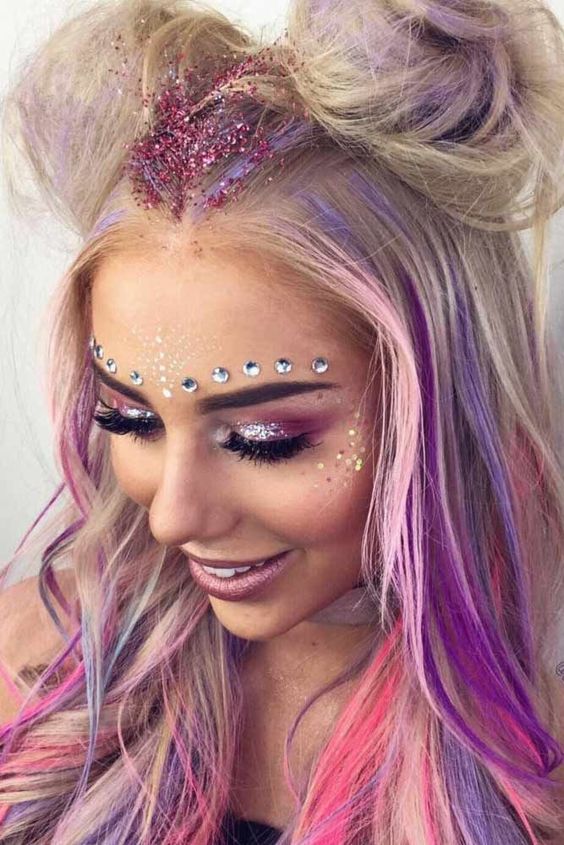 Accentuate your Coachella makeup looks with chunky rhinestones that line your perfectly trimmed brows.
Electric Blue Liner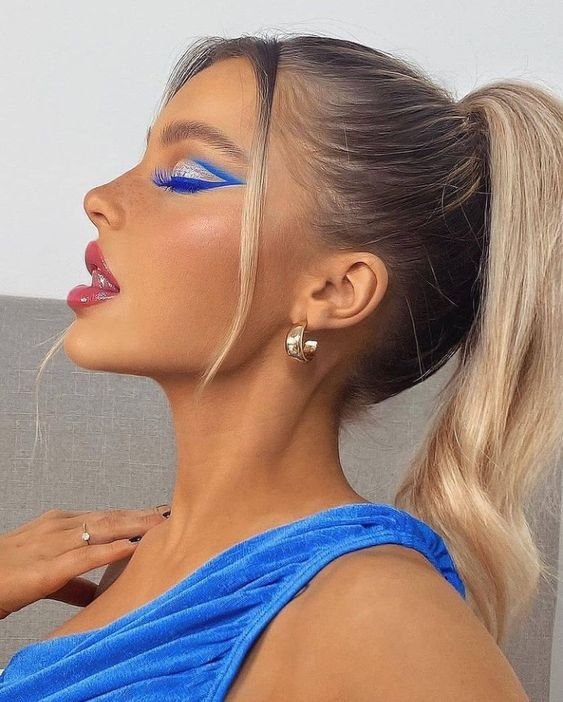 Feel electrified at Coachella with a bold and daring makeup look everyone will love.
Glitter & Gems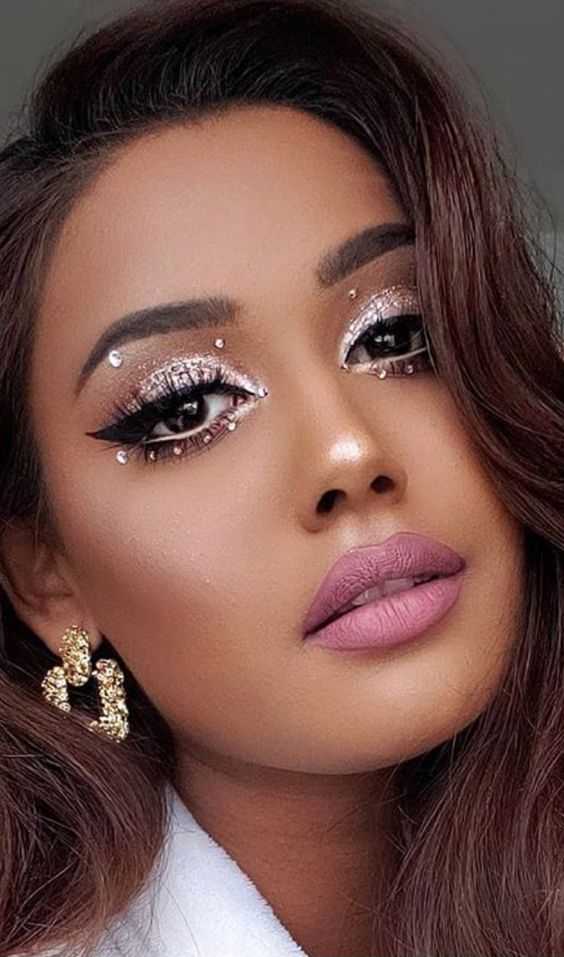 Have fun with your eye makeup at Coachella and go crazy with all the glitter and gems you can get your hands on.
Dark Eye Coachella Makeup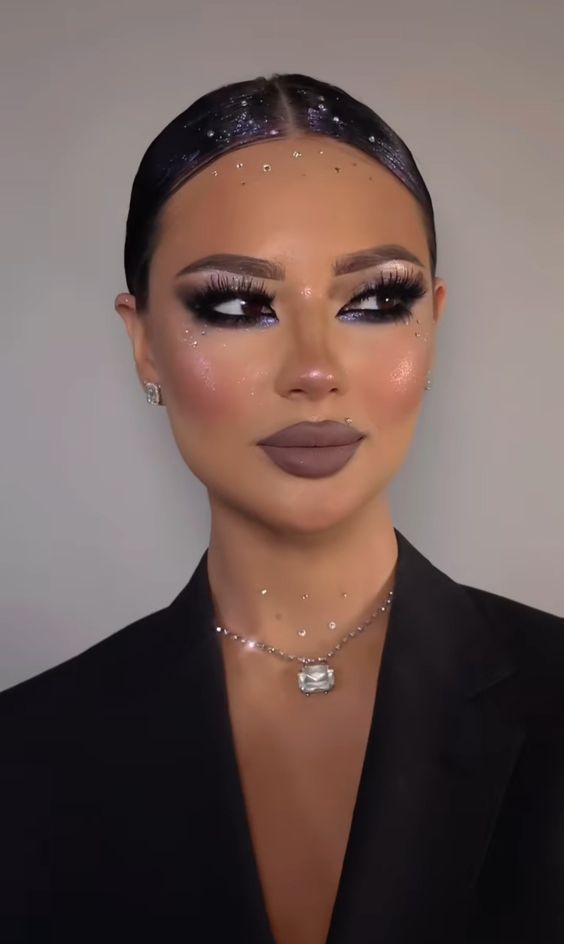 Be bold and stand out from the Coachella crowd with a dark smokey eye and nude lip combination.
Winter Wonderland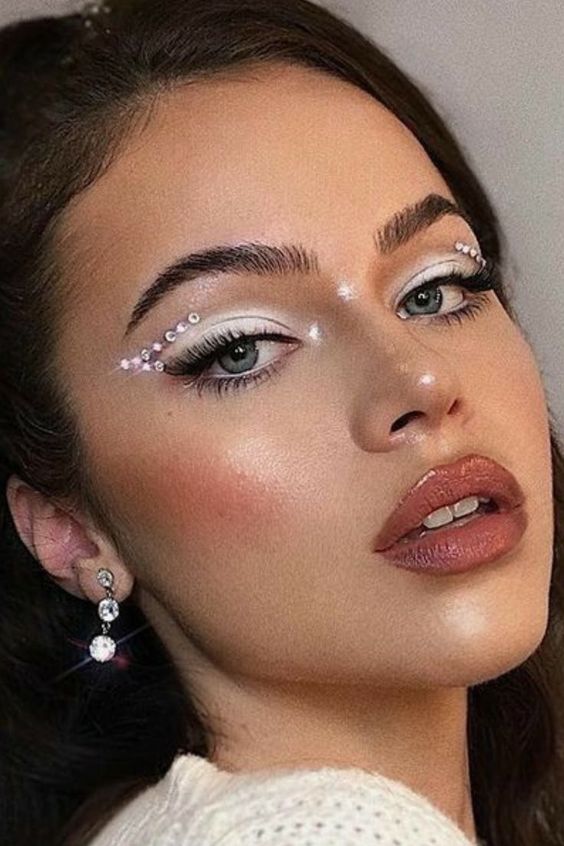 It might get hot at Coachella, but at least your makeup will look cool with a chillingly white eyeshadow.
Orange & Blue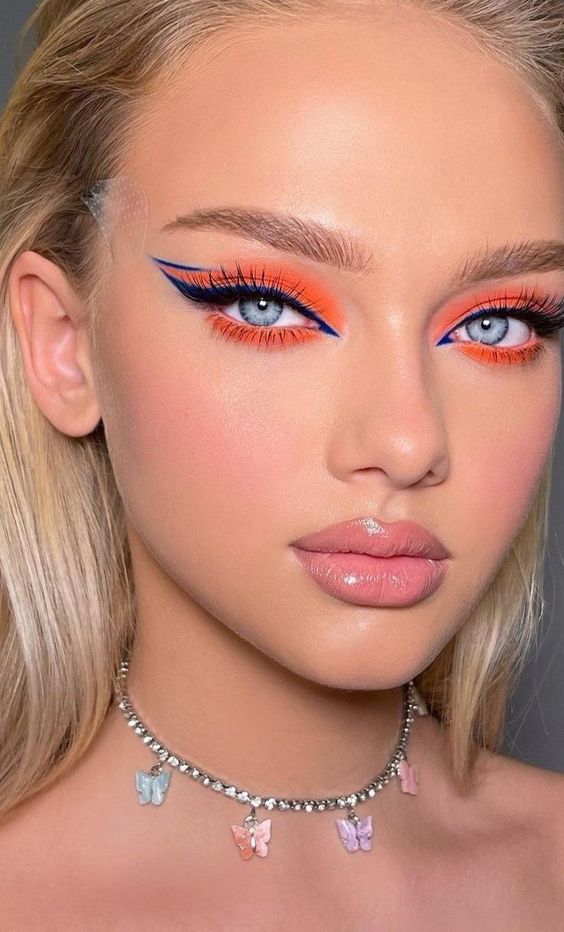 Experiment with makeup colors and try a color combination you've never tried before, like this orange and blue festival look!
Neon Queen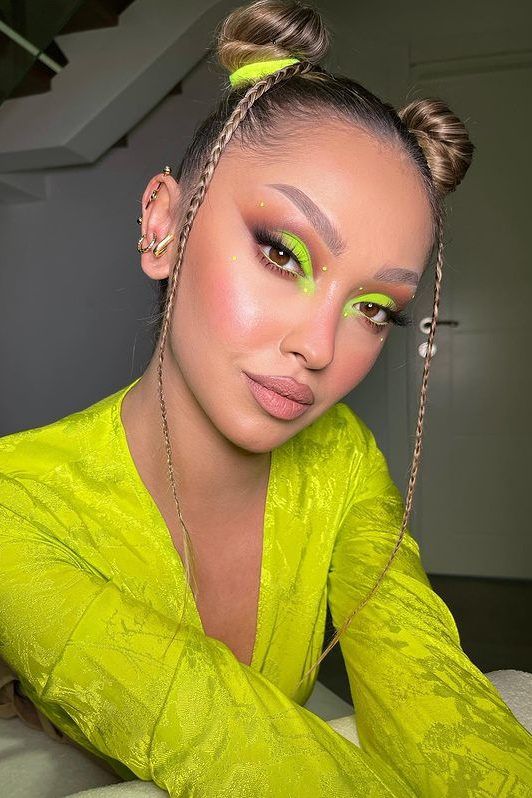 Channel your inner 80's disco queen with a neon inspired Coachella makeup look that matches your neon clothes and accessories.
Eyebrow Jewels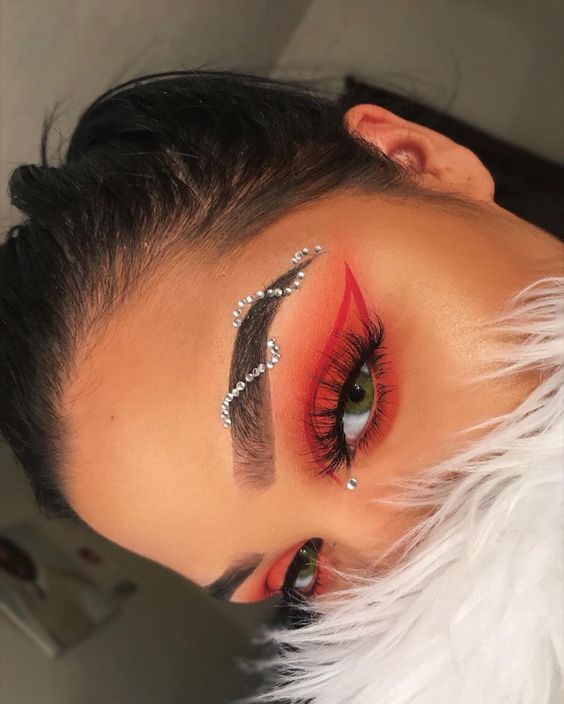 You've seen face and body jewels, but eyebrow jewels are the new trend of 2023, especially for Coachella.
Gold Foil Blush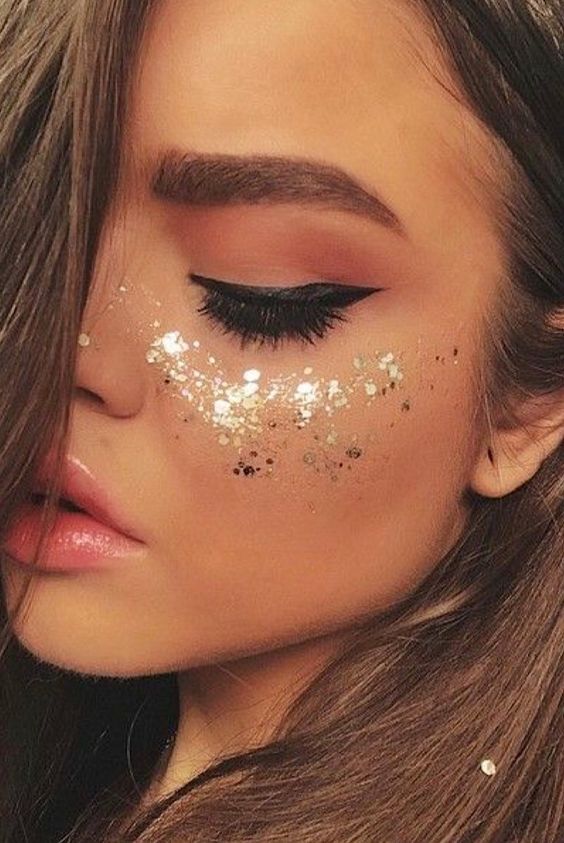 Put aside your regular blush and go for a gold foil glitter that will shine in the Coachella sun.
Dramatic Cat Eye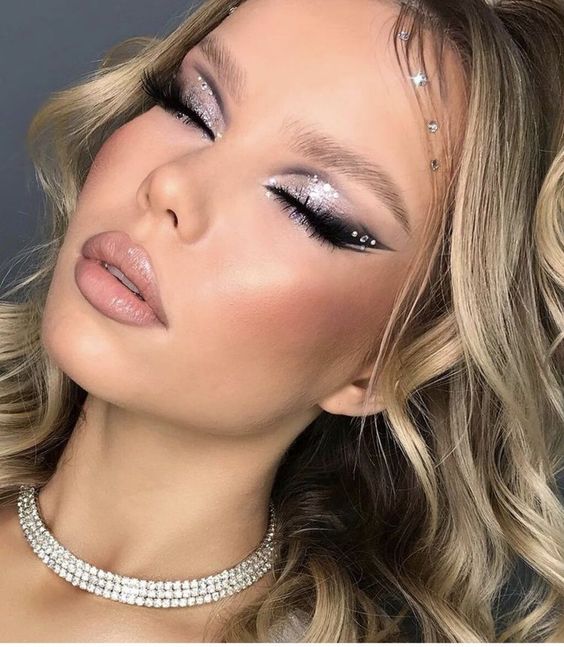 It's Coachella, you can be as dramatic as you want, especially with a gorgeous cat eye like this.
Celestial Face Paint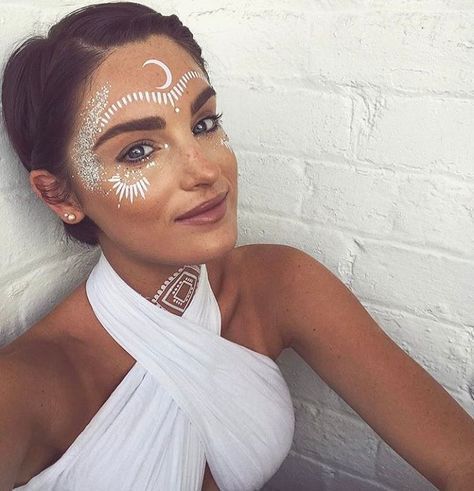 Be a celestial queen with a space inspired face paint you can wear all weekend long.
Star Gems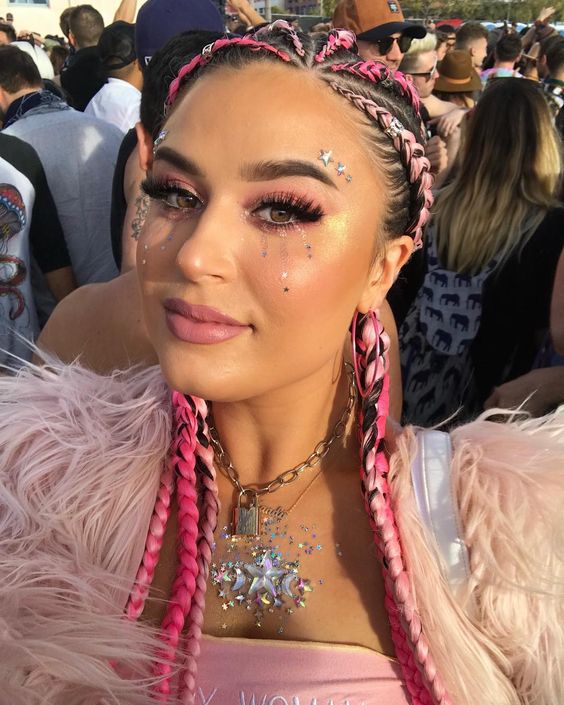 If you want a rhinestone inspired look but want to be unique, try going for star-shaped gems that really stand out.
Blue Eyeliner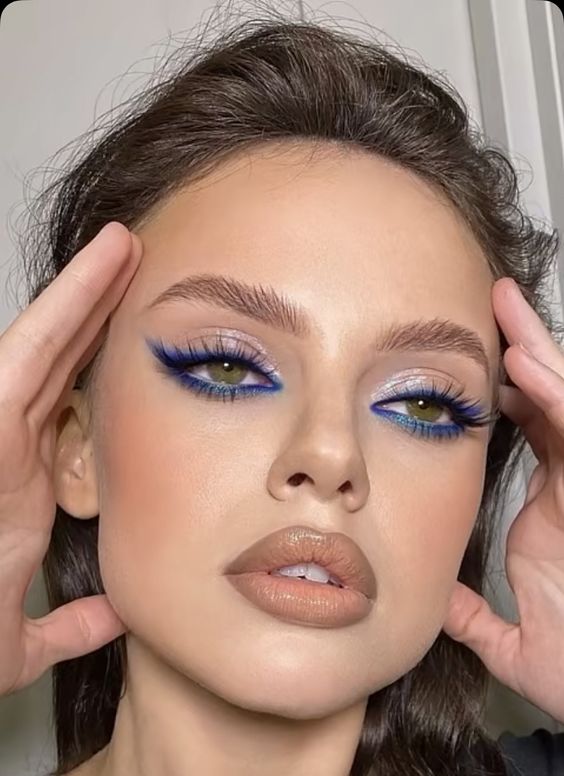 Rock a messy blue eyeliner at Coachella for a vibrant makeup look your Instagram pics will love.
Lavender Eyes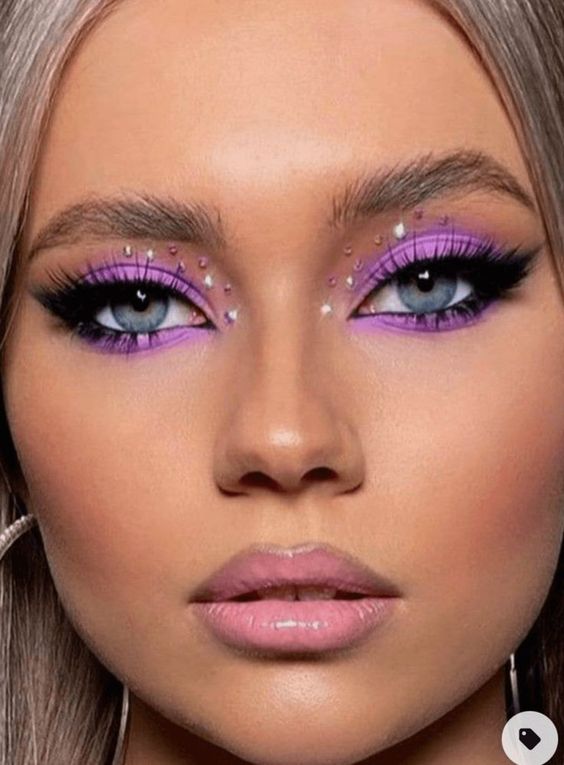 We love how captivating these easy lavender eye Coachella makeup looks are, especially with the face jewels added on.
60's Inspired Makeup Look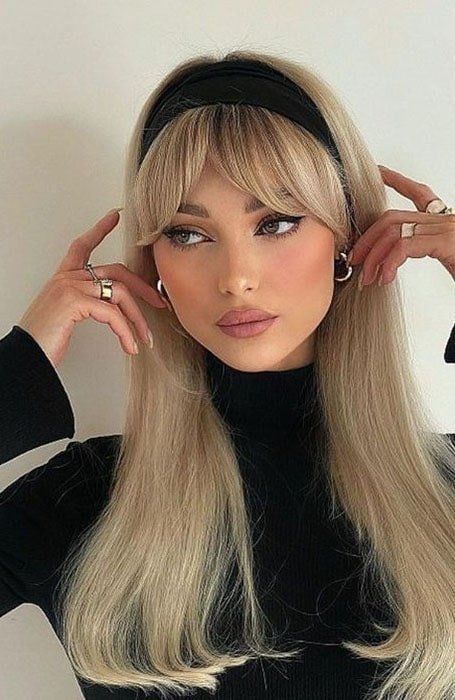 If you already have bangs, then you have to try this stunning 60's inspired doe-eye makeup look.
Blushed to Perfection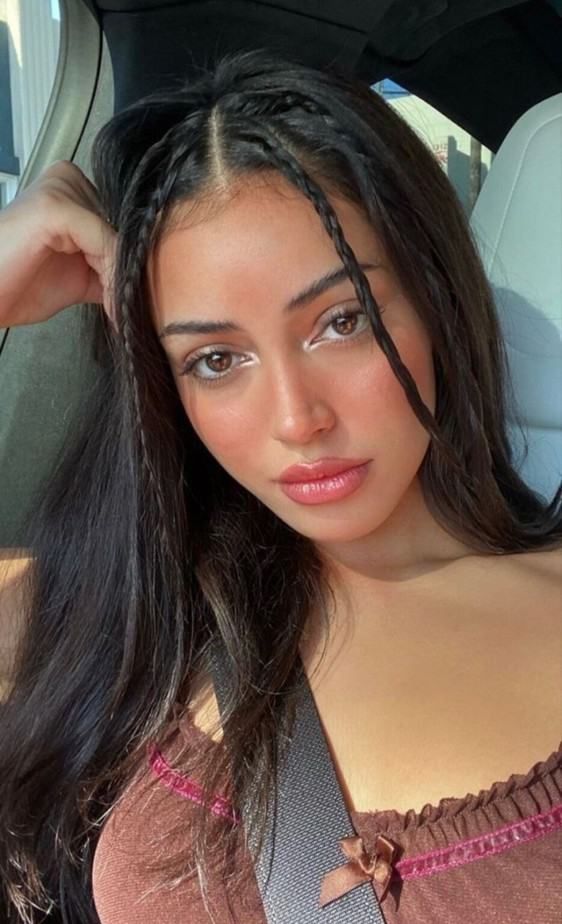 If you want some easy Coachella makeup looks, try loading up on blush with a touch of lip gloss for the perfect sun kissed look.
Green & Blue
Accentuate your hazel eyes with a green and blue eyeshadow combination that's perfect for Coachella.
Green Glitter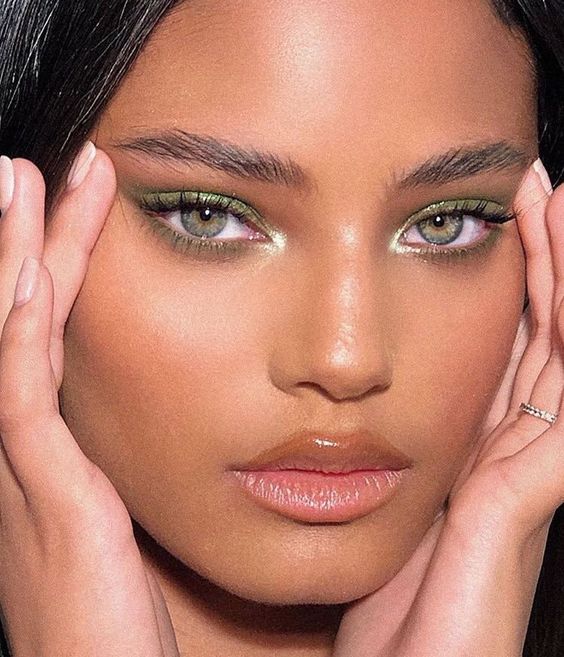 2023 is the year of green so what better way to go to Coachella than with a green glitter makeup look?
Pink Glitter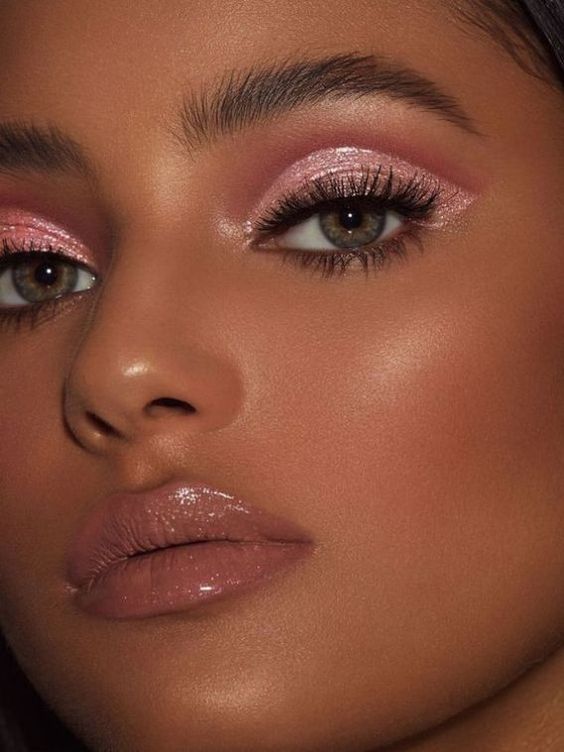 You're a Barbie girl, in a music festival world. This pink glitter Coachella makeup idea will leave you feeling all dolled up.
Daring in Red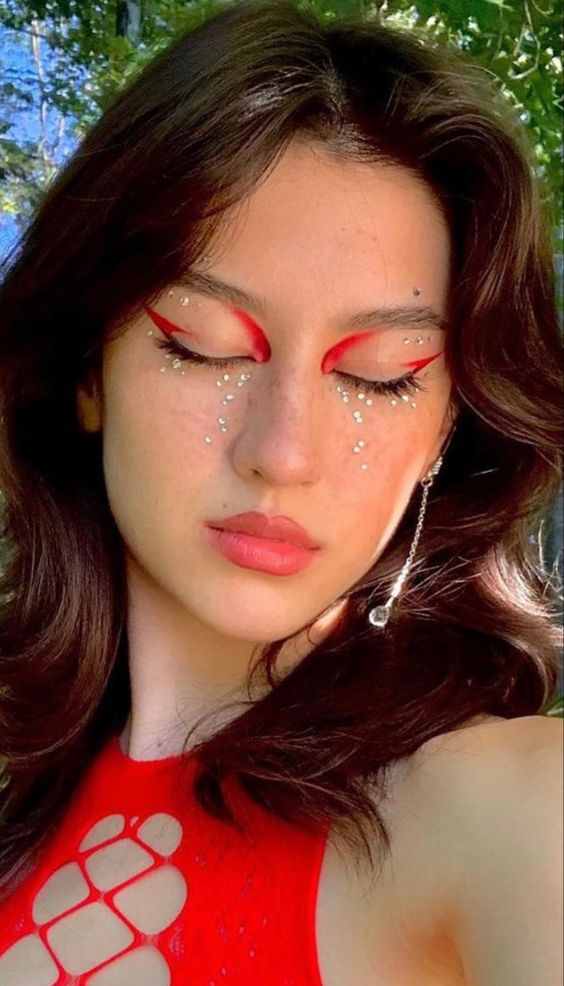 Eyeliner and eyeshadow is meant to be worn however you want, just like this daring abstract red eyeshadow look that we surprisingly love.
Sharp Red Liner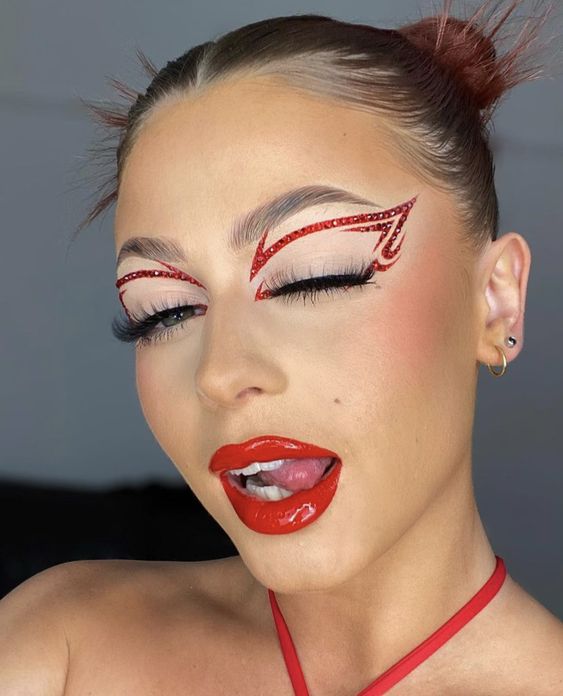 Get a look that kills with a sharp red eyeliner makeup look that truly stands out.
Boho Flower Power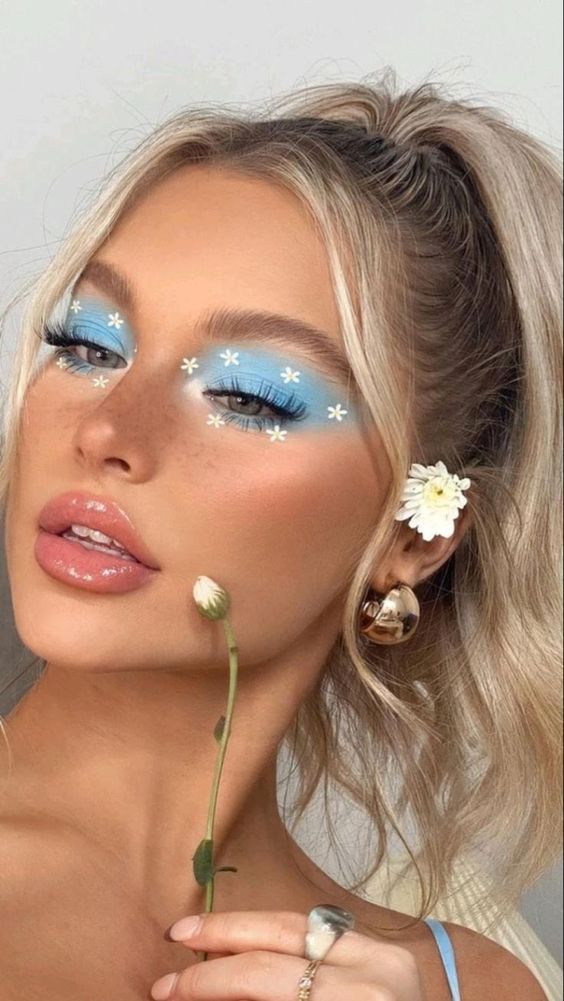 Bring your boho flower power energy to Coachella in 2023 with this floral music festival makeup idea.
Yellow Jewels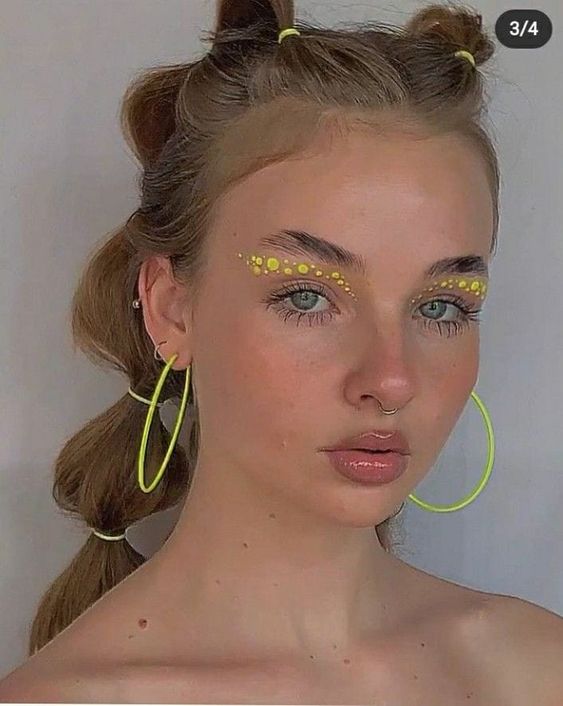 We're loving how vibrant this yellow face jewel makeup idea is for Coachella, and how easy it is to do!
Lavender & Yellow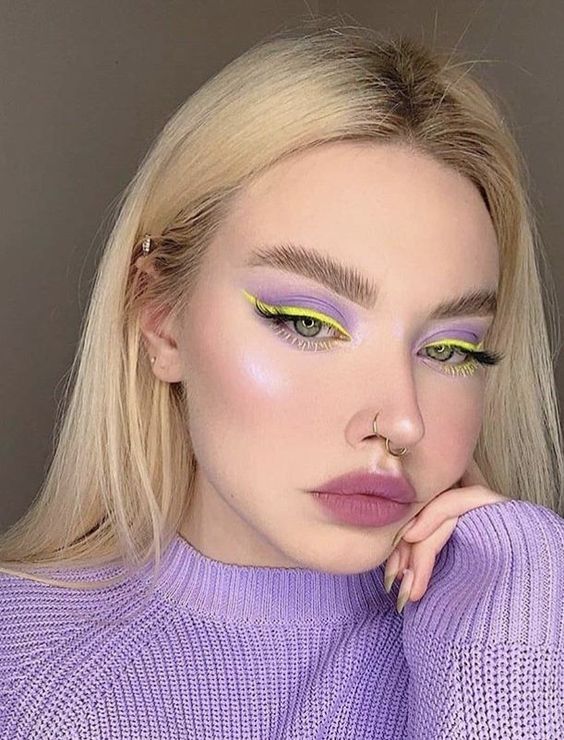 Two colors you wouldn't expect together for your eye makeup but that look absolutely stunning: lavender and yellow.
Shego Look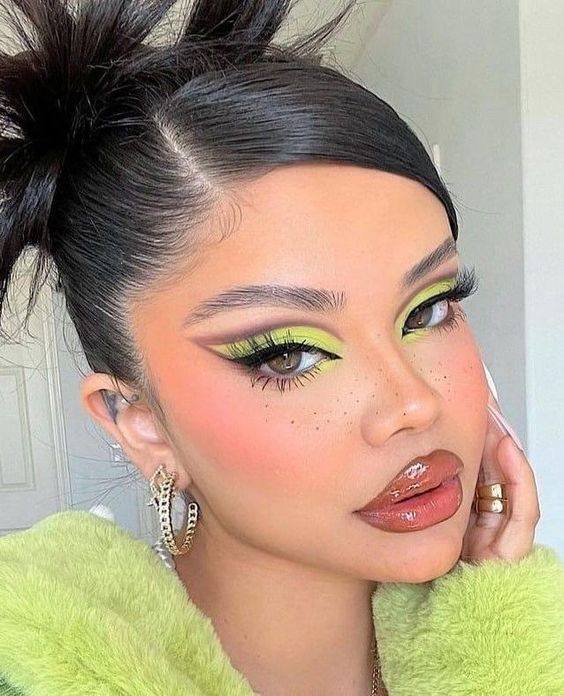 Shego has been all the rage in 2023 every since Jack Harlow rapped about her, so why not be her at Coachella with a green and black makeup look?
Purple Plaid Picnic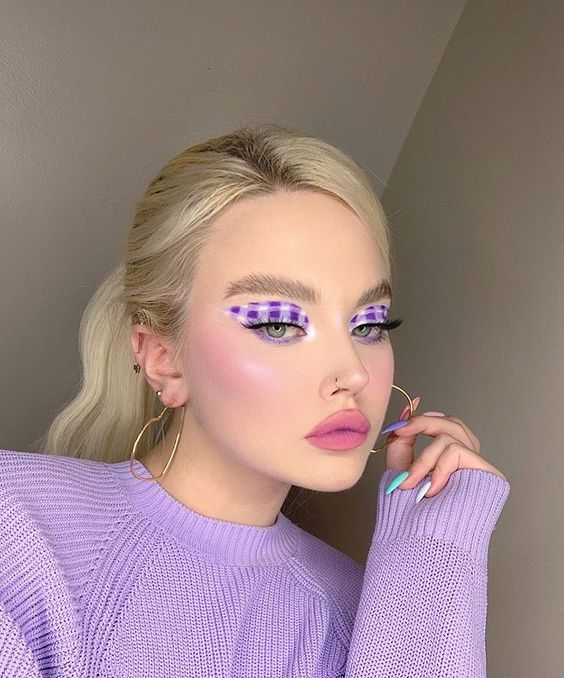 Channel your inner picnic lover with a purple plaid eyeshadow look for Coachella.
Rainbow Stars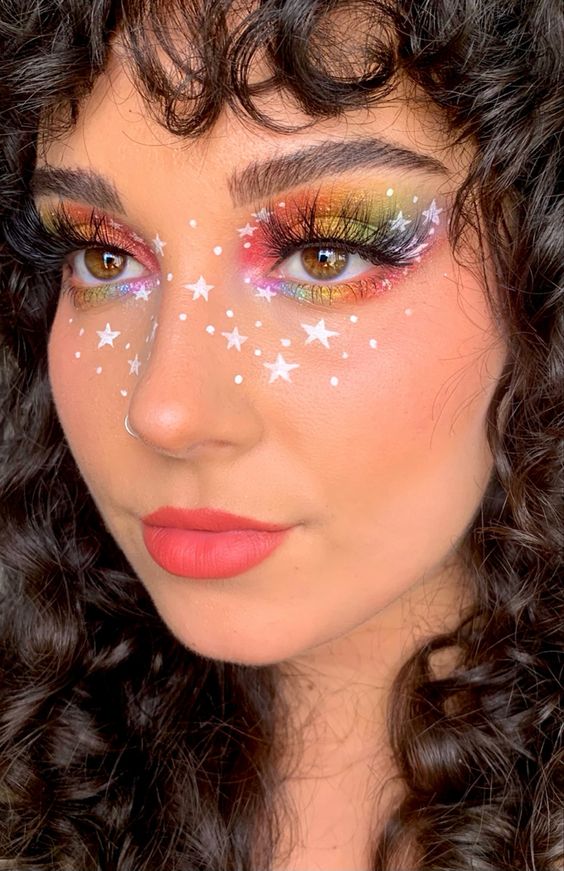 Nothing says Coachella more than a hippie inspired makeup look including rainbows and stars.
All About Rainbows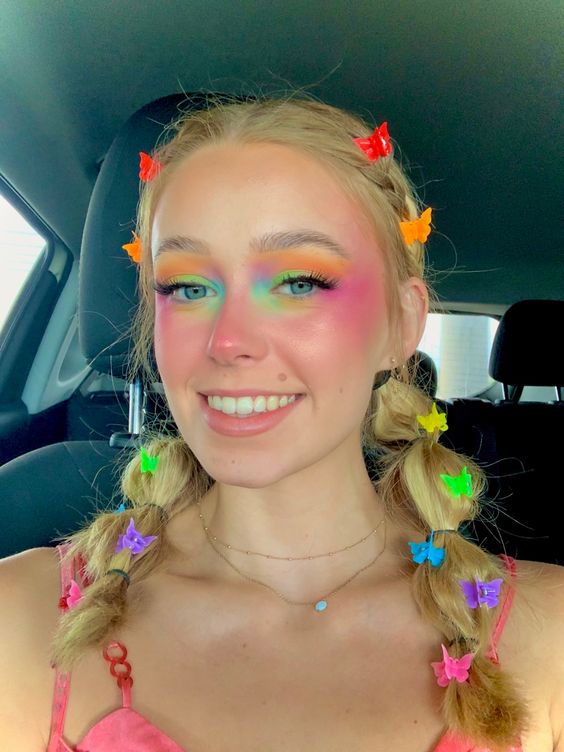 Be the rainbow with this vibrant and colorful rainbow makeup look with matching hair accessories.
Iridescent Mermaid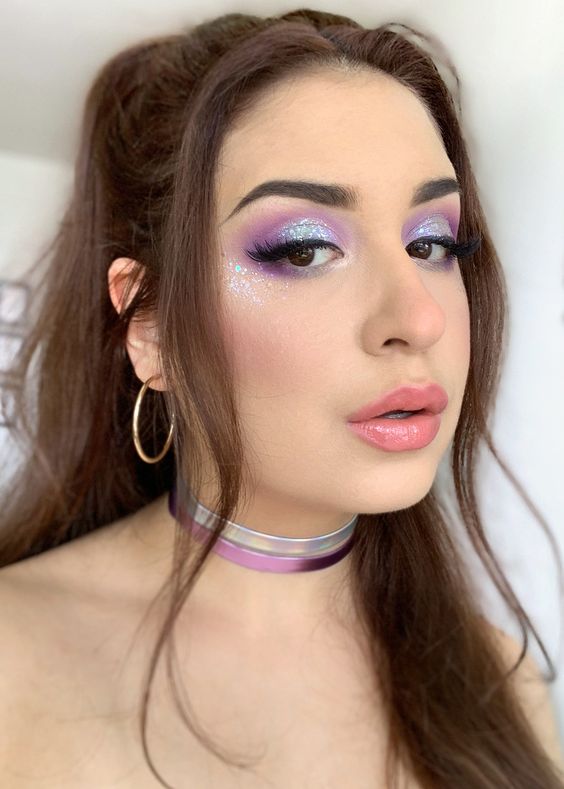 Iridescent mermaid inspired makeup is such a fun way to have a shimmering makeup look in the Coachella sun.
Hint of Blue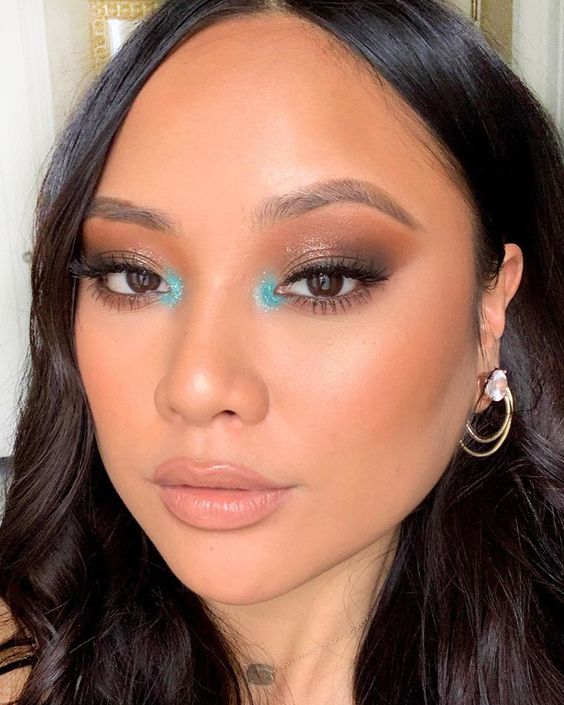 Get a hint of color in your Coachella makeup look with a hint of blue in the corner of your eyes.
Graphic Liner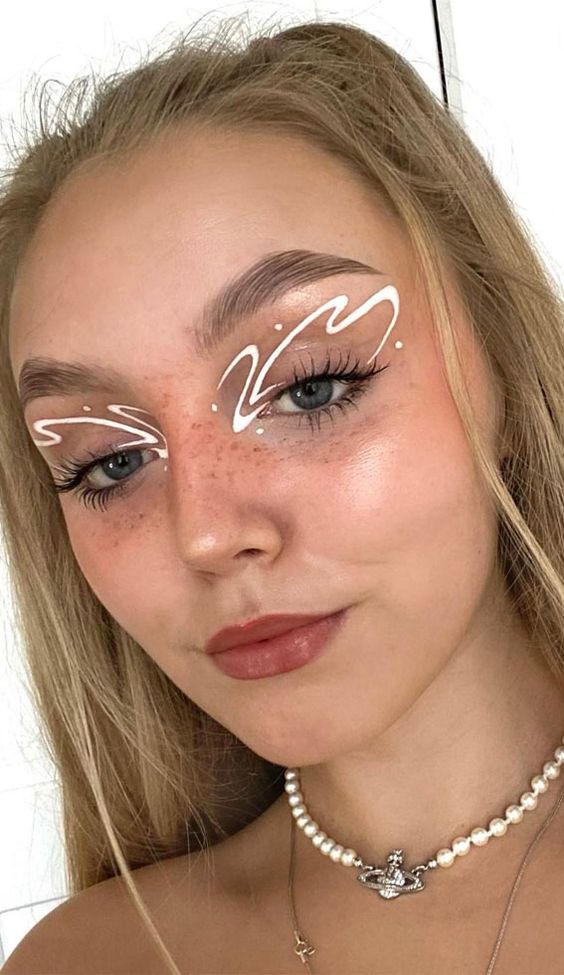 This white swirl graphic liner is such a fun and easy way to try something new with your makeup that you probably haven't done before.
Butterfly Eyes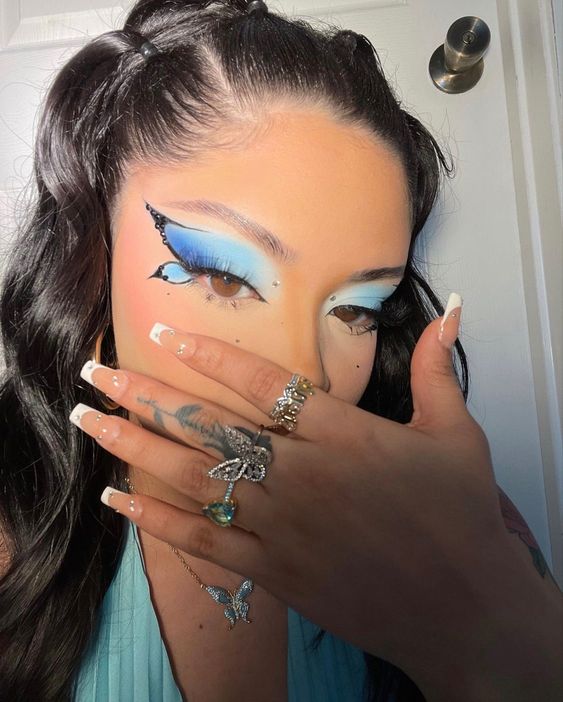 Fly around Coachella with a butterfly inspired makeup look that might take forever to do, but will look so good when you're done.
Summer Oranges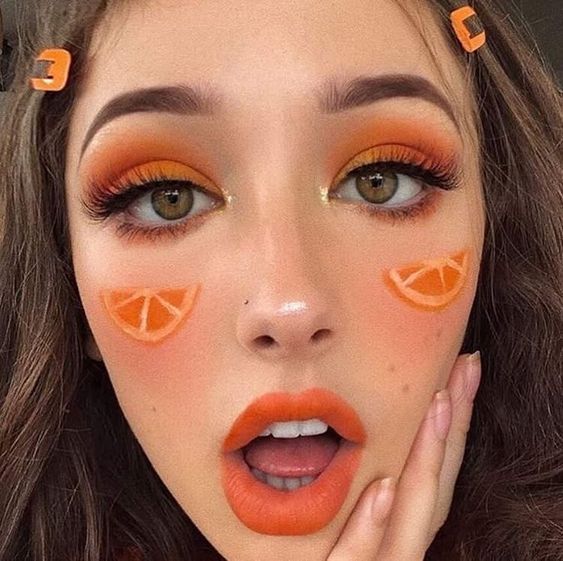 Look fresh and cool at Coachella with a graphic orange makeup look that you'll love taking selfies in.
Holographic Face Decals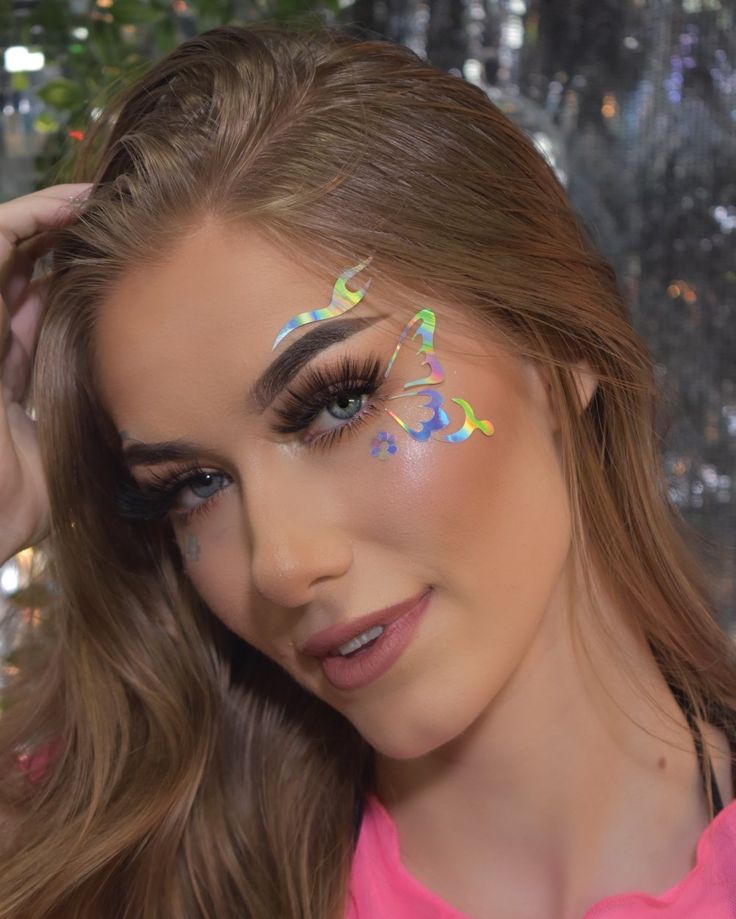 Don't stress about your makeup, use a hack and still look amazing with these holographic face decals.
Black & White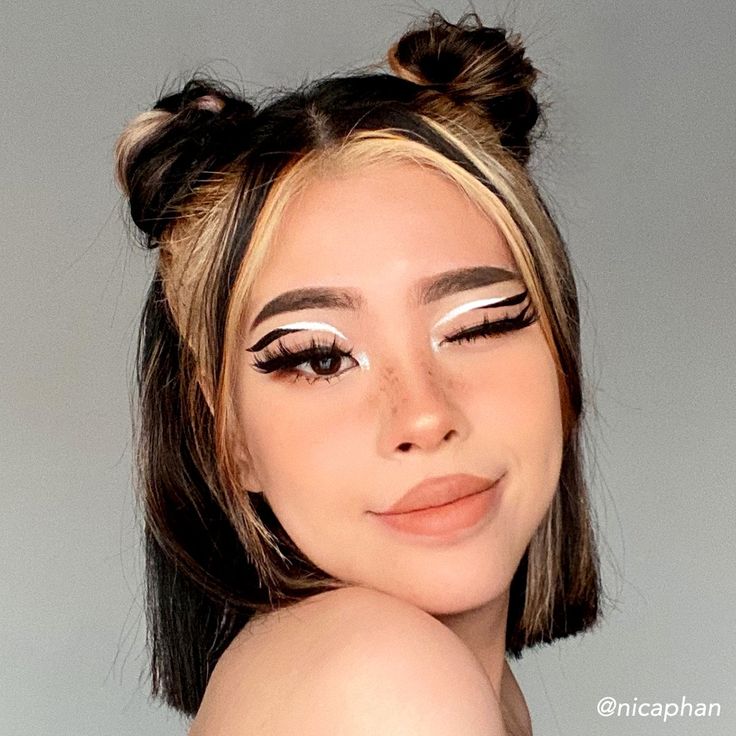 Go for simplicity with a black and white eye liner that will match any Coachella outfit you wear.
Flower Lashes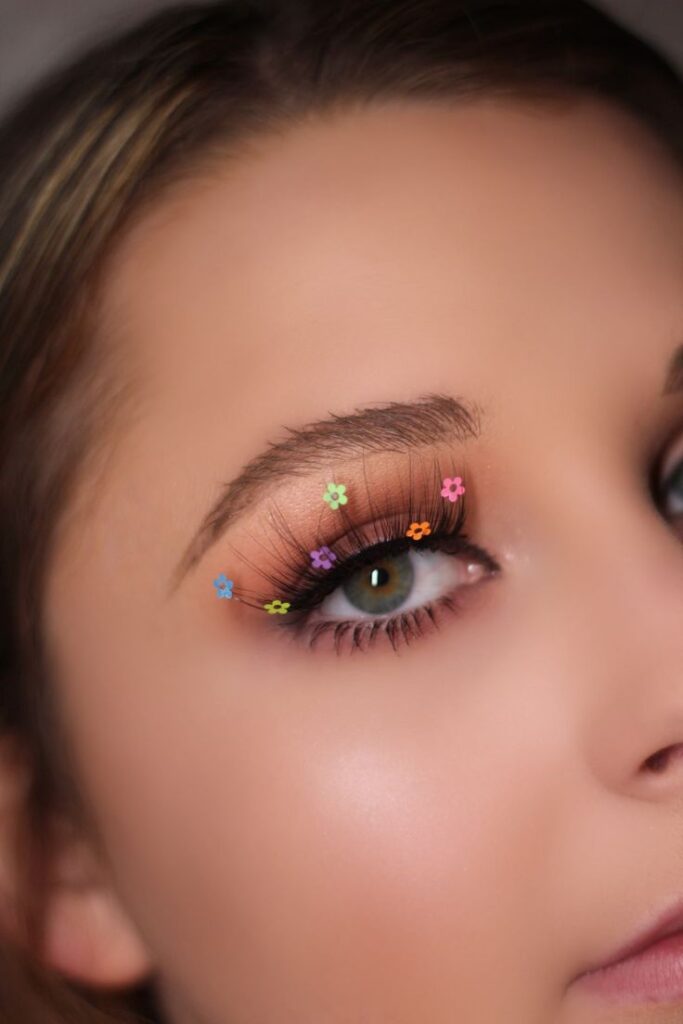 Go a step further with your Coachella makeup by wearing these flower eyelashes that take seconds to apply.
Pastel Princess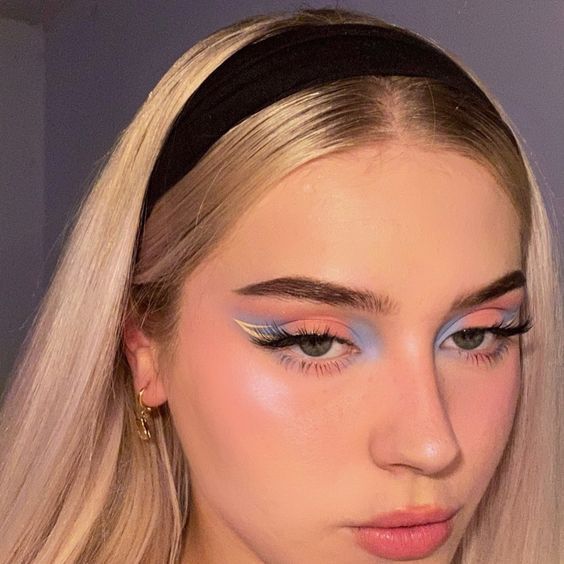 We're all about pastels for makeup, especially when you're in the Palm Desert for Coachella.
Orange Flowers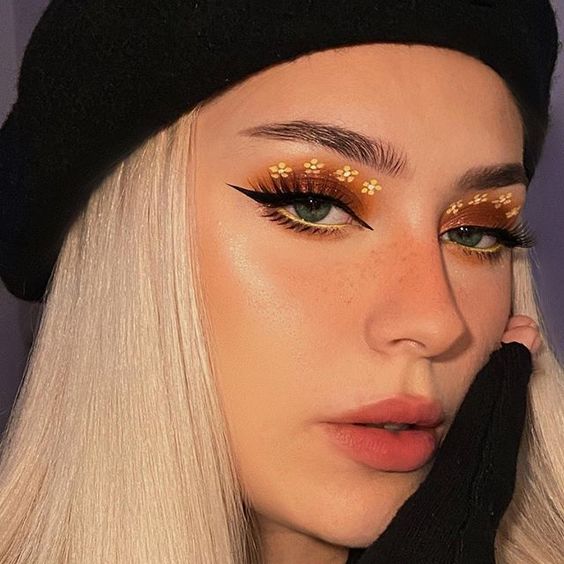 Try this sunset inspired Coachella makeup idea that will bring your eyes to life.
White Winged Liner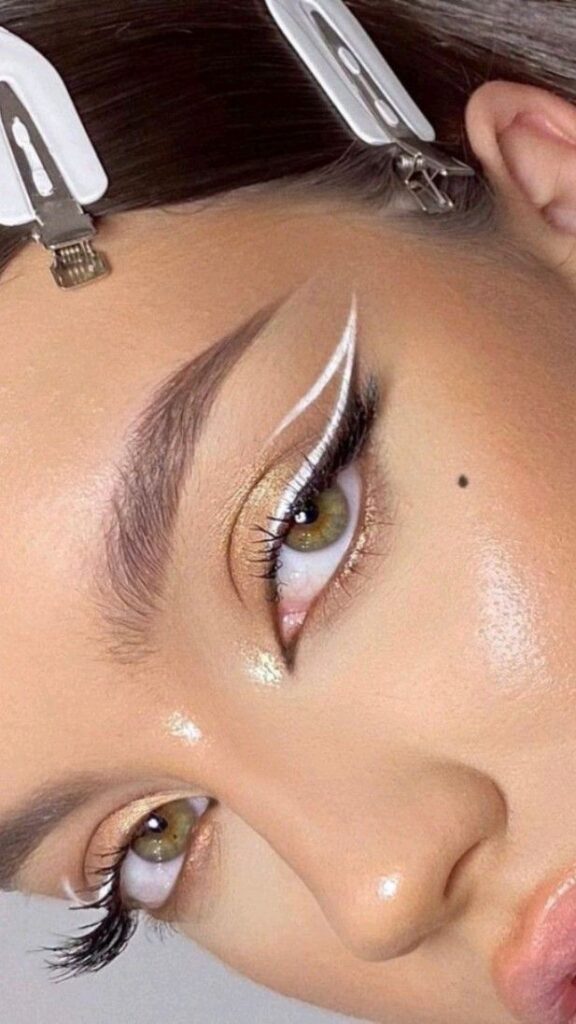 The power of white eyeliner in 2023 is to immediately captivate anyone looking at you, which is exactly what you want at Coachella.
Queen of Pink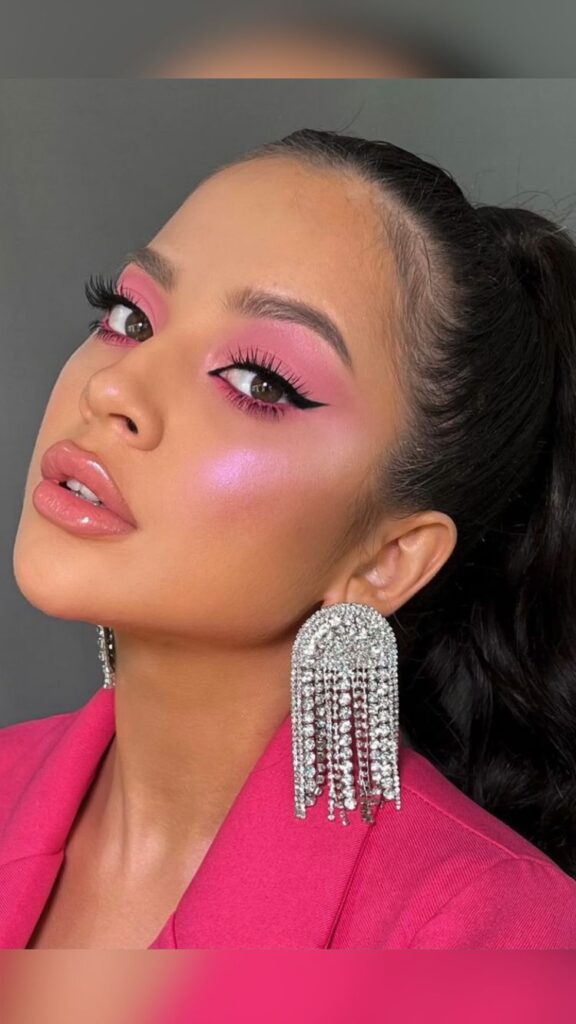 Hot pink has been the "it" color so far in 2023, so we know this is the makeup look you should definitely try this year at Coachella.
Nude Makeup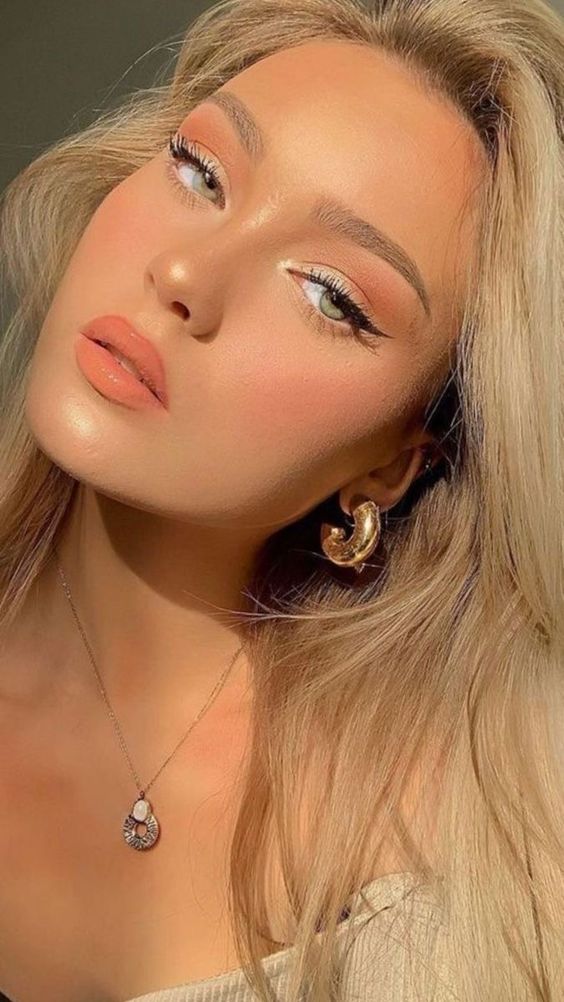 If you want a simple and easy makeup look for Coachella, try playing around with simple nude colors.
Black Glitter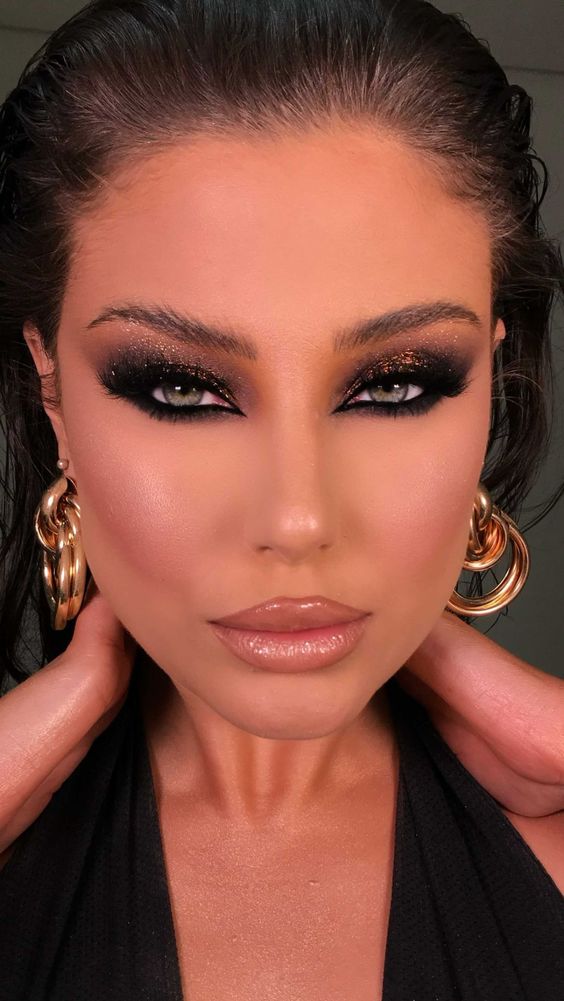 Bring on the Coachella drama with a stunning black glitter eyeshadow makeup look.
Green Under Eyes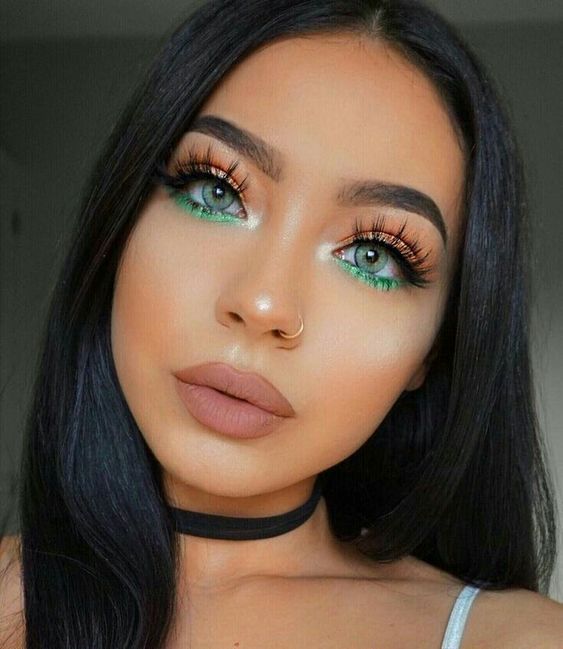 This stunning green under eyeliner is the perfect makeup for Coachella, especially in the era of green.
Madonna Inspired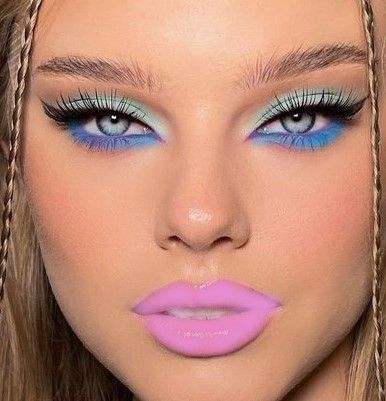 Channel your inner Madonna with a colorful, retro, 80's inspired makeup look.
Baby Blue Eye Shadow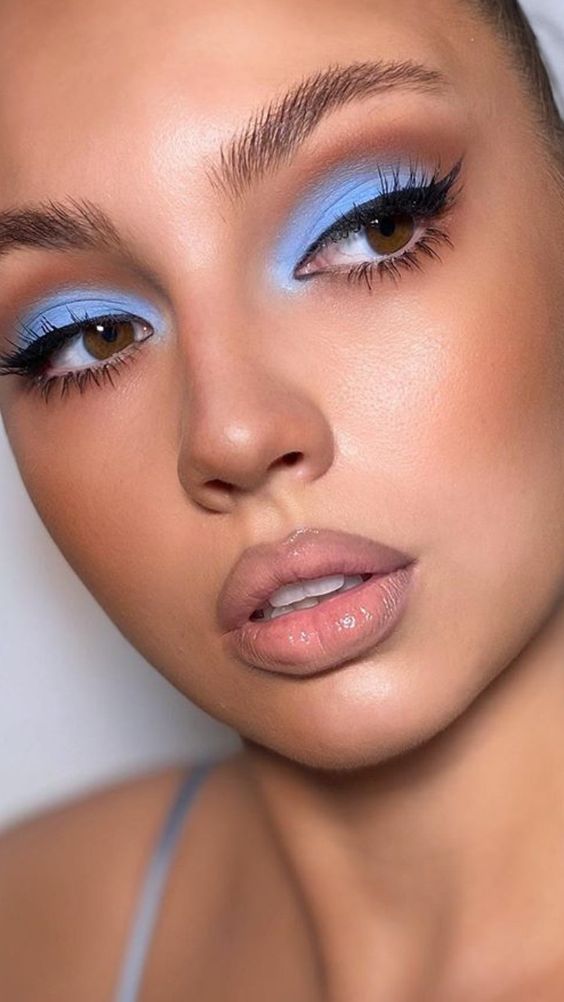 This baby blue eyeshadow color is everything we could want and more for a cute makeup look.
Pink Lid Liner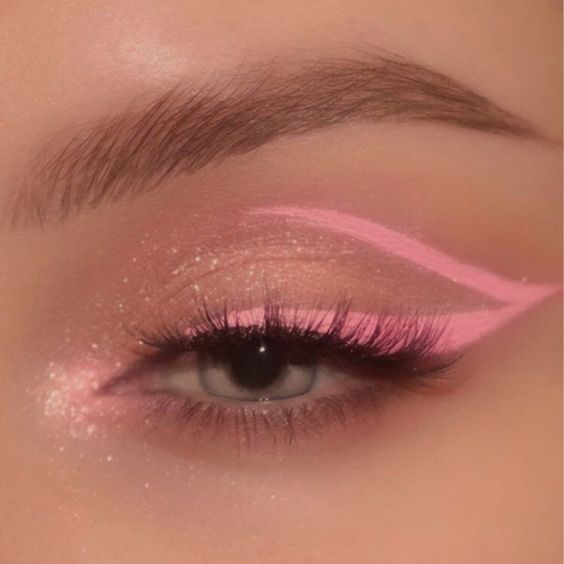 Feel cute and colorful with a baby pink lid eyeliner mixed with a hint of matching glitter.
Easy Rhinestone Look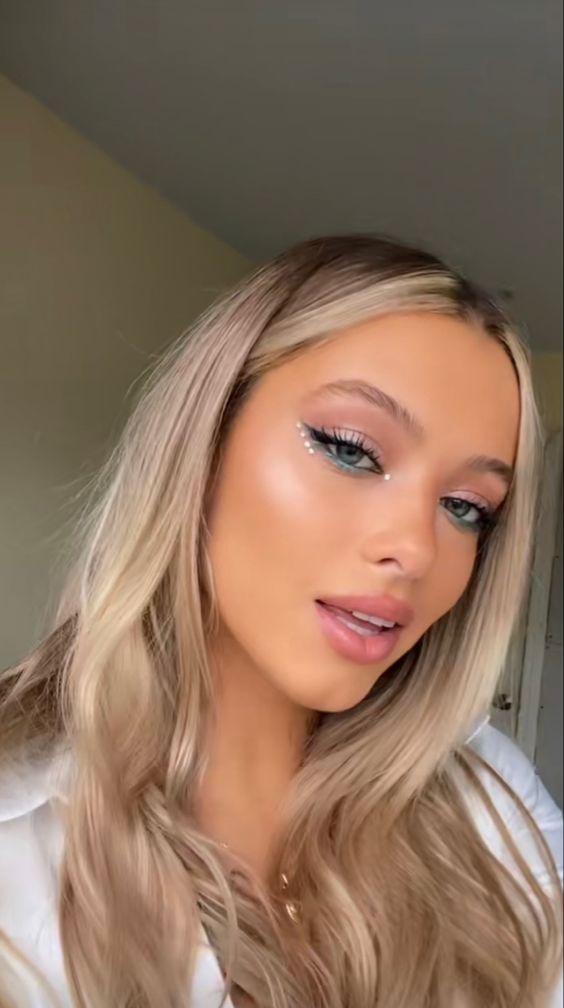 Take a few rhinestones around the eye for a simple, yet beautiful makeup look that is guaranteed to get you some IG worthy pics at Coachella!
Hopefully you found inspiration for your next Coachella makeup looks in 2023!
If you have any comments, questions, or suggestions leave them down below. Thanks for reading!