Going into the gym without a plan is a bad idea. A lot of people at the gym do bicep workouts that aren't effective or they are just doing them wrong. As a beginner, you should start off with these fundamental workouts. Here are 7 Bicep Workouts to Do at The Gym: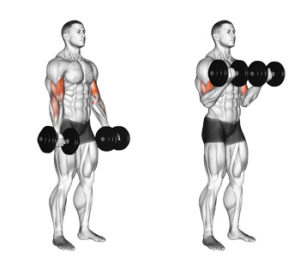 Dumbbell Curls
One of the most effective bicep workouts
Don't use weights that make you have to sway back and forth too hard. Focus on the contraction instead
If you need your own pair of dumbbells, definitely get
these
!
(3 Sets) (24 Reps) (1 min rest) Alternate hands back and forth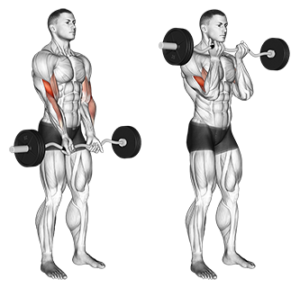 EZ Bar Curl
This curl is super effective for the width of your biceps. It triggers the head of the bicep that has to do more with mass than height
Again, you really don't want to sway with this exercise
(5 sets) (12-15 reps) (30 sec rest)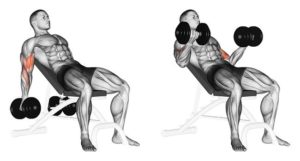 Incline Seated Dumbbell Curl
You will feel the burn with this one. It isolates your biceps to work alone
This exercise triggers the head of the bicep that has to do with height
Make sure you constantly keep your shoulder blades pressed on the seat
(5 Sets) (3 of the sets = 12 reps double-handed) (2 of the sets = single-handed 24 reps) (1 min rest)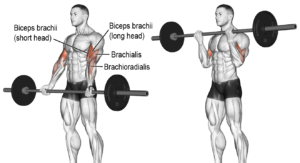 Straight Bar Curl
This will force your biceps to be put in a supinated position
Supinated – turning of the palm so it is facing upward/outward
A supinated position allows full flex of the bicep during a curl
(3 Sets) (12-15 reps) (30 sec rest)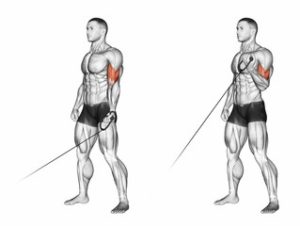 Cable Curl
Cables and bands allow a greater tension on the bicep
This causes a better stretch for growing the muscle
You can do single arm and double arm for max results
(3 sets) (12-15 reps) (30 sec rest)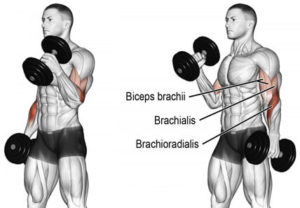 Hammer Curls
Hammer curls are great for mass and hitting small areas of the muscle that other exercises don't
Going to heavy makes people use their back instead of their biceps on this one
Make sure you are controlling the weight on the way up and down
(3 Sets) (24 Reps) (1 min rest) Alternate hands back and forth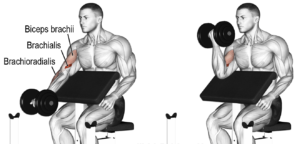 Preacher Curls
Very hard, but highly effective. These curls isolate your biceps like no other exercise
You can do these with dumbbells or even with a bar
Make sure you're not hurting your back with this one as too heavy of weight makes you want to pull with your entire body
(5 Sets) (3 of the sets = 12 reps double-handed) (2 of the sets = single-handed 24 reps) (1 min rest)
Pick 3-5 of these bicep workouts and use them the next time you're at the gym. If you have any questions or comments, leave them down below