Looking for the best men's skincare system out there? Check out this Tiege Hanley review to find out if Tiege hanley is actually good!
Please note: This is not a sponsored post. Modern Teen is an affiliate of Tiege Hanley. However, all opinions are completely my own.
According to a study, only 29% of men (ages 18-34) actually follow a skin care routine. That was the highest percentage out of all age groups!
Men usually have very tough skin, but it's important to take care of it by removing dirt and oils while also moisturizing the area for added protection.
Tiege Hanley was kind enough to send me a level 3 skin care system, so I can test out each product and see if it's actually worth it.
It has been exactly 1 month since opening the kit and getting started with the routine. Stick around until the end of this Tiege Hanley review to hear my final thoughts.
Let's dive in!
What is Tiege Hanley?
Tiege Hanley is a men's skin care brand with a mission to make men feel amazing with an uncomplicated skin care system.
They take the guesswork out of searching for individual products and never knowing how much to use or which products work well together.
You get 1 skin care kit, everything is spelled out for you, and you never have to wonder what the proper steps are to get clear skin.
Tiege Hanley is owned by Rob, Aaron, Kelley, and "The Chemist". You may have seen Aaron Marino on his very popular youtube channel – Alpha M.
Aaron is an absolute beast at what he does. If there's one person you should listen to about everything men-related, it's this guy.
Now that you know what this brand is about, let's get into some more details about the actual products…
How Does Tiege Hanley Work?
Tiege Hanley works in 5 simple steps:
Go to Tiege.com
Select "Choose Your System"
Pick a System Level (5 options)
Subscribe and Purchase the System
Follow the Skin Care Routine for 30 Days
That's it! The process is extremely simple (as they intended it to be).
The products come as a subscription, so you can't purchase each product individually. However, the subscription can be changed from once a month to whatever duration you want, and you can cancel at any time.
There are 5 different Tiege Hanley systems you can choose from:
Level 1 – Includes the 4 base products
Level 2 – Includes the 4 base products + eye cream
Level 3 – Includes Level 2 products + super serum
Acne System Level 1 – Includes 3 base products + acne treatment
Acne System Level 2 – Includes 3 base products + 2 acne treatments
The base products will be discussed in detail below. If you have mild acne, I highly recommend you check out their acne system instead of their normal levels.
What's Included in the Tiege Hanley Skin Care System?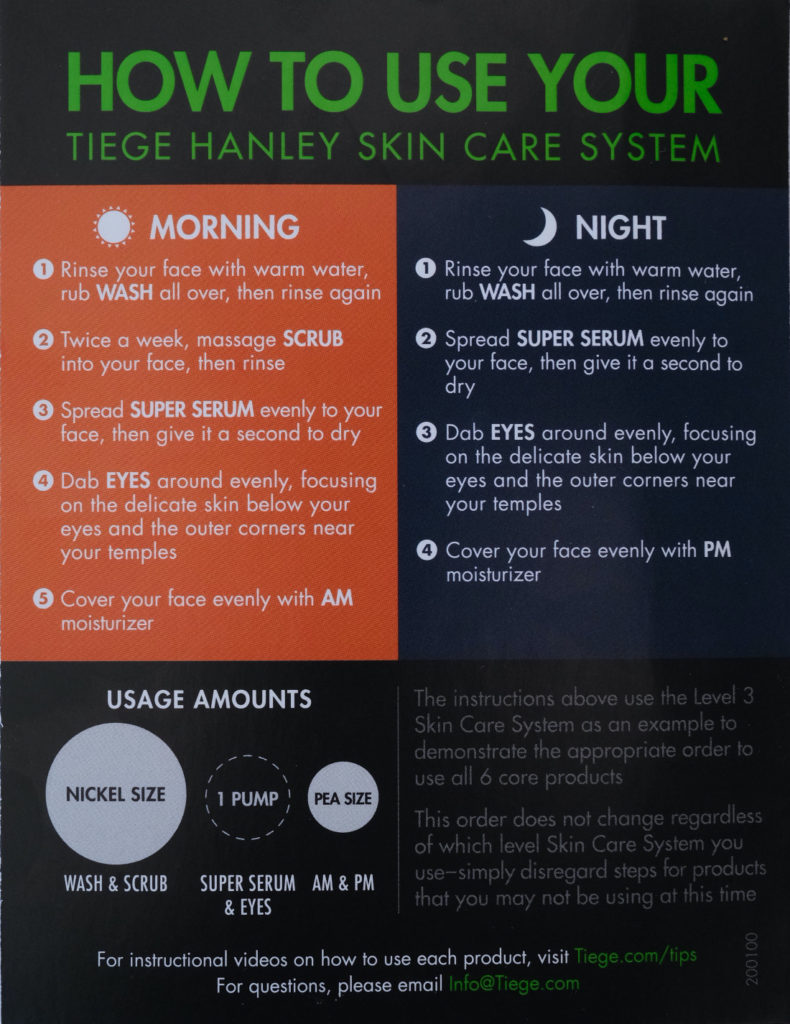 Each skin care system (mentioned above) comes with slightly different products. In this Tiege Hanley review, we'll be reviewing the Skin Care System Level 3.
You will receive a small black box which contains all the products. The box also includes a little instruction card which takes out all the guesswork of the routine.
The company was kind enough to include a lip balm which will also be reviewed later on. Keep in mind that this lip balm does not normally come with any system.
The skin care routine is divided up by morning and night. Your instruction card will explain what you need to do for both. Plus, there is an included picture showing how much of each product to use.
These are the 4 Tiege Hanley base products:
Wash
Scrub
AM Moisturizer
PM Moisturizer
Let's discuss each skin care product individually…
Face Wash
The Tiege Hanley face wash is the largest product in the entire kit (and for good reason). This is a product that you'll have to use twice a day, everyday.
It comes out as a white, cream-like substance. It doesn't foam up like many other cleansers do, but I've found that it still covers your face entirely with the recommended amount.
The daily face wash smells incredible! It cleans your face perfectly as well. You will feel clean enough that the dirt and oils are removed, but not so much that your face gets dry.
That's something you should always aim for when looking for a face wash.
The recommended usage amount is a nickel-size amount into the palm of your hand. I think this is an accurate recommendation based on my experience with it.
I've reached 1 whole month of using these products and my face wash bottle is practically empty. I may have another 3 days-worth left in that bottle.
One thing you should keep in mind… during the first 2 days of using all these products, your face might experience some redness. This is essentially your face getting used to those products for the first time.
Scrub
The scrub is my favorite product in the entire kit… hands down!
It's used to exfoliate your face twice a week in order to get rid of dead skin cells and harmful bacteria. Using it more than that could actually damage your face.
My favorite part about the scrub is that it feels like Antarctica just hit you in the face. Think of that IcyHot feeling, but just the Icy part.
Your face will smell amazing, feel fantastic, and have a cooling sensation after you've rinsed it off.
It comes out as a thick, tan scrub with apricot seeds to dig into some of the dead skin that can be hard to clean with an everyday face wash.
The bottle is very small, but you only need to use it 8 times a month. I literally get excited for the two days a week when I get to use the scrub!
AM Moisturizer
The morning facial moisturizer is going to be your moisturizer during the day. Tiege Hanley has created this with an SPF of 20 in order to protect your skin from the harmful sun rays.
It does not come out like sunscreen. In fact, the AM moisturizer is one of the best feeling moisturizers I've ever tried on my skin.
It comes out as a creamy white substance in a pea-sized amount. It's not too liquidy where it's running down your face and also not too thick where it's hard to spread around.
The texture is near perfect for my preference of moisturizers and the SPF makes me happy to know that I'm protecting my skin when I go outside.
PM Moisturizer
The PM Moisturizer is very similar to the AM in many aspects. The main purpose of this night cream is to help rejuvenate your skin while you're sleeping and prevent overnight dryness.
It comes out as a slightly thicker white substance (compared to the AM) and is a little bit harder to spread around the face.
It absorbs into the face very quickly, and you can feel the effects of the moisture it provides almost immediately.
There isn't any SPF in this, but why would you need any if its primary purpose is to be used during the night, right?
Super Serum
The super serum is an age-defense master that helps firm up your skin and reduce wrinkles.
If i'm being completely honest, this isn't a necessary product for the younger men out there. However, it does feel great when you feel your skin firm up after putting it on.
If you're in your teens and 20s, you can probably do without the super serum by picking up a Level 1 or Level 2 skin care system.
It helps circulate blood flow in your face (believe me, you can practically feel it) and prevent severe muscle contractions.
One pump is the recommended amount for this product. I've found this recommendation to be very accurate unless you want to use a little extra in your neck/beard area.
Eye Cream
Tiege Hanley's eye cream, or Eyes as they call it, is a fantastic agent in preventing those crow's feet and dark circles.
Even as someone in their very early 20s, I've found the eye cream extremely useful in waking me up and preventing my puffiness after waking up.
It comes out as a thick white cream that's created with caffeine and other active ingredients to wake up that skin around your eyes.
The recommended amount is one pump. I've actually found that one pump is a little too much for me, so I do more of a half-pump. Depending on your age, you might need to adjust the amount.
Make sure you're getting that cream to the side of your eyes and not just underneath them. All of the skin around that area is sensitive, so it needs that extra care.
Lip Balm
The lip balm is not included in the Tiege Hanley Level 3 Skin Care System. However, they were kind enough to send it over for testing and I absolutely love it.
For starters, this lip balm doesn't make you look like you're wearing lip gloss. As a man, that's something I really appreciate.
Second, lips are extremely sensitive to sunlight and can create long term damage. This lip balm is created with SPF 30 to really block out those rays.
It has an off white color and feels like a traditional beeswax lip balm. The only difference (in terms of texture) is that it seems to absorb slowly in a good way.
Get your hands on this lip balm if you have chapped lips. I highly recommend it!
How Much Does Tiege Hanley Cost?
Tiege Hanley costs $25 for the Level 1, $35 for the Level 2, and $45 for the Level 3. The Acne System Level 1 costs $35 and the Acne System Level 2 costs $45.
The pricing is slightly on the higher end, considering that every level only lasts 30 days. However, the quality and simplicity of these products makes it extremely worth it.
Keep an eye out for international shipping costs if you live outside of the U.S.
If you want to give it a try, head over to
tiege.com
and use the code
modernteen
at checkout to
save 10%
on your first order!
Frequently Asked Questions
If you're still hesitant about trying Tiege Hanley, hopefully these FAQs will help you understand a little more about the brand…
Is Tiege Hanley Good for Teenagers?
Tiege Hanley is an excellent choice for teenagers who have mild acne and want a basic skin care routine to follow.
Check out their Acne Systems or consult with a dermatologist to see if their products work with your skin.
How Long Does Tiege Hanley Last?
Tiege Hanley lasts for approximately one month.
After testing out the products for exactly 30 days, I can say that this approximation is very accurate.
Is Tiege Hanley Good for Sensitive Skin?
Tiege Hanley is designed for all skin types. Consult with a dermatologist if you think you may have issues with sensitive skin.
You may experience redness your first few days of using the products. This redness will likely go away after that.
Does Tiege Hanley Get Rid of Acne?
The Tiege Hanley Acne System is designed to reduce the size of acne and blackheads on your face.
Their products work well on men with mild acne. If you have severe acne, consider consulting with a dermatologist before using Tiege Hanley.
Is Tiege Hanley TSA Compliant?
All Tiege Hanley products come in travel friendly bottles, making them TSA compliant. The largest container size is 2.5 fl oz.
Pros and Cons
This wouldn't be an honest Tiege Hanley review if I didn't compare the pros and cons of using this skin care system…
Pros
Products smell amazing
TSA compliant
Extremely easy to use
Simple subscription service
Instruction card included
Natural ingredients
SPF products included
Relatively affordable
Manly looking products
Accurate product amount recommendations
Cons
Small bottle sizes
Only lasts 30 days
Can't buy products individually
Somewhat pricey (depending on system)
Experienced redness for first 2 days
The pros clearly outweigh the cons. Just make sure you can afford to spend that monthly payment on your skin care and if you need other products on top of it.
Final Thoughts – Is Tiege Hanley Worth It?
Yes… Tiege Hanley is worth it. Here's why…
The products smell, feel, and work amazingly on your skin. The pricing is pretty affordable, especially for the Level 1 system.
The truth is, waking up every morning is fun now because Tiege Hanley makes skin care enjoyable for men.
If you have a solid skin care routine or you need to use special products because of your skin conditions, then maybe this kit is not for you.
If you've always struggled to get your skin care routine in check because it's too complicated or takes too much work, I highly recommend you give Tiege Hanley a try!
It's a manly brand that simply wants to make men become healthier men. That's why Tiege Hanley is worth it!
---
If you want to give it a try, head over to tiege.com and use the code modernteen at checkout to save 10% on your first order!
---
Comment down below if you have any opinions , questions, or suggestions. Thanks for reading!