A daily routine for teenage guys is often looked over. You're busy with school, friends, hobbies, and possibly even work.
The only real way to balance everything is by having a morning, middle of the day, and night routine that you can use as a guideline to follow everyday.
First, let's discuss why it's important…
Why Do You Need A Daily Routine?
A daily routine is the ultimate guide for you to go about your day. You will feel more energized, organized, and ultimately happier when you have a plan to follow.
A study shows that a daily routine can provide mental health benefits such as reduced stress and cultivating positive daily habits.
It may seem difficult to get on track with a routine, especially as a teenager, but these steps will be easy enough that you can start today.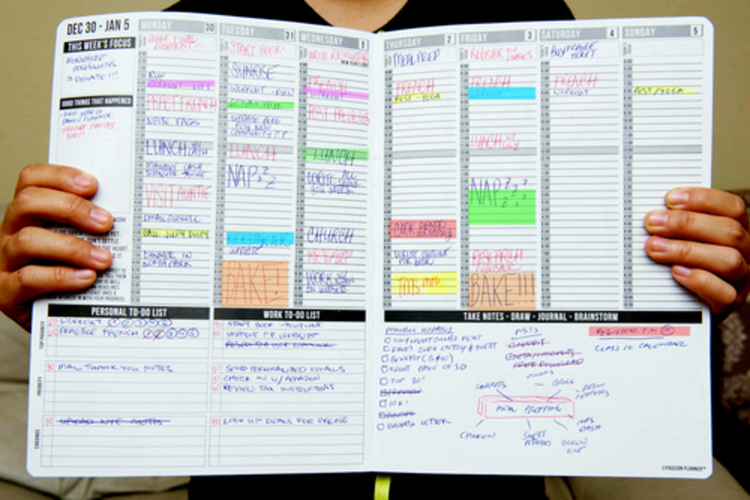 Write Out Your Daily Schedule
The only way to start with a plan, is to make one!
Grab a notebook, a piece of paper, or a planner and begin writing the date on the side of the page. Then, list everything you have to get done in a bulleted format.
As you complete your tasks for the day, check them off on your page.
This will now be your daily schedule template for every day. If you have simple tasks that are difficult for you to complete, make sure you write them down.
For example, if its hard for you to remember to brush your teeth at night (which is a simple task that normally wouldn't be written down), write it down! It will help you get in the habit of completing things without even thinking.
Morning Routine for Teenage Guys
To make things simple, I will just list off an ideal morning routine checklist for you:
Wake up (same time everyday)
Use the bathroom
Brush your teeth
Wash your face with a cleanser!
Shower (optional)
Get dressed
Do your hair
Make sure your facial hair is clean (or shaved)
Put on deodorant
Put on cologne
Eat a decent breakfast
Have food prepared for the day
Here are a few tips to make your morning better:
Avoid checking your phone right when you wake up
Stretch/Light Workout
Write down more ideas for your schedule in the mornings
Your Schedule At School
Although it may be hard to alter your schedule at school, there are still things you can get done…
As you go through your classes, update your schedule for upcoming assignments, homework, etc.
Finish as much homework as you can so you have more free time after school. You can most likely find time during lunch or free class time to get it done.
Hang out with friends, play sports, and have fun. Your teen years go by faster than you think and you'll regret not having some fun during school.
That being said, you should also take advantage of that time to develop a daily routine as a teenage guy so that you don't slack off in life during college and beyond.
After School Routine
When you get home, this is the time to prioritize your schedule.
Do you have homework to get done, extracurricular activities, plans with friends, etc.?
I would recommend that you get your homework out of the way first if you can.
If you have not had at least 30 minutes of exercise yet, this would be the time to do it! Exercise is an extremely important part your daily routine and should not be looked over.
Now that you've had a hard day at school, do something you love. You should always do one thing you love everyday to keep you human.
Don't let school and society turn you into a robot. Take some time and be your full self by doing an activity that makes you happy. This can be playing sports, video games, drawing, or even watching youtube videos.
Mental health is a huge issue for teenagers and a lot of times we just feel restricted from doing the things that we actually want to do. It makes us unhappy and it sucks.
Take your time, because as a teenager, that's an asset you have more than adults.
Night Routine for Teen Boys
Your night routine will play a huge role in your day as well as your sleep.
Without a night routine, you risk having restless nights and a worse mood. Here is an ideal night routine:
Begin to reduce the use of electronics (impossible I know)?just try
Set your clothes for the morning (this changed my life)
Write your daily schedule for the next day
Shower, even if you didn't exercise
Wash your face with a cleanser! (Yes, again)
Prepare your backpack
Take 3 deep breaths to relax your body
Set your alarm and go to bed
A restful night of sleep will have the biggest impact on your day, whether you like it or not. If you want to be a healthy teen guy, focus on your sleep schedule.
Final Thoughts
In the end, you're going to do what you want. You have 24 hours in a day and it's 100% your choice on how you want to live through it.
Here's what I will recommend though…
Start working on yourself now! You will regret not being as organized as you wish you were when you're older.
Implement a daily routine, learn to manage your time, have a schedule, and take control of the areas that you can.
I promise you that you'll thank yourself for it down the line. Keep in mind that this daily routine is just a daily schedule template for you guys. You will definitely have to alter it depending on your lifestyle and how busy you are.
So take care of your body, because it takes care of you everyday. Good luck!
If you have any comments, questions, or suggestions leave them down below. Thanks for reading!