Are you a teen girl looking for some inspiration for your next haircut? Here are the 15 best hairstyles for teenage girls with curly hair!
Having curly hair can be such a blessing when it comes to wearing your hair in a ton of different styles and changing up your look!
The options for hairstyles for girls with curly hair is endless!
If you're looking for different ways to style your curly hair, look no further! We've done the research and have rounded up our favorite curly hairstyles for teenage girls of all different curl types.
From tight curls to loose mermaid waves, there is a hairstyle for everyone, and we're here to show you just how easy it can be!
So get ready to save these images in your Pinterest board and to start styling your beautiful curly hair!
Twisted Pull Back Curls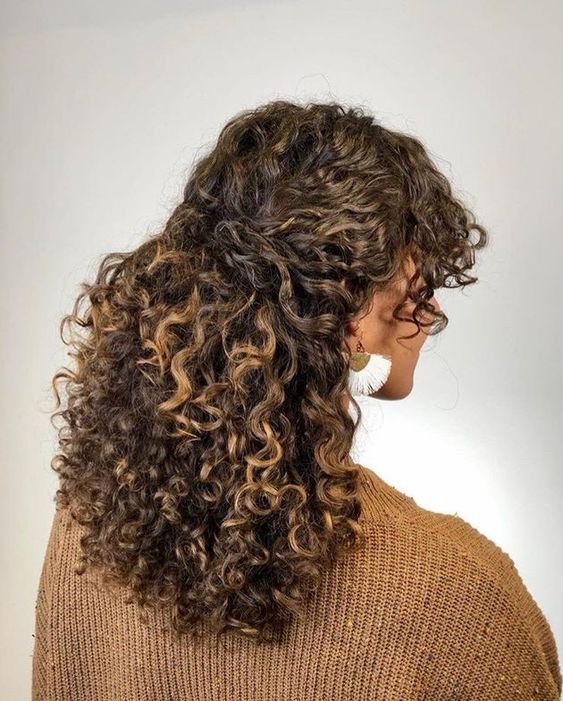 Whether you have tight curly hair or bouncy loose waves, this twisted pulled-back hairstyle is classy, refined, and super comfortable – aka the perfect look for you.
Not only does this hairstyle look super cute from all sides, but it pulls your hair back. That way, you don't have to worry about any hair being in your face!
This super cute look is easy to do and only takes a few steps!
Just pull half your hair back and use a hair tie to tie a portion back behind your head. Then take that ponytail, twist it, and tuck it back behind the original ponytail!
You can keep it low or make the small ponytail higher to add extra volume! Don't forget to add cute clips or scarves to accessorize this look.
Topknot Curls with Bangs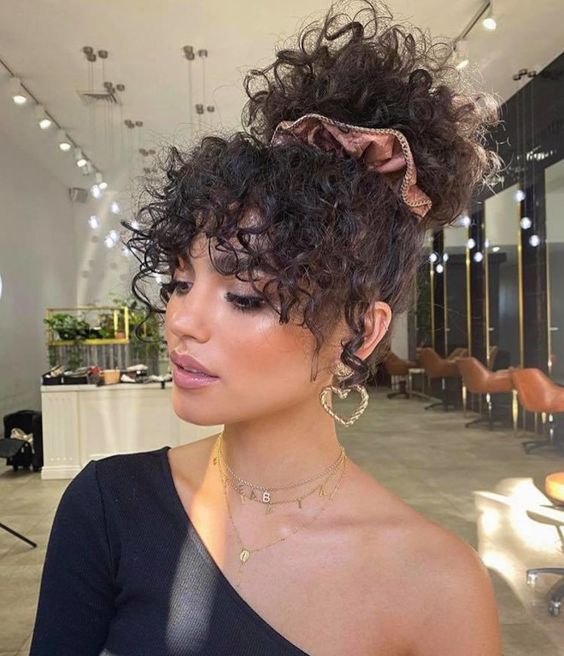 If you have bangs, show them off! Topknot curls with bangs is one of the best hairstyles for teenage girls with curly hair!
Having bangs can be a killer fashion statement, especially when they're being showed off in this look.
We highly recommend this look if you're someone with tight curly bangs so it can really emphasize the look of your natural hair.
All you have to do to perfect this look is take your favorite scrunchy and pull your hair back in a topknot bun. Make sure to keep as many bangs out as you can to nail this look!
Space Buns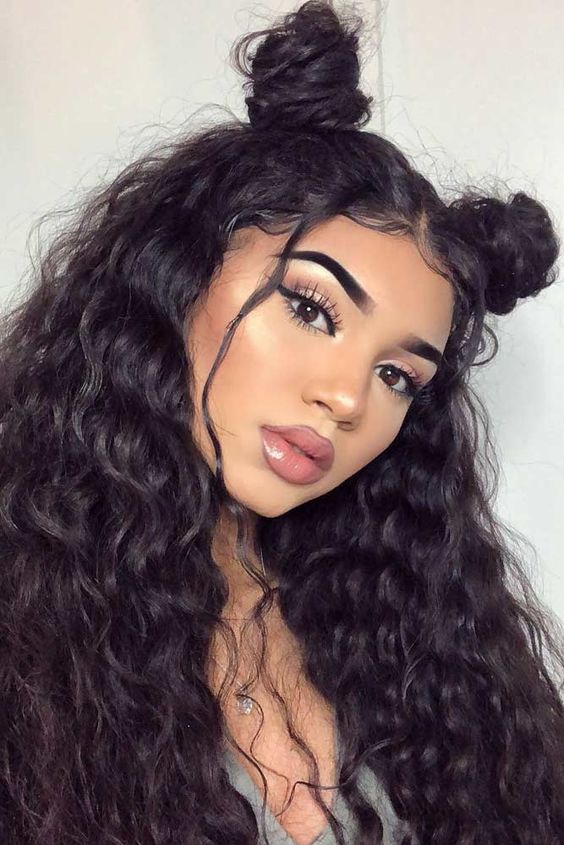 Space buns are back from the 90's and they're here to stay this time!
They're the perfect look if you're a teenage girl looking for a hairstyle that is voluminous, fun, and bouncy!
Space buns are just two buns made on the top of your head from the first layer of hair. It can be easily made in the mornings and can be accessorized.
Have fun with this look and add in pop-of-color clips, berrets, and fun hair ties!
Whether you have big curls or small curls, you can easily rock this look and have a fun time doing it!
Related Post: Fall Fashion Trends for Teenage Girls
Natural Curly Long Bob
If you're a teenage girl looking to spice things up this year and change up your hairstyle – consider rocking your natural curls in this incredible new look, and all it takes is a simple haircut and curl maintenance.
Having curly hair is all about confidence, so bring that out in full force with this trendy and sophisticated look.
When you go to the hairdresser, make sure you ask for a long bob (aka LOB), to get this look down!
You can cut your hair at whatever length works best for you, but know that maintaining your curls is key to nailing this look.
Ask your hairdresser about they're recommended go-to products to help keep those curls strong, healthy, and bouncy!
Pop-of-Color Look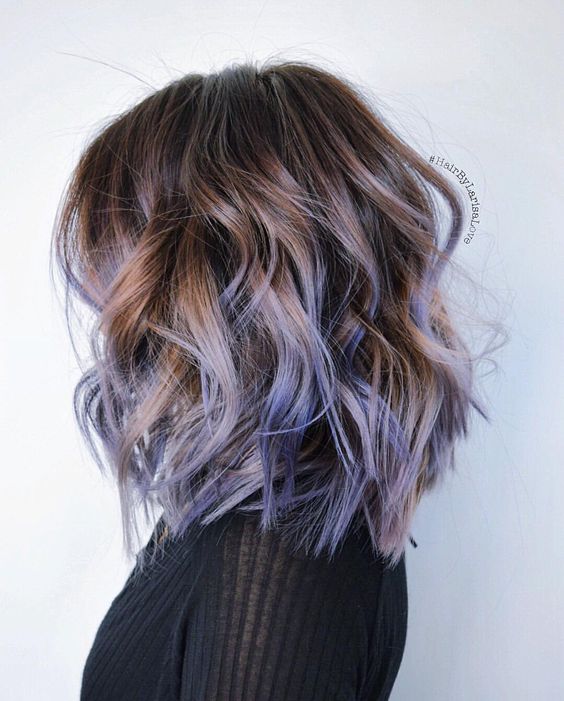 We all love color! It's fun, unique, and always a statement, no matter where that color is!
Be a trendsetter this year by adding some color to your hair! Whether you're rocking tight curls or loose waves, this look is sure to make you stand out – and for a good reason!
This hairstyle is perfect for the teenage girl looking to add more self expression in her everyday look. Showoff your favorite color by adding some to your hair.
But before you go buy color straight off the shelves in your local drugstore, consider talking to your hairdresser first.
Color can be painful to your natural curls, so getting the right products is key!
However you decide to add in your color, make sure to rock it this year with 120% confidence knowing you have the coolest hair in school.
Natural and Proud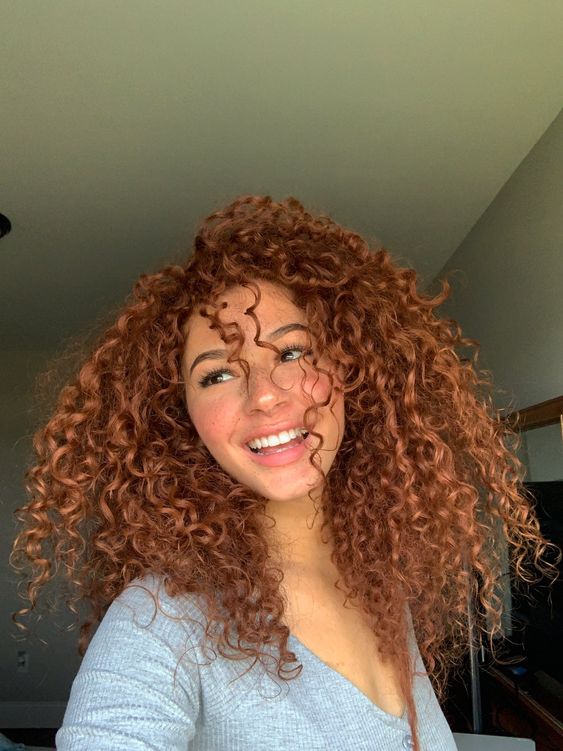 Your curls are your curls – and they're incredible! Don't shy away from just letting your natural hair free – it's beautiful and meant to be shown off!
Letting your hair be natural is a great way to keep it healthy and to feel fully confident in who you are as a teenage girl.
Your hair is yours, and nobody else's, so rock it!
Whether that's sporting your tight afro curls, or rocking your natural waves, be confident in your natural hair and wear it proudly around school.
Boxer Braids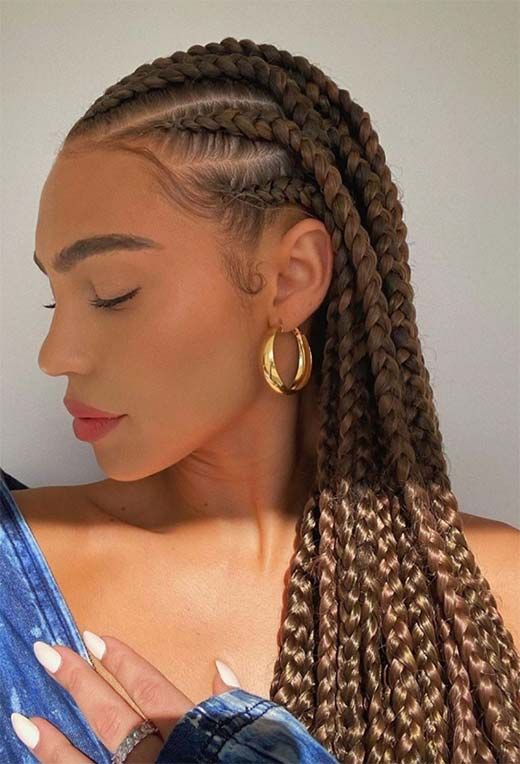 If you're looking for a hairstyle that pulls back your hair while still being cool, boxer braids are an incredible hairstyle for you.
Boxer braids can be achieved by any amount of braids that pull back from your scalp!
If you want them to last a bit longer, we recommend adding in hair gel when styling. That way, you can sleep in them for a few days and not have to worry about re-doing it!
Make sure you use strong hair ties at the end of the braids and use water in the mornings to pat down any unwanted flyaways.
Related Post: 25 Best Hobbies for Teenage Girls
Curtain Bangs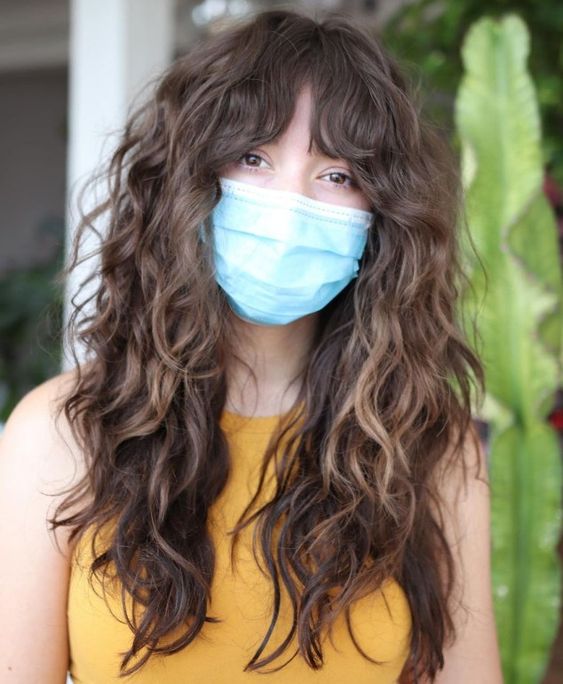 Curtain bangs have become one of the best hairstyles for teenage girls with curly hair in the past few years. There's a good reason for it – they're super cute and stylish!
They're a great way to add extra layer, volume, and bounce into your hairstyle, no matter what type of hair you have.
Some people think curtain bangs are just for girls with straight hair, but that's where they are so wrong! Curtain bangs can be rocked by girls of all hair types, no matter how curly or how wavy.
Curtain bangs can be cut as short as you want them, or as long as you want them, so long as they are layers that frame your face.
So go talk to your hairdresser and have some fun with curtain bangs this year! We guarantee you will love!
High Ponytail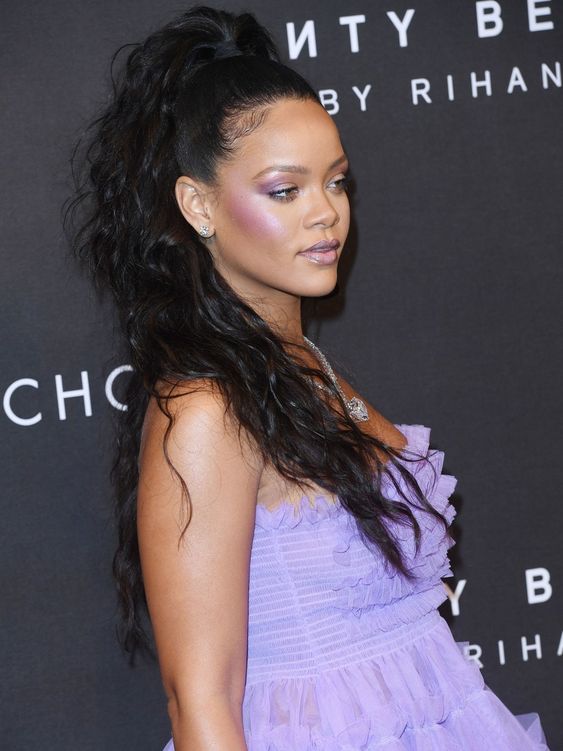 Let's take it from the Queen of fashion herself… Rihanna! She is serving us the ultimate care-free cool girl hairstyle, the high ponytail.
The high ponytail is the most popular hairstyle for teen girls because it can be achieved with any length of hair!
High ponytails take 30 seconds to create and are great for the girls who want to rock a look without looking like they tried too hard.
So have some fun with this look and play around with the high pony that looks right for you!, no matter how tight or loose of curls you're rocking.
The Headband Look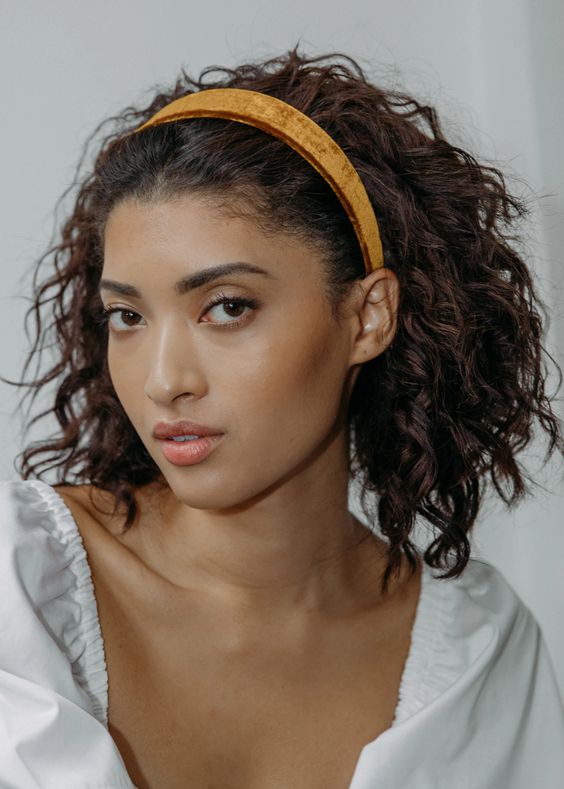 Nothing says effortless and chic more than a headband.
The headband has been around for decades and it is going nowhere anytime soon. This look is classic and probably the easiest look on this list.
Headbands can range from various colors, fabrics, textures, and sizes! It's all about finding the right ones for you.
Try and stock up on different variations so you can play around with them each morning. That way, you can rock this look multiple times in a row without being too repetitive.
Headbands are also a great way to add extra volume and texture to your curls without having to buy any special products.
So grab that headband, push it into your hair, and walk out the door in style!
Half French Braid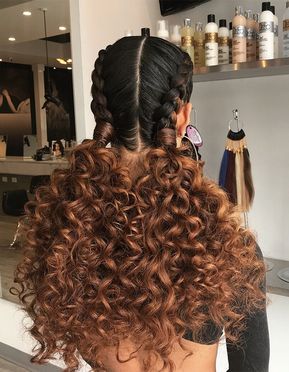 French braids have been a staple for girls for as long as we can remember. They're effortless, easy, and always look on point!
But what about taking it a step further by showing off your curls in a half french braid!
By putting the first half of your hair in a french braid and keeping the bottom half out, you can show off your incredible curls in a way that is sure to steal the show.
This look is perfect for girls who want to accentuate their curls while still keeping that timeless and effortless look!
Scarf Savior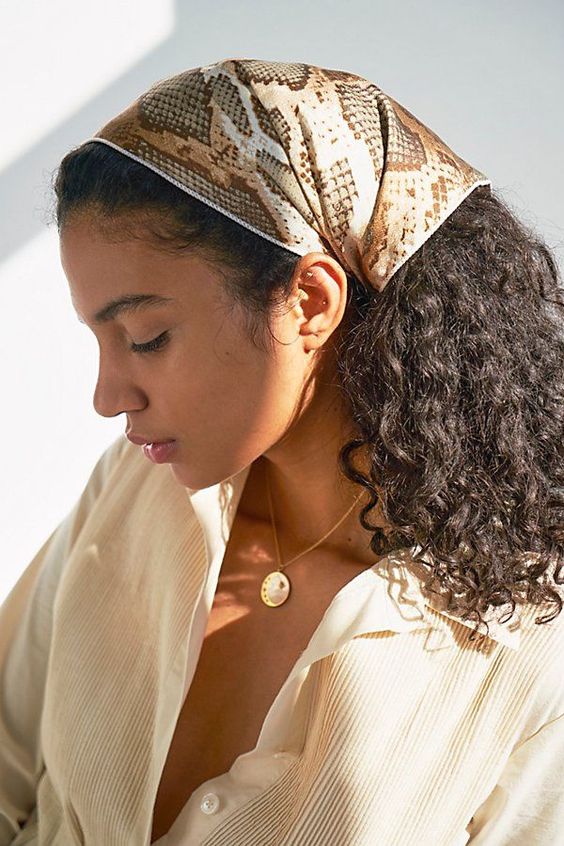 Are you stressing out in the morning about having a bad hair day but not enough time to fix it? Then throw a scarf in it!
Scarves are the best hair savior for girls of all hair types!
Find your favorite scarf and throw it on top of your hair, tying the ends together at the bottom of your head. So easy and simple!
This look is great in not only covering up any bad hair day, but also adding some fashion to your look through the choice of scarf!
Try to keep scarves of all patterns and designs in your wardrobe so you can play around and have fun with this look!
Related Post: Daily Routine for Teenage Girls
Curly Pixie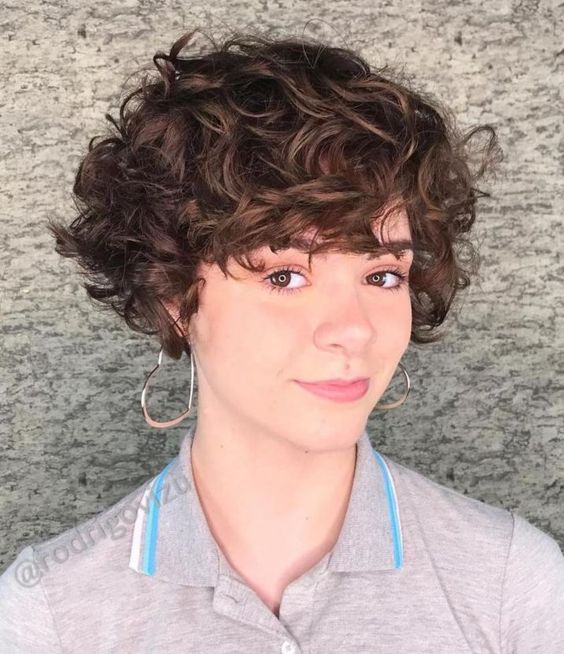 Looking for a dramatic change to make your hair easier to manage? Opt for a trendy pixie!
Pixies are an edgy, cool, and dramatic look that are easy to wear (being how short they are) and add an extra layer of edge to your look!
If you're someone who wants to spend less time doing their hair in the mornings, then this look is great for you!
Pixies can also be a fun way to show off your curls and add an extra lightweight volume to your everyday personal style.
Effortless Claw Clip Pullback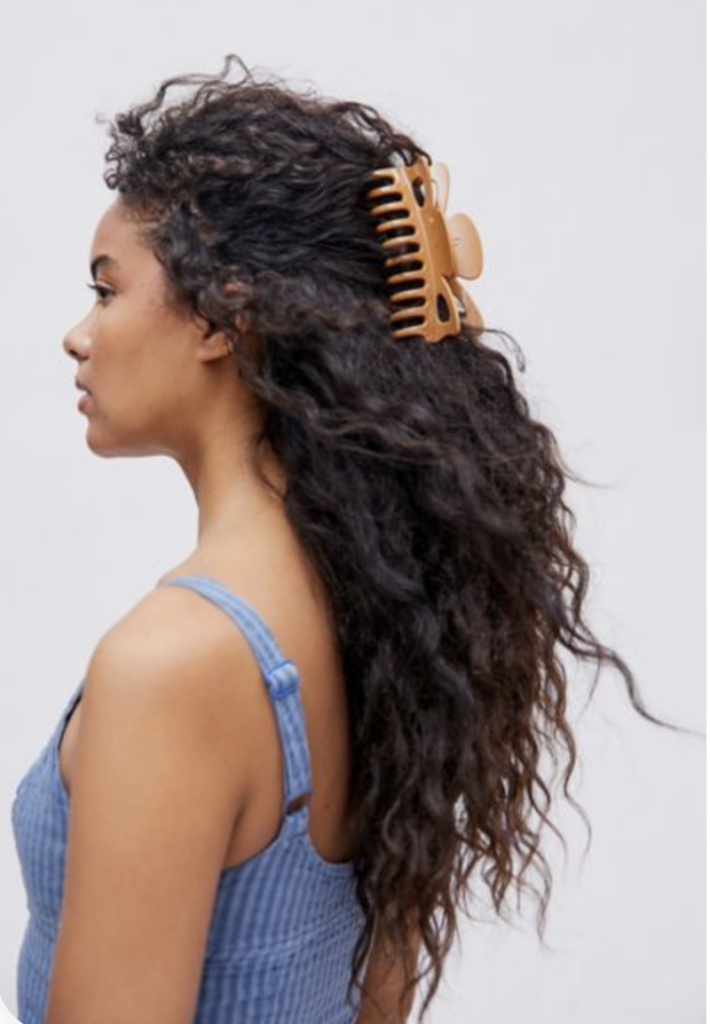 Claw clips are your new best friend, especially if you love to pull your hair back throughout the day!
A claw clip pullback is one of the easiest hairstyles for teenage girls with curly hair to put together.
Not only do they make life so much easier, but they can be an added statement piece to our outfit!
Claw clips are easy to use and can be worn in so many different ways!
Head to your local Target or drugstore to stock up on fun and cute claw clips for the year!
Mermaid Waves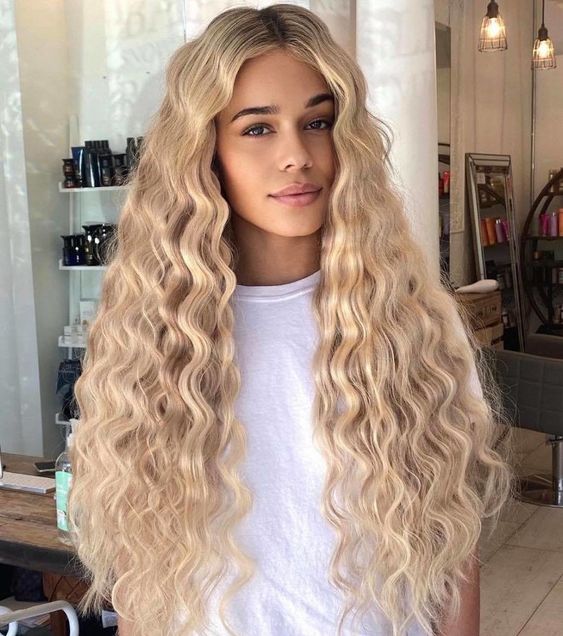 Nothing says embracing your curls more than mermaid waves!
If you have long hair with loose curls/wavy hair, then this look is your new go-to.
Let your long hair shine by adding in a few extra waves to your hair with a wand curling iron!
This look might take the most time out of the others due to the curling but it will leave you looking like a true mermaid with some of the most beautiful curls on campus!
Try adding in a few clips or berets to add some extra bling to this hairstyle.
Hopefully these 15 best hairstyles for teenage girls with curly hair gave you some inspiration for you next haircut!
If you have any comments, questions, or suggestions leave them down below. Thanks for reading!