Looking for the best men's acne skincare system out there? Check out this Tiege Hanley Acne System Review to find out if Tiege Hanley is worth it!
Please note: Modern Teen is an affiliate of Tiege Hanley. However, all opinions are completely my own.
According to a study, only 29% of men (ages 18-34) actually follow a skin care routine. That doesn't even include all the teenage guys with acne!
Some everyday skin care system is not going to cut it. Men have rougher skin that needs proper care.
Tiege Hanley was kind enough to send me their Acne System Level 1 to test out. Let's see if it's actually worth it in this Tiege Hanley Acne System review!
Let's start with a few basics…
What is Tiege Hanley?
Tiege Hanley is a men's skin care brand with a mission to make men feel amazing with an uncomplicated skin care system.
They take the guesswork out of searching for individual products. Most skin care brands don't tell you how much product to use and which products work well together.
With Tiege Hanley, you get 1 acne skin care system. Everything is spelled out for you in order to get clear skin as a guy.
The company was founded by Rob, Aaron, Kelley, and "The Chemist". You may recognize Aaron Marino, the Youtuber/entrepreneur of Alpha M and a few other brands.
Aaron has been through every little thing a man has to go through in life, which is why I trust him when it comes to anything men-related!
Now that you know more about the brand and what they stand for, let's get into some more details about the acne system…
How Does Tiege Hanley Work?
Tiege Hanley works in 5 simple steps:
Go to Tiege.com
Select "Choose Your System"
Pick an Acne System Level (1 or 2)
Subscribe and Purchase the System
Follow the Skin Care Routine for 30 Days
That's it! The process is extremely simple (exactly how it should be as a men's skin care brand).
The products come as a subscription, so everything comes together in one box for you. There are no options to order each product separately on their website.
However, I think the subscription service is excellent since it's really easy to grab your entire box with you to the bathroom and use the kit as intended.
Plus, you can cancel at any time or pause a certain month(s).
Tiege Hanley makes it super easy for teenage guys to stay on top of their skin care routine, especially if they have acne.
There are 2 different Tiege Hanley Acne Systems to choose from:
Acne System Level 1 – Includes 3 base products + acne treatment
Acne System Level 2 – Includes 3 base products + 2 acne treatments
If you have more severe acne, you probably want to go with Level 2. If not, you can easily stick with Level 1 (since it's more affordable).
The base products will be discussed in more detail below…
Related Post: Tiege Hanley Review
What's Included in the Tiege Hanley Acne System?
In this Tiege Hanley Acne System review, we'll be going over the products that are included in the Level 1 system.
You'll receive a small black box which contains all the products. The box includes an instruction card which tells you every single step of the routine!
The acne skin care routine is divided up by morning and night. Your instruction card will explain the individual steps for both along with the proper order to use them.
My favorite part about the kit is the pictures on the instruction card which shows you exactly how much of each product you need to use.
There are 3 Tiege Hanley base products:
Wash
Scrub
AM Moisturizer
Let's go over each one…
Wash
The Tiege Hanley Wash is the largest product in the entire kit (and for good reason). Why?
Because you'll have to use this product twice a day, everyday!
It comes out as a white, cream-like substance. It doesn't foam up like most cleansers do, but I've found that it still covers your face entirely with the recommended amount.
The daily face wash smells incredible! It cleans your face perfectly as well. You will feel clean enough that the dirt and oils are removed, but not so much that your face gets too dry.
That's always something to aim for when looking for a good face wash.
The recommended usage amount on the instruction card is a nickel-size amount into the palm of your hand.
This amount has been very accurate based on my personal experience with it.
The size of the bottle is also perfectly accurate in the sense that it took just about 30 days to go from full to empty. If anything, you'll have a little extra left over.
One thing to keep in mind… during the first 2 days of use, your face might experience some redness (my face did as well). This is essentially your face getting used to the new products on your skin.
Scrub
The scrub is my favorite product in the entire Acne System Level 1 kit… hands down!
It's used to exfoliate your face twice a week in order to get rid of dead skin cells and harmful bacteria. Using it more often could actually damage your face's skin cells.
My favorite part about the scrub is that it feels like Antarctica just hit you in the face. Think of that IcyHot feeling, except it's just the Icy part
Your face will smell amazing, feel fantastic, and have a cooling sensation after you've rinsed it off!
It comes out as a thick, tan scrub with apricot seeds to dig into some of the dead skin that can be hard to clean with an everyday face wash.
The bottle is very small, but you only need to use it 8 times a month. I literally get excited for the 2 days a week when I get to use the scrub!
AM Moisturizer
The morning facial moisturizer is going to be your moisturizer during the day. Tiege Hanley has created this with an SPF of 20 in order to protect your skin from the harmful sun rays.
It does not come out like sunscreen. In fact, the AM moisturizer has one of the best textures I've ever tried on my skin.
It comes out as a creamy white substance in a pea-sized amount. It's not too liquidy where it's running down your face and also not too thick where it's hard to spread around.
The texture is near perfect for my preference of moisturizers and the SPF 20 makes me happy to know that I'm protecting my skin when I go outside.
Related Post: How to Get Clear Skin for Teenage Guys
Acne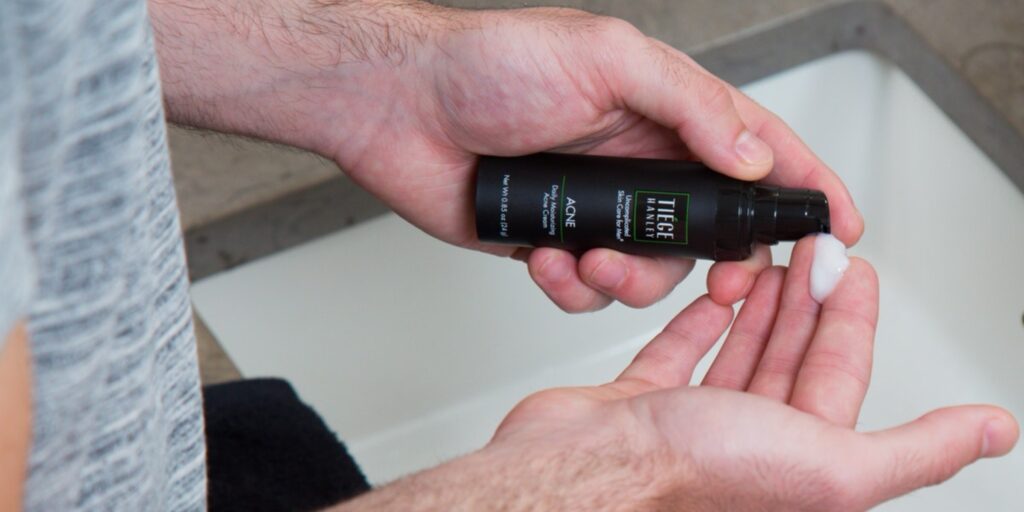 The acne treatment that is provided in the kit does wonders for your skin.
Tiege Hanley recommends that you use a few good pumps of the acne product to ensure full coverage of the face.
It comes out as a thinner white substance that is much looser than the Wash and AM Moisturizer.
It actually smells pretty good for an acne treatment because of all the natural products that are added into the formula.
It's excellent for those with mild acne! If you have extremely severe acne, speak with a dermatologist to find out what products are best for you.
How Much Does the Tiege Hanley Acne System Cost?
The Tiege Hanley Acne System costs $35 for the Level 1 kit and $45 for the Level 2 kit.
The pricing is slightly on the higher end, considering that every level only lasts 30 days on average. However, the quality and simplicity of these products make the price extremely worth it.
Keep an eye out for international shipping costs if you live outside of the U.S.
If you want to give Tiege Hanley a try, head over to
tiege.com
and use the code
modernteen
at checkout to save 10% on your first order!
Frequently Asked Questions
If you're still hesitant about trying Tiege Hanley, hopefully these FAQs will help you understand a bit more about the brand…
Is the Tiege Hanley Acne System Good for Teenagers?
The Tiege Hanley Acne System is an excellent choice for teenagers who have mild acne and want a basic skin care routine to follow.
If you have more severe acne, speak with a dermatologist to see if these products work with your skin.
How Long Does Tiege Hanley Last?
Tiege Hanley lasts for approximately 1 month.
After testing out the products for exactly 30 days, I can say that this approximation is very accurate.
Is the Tiege Hanley Acne System Good for Sensitive Skin?
Tiege Hanley is designed for all skin types. Consult with a dermatologist if you think you may have issues with sensitive skin.
You may experience redness during your first few days of using the products. This redness will likely go away after about 3 days.
Does the Tiege Hanley Acne System Get Rid of Acne?
The Tiege Hanley Acne System is designed to reduce the size of acne and blackheads on your face.
Their products work well on men and teenage guys with mild acne. If you have severe acne, consider discussing with a dermatologist before using Tiege Hanley.
Is Tiege Hanley TSA Compliant?
All Tiege Hanley products come in travel friendly bottles, making them TSA compliant. The largest container size is 2.5 fl oz.
This is under the maximum capacity of 3.4 fl oz. for carry on products.
Related Post: How to Get Clear Skin for Men
Pros and Cons
This wouldn't be an honest Tiege Hanley Acne System review if I didn't compare the pros and cons of using this skin care system…
Pros
Products smell amazing
TSA compliant
Extremely easy to use
Simple subscription service
Instructions card included
Natural ingredients
SPF products included
Relatively affordable
Manly looking products
Accurate product amount recommendations
Acne system heavily reduces mild acne
Cons
Small bottle sizes
Only lasts 30 days
Can't buy products individually
Somewhat pricey (depending on acne system)
May experience redness for first few days
The pros clearly outweigh the cons. Just make sure that this acne system is within your monthly budget to improve your skin.
Plus, if you need extra products on top of the kit, then you may be spending a lot more money than you'd like.
Related Post: The Ultimate Guide to Personal Hygiene for Teens
Final Thoughts – Is the Tiege Hanley Acne System Worth It?
Yes! Tiege Hanley is worth it. Here's why…
The products smell, feel, and work amazingly on your skin. The cost is pretty affordable, especially for the Acne System Level 1.
They do what they say they're meant to do… provide easy-to-use skin care products for men by taking out the guesswork and complicated directions.
The truth is, using Tiege Hanley everyday gives me something to look forward to… especially since I know that my skin is getting better!
I truly think you will have a similar feeling if you try them out, but hey… you never know. It might not work well with your skin and that's okay.
However, if you have mild acne and want a simple way to get clear skin, I think Tiege Hanley is the best way to go for your skin care routine!
If you want to give them a try, head over to tiege.com and use the code modernteen at checkout to save 10% on your first order.
Hopefully this Tiege Hanley Acne System review has helped you decide what skin care kit is best for you!
If you have any comments, questions, or suggestions leave a comment down below. Thanks for reading!