Want some summer outfit inspiration for high school? Here are 10 stylish summer outfits for teenage guys that are actually practical!
Before we start, you should understand that a lot of these outfits really boil down to 2 main things… fit and color.
The fit of your clothing is just as important as the style, layering, colors, and everything else. Make sure you're buying clothes that actually fit you!
You should also note that the examples are not necessarily of teenage guys. The outfit is the only thing being referenced… not the person wearing it.
If you see a guy in a picture that definitely doesn't look like a teen, just remember that we're only looking at the style here.
Let's dive in!
Patterned Shorts and Button Up
Summer means heat, and heat means it's time to pull out the shorts!
Shorts with some sort of pattern is a great way to get a little bit of style and vibrancy to your outfit.
Pair this with a well fitting, short sleeve, and breathable button up to make the greatest summer look of all time!
Notice how the model is wearing shorts that don't go past the knees and how the button up is rolled up once to show off some of the arms.
Everything fits perfectly, which is why it looks better than if he wore the same outfit, but with 1 size too large.
Shorts and T-Shirt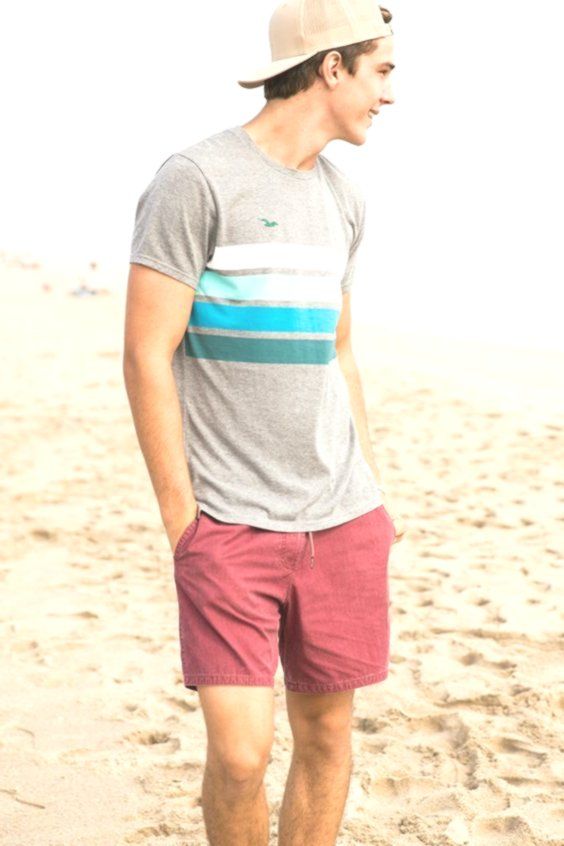 A shorts and t-shirt combo is a simple and casual look to wear out practically anywhere during the summer time.
This isn't just any pair of shorts or t-shirt either. These actually fit properly and the colors match up well.
Red and gray is a common combination of colors for a men's outfit. Red usually looks best on lighter skin colors, but give it a try and see how it feels for you.
Pairing this outfit with a snapback hat finishes it off perfectly and gives off a young and fun vibe for a teenage guy.
Related Post: 6 Shoes Every Teenage Guy Should Have
White and Blue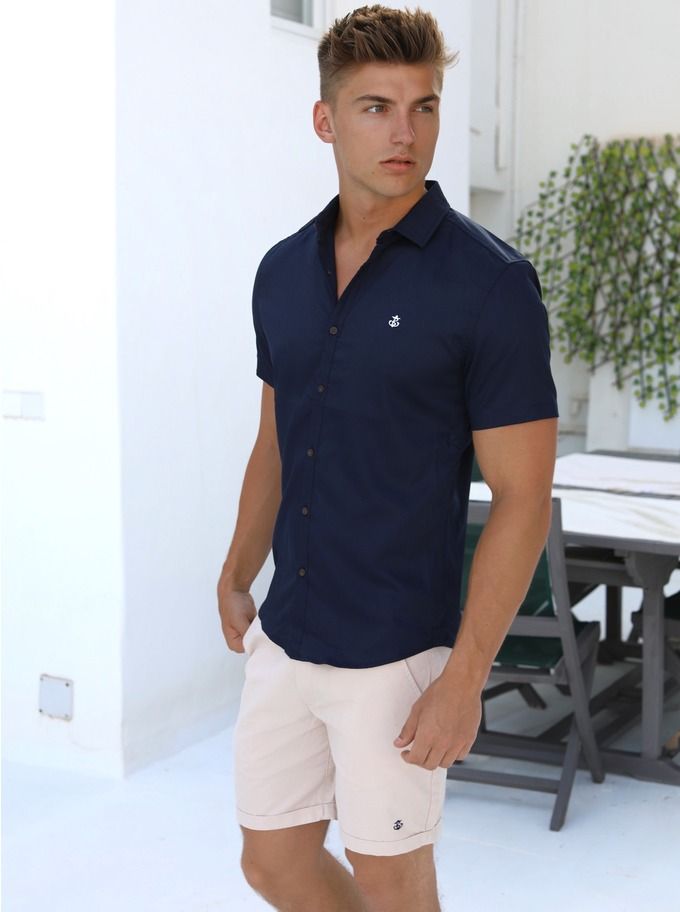 A white pair of shorts and a blue button up makes for one of the best summer outfits for teenage guys!
I'm sure we can all agree that this model is wearing these clothes perfectly. The short sleeved button up leaves no extra saggy room for it to droop down.
The shorts don't go past the knees and they hug the thighs properly without being too baggy or strangling his legs either.
Definitely consider adding these pieces to your wardrobe essentials if you haven't already and try out the fit of the clothing in stores to get the right size.
Jeans and Floral Shirt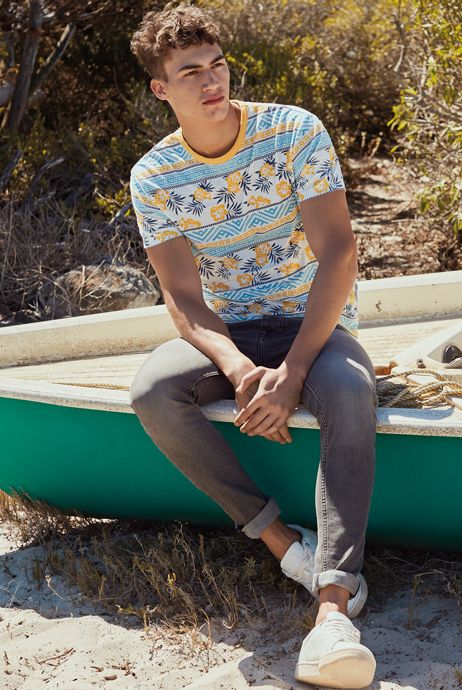 If your weather allows it, throwing on a pair of jeans with a floral shirt is fun and relaxed at the same time.
Going for a subtle floral, fruit, or colored pattern on a shirt always works well during the summer. Again, we don't want baggy Hawaiian shirts here!
You can cuff (roll up) your jeans a little to show off the ankles and keep you cool. Doing the same with your shirt sleeves also adds some style.
We don't want to look like absolute douchebags when rolling up our clothing. Keep the rolling to a bare minimum. One roll is usually more than enough.
Chinos and Short Sleeve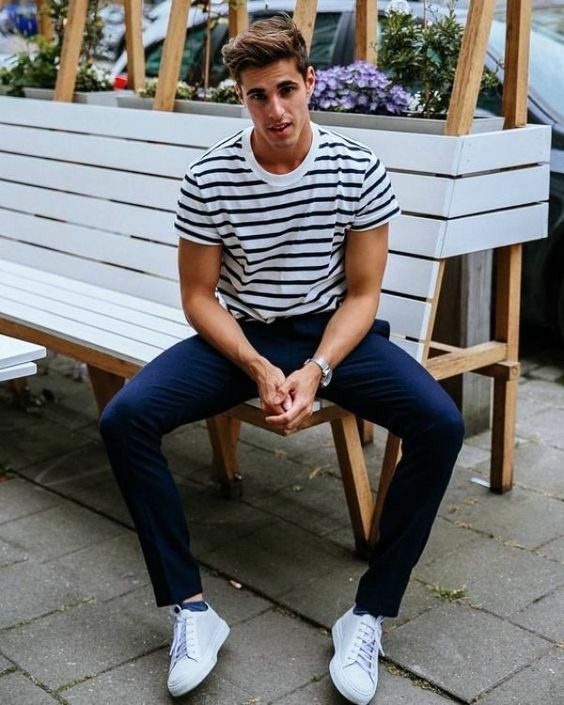 As a teenage guy, chinos is definitely something you should have in your closet. It's a great substitute for jeans when it's warm outside.
A simple well-fitting tee to go on top works great with chinos. Blue and white is a great combo for the summer time.
You can pair this stylish outfit with a watch, snapback, and white shoes.
If you're a skinnier guy, horizontal stripes is a great illusion to make you look a little wider. Vertical stripes does the opposite (best for bigger guys).
Related Post: Daily Routine for Teenage Guys
Breathable Double Layer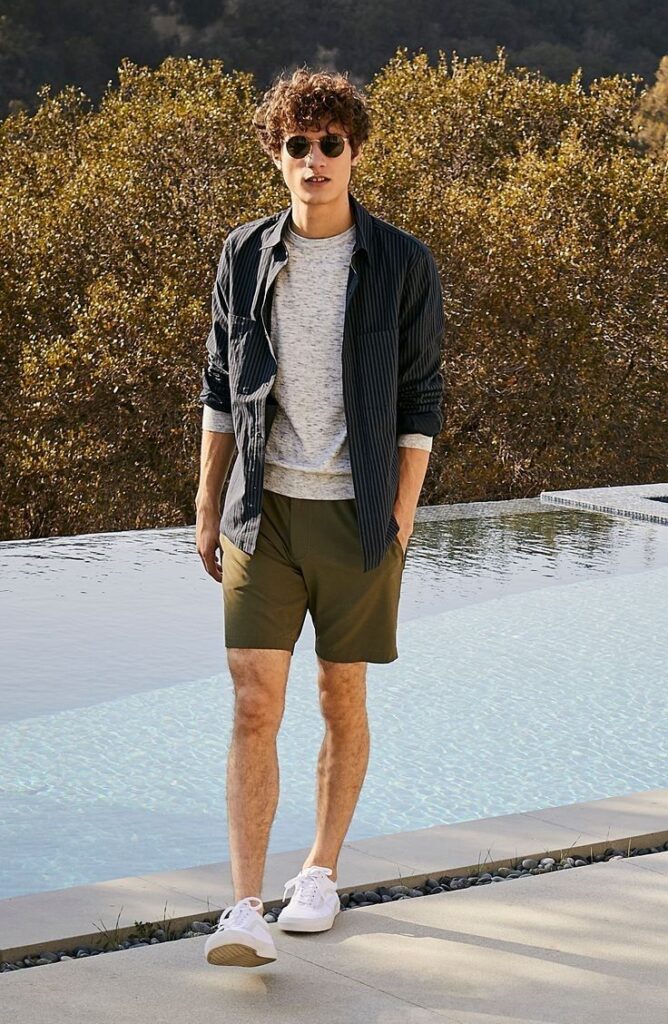 If your summer heat is mild enough, consider trying this double layer option!
It's an excellent way to add layering and rugged style to your look even when the winter and spring season have come to an end.
Try matching up colors like greens, browns, oranges, and blues to create that fall outfit vibe.
We're still using short sleeved clothing here, but with colors that are teasing the fall season. White shoes and sunglasses also work perfectly in this mix of style.
A 3/4 sleeve button up is a fantastic piece to use as the outer layer!
Cool and Vibrant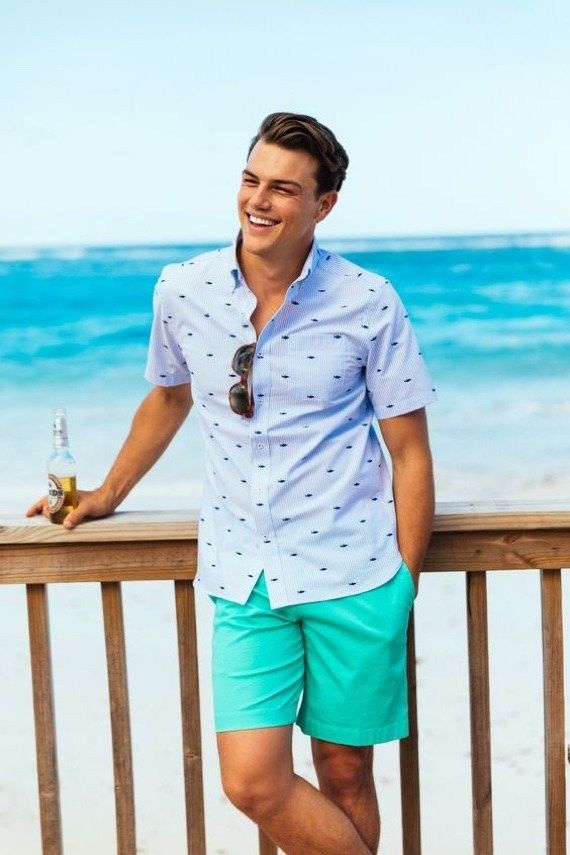 This cool and vibrant look is one of my favorite summer outfits for teenage guys with confidence.
If you're bold and outgoing, then this is the outfit that will match your personality more than anything.
For this outfit, you'll need a pair of shorts or t-shirt that has a big pop of color. Follow it up with a similar color piece that is slightly less vibrant.
This makes the colorful shorts stand out along with a well-fitting subtle t-shirt. A button up with a minimal pattern works really well here.
Related Post: Ab Workout for Teenage Guys
Black on Black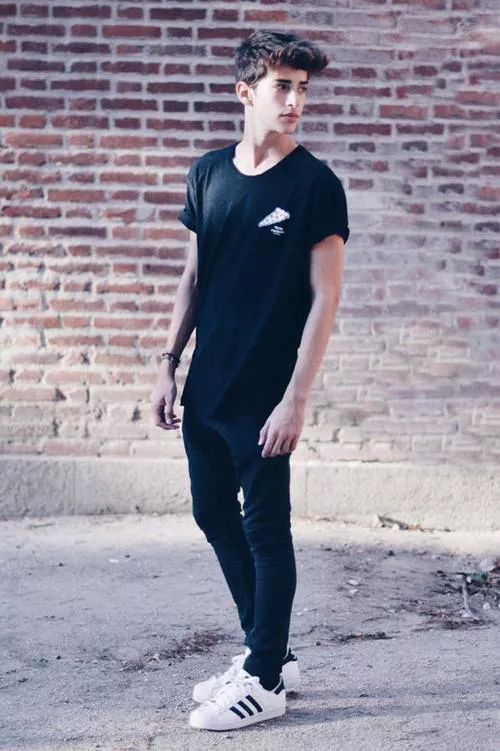 The idea here is simple. Wear black pants and a black shirt.
Pairing it with white shoes is an awesome way to add a little stand out feature to the outfit. A bracelet or watch could also upgrade your style.
Make sure the fit of your clothing is actually proper. I can't stress this enough.
The color black is actually a slimming agent. Consider wearing black when you want to look a little slimmer on a night out.
It can help accentuate muscles too!
Sweat Shorts and T-Shirt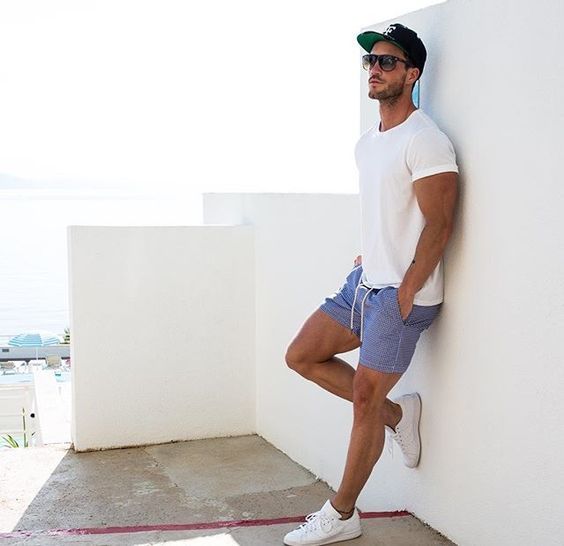 The name of the game during the summer is simplicity. It really doesn't take much to look good, as long as you know what you're doing.
Take this model for example. He's wearing a well-fitting pair of blue sweat shorts and a plain white tee!
Yes, he's a muscular guy which can make him look slightly better in his outfit. However, the same thing applies to any body type with the proper fit of clothing!
A hat and sunglasses complete the look along with a pair of white sneakers.
Related Post: How to Get Clear Skin for Teenage Guys
Black and White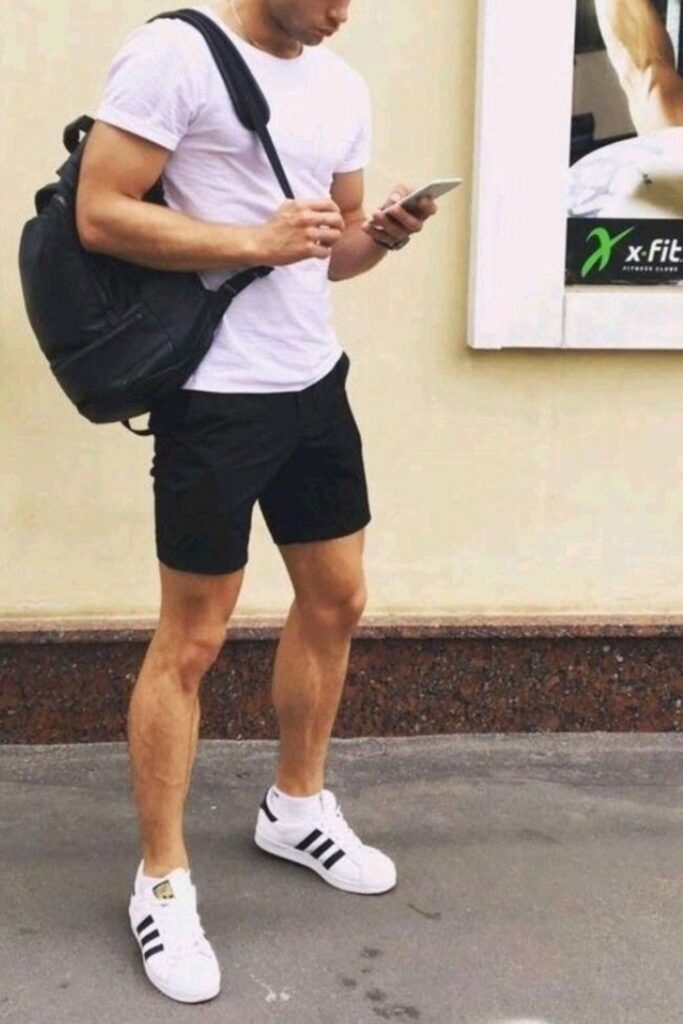 There's something about black and white that always works well when it comes to teenage guy's clothing.
To complete this outfit, you have to think of yourself as a zebra from the top to the bottom. Your colors should alternate from white to black.
For example, this model has a black backpack, then white shirt, then black shorts, then white shoes.
It doesn't get more basic than this, but the style is still most definitely there! Consider this combo when you need a quick style upgrade.
Hopefully these 10 stylish summer outfits for teenage guys have given you some inspiration! Now you won't have to guess what you're wearing before going out.
If you have any comments, questions, or suggestions leave them down below. Thanks for reading!