Do you need eye-catching senior pictures and don't know where to start? Check out these 25 senior picture ideas for guys to get inspiration!
These senior picture examples will include fall, summer, outdoor, sports, and other unique pose ideas.
No matter what style of senior photos you're looking for, you'll be sure to find some that match your preferences.
Let's dive in!
Formal Senior Pictures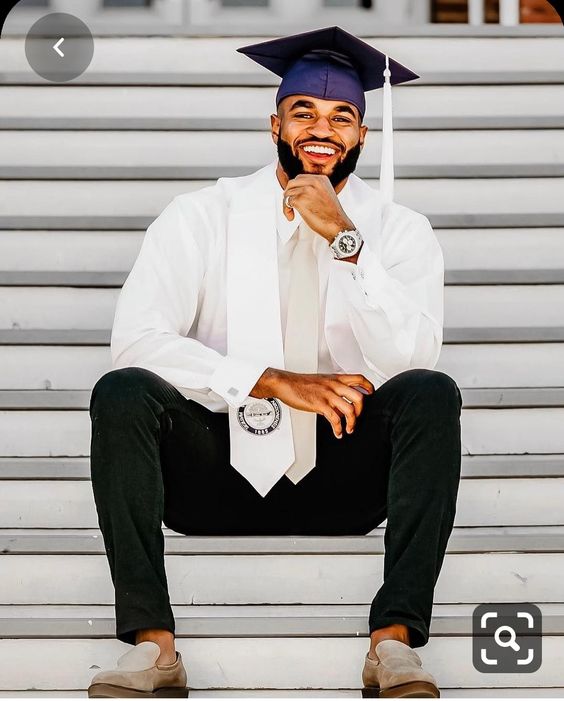 It's time to get all dressed up and throw on your cap, because you're graduating!
If you're looking for the best senior picture idea for guys, then go for a classic dressed up look, sporting your new graduation gear.
Autumn/Fall Photoshoot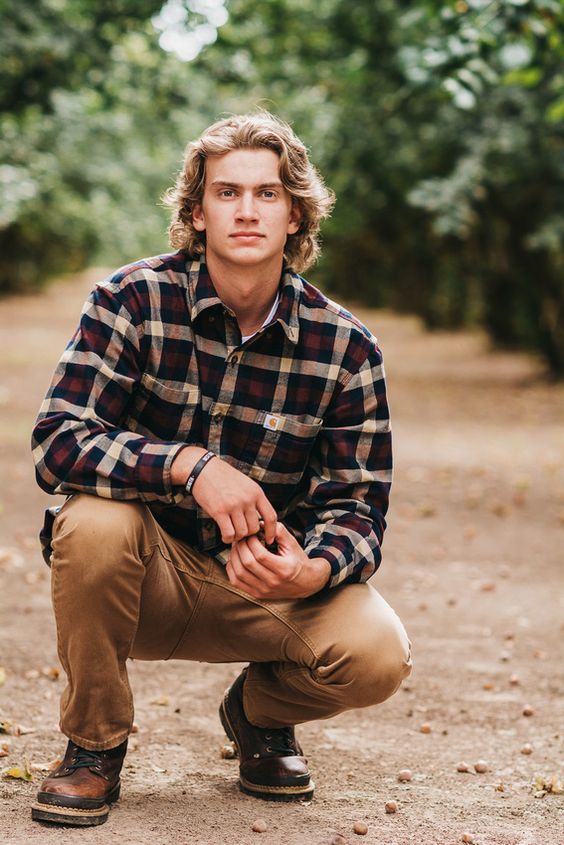 If you're taking your senior pictures outdoors in the Fall months, we highly recommend leaning into the season and rocking your favorite flannel and boots.
This looks especially good if you're in a Midwest state that actually has seasons!
Related Post: 10 Tips for Seniors in High School
Classic Letterman Jacket Athlete Ideas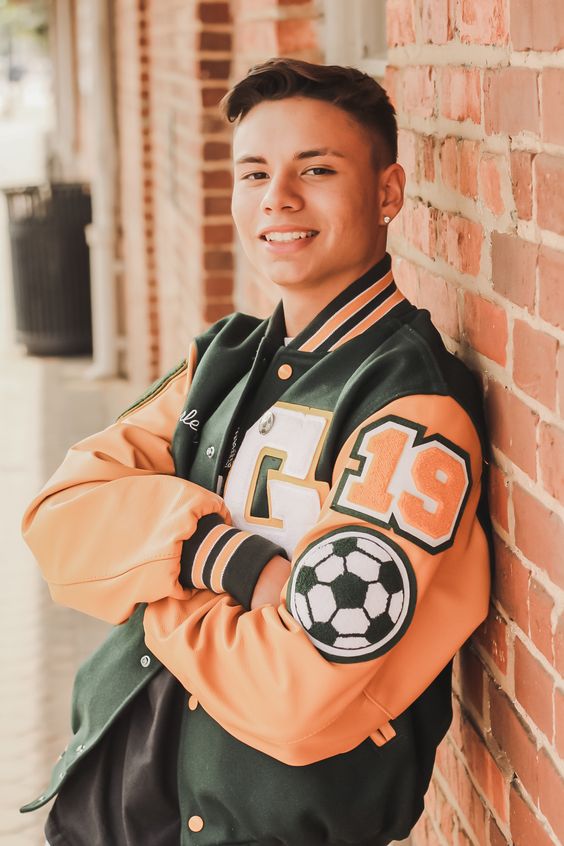 Whether you're a football, basketball, or soccer athlete, it's always a great senior picture idea for guys to rock your letterman in a few photos.
What better way to show off your school pride, and your athletic skills?
Creative Hanging Pose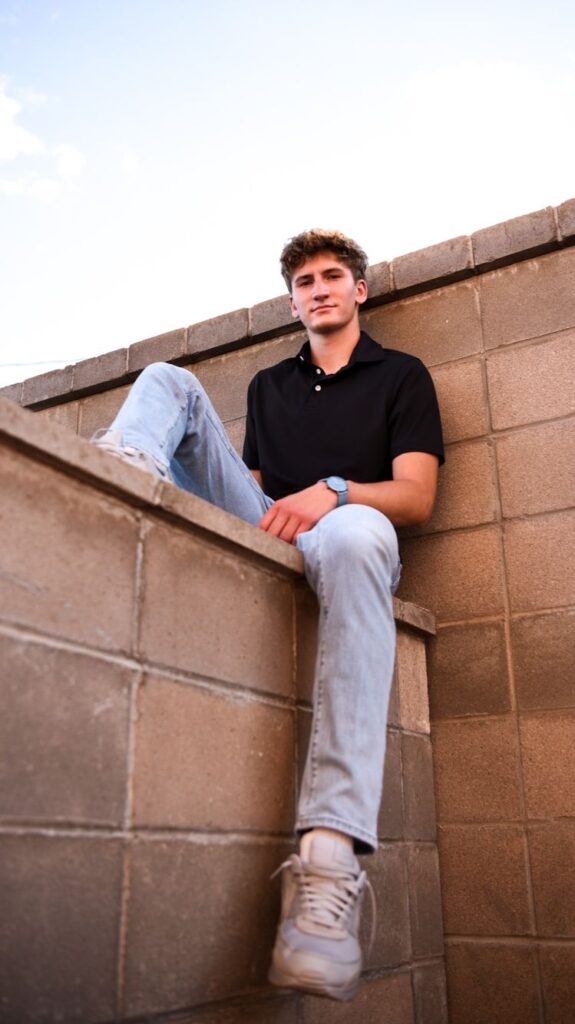 Get a cool and laid-back shot of your senior hanging on a staircase, wall, or even in a tree.
It makes for one of the most creative senior picture ideas for guys to try out in 2023!
Cap & Gown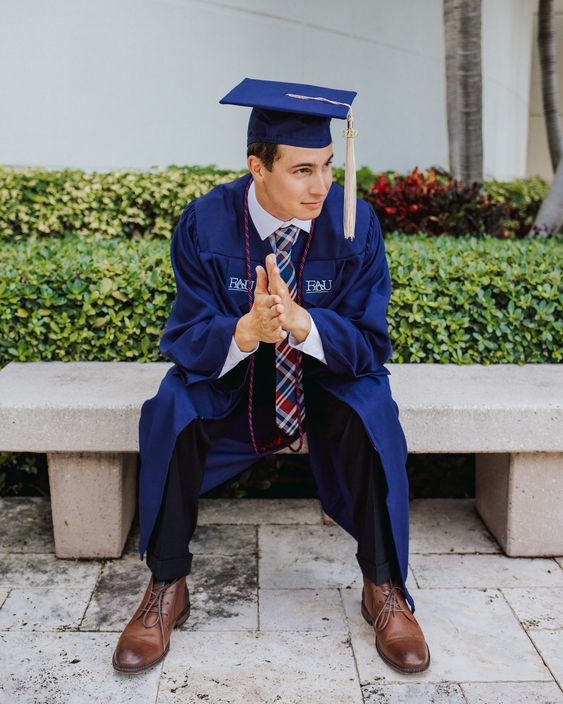 Rock your cap and gown for your senior pictures, it's the only time you'll get to wear it, other than the ceremony!
This works really well in the colder Fall and Winter months when you can use the extra layers.
Midwestern Cowboy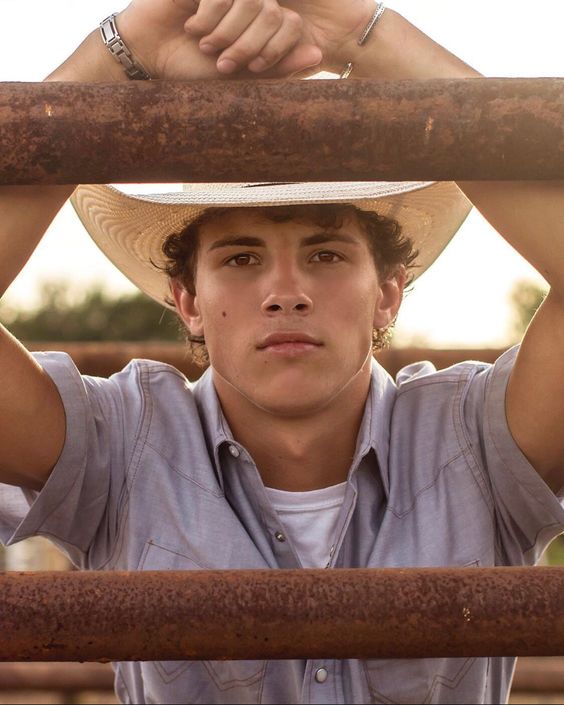 If you want a unique senior picture idea, lean into your Midwestern/Southern side with a cowboy themed shoot.
Grab your favorite cowboy hat and boots and head to your local ranch.
For the Car Guys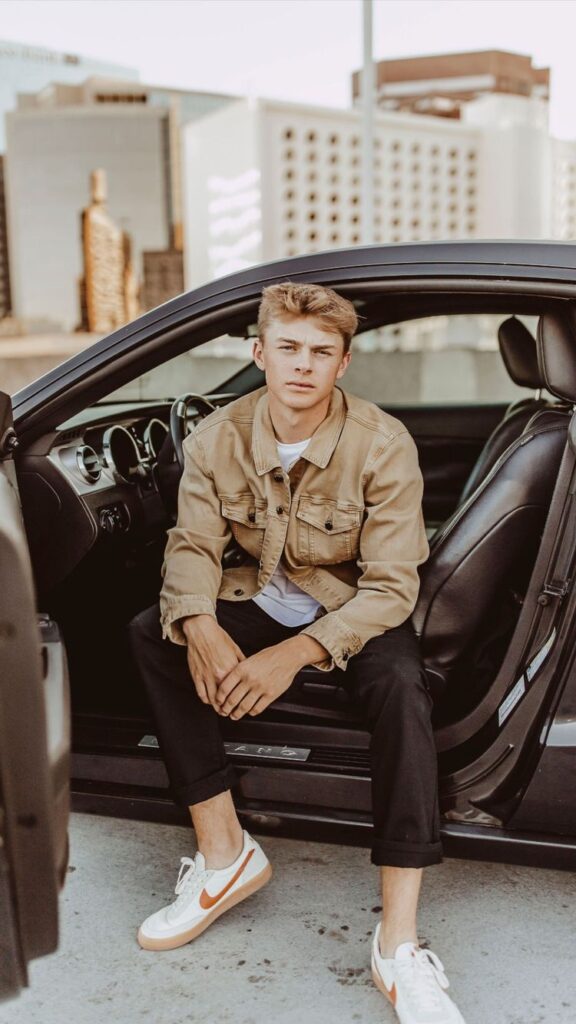 If you're not much of an athlete, but you sure do love cars, and especially your car, consider senior picture ideas involving your car.
This can be a great way to bring your passion into your senior pictures to make them unique and special.
Sitting in Fall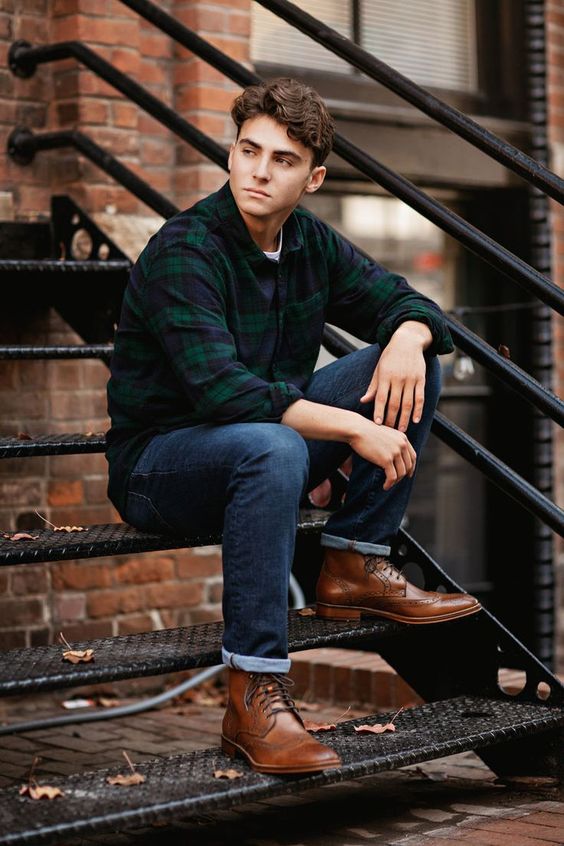 Some of the classic senior picture poses for guys always involve sitting, and this pose is perfect for any guy who might not feel super comfortable in front of the camera.
We especially love this during the fall when you can sit with some leaves around you in a warm and cozy flannel.
Football Themed Senior Pictures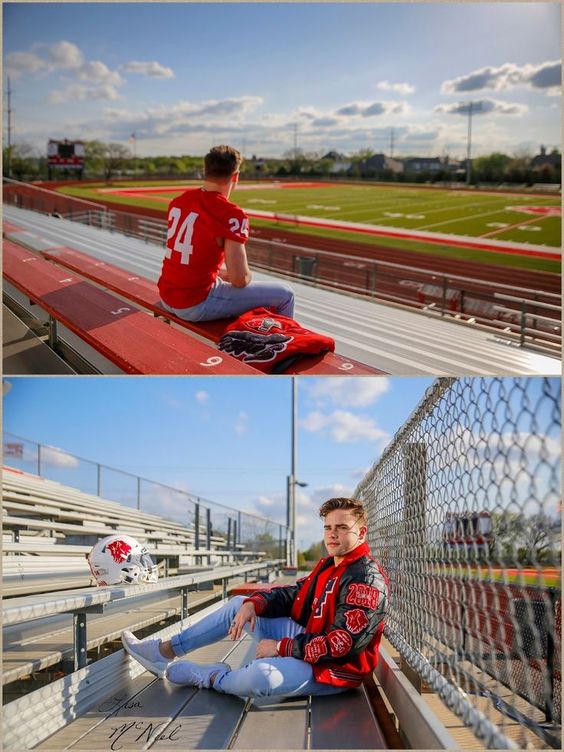 Calling all senior football players, you've got to have a football themed senior picture!
We love how these senior pictures showcase the senior in his jersey, letterman, and around his field.
Lake Living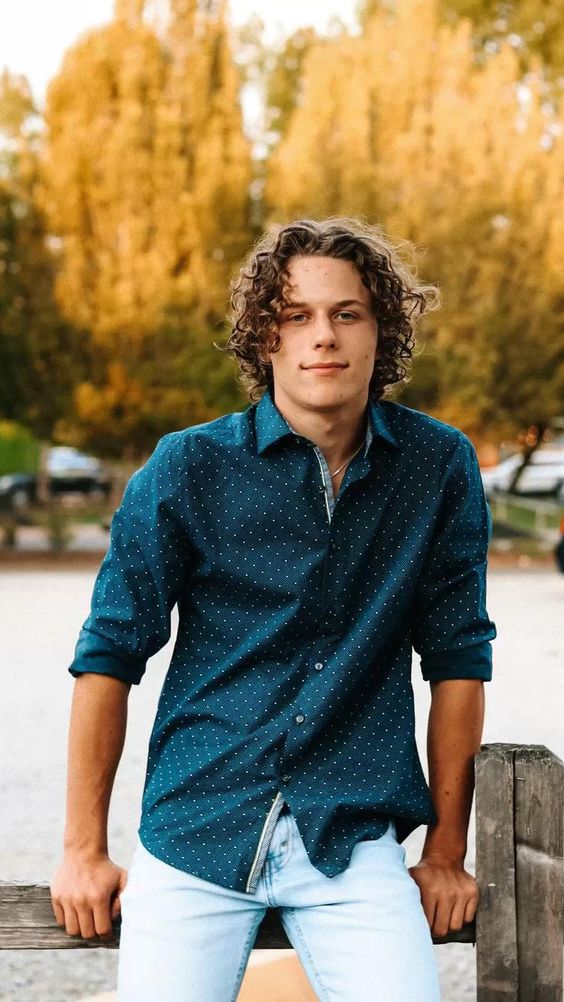 Lake life is the best life, and if you live near one, you probably already know that.
Head to your local lake around Fall or Spring for a lake inspired senior picture that will look incredible.
Spring in the Mountains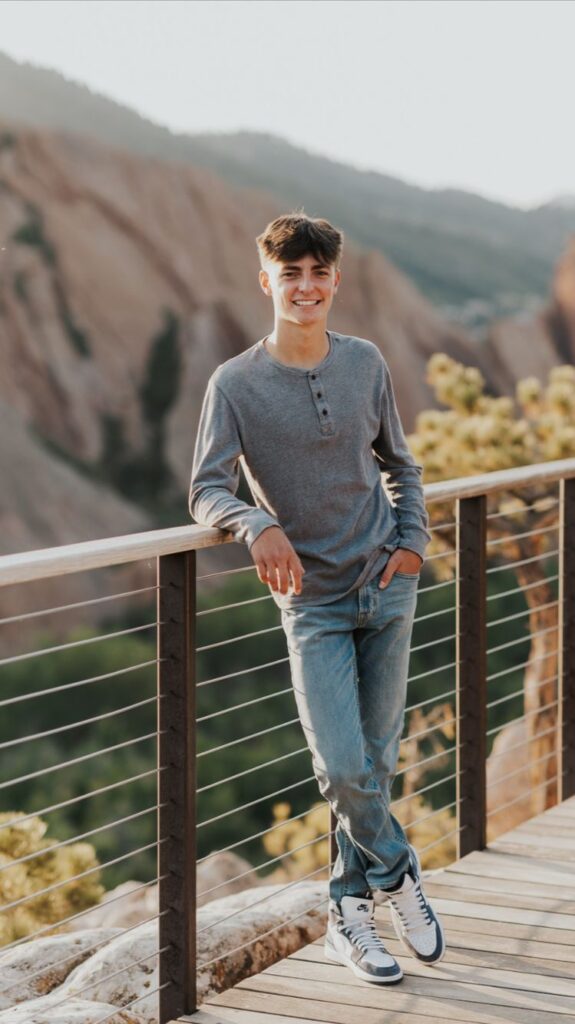 Location is everything for senior pictures, and this mountainous backdrop is jaw dropping.
A mountain background is easily the best 2023 senior picture idea for guys, no matter what season.
Related Post: 25 Best Graduation Outfits for Guys
Southern Truck Charm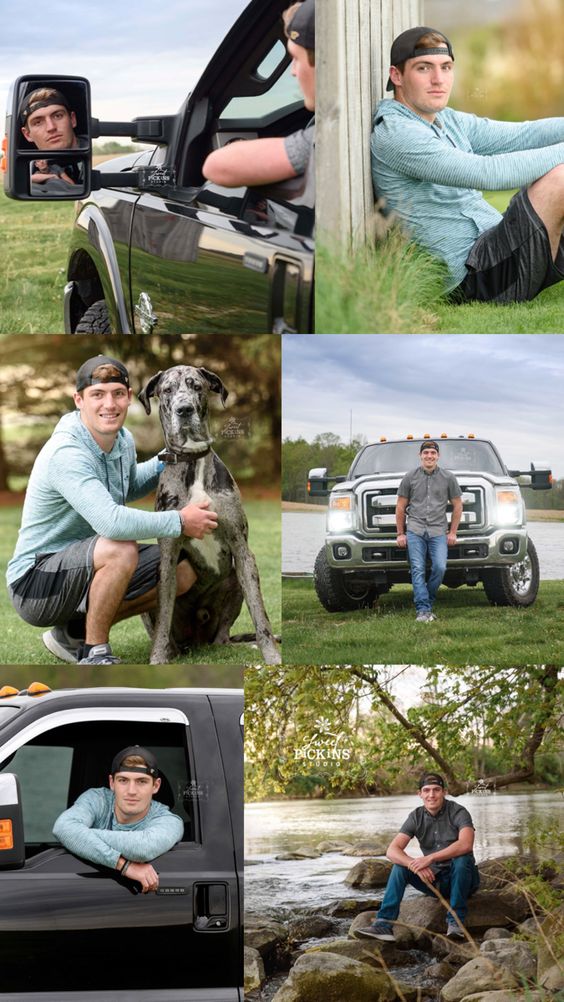 Bring that sweet Southern charm into your senior pictures with the classic Southern trifecta, your dog, truck, and lake.
This is also great inspiration for senior picture poses for guys as it shows all the ways you can post for the camera using your surroundings.
Snowy Winter Pictures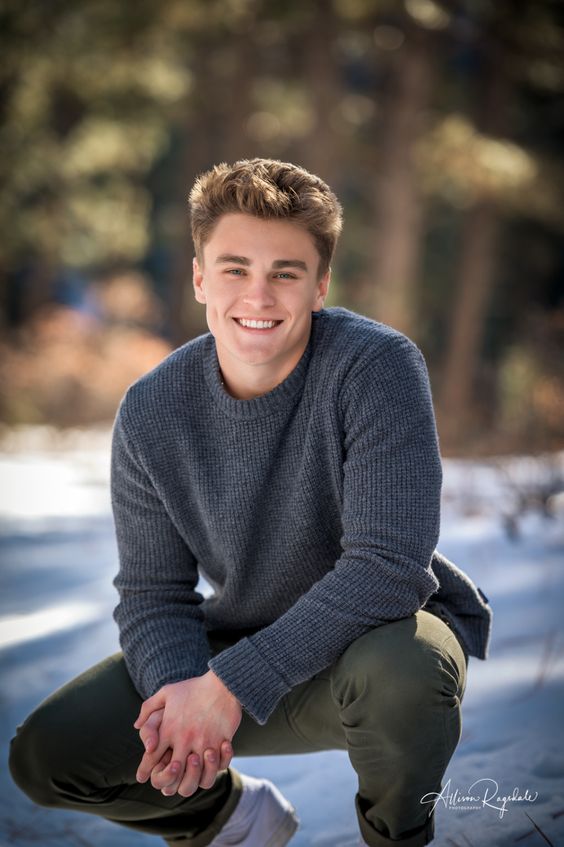 Senior pictures in the Winter? Sign us up.
We love snow inspired senior picture ideas for guys, especially who prefer the colder seasons over the warmer ones.
Baseball Batter Up Pose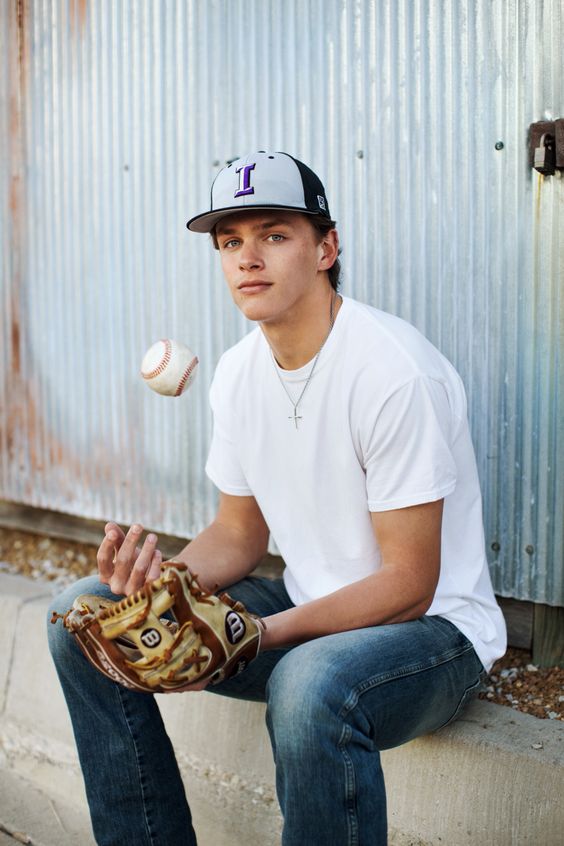 Get ready to batter up for this baseball inspired senior picture idea for guys.
If you're a senior baseball athlete, there's no better way to take your senior pictures than with your trusted mitt, a ball, and a hat representing your soon-to-be college.
Baseball Field Seated Idea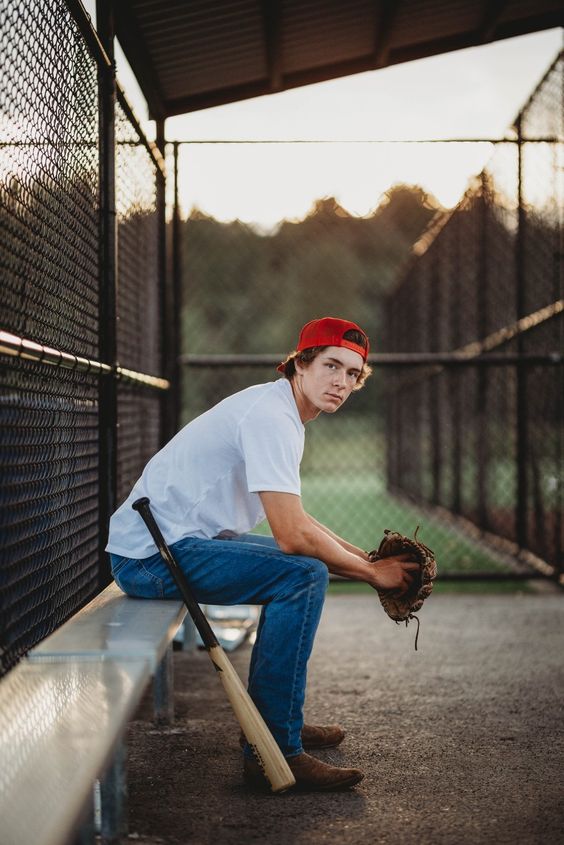 Another great photoshoot idea for seniors who play baseball is to take some pictures down at your baseball field.
With a simple white tee-shirt and jeans, this is a shoot anyone can rock!
Big City Background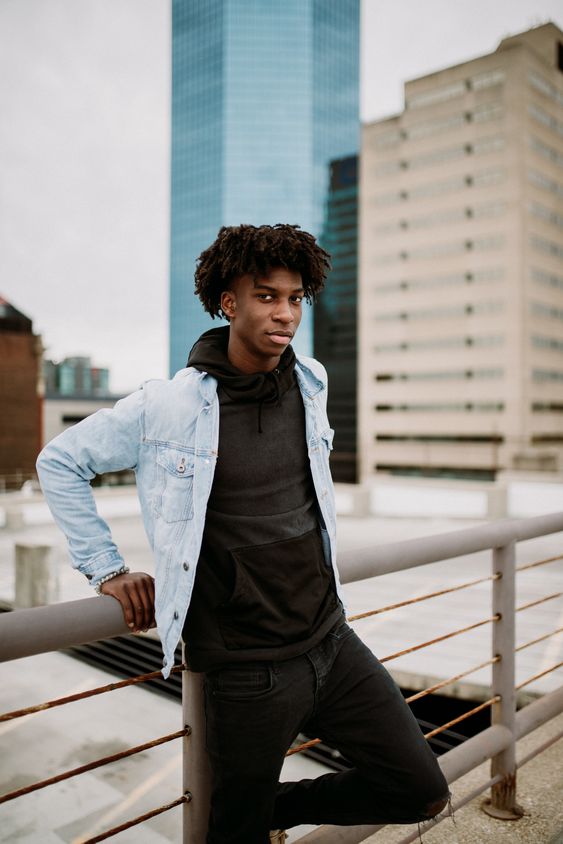 If you live in a big city with iconic buildings, bridges, and monuments, consider using those as part of your senior picture backdrop.
These iconic places help bring in your hometown to your pictures and make them feel more personal.
Outdoor Summer Photos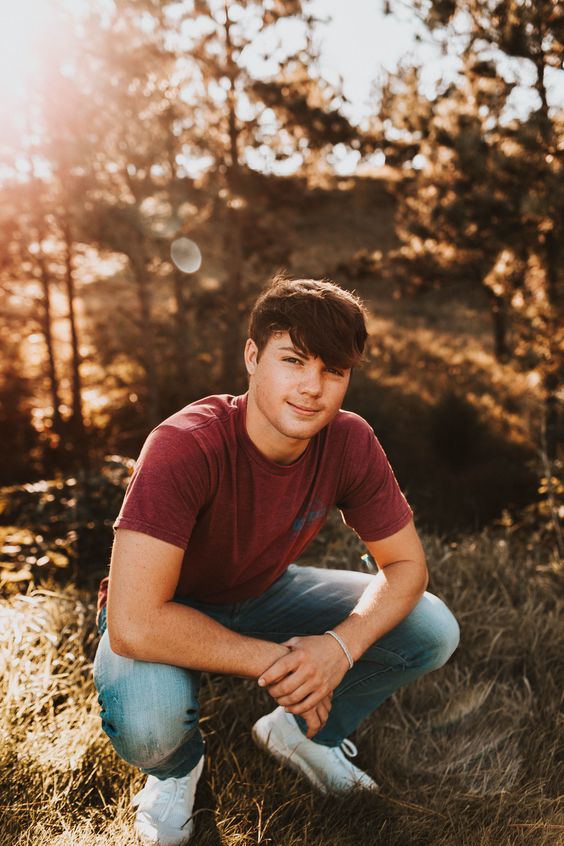 When it's a beautiful summer day, there's nothing like being outside, especially when you live near nature.
You can also take your senior picture pose inspiration and take a few pictures in this squatting down stance that we see most guys do.
Senior Beach Photoshoot
Head to the beach for your 2023 photoshoot for the best senior picture anyone at your school will have.
Taking photos at the beach easily elevates any regular photo, and during golden hour, it's the perfect place to be.
Outdoor Tree Lover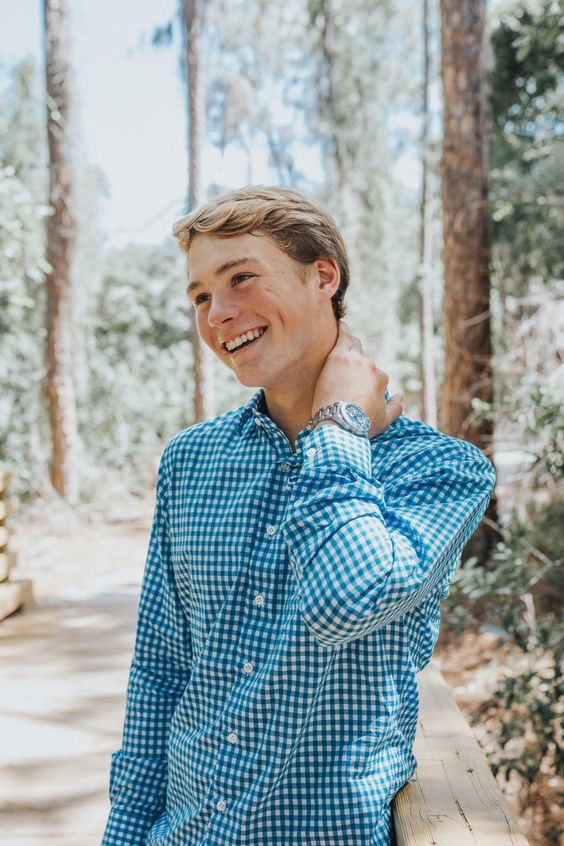 A great outdoor senior picture idea is to go around nature, but specifically, some trees!
This is also a great senior picture pose for guys who need a little extra help getting into stance in front of a camera.
Pop of Color Backdrop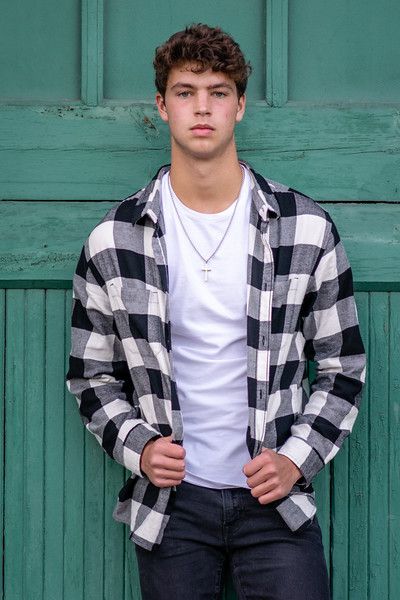 Add in a pop of color to your senior photoshoot for a unique and fun senior picture idea.
In 2023, don't be boring, be bold and add in some color!
Related Post: 40 Best Outfits for Teenage Guys
College Commitment Pose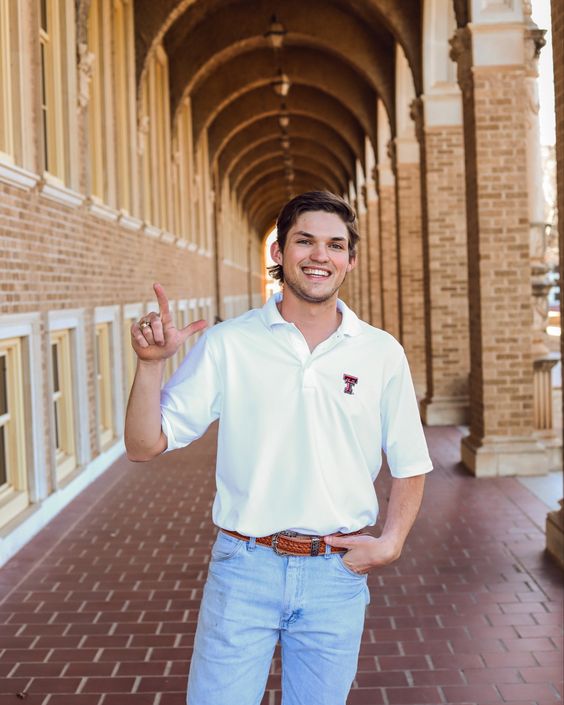 Already committed to your college of choice?
Show off your college pride with this senior picture idea that is so simple to do, all you need is a college shirt!
You can even take them on the college campus if you're close enough.
Basketball Senior Pics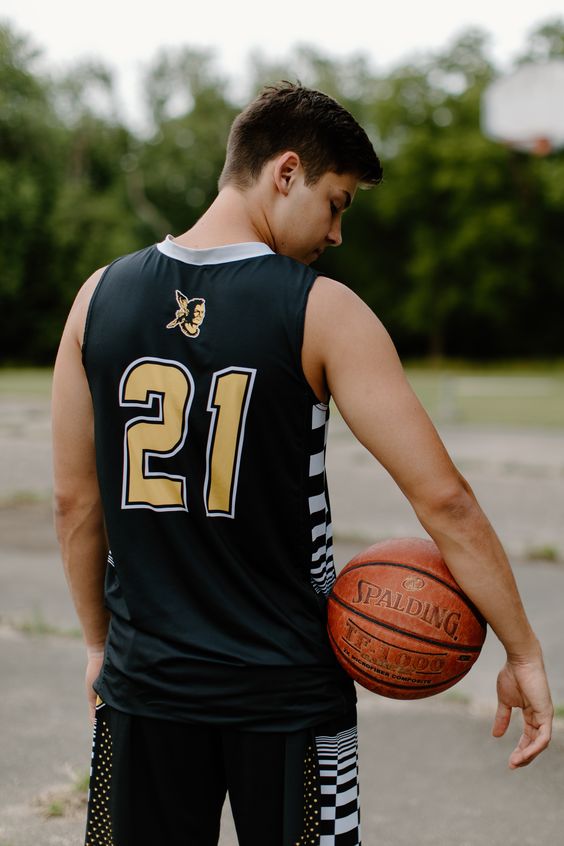 Show off your love for the game with a basketball inspired senior picture.
Put on your jersey, grab a ball, and head down to your school or local court for a senior picture you'll never forget.
Soccer Skills Idea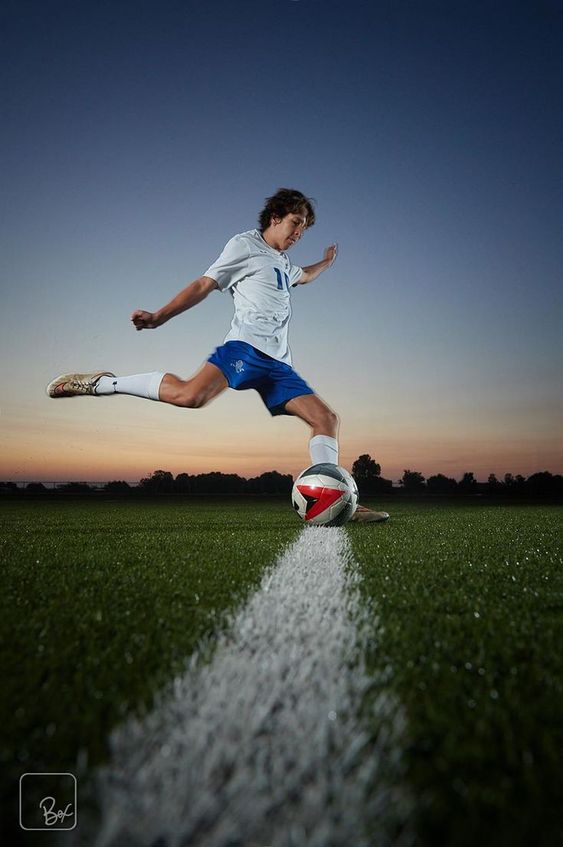 Nothing says soccer themed senior pictures more than a super cool action shot.
We love this senior picture idea for guys, especially if you eat, sleep, breathe soccer.
Soccer Pose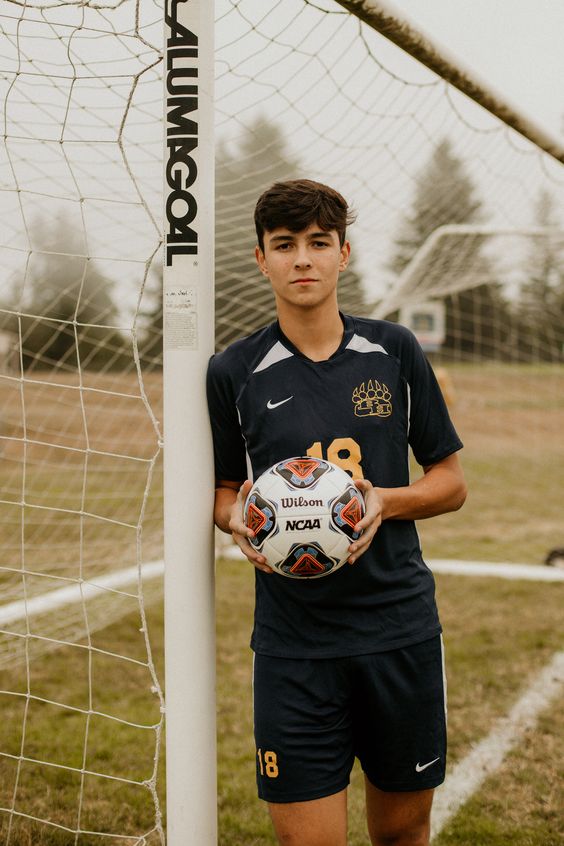 Another great way to have a soccer themed senior picture without an action shot is to pose with the ball by the goal.
This is a great and simple photoshoot that still looks great!
Basketball Pose Ideas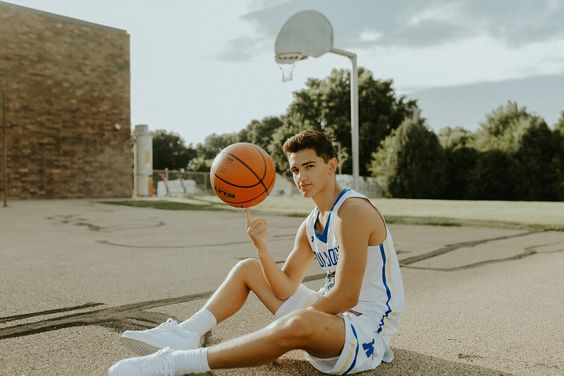 If you can spin a basketball, then you have to do this cool basketball pose in your team's uniform.
We love how simple, effective, yet cool this photoshoot is for guys.
Hopefully these senior picture ideas for guys gave you some inspiration for how to pose for your photos.
If you have any comments, questions, or suggestions leave them down below. Thanks for reading!