Do you need perfect senior pictures and don't know where to start? Check out these 25 senior picture ideas for girls to get inspiration!
These senior picture examples will include fall, summer, outdoor, urban, and other cute pose ideas.
No matter what style of senior photos you're looking for, you'll be sure to find some that match your preferences.
Let's dive in!
Pink Flower Senior Pic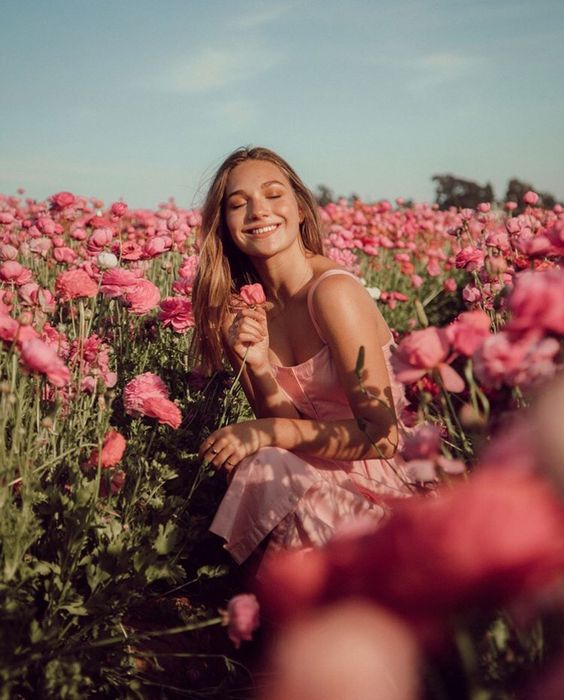 Channel that pink flower power with the best outdoor summer senior picture idea for girls in 2023.
What better way to take a captivating senior picture than by matching with the flowers around you?
Related Post: 50 Cute & Trendy Outfits for Teenage Girls
Outdoor Fall Field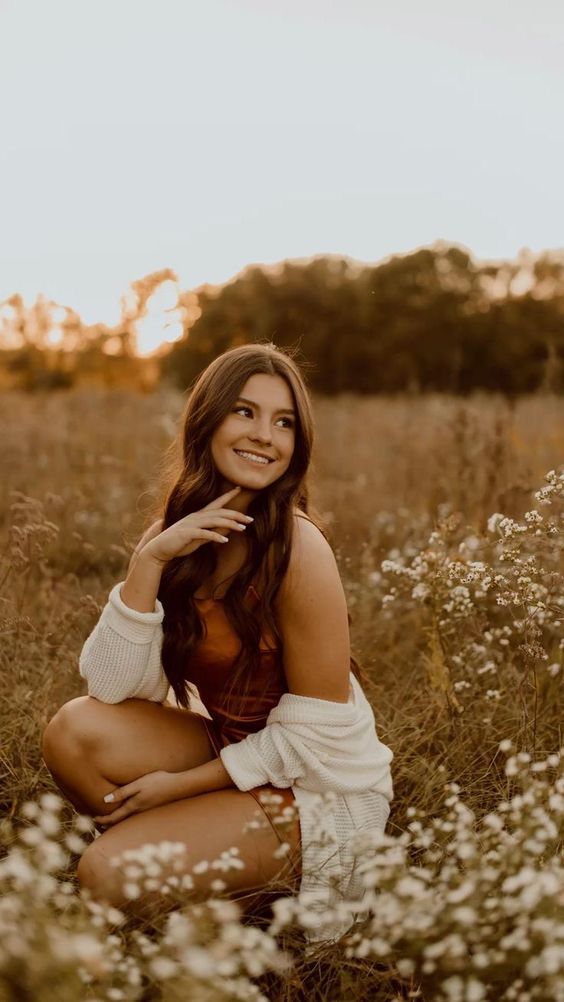 One of the cutest senior picture ideas for girls is to go to a local flower or nature field.
You can even take inspiration from this photo for a senior picture pose for girls that is flattering and simple.
Don't forget to wear your best fall outfit to get the most perfect pics!
Wheat Field Photoshoot
Enjoy being outdoors in the Summer during your 2023 senior picture photoshoot.
If it's a beautiful sunny day, head to your local country wheat field with a simple white dress for that perfect senior picture.
Senior Picnic Picture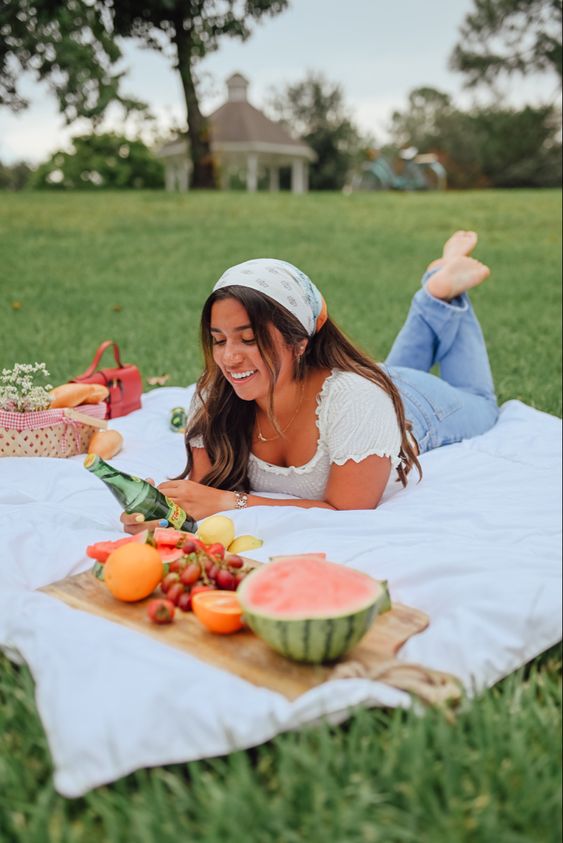 Want the best 2023 senior yearbook photo? Then you've got to have a picnic!
We absolutely love the idea of an outdoor picnic as a senior picture idea for girls.
Senior Beach Pose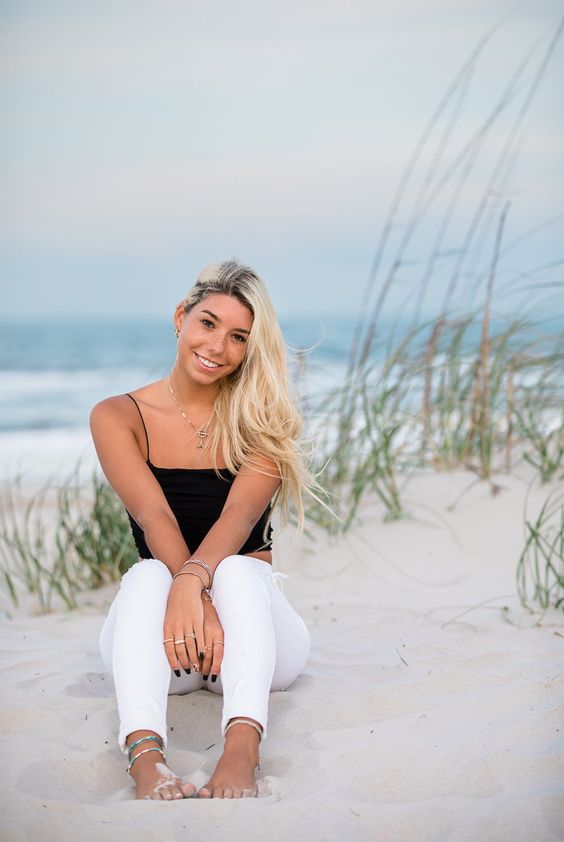 Want a simple and cute senior picture pose for girls? Take a seat in the sand.
This senior picture looks incredible and is so easy to do, but only if you live near a beach!
Urban Photoshoot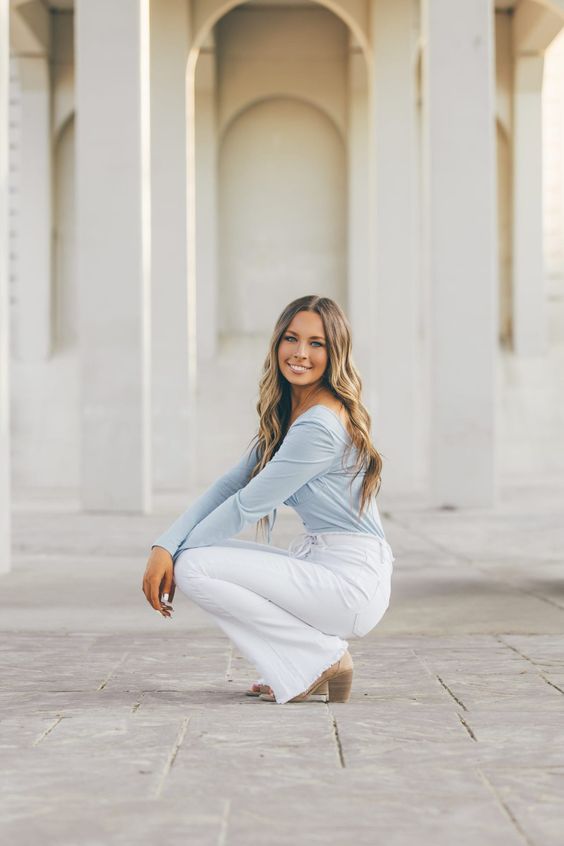 If you live in an urban big city, try taking your senior pictures around all of the incredible buildings you know and love.
This senior picture looks amazing and all it took was finding the right architecture!
Unique City Girl Photos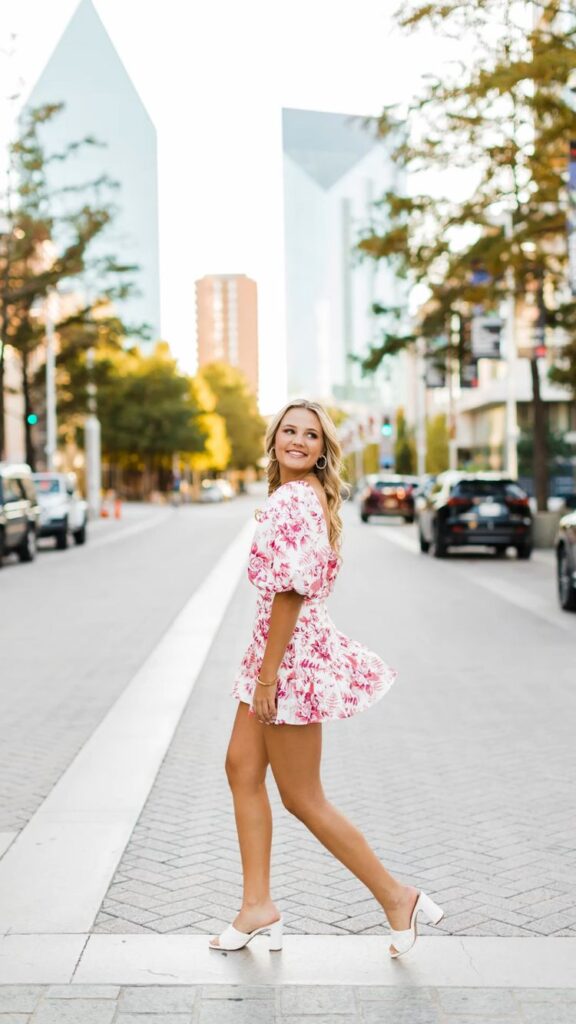 Another great way to show-off that you're a city girl is by having a photoshoot with the most iconic skylines from your hometown in the background.
This works especially well if you live in a big city with tons of iconic buildings, streets, or monuments.
Senior Pictures with Friends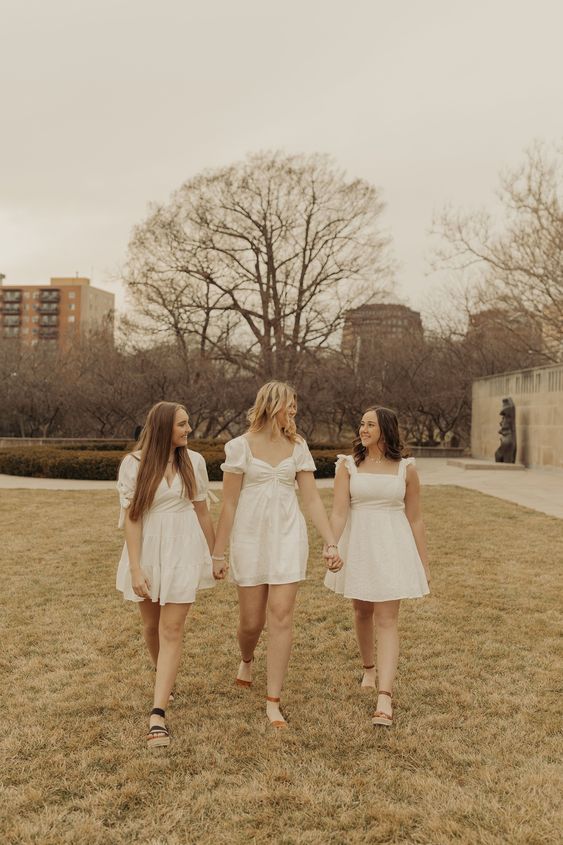 Don't be boring in 2023, have some fun with your senior picture idea and invite your BFFs.
We love the idea of bringing in your best friends into your photoshoot, especially when you coordinate your outfits.
Related Post: Graduation Photo Booth Ideas to Try This Year
Country Girl Photos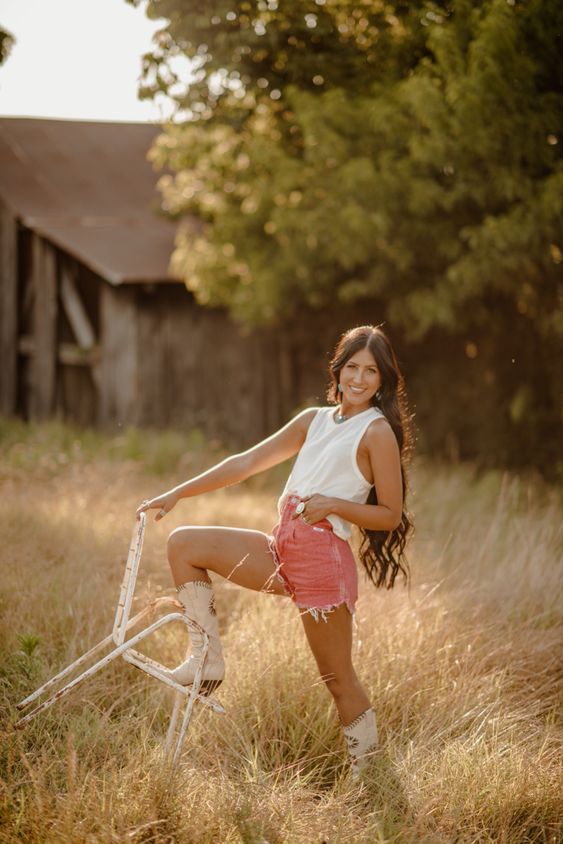 You're not a city girl, you're a country girl, and what better way to show that off than with a country themed senior picture.
So grab your favorite cowboy boots and head out to the countryside for the best country themed 2023 yearbook picture at your school.
Western Boho Babe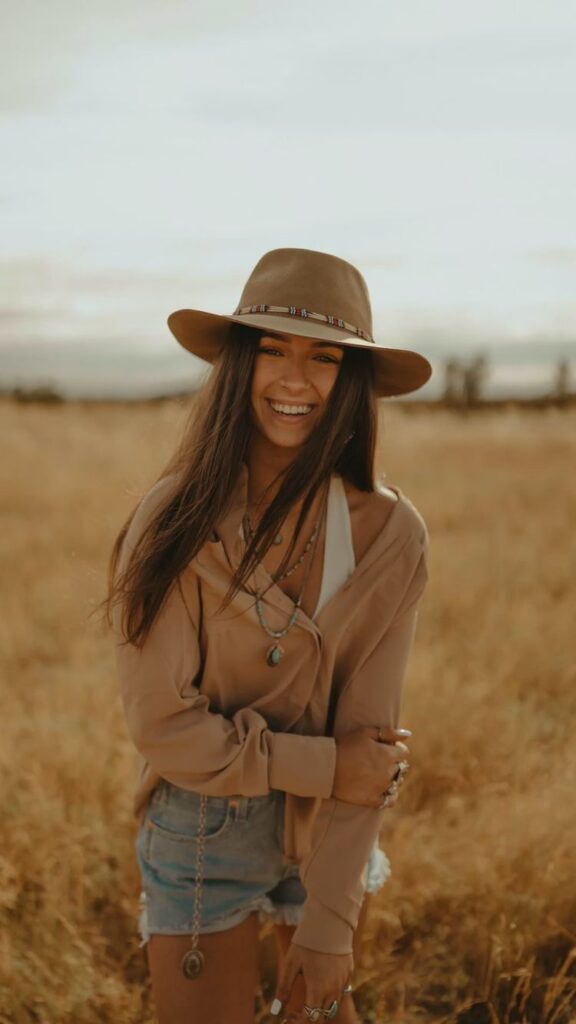 If you're looking for the best senior picture poses for girls that fits a Boho/Country theme, then you're at the right place.
Grab your cowboy boots and hat and get ready to dance around the countryside for an unforgettable senior picture.
Sitting Outdoor Poses
Take a seat, it's only a senior picture!
We love this simple pose that just involves you, a grass field, and rocking a super cute spring outfit.
Creative Flower Top Photoshoot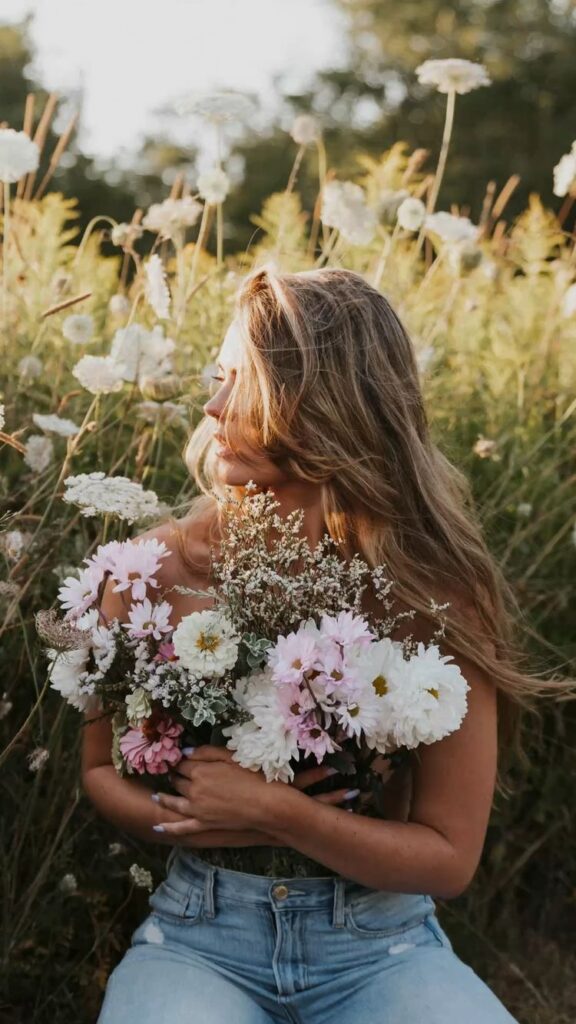 If you want one of the absolutely best 2023 senior picture ideas for girls, then you have to try the flower top trend.
This flower top trend has been all over social media and we know you'll rock it for your senior picture.
Related Post: 10 Tips for Seniors in High School
Pop of Color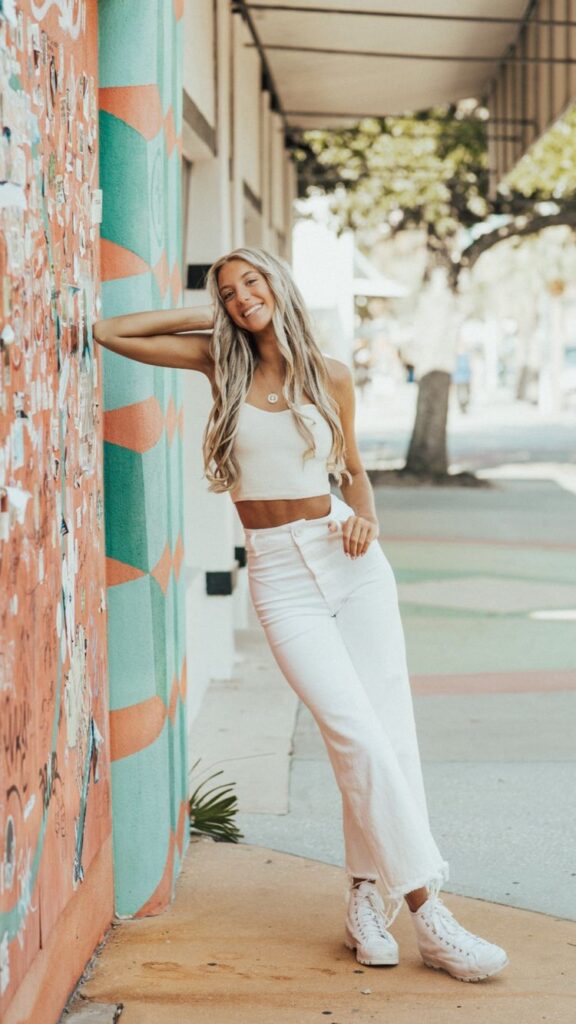 Add in a pop of color to your senior pictures by going around your city and finding some fun, colorful walls!
This is such a great and simple way to bring a vibrant energy into your 2023 senior pictures.
Spring Field of Dandelions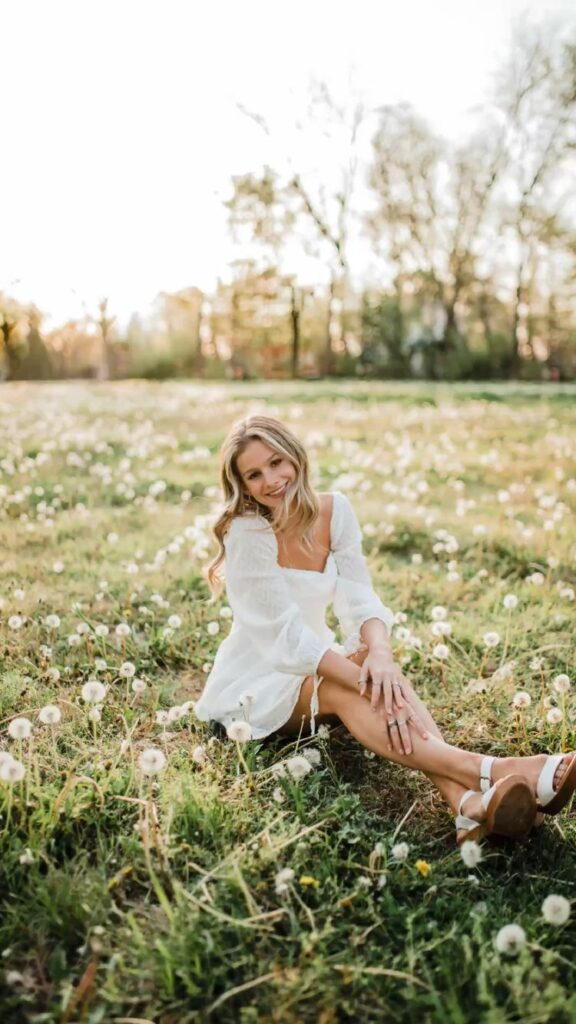 "I'm in a field of dandelions, wishing…"
If you know and love that song as much as we do, then why not recreate it with this super cute senior picture idea for girls.
Playing in the Waves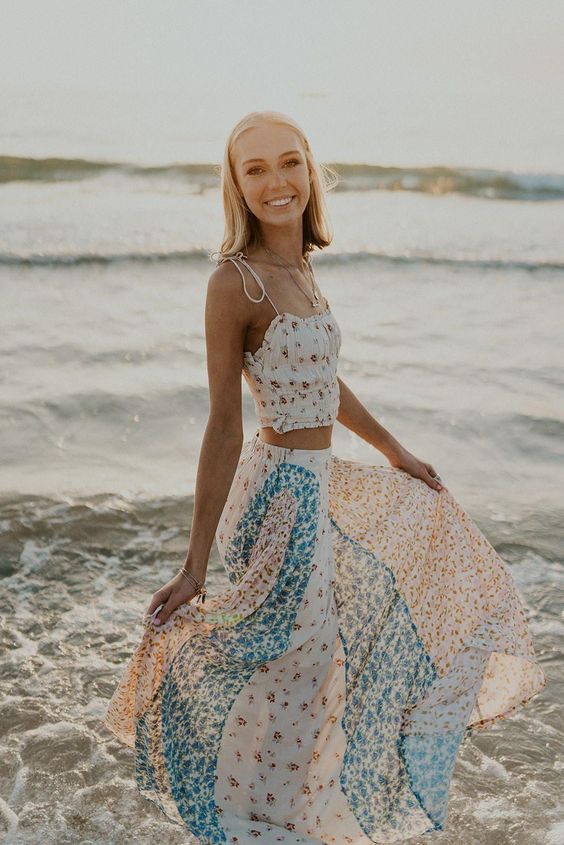 Grab your favorite boho Summer outfit, you're going to the beach.
Have a fun and playful senior picture by playing in the waves of your favorite beach during golden hour.
Related Post: 10 Best Moisturizers for Teenage Girls
Outdoor Senior Pictures with Bouquet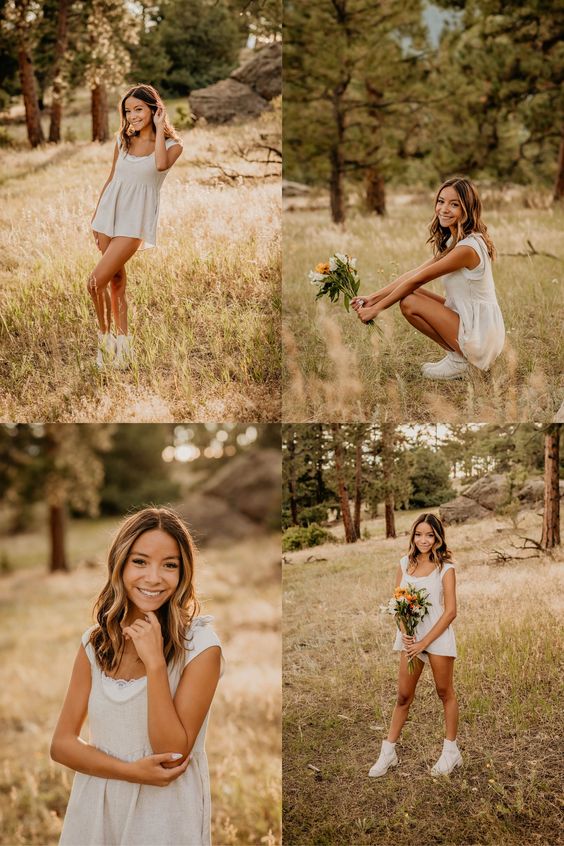 We love the idea of bringing in bouquets of flowers into your senior pictures.
Flowers easily elevate all of your photos and give you something to hold, which makes posing so much easier.
Lake Life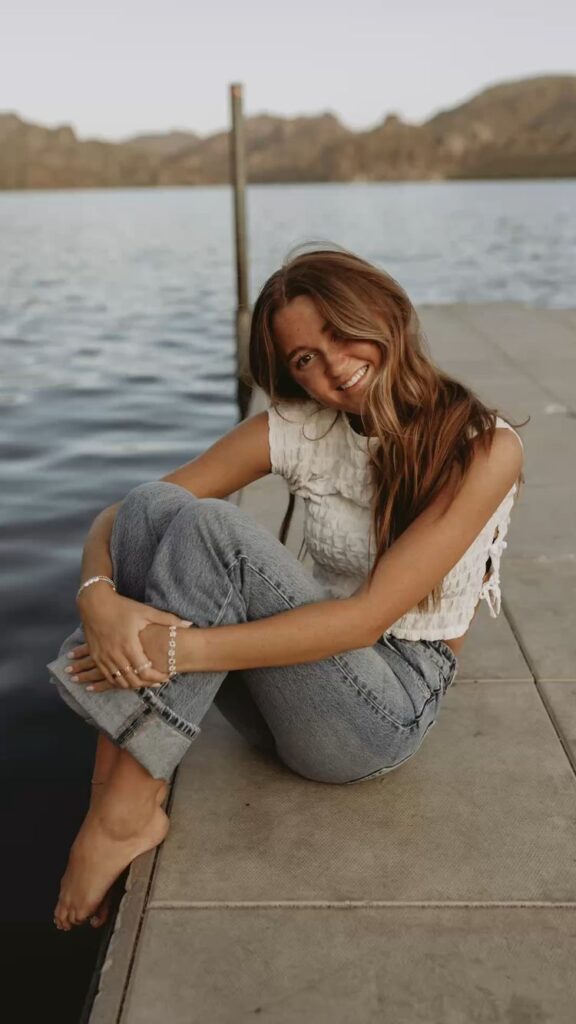 If you're all about lake life, consider taking your 2023 senior pictures out on a dock.
This is great for girls who want to bring the lake into their photos without having to worry about getting wet in the water.
Stranded Desert Road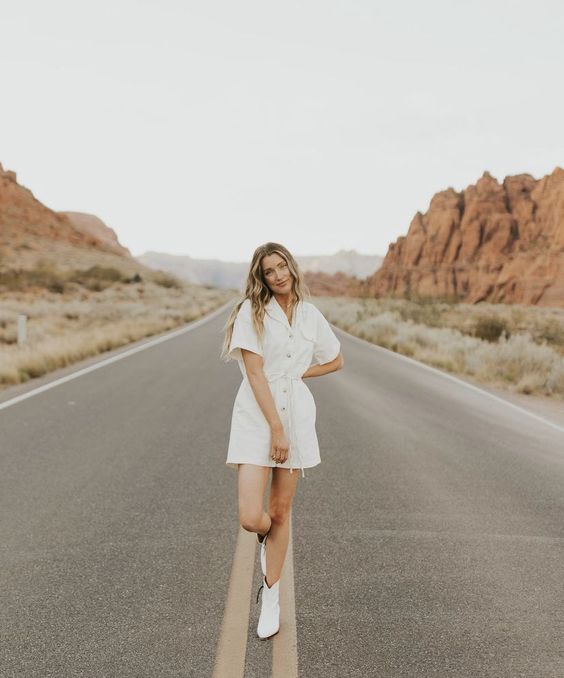 Calling all my desert gals, this senior picture idea is for you.
If you live in California, Utah, Arizona, or any of the desert states, try finding an empty desert road for an iconic senior picture.
High School Cheerleader Pose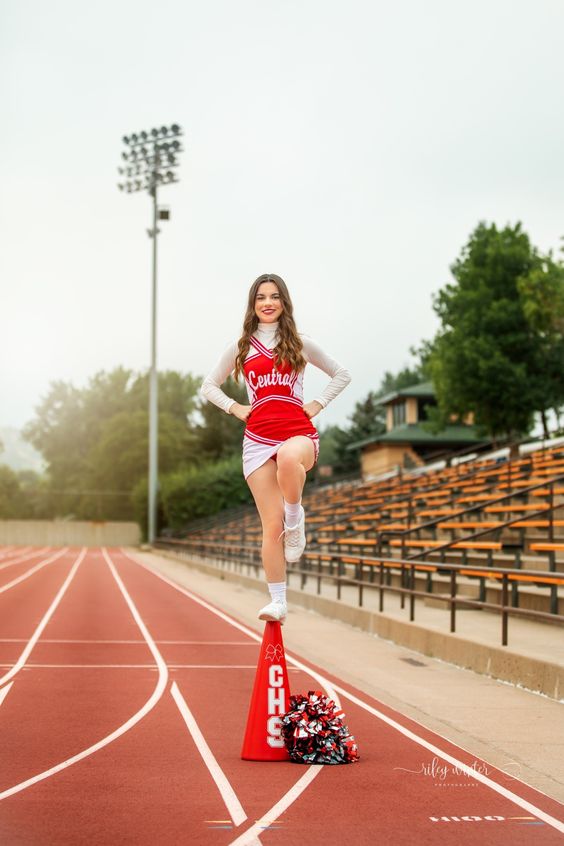 If you are a school cheerleader, it would be a missed opportunity not to do this cheer inspired senior picture idea.
This is such a fun senior picture idea that shows off your love for the sport in a unique and dynamic way.
College Commitment Ideas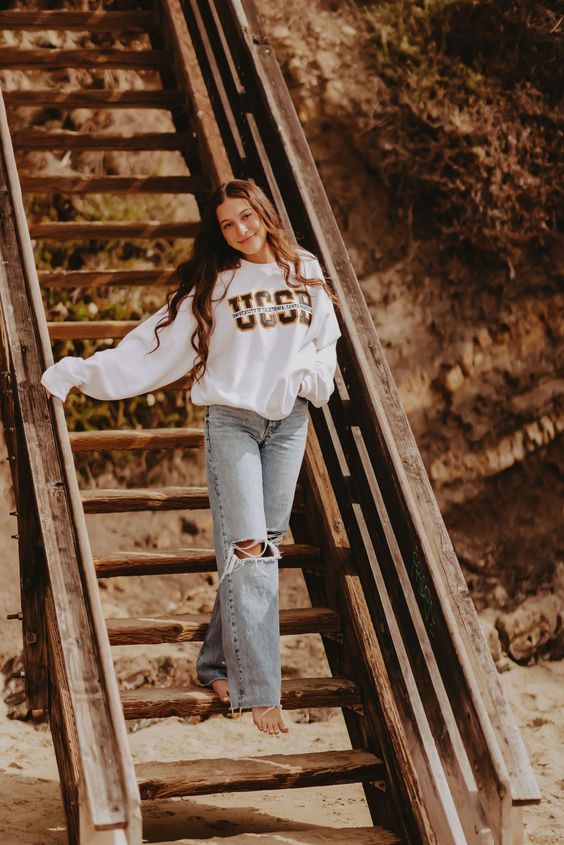 So you've committed to a college? Congratulations, now show that off!
Grab a hoodie from your future school and incorporate it into your senior picture photoshoot session.
#1 College Fan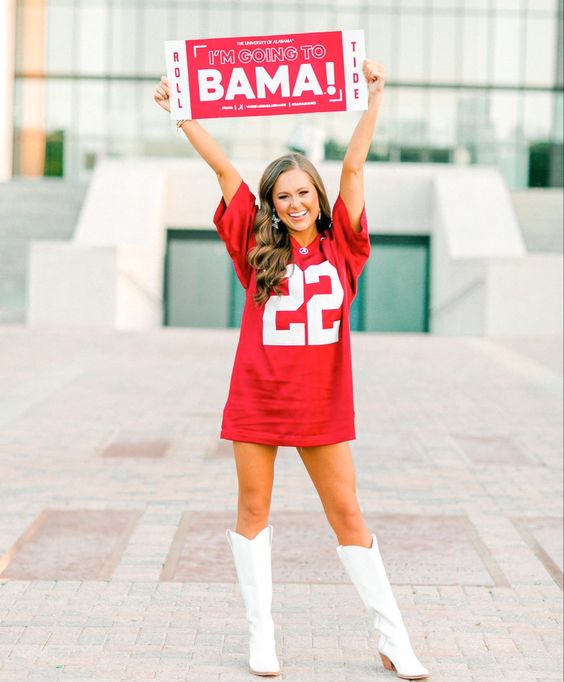 If you're over the moon about your college and want to show you're the school's number one fan, then go out with this unique senior picture idea.
There's no shame in the college game!
Soccer Girl Senior Pictures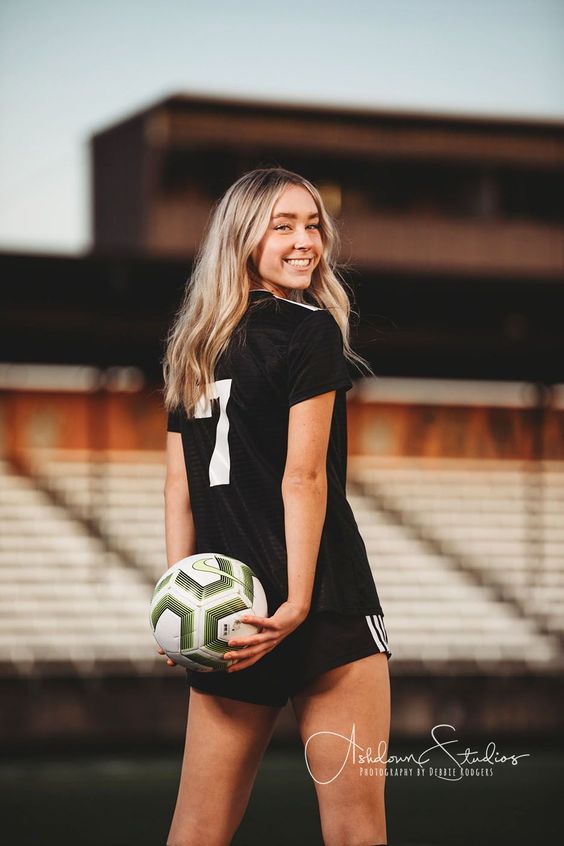 If soccer is the way to your heart, try taking soccer themed senior pictures for your 2023 yearbook photo.
This simple and easy senior picture idea is great for the athlete girls who'd rather rock their uniform than a dress.
Volleyball Athlete Pictures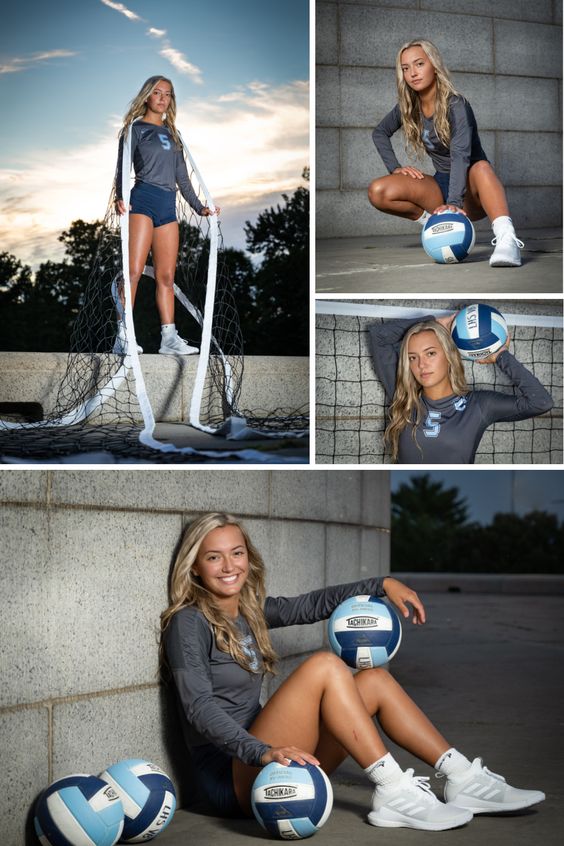 This senior picture idea was made for the volleyball girls who love their sport.
There are so many ways to incorporate your sport into your senior pictures, and this inspiration hits them all!
At School Photoshoot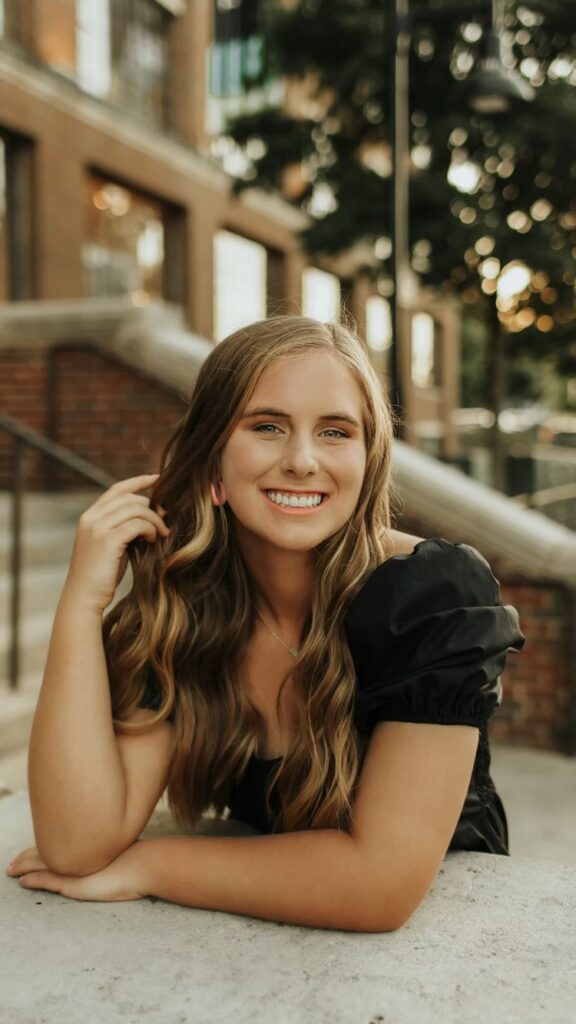 Why go far for your senior picture photoshoot when you can take them at school?
If you're looking for a simple, cute, and fun senior picture idea, then this is the one for you.
Related Post: 15 Popular Shoes for Teenage Girls
For the Love of Dance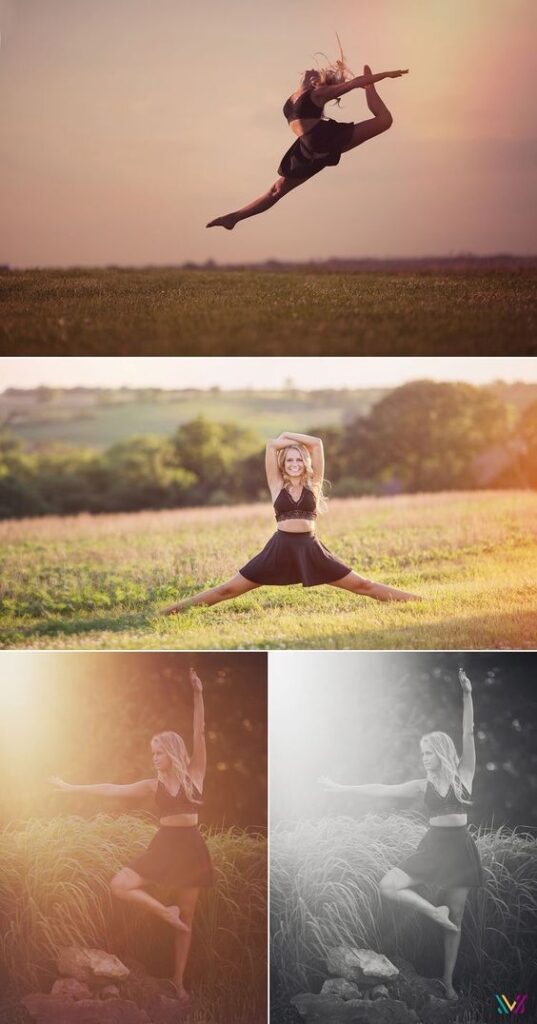 This is for the dancers who want to bring their passion for movement into their senior pictures.
Why have static poses when you can move, leap, and dance around for a photoshoot that best represents you.
Hopefully these senior picture ideas for girls gave you some inspiration for how to pose and where to go for your photos.
If you have any comments, questions, or suggestions leave them down below. Thanks for reading!