Struggling to find cute nails for prom and need some help? Here are the 50 best prom nails to copy in 2023!
From the more classic one color nail ideas, to the sparkly and bright nails that you could easily pull off, you'll be sure to find one that is to your liking.
Plus, we've included some colorful, yet unconventional nail ideas that might match your outfit for prom.
Before we start, you might find these few resources really useful:
Let's dive into the ideas!
Pearl Gel Nails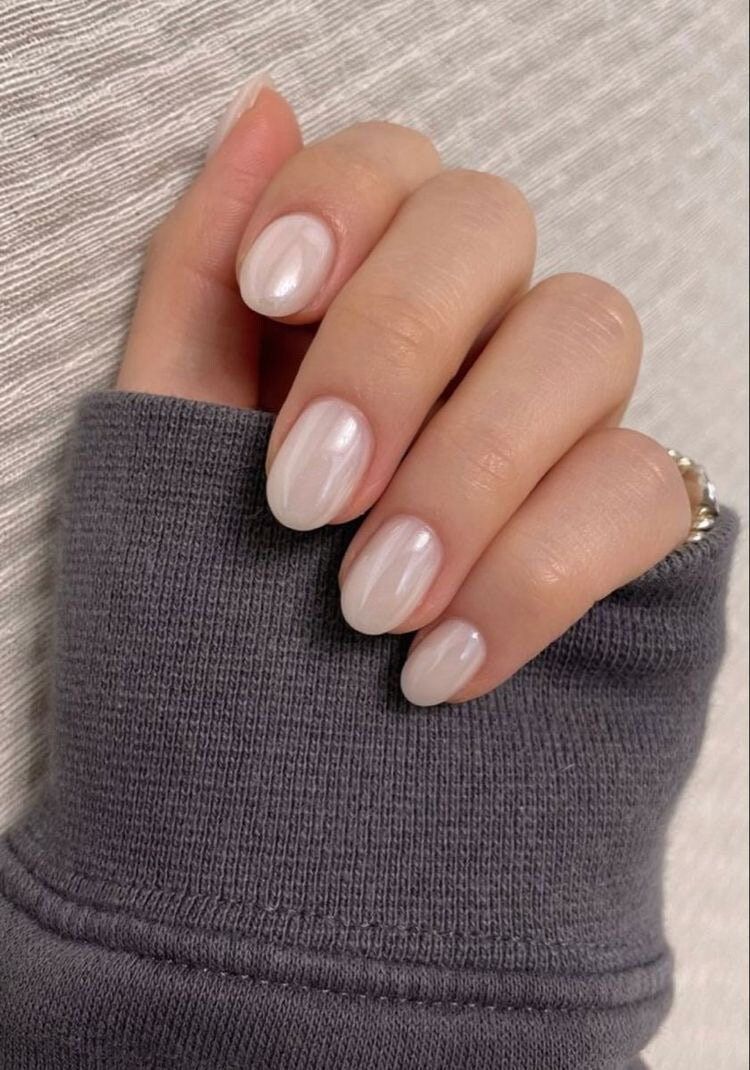 The best prom nails are the ones that have the shiny pearl gel.
Also known as Hailey Bieber's famous chrome nails.
Delicate Flowers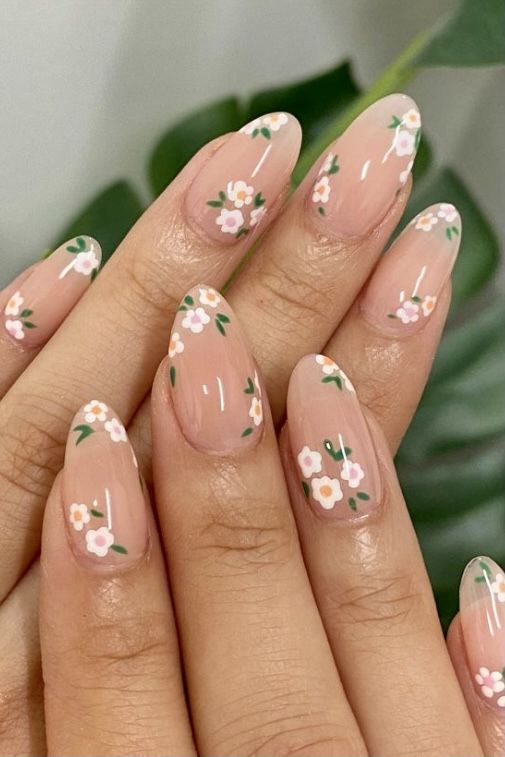 Whether you're rocking a green, white, or simple colored dress, you can't go wrong with a delicate floral prom nail design.
White Swirls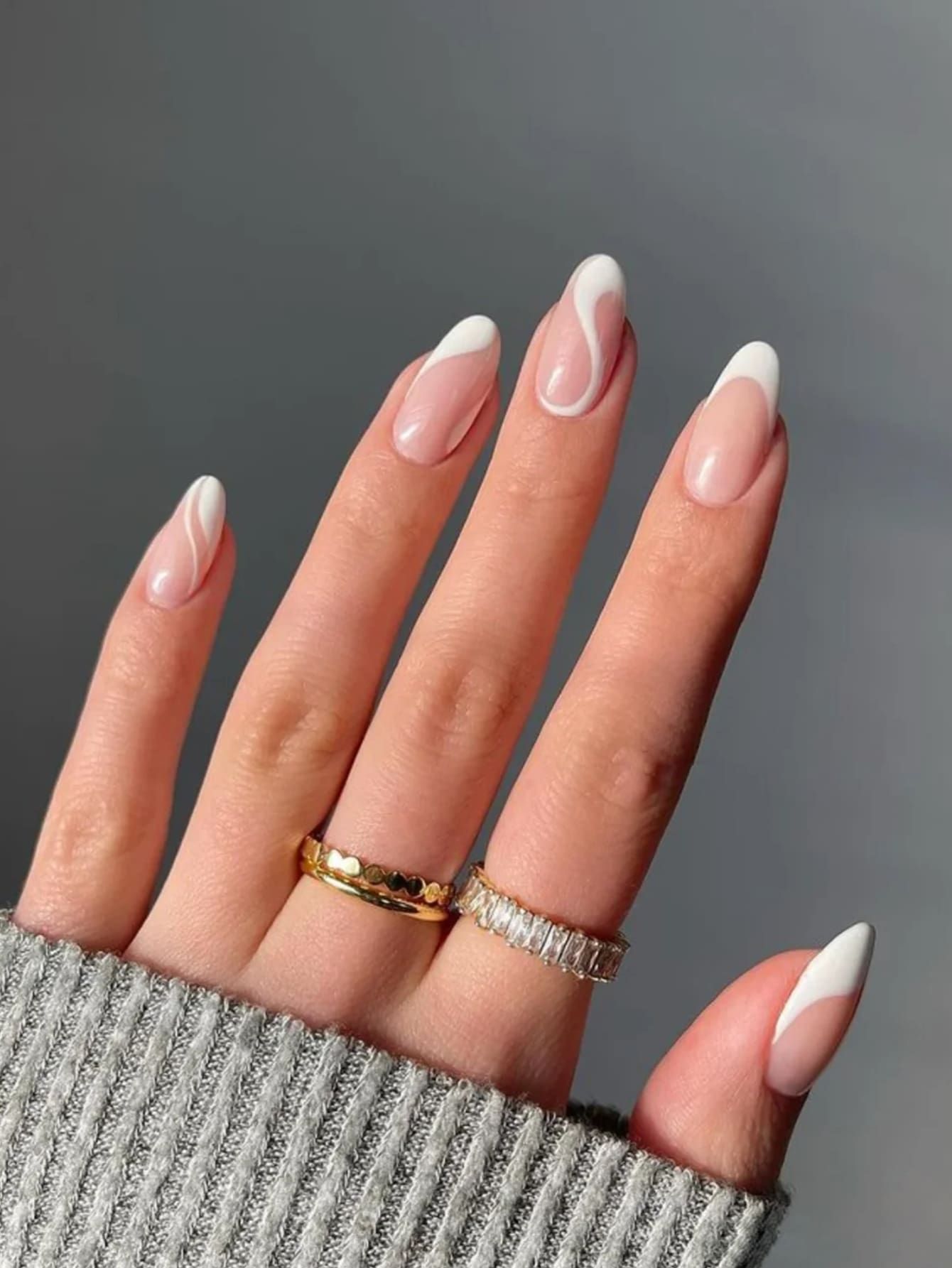 We always suggest white nails with a white dress, but if you want something a little more unique, try a white swirl design.
This simple, cute, and trendy nail design is the "it" look in 2023.
Baby Blue Swirls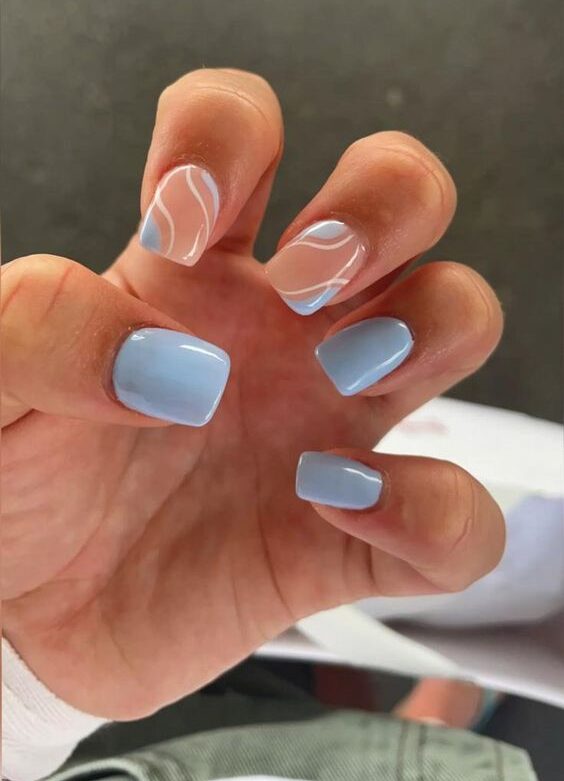 For a baby blue dress, try this short gel manicure with baby blue swirls.
Sage Green Acrylics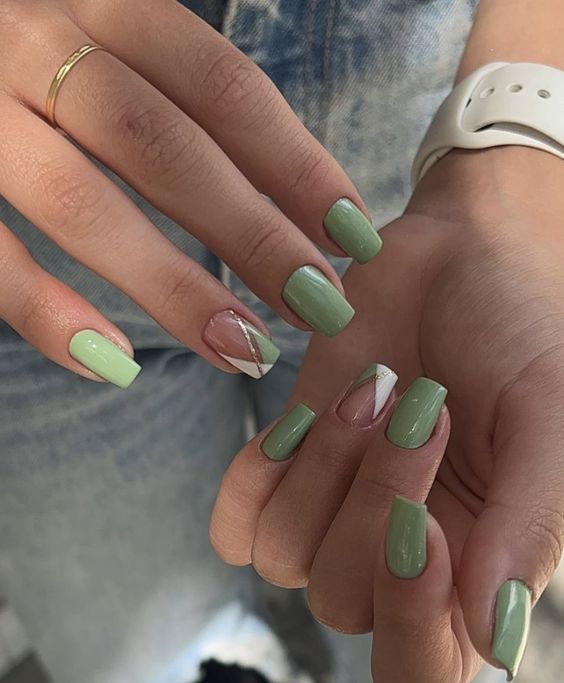 For a sage green prom dress try this matching square cut acrylic manicure with gold and white detailing.
Blue & White French Manicure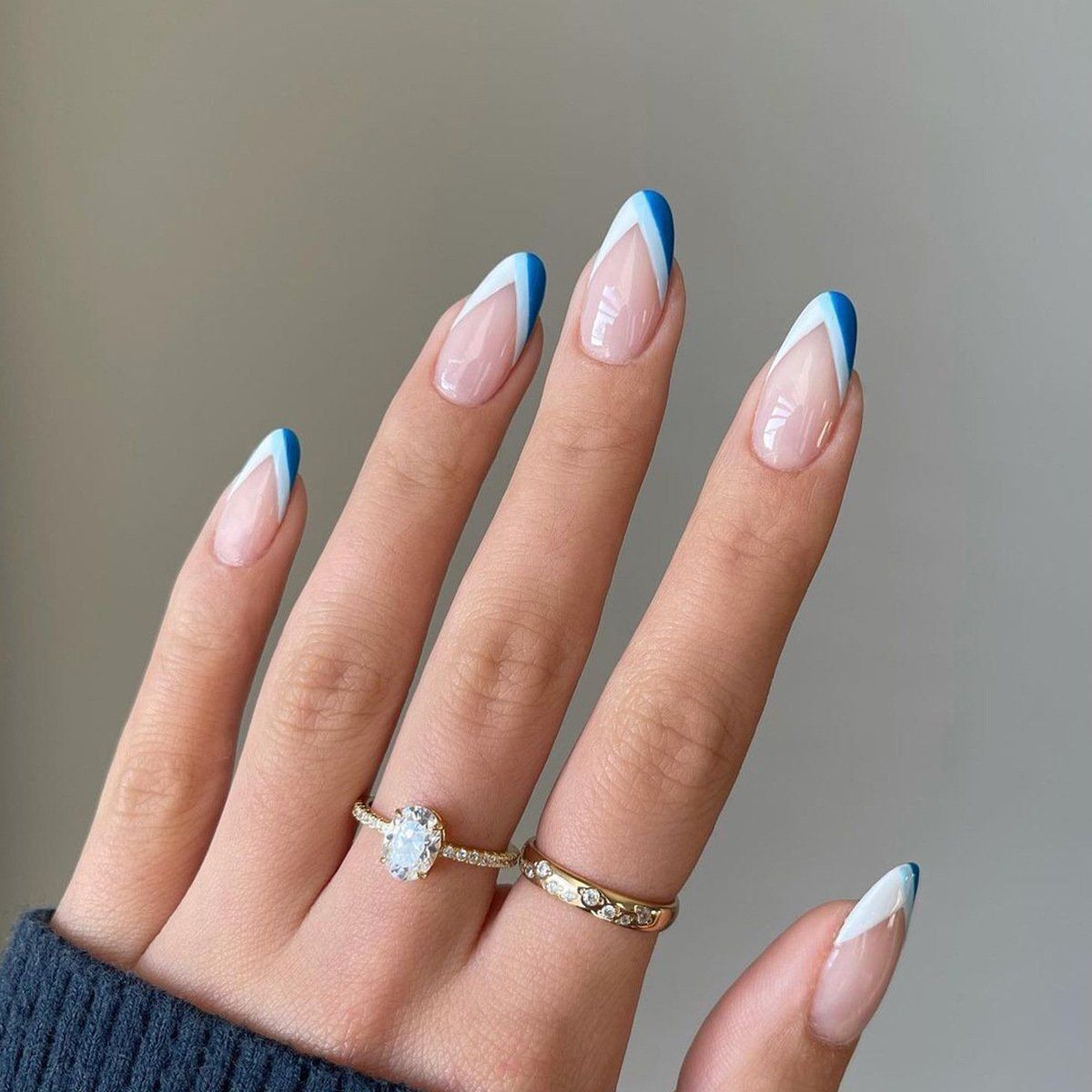 We're loving the blue and white French manicure trend in 2023, especially if you have a light or dark blue prom gown.
Rhinestones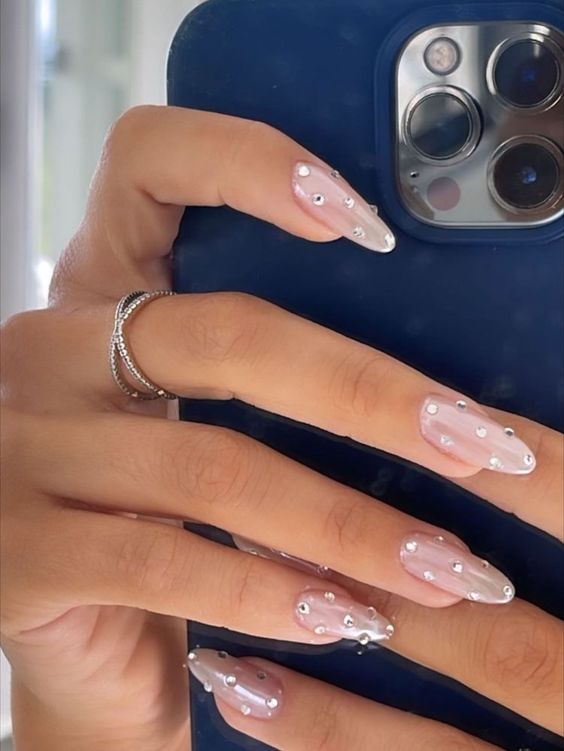 For any colored prom dress, a rhinestone manicure will be the picture perfect prom nails that everyone will be envying.
Gold Stars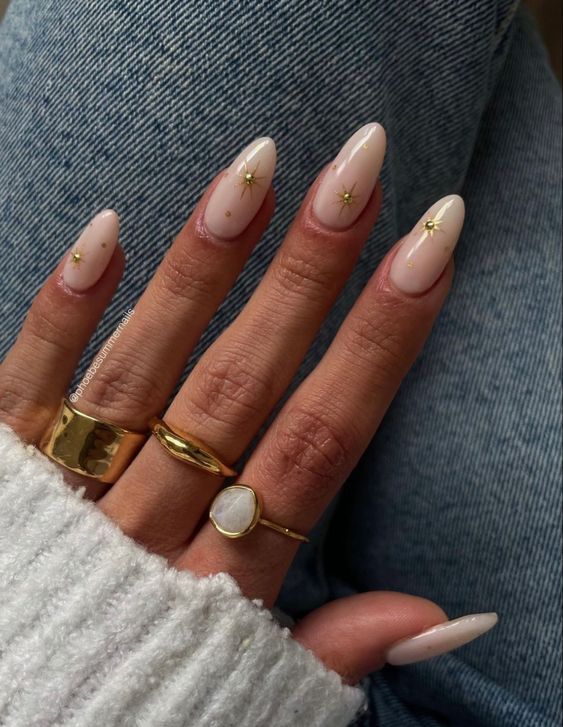 The addition of gold stars is simply one of our favorite prom nails for 2023.
Chrome French Manicure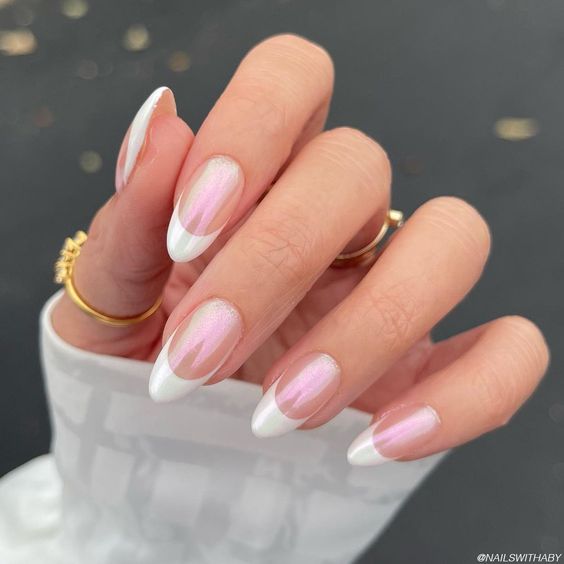 Chrome nails with a French tip are objectively one of the classiest prom nail ideas in 2023.
Glitter Acrylics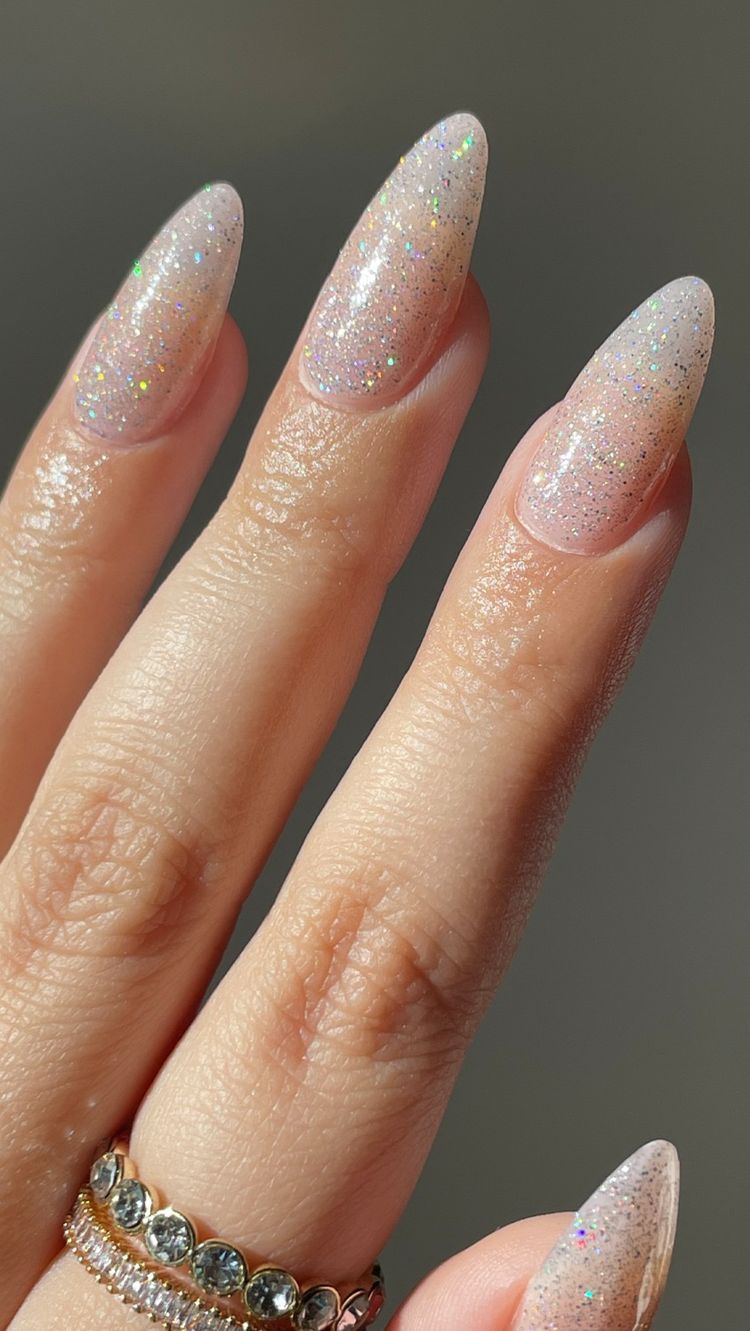 Did someone say glitter acrylics for prom? Sign us up.
Black French Tip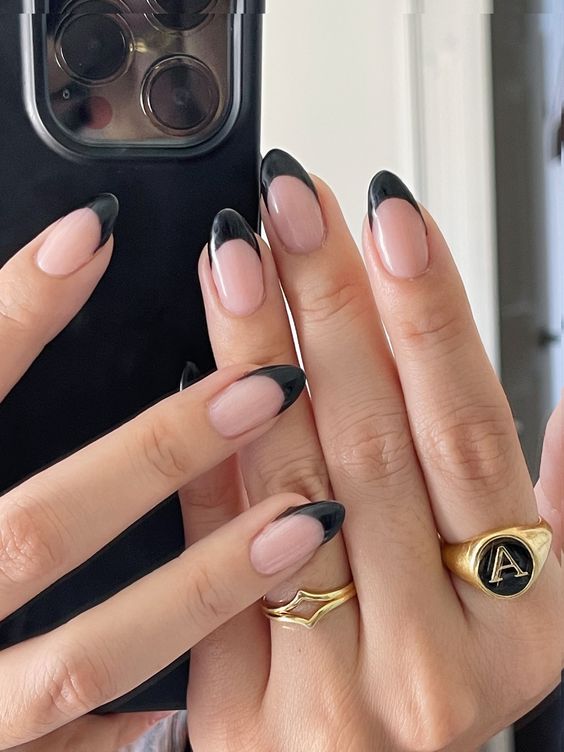 For a black prom dress, a black French tip nail design is an absolutely must.
Red Acrylic Manicure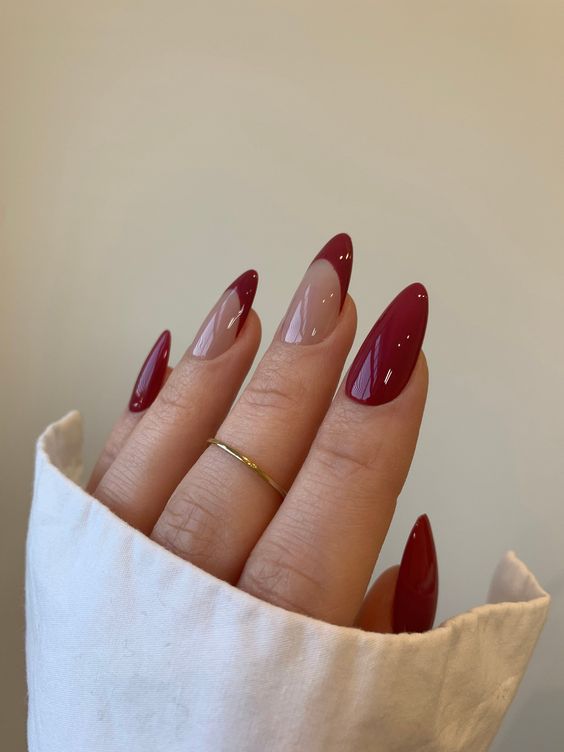 Nothing says classy and sexy more than long red acrylic prom nails to match your prom dress.
Gold Glitter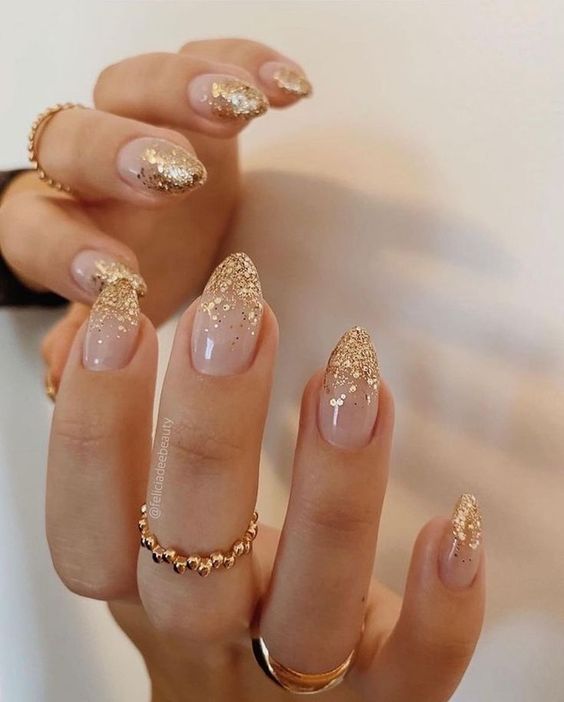 If you're asking yourself, "what kind of nails should I get for prom," the answer will always be gold glitter nails.
Whether they're short gel or longer acrylics, this will always be a prom favorite.
Red Swirls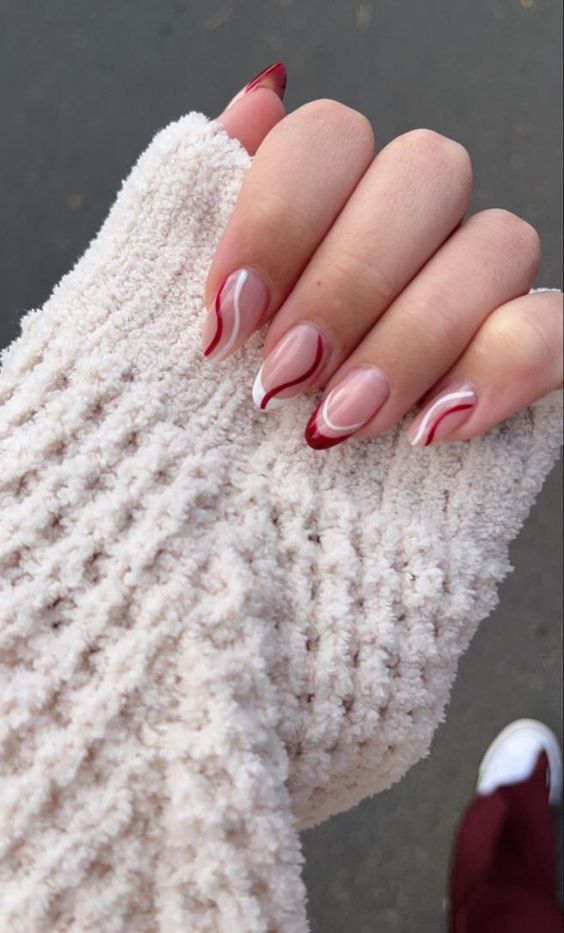 For fun, playful, and unique red prom nails, try adding a red and white swirl design.
Pink Swirls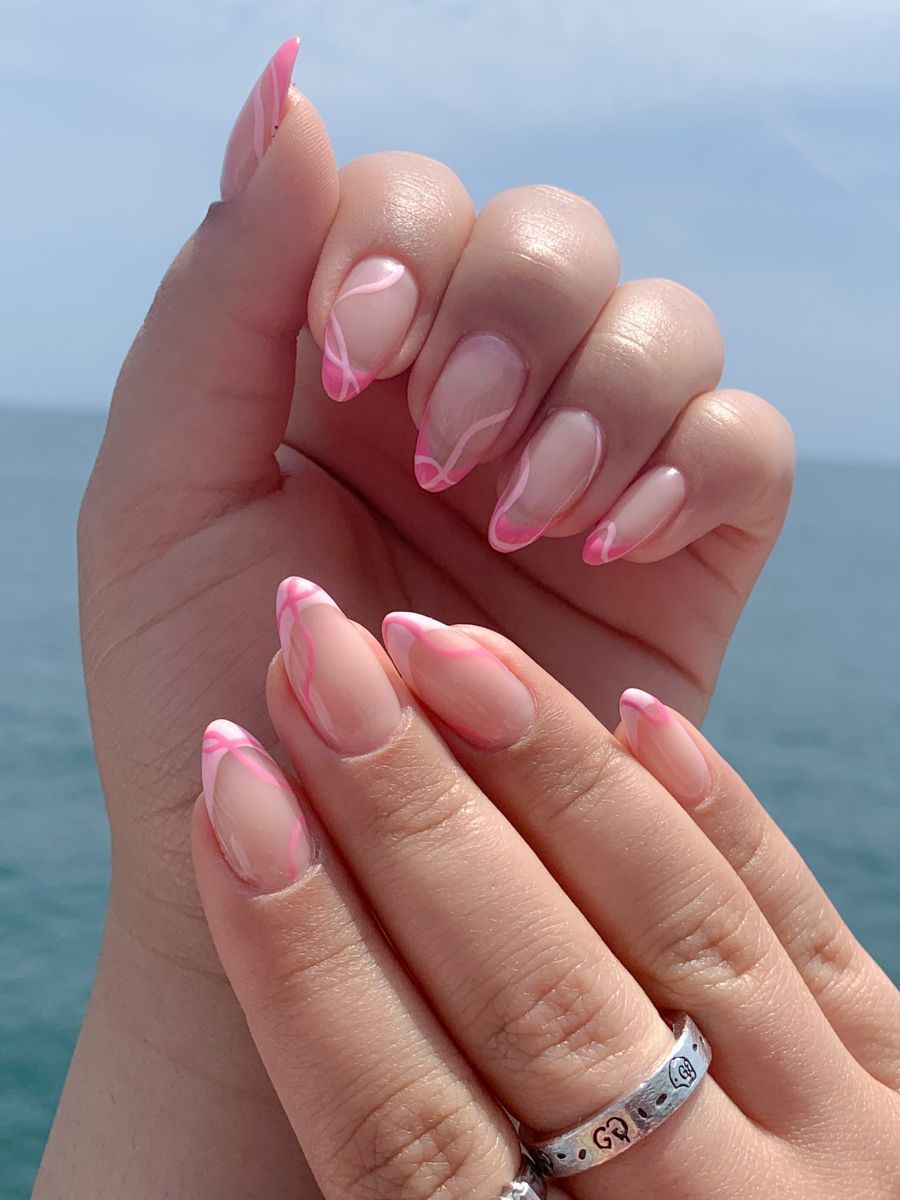 Swirl nail designs are one of the biggest trends in 2023 so why not get them in baby pink for prom?
Mini Pastel Hearts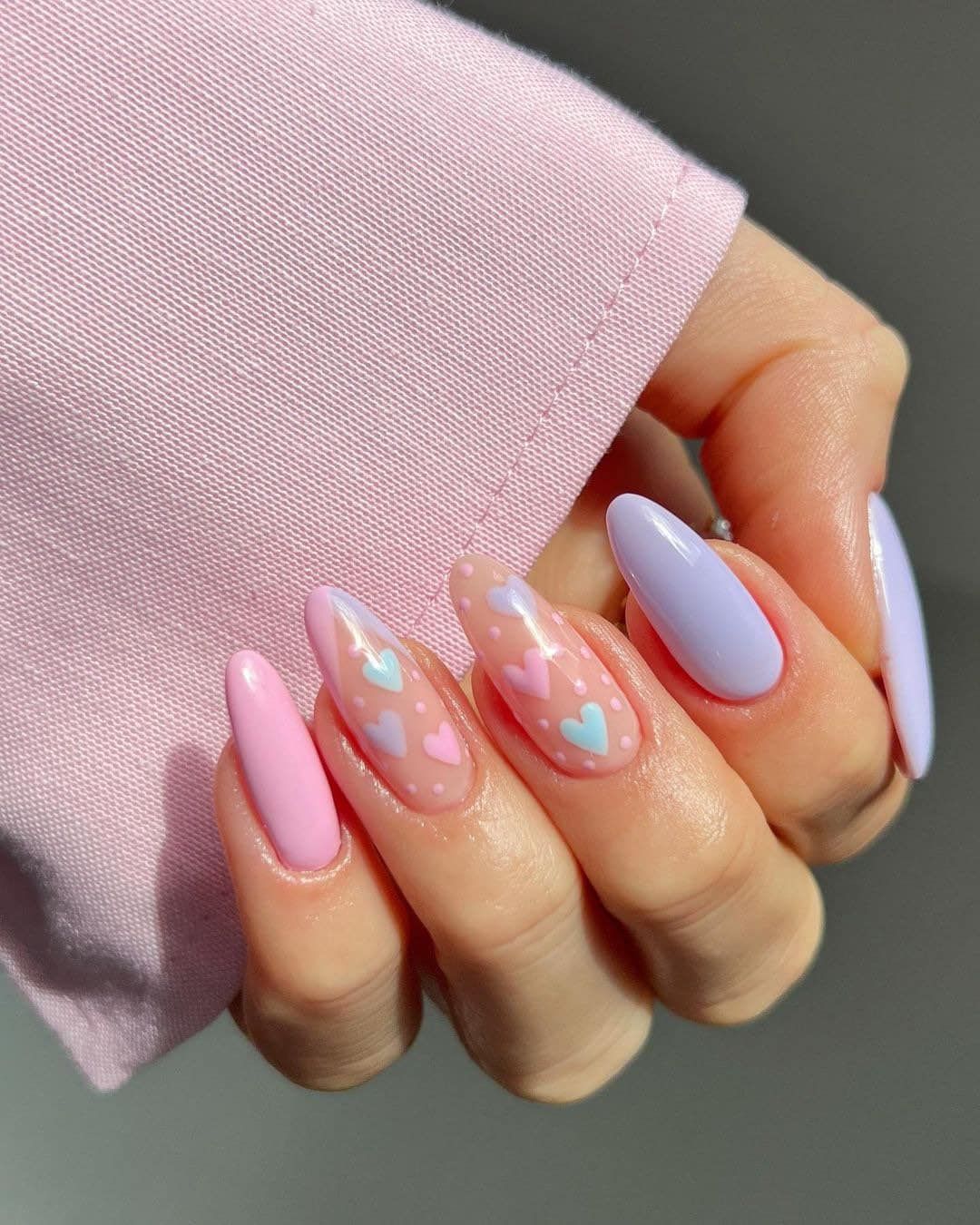 If you're rocking a pastel dress for prom we highly recommend trying the mini heart trend for your prom nails.
Baby Blue Marble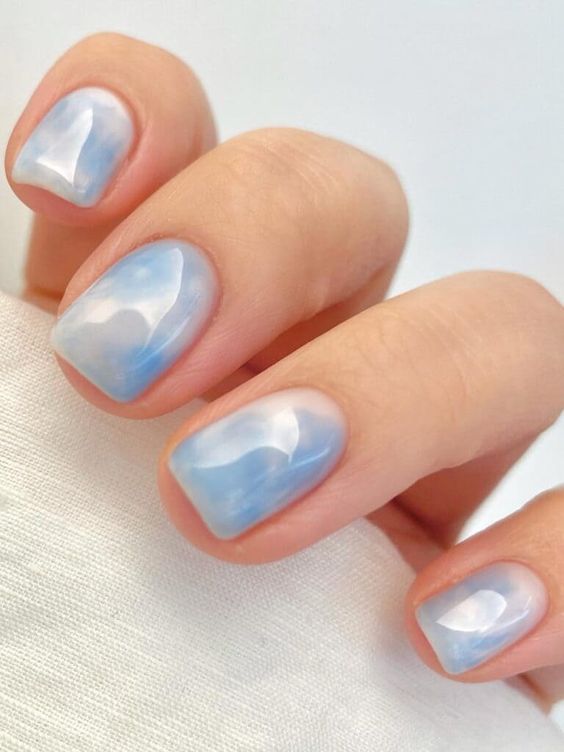 For all our girls with baby blue prom dresses, you have to try the marble nail trend that looks just like soft and delicate clouds.
Pink Chrome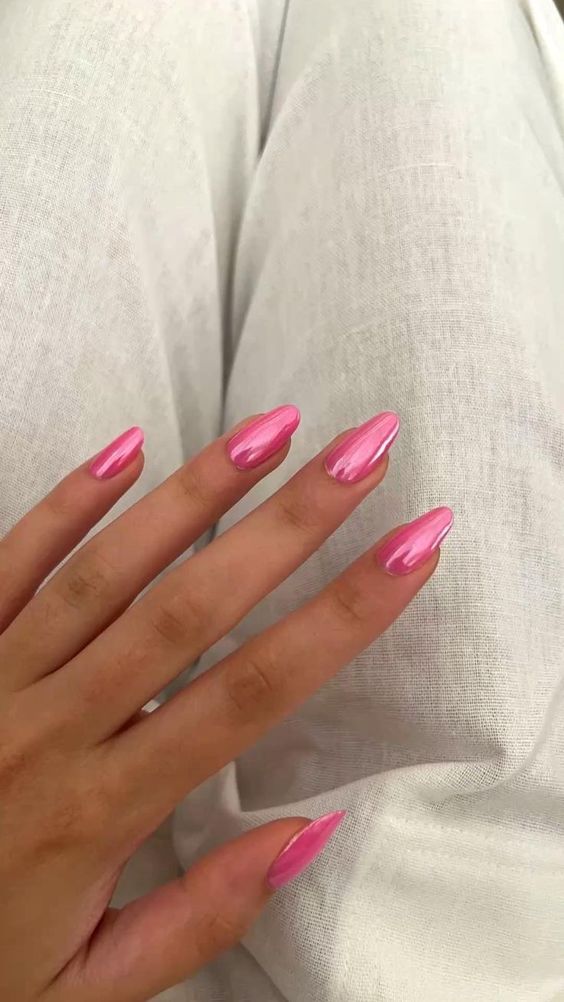 We're all about the chrome nail trend for prom, especially in a trendy hot pink color.
Barbie French Tip Nails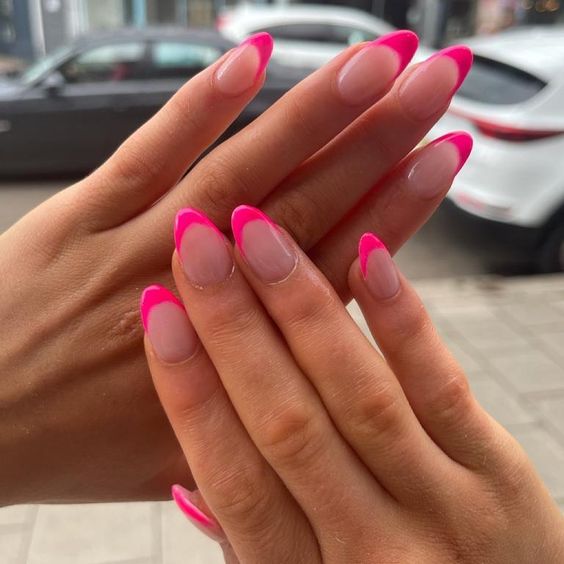 It wouldn't be a Barbie girl prom without a trendy hot pink French tip.
Yellow Swirls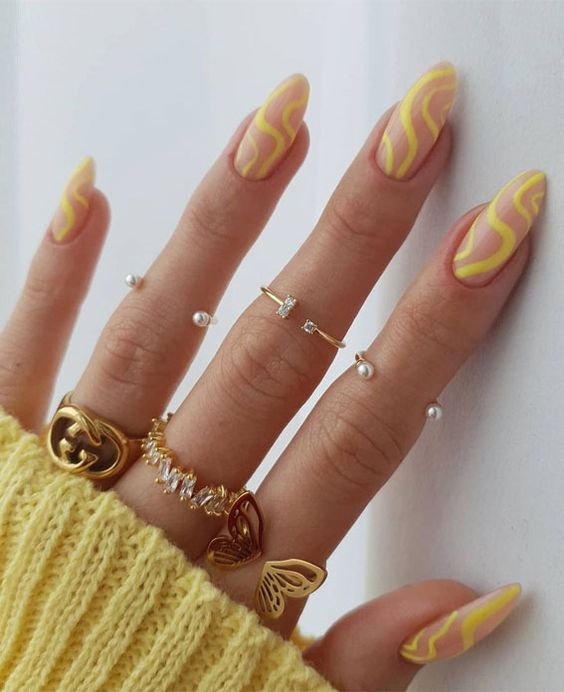 If you're planning on wearing a yellow prom dress, you should definitely try a yellow swirl manicure on top of almond shaped gel acrylics.
Matte White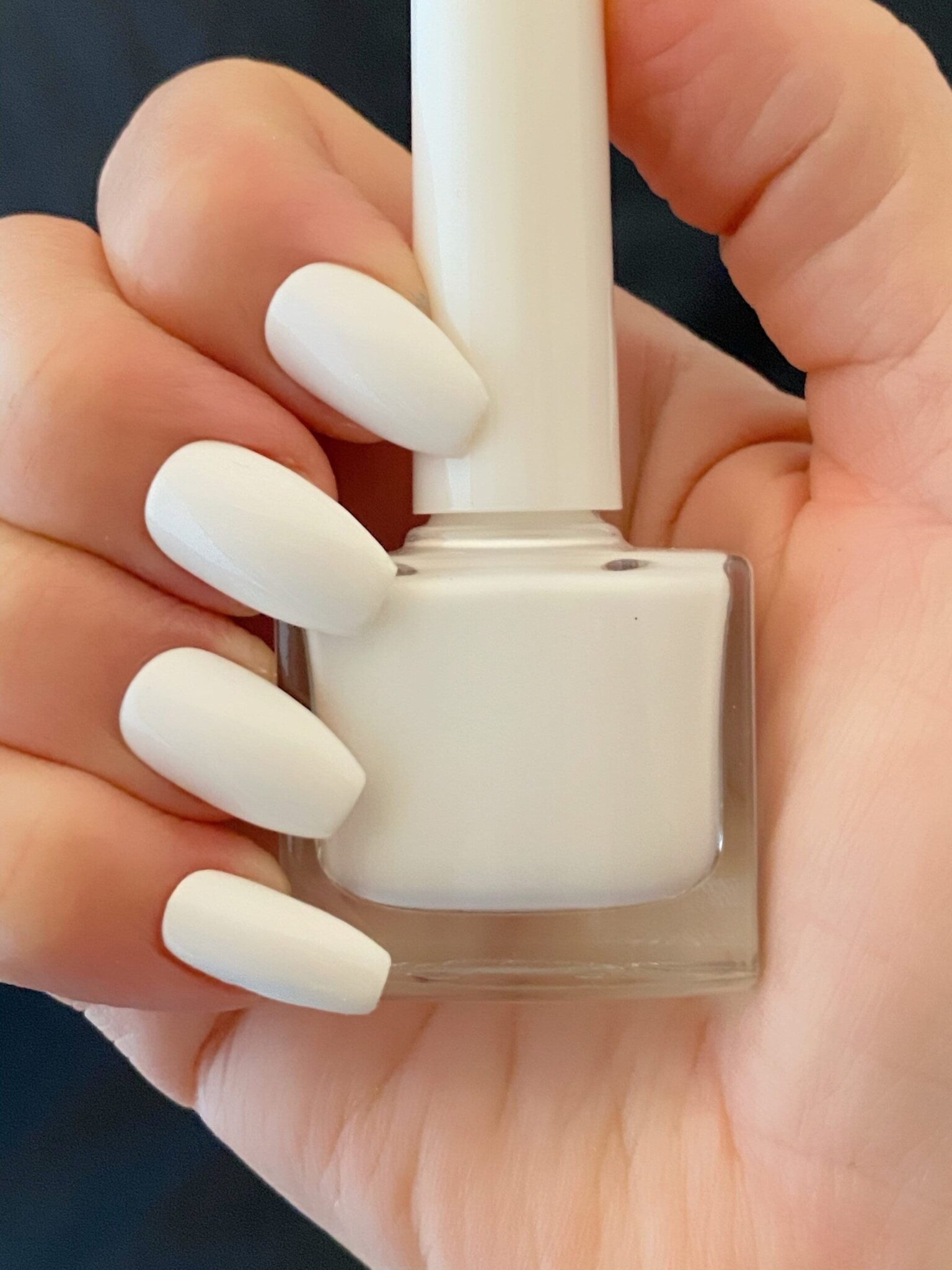 Matte white prom nails are a great go-to if you're wearing a white prom dress.
Shiny & Matte Black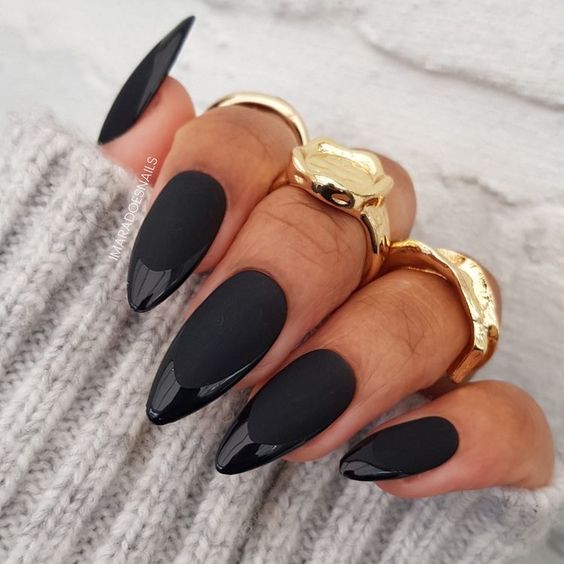 For a black dress try this unique and stunning matte and shiny duo for your prom acrylic manicure.
Lavender Nails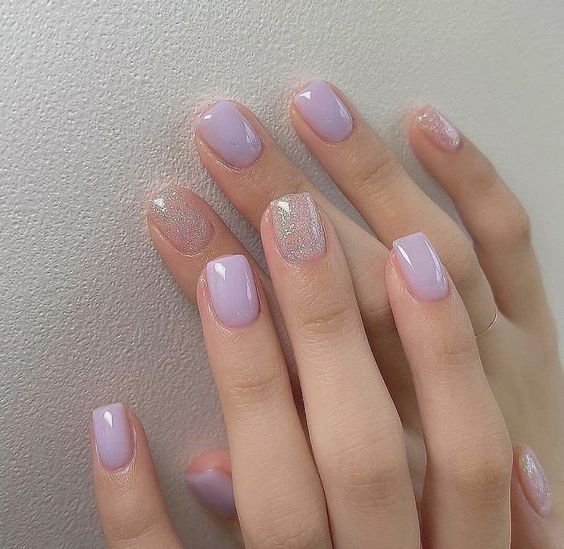 Lavender is a gorgeous color for prom whether it's your dress color or on your nails.
Soft Pink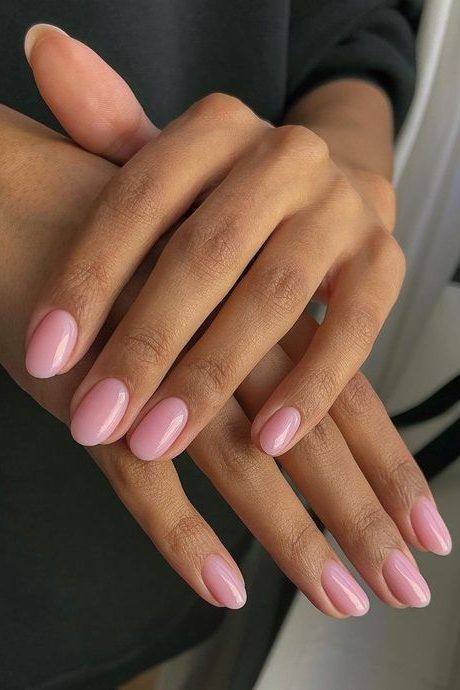 Talk about a cute manicure.
We're obsessed with these soft pink short nails for prom.
Dusty Rose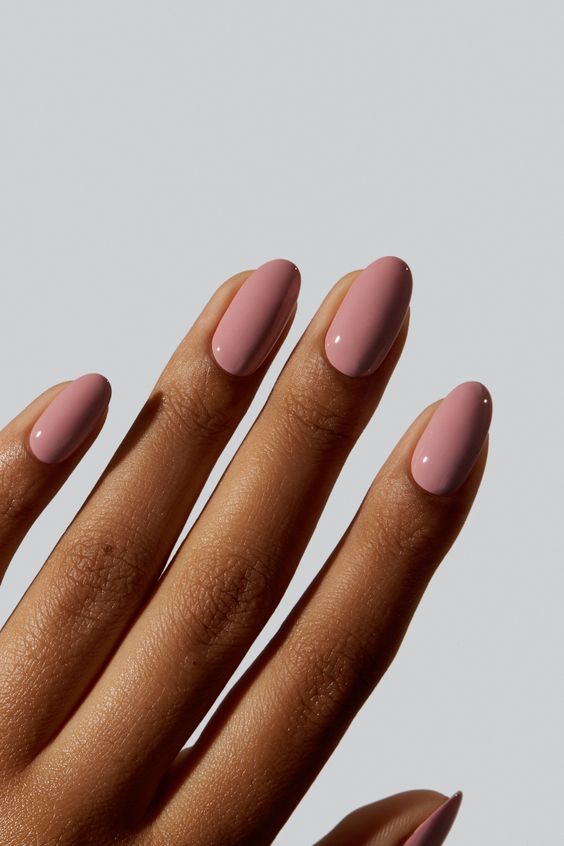 For a dusty rose prom dress try an equally as gorgeous color on your nails.
Little Red Hearts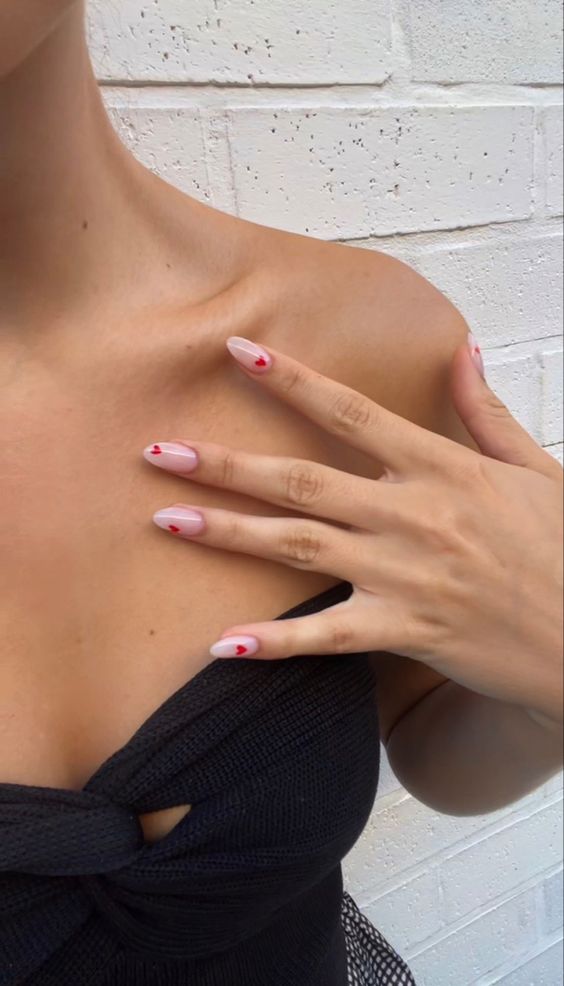 If you're wearing a red dress for prom but want a subtle red manicure, get these adorable tiny hearts.
Mini Flowers Nails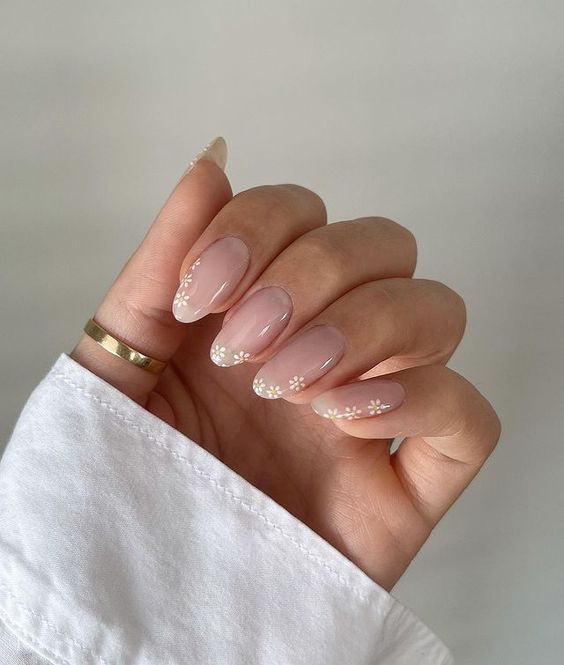 For a white dress we'll always recommend mini floral designs for your prom nails.
Polka Dots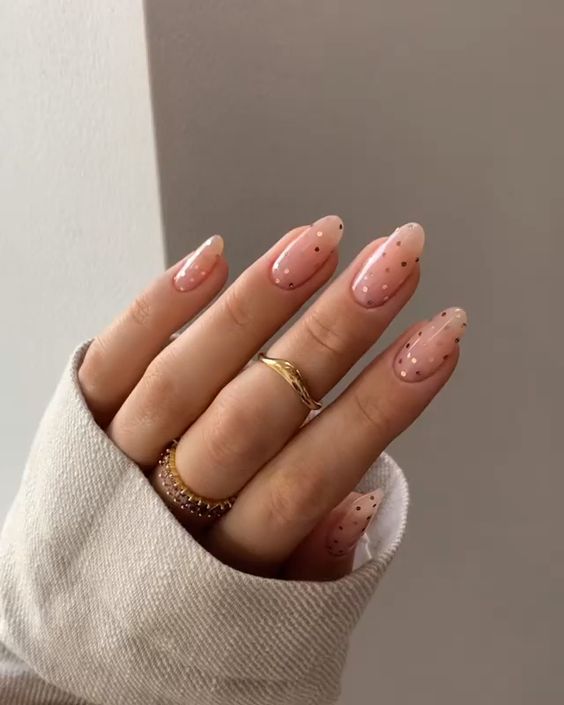 We can't stop obsessing over this simple metallic polka dot prom nail design.
Tangerine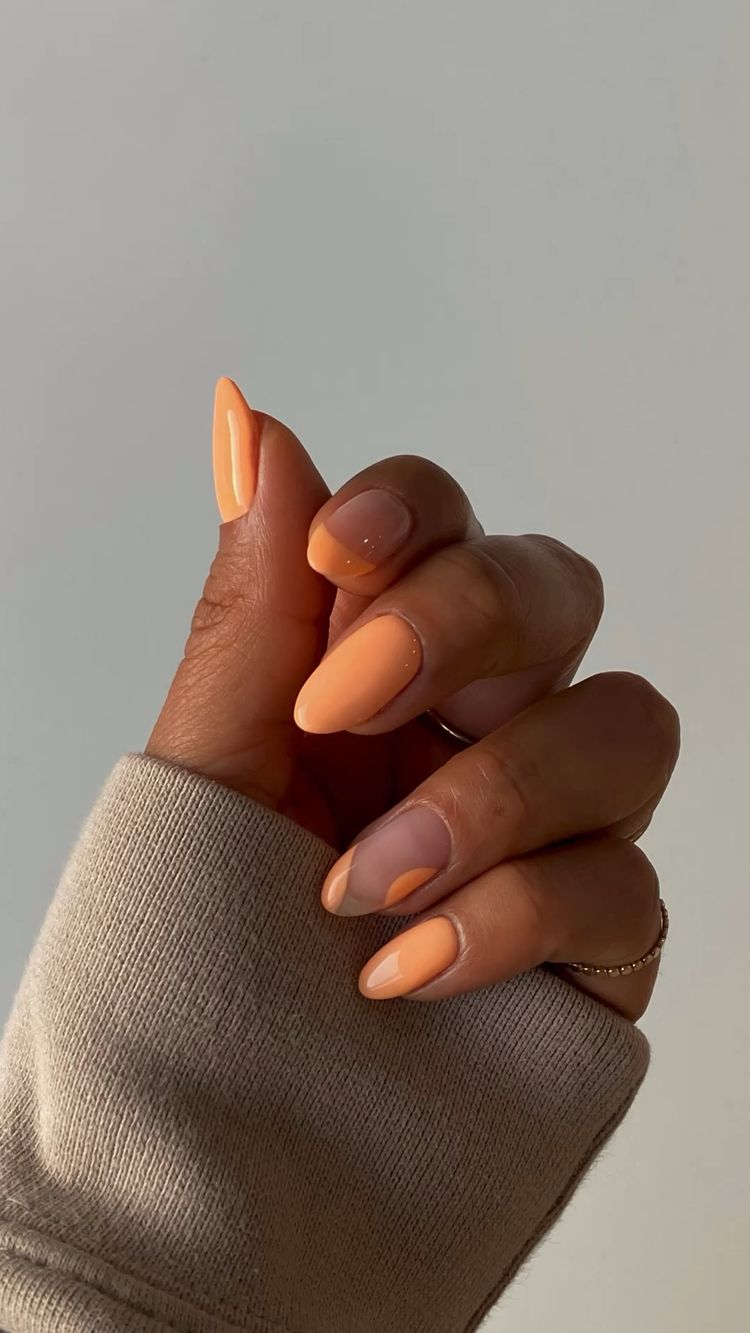 For an orange prom dress we're loving this soft tangerine manicure that feels like Summer.
Soft Gray Nails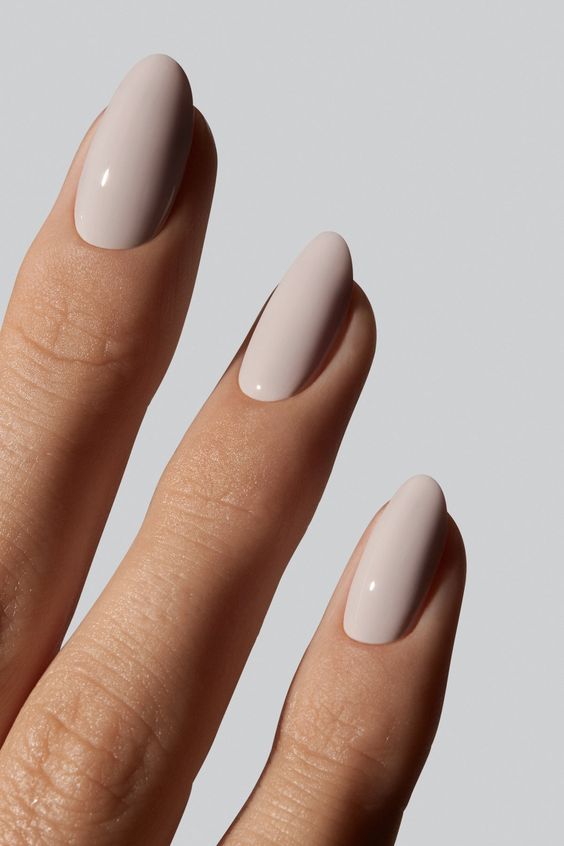 We're all about soft and muted colors for prom, especially this soft gray color that works for any white or black dress.
Taro Tea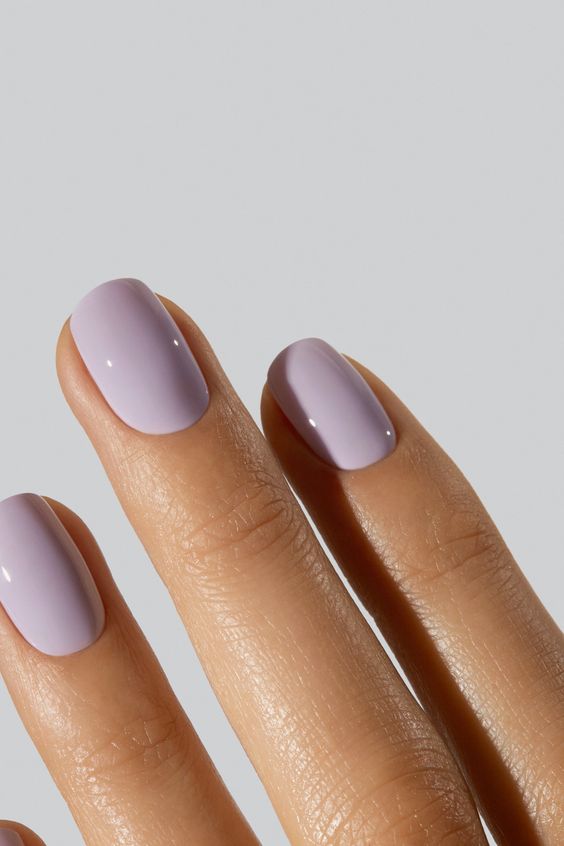 For all of our boba loving girls, this Taro Tea inspired gel color makes for the perfect prom nails.
Brown Acrylics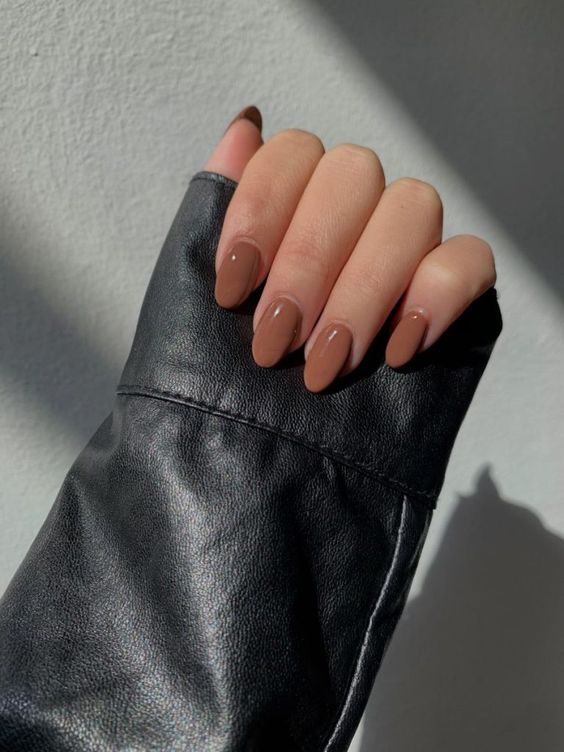 This photo single-handedly proves that brown acrylics can be the perfect prom manicure.
Short Glitter Nails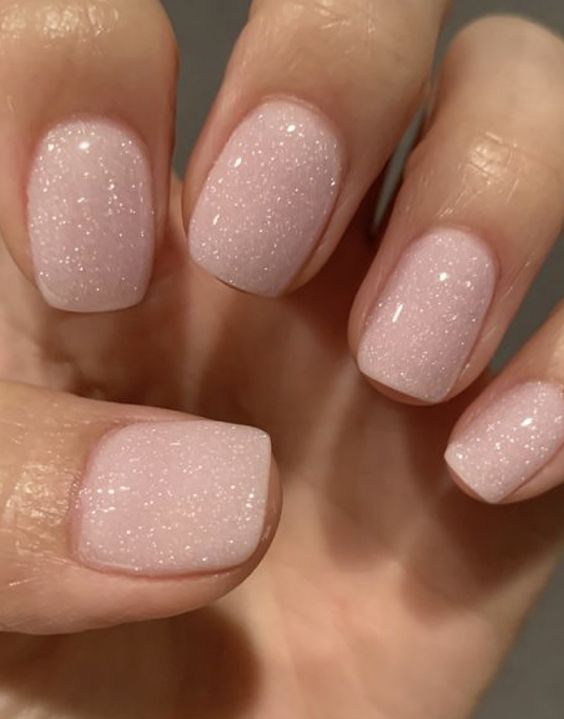 If you're looking for a simple and easy short gel nail design then remember one thing, glitter.
Short French Tip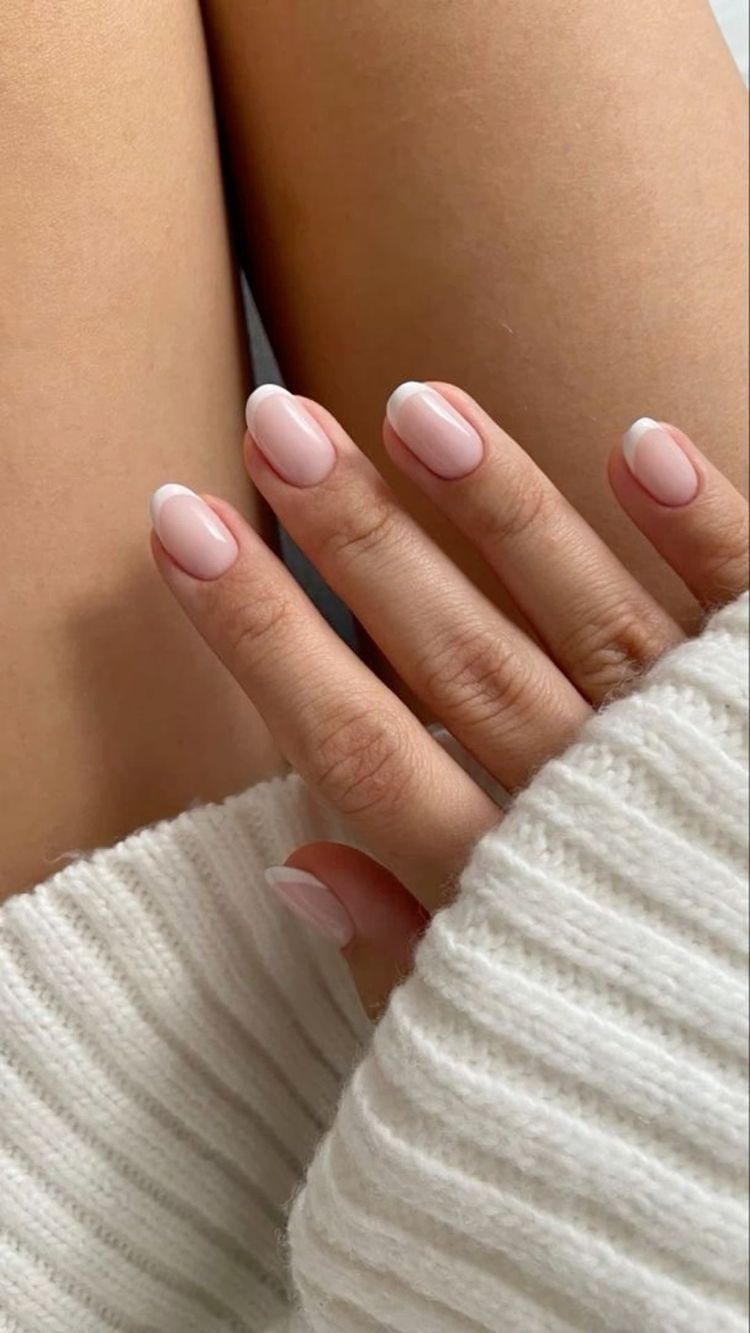 A short French tip manicure is a classic for any girl with a white prom dress in 2023.
Pastel French Tip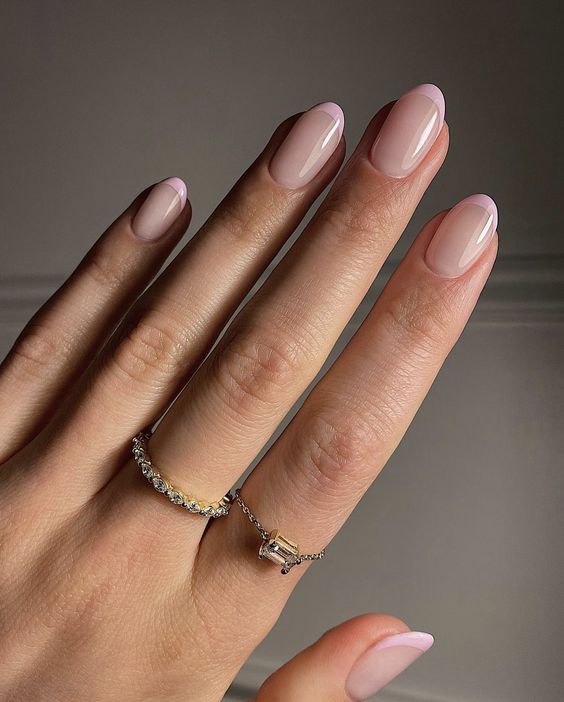 This delicate pastel French tip nail design is a must-have for any girl going to prom in 2023.
Soft Green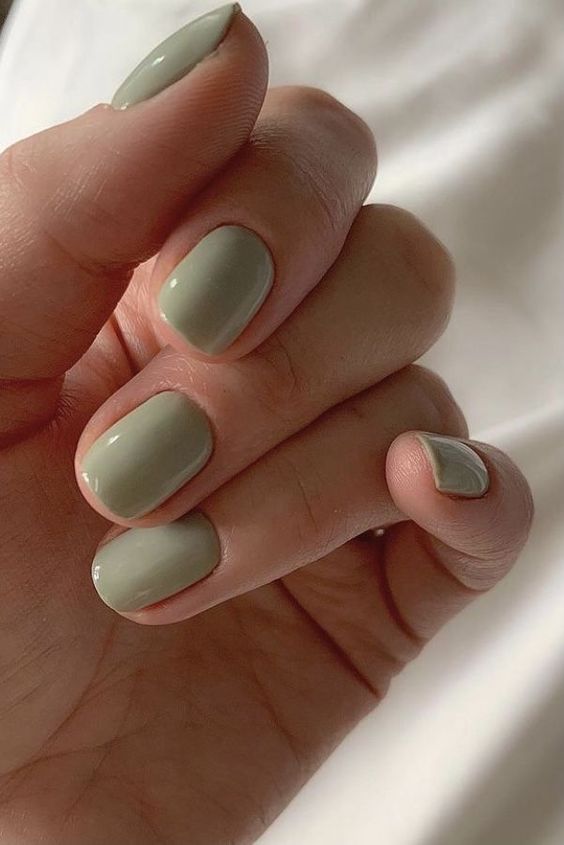 We can't stop staring at how gorgeous these soft green prom nails are.
Pastel Rainbow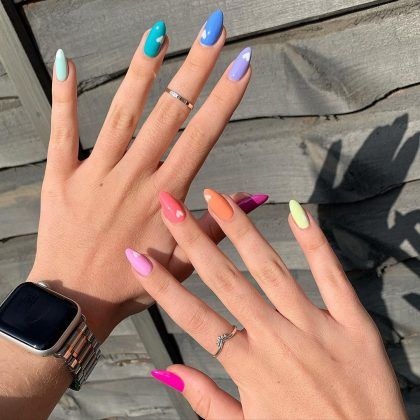 Make a statement at prom with a colorful pastel rainbow manicure.
Vibrant Teal Nails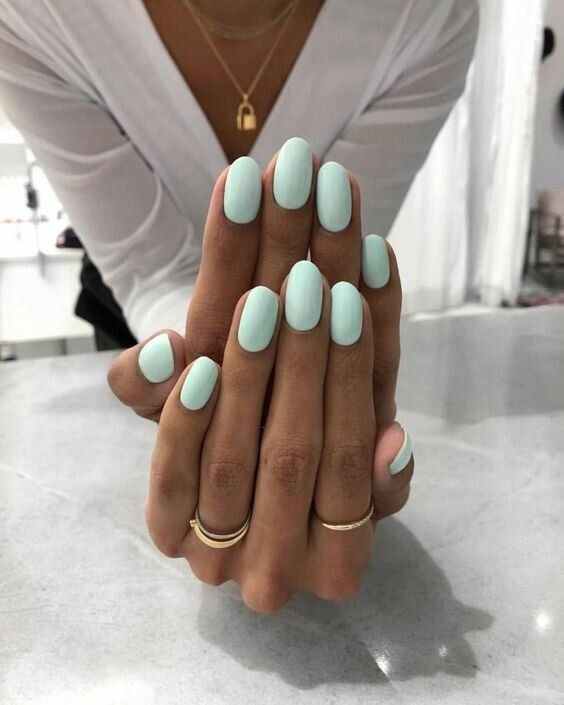 There's something about this vibrant teal prom nail color that we're absolutely in love with.
Feminine Pink
For cute and girly prom nails, try this shade of feminine baby pink.
White and Gold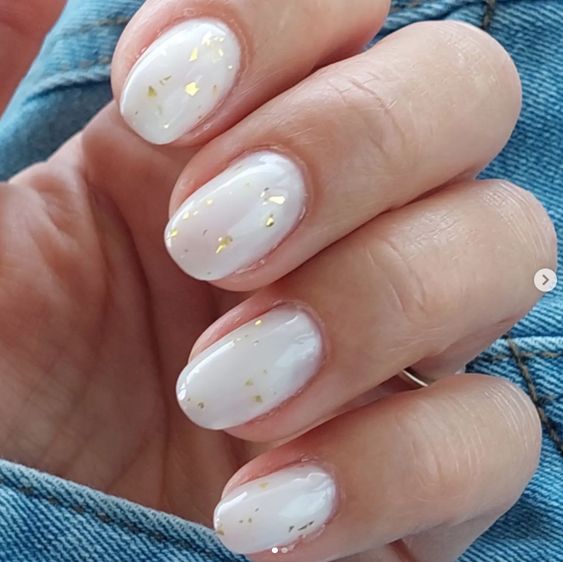 You can never go wrong with a white manicure for prom, especially if you add in some gold leaf detailing.
Metallic Silver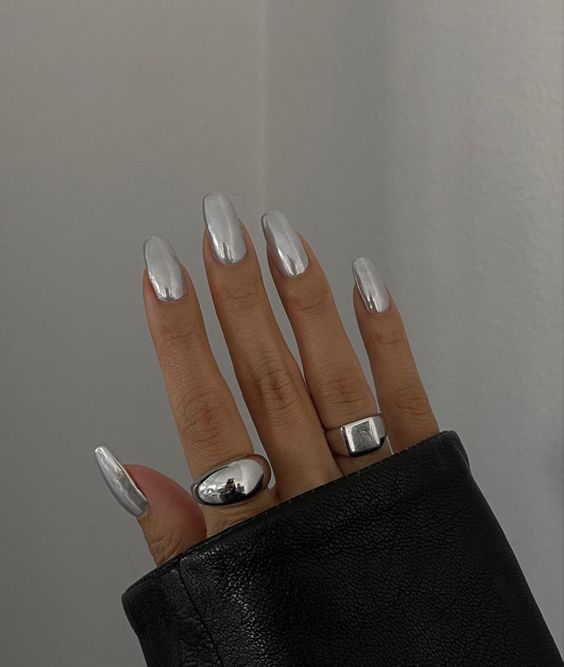 For a black or white dress, stand out from the crowd with an eye-catching metallic silver manicure.
Metallic Gold Nails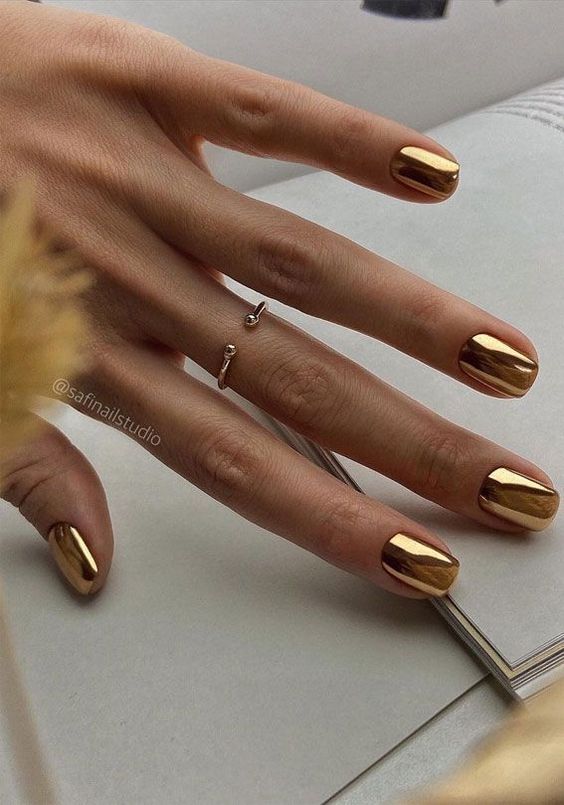 Metallic gold will always be one of our favorite nail ideas for prom.
Dark Purple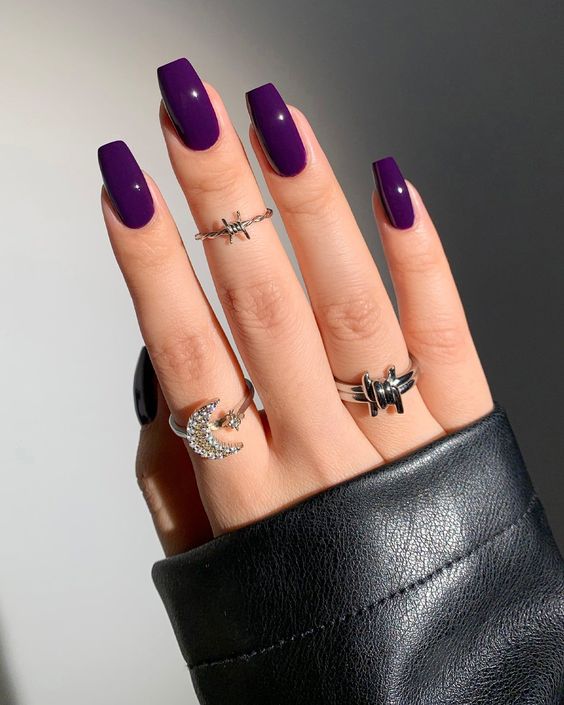 We love how moody, dramatic, and romantic a dark purple prom nail color is.
Dark Teal Nails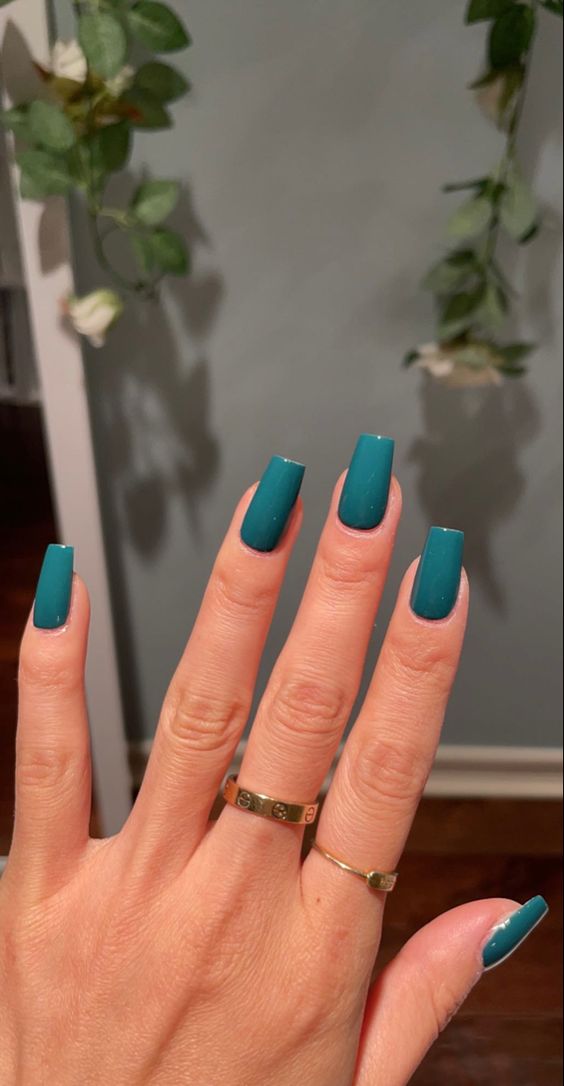 For a teal prom dress we're loving a matching dark teal prom nail design, especially if they're a square cut acrylic set.
Chocolate Glazed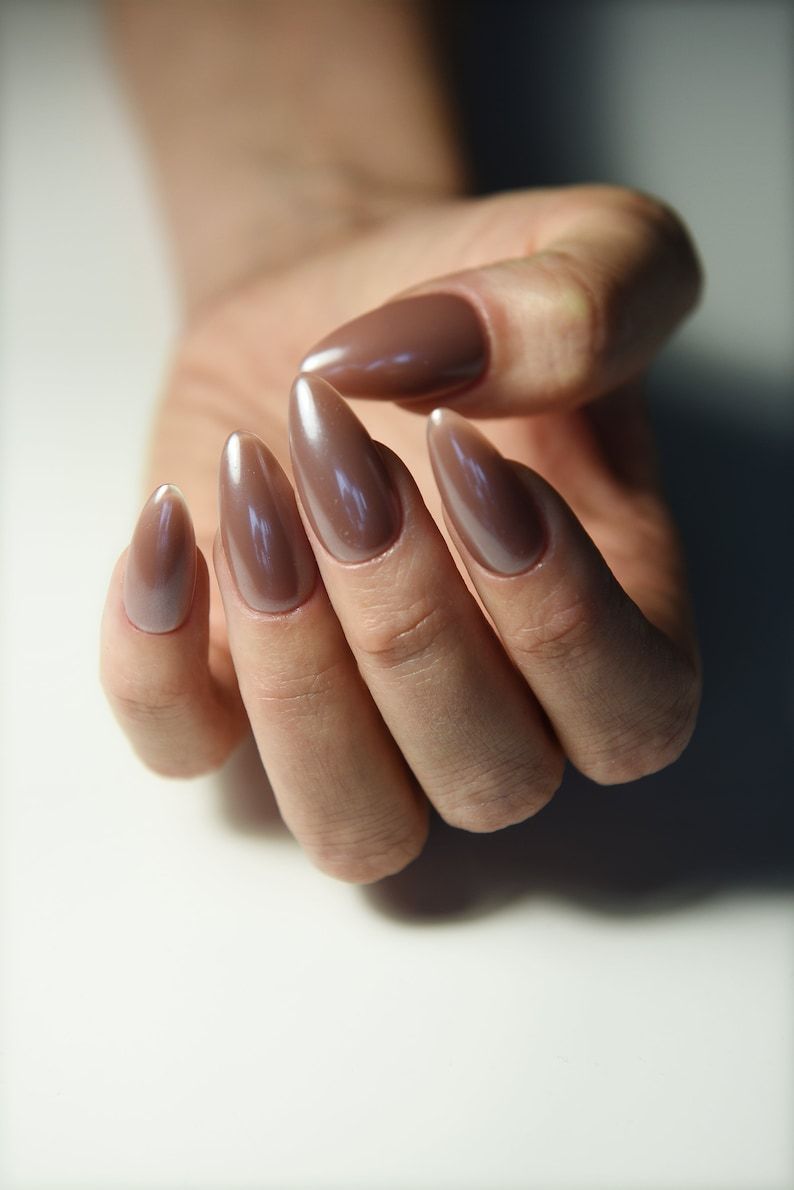 The glazed donut nail trend is a social media favorite but for prom we're loving the chocolate glazed version.
Classic Acrylic French Tip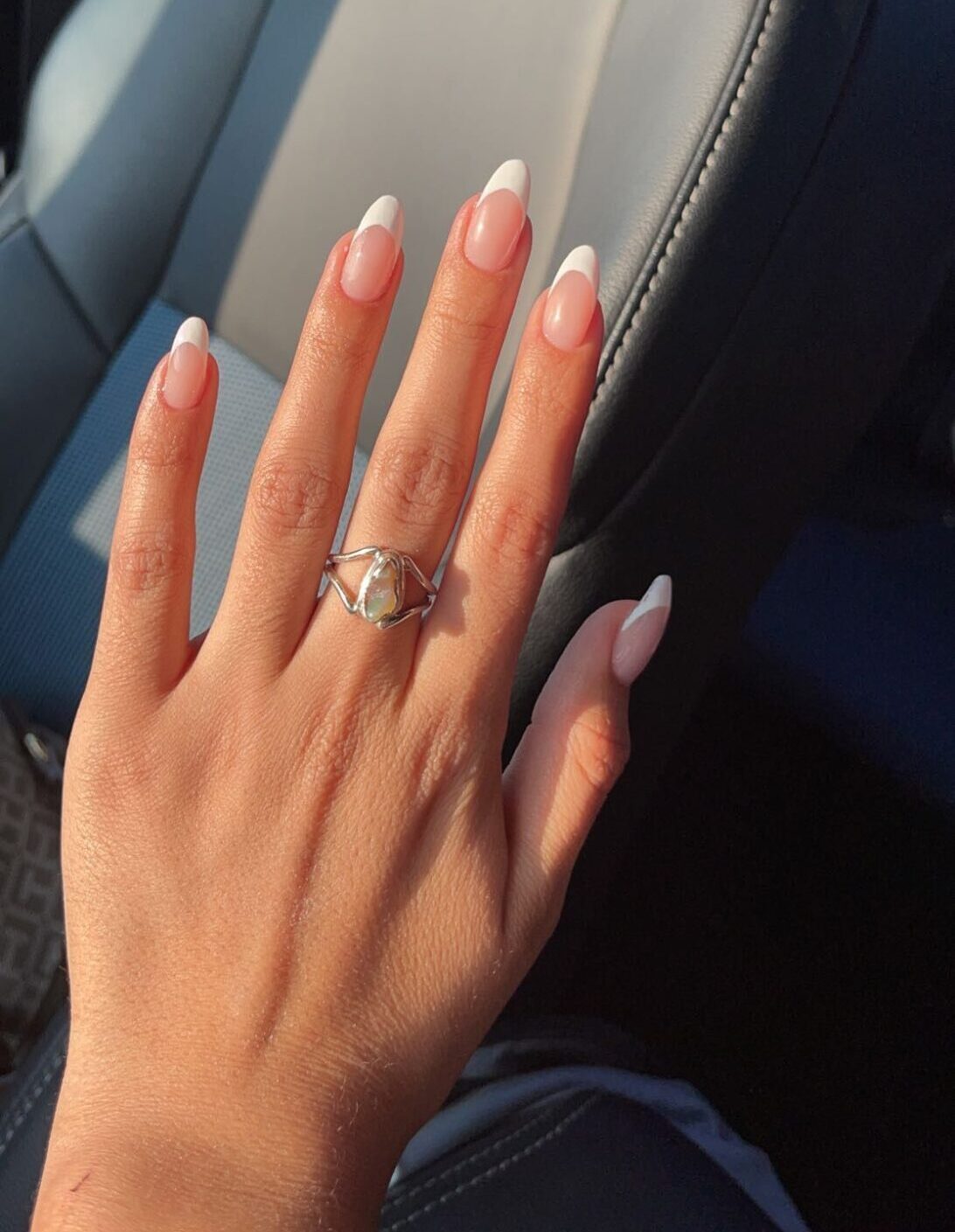 If you're looking for a classic prom nail design then you have to try the classic French tip on top of almond shaped acrylics.
Black Glitter Nails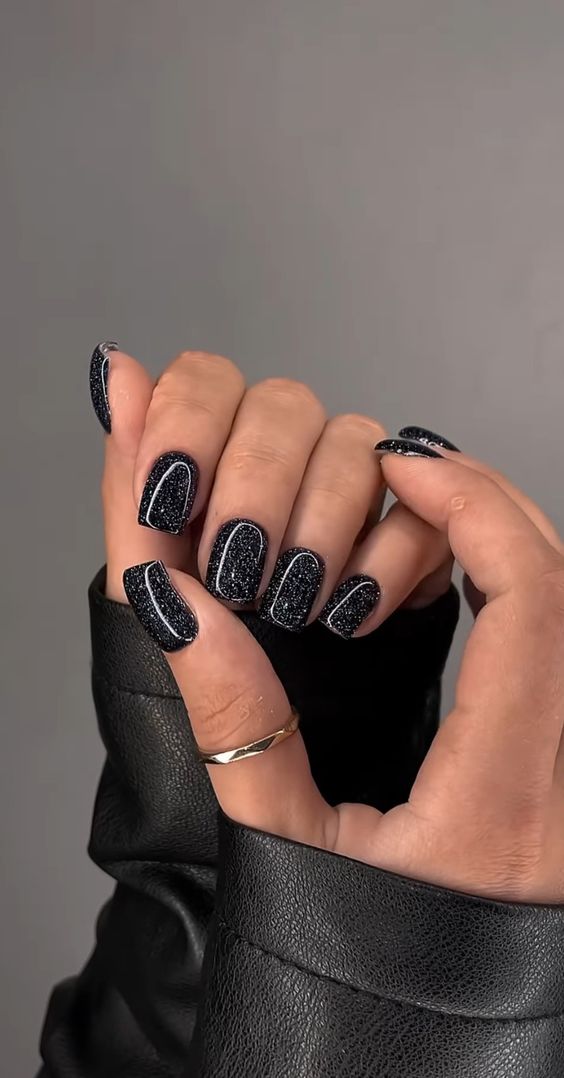 Black glitter nails are a picture-perfect pair with your black prom dress.
Silver & Black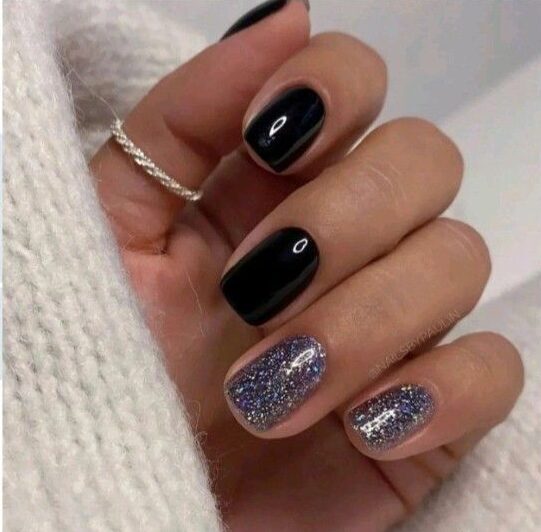 We have been loving the trendy black and silver glitter nail combination in 2023.
Forest Green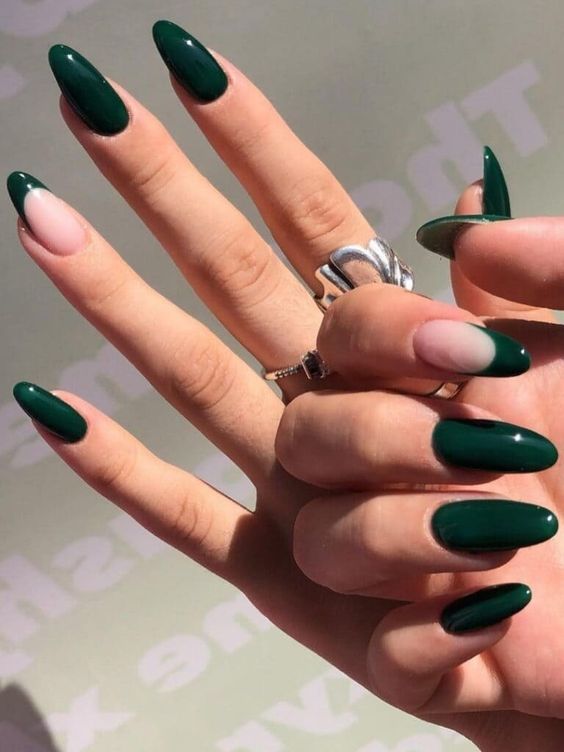 Forest green is a must have color for either your prom dress or prom nails.
Short White Nails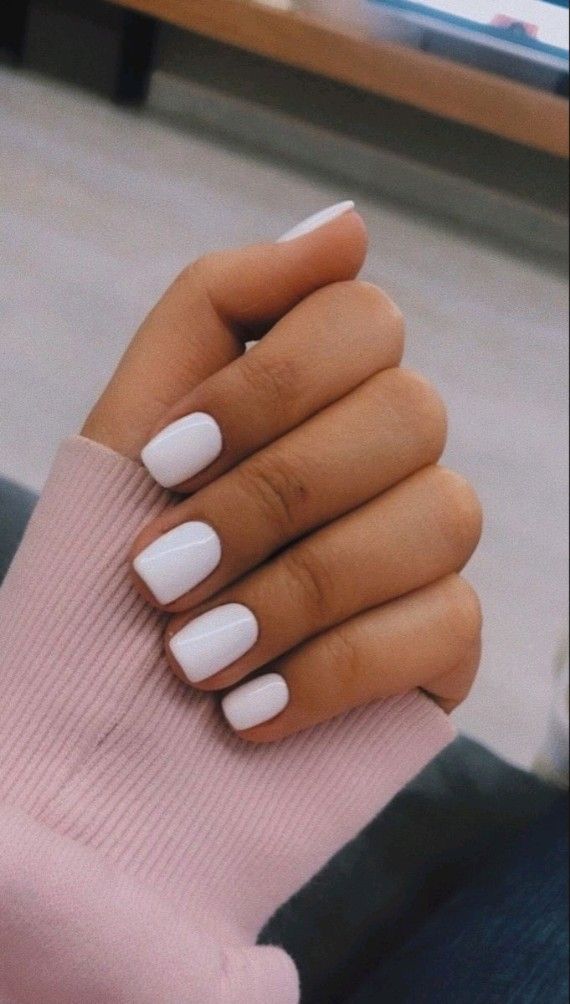 A simple and easy prom nail design that everyone can rock is the classic short white gel manicure.
Hopefully you've found your favorite nails for prom after reading this post!
If you have any comments, questions, or suggestions leave them down below. Thanks for reading!