Don't know how to start a blog as a teenager? This guide will give you everything you need to get started blogging as a teen!
Before we start, you should note that blogging takes a lot of upfront work and is not a get-rich-quick side hustle.
However, it can be one of the most rewarding things you can do for yourself as a teen in the long run.
Let's dive into blogging!
Why Teenagers Should Start a Blog
Starting a blog as a teenager comes with a ton of benefits:
Allows you to have a voice
Lets you share valuable information
Teaches you a lot of new skills
Can make you money in the future
Allows you to meet new people
Lets you explore your passions
Keeps you busy
Blogging is more than just some hobby or just some business. It's a gateway to so many other things in life!
I started this blog when I was 18 years old (had the idea at 17) and it is now my passion, full-time job, and favorite thing to work on daily!
Starting a blog is, hands down, the best decision I've ever made as a teenager.
How Teenagers Can Blog Differently
Teenagers have one advantage to blogging that most adults don't have…
They understand teenagers!
In other words, you know how to reach a specific audience because you relate to that audience in a way that others can't.
When you create articles, you'll be able to communicate your point much easier (especially if you're blogging to other teens).
Plus, you might have specific interests that other adults might not have either.
For example, if you're an expert at teen fashion trends, you can blog about that!
The biggest thing to takeaway from this is to play to your strengths. Otherwise, you put yourself in a competitive pool with everyone else.
Related Post: How to Be a Successful Teenager
How to Start a Blog as a Teenager
If you're convinced that you should start a blog, here is a step-by-step guide on how to get started…
1) Pick a Narrow Topic
Picking a topic or niche is the most important step to start a blog as a teenager. Without it, you can't be unique and share your own knowledge.
The topic should also be something that you consider yourself an expert, passionate, or very knowledgeable in.
Aim for a narrow topic within a larger space.
For example, instead of blogging about fashion, blog about trendy sweaters to start (if you're most into sweaters).
The point is, it's hard to get views on your site if you're in a super wide field of articles that other people are also experts on.
Here are a few example topics for teenagers to blog about:
Music
Sports
Gaming
Advice
Relationships
Pop Culture
High School
Homework/Studying
Use this list as a guide if you're lost, but don't count on it for picking a topic. Find what you're passionate about and write about it in the most niche way possible.
2) Write Down 50+ Article Ideas
If you can't think of at least 50 articles ideas to write about on your blog, your niche is either too small, too broad, or you're not knowledgeable enough in that space.
In your notes app, Google Docs, or on a piece of paper, write down the ideas and add to them as you think of more.
Here is an example of my article ideas…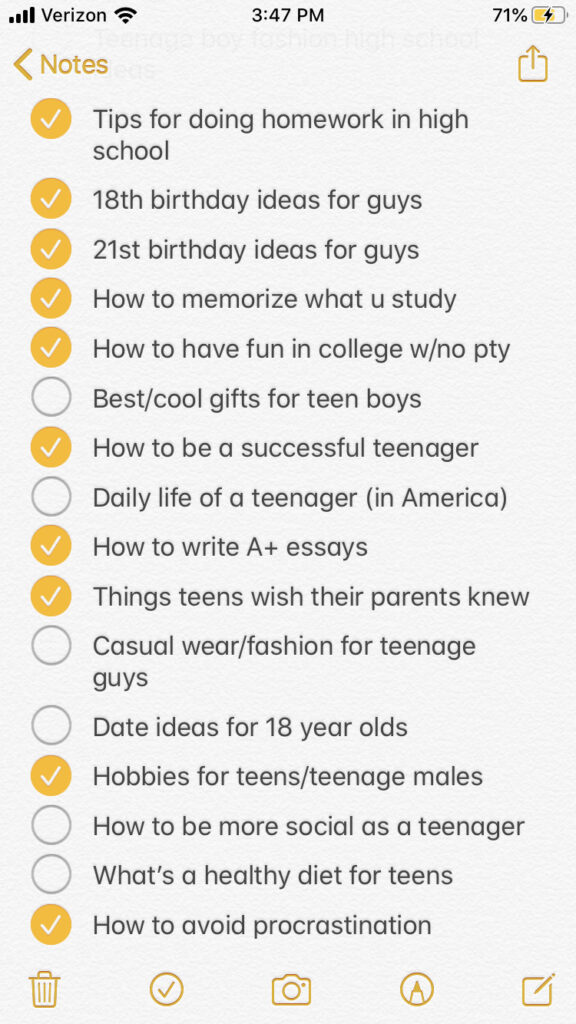 When you've got at least 50 ideas and feel confident about your niche, you're ready for the best step!
Related Post: 10 Best Blogs for Teenagers
3) Start a Blog
Sometimes, knowing how to start a blog as a teenager is as simple as…starting it. Unless you start, you're never going to achieve your goals.
Here are a few steps to starting a blog as a teenager:
Get hosting – a company that manages your website on a server, like a massive usb drive for your blog
Use WordPress – the place where you actually design, write, and work on your blog
Pick a theme – essentially a template design for your blog
Make it your own – add little things that make it feel like your own blog
Write your first blog post – from this point on, you officially have a working blog
Most beginners get hosting from either Bluehost, SiteGround, or HostGator.
If you've previously looked up blogging before, you've probably seen websites trying to shove Bluehost down your throat. It's a decent hosting (what I started with as a teen), but all 3 are pretty good options.
Keep in mind that some of these things cost a bit of money. You'll probably end up paying around $100 your first year of blogging.
If you'd rather blog for free, consider Blogger or Wix. It's very difficult to get views and make money with a free blog, but it's alright for hobby blogging.
I find my blog themes on ThemeForest, but there are other sites to get your preferred blog design.
All of these new things will take a bit of learning (mostly from experience), but hang in there. It's all a super fun journey!
4) Learn SEO
Knowing SEO as a teenager is one of the best things you can do for yourself. It can even open up a ton of job opportunities in the future!
SEO (Search Engine Optimization) is essentially the process it takes to help your articles rank on the first page of Google.
It's really difficult for people to find your articles without it, unless you have a strong social media presence.
Learn bits and pieces of SEO online as you write articles for your blog.
Here are a few SEO topics to get started with:
Keywords or Keyphrases
Backlinks
Titles, Meta Descriptions, and Slugs
Image Alt Attributes
With knowledge of just these 4 topics, you can write blog posts that rank to the first spot of Google.
I know it all sounds like a bit of gibberish right now, but this is one subject that you can take with you outside of blogging.
5) Write Articles
The articles themselves are responsible for over 80% of your views, revenue, and fan base.
The more you have, the better you are at SEO, and the more knowledgeable you are, the better!
Articles should be written with care, attention, and precision. However, that doesn't mean you can't have fun with them.
There are many common mistakes that beginner bloggers make when they get started (I did them all too much 😅).
Here are a few tips for writing articles:
The main focus should be providing value to readers
Avoid "I, Me, My" as much as possible
Outline articles before you write them
Include SEO practices within each one
Speak with active voice
Space out paragraphs often (no more than 2-3 sentences per paragraph)
Use a lot of headings (basically smaller titles within the article) to separate topics
With practice, you'll start to develop a bit of a formula that you can use for all future articles.
6) Get Off Your Blog – Go Promote It
One of the most important tips on how to start a blog as a teenager doesn't even involve blogging!
When you write articles, you've done most of the hard work already, but you're missing one important aspect… promoting it.
Now, this doesn't mean you need to make Instagram ads and pay to showcase your new article.
It means that you should work on getting it out there through social media.
Pinterest is the best social media platform for teen bloggers. If you have experience with Pinterest, then this part is easy for you.
Publish pins, posts, stories, etc. of your latest blog posts on social media and get a few views to gain traction.
Check out my Pinterest account to get an idea!
Pinterest has its own form of SEO too, so learning it can help with both Google and social media!
Pro Tip: Don't open more than 2 social media accounts for your blog (the less the better)
7) Provide Value
Providing value is one of the best ways to get people to come back to your blog.
If you go on and on about yourself and never help anyone else with something, they're not likely to stick around.
Give your readers something they can take with them from the article. That can be a lesson, a link to a product, a downloadable worksheet, an answer to an important question.
The best way to go about this is by using the words "you, your, and yours" instead of "I, me, and my".
When people are on Google, they're usually looking for an answer. For example, they might search "how to get better grades in high school".
If your blog post doesn't give them a step-by-step process for how to improve their grades, they're not going to find any value in it.
Long story, short – blogging is a very selfless business.
Related Post: Time Management Tips for High School Students
8) Monetize Your Blog
Monetizing your blog just means to make money from it.
In other words, put things in place so that your blog generates revenue.
Here are the best ways to monetize a blog as a teenager:
Place affiliate links – place product links on your site and you get a commission if someone buys it
Place ads – sign up for an ad network like Google Adsense to start getting paid for placing ads on your site
Sell your own product – this is usually for advanced bloggers, but it's something to consider as a beginner
There are a ton of ways to monetize your website, but these 3 options are the most common ways for beginners.
The more views you get to your page, the more it's worth (meaning you can make more money with more page views).
Focus on getting people to your blog first.
9) Stay Consistent
As with most things in life, consistency is key. This could not be more true when starting a blog!
Pick a consistent schedule that works for you without burning yourself out.
I used to burn myself out quickly by writing way too often. Believe it or not, I started getting more views when I slowed things down and became consistent.
Here is an example blogging schedule to stay consistent:
Write 2 articles per week (every Monday and Friday)
Make 3-5 pins per week and publish them to Pinterest
Learn one new thing about SEO per week
Write down 2 new article ideas per week
That's it! It doesn't have to be super complicated. In fact, the less complicated the better.
You're also a teenager. You have a busy schedule that can't account for a full-time blogging job.
Outline your week ahead of time so that you don't go into everything blind. Over time, you'll grow your blog into a monster!
10) Keep Learning
After getting over 150k views per month, making a full-time living, and blogging for nearly 4 years, I'm still learning SO much about blogging.
Blogging is one of those things that change over time. You have to stay on top of trends, algorithm changes, and see what the best bloggers are doing.
Although, if you're just blogging as a fun hobby/pass-time, you can worry about all those changes in the future.
Either way, don't stop educating yourself about blogging. Even if your blog fails (which it won't), you can at least take your knowledge into other careers.
The journey of blogging never stops, but that's exactly what makes it fun.
Related Post: Best Hobbies for Teenage Guys & Teenage Girls
Conclusion
Hopefully you understand how to start a blog as a teenager after reading through this guide.
The first step is starting and I hope it's as good of a decision for you as it was for me!
Feel free to reach out with any questions you may have about blogging that wasn't covered in this post.
Good luck blogging! You got this!
If you have any comments, questions, or suggestions leave them down below. Thanks for reading!