Are you a teen girl looking for some homecoming dress inspiration for your next party? Here are the 50 cutest homecoming dress ideas in 2023!
These ideas range from short, tight, babydoll, tulle, maxi, mini, colorful, sequin, laced, and many more dresses!
No matter what color or style you're looking for, you'll be sure to find a dress that matches you perfectly.
Check out some of these other resources for homecoming:
Let's dive in!
Homecoming Dress Ideas
Here are 50 different dresses for you to get some inspiration for what to wear to Homecoming!
1) Matching Homecoming Dresses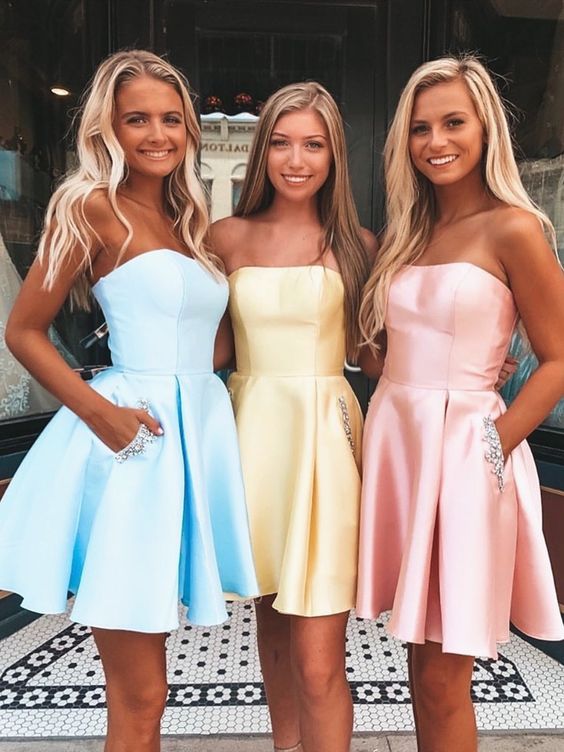 One of our favorite Homecoming dress ideas is to get similar matching dresses with your besties in your favorite color scheme!
2) Long Sleeve Mini Dress
Enjoy homecoming without the fear of getting cold in this super cute and stylish long sleeve mini dress for your 2023 Homecoming!
3) Electric Blue Dress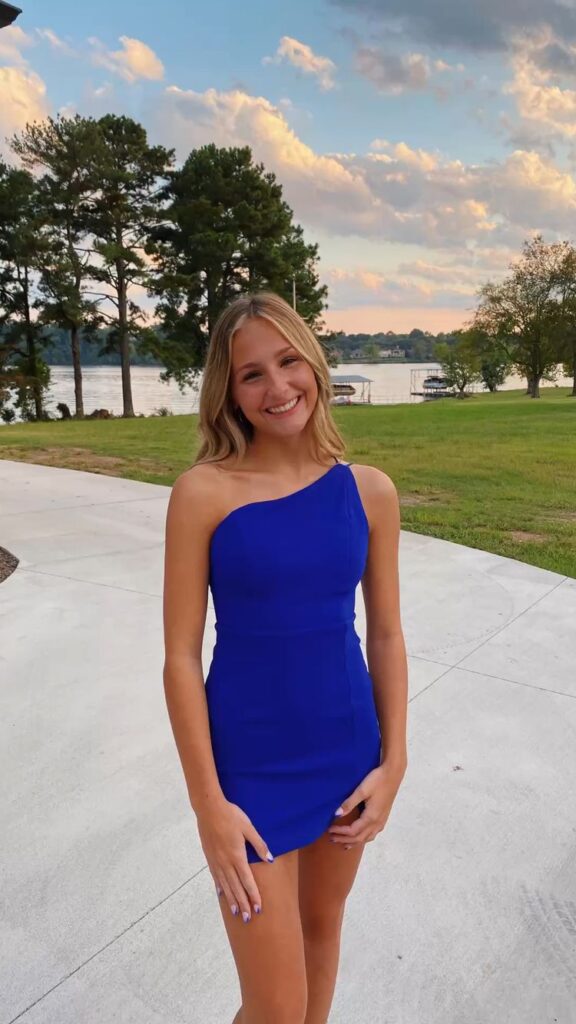 Electric blue is the trendy new color in 2023 and if you're still asking yourself what to wear to Homecoming, go for an electric blue dress!
4) Pink Glitter Barbie Dress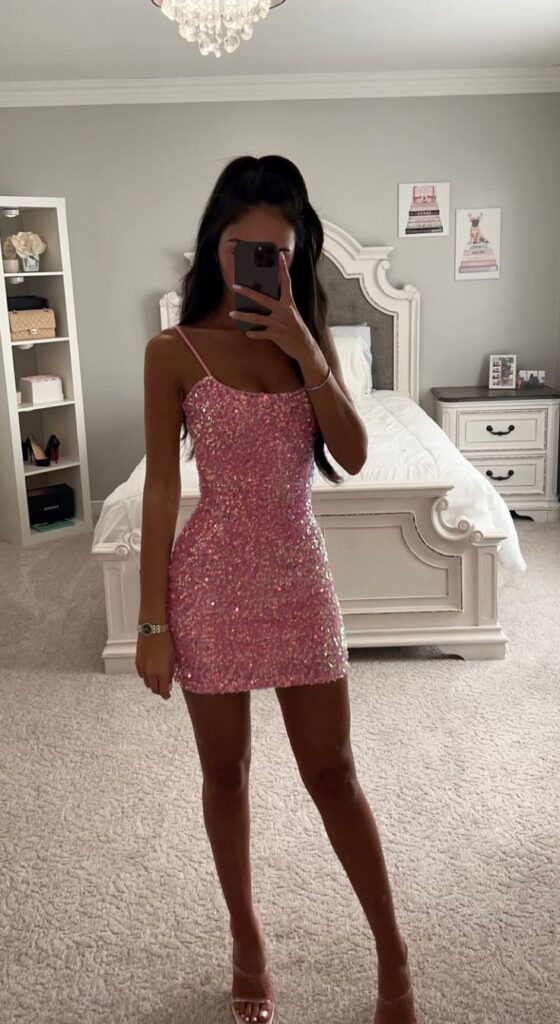 Play dress up and rock the glitter pink mini dress inspired by Barbie to your Homecoming and get ready to shine the night away!
5) White Satin Long Sleeve Dress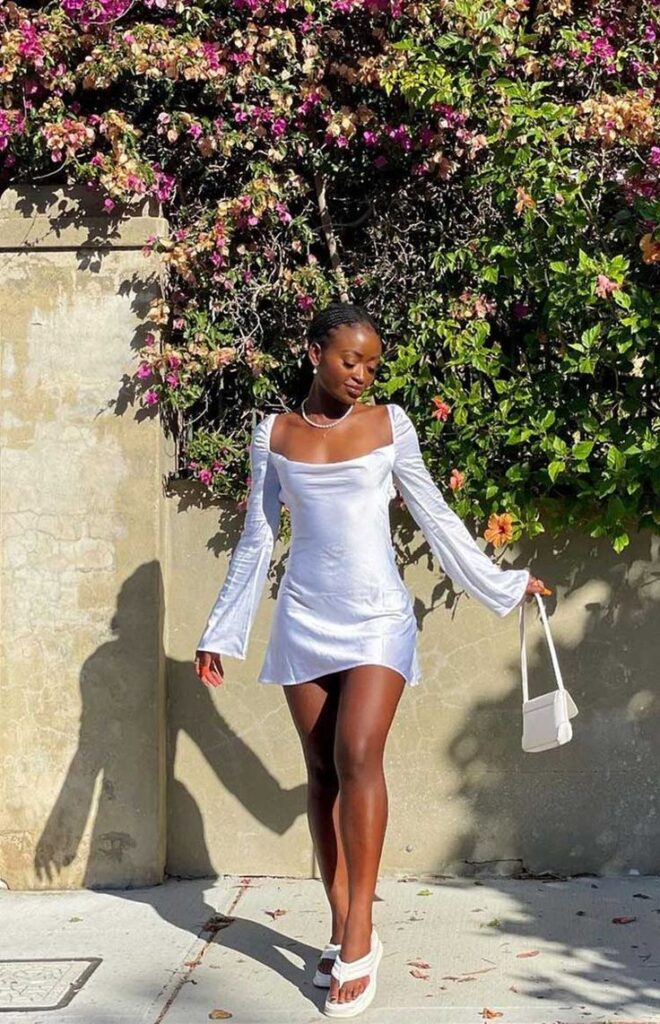 We love a magical dress moment, and this white satin dress is truly the most magical of them all, especially for your high school dance.
6) A-Line Yellow Dress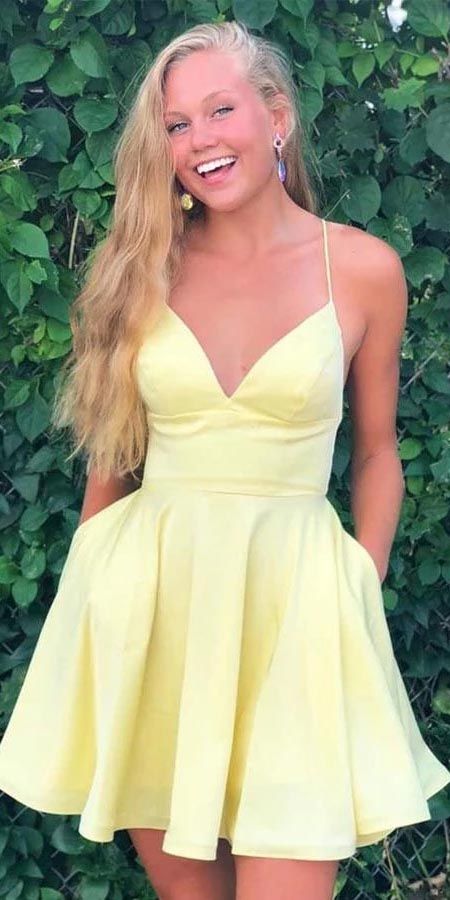 If you're looking for Homecoming outfit inspiration, then look no further than a little yellow A-line dress to rock to your upcoming dance.
7) Matching Shades of Pink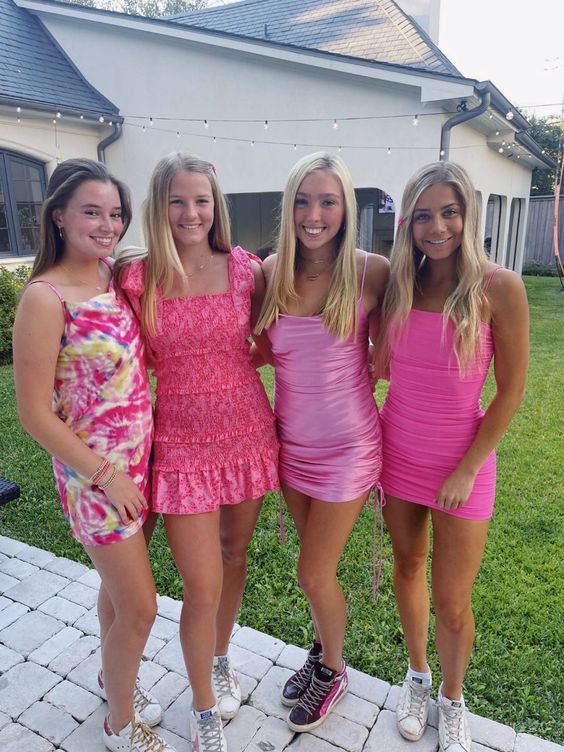 Go all in on matching with your besties and go for a color-coordinated look by all wearing different shades of the same color, like this pink look!
8) Baby Blue Tulle Dress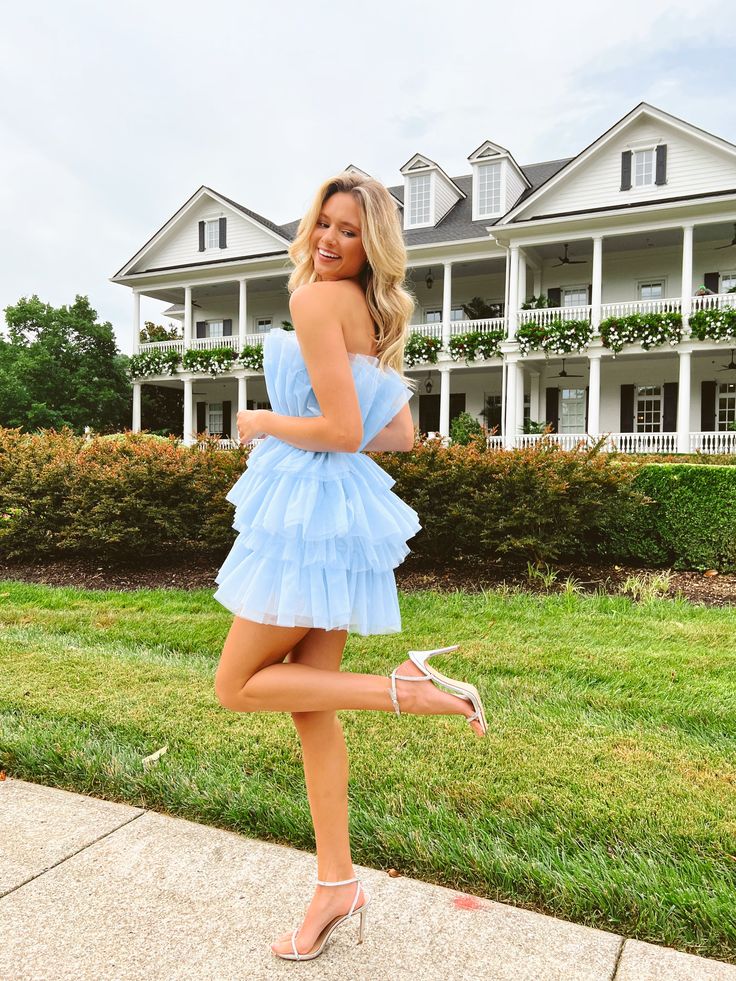 The tulle movement has taken 2022 by storm and as it continues into 2023, this baby blue tulle dress is a great Homecoming dress option!
9) Linen Babydoll Dress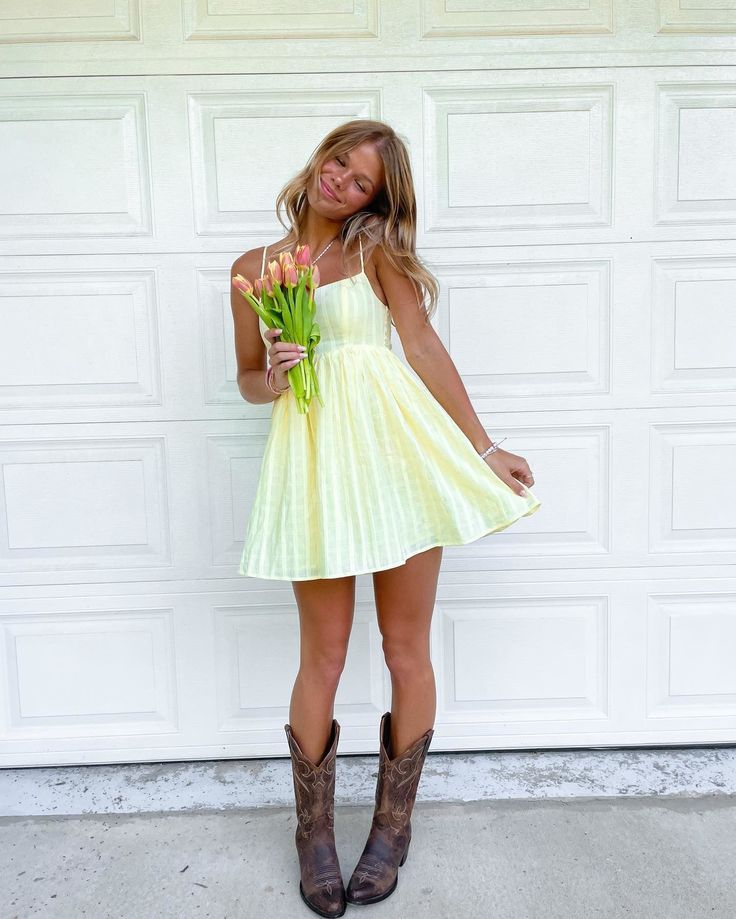 If you're looking for a more relaxed and beach inspired Homecoming dress idea, then you have to try this linen babydoll dress.
We're not kidding when we say it's on sale for $6 so you better run!
10) Gold Glitter Dress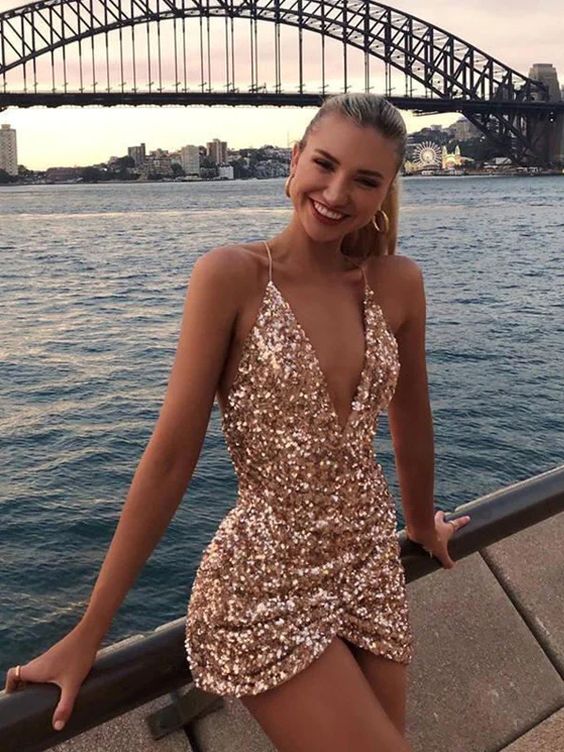 You can never go wrong with glitter, especially for Homecoming, so in 2023 you better be rocking a gold glitter dress for your high school dance.
A gold dress is one of the best homecoming dress ideas you can take inspiration from this year!
11) Starry Night Dress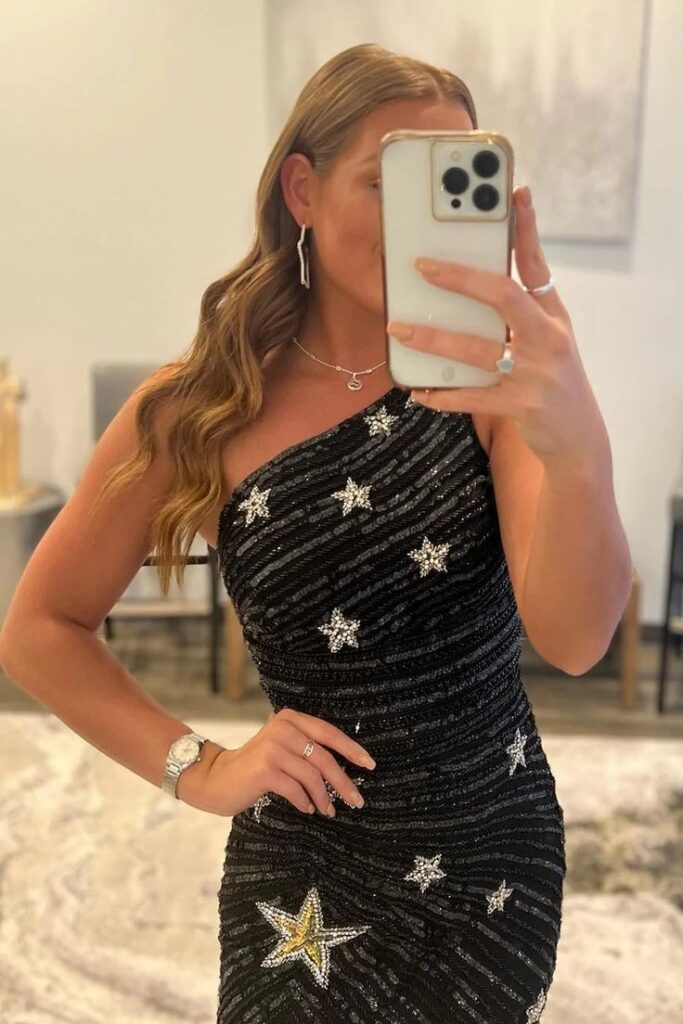 Be the star of the Homecoming dance and rock this super cute and trendy off the shoulder star patterned dress.
12) Metallic Animal Print Dress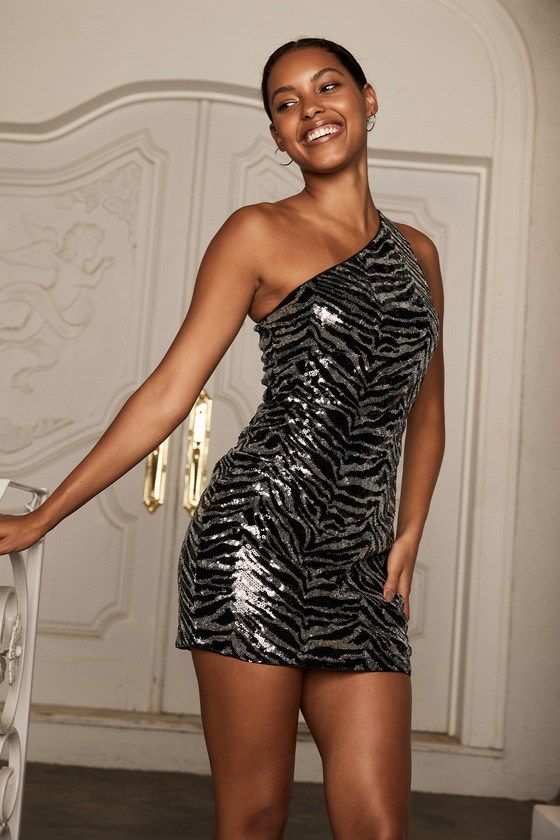 If you're looking for a fun and bold homecoming outfit idea, then look no further than this amazing metallic animal print dress, perfect for your high school dance.
13) Two Piece Set
You can never go wrong with a two piece set as a homecoming dress idea, especially when the two pieces are different fabrics. This look is simply perfect!
14) Floral Midi-Dress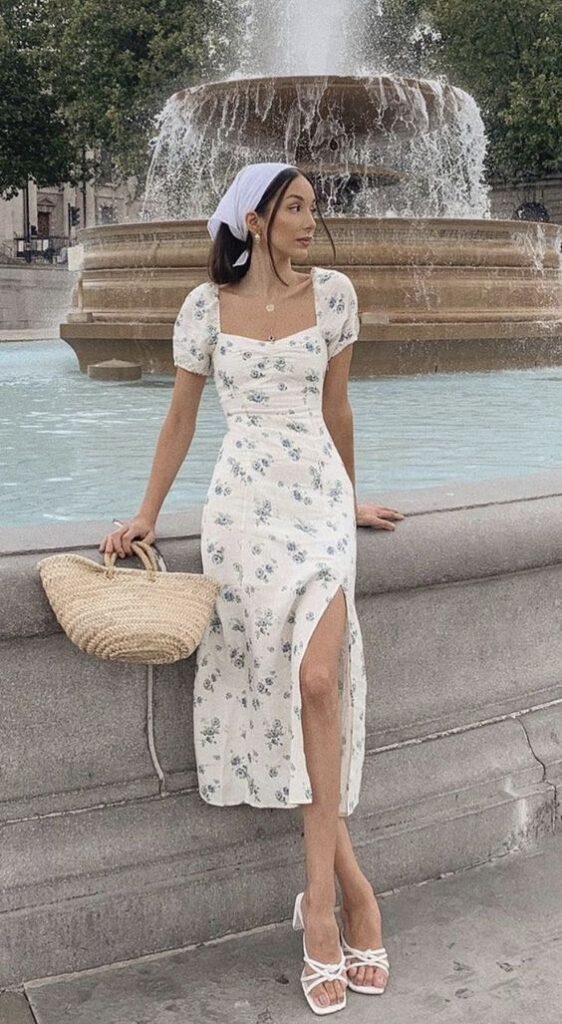 If you're looking to rock the cottage-core trend for your 2023 Homecoming, then you have to get this cute floral midi-dress.
15) Tie-Sleeve Dress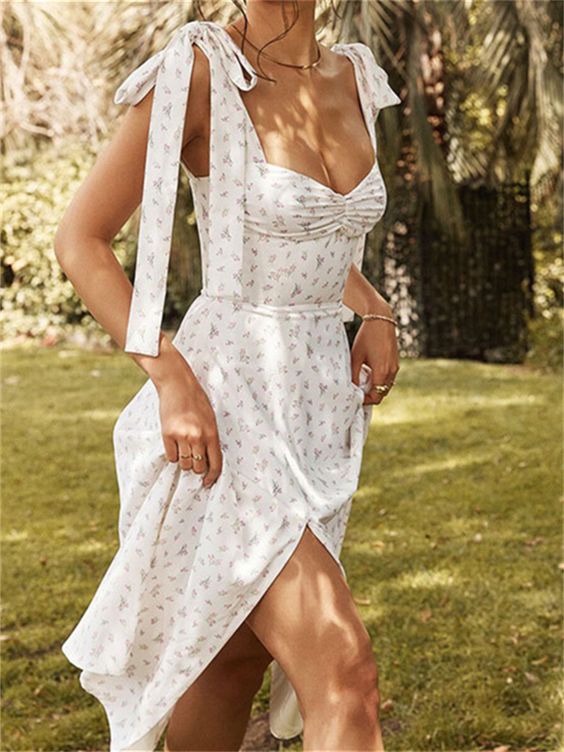 We absolutely adore the tie-sleeve dress trend and know you're going to love it too as your next Homecoming dress.
16) Butterfly Blue Dress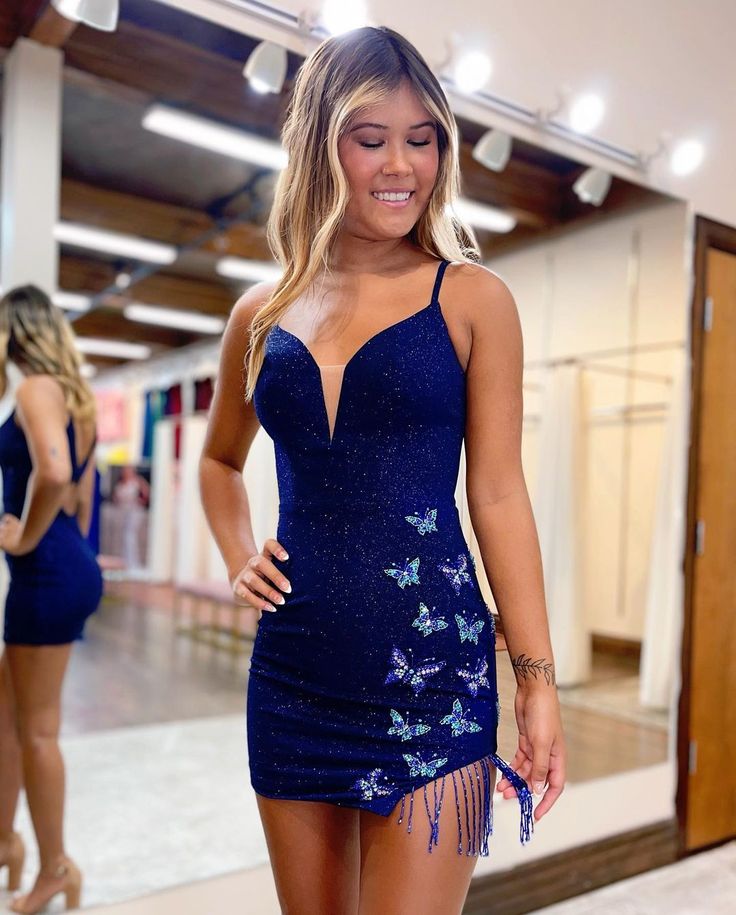 From butterfly clips, to butterfly inspired jewelry, we can't get enough of this trend and we're now officially obsessed with the butterfly dress inspiration.
17) White Glitter Dress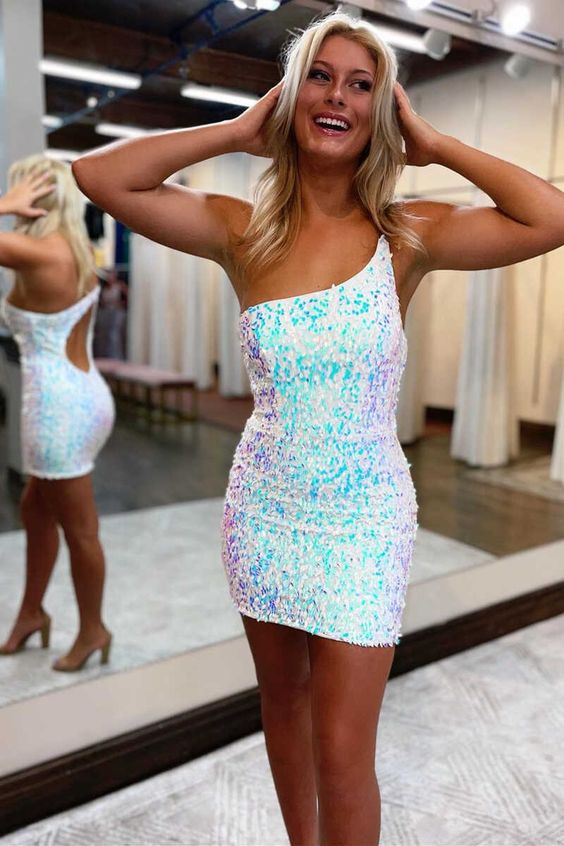 Shine all night long in this one shoulder white glitter sequin dress, perfect for any Freshman or high school girl looking to be the star of the show at Homecoming.
18) Champagne Sequin Long-Sleeve Dress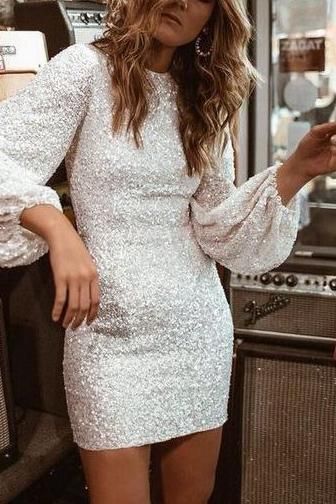 You can never go wrong with a Homecoming outfit idea that involves a champagne color, and tons of sequins, so by those standards, this dress is perfect.
19) Little Red Dress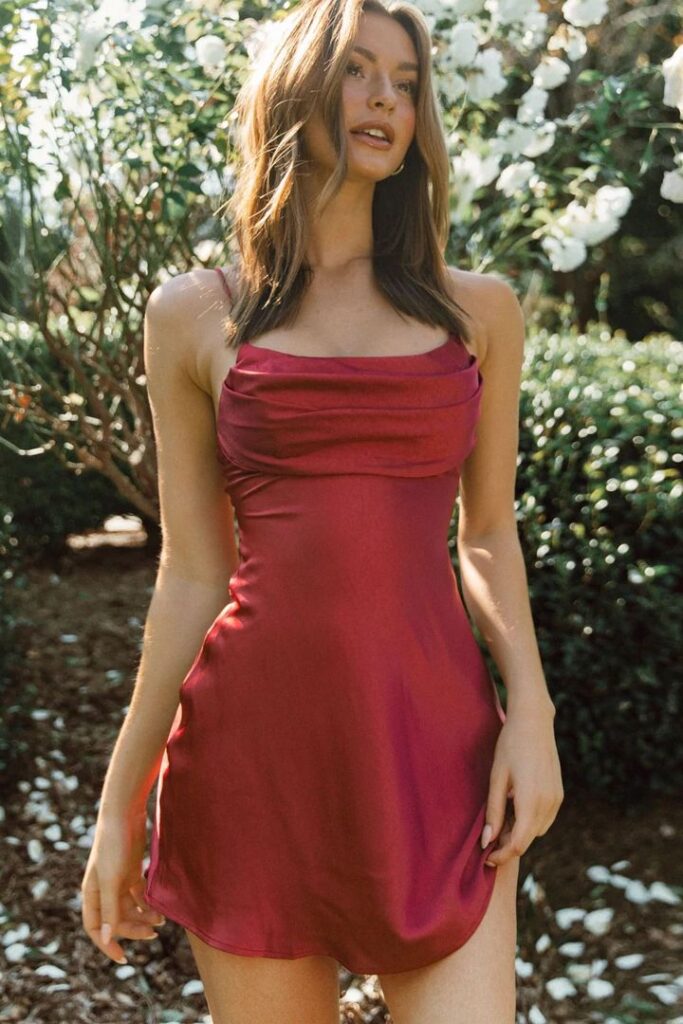 Although we love a little black dress moment, the little red dress is our new favorite trend, especially if you're looking for 2023 homecoming dress inspiration.
20) Fairycore Satin Dress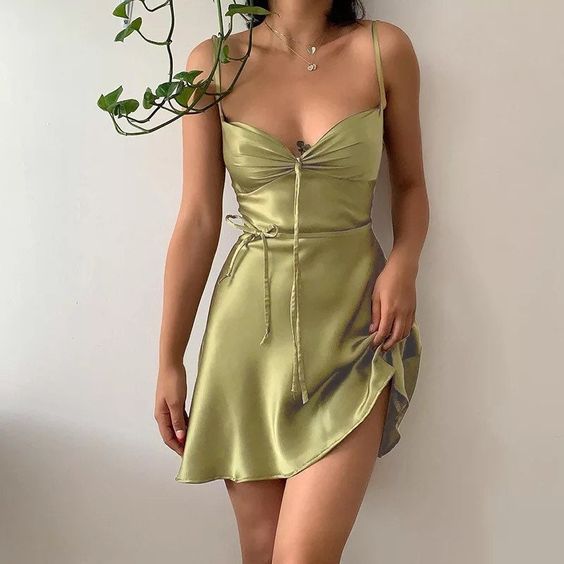 Bring on the fairy magic with this stunning fairycore satin dress that you'll be wanting to wear every chance you get!
21) Pastel Pink Dress for Homecoming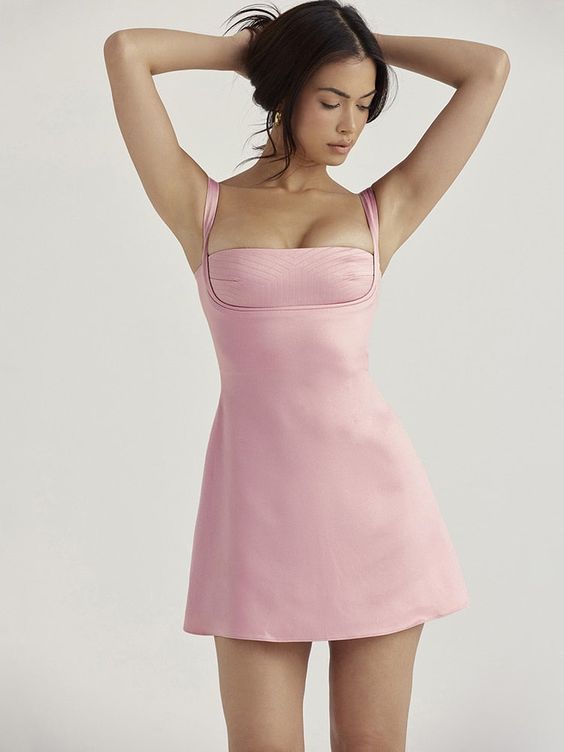 A pastel pink dress is the best go-to if you're looking for last minute homecoming dress inspiration.
22) White Satin Set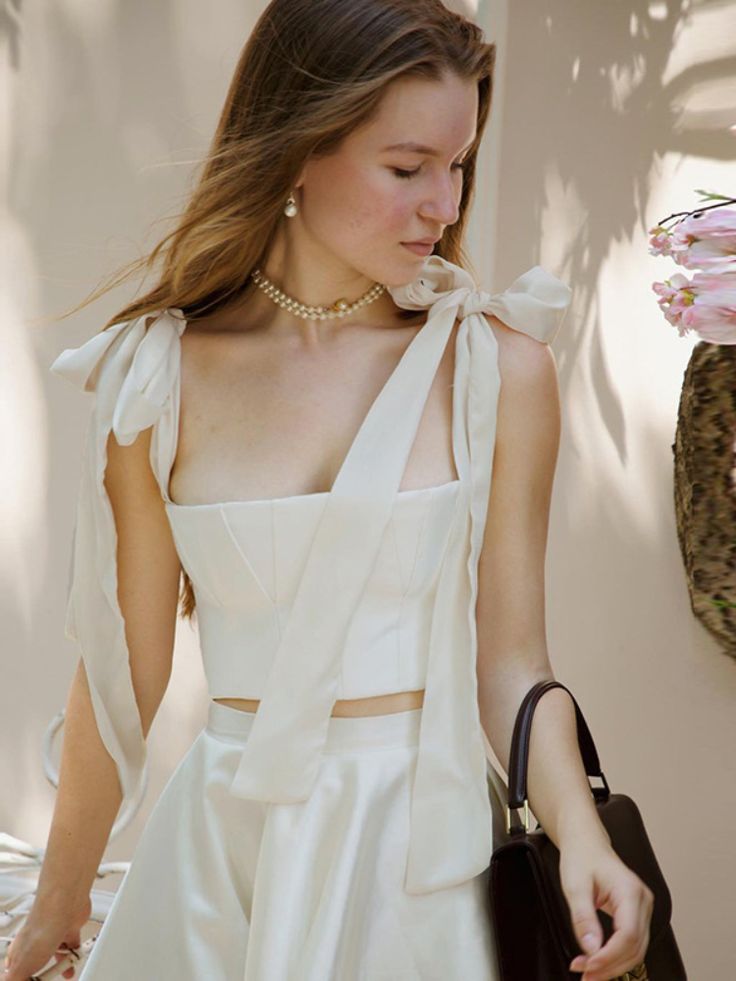 You can never go wrong with a white satin dress, but a white satin set? You'll be sure to steal the show at your Homecoming, especially if you're a Freshman.
23) White Homecoming Dress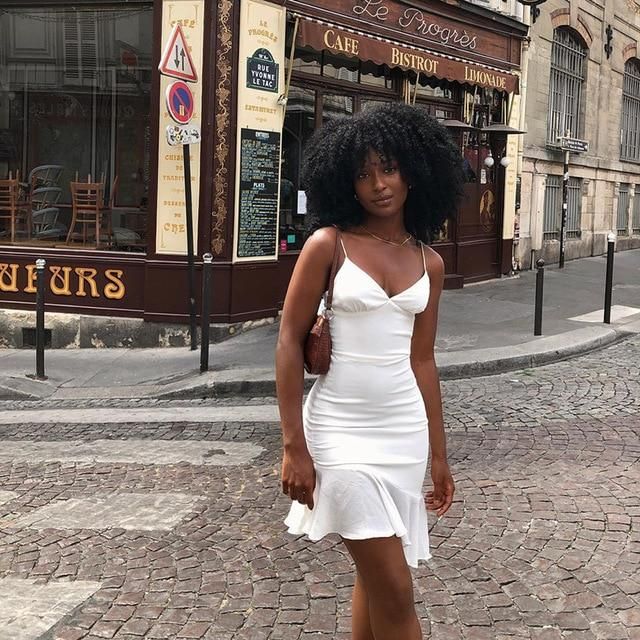 An asymmetric hemmed white dress is the perfect way to stand out from the crowd at Homecoming.
24) Little Black Dress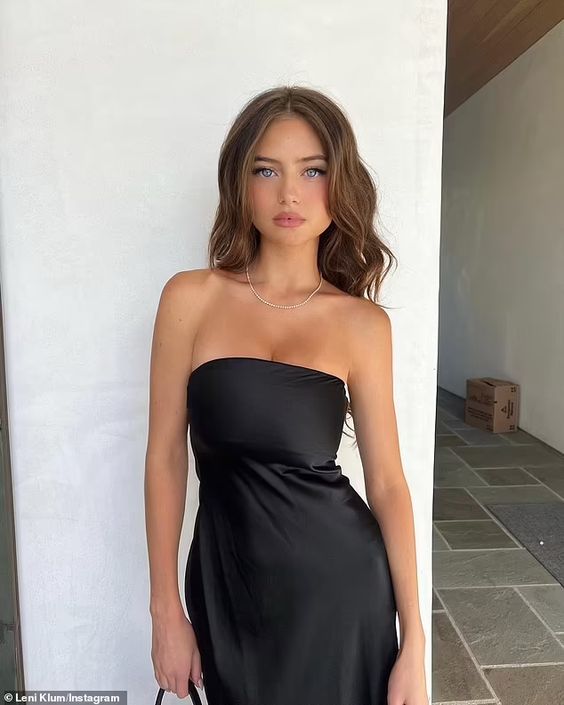 A little back dress is one of the cutest homecoming dress ideas to wear in 2023 because it's simple, sleek, and beautiful!
25) Black Ruffle Dress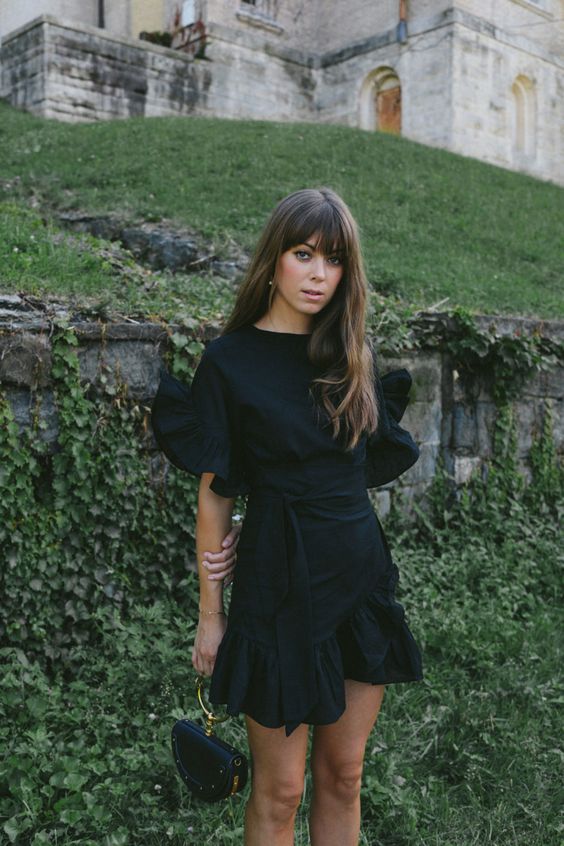 A little black dress can instantly be turned into something more unique with the addition of ruffles, and this dress is a big win!
26) Satin Wrap Dress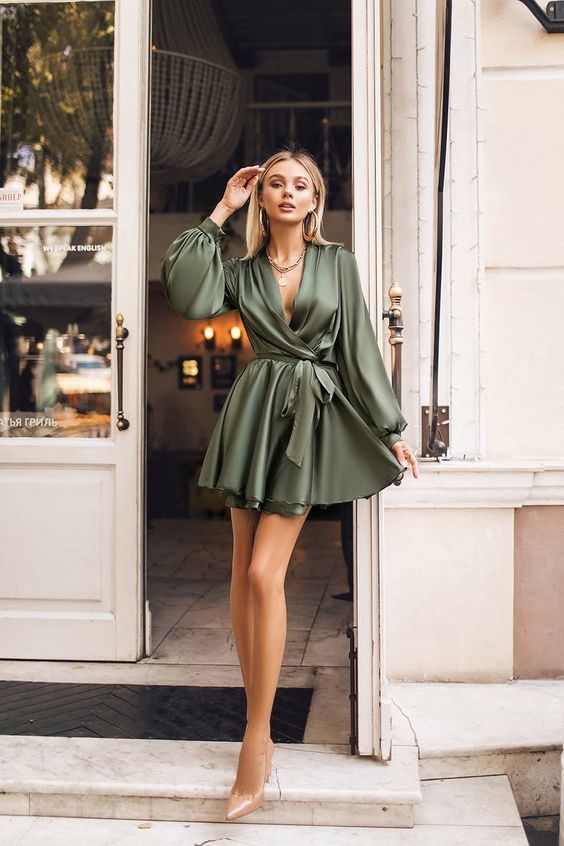 The satin wrap dress is easily one of the most flattering, comfortable, and chic dresses that any high school girl can wear..
27) Maxi Dress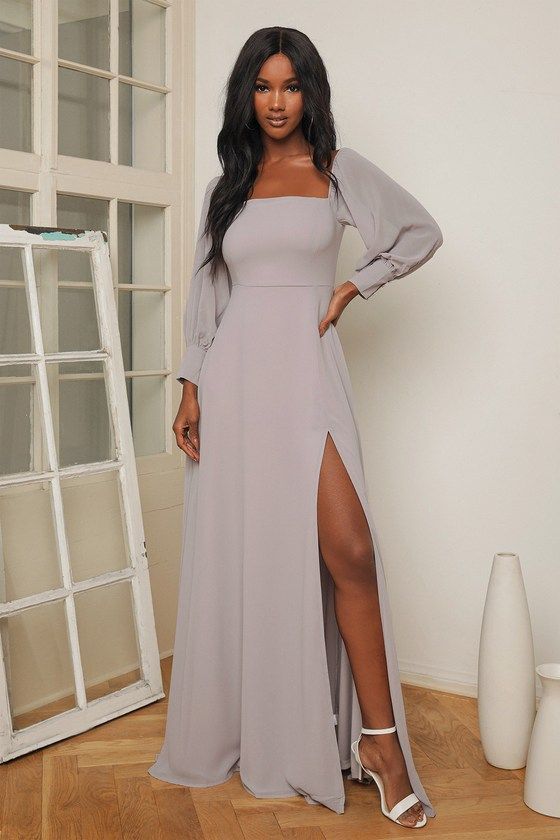 Keep it classy and chic at your 2023 Homecoming with a simple and elegant maxi dress!
28) Midi Slit Dress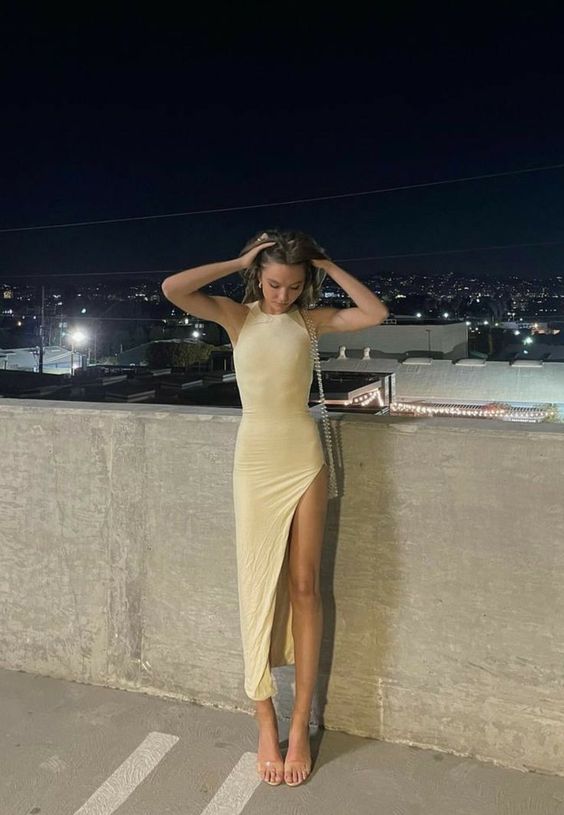 We love a form-hugging and flattering midi dress, especially when you throw in a super cute and trendy slit on the side.
29) Short Yellow Dress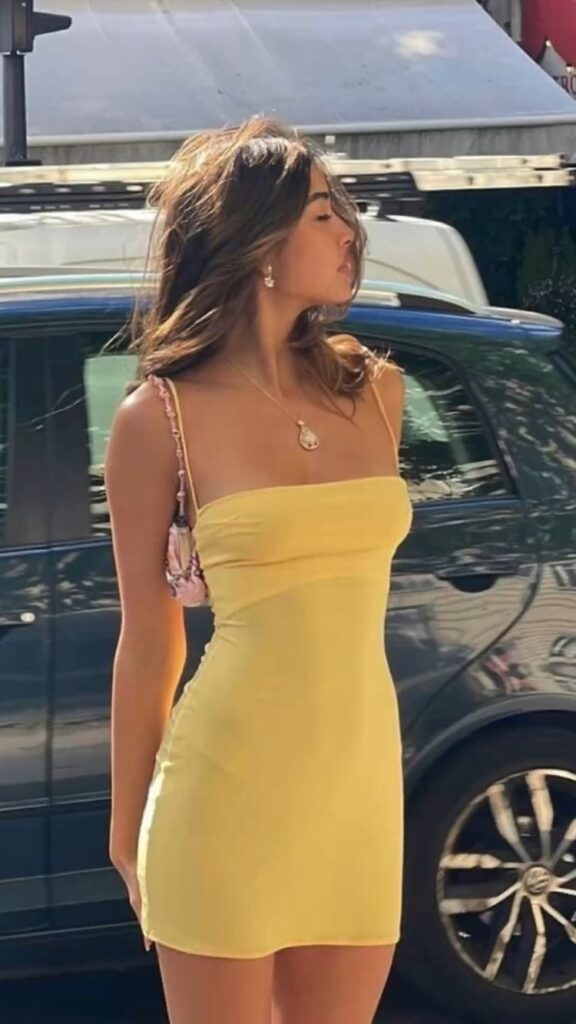 We love the look of yellow, especially for Homecoming as the summer ends and the new school year begins!
30) Off-The-Shoulder Babydoll Dress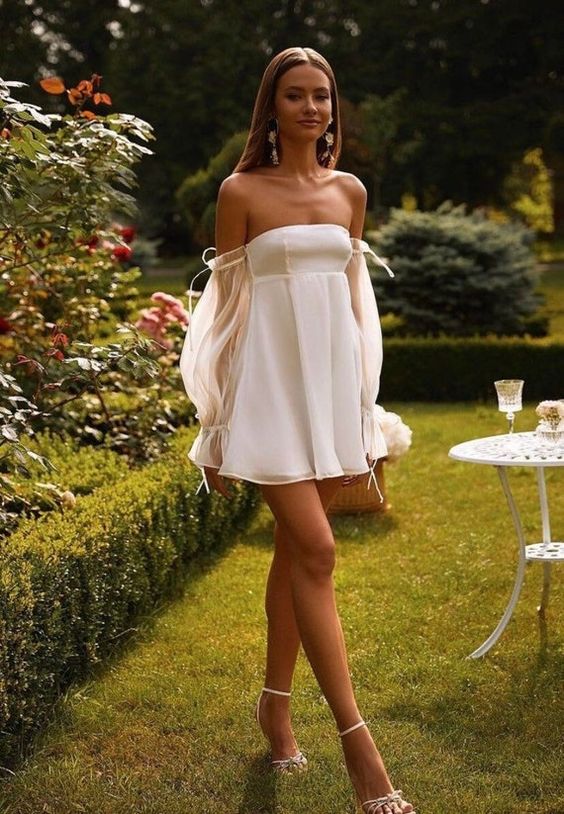 The off-the-shoulder babydoll dress is a classic for Homecoming and one that you'll love wearing so much, you won't want to take it off!
31) Slinky Midi Dress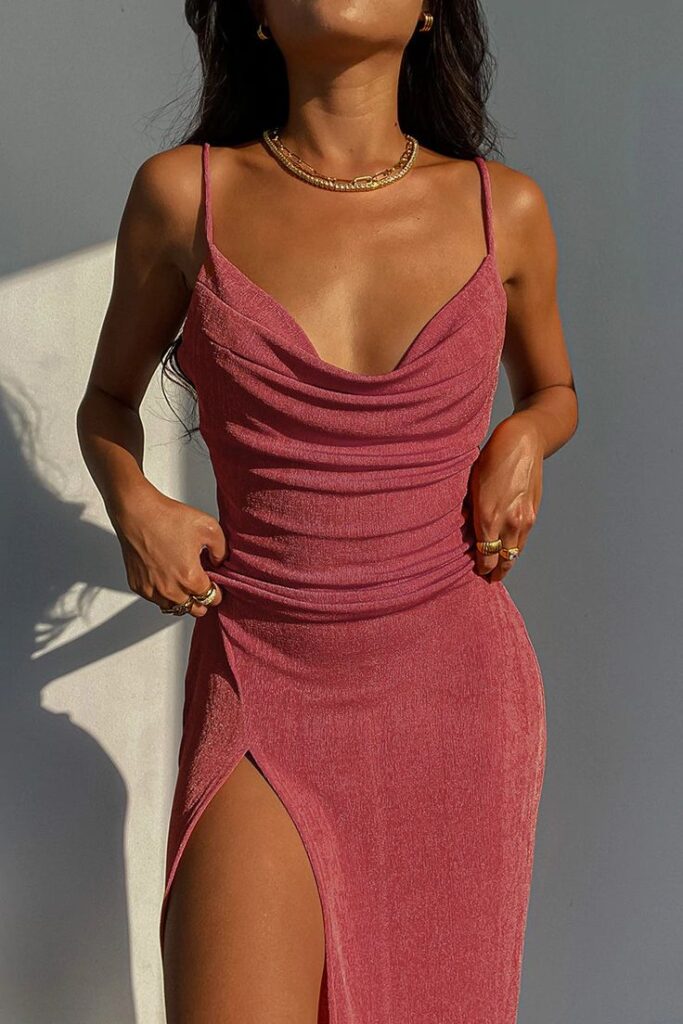 If you're looking for a comfortable and easy to wear dress, then look no further than the super cute and trendy slinky midi-dress.
32) White Ruched Dress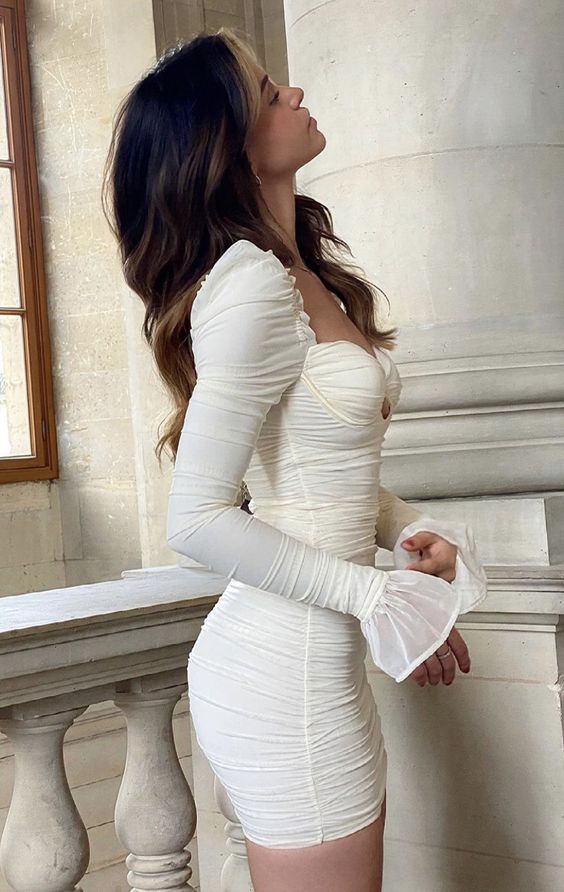 A white ruched long sleeve dress is a must-try as your next homecoming outfit idea.
33) Front-Tie Dress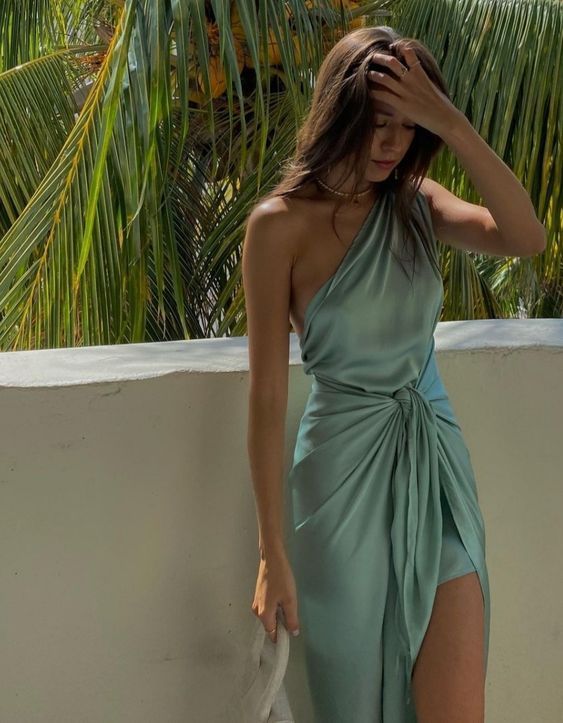 The front-tie dress trend is about to take 2023 by storm and we know you're going to want to save this now for your future homecoming dress inspiration.
34) Halter Dress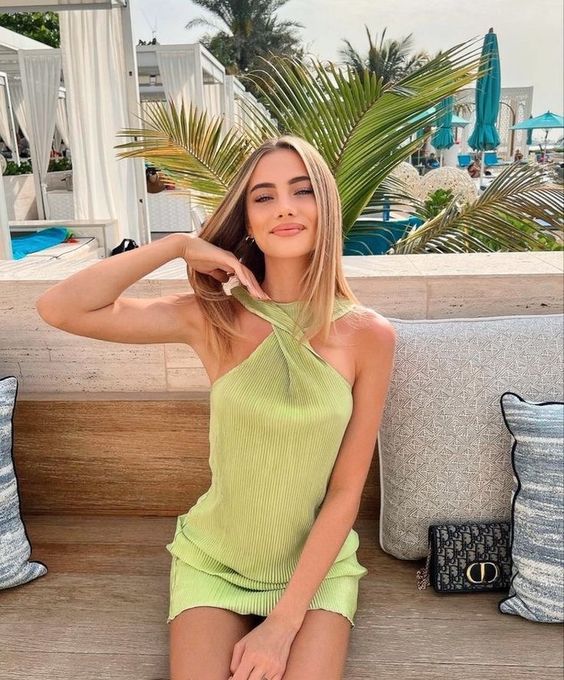 One of our personal favorite dresses is easily the halter dress, especially for any high school girl looking for the most flattering homecoming outfit idea.
35) Trendy Lavender Dress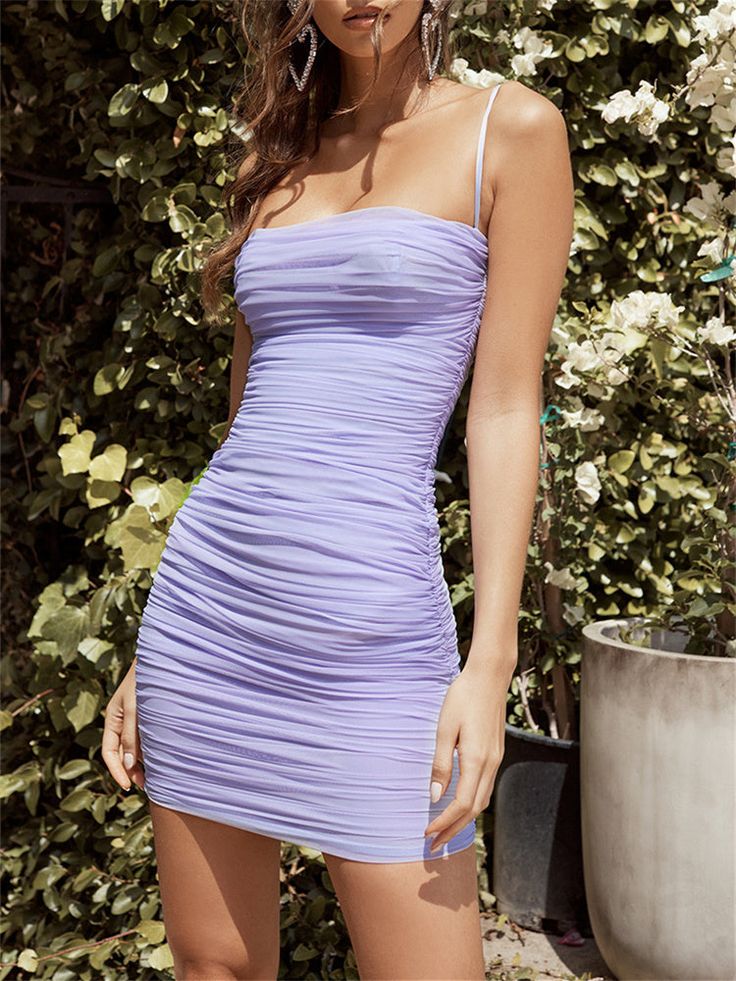 We don't have to say much other than who doesn't love a cute and trendy lavender dress?
36) Flowy Black Halter Dress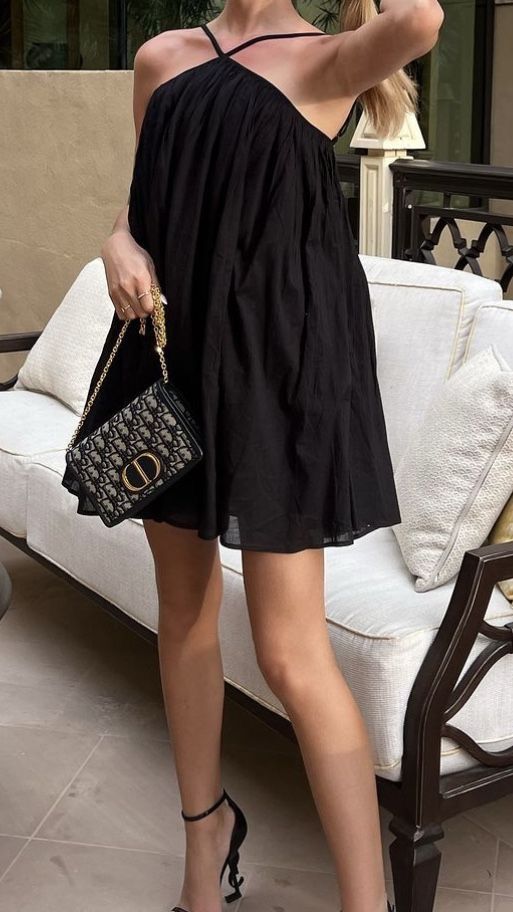 This flowy black halter dress is officially our new favorite dress for any school dance!
37) Orange Long Sleeve Dress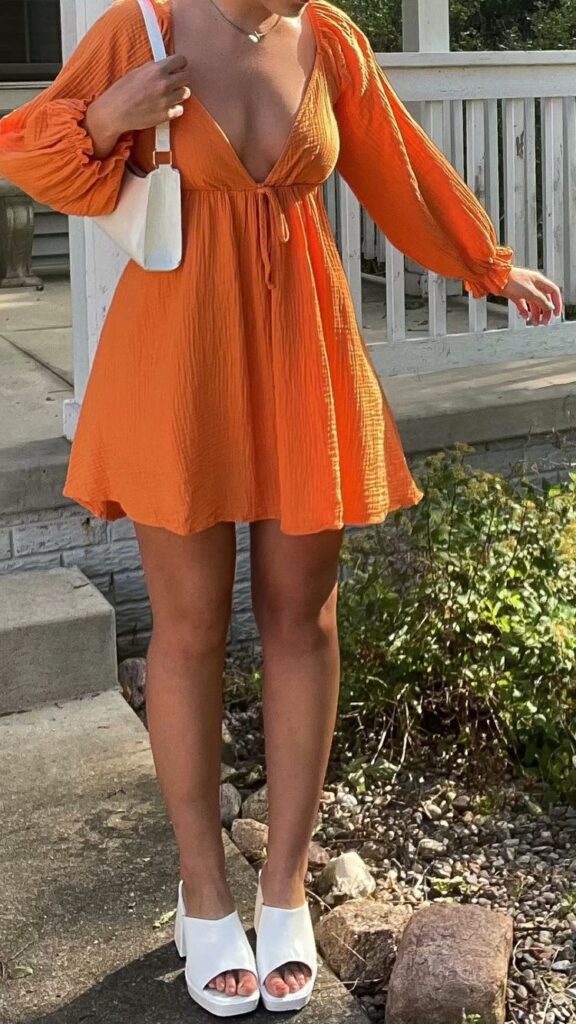 Be bold, fun, and vibrant with an iconic orange long sleeved dress.
38) Feather Trimmed Black Dress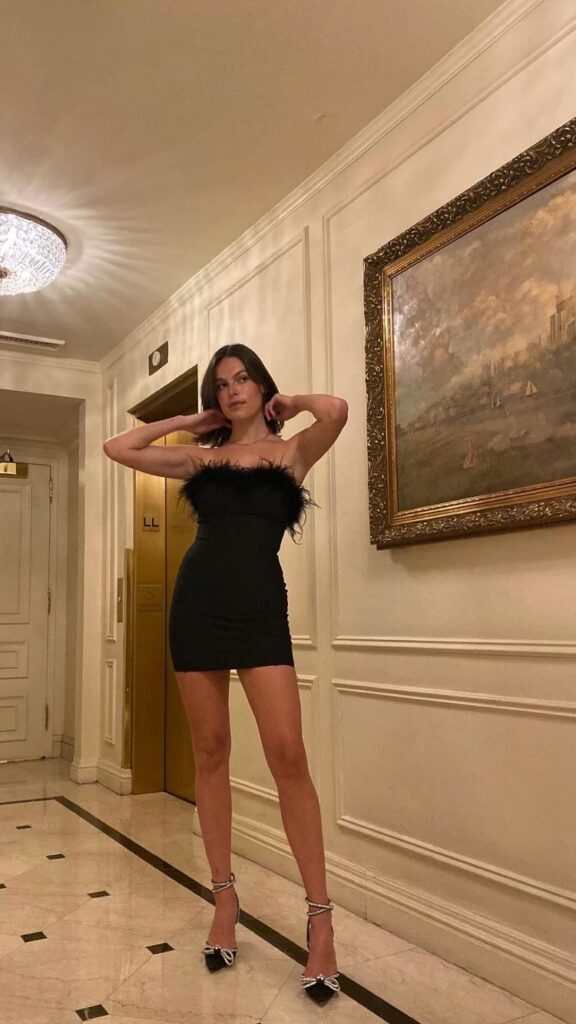 Rock the feather trend at your 2023 homecoming dance for an IG worthy outfit.
39) Metallic Orange Halter Dress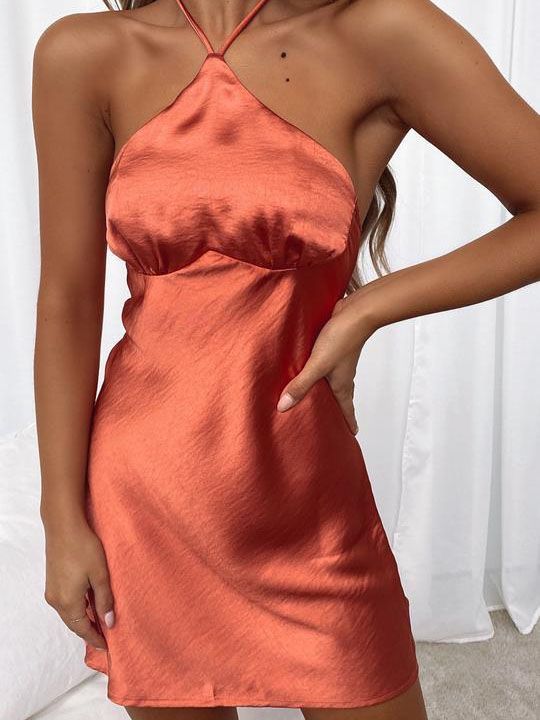 A great 2023 homecoming dress idea is any involving the new cute and trendy metallic orange color.
40) Neon Green Dress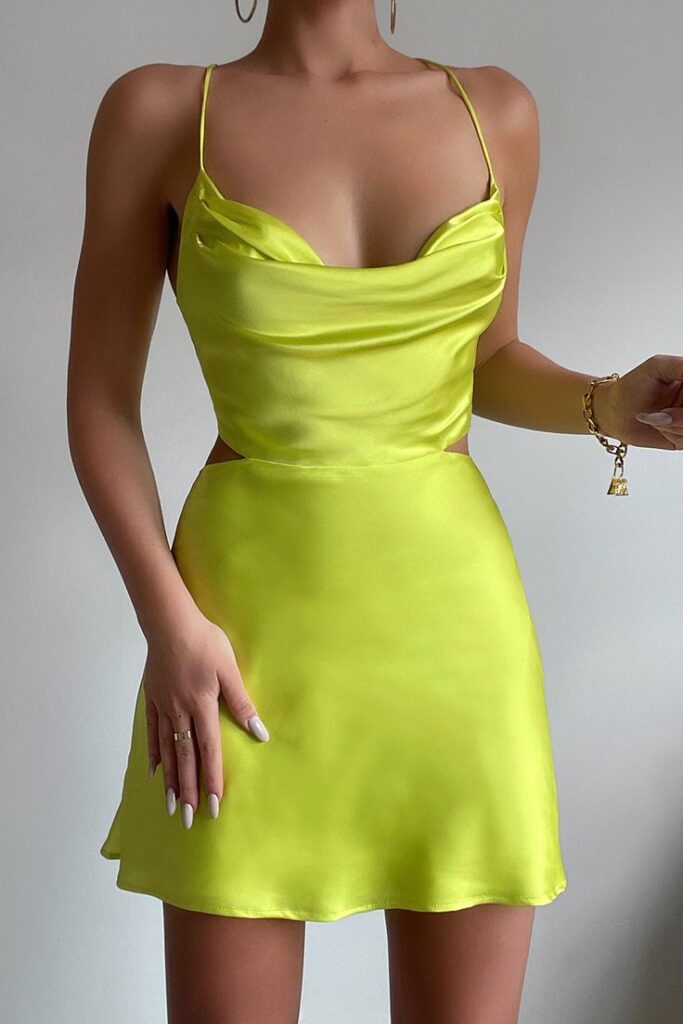 Channel your inner 80's popstar with a funky neon green dress for homecoming.
41) Tropical Orange Dress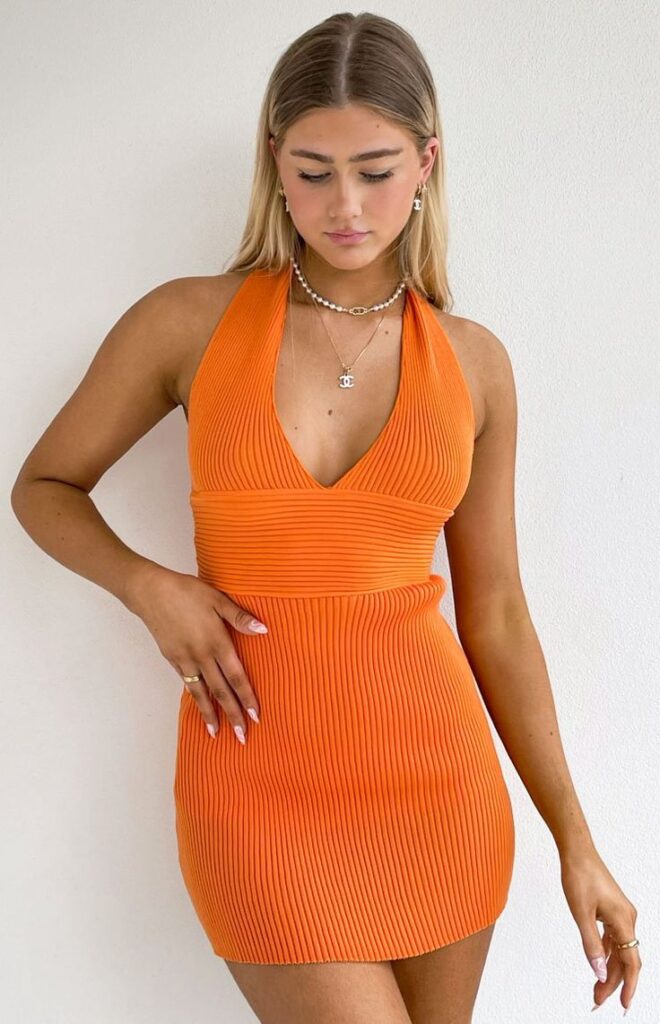 Bring the fun vacation vibes to your homecoming with a dress inspired by a tropical getaway.
42) One Shoulder Green Dress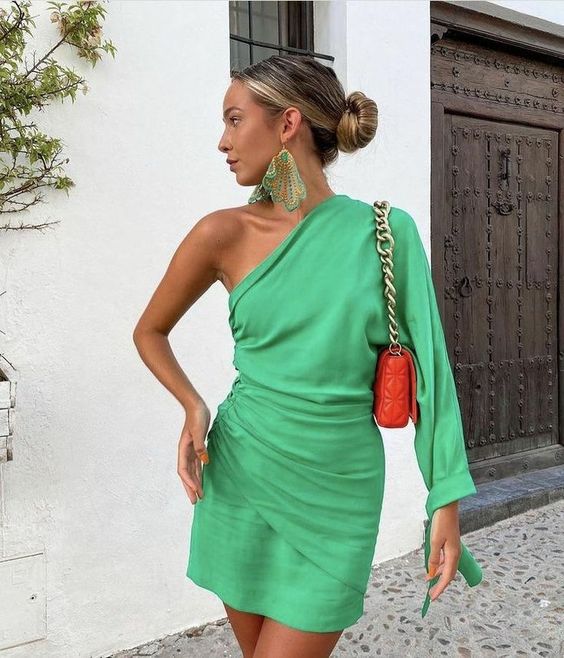 This one shoulder green dress is everything we've dreamt of, and it's the perfect homecoming dress inspiration for you.
43) Navy Maxi Dress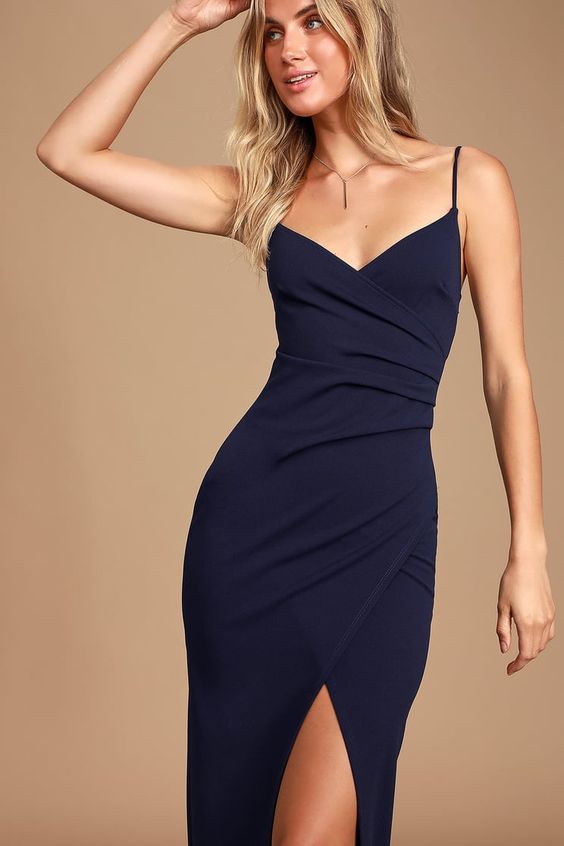 If you're looking for an elegant, cute, and classy homecoming outfit, try a navy maxi dress.
44) Red Slip Dress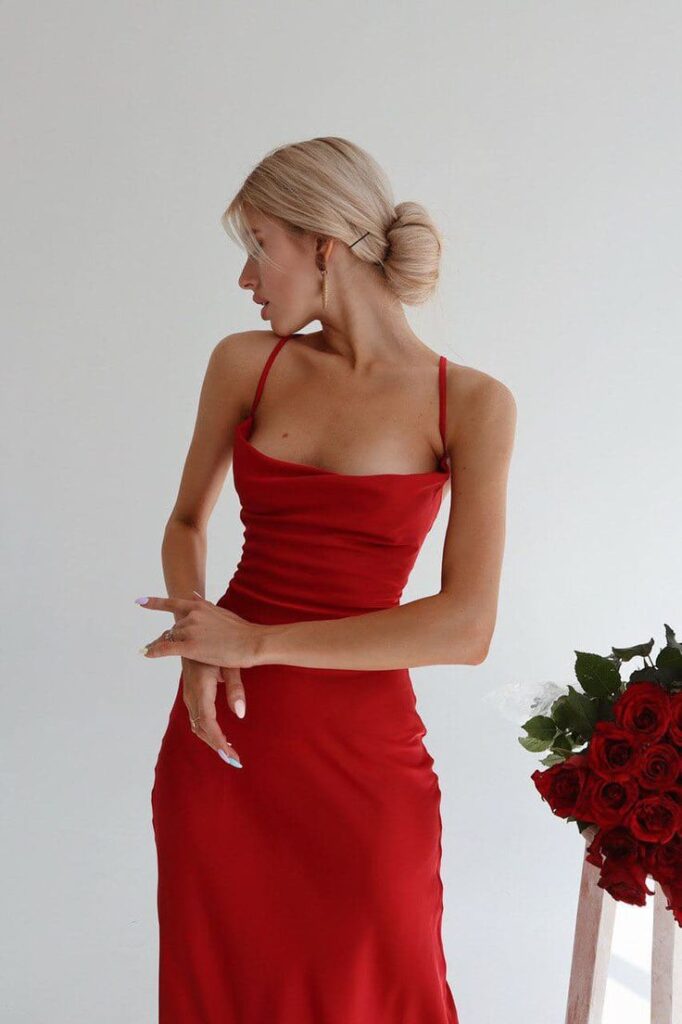 The red theory is in full swing and this dress will easily make you homecoming queen.
45) Metallic Silk Slip Dress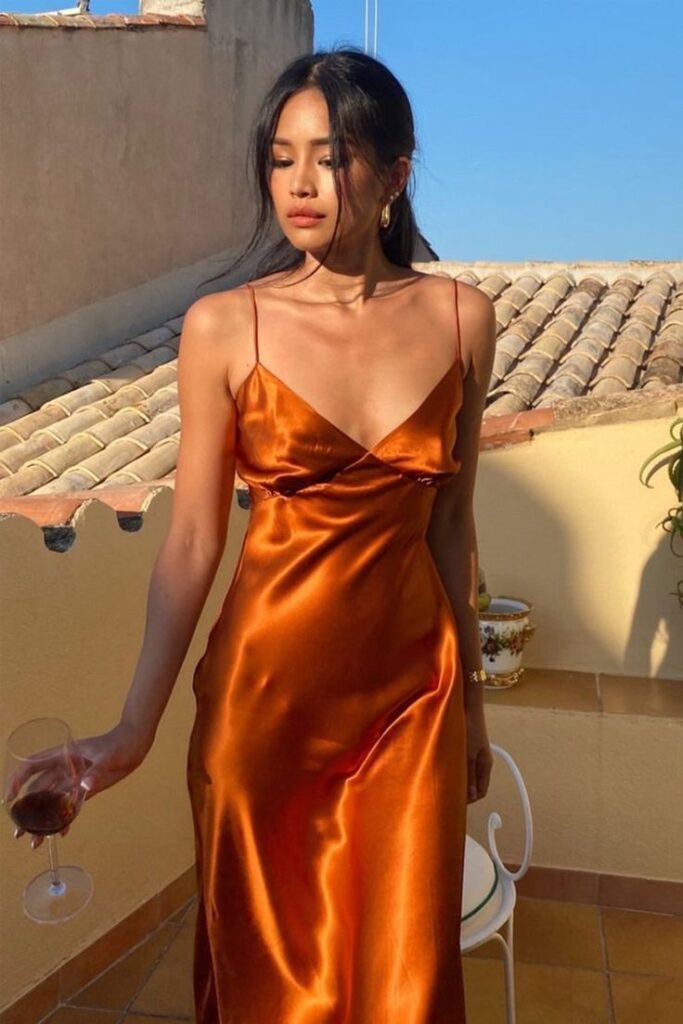 If you're looking for last minute homecoming dresses, look no further than the silk slip dress.
46) Cowboy Boots + Babydoll Dress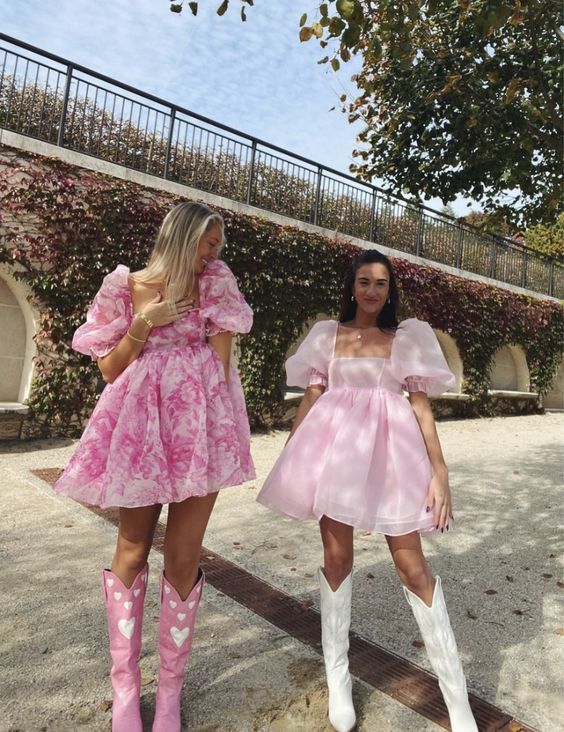 Ditch the heels this homecoming and rock your favorite pair of cowboy boots for a night of comfortable dancing.
47) Rainbow Tulle Dress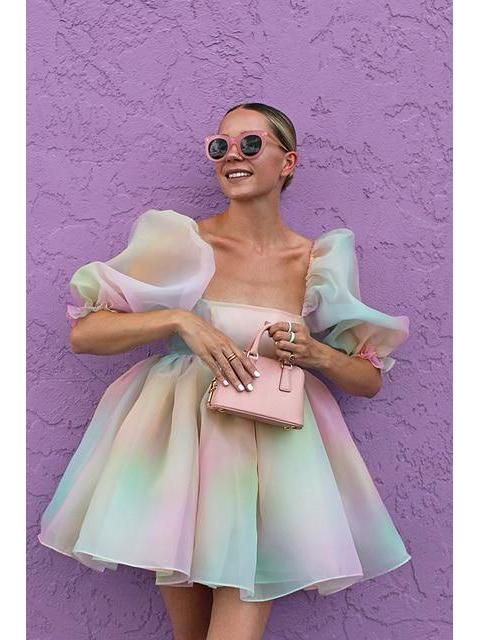 Don't choose one color, have them all with a rainbow inspired homecoming dress.
48) Tiered Dress
Tiered dresses are a fun and cute way to add movement to your dress without going all in on lace or glitter.
49) Polka Dot Love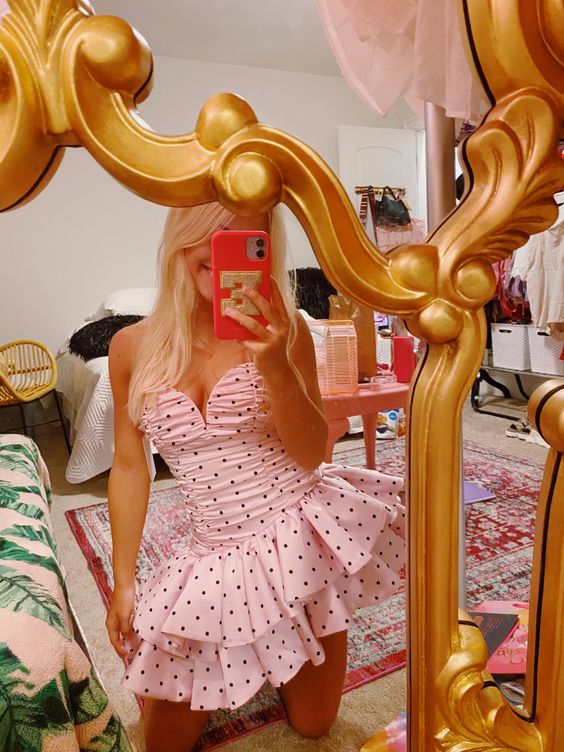 This 80's inspired pink polka dot dress is an absolute must for any Freshman's first high school dance.
50) Sneakers + Short Dress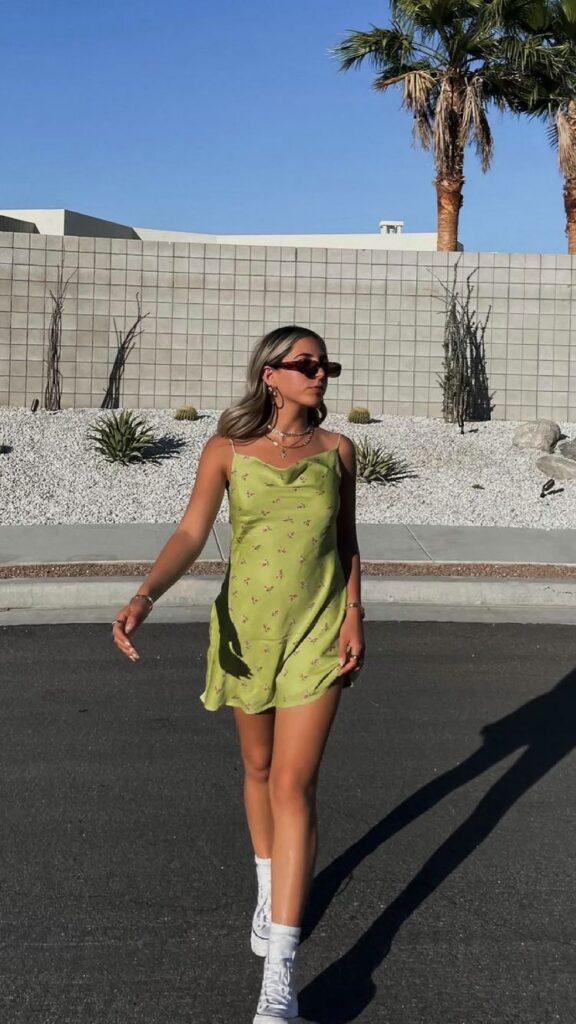 Who needs heels when you can be comfortable all night long in your favorite sneakers paired with your homecoming dress.
What Kind of Dress Do You Wear To Homecoming?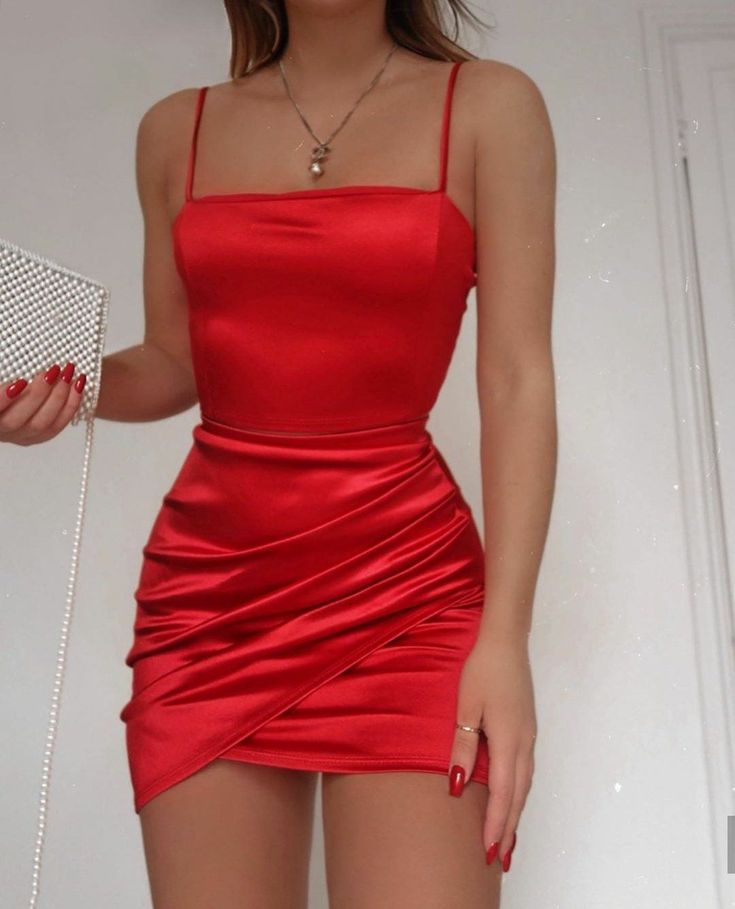 A short and tight dress is the best kind of dress to wear to homecoming because it looks beautiful, but isn't too formal of a dress compared to a long prom dress.
You should also wear heels, do your hair, do your makeup, and accessorize.
Of course, wear what makes you comfortable and feel your best.
Just make sure you're "picture perfect" while also being able to move around on the dance floor!
How Fancy Do You Dress For Homecoming?
Homecoming dances usually require a semi-formal dress attire.
This includes short dresses, midi dresses, or anything with a pop of color.
However, homecoming is a fun and easy going dance, so feel free to dress down your outfit with sneakers if that's more comfortable for you!
Final Thoughts
Hopefully these 50 homecoming dress ideas gave you some inspiration for what to wear at your party.
Which dress are you rocking with?
If you have any comments, questions, or suggestions leave them down below. Thanks for reading!