Are you a teen girl looking for some homecoming inspiration for your next party? Here are the 50 cutest homecoming makeup ideas in 2023!
These makeup ideas will match any dress, whether you're rocking blue, green, gold, white, black, and more!
No matter what your style is, you'll be sure to find a homecoming makeup look that fits your preference.
Check out some of our favorite makeup products to nail any of these styles:
Let's dive in!
Emerald Green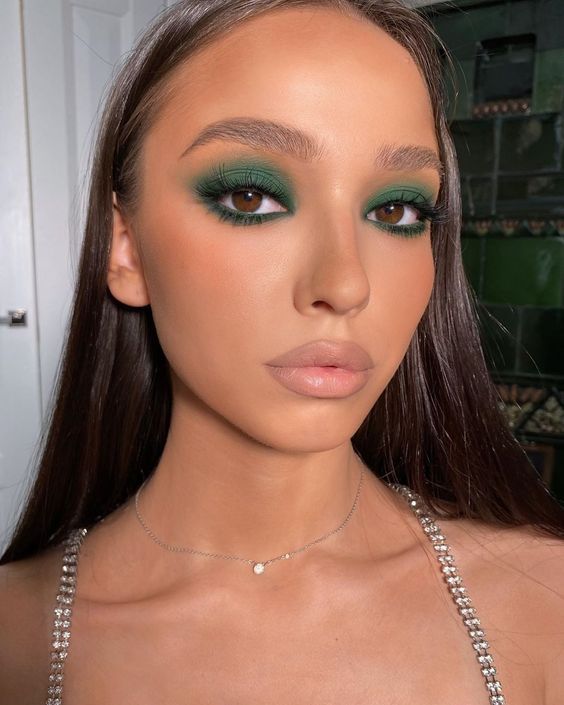 Steal the show and rock an emerald green eyeshadow to match your green dress at Homecoming.
Lavender Lids
This lavender homecoming makeup idea is an absolute dream and perfect for any girl looking to add a feminine touch to their look.
Mermaid Glitter
Our jaws dropped when we saw this iridescent mermaid inspired glitter eyeshadow and we know it's perfect for your homecoming makeup.
Touch of Mascara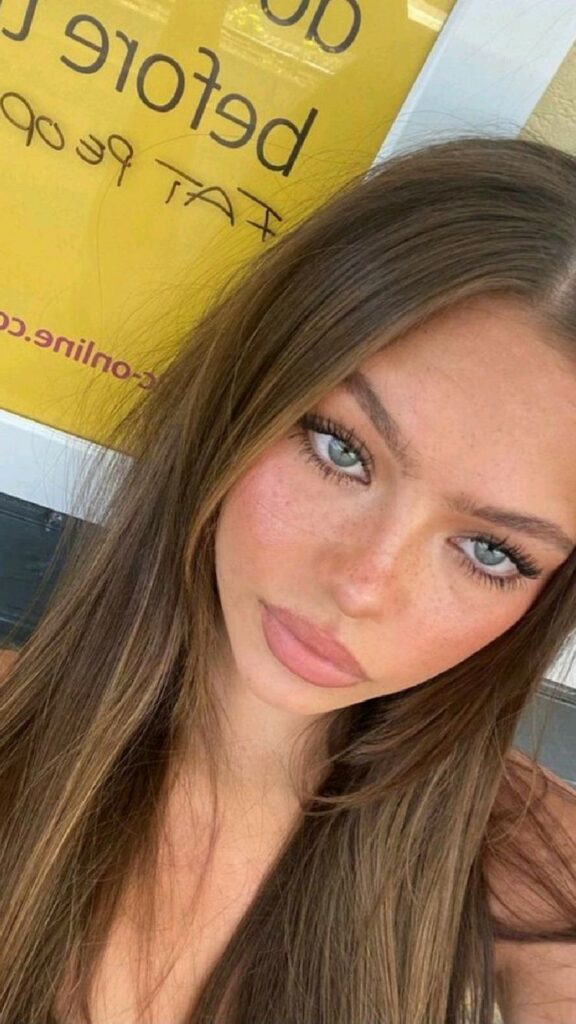 Keep things simple, cute, and easy by just adding a touch of mascara for some natural homecoming makeup ideas.
Under Eye Shadow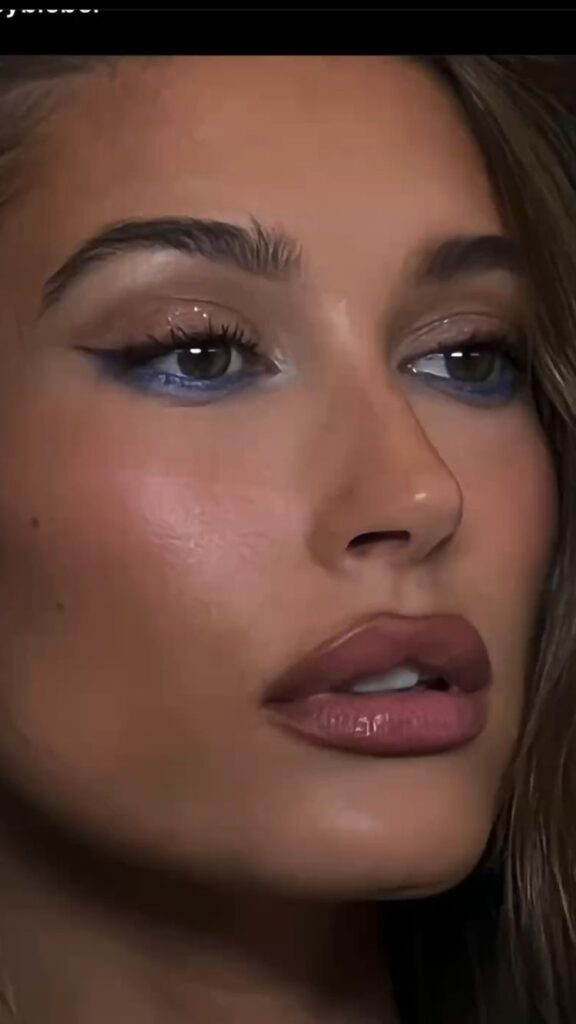 Let yourself be influenced by the queen of makeup Hailey Bieber with this gorgeous under eye shadow trend.
Glitter & Stars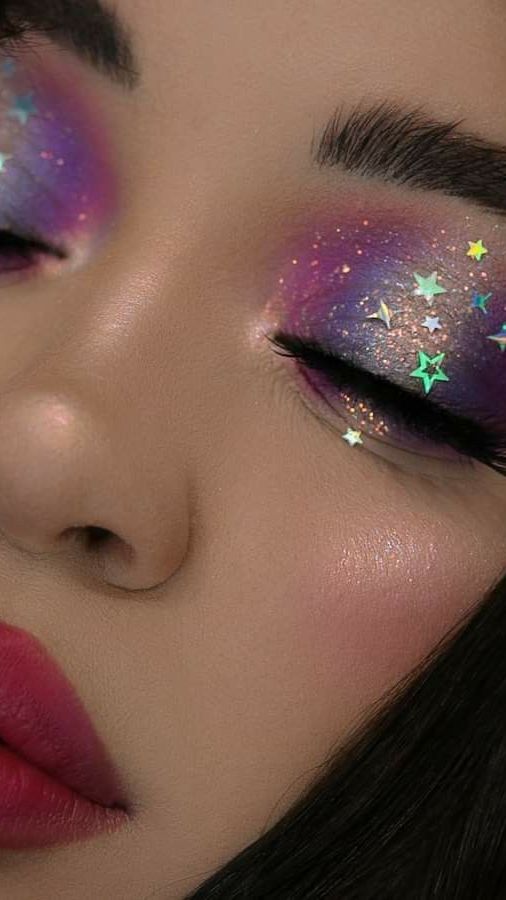 Take things up a notch for a fun and bold homecoming makeup look that is truly Pinterest worthy.
A Barbie Moment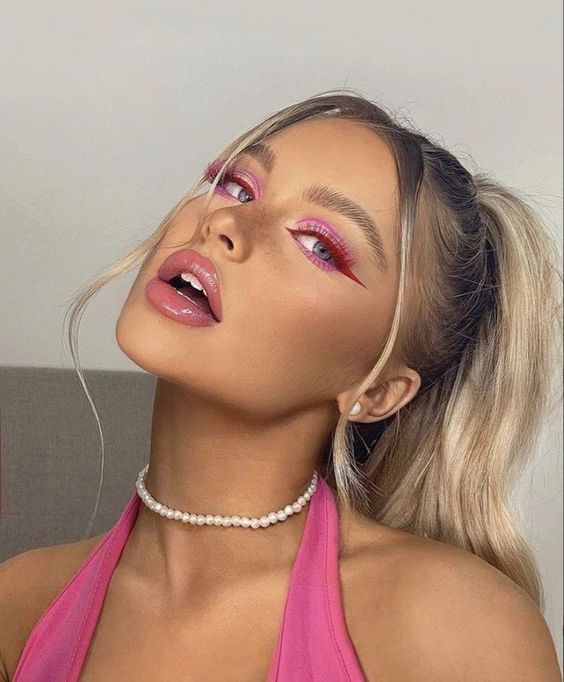 If you're rocking a Barbie pink dress to homecoming, then you have to match it with this super cute hot pink makeup look.
Lime Green Queen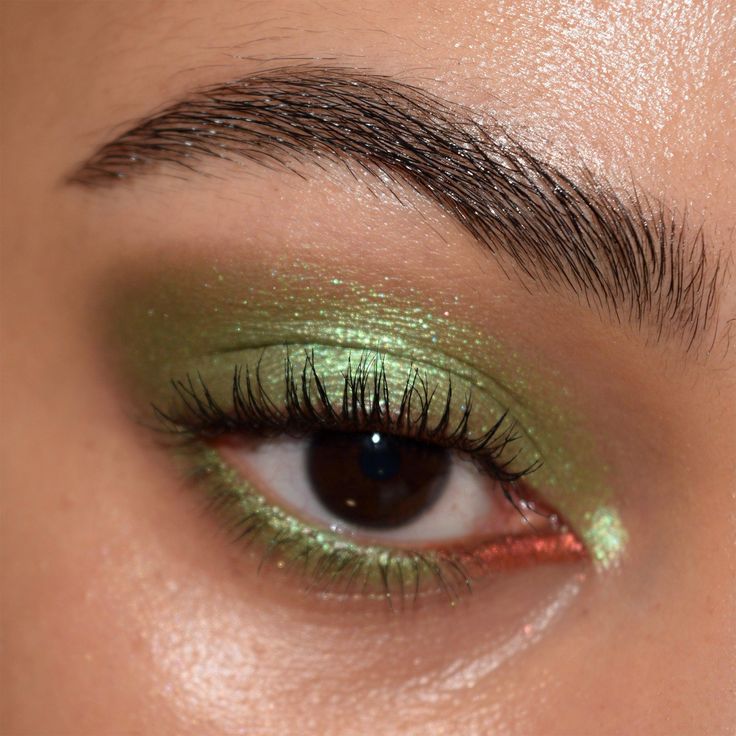 Don't be afraid to step outside your comfort zone and rock this easy and bold lime green makeup look.
Dramatic Eyeliner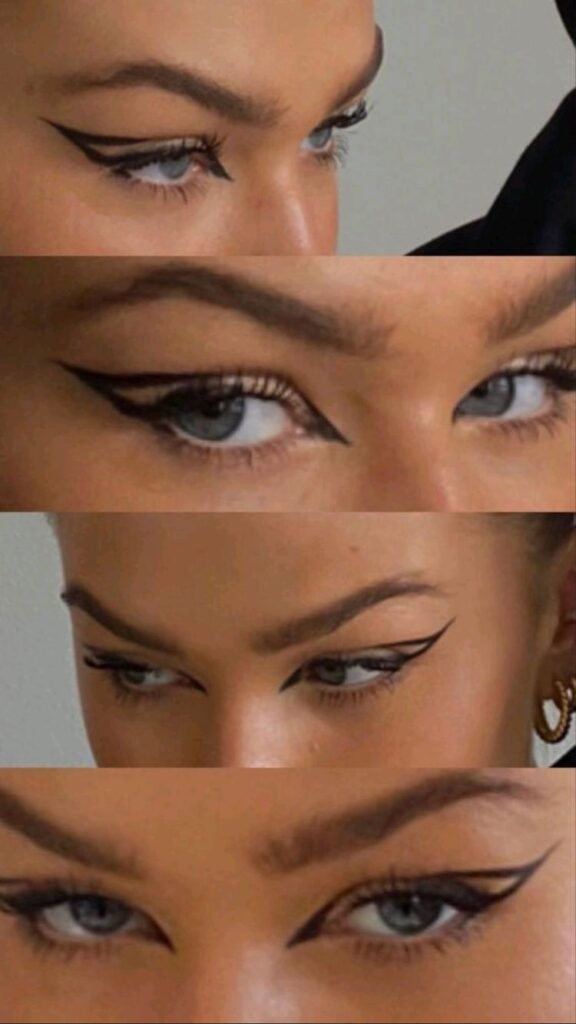 2023 is the year of dramatic eyeliner and if you can nail this look, then you can do anything!
Fox-Eye Trend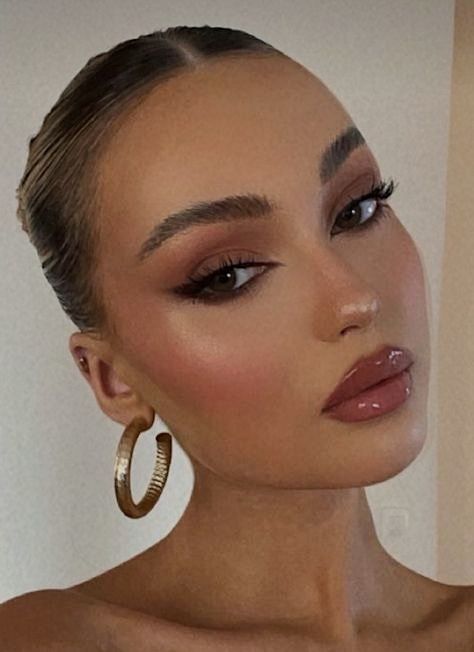 We've officially been influenced by all of our favorite makeup gurus that the fox-eye trend is truly the best makeup look in 2023.
Rhinestone Queen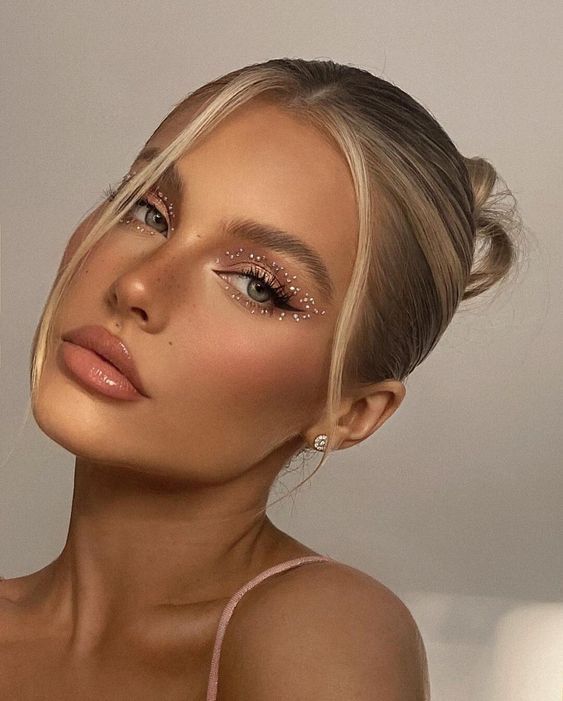 Rock the homecoming makeup dots with this rhinestone eyeshadow moment.
All About Contour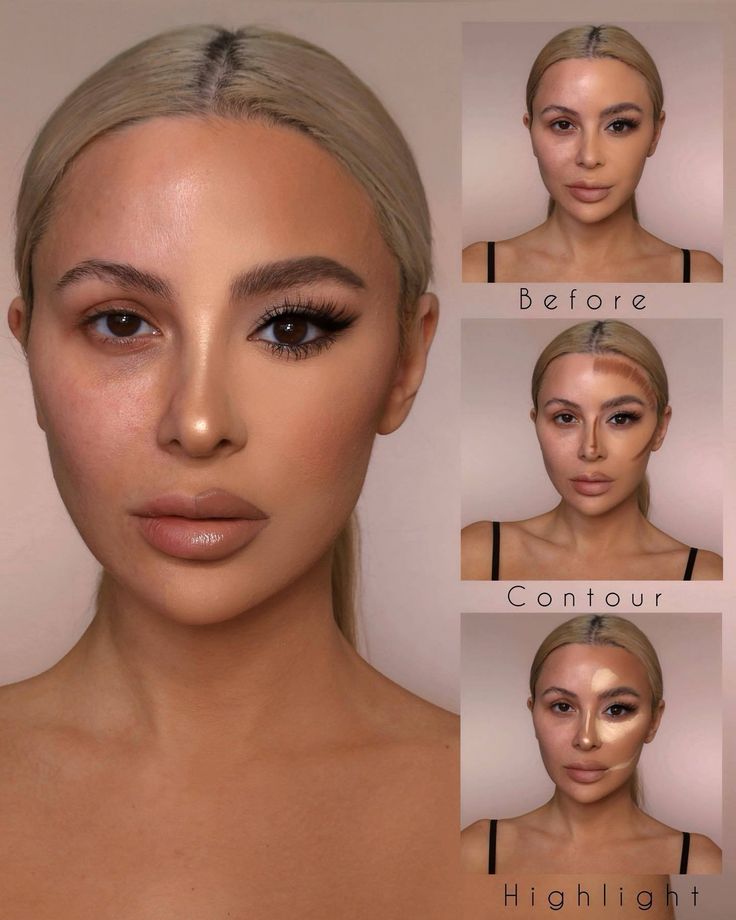 These easy step-by-step contour instructions will have your face looking like Bella Hadid in minutes.
Rose Gold Look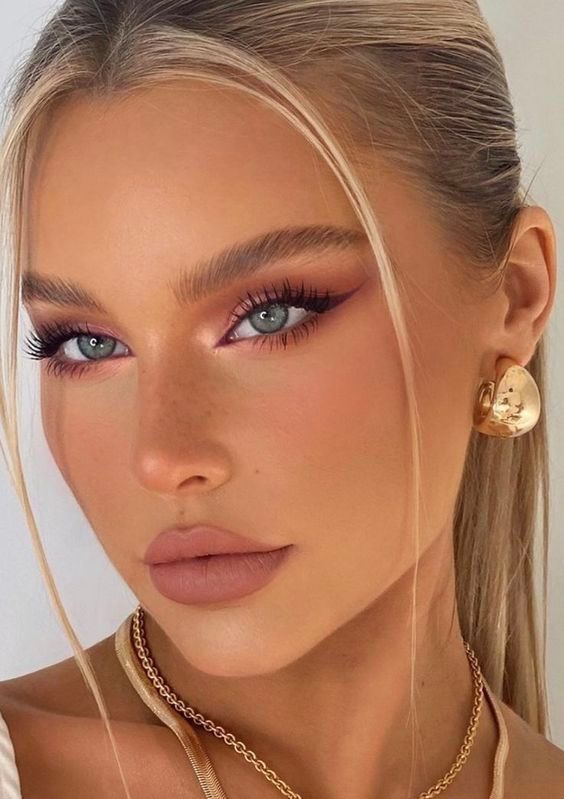 The rose gold makeup trend is the perfect homecoming makeup look for you in 2023.
Baby Blue Love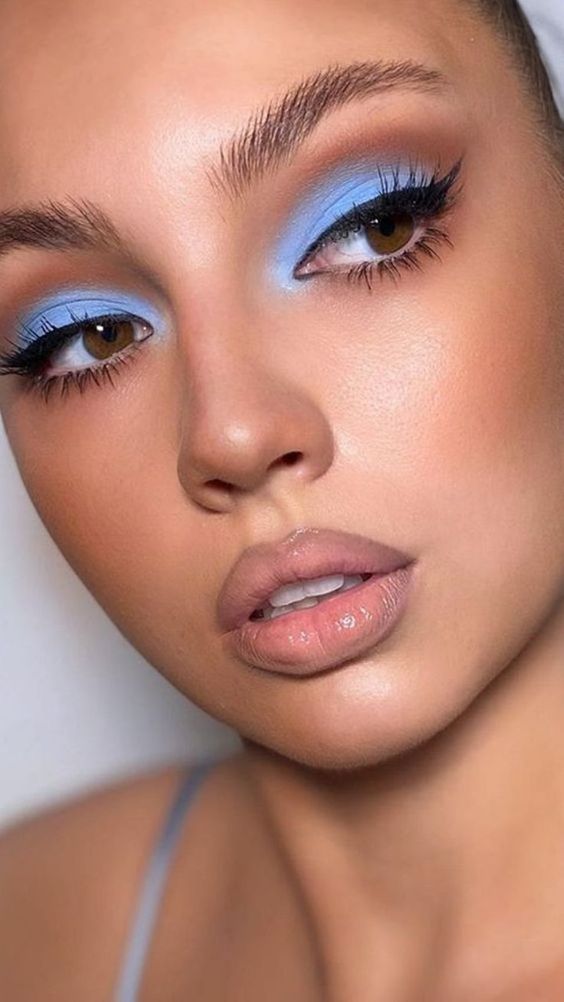 Rock the baby blue eyeshadow for your blue dress to get the perfect coordinating homecoming makeup look.
Sunset Inspired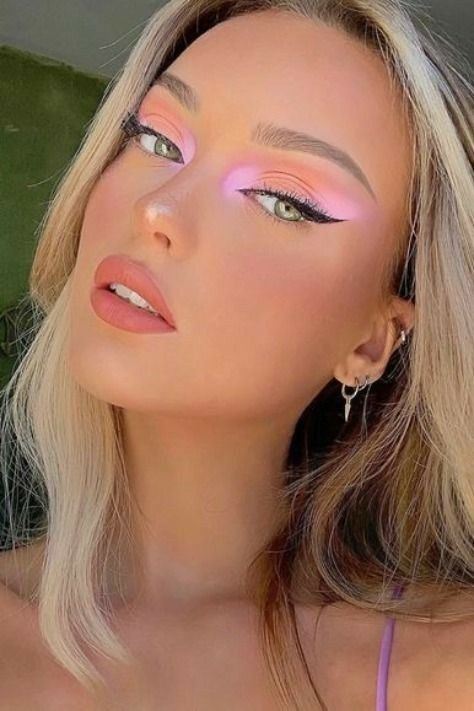 This warm, sunset inspired makeup look with the pink and orange is a cute and fun way to add some color to your homecoming look.
Teal Lid Liner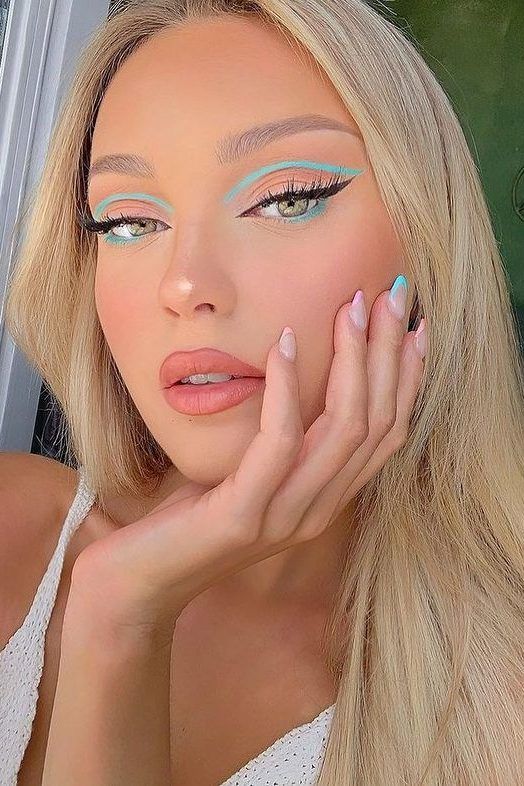 Ditch the boring black eyeliner and try this teal lid liner trend instead!
Flower Power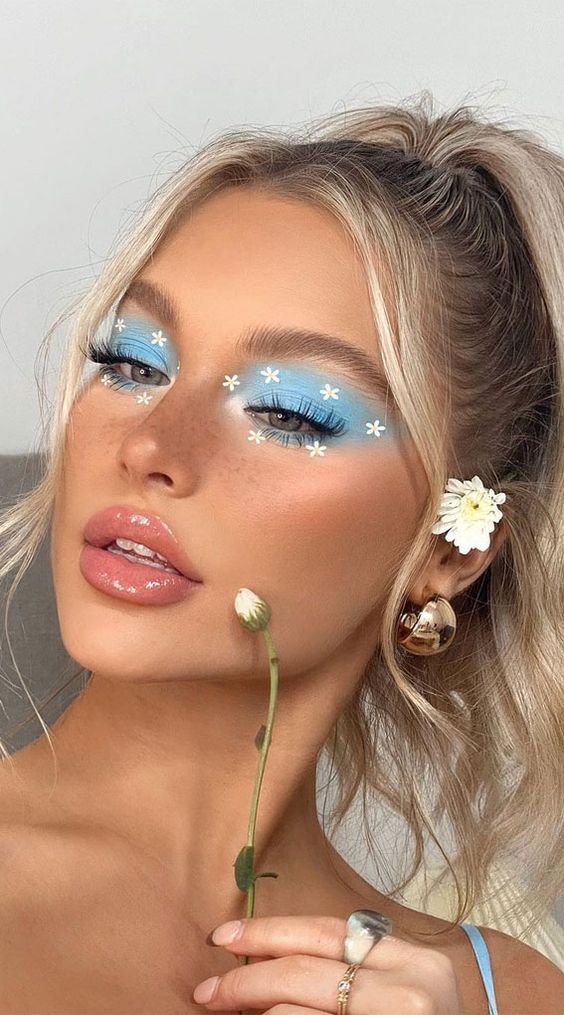 We're obsessed with everything floral, and this makeup look is absolute perfection for any high school girl.
White Liner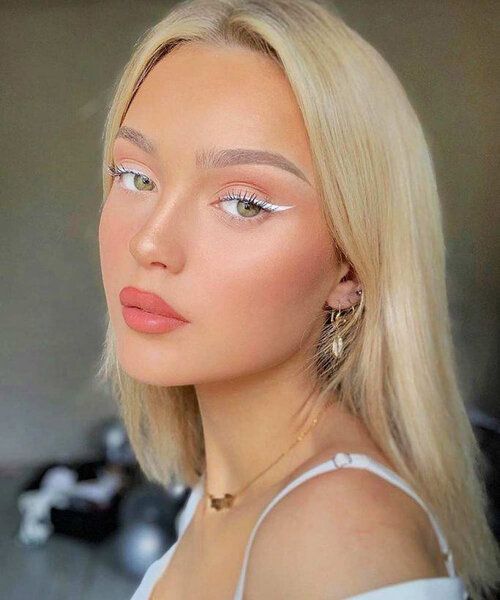 This is one of the best homecoming makeup ideas for white dresses if you're looking for something simple and easy!
Electric Blue Drama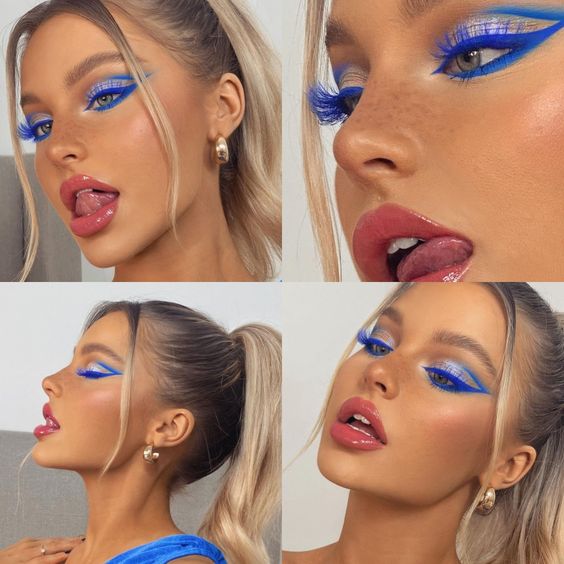 Go for a dramatic homecoming makeup look with this standout electric blue eyeliner trend.
Highlighter Liner
For a pop of color to go with your black dress, try this double highlighter eyeliner makeup look.
Natural Cat Eye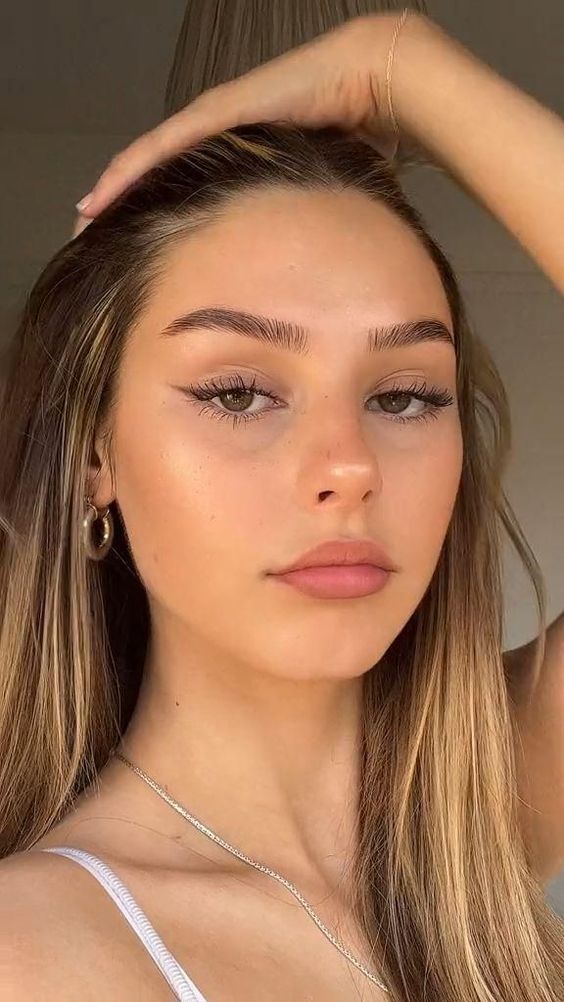 Get a more natural look with this simple and easy cat eye homecoming makeup idea.
Baby Pink Aesthetic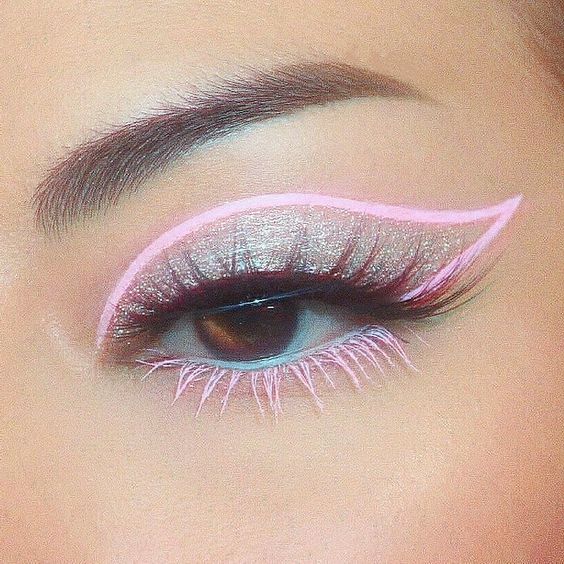 The baby pink lashes and eyeliner create the perfect homecoming makeup look for anyone looking for a cute and girly aesthetic.
Queen of Gold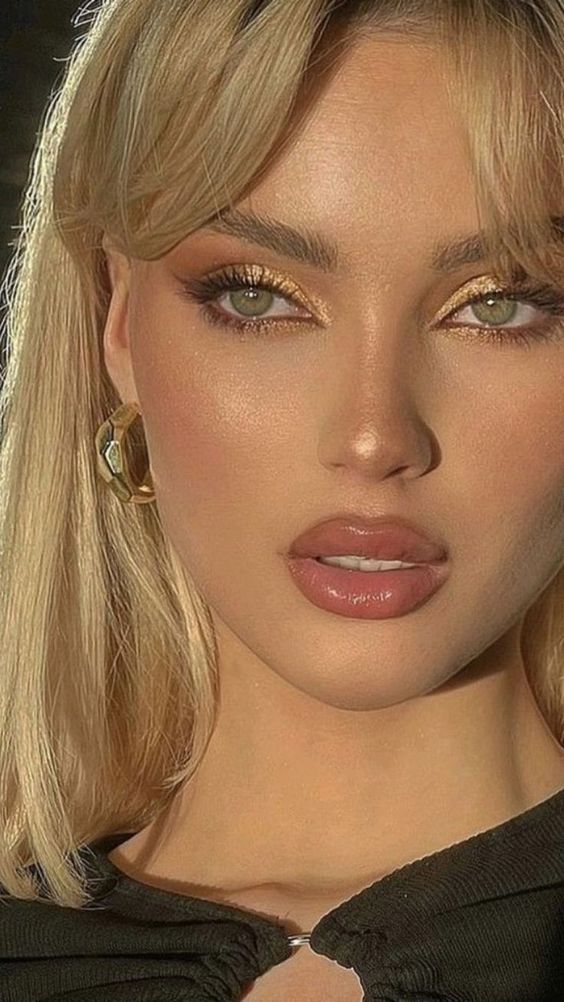 This simple gold eyeshadow instantly elevates your makeup look without having to try too hard.
60's Inspired Eyeliner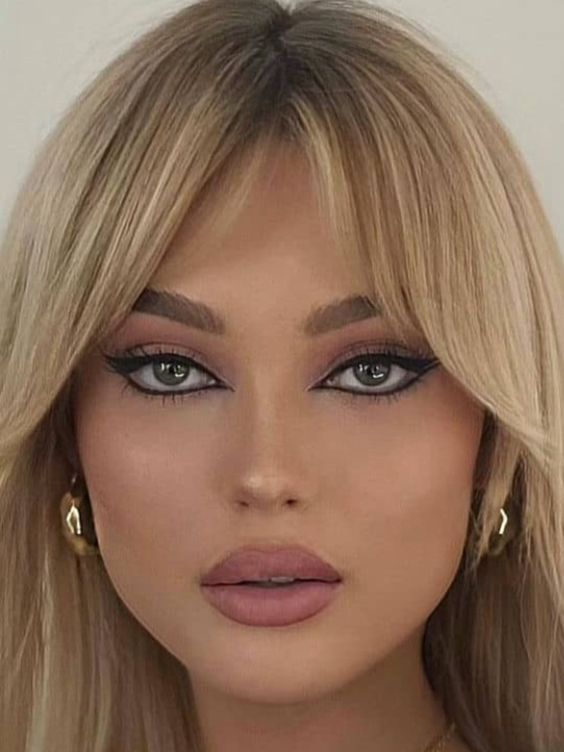 This 60's inspired eyeliner is a fun and gorgeous way to have your makeup standout at homecoming.
Dark Red Lips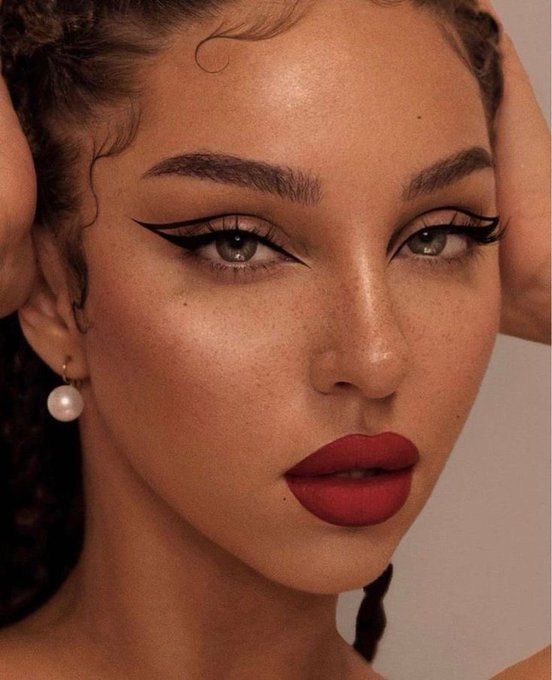 When it comes to lips the darker and redder, the better, so feel glamorous at your homecoming and rock a gorgeous bold lipstick.
Silver Shimmer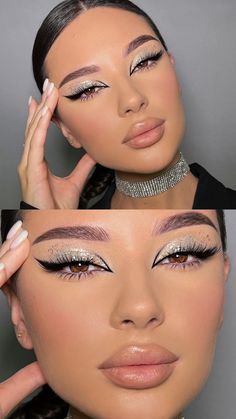 Shimmy and shimmer the night away with a stunning silver eyeshadow and bold eyeliner.
Euphoria Makeup Look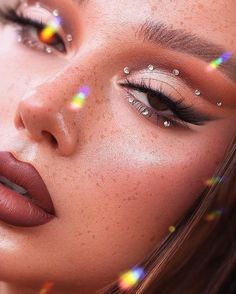 Get the Euphoria homecoming makeup dot look with rhinestones, pearls, and shimmer glitter all over your eyes and face.
Soap Brows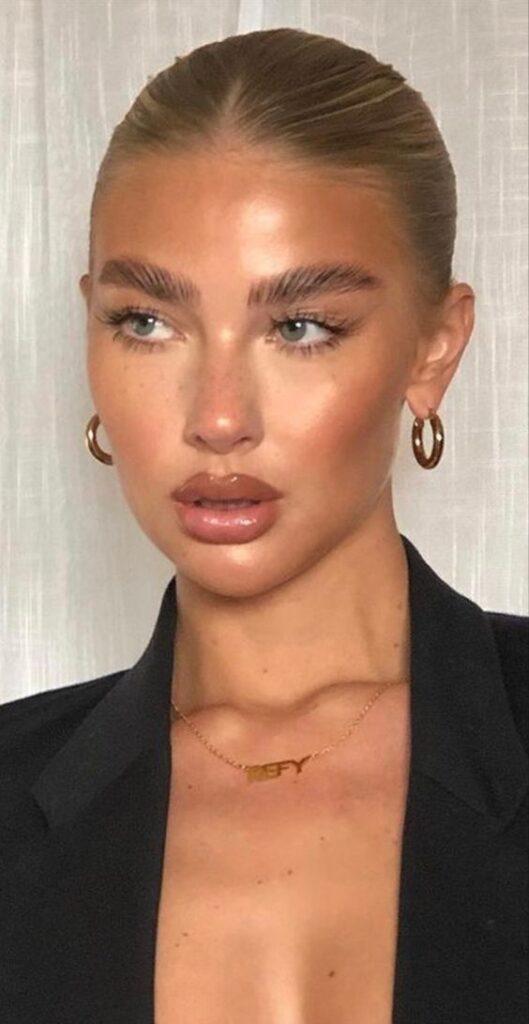 Add some flair to your eyebrows with a natural makeup look that takes the emphasis away form the makeup, and into your eyebrows.
Hint of Color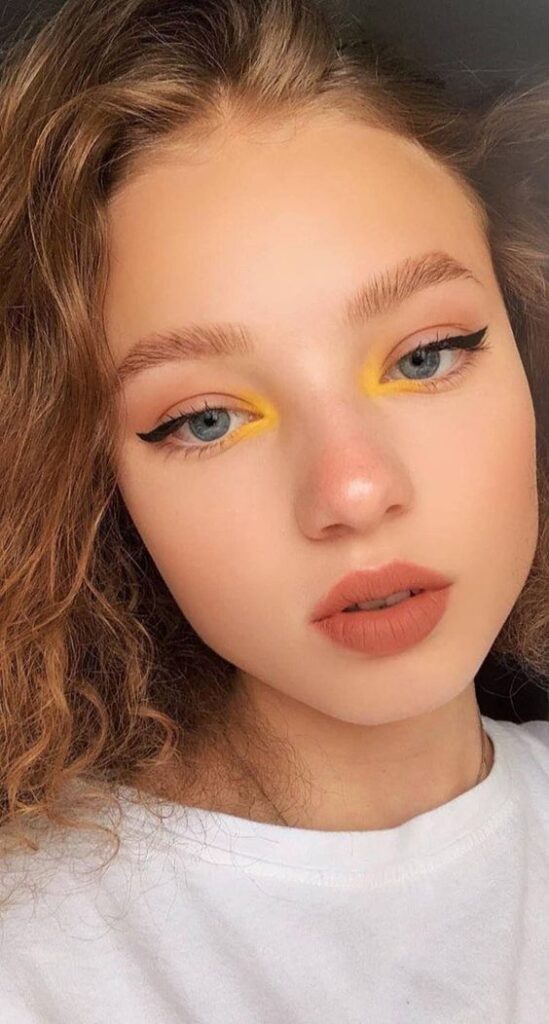 Add a hint of color to your homecoming makeup look with just a dab of eyeshadow right in your eye crease.
Smokey Eyes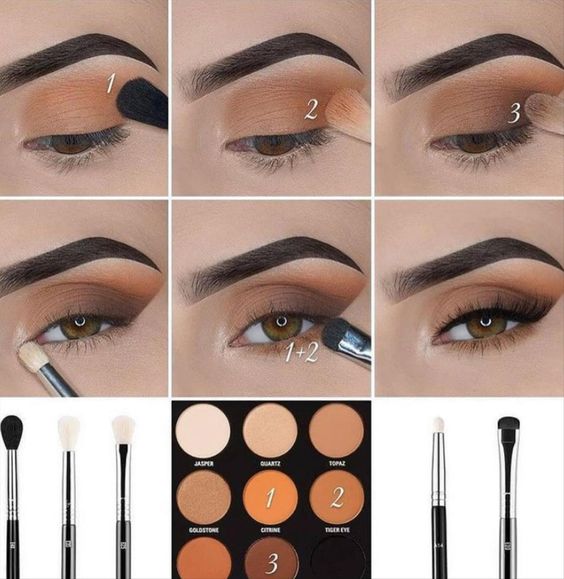 Smokey eyes are a fan favorite and this easy homecoming makeup step-by-step guide will have you mastering it in no time!
Homecoming Makeup Dots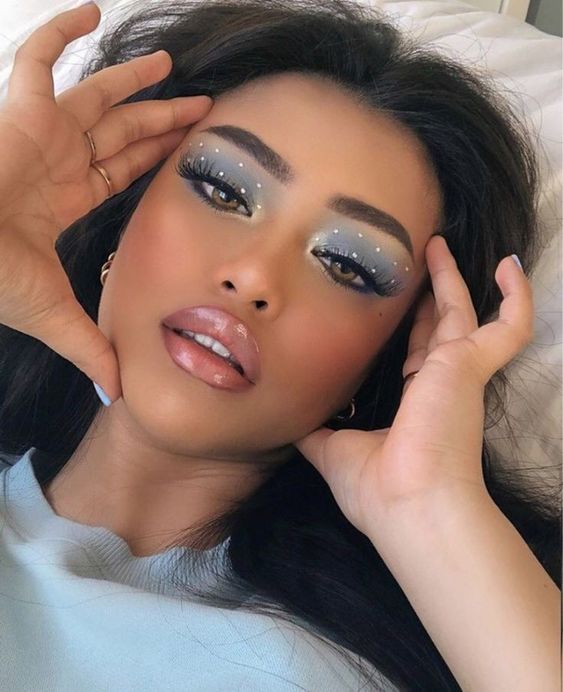 Add in some fun makeup dots to your eyeshadow for a cute and fun homecoming look.
Multi-Colored Makeup
Don't limit yourself to one color, use multiple with this bold homecoming makeup idea!
Doe Eye Makeup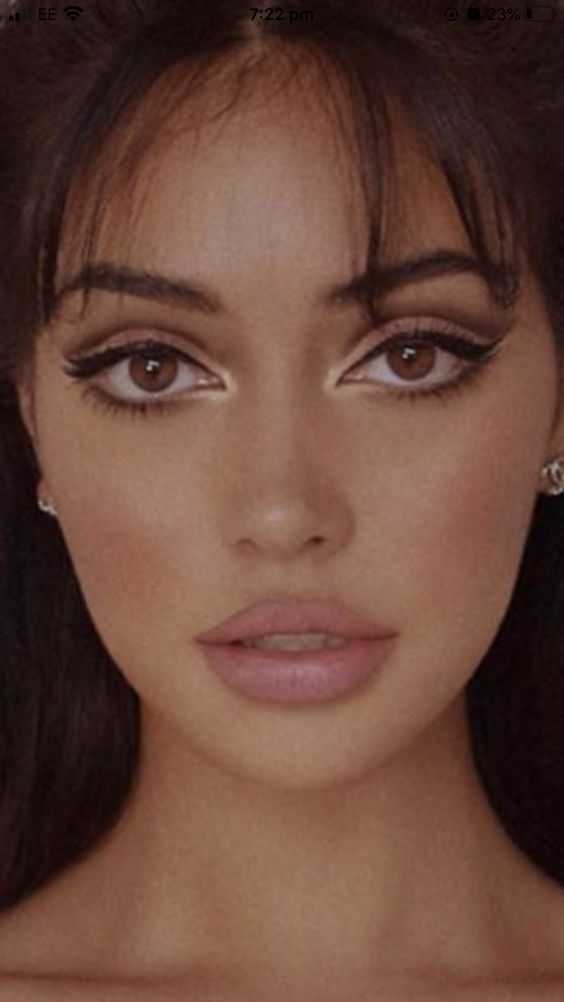 The Doe Eye Makeup trend has taken TikTok by storm and it's the perfect makeup look to rock for any high school girl's homecoming.
The Shego Look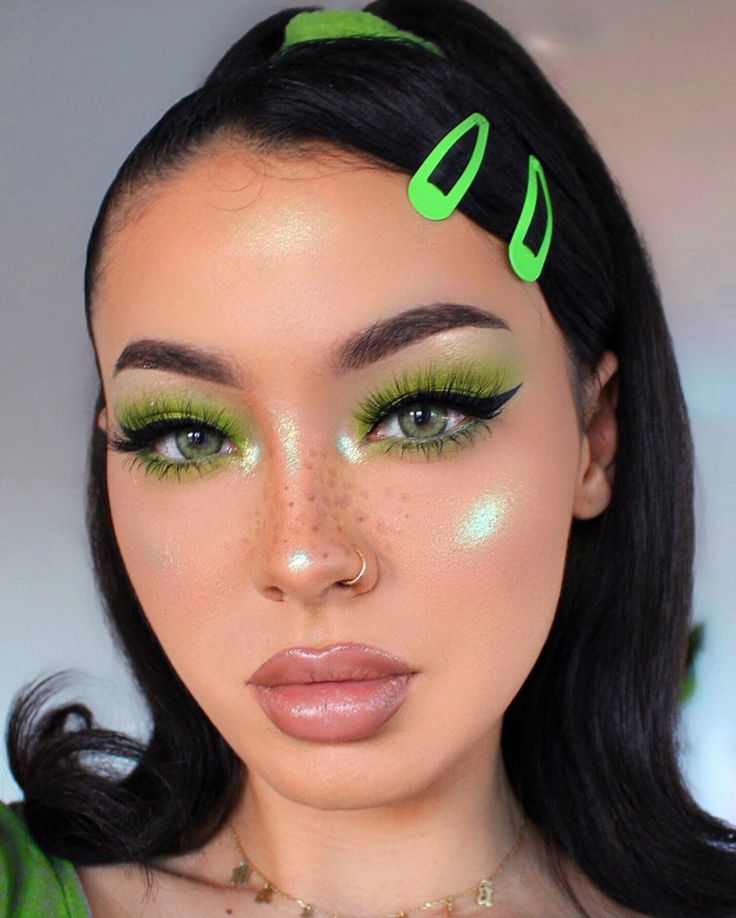 Embrace your dark hair with a tribute to Shego using bright green colors in your makeup, hair, and in your dress!
Neutral Makeup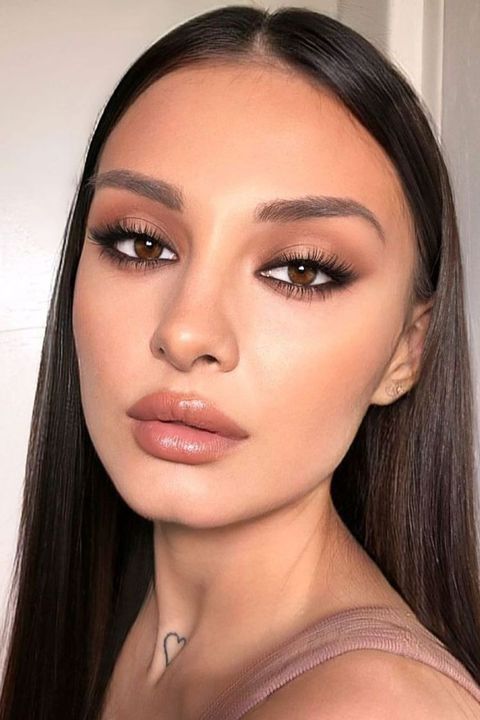 If you're looking for neutral homecoming makeup ideas then go for a warm nude palette using tan eyeshadows, hints of contour in the cheeks, and a nude lipstick.
Matte Makeup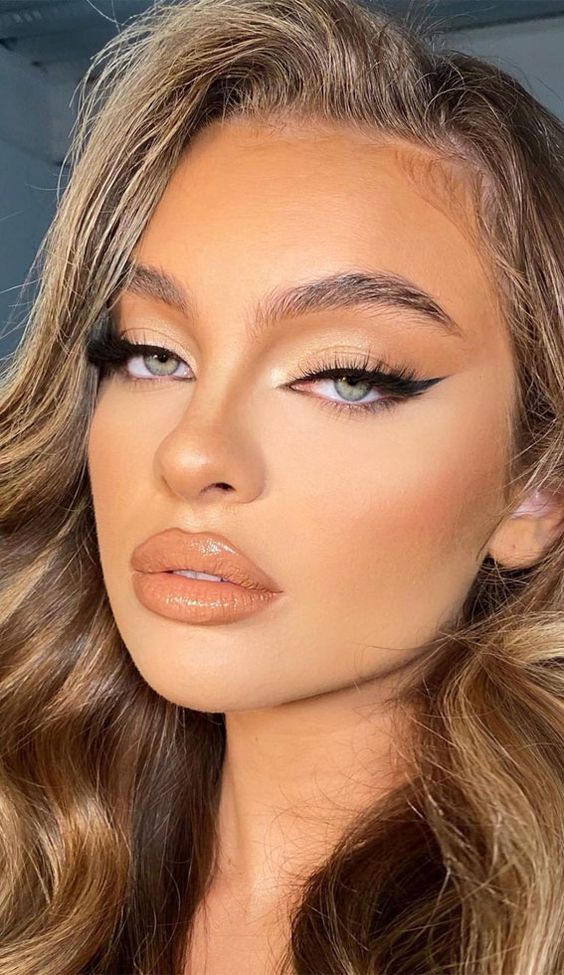 Get a trendy matte makeup look by taking all the shimmer out of your routine and going for this sleek look instead.
Two Tone Lips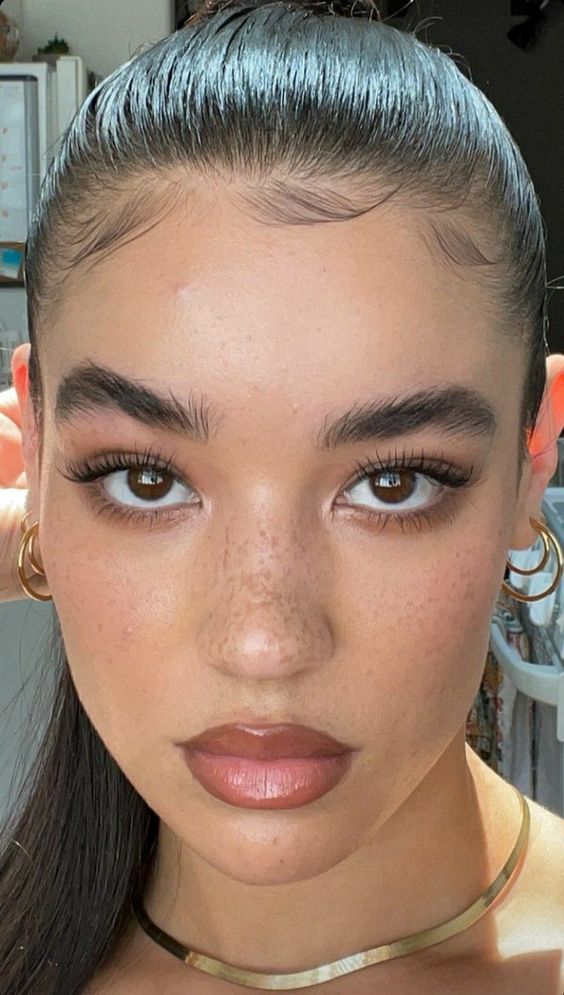 Make your lips the star of your homecoming makeup with this two tone lipstick trend.
Fake Freckles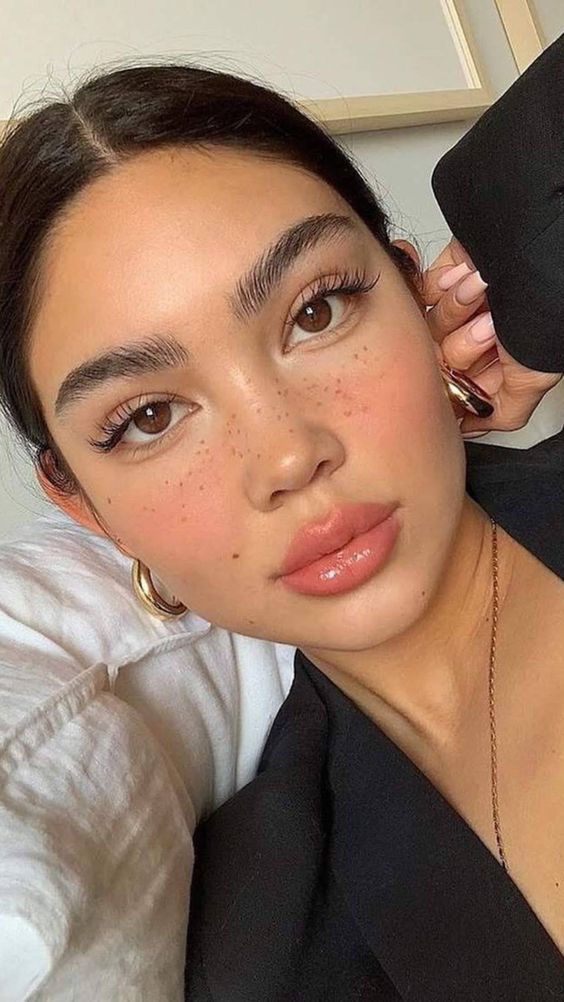 Rock the fake freckle look at homecoming for a look that will have you looking more sunkissed than ever.
Rainbow Eye Makeup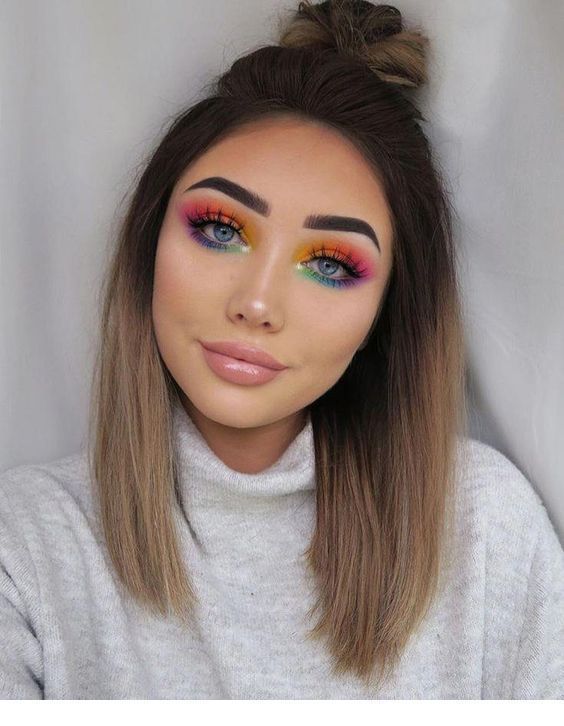 For a black or white dress, try adding a pop of color with this bold and fun rainbow eyeshadow makeup idea.
Purple Shimmer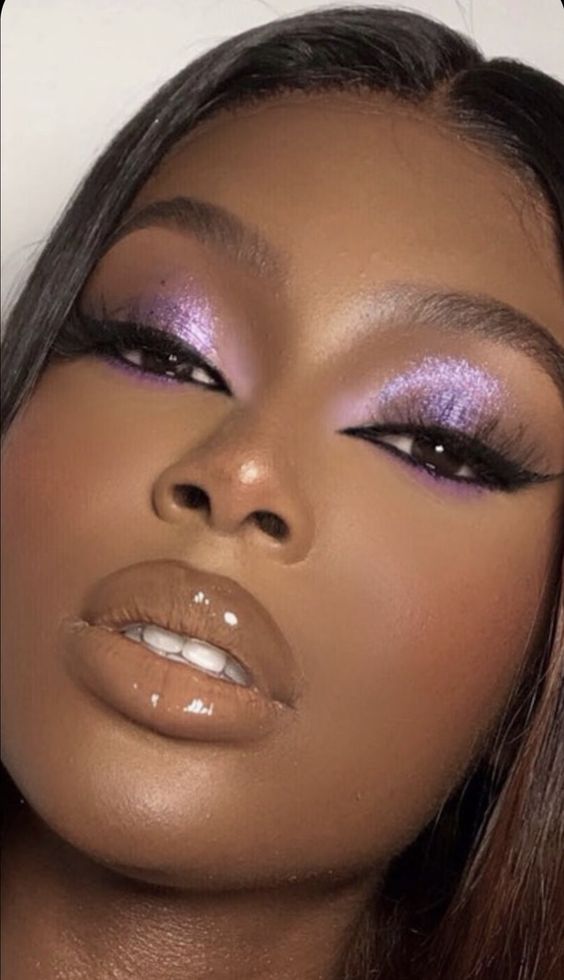 For a purple dress, we highly recommend matching your makeup, but adding in a little bit of shimmer for that extra spice.
Simple Glitter Makeup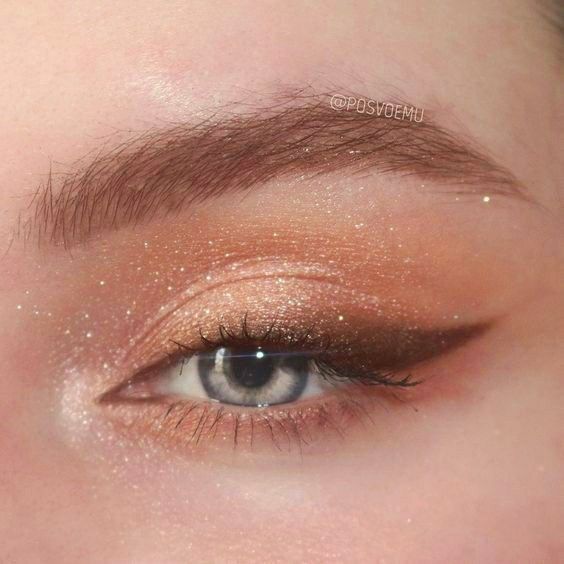 IF you want to rock a glitter look but need a more simple version, try this easy makeup look for a hint of glitter that isn't too hard to achieve!
Neon Orange Makeup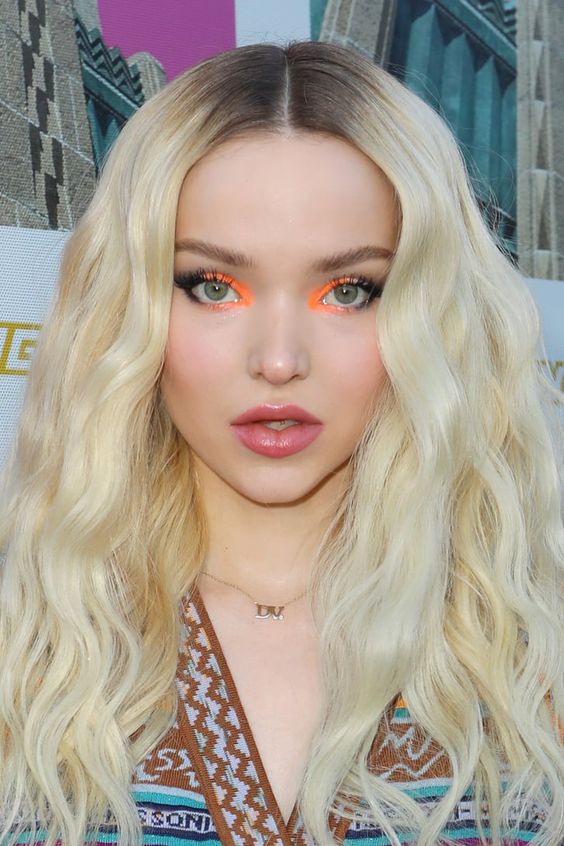 Consider this your invitation to join Dove Cameron in this 80's inspired neon orange eyeliner trend for homecoming.
Daphne Inspired Makeup Look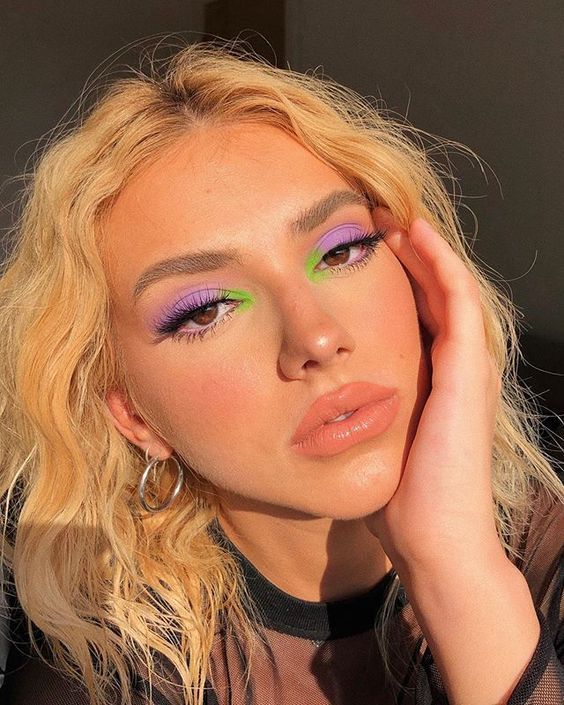 If you're going for a Daphne inspired homecoming look, try this green and purple eyeshadow combo to match!
Dramatic Lashes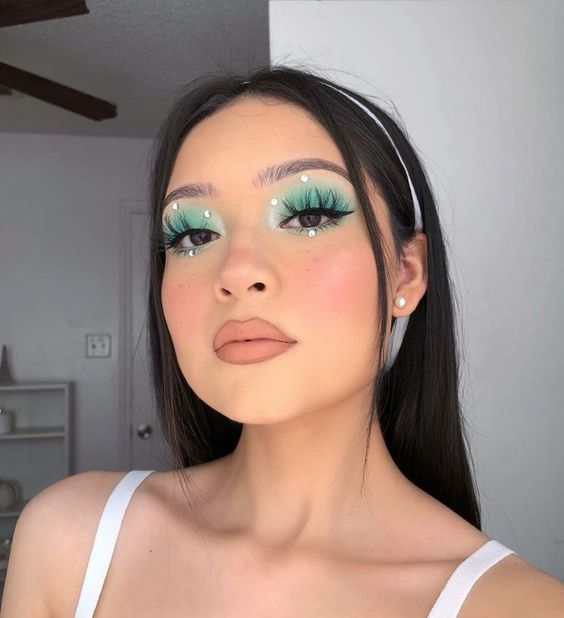 Homecoming is the time to be all dressed up so don't be afraid to grab a dramatic pair of fake lashes.
Perfect Pearl Makeup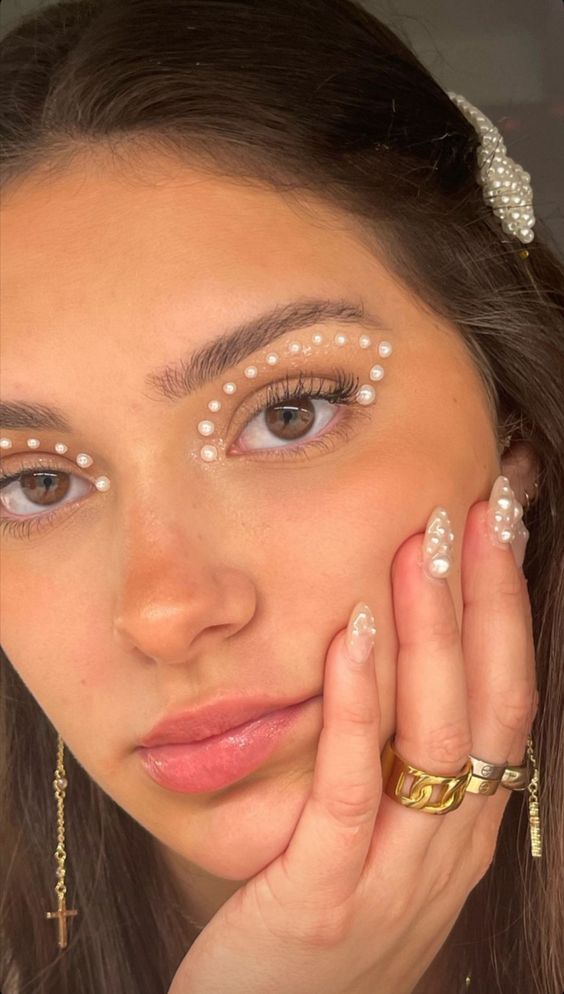 Go beyond eyeshadow and eyeliner and add some elegant and classy pearls to your makeup for this glam inspired homecoming makeup idea.
Retro Inspired Homecoming Makeup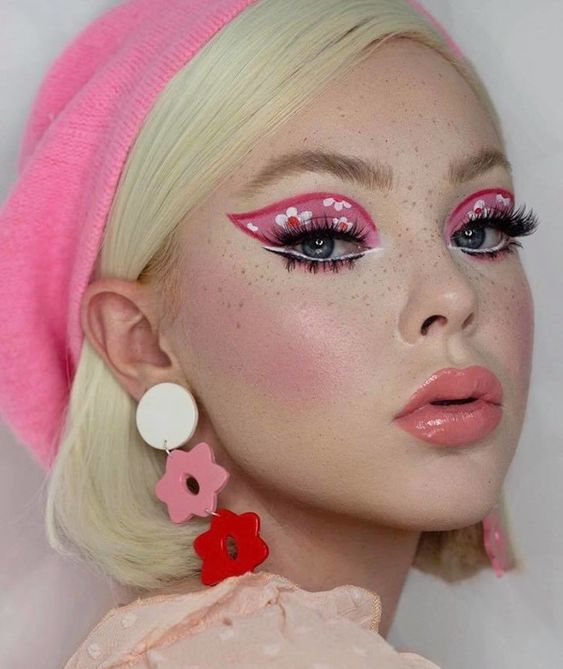 Channel your inner go-go girl with this retro inspired homecoming makeup look.
Cheetah Print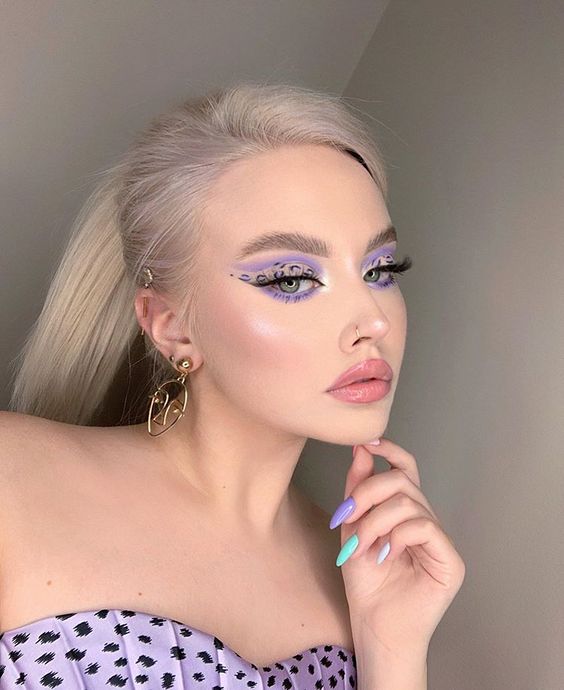 Be fun, unique, and creative at homecoming with this cheetah print eyeshadow look that will leave everyone in awe.
Homecoming Highlighter Makeup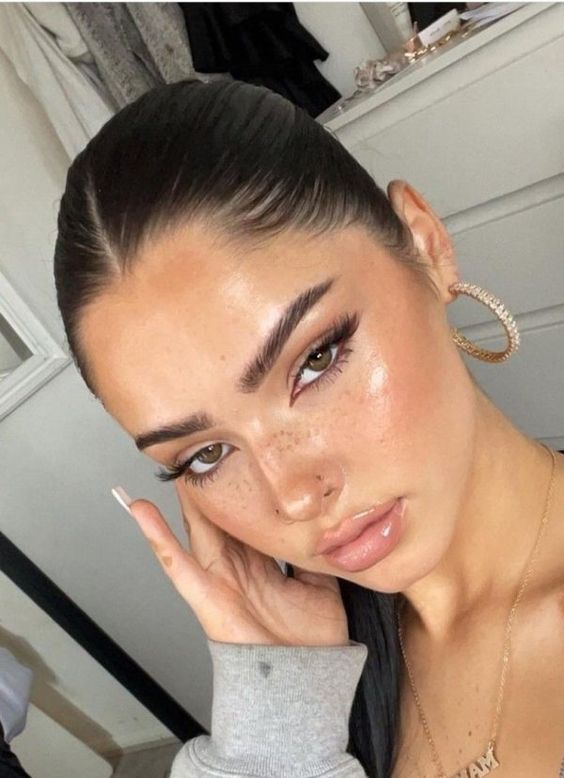 If you're here for the highlighter trend, try adding it in more places than your cheek for an all over glam look.
It's one of the cutest homecoming makeup ideas in 2023!
Gold Leaf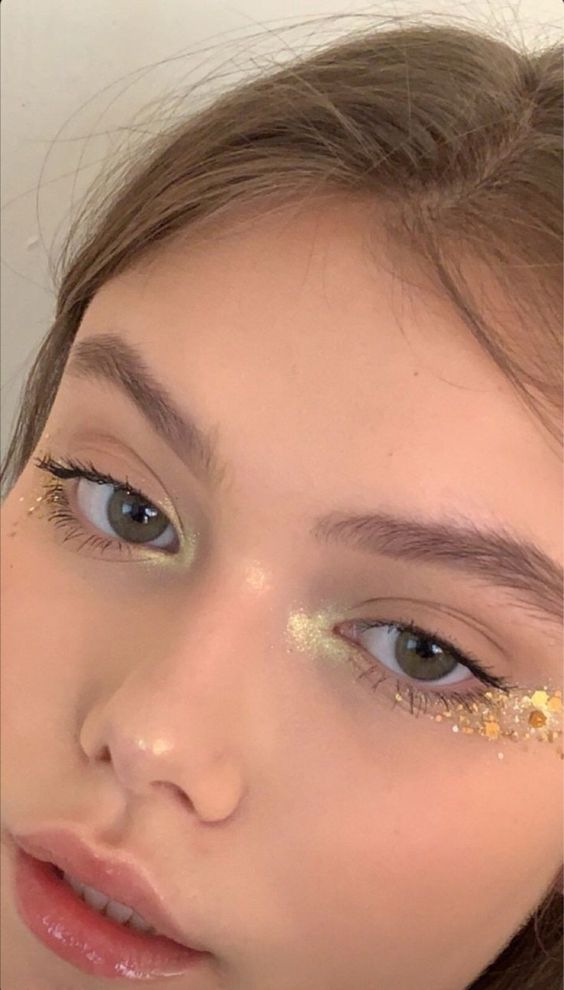 Give yourself a royal makeup treatment by adding some gold leaf into your eyeshadow.
Star Stickers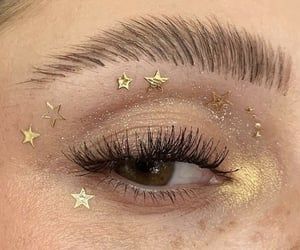 Add some star stickers into your homecoming makeup for an out of this world look that's simple, easy, and effective!
Final Thoughts
Hopefully these 50 homecoming makeup ideas gave you a bit of inspiration for what style you're gonna rock at your dance!
Before you go, you might find these resources useful:
50 Perfect Homecoming Nail Ideas You Have To Try
60 Cute Homecoming Hairstyles
Which idea are you wearing?
If you have any comments, questions, or suggestions leave them down below. Thanks for reading!