Are you a teen boy looking for some inspiration for your next haircut? Here are the 15 best hairstyles for teenage guys with straight hair!
Having straight hair is one of the best textures of hair you can have. It works with so many different looks and is easily styled!
Some straight hair is often thinner, so using a bit of product might help achieve some of these hairstyles.
Whether you have short hair, long hair, or medium length hair, you'll be sure to find your favorite hairstyle in this list!
Let's get into the haircuts!
Straight Comb Over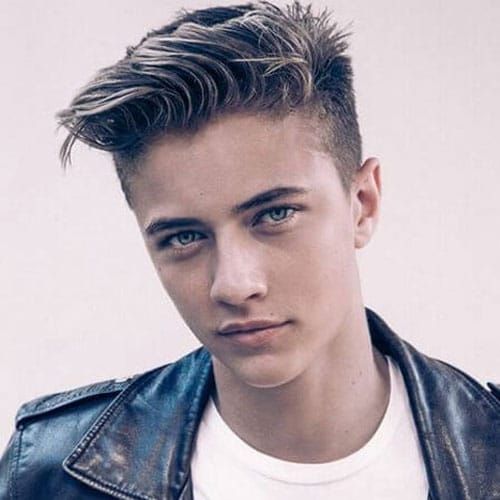 The straight comb over is one of the best hairstyles for teenage guys with straight hair!
It offers texture, style, and volume all in one haircut.
To copy this hairstyle, ask for a short buzz on the sides and to keep the volume on top. Comb over all your hair on top in one direction while keeping your hair high.
Fade with Forward Volume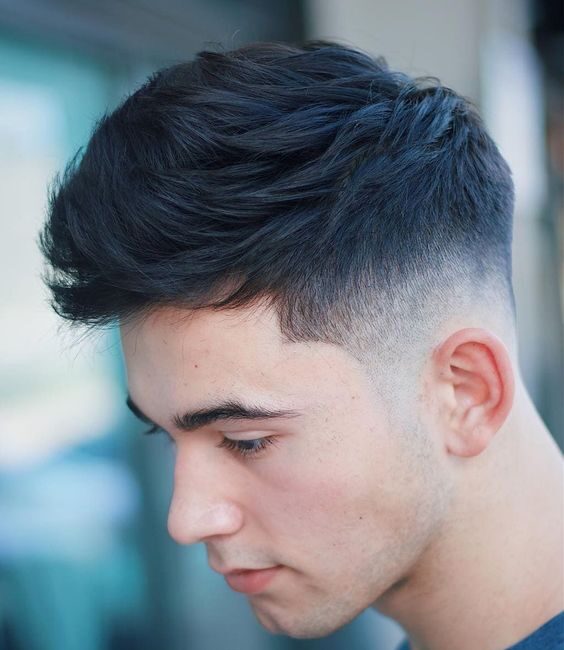 If your hair naturally goes in a forward direction, this hairstyle is definitely for you!
Get a fade on the sides and bring all your hair forward and up on the top. You can add direction to your hair by brushing it to a side or keeping it in the middle.
It's versatile and one of the easier hairstyles to manage on this list if you have straight hair.
Side Part Comb Over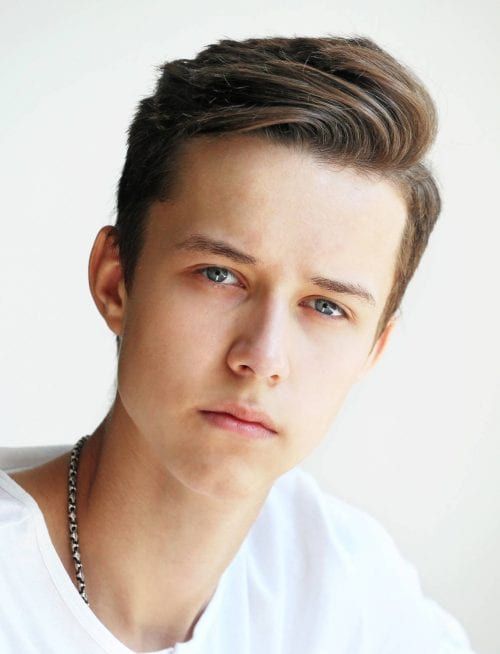 Similar to the straight comb over, the side part comb over allows you to swoop the top of your hair to one direction.
The big difference… you can keep a bit of length on the sides by implementing a side part and not fully buzzing your sides.
Remember to keep the height on top in order to maintain that voluminous shape. You don't want the sides to take over the look.
Related Post: 10 Stylish Fall Outfits for Teenage Guys
Angled Fringe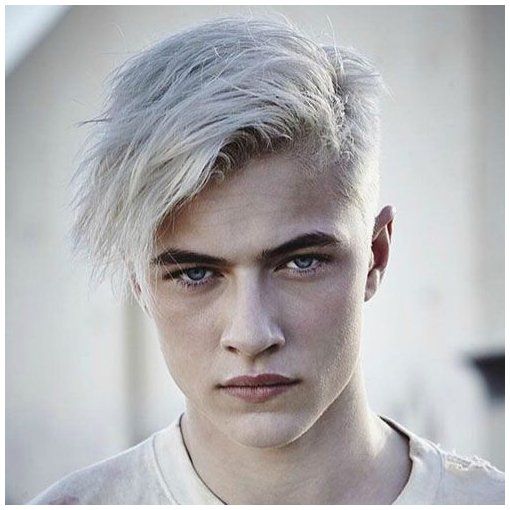 If you have longer straight hair, you might find a fringe haircut to be a worthy choice for you.
A fringe is basically any hairstyle where your hair goes down, past your forehead. The model above has his hair going on an angle over the right side of his forehead.
To copy this, straighten your hair completely forward and comb it down on an angle. It's also recommended that you shorten/buzz the sides of your hair.
Messy Volume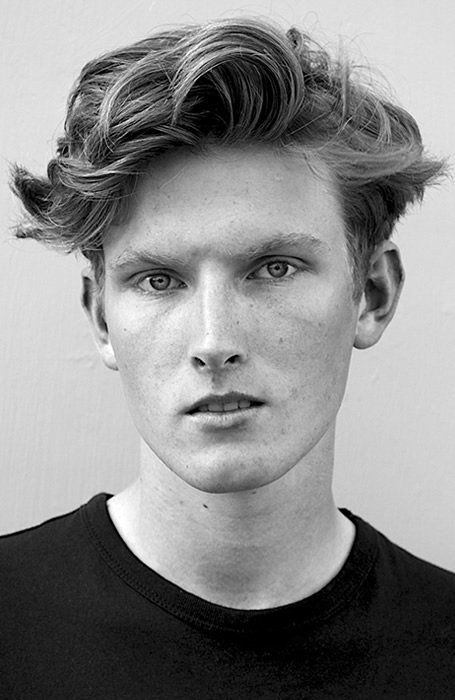 Want a super low maintenance, but stylish hairstyle? Consider this messy volume look.
You might need a bit of hair product to keep everything up nice and high throughout the day. However, the messy look requires no extra maintenance.
Leave the sides long and turn your hair into a purposeful accident with a ton of volume!
Disconnected High Fade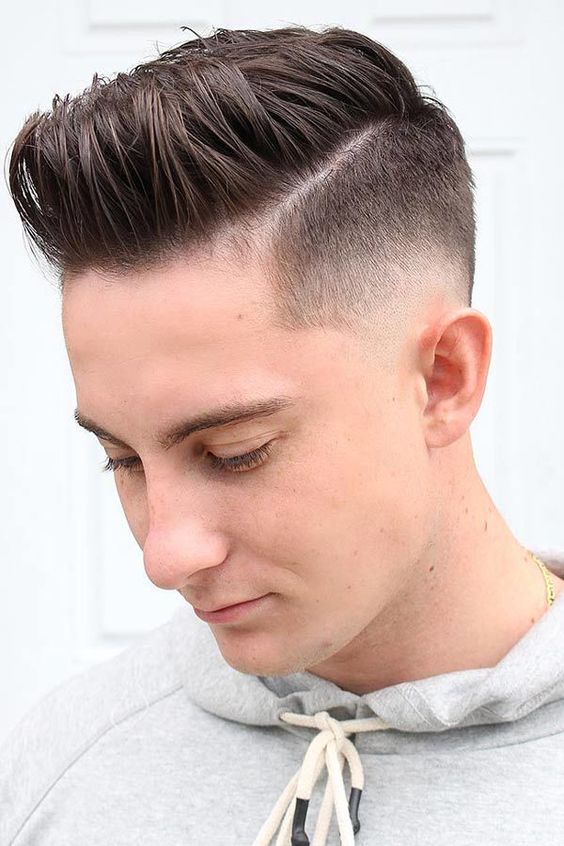 The disconnected high fade is one of the most stylish hairstyles for teenage guys with straight hair.
All you need to do is get a high fade on the sides and bring everything up from all angles on the top.
Use the model above as a reference for how the hairstyle is supposed to turn out. Pay attention to how the front is lifted straight up while every other part goes towards it.
Side Swept Undercut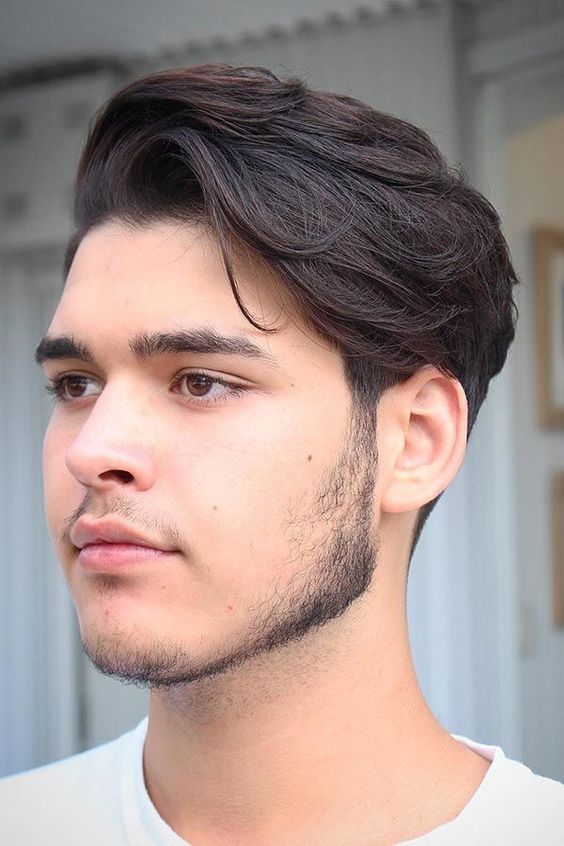 The side swept undercut is extremely popular amongst teenage guys because of the modern look it has.
An undercut is essentially where the top of your hair goes over the buzzed sides, making it look like you cut underneath your volume.
Sweep all of your hair on top to one side of your head, allowing it to hang slightly over your sides. That's all there is to it!
Related Post: Ab Workout for Teenage Guys
Straight Combed Quiff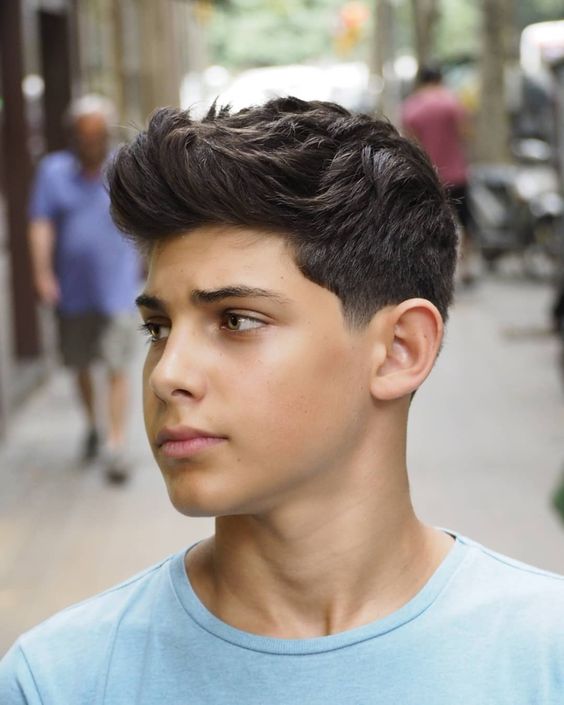 A straight combed quiff is an easy hairstyle for teen guys with straight hair to replicate.
If you have medium length hair, brush everything forward and up. This will create a quiff.
After that, make sure your sides are cut short, but you don't have to buzz them if you don't like that look.
The model above is a great example for how you can copy this look!
Side Part Undercut Fade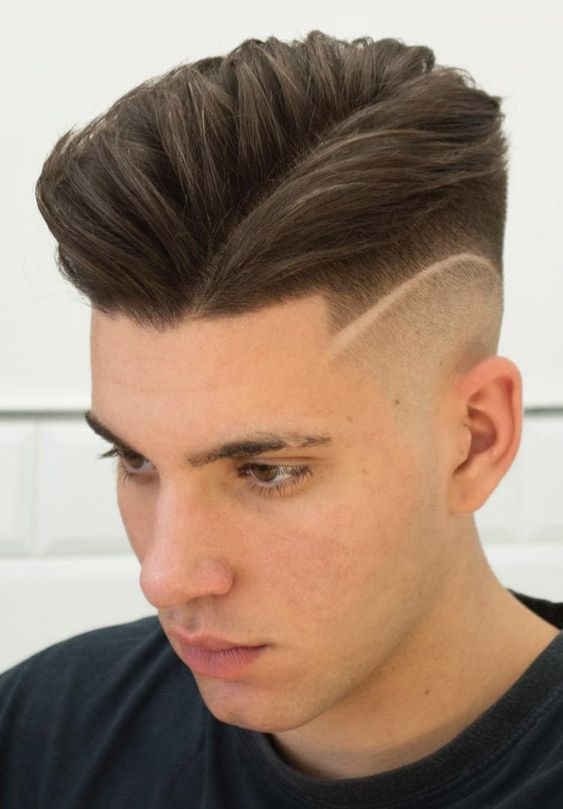 If you like the side part look, try out this wacky variation that adds a bit more style to the look!
Part your hair closer to one side on the top and brush both sides in opposite directions. Make sure that the shorter side is still long enough to create an undercut.
For the sides, you can get a straight buzz or fade them out for a more modern hairstyle.
Side Hanging Fringe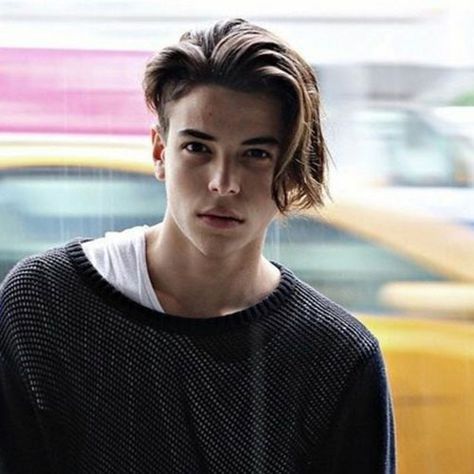 If you have straight long hair, this is a great hairstyle for you as a teenage boy.
As the name implies, take the longest part of your hair and have it hang on the side of your face.
You can incorporate a side part or turn it into a side swept undercut for maximum hang. Cut your hair to the proper length so that it's not hanging too far down.
Straight Pompadour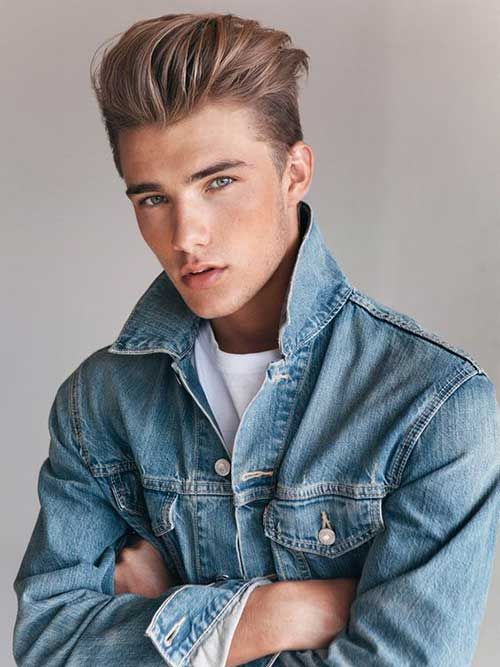 A straight pompadour is one of the best hairstyles for teenage guys with straight hair because of how modern it looks!
A pompadour is essentially a high mound of hair near the very front of your head, making it the centerpiece of the style.
You will likely need to use a shaping cream to help you maintain that height. Buzz the sides short and comb the top up and slightly back.
Related Post: 25 Best Hobbies for Teenage Guys
Textured Short Hair Quiff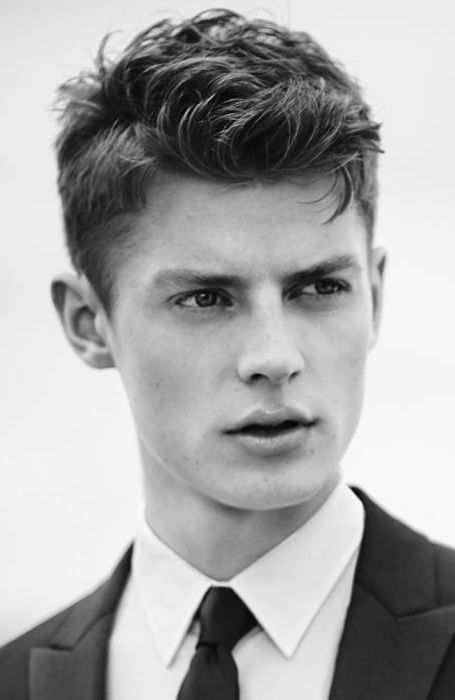 If your straight hair tends to get a bit wild, you might want to take advantage of natural texture to make it stand out.
All you need for this is a relatively short haircut where the sides are cut short (but not buzzed) and the top has enough hair to make a small quiff.
This will give you height and texture for an already short hairstyle. Plus, it's a lot easier to manage on a daily basis.
Short Pompadour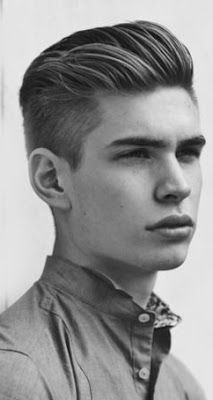 The short pompadour gives you all the volume you need without sacrificing a low maintenance look.
This hairstyle can go on for days without the need for any product or shaping cream to keep it up high.
If you have thick straight hair, it will be extremely easy for you to keep up with this haircut because your hair will naturally stay up for you.
Curtain Middle Part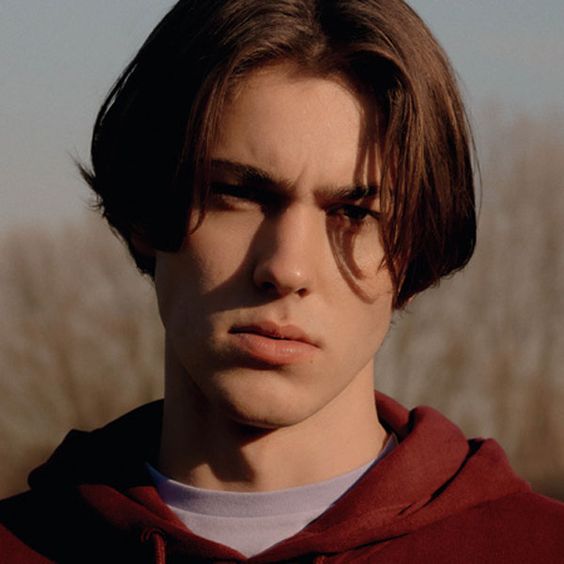 The curtain middle part hairstyle has become extremely popular amongst teenage guys with straight hair.
It doesn't require much effort since all you have to do is part your hair down the middle and brush each side in opposite directions.
Try to keep your hair length up to your ears, but no lower than that. Once the hair hangs past the ears, it no longer has the same curtain effect.
Related Post: 10 Coolest Backpacks for Teenage Guys
Combed Back Straight Fade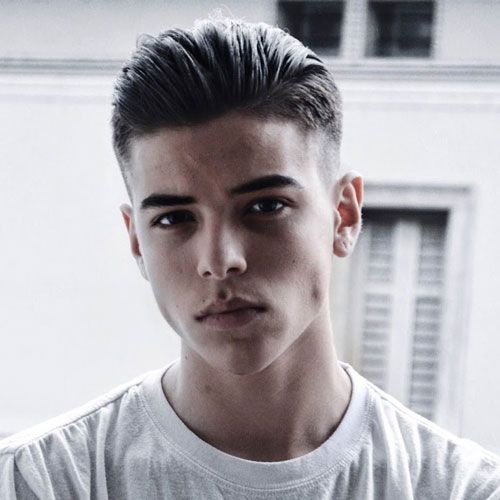 A simple and elegant look for a young guy doesn't require much. Just a simple combed-back style will do!
All you have to get is a fade on the sides and brush all your hair straight back from the very front.
You can add volume by raising the front of your hair a bit and bring the back side down. It's great for formal occasions too!
Hopefully these 15 best hairstyles for teenage guys with straight hair have given you some inspiration for your next haircut!
Which one was your favorite?
If you have any comments, questions, or suggestions leave them down below. Thanks for reading!