Want some fall outfit inspiration for high school? Here are 10 stylish fall outfits for teenage guys that are actually practical!
Before we start, you should understand that a lot of these outfits really boil down to 2 main things… fit and color.
The fit of your clothing is just as important as the style, layering, colors, and everything else. Make sure you're buying clothes that actually fit you!
Let's get started!
Jeans and a Sweatshirt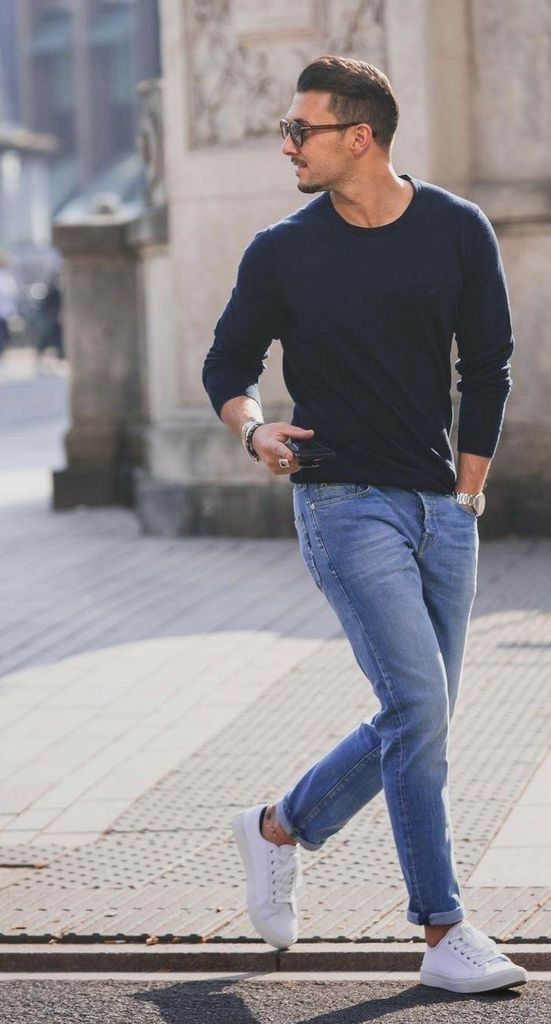 Jeans and a sweatshirt is one of the most classic, simple, and easy fall outfits for teenage guys to wear at any occasion.
A well fitting pair of jeans along with a defined plain sweatshirt is ideal for this look.
Pair basic colors such as blue, white, black, and grey. Throw on some clean white sneakers and you'll be looking fresher than ever.
A nice watch on top of everything is like the icing on a cake to finish off this iconic look.
T-Shirt and a Flannel
A t-shirt and flannel should be in any teenage guy's wardrobe along with the rest of the wardrobe essentials.
Flannels don't have to be all colorful if that's not your style. There are tons of minimalistic colors and designs to choose from.
Again, fit matters so you don't want to go around with an oversized flannel. It simply won't look right on top of a t-shirt.
Layering these 2 pieces together over some ripped jeans makes you look badass. Add some boots to the look and you'll be on a whole other level.
Double Jacket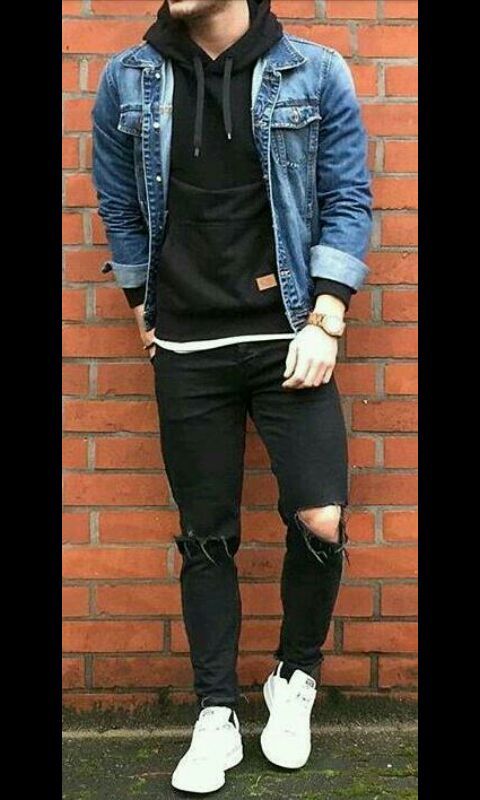 The double jacket (or jacket over hoodie) combo is one of the toughest fall outfits to pull off. However, it's also one of the most fashionable things you can do.
If your fall season is still hot, this might not be the outfit for you. If your falls are cool, then definitely give this double jacket look a try!
Make sure the jackets and hoodies are relatively plain. Meaning, don't wear any with extravagant designs on the front.
Also, the colors of the jackets should coordinate in color very easily. It should look like they were meant to match up together, not like it was forced.
White T-Shirt and Sherpa Jacket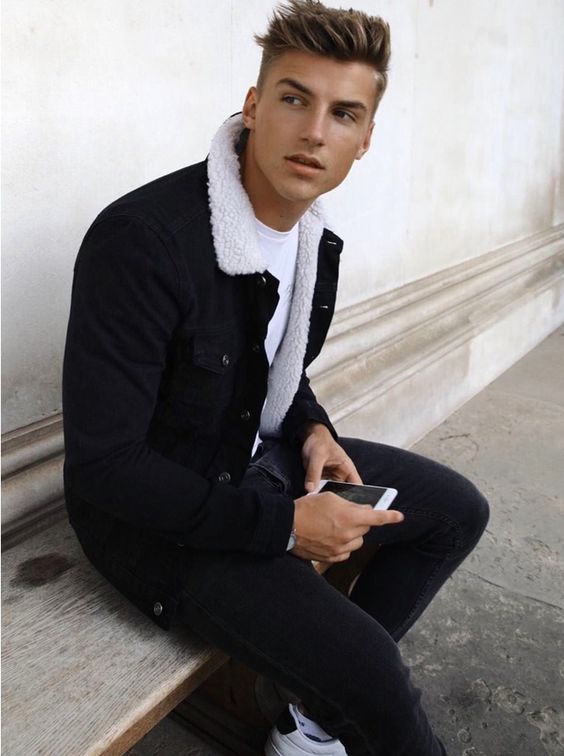 A sherpa lined jacket is a jacket (usually denim) that has fur inside for insulation, warmth, and a pop of style.
Pairing up one of these sherpa lined jackets with a plain white tee is one of the most badass fall outfits for teenage guys.
The jeans or chinos should match in color. A lot of times a monochromatic (one color) style is great for this look.
I highly recommend grabbing one of these jackets the next time you shop for clothes to add an iconic and head-turning piece to your wardrobe.
Rugged Fall Colors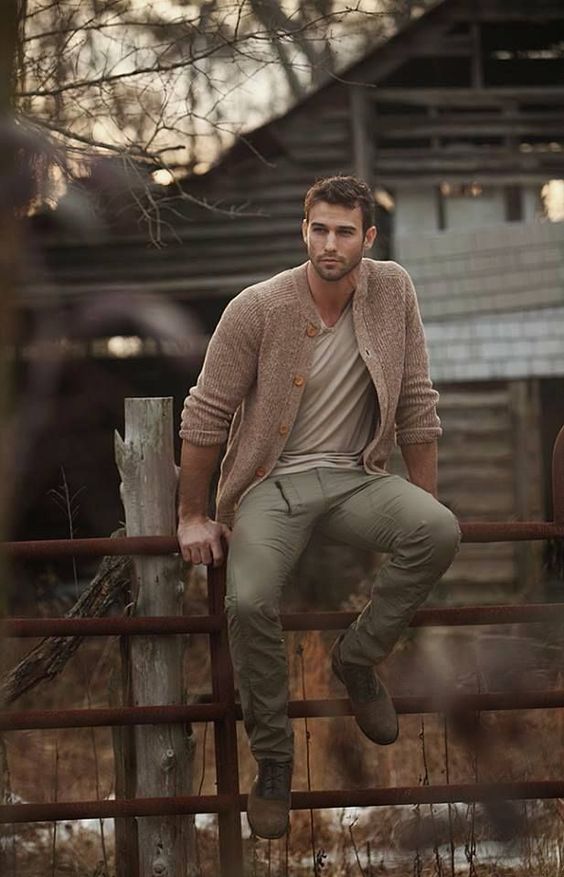 There's no better way to represent fall than with the natural colors of fall themselves!
A rugged look always goes great with this season since the browns, greens, beiges, and oranges work so well.
If there's one thing you have to nail down in this look, it's the rugged boots. As a teenager, you'll immediately stand out from the crowd if you're wearing any type of boot.
Branching out with style at a young age starts with simplicity. Notice how most of the men in these pictures are wearing very basic colors with a basic fit and they're killing it!
It doesn't have to be complicated as long as you have the basics to work with. Get creative with what you have and try to match the seasons however you can.
Jeans and a Hoodie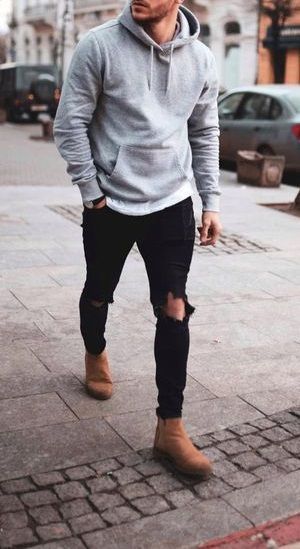 If you don't have these 2 staple pieces of clothing in your closet right now, stop reading this and go get them.
Oftentimes hoodies can seem like they're hard to make look good because they are naturally baggy and thick. However, it doesn't always have to be the case.
Notice how the hoodie naturally sits on the model's body, but fits his arms nicely and doesn't have much overhang around the belt.
This is the type of hoodie you should look for. Simple, basic, but bold written all over it.
Jeans (ripped or normal) go great with almost any hoodie you throw on. You can then dress up with boots or dress down with sneakers.
Plaid and Jeans
Layering plaid over a simple t-shirt and pairing it with jeans is the sweetest looking outfit for teen guys in the fall.
It has "teenager" written all over it with its edgy, young, and badass style.
By the way, not all plaids have to be crazy in terms of color and pattern. There are much more relaxing designs to choose from.
What really matters is how well the plaid shirt fits you and how well your jeans match the shirt.
Get those 2 things locked down and you'll be on your way to stylish excellence!
Shorts and Button Up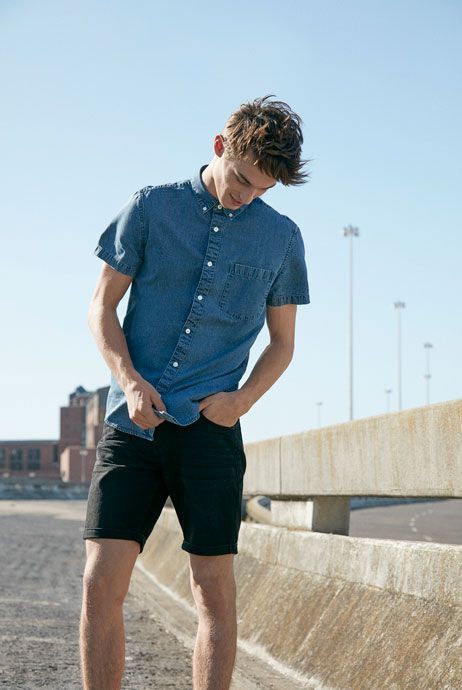 While the term "fall" usually means the weather is getting cold, some areas are still relatively warm.
This look gives off a very confident message. A message that says "I'm ready to have fun, be casual, and get down to business" all in one.
Consider this twist of an outfit for fall, especially if it's still hot where you live.
Again, notice how the shorts are slim fit and the button-up outlines his body very well. This is exactly what you want in order to copy this look.
Chino and Sweater Combo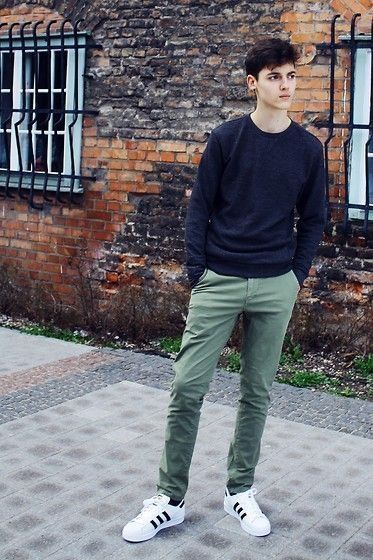 Chinos, one of the greatest pants for the fall, are paired up with a nice simple sweatshirt for this look.
This outfit brings everything you love about winter and turns it into a fall classic.
Greens, blues, greys, and browns are excellent colors to pair up with this outfit. Plus, most of those colors naturally match well together (as long as they're not overly vibrant).
You can also change your look up with boots, white sneakers, a watch, or even a beanie to tie it all off.
There are tons of ways to wear this exact combo depending on the occasion, including high school.
Triple Layer Outfit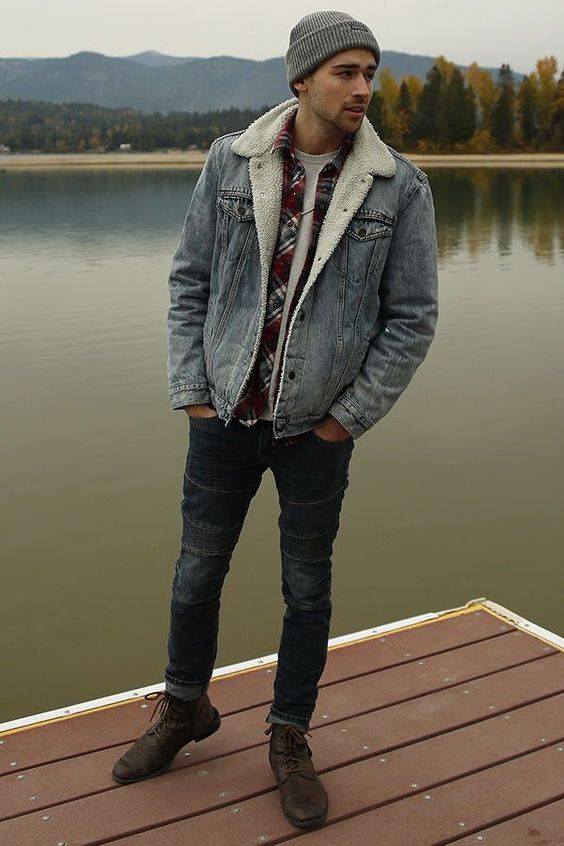 Are fall seasons cold near you? Maybe the amount of clothing in the other examples are not enough.
Try out this triple layer jacket outfit for the fall to keep warm and stay stylish at the same time.
The way you layer this outfit is totally up to you. Let your creative freedom take you as far or short as you'd like on this one!
The beanie is an awesome touch along with the dark rugged boots. Also, notice how the colors are different from each other with plain styles and colorful designs throughout.
A washed out pair of jeans (like the one above) goes great with the triple layer combo since it makes nothing stand out particularly hard.
Hopefully these 10 stylish fall outfits for teenage guys have helped you get some inspiration for what to wear to high school or any other fall occasion.
Remember, the key to rocking these outfits boils down to fit and color. Without those 2, the outfits start to lose their purpose.
If you have any comments, questions, or suggestions leave them down below.
Have fun looking like a badass this fall!