Want some spring outfit inspiration for high school? Here are 10 stylish spring outfits for teenage guys that are actually practical!
Before we start, you should understand that a lot of these outfits really boil down to 2 main things… fit and color.
The fit of your clothing is just as important as the style, layering, colors, and everything else. Make sure you're buying clothes that actually fit you!
You should also note that the examples are not necessarily of teenage guys. The outfit is the only thing being referenced… not the person wearing it.
If you see a guy in a picture that definitely doesn't look like a teen, just remember that we're only looking at the style here.
Let's dive in!
Shorts and Denim Button Up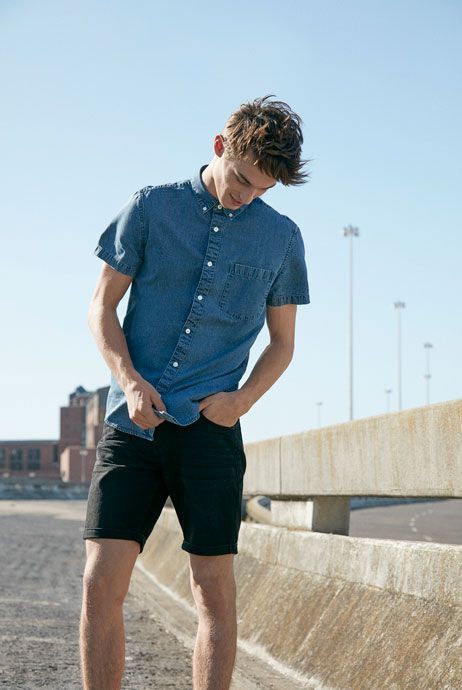 While the term "spring" is different for everyone depending on where you live, some areas are still relatively warm.
This look gives off a very confident message. A message that says "I'm ready to have fun, be casual, and get down to business" all in one.
Consider this twist of an outfit for spring, especially if it's still hot where you live.
Again, notice how the shorts are slim fit and the button-up outlines his body very well. This is exactly what you want in order to copy this look.
Sweats and Jacket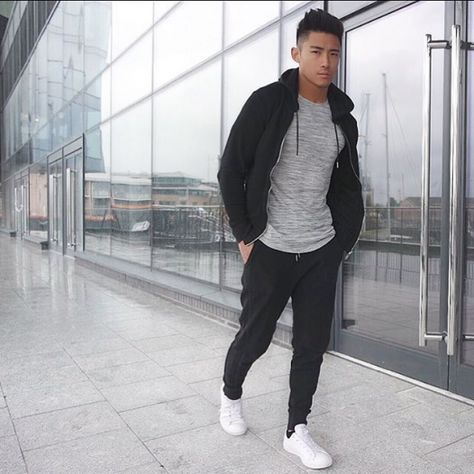 This is one of the coolest spring outfits for teenage guys to wear in a casual setting.
You can take this look to school, to run an errand, or even to chill at a kickback. As long as the fit of the clothing is there, you're good to go.
Notice how all the clothes on the model are very form-fitting. This is exactly what you want. No baggy clothes, extra graphics, or any crazy colors.
White sneakers are a great add to finish off the outfit in order to pop out from all the grays and blacks.
Denim on Denim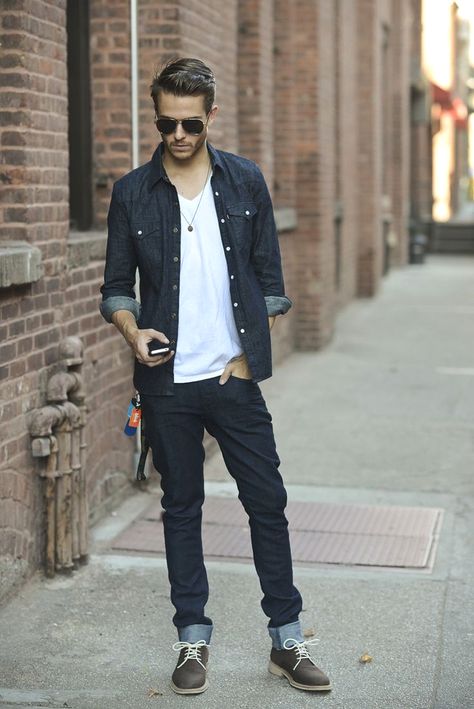 Now, we're not talking about a Canadian tuxedo here. This is a simple combination of denim jeans and a thin denim button up.
Leaving the button up open allows you to add a pop of white underneath the whole look. That way it's not just blue everywhere.
If you have a simple pair of boots, now would be a great time to wear them. The model is wearing chukka boots, but chelsea boots could work here too.
Again, the button up isn't too baggy, it fits the model perfectly without being too choked up.
Floral T-shirt and Cropped Jeans
Not everyone is into the whole floral look, but if you can pull it off, this is definitely a bold style!
If your spring is still pretty warm, this is a perfect outfit to kick back and throw on a pair of sandals.
The cropped jeans match this look so well and it's not even something you can put your finger on. It just simply looks fantastic.
You want to go with a light color on the jeans to match the floral shirt. This way, you're not drawing too much attention away from the tee.
Vertical Stripes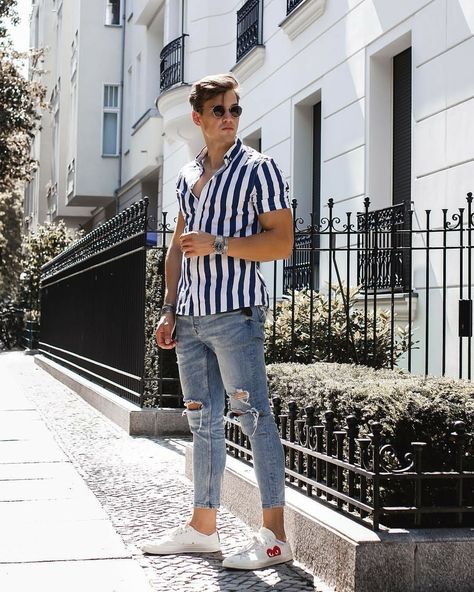 Vertical stripes on a button up is going to do 2 things for you:
Add a touch of design to your outfit
Make you look slimmer
The stripes make you look slimmer because they give off a vertical perspective instead of a horizontal one (unlike horizontal stripes which make you look bulkier.
Not only that, but pairing this with some ripped jeans and all white shoes makes for the ultimate combo for the spring season!
If you've got some muscle on you this spring, make sure to do one little roll up on both sleeves and undo a button to let the guns fly.
Double Jacket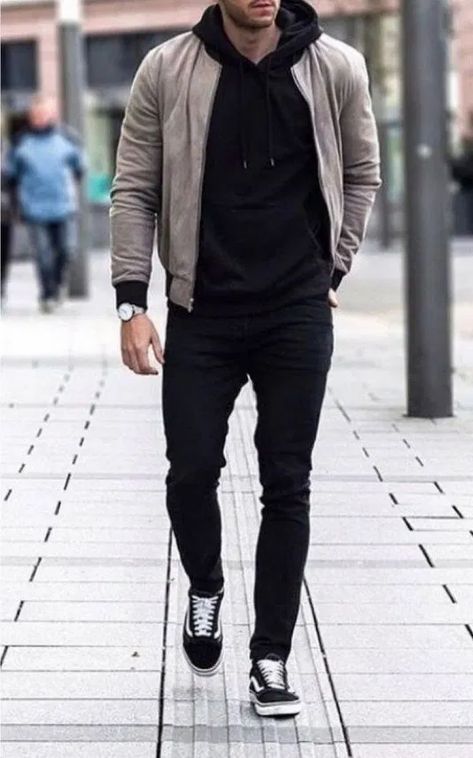 The double jacket (or jacket over hoodie) combo is one of the toughest spring outfits to pull off. However, it's also one of the most fashionable things you can do.
If your spring season is still hot, this might not be the outfit for you. If your springs are cool, then definitely give this double jacket look a try!
Make sure the jackets and hoodies are relatively plain. Meaning, don't wear any with extravagant designs on the front.
Also, the colors of the jackets should coordinate in color very easily. It should look like they were meant to match up together, not like it was forced.
Floral and Shorts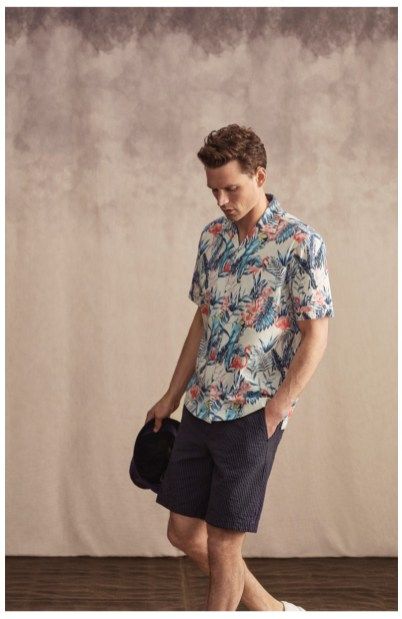 Similar to the floral t-shirt with jeans, the floral with shorts is a simple way to dress down on a hot day.
The goal of this look is more about getting a well-fitting pair of shorts. It should never go past your knee and should look more snug than baggy around your legs.
It also wouldn't hurt to get some no-show socks to wear with your shoes, just to make the outfit look even cleaner.
If you're not a floral type of guy, a simple button up will do just as well (if not better)!
Chinos and Long Sleeve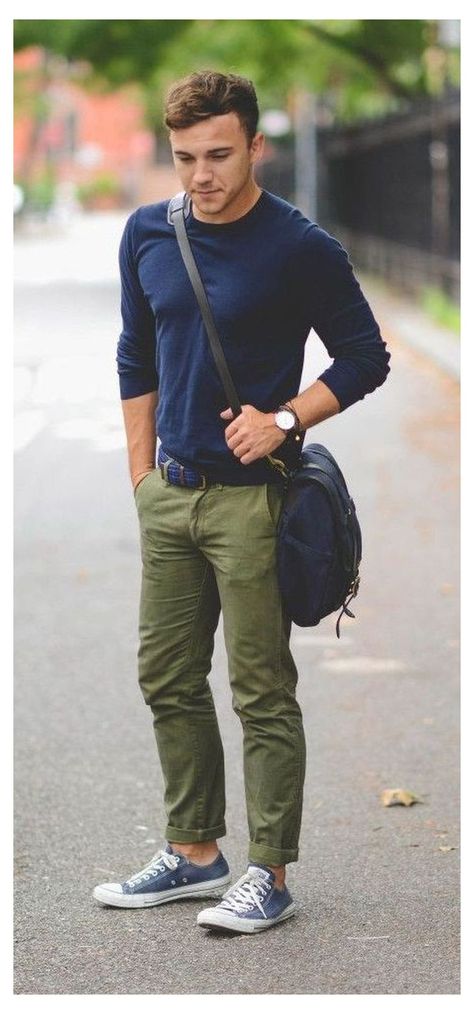 The chinos and long sleeve combo is one of the most stylish spring outfits for teenage guys.
It's casual, but sophisticated. Notice how the model is pairing very simple colors together and making the outfit work perfectly.
There is no layering needed or any other piece to make the outfit look good. A simple pair of chinos, a long sleeve, and casual sneakers will do the trick.
Of course, you can pair it all with a watch to make the outfit a 10/10. Plus, nothing screams "mature teenage guy" more than a well-fitting pair of chinos do!
Beige and Bomber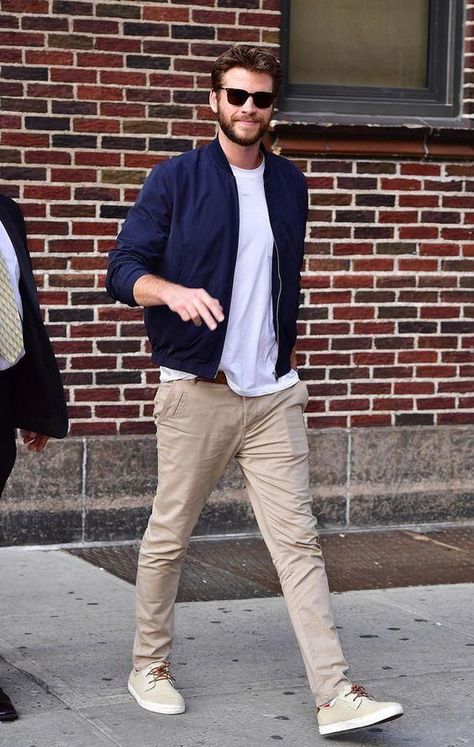 There are 2 absolute staples here that should be wardrobe essentials for men all over the world:
Beige colored clothing
Bomber jacket
A bomber jacket is one of the best pieces you can have to layer on top of a t-shirt when it's a little cooler than usual outside.
It's a lot more stylish than a jacket, especially when you're pairing it with a beige pair of chinos. Once again, chinos for the win!
Beige brings this color that isn't always common in most outfits, but it's also so subtle that it becomes a stylish weapon in your closet.
How can you go wrong with this outfit when Liam Hemsworth himself is wearing it? That's how solid of an outfit this is!
Black and White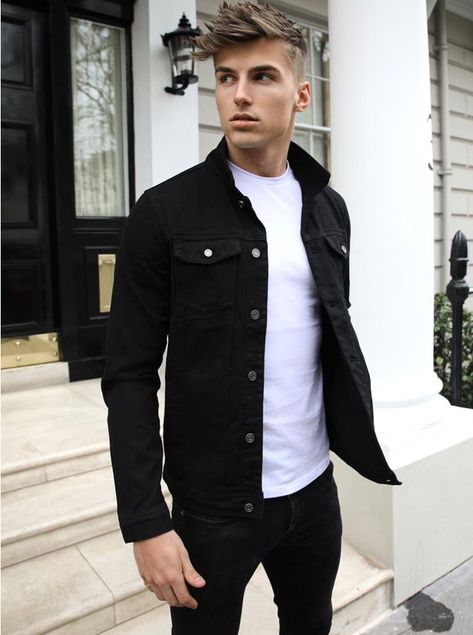 This is probably the most badass spring outfit I've ever seen. If you can pull it off, you'll be turning everyone's head wherever you go.
All you need for this is a black pair of jeans and a plain black jacket of any kind. In the photo above, the model is using a thick button up instead of a jacket (works just as well).
On top of that, you'll need a plain white t-shirt. White sneakers wouldn't hurt either for this look.
It's so simple, yet so clean that it's pretty much impossible not to look good in! If you want to look like a badass as a teen, this outfit is 100% for you.
Hopefully these 10 stylish spring outfits for teenage guys have given you some inspiration to wear something nice the next time you head out.
If you have any comments, questions, or suggestions leave them down below. Thanks for reading!