Looking for autumn inspiration and nail ideas as a teenage girl? Come pick from these 15 simple and cute fall nail designs for teens!
These fall nails for teens include trendy, cute, simple, acrylic, and creative designs for long or short nails.
No matter what idea you're looking for, you'll be sure to find a nail design that matches your style!
Let's dive in!
Spooky Cute Ghost Nails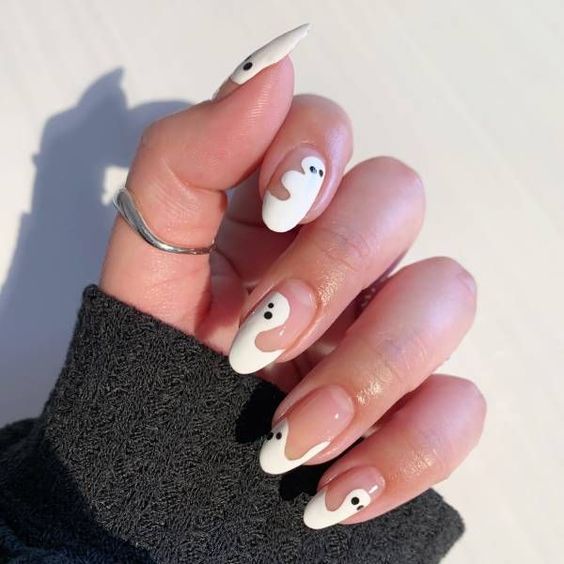 If you're looking for a fun and festive nail trend for fall, then you have to try this simple, yet super cute fall nail art.
Get into the Halloween season with cute ghost nail art on all of your fingers! Not only is this one of the cutest fall nail designs for teens, but it's super simple and easy to do!
So the next time you're doing your own nails, or going to the salon with your friends, try this ghostly cute nail art!
Ombre Fall Nails for Teens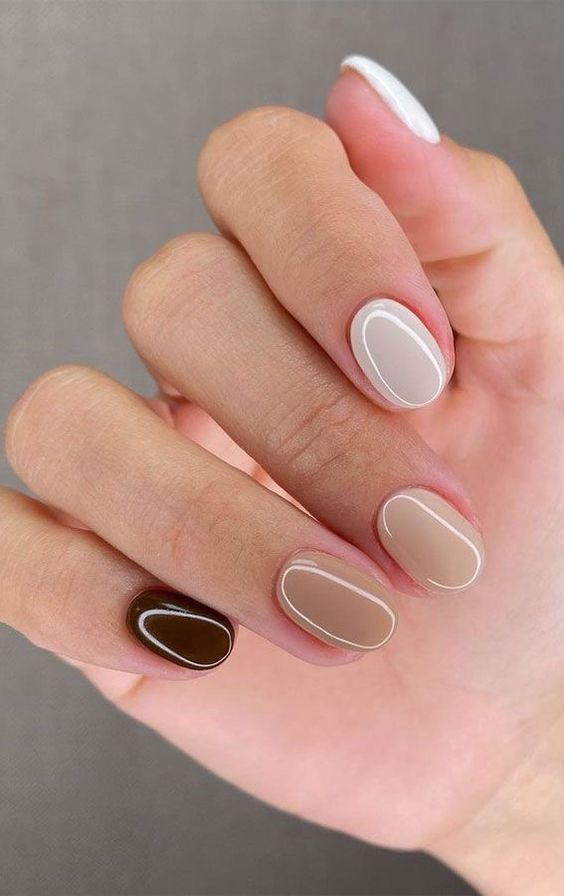 We've found the cutest teen nail design for either short or long nails and it's the ombre Autumn nail design!
Choose each finger as a different color and have them all look like they're either getting lighter or darker, creating the perfect ombre.
You can do this with any colors, but nude/fall colors are preferred for the fall season!
Fall Flower Nail Design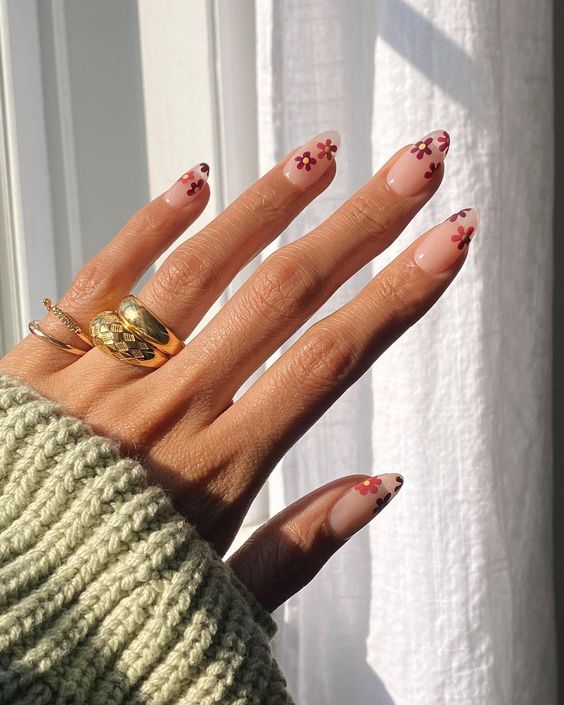 Bring in some Fall flowers to your nails with this super cute Fall nail idea for teens!
Whether you're rocking the acrylic long nails, or the natural short nails, this design is perfect for all teens and truly brings in the festive spirit of Fall.
We recommend choosing two different flower colors and putting as little, or as many, on your nails as you want.
Related Post: 50+ Halloween Costumes for Teenage Girls
All Things Spooky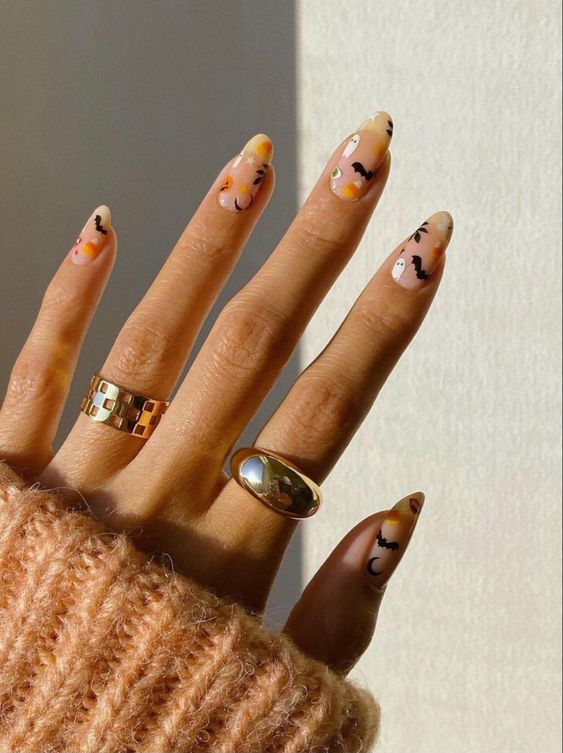 If you're a spooky Halloween lover then you're going to love this cute and colorful teen nail idea for this Fall!
Sprinkle in all your favorite Halloween elements into your acrylic manicure, like ghosts, pumpkins, and bats!
This is such a fun and unique nail idea to rock this year and will have all your friends wanting to do the same!
Simple Fall French Tip Nails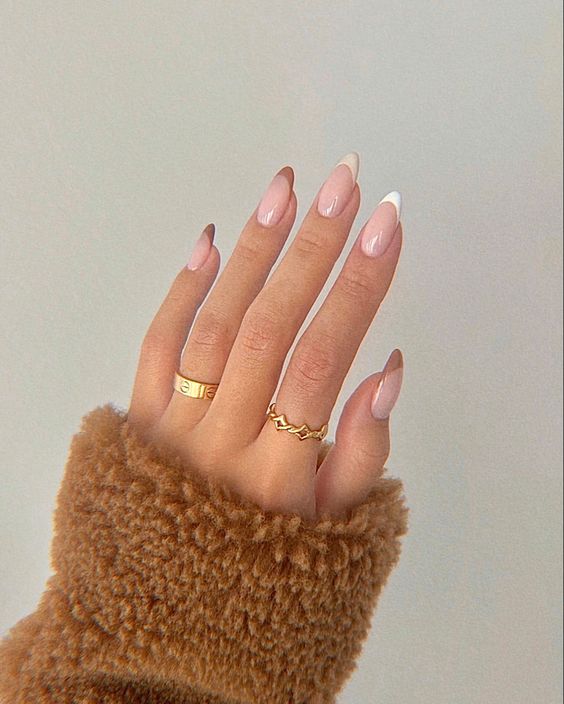 There isn't a single nail design more trendy and sleek than the Fall inspired French Tip.
This is the perfect teen nail design for all girls looking for a simple, yet super cool manicure this Fall.
We recommend styling this with different fall colors on a longer acrylic nail, and specifically on an almond shape!
Tortoise Nail Designs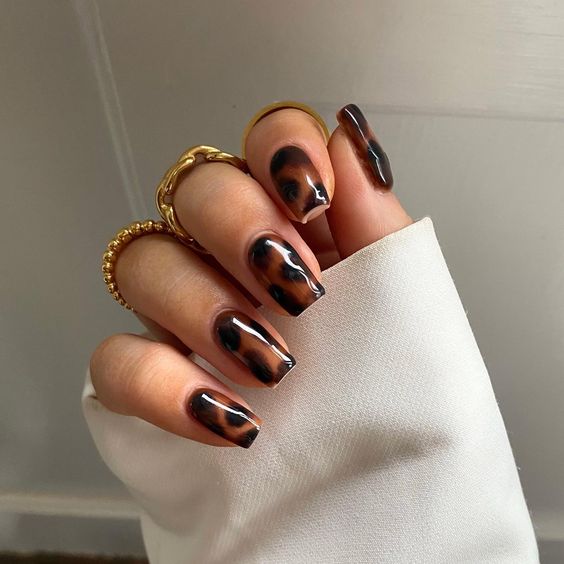 We love a fun, bold, and unique manicure to get into the Fall mood so you already know we're obsessing over this Tortoise Shell Manicure.
This is such a fun way to get into the season and make a statement with your Autumn Nails.
Whether you're going to rock this Fall design with shorter nails by using gel, or going for the more sleek look with longer acrylic nails, we know this is a trend you'll be coming back for!
Abstract Autumn Nails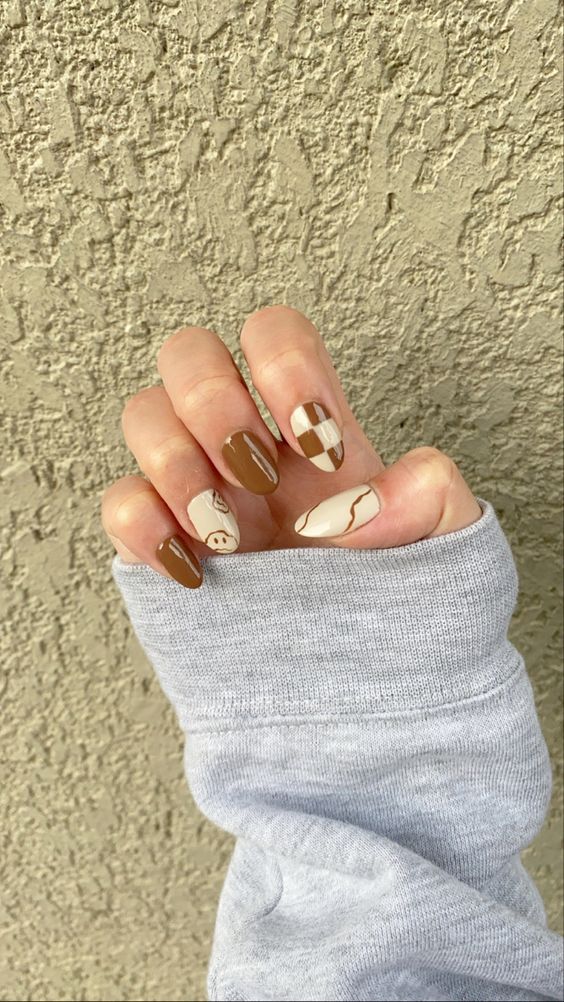 Be fun with your fall nail designs for teens and add in abstract elements to your manicure with this abstract inspired Autumn nail inspiration.
What we love most about this teen nail idea is that you can have so much fun with this! You can choose how abstract to get, or how simple to stay!
This Autumn nail art is meant to make a statement, while still being fun and playful.
Related Post: Stylish Fall Fashion Trends for Teenage Girls
Fall Nail Colors With Hearts
If you're a fall lover, much like we are, then you have to try this trendy and colorful love inspired Fall nail idea for 2022.
By using two alternating colors, add in a tiny heart into your manicure for a little pop of something extra!
You can either try this look on your natural short nails, or go to the salon and get the sleek and trendy acrylic almond shaped nail with this fun Autumn design.
Stargazing Fall Nails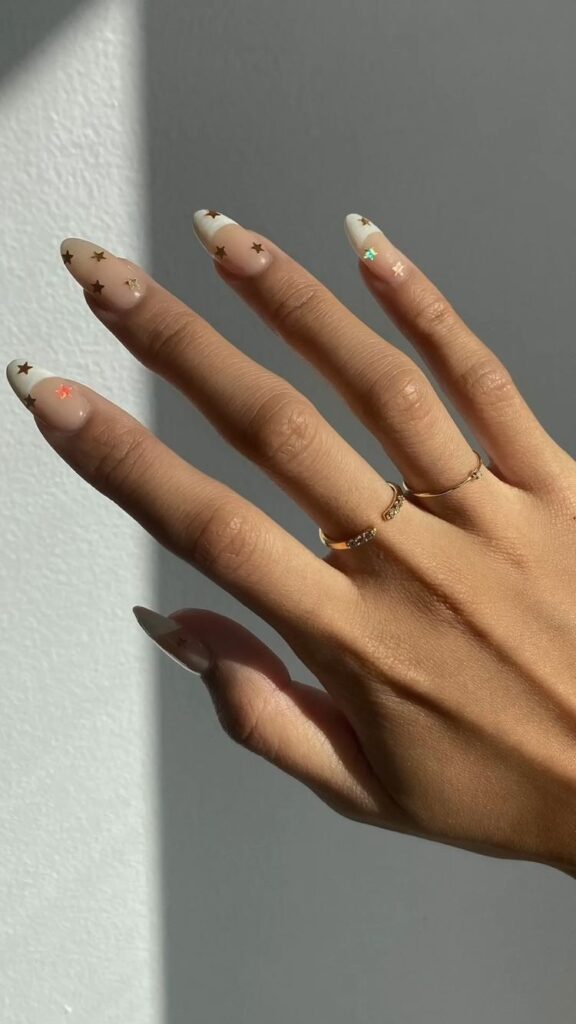 If you haven't tried adding in nail stickers to your nail designs, then you're missing out.
This trendy and cool Fall nail idea for teens is simple, yet oh so cute!
Just add in tiny gold nails on top of your acrylic French manicure. Now you've got yourself one of the best Fall nail designs for teens!
Pink Halloween Nails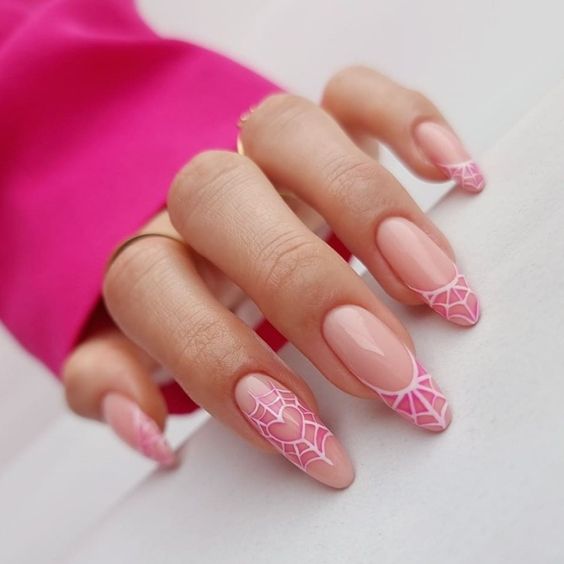 If you're looking for a more pretty and colorful Fall nail design, especially around October, then you have to try this pink spiderweb teen nail idea.
We love this nail design idea because it's unique, fun, and adds a pinch of pretty to the overall spooky look!
Don't feel like you need to have longer acrylic nails to rock this look, you can totally pull this off on your natural nails!
You can also grab a bunch of Halloween nail stickers and use those to make the design to save some time!
Tim Burton Inspired Nail Design
If you love all things Tim Burton, especially in the Fall, then you're going to love this Tim Burton inspired teen nail design!
This is a great way to get that Tim Burton patchwork look, while adding in some pink for a prettier and more unique look!
Related Post: 15 Most Popular Shoes for Teenage Girls
Pumpkin French Tip Nails for Teens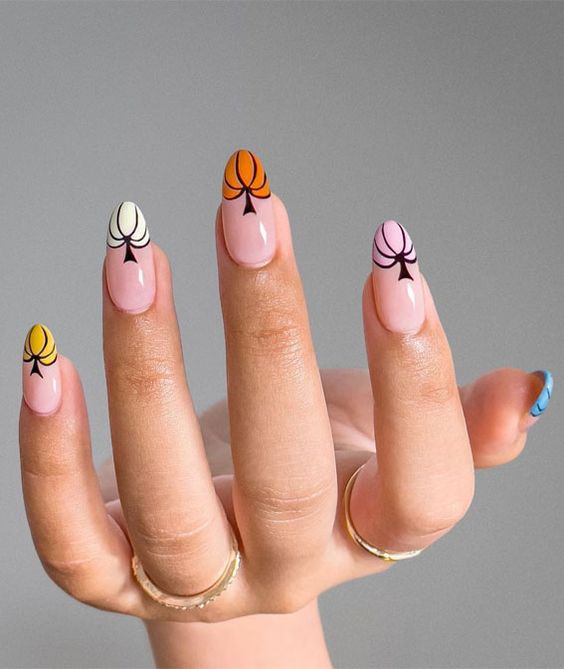 Nothing says Fall more than pumpkins, so why not add it to your nail design?
We're loving this pumpkin french tip nail design for fall because of how unique and fun it is, plus we already know this is going to be a super trendy look in 2022.
Marble Nails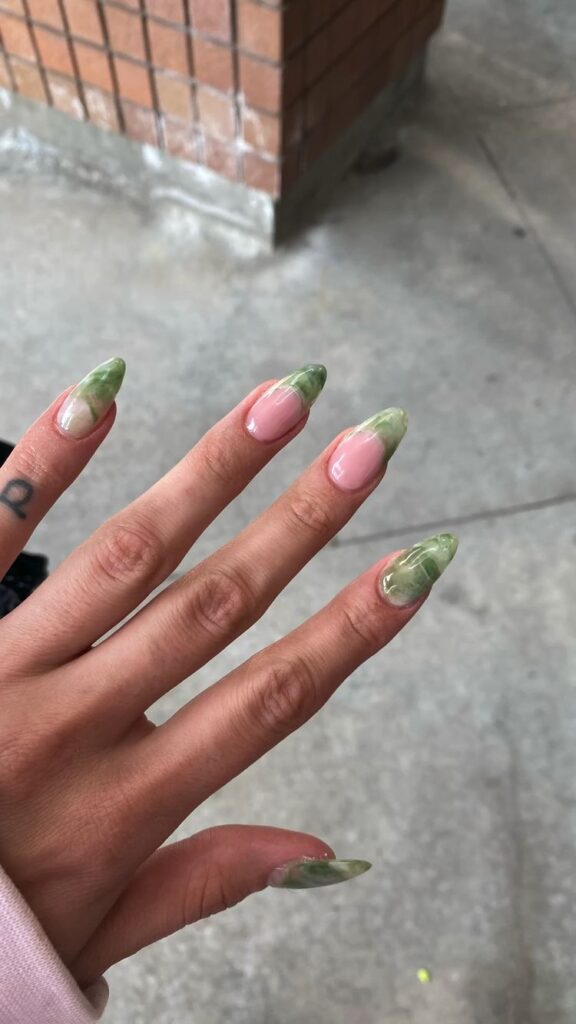 Marble nails are the new trend of 2022 and we're here for it, especially during Fall.
This Fall nail art is fun, unique, and looks so good, no matter what color you use as your base!
We recommend styling this with longer acrylic nails in the classic almond shape to really nail this look.
Matte French Tip Nails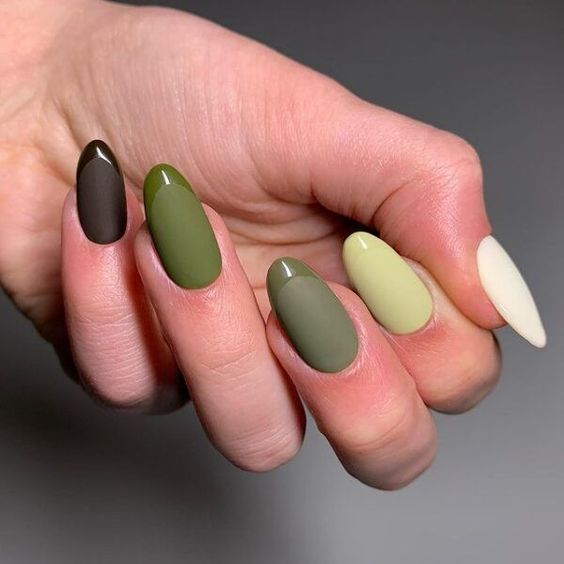 You can never go wrong with a matte finish to your nails in the Fall, especially when you're adding in a subtle glossy french tip.
The Matte French Tip is the perfect Fall nail idea for teens, especially when you get creative and add in different colors on each finger!
Related Post: 60 Best Hairstyles for Teenage Girls
Simple Nude Nails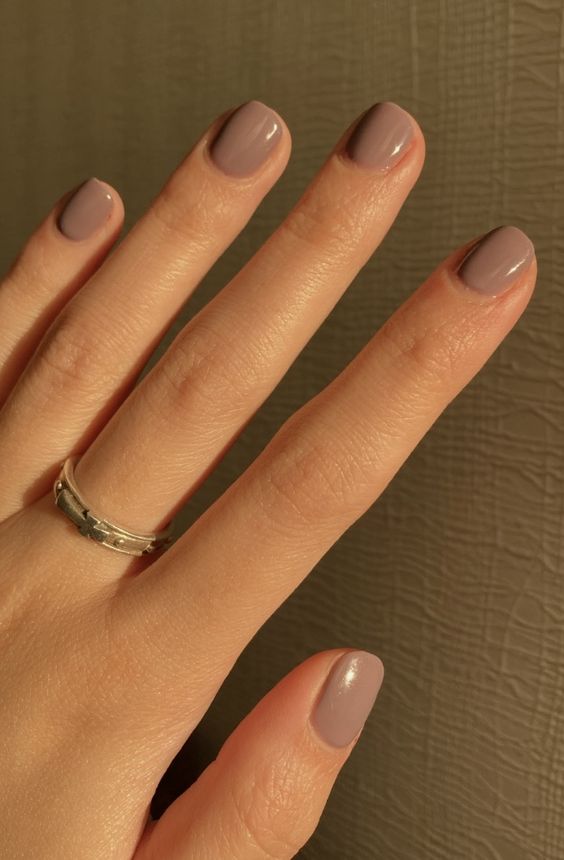 If you're looking to keep it simple this fall, but still want a pretty and trendy nail design, then opt for a simple nude color this season.
You can rock a nude with acrylic nails, short nails, long nails, whatever you want. And the best part is that you can guarantee it'll match all of your outfits!
So if you're still wondering what nail designs for fall you should try, look no further than the simple and classic nude polish.
Hopefully these 15 fall nail designs for teens gave you a bit of inspiration for what nails to wear this autumn!
If you have any comments, questions, or suggestions please leave them down below. Thanks for reading!