Looking for new fashion ideas as the fall is coming up? Here are 10 stylish fall fashion trends for teenage girls in 2022!
Whether you're looking for bold statement sweaters, or perfectly matching neutrals, we've got the looks to make you the trendiest and most stylish girl in town.
So get ready and read on for the 2022 fall fashion looks this season you do not want to miss out on!
Sweater Vests
One of the top looks of the fall season is the stylish sweater vest that can be worn in so many ways! Layer it on top of a button down, long sleeve, or just wear it on it's own!
Sweater vests come in so many different colors and patterns but the number one for the season is the neutral checkered pattern that matches absolutely everything.
Pair it with your favorite pair of denim and converse high-tops and you've got the look everyone will want!
Matching Short Sweat Set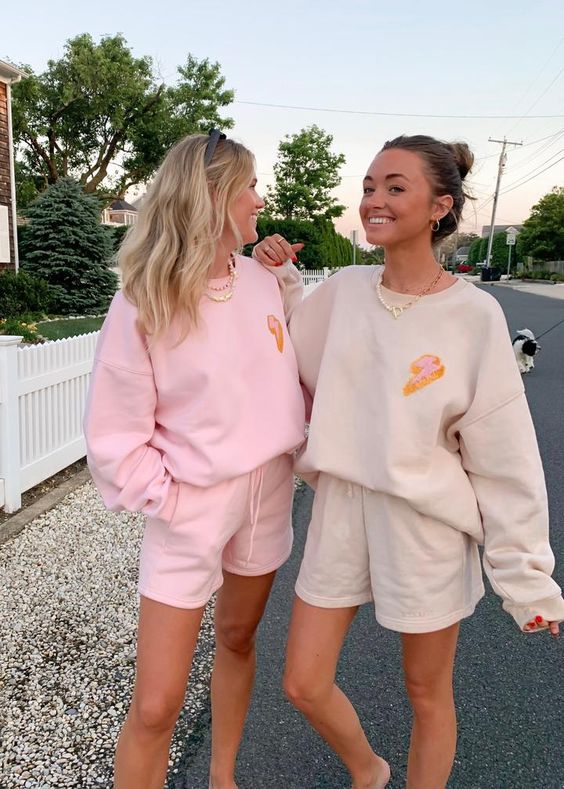 Take your comfy look and make it street style by wearing a matching sweat set this season. Sweat sets are one of the most stylish fall fashion trends for teenage girls in 2022!
With a coordinating sweatshirt and shorts, you are guaranteed to be the comfiest girl in the room, and the trendiest.
Don't stop there, take it to a new level by layering the look with chunky jewelry, a low ponytail, and your favorite sneakers.
This is one of those looks that will never go out of style and can be the most versatile look in your closet!
Related Post: 10 Stylish Winter Fashion Trends for Teenage Girls
Colorful Jumpsuits
Make a statement this season with a bright and vibrant jumpsuit in your favorite color!
Celebrities and influences will be rocking this look all throughout Fall so you know it's the trend you want to be a part of!
This fun look is perfectly paired with statement shoes and jewelry. Whether you're out with your friends, or running errands, this statement piece will be your new go-to.
Bold Sleeve Dresses
View this post on Instagram
Ready to be the best dressed of the fall season? Then get ready to add this to your cart.
These funky and vibrant dresses are the biggest eye-catchers of the year.

The best part about this look is you can easily thrift it! Your local thrift stores are always booming with funky dresses that are begging to be worn!
Take this look to a new level with jewelry, a purse, and your favorite espadrilles. Don't be afraid to mix and match what you pair it with!
This look is for the bold, so get ready to rock it!
Oversized Flannels
Oversized flannels are one of the best fall fashion trends for teenage girls! They're simple, casual, and cover your body enough to stay warm.
A stylish flannel is key for layering. Pair it on top of a neutral long sleeve and a pair of denim jeans.
The best thing about this look is you can never go wrong with it!
Make sure to stop by your local thrift stores to find the best flannels this year.
Related Post: Daily Routine for Teenage Girls
Faux Leather Pants
One of the most stylish looks of the new fall 2022 season is a faux leather pant. This is one of the most versatile pieces that will be in your closet.

The possibilities for these pants are endless! You can pair them with a chunky knit sweater, a graphic tee, leather jacket, or a simple sweater!
Faux leather pants are the trendiest looks of the season so be sure to pick up a pair at your local H&M or Forever21!
Oversized Graphic Tee
This is the cool girl look of the season. Celebrities and influencers are obsessed with this look, and for a good reason.
With an oversized graphic tee, mom jeans, and your favorite Nike Jordan's, this will easily become your favorite outfit.
Not only is it comfortable, but it's stylish and easy to wear! Put your hair in a low bun and layer on some chunky jewelry to make this the look of the fall 2022 season.
Cowboy Boots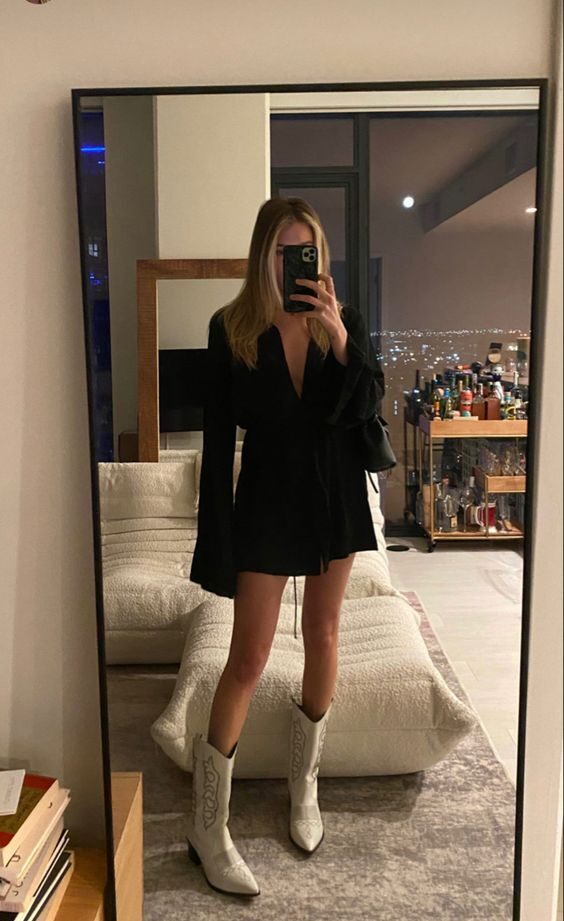 This fall season is the season to bring back those country looks. As summer is beginning to wind down, we already see our favorite celebs rocking their cowboy boots with dresses, oversized sweaters, and denim.

Cowboy boots are quickly making the biggest comeback of all the looks and it's one you don't want to miss. They can be paired with all outfits to create a fun and stylish fall outfit.
Our #1 recommendation is to pair your cowboy boots with your favorite dress.
The combination might sound odd but it creates a cute and dainty look that will have everyone turning heads!
Boyfriend Jeans
It wouldn't be fall without boyfriend jeans. From the 90's, to 2000's, and to now, boyfriend jeans just have a habit of always coming back into style, and we know why.
Boyfriend jeans are easy to wear, comfortable, and super flattering on everyone. You can pair them with an easy tee and sneakers, or dress it up with a blouse and sandals.
You can find the perfect boyfriend jeans at your local thrift shop, H&M, Abercrombie, or Macy's! Grab them in multiple colors and watch them become your new favorite pair of jeans.
Related Post: 25 Best Hobbies for Teenage Girls
Printed Pants
We're saving the best for last because this look is out of this world amazing. Printed pants are the funkiest and favorite look of the season!
These party pants come in millions of different colors and patterns so the opportunities are endless for this look!
You can pair these with graphic tees and sweaters, or even a leather jacket.

Fall is for making a statement before the winter season and what better way to do that with printed pants?
Grab yours today and get ready to be the most stylish teenage girl this fall 2022 season.
Hopefully these 10 fall fashion trends for teenage girls have helped you find the right inspiration for 2022!
If you have any comments, questions, or suggestions leave them down below. Thanks for reading!