Not sure what to wear for each round of sorority recruitment? Pick from these amazing sorority rush outfits that will guarantee you a spot!
Whether you need a cute round 1 outfit or a stunning sorority rush dress, we've got everything in this list for you.
Plus, we provided links for all the outfit ideas so that you can copy any of them and get them delivered asap!
Let's dive in!
How Many Rounds Are In A Sorority Rush?
There are 4 rounds in a sorority rush that last around 1 week total.
The different rounds include:
Open House: A first look and meet-and-greet with the different sorority houses.
Philanthropy: You learn about their philanthropic mission (each one has their own).
Sisterhood: You get a closer look at the bonds between the girls and what sets them apart from the others.
Preference: The final time you meet with the sorority before finding out if you're chosen. You also typically get paired with an existing member who teaches you a bit more about the sorority and can help answer any of your questions.
Best Sorority Rush Outfits For Each Day of Recruitment
Open House Round Outfits
Take a look at these 5 Open House round outfit ideas to wear during your sorority rush!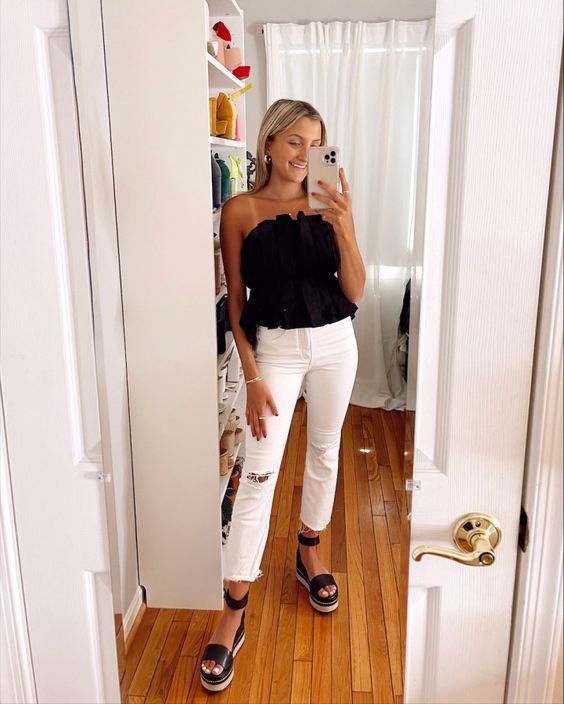 Copy This Look:
Your first sorority rush outfit is your only chance to make a first impression on hundreds of girls, so having a classy, refined outfit is key.
A pair of white pants paired with a simple black top and matching black sandals is a perfect sorority recruitment outfit, especially for day 1.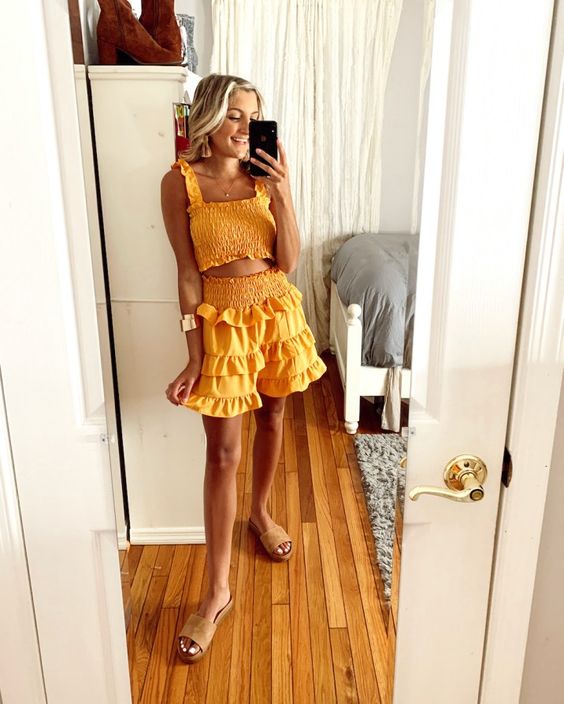 Copy This Look:
One of our favorite sorority recruitment outfits has to be the matching set. Not only does this outfit look super refined, but it's classy and fun.
It's the perfect trifecta for making that amazing first impression.
Related Post: 60 Best Hairstyles for Teenage Girls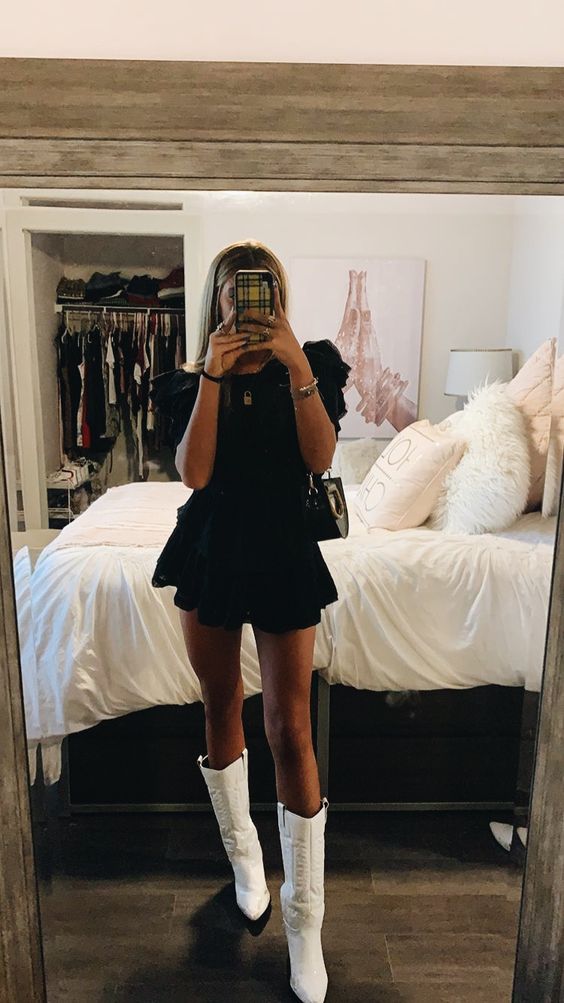 Copy This Look:
You can never go wrong with a little back dress, especially when paired with trendy white Cowboy boots.
A simple black dress is one of the best sorority rush outfits to wear on round 1 of recruitment!
When wondering where to shop for rush week, always try Amazon first. You can see people's photos and they have a great return policy so you don't have to stress about things not fitting and not having enough time.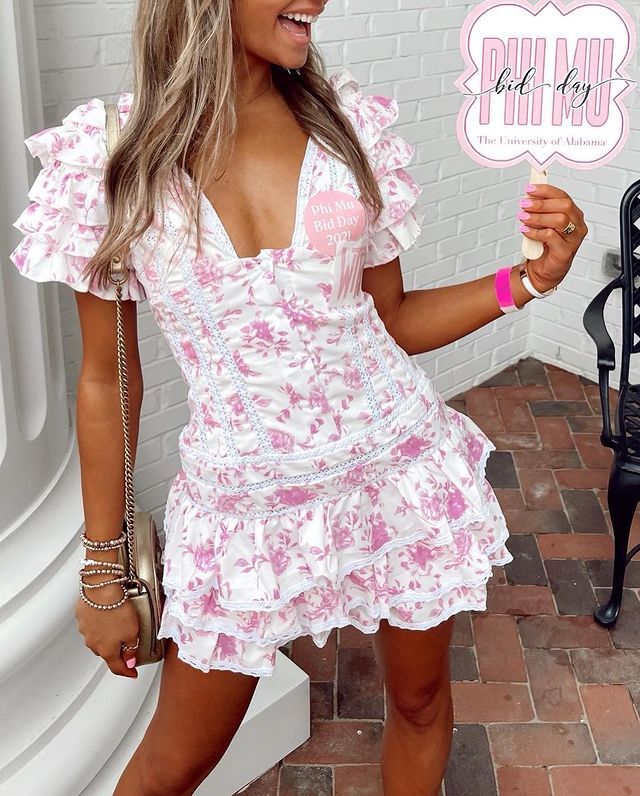 Copy This Look:
Sorority rush dress ideas always involves a floral dress! They're trendy, easy to style, and are always in style!
We love floral dresses when paired with white sneakers and an easy-to-carry crossbody purse.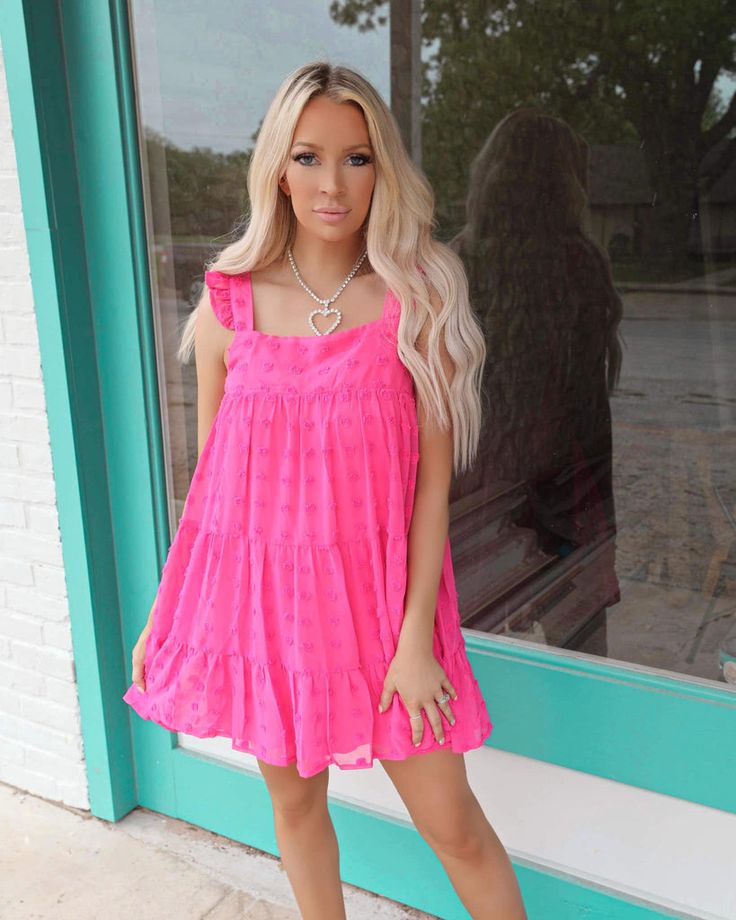 Copy This Look:
We love a Barbie moment, especially when making a bold first impression. Hot pink is the perfect color to attract attention, and still be wearing the perfect sorority rush dress.
Another great place to get dresses from when wondering where to shop for rush week, is heading to local small-business clothing stores, or small online boutiques!
Philanthropy Round Outfits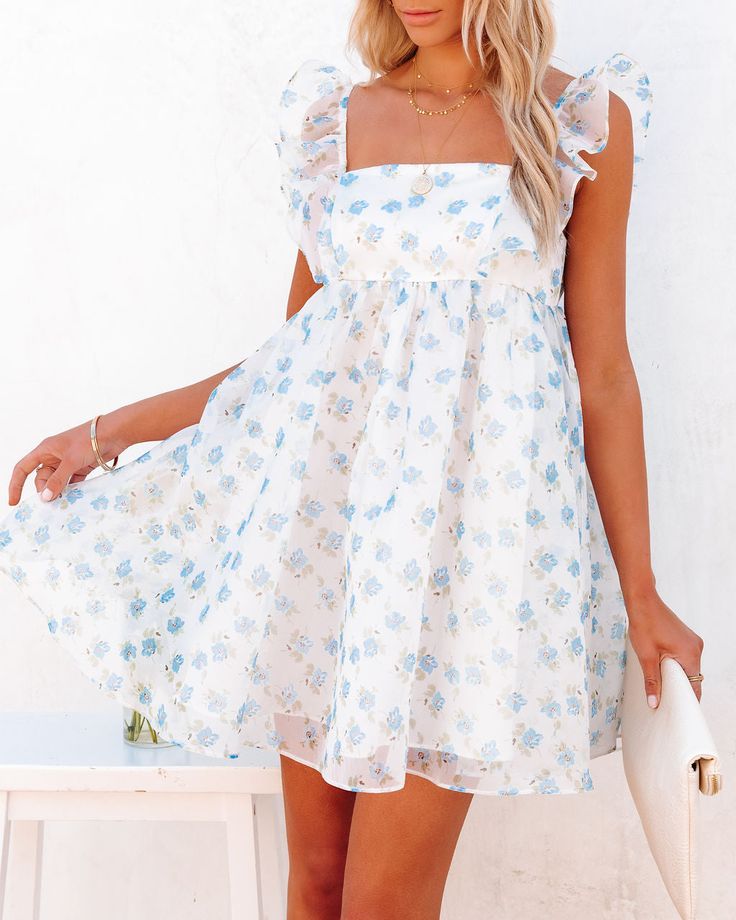 Copy This Look:
We love a dainty and feminine babydoll dress, especially for the Philanthropy round!
This is a day when you get called back to learn more about their mission statement, so having a soft, cute, and simple dress is key for this round!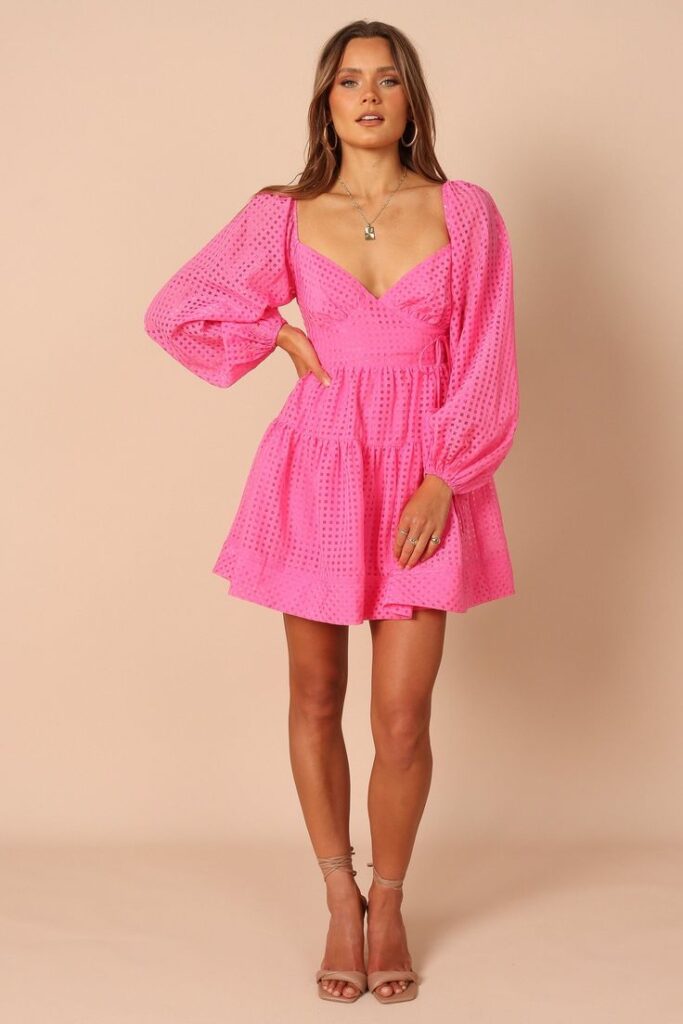 Copy This Look:
A long sleeve dress is a great way to look trendy and stylish during the Philanthropy round of sorority rush. Especially since it gets cold inside of the sorority open houses!
We love the idea of pairing this dress with a simple and comfortable strappy nude heel.
Related Post: 15 Popular Shoes for Teenage Girls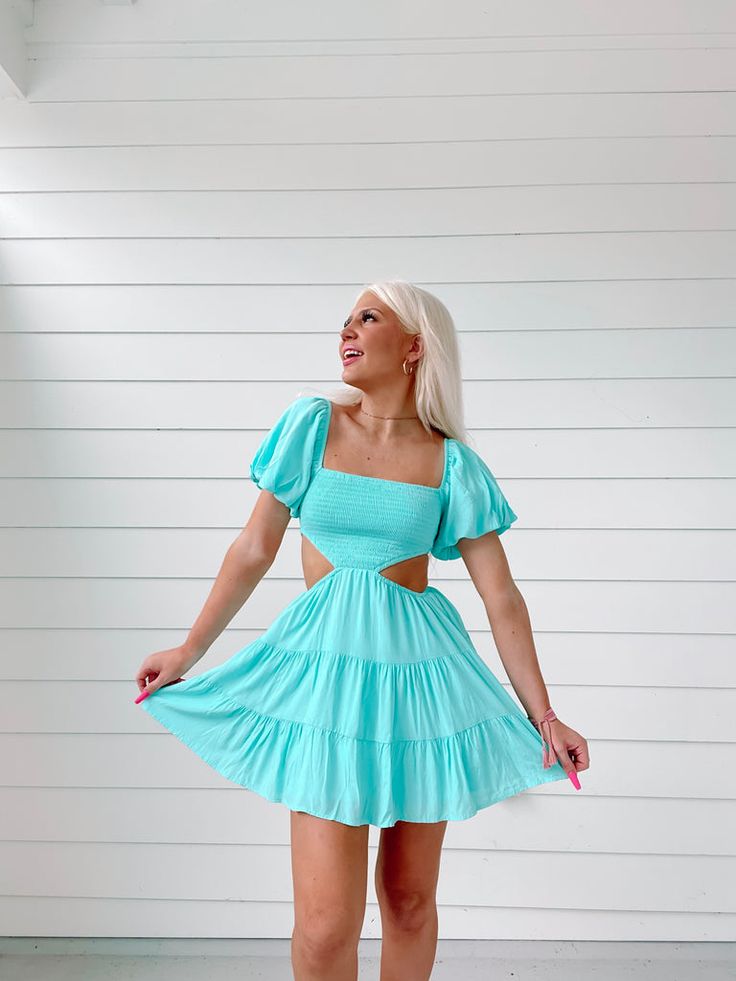 Copy This Look:
A teal cutout dress is the perfect sorority rush outfit for standing out from the crowd, especially on a busy day like Philanthropy Day!
Pair this dress with dainty gold jewelry for a *chef's kiss* look.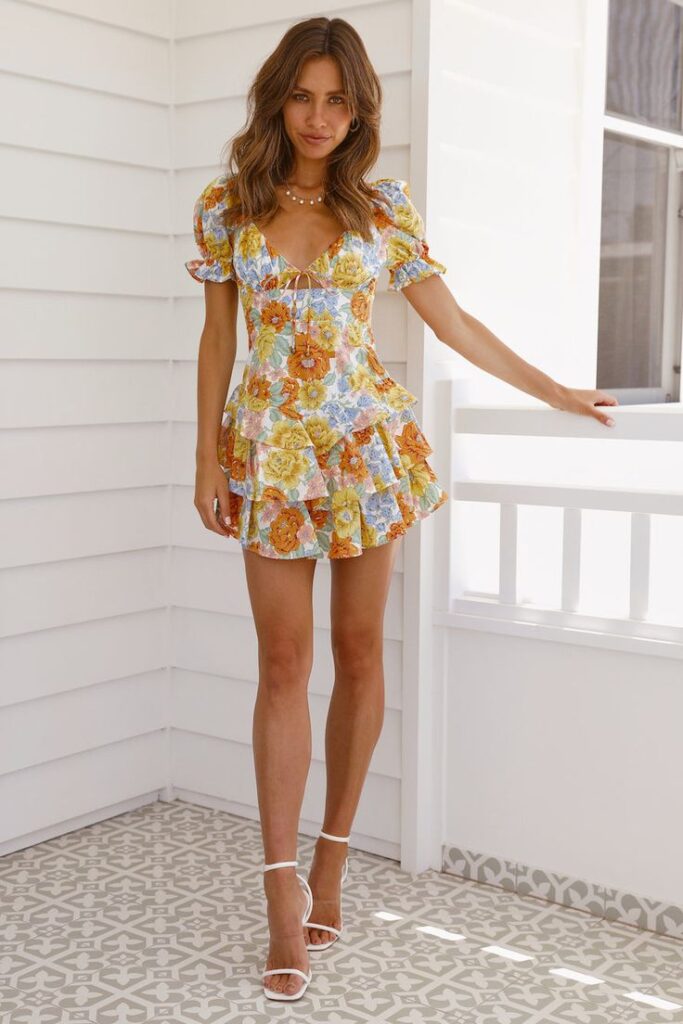 Copy This Look:
A romper is such an easy way to be comfortable during rush, while still being fashionable (especially a floral romper).
This feminine and cute dress is one of our favorite sorority recruitment outfits, especially on a hot day.
Copy This Look:
Nothing says, "I'm confident, ready, and the perfect choice," more than electric blue trousers.
These pants make a statement, and in the best way possible! Everyone will want to talk to you in this sorority recruitment outfit.
Sisterhood Round Outfits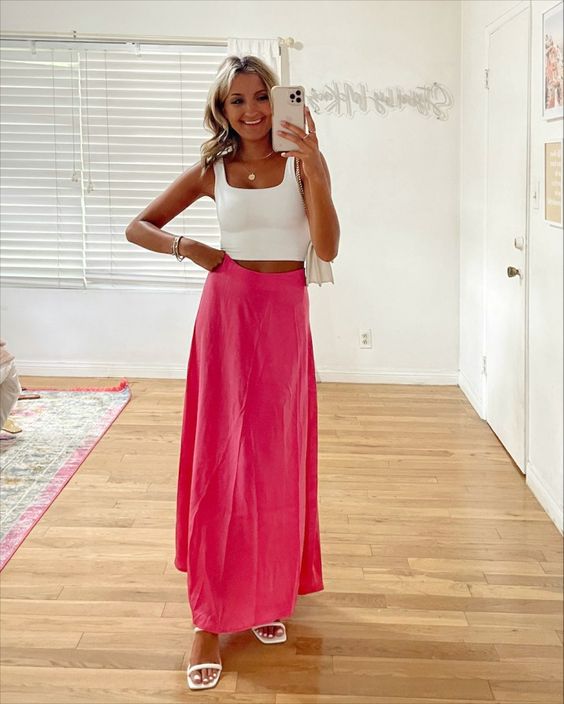 Copy This Look:
Sisterhood is all about love and bonding, so when wondering what to wear to sorority sisterhood recruitment day, go for pink!
Maxi skirts are such a trend right now and look incredible when paired with white.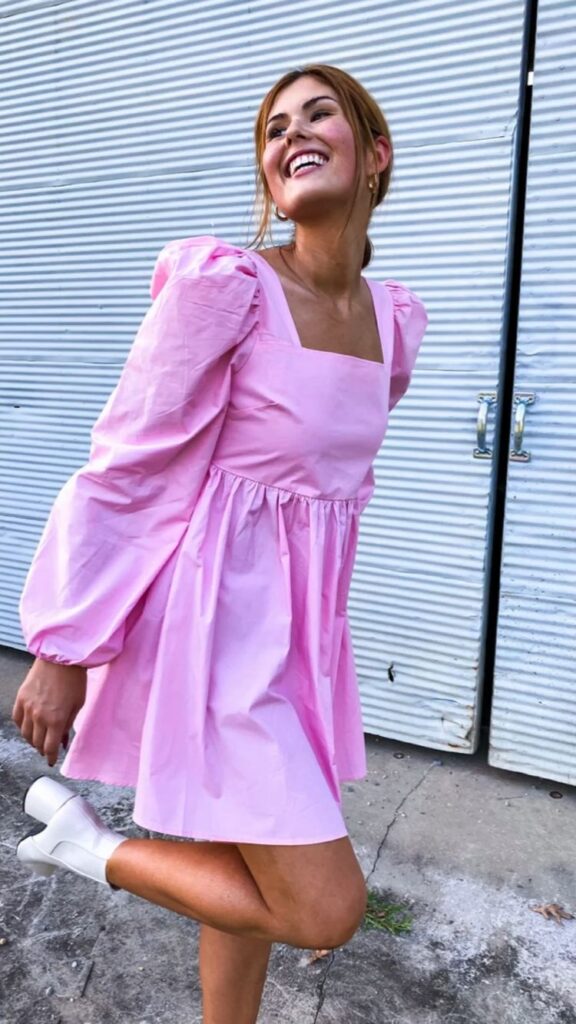 Copy This Look:
A baby pink dress has to be in your rotation of dresses for rushing a sorority. It's perfect for any day, but especially sisterhood round.
Paired with white ankle boots, this sorority rush outfit can't be beat.
Related Post: 50 Cute & Trendy Outfits for Teenage Girls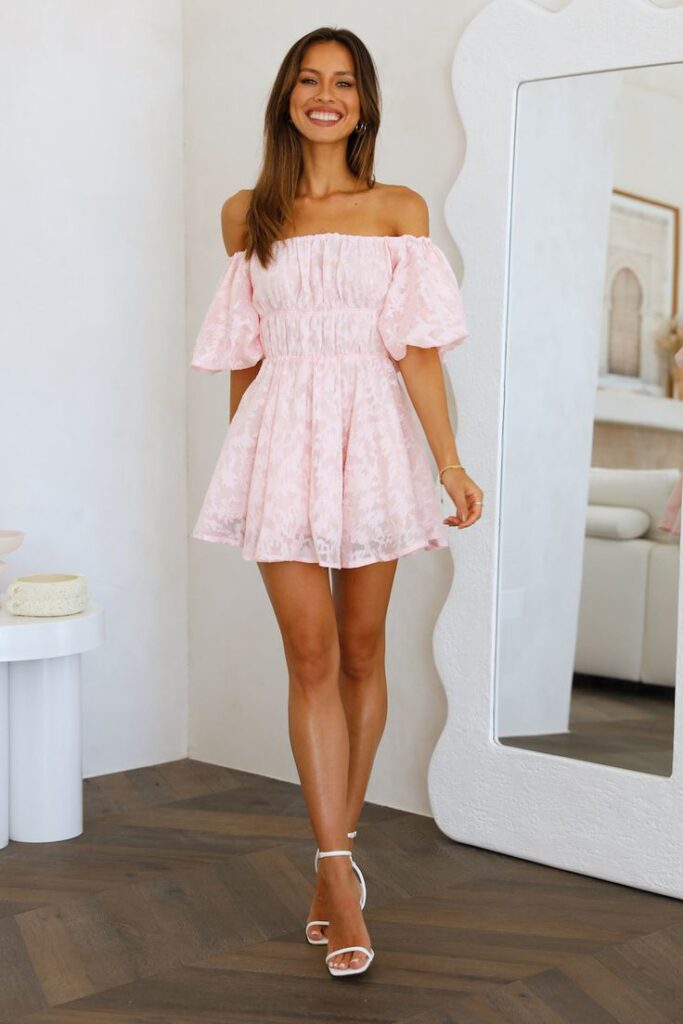 Copy This Look:
Every girl needs an off the shoulder sorority rush dress in their closet. It's perfect for a Spring time rush!
When paired with white strappy heels, this dress is jaw-dropping and will have every girl wanting you in their sorority.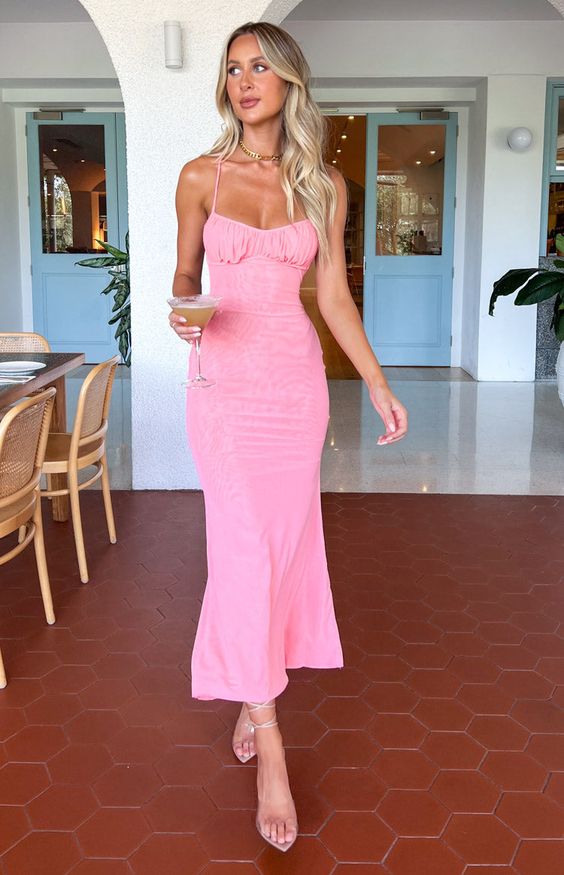 Copy This Look:
This pink maxi dress has to be one of our absolute favorite sorority rush outfits on the list! It's feminine, simple, yet absolutely gorgeous.
Dress this up or down depending on your heels or accessories. And if the clear heels are out of your budget, try dressing this down with sneakers or wearing whatever sandals you have.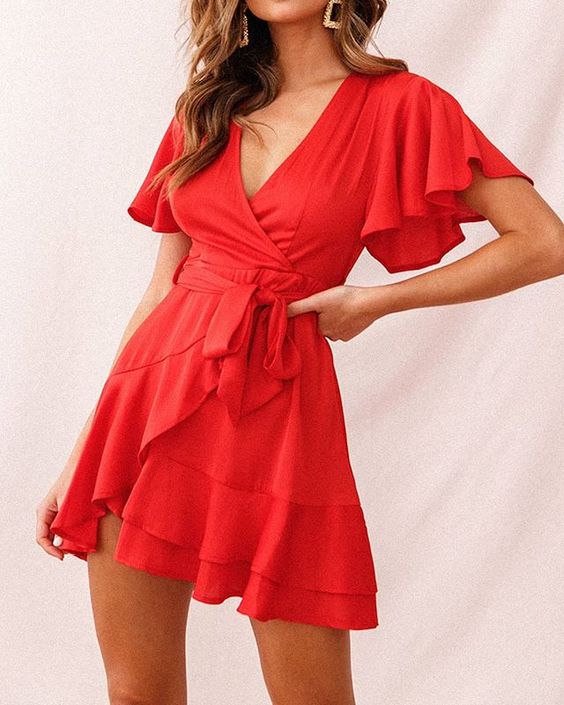 Copy This Look:
Stand out from the sisterhood rush crowd with an eye-catching red dress paired with simple white sneakers.
Not only is this sorority rush outfit comfortable, but it's fashionable and easy to style!
Preference Round Outfits

Copy This Look:
It's the last day before the final decision, so you want to wow the girls, but in a subtle and sophisticated way.
This is one of the best formal dresses for rushing a sorority that you can also reuse at upcoming date parties!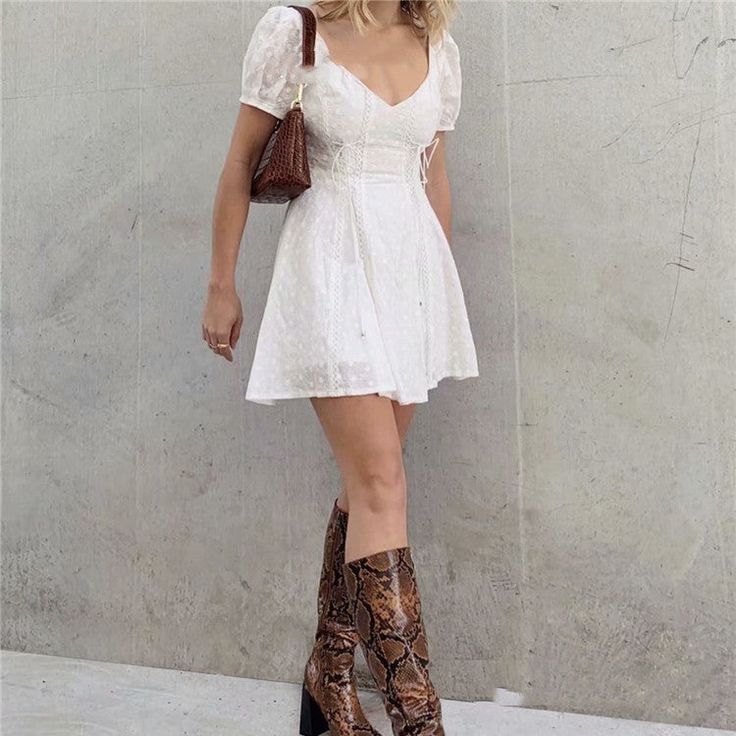 Copy This Look:
Preference day is the day for the white sorority dress you've been holding onto in your closet!
It's the day to be simple, yet elegant, and what better than with a little white dress.
Related Post: Best Moisturizers for Teenage Girls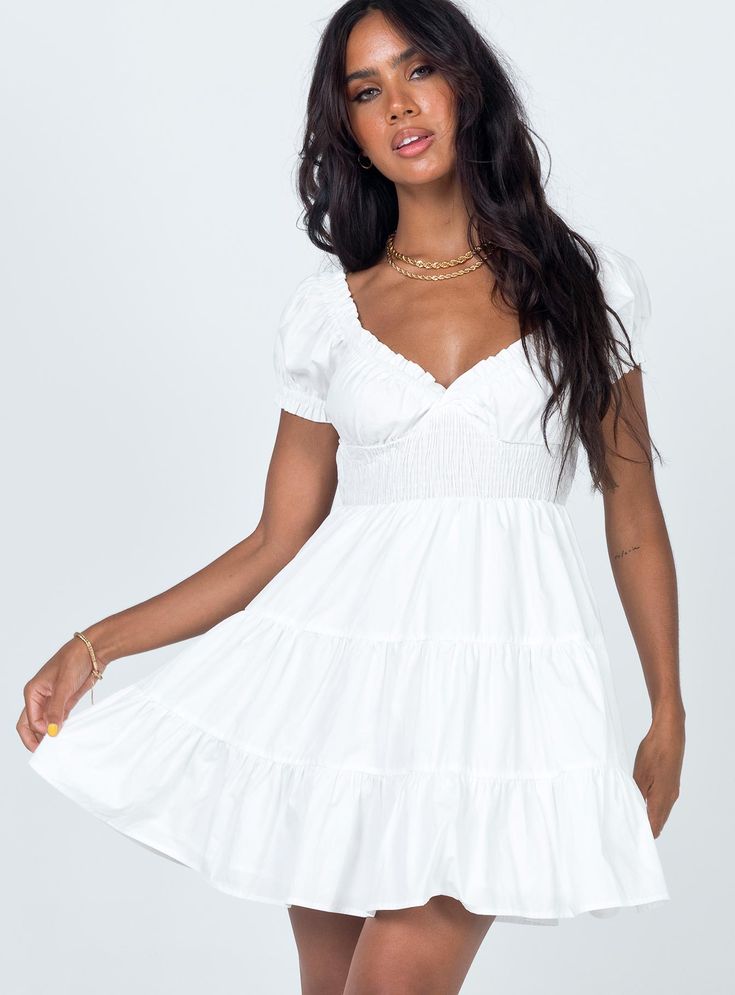 Copy This Look:
White sorority dress ideas don't have to be boring, they can be cute and fun like this outfit inspiration!
A white flirty dress paired with nude and gold accessories is top of the list for sorority recruitment outfits.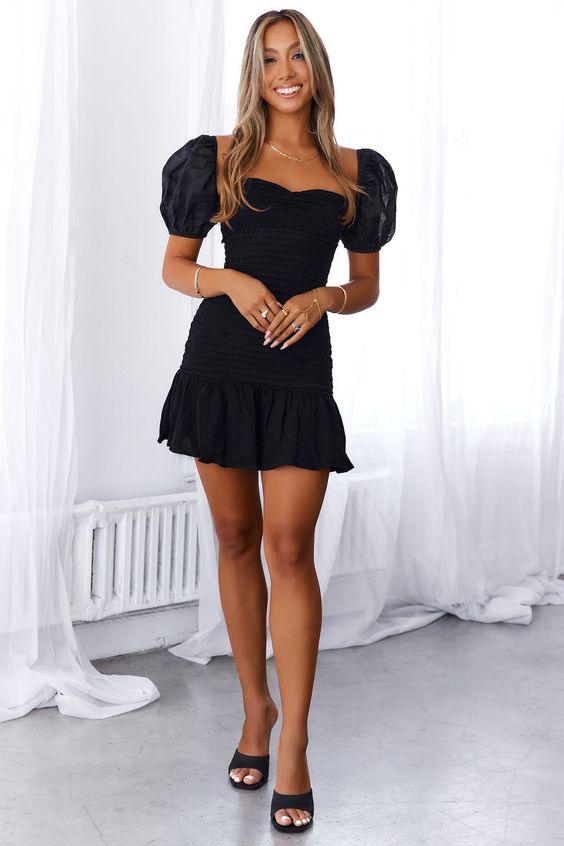 Copy This Look:
You need a little black dress in your rotation of sorority rush dress ideas, especially one as cute as this!
Paired with matching black heels, there's no way they won't pick you with this outfit on.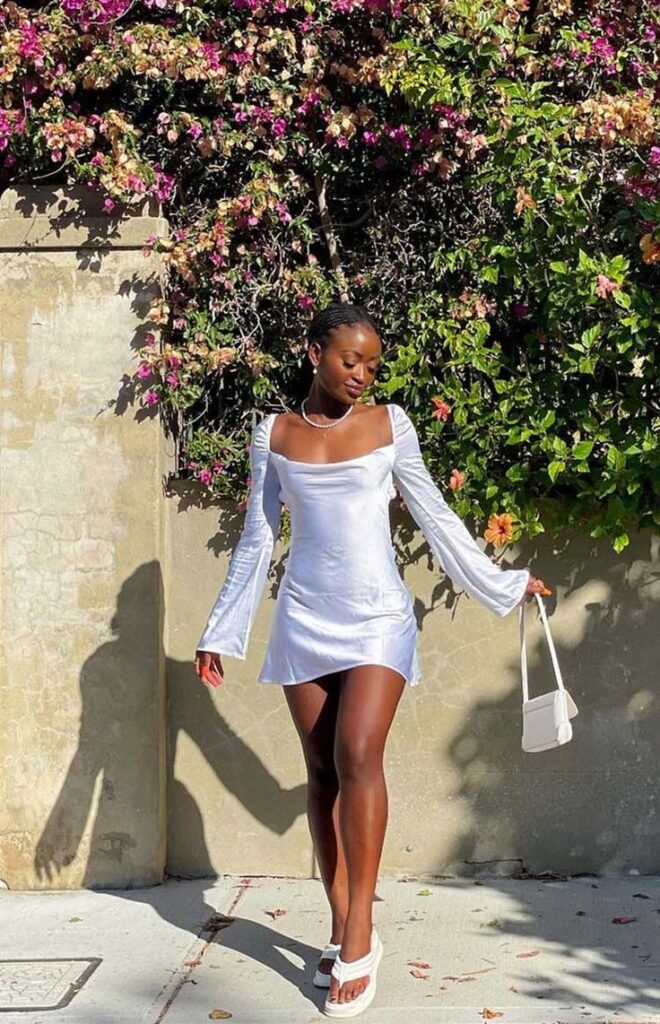 Copy This Look:
We're obsessed with this satin long sleeve dress, especially when dressed down to be a bit more casual with a pair of platform sandals.
When wondering what to wear to sorority recruitment, do yourself a favor and get this dress.
Tips for Dressing For Sorority Recruitment
Hopefully you found your favorite sorority rush outfits from this list!
To make sure you absolutely steal the show during recruitment, here are a few dressing tips for rushing:
Take Extra Time To Look Good – Sorority girls are looking to see the effort you put into yourself aside from just your outfit
Put On Subtle Makeup – Overdoing it could do more harm than good, so opt for a cleaner, matte makeup finish
Style Your Hair to Match Each Round – As you progress further into the rounds, style your hair in a way that fits the vibe of your sorority outfit or dress
Accessorize Well – Any necklace, bracelet, cuff, chain, or ring can make all the difference when you're trying to elevate your look
Pay Close Attention To The Dress Code – While most schools have a similar dress code for each round, your university might be different (dress accordingly)
Drink a Lot of Water – Rush week can feel long, tiring, and might drain you of energy for a week, so drink a lot of water to keep your skin clear and stay hydrated to maintain your energy levels
There you have it! These tips can definitely increase your chances of getting into your ideal sorority.
Good luck rushing! We hope you get in!
If you have any comments, questions, or suggestions leave them down below. Thanks for reading!