Moving into your college dorm soon? You're should consider bed risers! Here are the 10 best bed risers for dorm rooms in 2023!
Bed risers come with a ton of benefits for confined spaces like dorms because they add height.
With height, comes storage. With storage, comes happy college students.
From adjustable bed risers to usb outlet bed risers, you'll be sure to find one that matches your needs!
Let's dive in!
Should I Get Bed Risers For My Dorm?
In short: Yes, bed risers are highly recommended for new college students moving into their dorm.
Bed Risers are a great way to add a few extra inches of storage space underneath your bed and they give your bed extra height, which can be much more comfortable!
You may not notice it right away but your dorm room bed isn't very high, which limits you on storage space
When you're in a smaller dorm with one or two roommates, having space is key!
There are so many different bed risers you can get and they all serve a functional purpose that will have you wondering why you didn't get them sooner!
Best Bed Risers for Dorm Rooms
These bed risers range in size, price, durability, and a ton more factors.
You'll be sure to find one that matches your preferences!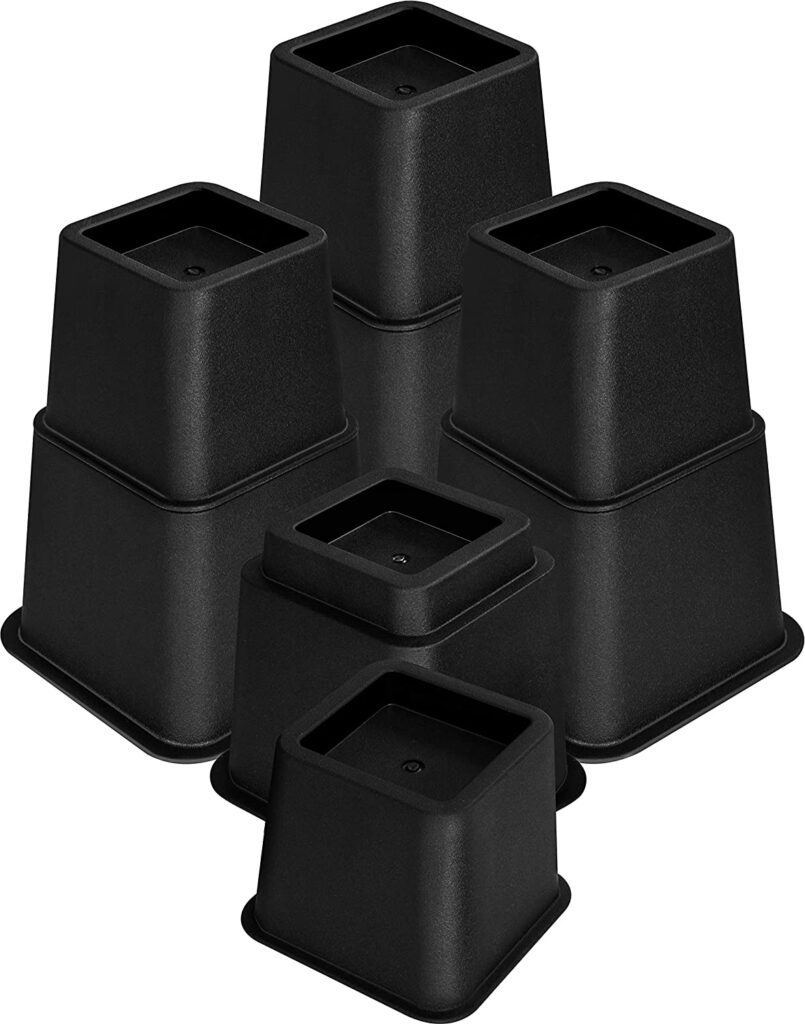 Simple, durable, and affordable. Our three favorite qualities when it comes to bed risers!
These Utopia bed risers come in three different colors to help match the base of your bed and can be customized in height from three to eight inches depending on how high you want it!
Priced at under $20, you can't go wrong with these risers in your dorm room!
Adding risers to your bed that are also functional can be key if you have a smaller dorm room with limited space and outlets!
These heavy duty risers come with built-in outlets, making them some of the best bed risers for dorm rooms in 2023.
With over 7" of added height to your bed, three outlets, and 1 USB outlet, there is no way you can skip on these risers for your dorm room!
We love affordable and simple bed risers that just get the job done, and are durable at the same time!
These heavy duty bed risers are great for someone who wants an affordable and hassle free way to add extra space to their dorm.
At only $16, you can't go wrong with adding these adjustable bed risers to your cart right now!
Related Post: 10 Best Fans for Dorm Rooms
If you want to add extra space to your room, but don't want people to notice bulky bed risers on the legs of your wooden bed, then these risers are perfect for you.
With a luxurious and high quality wood finish perfect for matching the base of your bed, these risers add anywhere from 3" to 6" inches of space to your room in seconds!
These are also affordable so you don't have to worry about shoveling out a ton of money for high quality risers!
This maple finish wood bed lift is a great way to add the extra height to your dorm while matching the base of your wood bed.
These are heavy duty risers that will last a long time and add the extra 3.5" of height you're looking for.
Simple, modern, and affordable – can't go wrong with these!
Bed Risers for wheels can be used for any piece of furniture. They're a great investment that you know you can take with you past your dorm room days.
These risers not only work with your dorm room bed, but they can be used for chairs or other pieces of furniture with wheels to add the height you're looking for!
So make the sound investment and get these $20 heavy duty adjustable risers that you know will last you for years to come.
Related Post: 15 Cool College Dorm Room Ideas
The most affordable risers on this list ring in at a price tag of $11 and don't sacrifice quality, a true steal!
These dorm room bed risers add up to 2" of space and have a memory foam base to lock in your metal frame furniture.
You don't have to worry about your bed shifting around in these risers.
We love that these risers are affordable, durable, and long-lasting, which makes the $11 price tag hard to beat!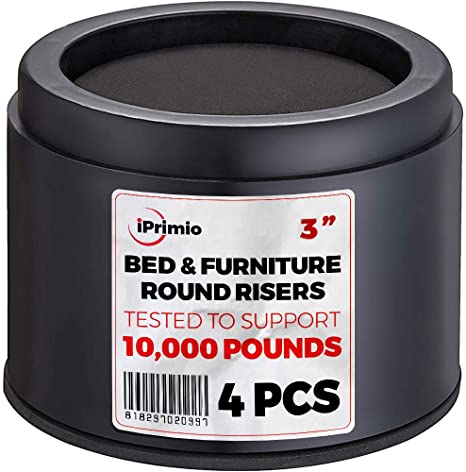 With an anti-split bottom and an added height of 3", you cannot go wrong with the iPrimio Round Bed Risers for your dorm room!
These are the perfect risers that are built with you in mind – so they don't just work on your dorm room bed.
These risers can be used to add extra height to almost all of your furniture, so you can get the extra storage space wherever you need it.
This set of 8 power outlet risers are our favorite risers for anyone looking to not only raise their dorm room bed, but to raise their dresser or chair as well.
They're easily the best bed risers for dorm rooms if you're looking for added height, durability, and functionality!
With 8 risers, you can raise your bed and dresser for the ultimate added storage space.
The outlets give you more ways to plug in your electronics without having a ton of cords hanging around your room.
At only $40, these are our top picks for adding functionality and storage to your room in a matter of minutes.
Most risers on the market come in a black metal or plastic finish, but if you don't have black furniture it can be a true eyesore to your space. That's why we love these white 6 inch bed risers!
Not only are they a beautiful white finish that will actually make your space look good, they add an additional 6" of storage space beneath your bed!
These affordable and high quality bed risers are a great choice for anyone looking to add functionality to their dorm room without sacrificing their style.
Hopefully these bed risers for college in 2023 gave you a few good options that match your dorm room and your needs.
Need more things for your college dorm room? Check out these posts:
If you have any comments, questions, or suggestions leave them down below. Thanks for reading!