Moving into your college dorm soon? You're going to need a printer! Here are the 10 best printers for dorm rooms in 2023!
Printers are still vey much in demand for college students nowadays.
Some dorms may accommodate a large printer for everyone to use while others can only fit a small and portable one.
Either way, you'll be sure to find one that matches your needs!
What Makes For the Best Printers for Dorm Rooms?
The best dorm printers have a few key features:
Small –

When it comes to dorms, you want small, lightweight, and portable. Making sure the printer is compact and can fit anywhere is key!

Affordable –

Printers can get pricey depending on the brand and features so we've made sure to compile a list of affordable printers that won't break the bank!

Easy to Use –

No one wants a printer that's a hassle to use and cause you a headache!

Wireless –

Pesky wires are a mess in a crowded place like a dorm. Wireless is always best!

Extra Features –

Copy, scan, fax, portable, etc.
These are the 5 factors we used to determine which printers are worthy to be sitting in your dorm room.
Take a look!
Best Printers for Dorm Rooms
These printers range in size, price, durability, and a ton more factors.
You'll be sure to find one that matches your preferences!
The HP Envy is an all-in-one printer that can truly do it all! This printer is small, lightweight, easy to use, and has all the extra features you'll ever need.
With high quality printing and a wireless connection, it's no wonder the HP Envy is the top of the light for best printers for college students.
But we haven't even told you the best part yet! If you purchase today, you'll get 6 months of free Instant Ink!
This is truly a deal you don't want to miss out on.
HP has become one of our favorite brands for printers because of the quality, reputation, and features of their printers and the Deskjet 3755 is the perfect example of all of this.
It's an incredible compact all-in-one printer that can handle all of your printing needs in a small and lightweight body.
The Deskjet is wireless so you never have to worry about pesky cords when printing. Plus, it works with Alexa, so you can literally tell her to print your homework!
This affordable printer is less than $100 and easily one of the best printers for dorm rooms in 2023!
Related Post: 10 Best Coffee Makers for Dorm Rooms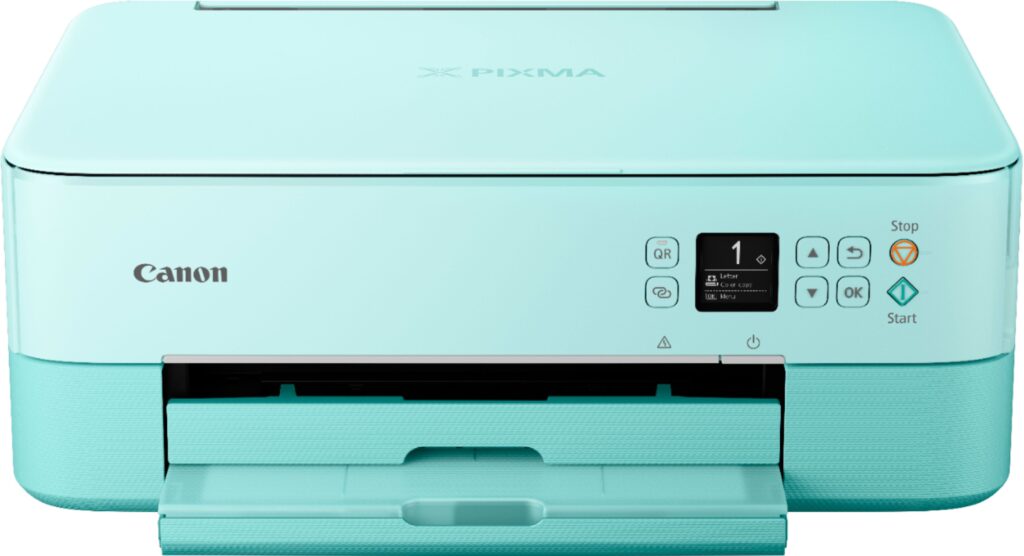 If affordability is not your key feature in your next printer, then the Canon TS5320 is the way to go!
This printer is one of the highest quality printers you can get and it has incredible all-in-one features like printing, scanning, and copying. This printer even works with Alexa!
Don't let the $389 price tag scare you. This printer can truly do it all and at the highest quality you can get from a printer.
So if you're looking to print photos, graphic design homework, or art prints, then this is the best printer you can get for your dorm room.
The HP OfficeJet pro is an incredible printer for any college student looking to add an affordable, small, and easy to use printer to their dorm room in 2023.
This printer works with Alexa and can print anything you scan from your phone without any wires. Just take a picture of your document and it will print within seconds.
The OfficeJet comes in a sleek matte black so you won't have to worry about it ruining your room aesthetic.
Related Post: College Dorm Essentials + Packing List for Freshman
The Canon PIXMA printer is our go-to for college dorms if you're looking to print high quality photos and prints straight from your room.
This printer is known for printing in vivid colors so it's perfect for anyone who plans on printing tons of photos.
It's also perfect for the graphic design student who needs a printer that can keep up with their school work.
At less than $200, this is the most professional printing quality you'll get for an affordable budget!
If you're looking for a simple, affordable, and easy to use printer with 0 hassle then the Brother HL Monochrome Laser Printer is the one for you!
We recommend this printer for the students who are just looking to print documents, homework, and other miscellaneous papers from their dorm room who don't need to print in color.
This Monochrome Laser Printer is also compact so you won't have to worry about it taking up too much room!
So if a simple printer is what you're looking for, then try this Brother!
Related Post: 10 Best Mini Fridges for Dorms
The HP Envy Pro is one of the most affordable printers for dorm rooms to print all your documents and homework.
At only $79, this printer is perfect for the students on a budget!
Some of our favorite features of the printer is the ability to fax from your mobile phone, scan, and copy documents.
So, you'll never worry about your printer not being able to keep up with your needs!
If affordability, ease-of-use, and compact size are all features you want most from your printer, then this Canon Inkjet Photo Printer is the best choice for you.
At only $60, this printer can do it all, and do it all from a tiny compact size that will fit almost anywhere in your dorm.
Affordability is the name of the game with the printer and not just in the price tag.
This printer has the ability to use XL ink cartridges which means you can save money with each ink replacement and worry less about price!
Related Post: 10 Best Desk Lamps for Dorm Rooms
The Canon Pixma iP110 is one of the best dorm printers for mac if you need to print using Airprint!
You can print wirelessly from any compatible mobile device and has tons of OS compatibilty for laptops.
While it is on the higher end of pricing, it's extremely portable. You can take this thing literally anywhere you need!
If you want the most compact and portable printer you can get, then look no further.
This Thermal Printer is wireless, compact, and will fit literally anywhere you put it in your dorm room.
This printer can print in black and white straight from your phone or laptop without needing any wires.
We recommend this printer for the student who is looking to occasionally print their homework, schoolwork, or other documents without needing color or extra features.
Hopefully one of these printers fit your needs and are perfect for moving into your college dorm!
If you have any comments, questions, or suggestions leave them down below. Thanks for readinig!