Looking for fun colored nail ideas this spring as a teenage girl? Come pick from these 15 cute and trendy spring nail designs for teens!
These spring nails for teens include fun, bright, simple, acrylic, and creative designs for long or short nails.
No matter what designs you're looking for, you'll be sure to find one that matches your style!
Let's dive in!
Spring Color French Tip Nails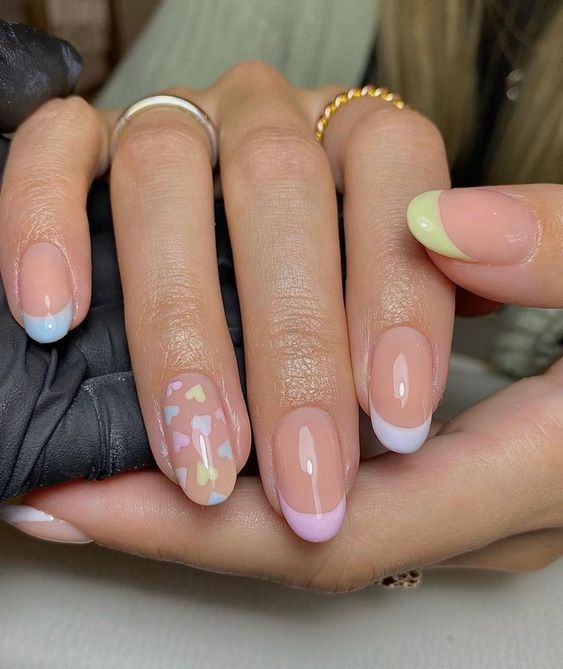 It's Spring and you know what that means, pastel colors galore!
Pastel colors are the highlights of Spring fashion, but they don't just stop at clothing, they're perfect for Spring nails too.
This pastel French tip manicure is the perfect nail design for all teens ready to start they're Spring season in style.
Spring Flowers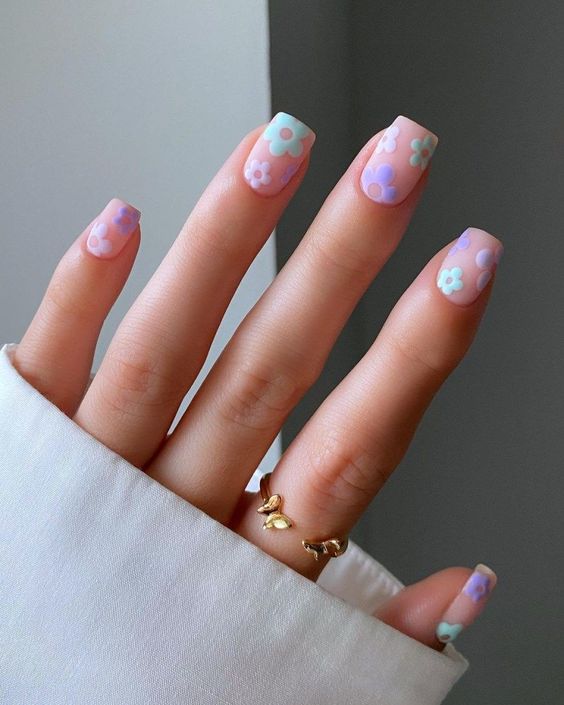 One of the cutest spring nail designs for teens are the simple spring flowers on top of a light pink polish!
This pastel spring flower inspired nail art is trendy, colorful, and oh-so-cute.
If you rock this to school, you can bet that everyone is going to be looking at your for nail inspiration the rest of the year.
Pink Ombre Nails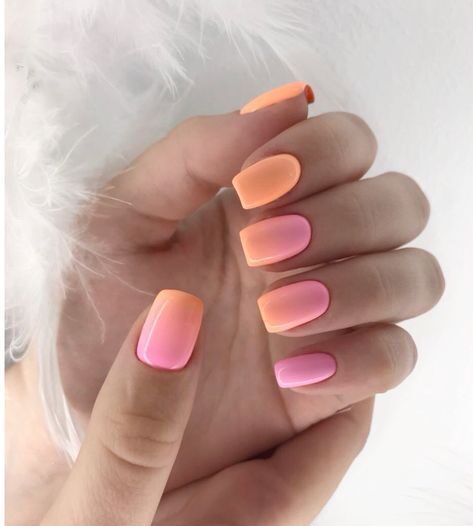 Spring is for bringing in the warmer pinks and orange tones into your wardrobe, and now, your nails!
This pink and orange ombre nail design is fun, trendy, and unique, plus it's easier to achieve than you might think!
So stand out this Spring season with a teen nail design idea your friends will love.
Related Post: 15 Fall Nail Designs for Teens
Hues of Pink French Tip Nails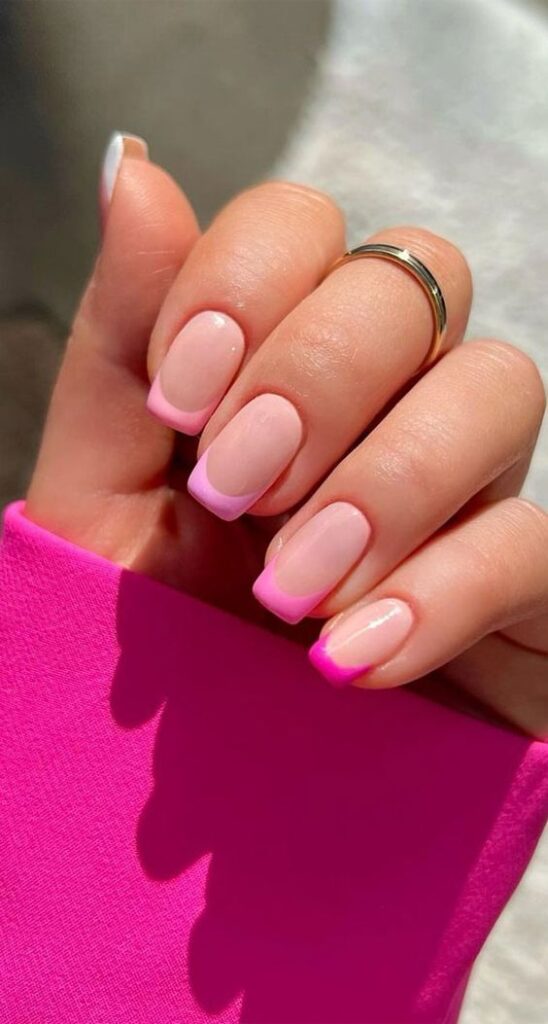 Why go for one shade of pink for your French Tip nails this Spring Season when you can bring in multiple?
We're loving how this Spring nail art brings in the ombre look in such a simple and sleek way, plus it can be worn on your natural nails or with a square shaped acrylic nail set.
So stop wondering what nail design for Spring you can rock and go for this colorful pink manicure!
Blue Butterfly Nails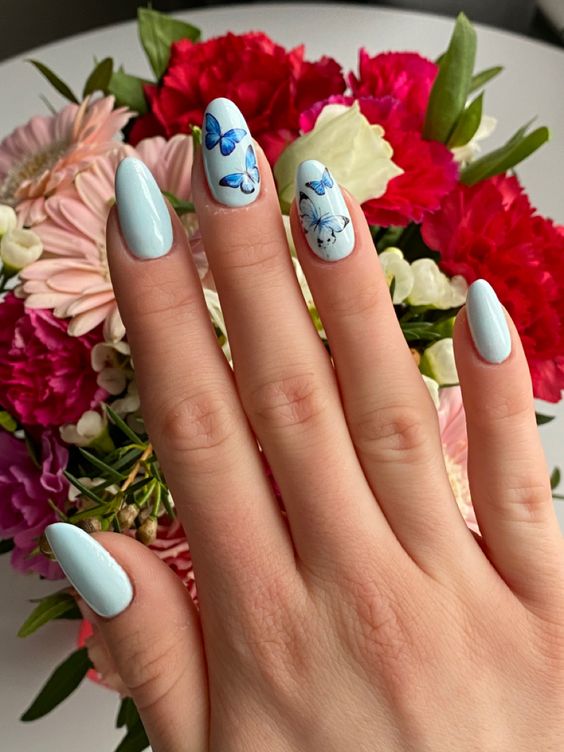 Spring means fresh flowers, sunshine, and all things butterflies, and why stop at just bringing those things into nature? Why not bring that into your nail designs?
We're loving this blue butterfly inspired nail art, especially for the teens who find themselves using the blue butterfly emojis a little too often.
We recommend butterfly nail stickers because they make upgrading your nails super easy!
This colorful Spring Nail art is fun, trendy, and will immediately bring a smile to your face.
Pastel Spring Swirls
If you're bored of the simple full nail color design that so many people do, opt for this abstract swirl nail art that immediately elevates your manicure into a trendy and inspiring design.
The pastel swirls are easy to achieve and are best rocked on an almond shaped acrylic nail manicure.
Green Spring Nail Design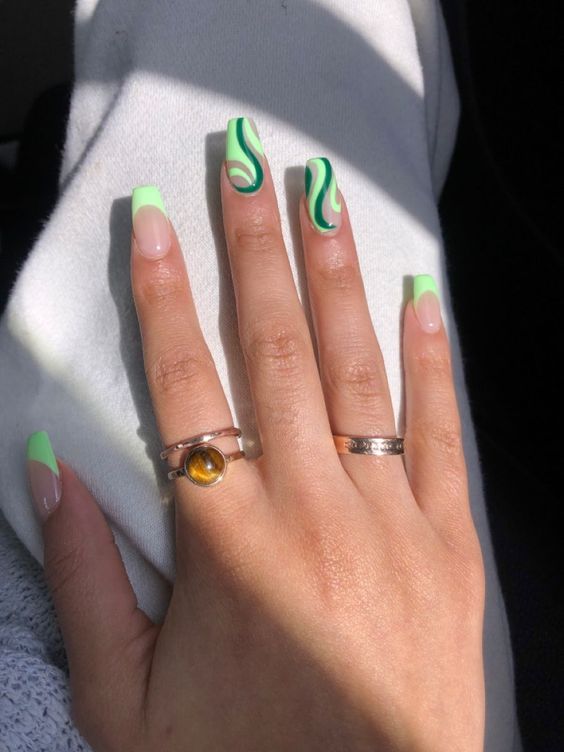 We love the shift from Winter to Spring with colors getting brighter and more vibrant, much like this Spring Green nail design!
This nail design for Spring is a great way to lighten up your seasonal wardrobe and bring a fun, vibrant color to your overall aesthetic.
Not to mention this was one of the trendiest nail designs from 2022 and will be even more popular this year.
Related Post: 60 Best Hairstyles for Teenage Girls
Colorful Swirls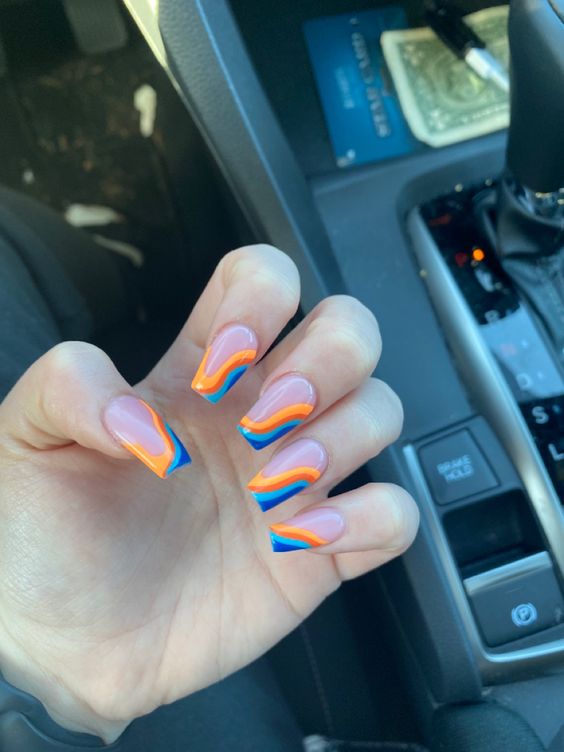 Make your manicure fun, trendy, and colorful with this abstract rainbow inspired nail design for Spring.
This teen nail idea is perfect for everyone looking to make their nails stand out!
We recommend rocking this look on longer almond shaped acrylic nails for more room to play around with your swirls.
Easy Lavender Nails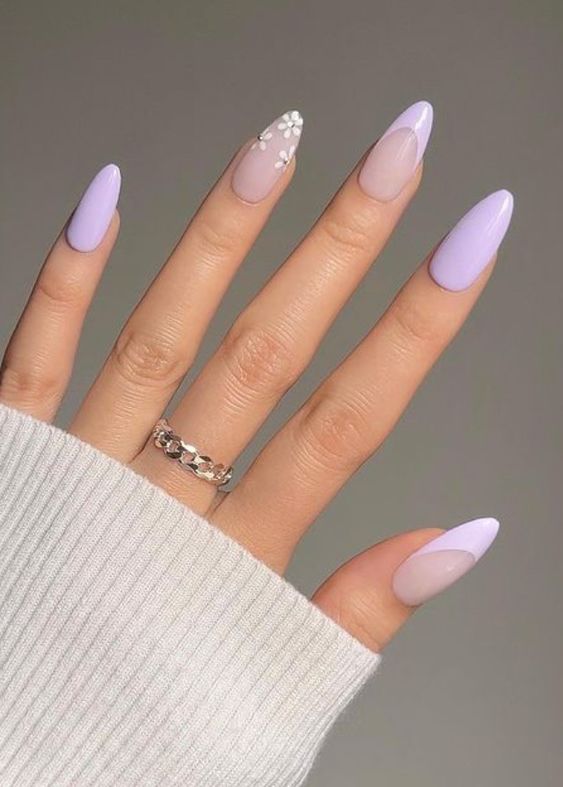 One of our favorite colors to wear throughout the Spring season is lavender, for obvious reasons, so you know we're rocking it on our nails all season long.
These lavender spring nail designs for teens bring together the popular French tip, full nail color, and Spring daisies to create the perfect manicure.
Don't be afraid to get creative and add your own unique spin to this trendy nail design.
Blue Smiles Design
If you consider yourself a creative, then you have to try this teen nail idea this Spring season.
The abstract smiles are a great way to make your Spring nail art stand out and quite literally, make you smile.
The best part is that you don't have to be tied to doing this in blue! You can make this in pink, orange, green, or whatever color you choose!
Pink Chrome Nails for Teens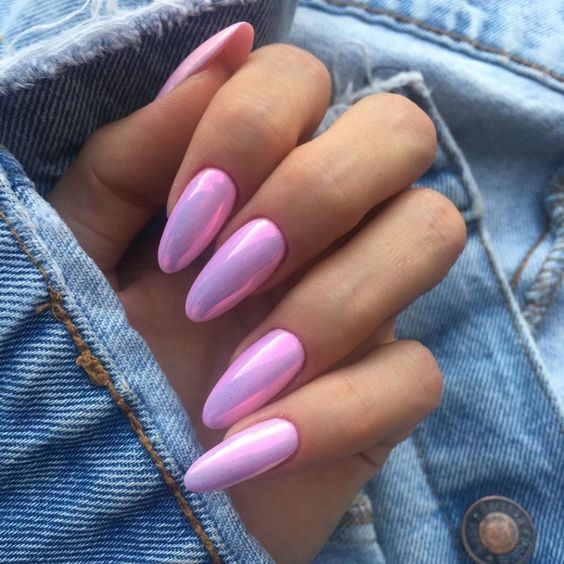 Hailey Bieber made the chrome manicure the biggest nail trend in 2022, and we're expanding it to other colors, specifically pink.
This pink chrome nail design is going to be the next hottest trend of the Spring season and is perfect for all teens who want the next "it" manicure.
So take a note from Hailey's playbook and go for chrome this Spring.
Matte Spring-Colored Nails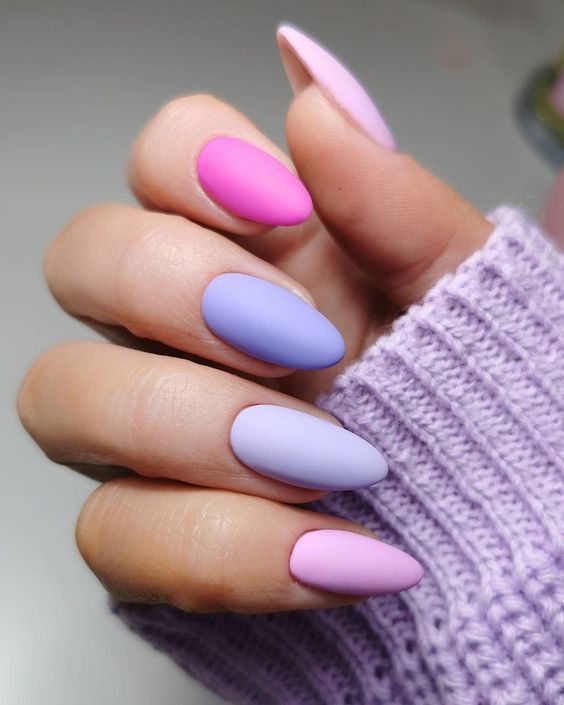 You can never go wrong with a matte manicure for your nails, especially when you're using Spring colors like lavender and pink!
The matte manicure is trendy, fun, and a great way to elevate your nails without having to add in any extra designs or art.
Achieve this look at home with a matte top coat on top of your natural nails, or in the salon on top of almond shaped acrylic nails.
Simple Spring Color Wheel Nails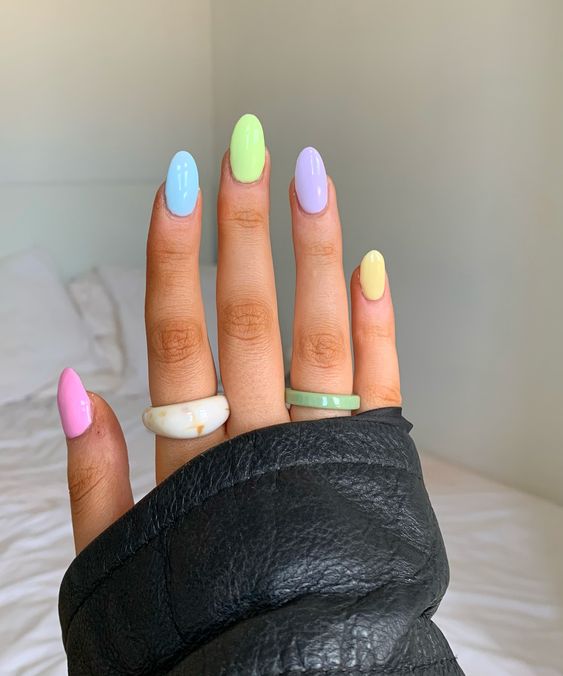 Keep it simple by just changing up your Spring nail design with different colors on each nail for a look that's easy to achieve, but definitely not boring.
Spring nail designs for teens don't have to be too complicated, they can be easy to achieve but still have the cool and trendy look you want.
Go for different shades of pastel colors on a longer acrylic nail for the perfect Spring nail idea.
Related Post: 15 Most Popular Shoes for Teenage Girls
Colorful Graphics Nail Designs for Teens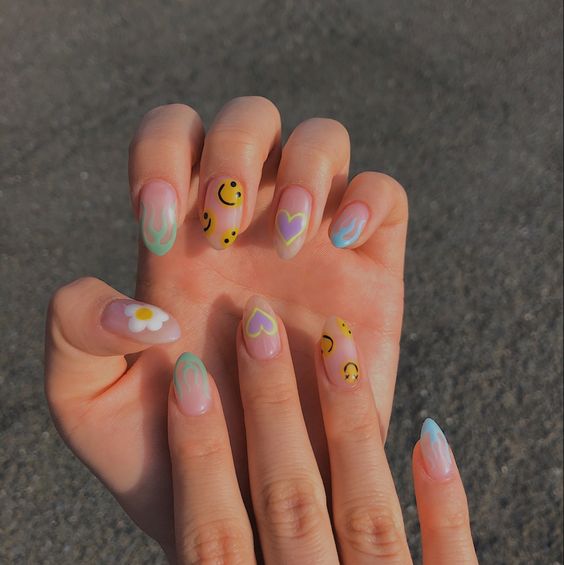 Have fun with your nail designs for Spring with a manicure that brings in fun, quirky, and colorful graphics.
We are loving this Spring nail design trend because it can be completely unique to how you want to make it and it's not that hard to design!
So stand out from the crowd with Spring nail art that is sure to wow the crowd.
White Spring Daisies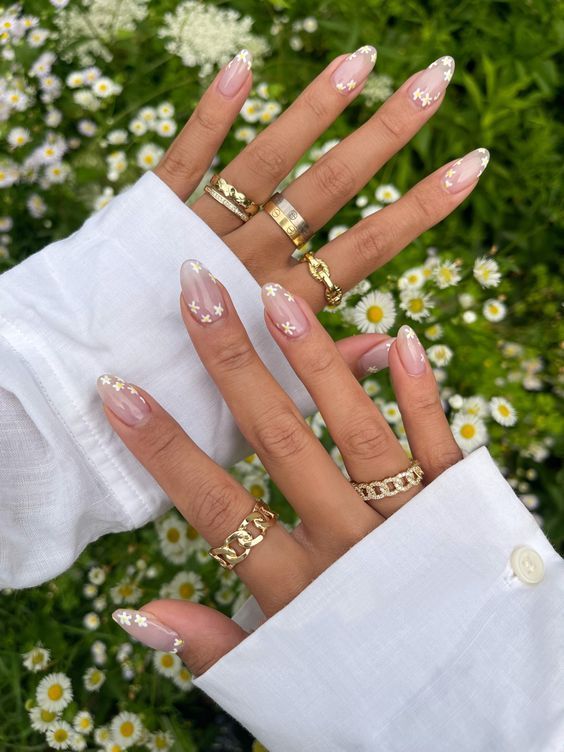 You can't have a successful Spring without at least rocking the classic white daisy nail trend at least once.
This nail design idea is a trendy, fun, and classic nail trend for teens looking to elevate their manicures in the most chic way possible.
Our favorite hack to this nail design is by using daisy nail stickers with a clear polish on top instead of having to draw each and every single flower.
Hopefully these 15 spring nail designs for teens gave you some inspiration for your next manicure!
If you have any comments, questions, or suggestions leave them down below. Thanks for reading!