Looking for summer inspiration and nail ideas as a teenage girl? Come pick from these 15 bright and simple summer nail designs for teens!
These summer nail ideas include trendy, cute, fun, acrylic, and creative designs for long or short nails.
So, no matter what idea you're looking for, you'll be sure to find a nail design that matches your style!
Don't forget to grab a summer nail polish set in order to achieve some of these designs at home.
Let's dive in!
Watermelon Sugar Summer Nails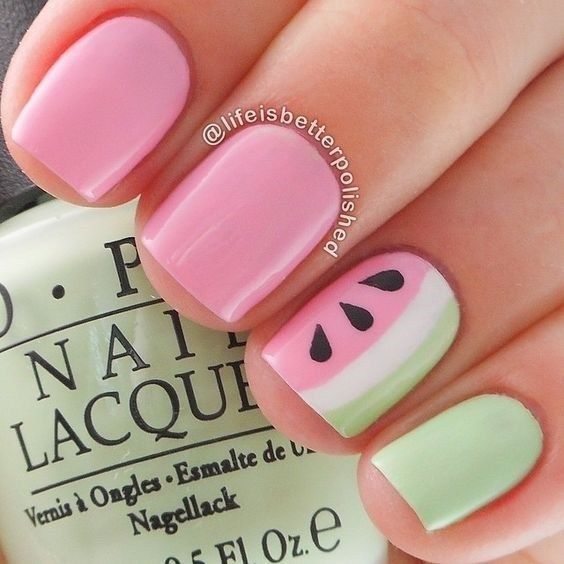 What better way to kick-off summer than with a Harry Styles Watermelon Sugar High inspired nail design?
For all teens who love watermelons, and Harry Styles, you'll have to try this sweet and trendy nail design this Summer.
Colorful French Tip Nails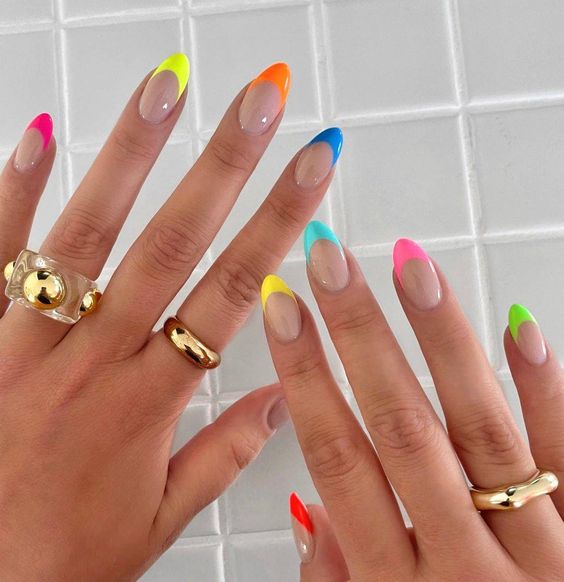 Summer is for sunshine, blue skies, and color, especially when it comes to your fashion and nails.
This teen nail design idea is fun, colorful, and brings in the pop of summer into your nails that you've been looking for.
So grab your favorite bright summer colors and add them to a French Tip for a Summer nail design you'll be rocking all season long.
Pretty Summer Flowers Design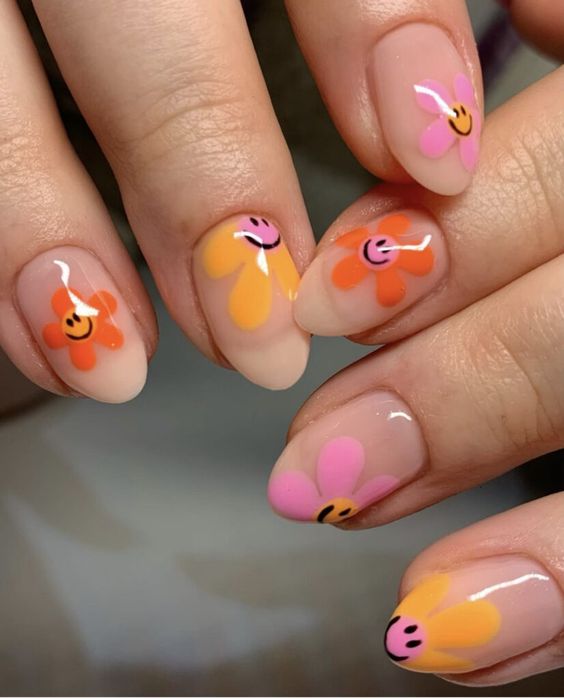 Add some fun color and graphics into your Summer nail designs for teens with pretty orange, pink, and red flowers that will be sure to put a smile on your face.
These pretty graphic nails incorporate all things summer with fun flowers, warm colors, and big smiles.
The next time you're looking for teen nail design ideas for Summer, try this trendy manicure out!
Related Post: Spring Nail Designs for Teens
Summer Hearts for Teens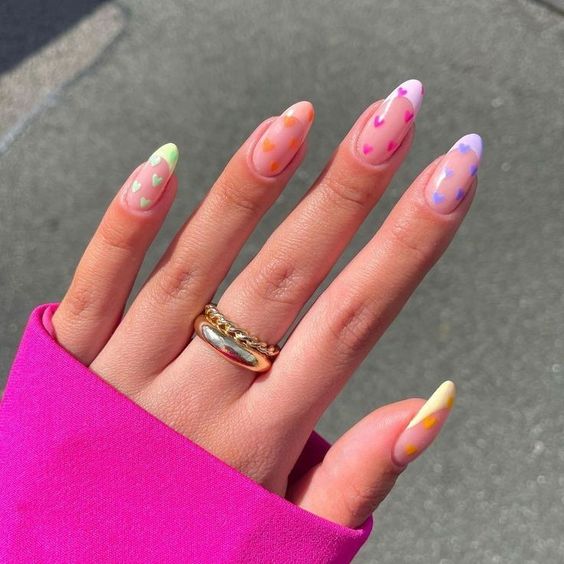 What better way to show your love for summer than with a micro-heart manicure that's taking the nail world by storm.
This teen nail idea is super fun and has been worn on tons of influencers throughout summer, so you know it's a manicure that's worth it!
We recommend styling this on top of an almond shaped acrylic nail set for the trendy look you'll love.
Rainbow Flames Acrylic Nails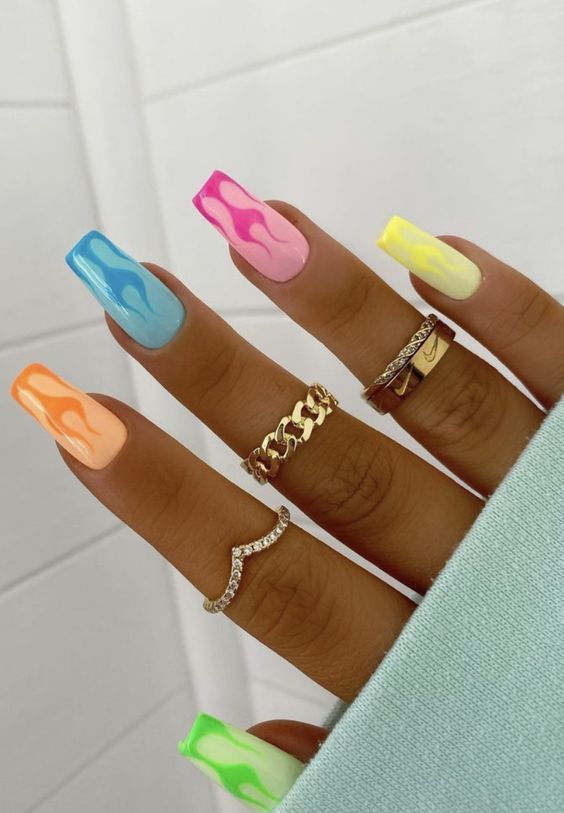 Is it getting hot in here or is it just us? Oh wait, it's our Summer nails!
The rainbow flames nail art trend has been popular since the summer of 2022 and it's here to stay this season.
So rock this on top of coffin style acrylics to really nail this look.
Summer Tie Dye Nail Design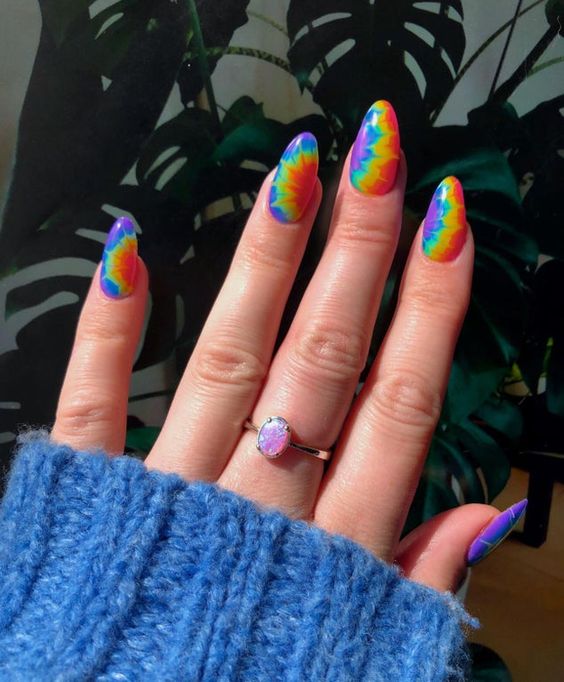 Although this nail design might be hard to achieve, it'll be so worth the time you put into it since it's such a unique and stand out Summer nail design trend.
Just like you DIY your tie-dye shirts in Summer, try to DIY this nail trend with your friends. And if it doesn't work, head to your local nail salon for help achieving this cool and trendy summer nail art.
Groovy for Summer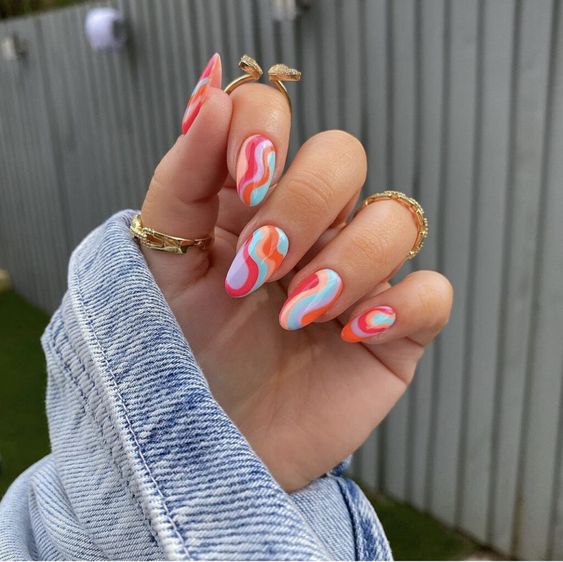 If this reminds you of your favorite summer popsicle, then you're right there with us.
This groovy nail design trend for teens is so fun and sure to be the hottest Summer trend of the season!
Who knew that our favorite popsicle's colors could help inspire our new favorite manicure?
Related Post: 60 Best Hairstyles for Teenage Girls
Neon French Tip Nail Designs for Teens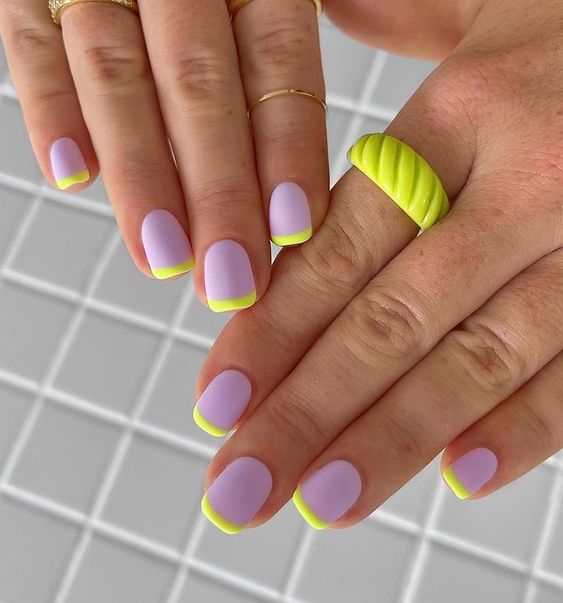 Wondering how to spice up your French Tip nail design for summer?
Then look no further than a manicure inspired by the neon colors of the 80's.
These neon French tip summer nail designs for teens are great to rock during the summer!
Whether you're sporting short natural nails, or longer acrylic nails, it'll all look amazing!
Yellow Summer Nails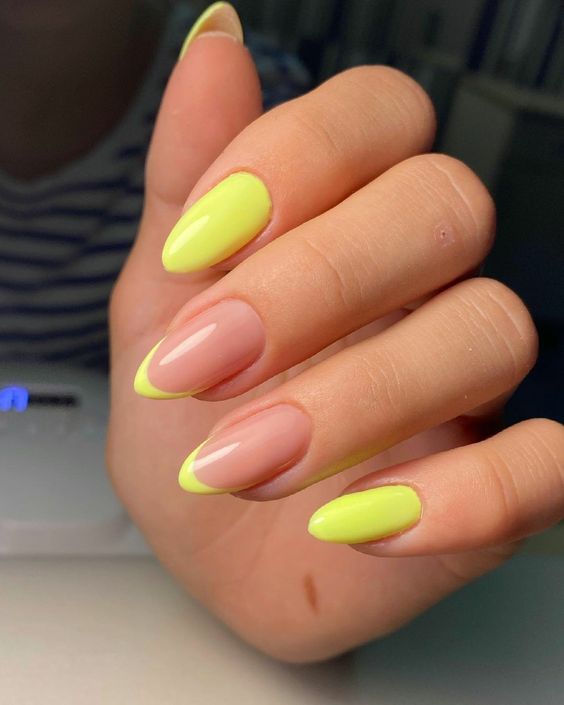 Yellow might be the one color made for summer, so this is your only season of the year to really rock the yellow nail trend.
If you're looking for more color ideas to spice up your nail designs for Summer, then you have to try this highlighter yellow nail design before the season comes to an end.
We recommend rocking this pop of color on either a coffin or almond shaped acrylic nail set.
Tropical Summer Vacation Nail Idea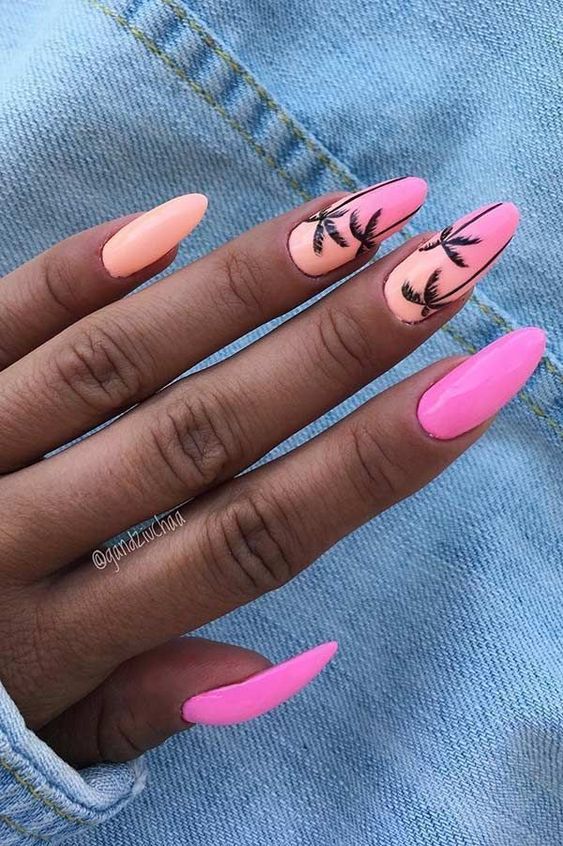 Whether you're living in a tropical destination, or just dreaming about it, this Tropical Vacation inspired nail design is perfect for you.
Combining the colors of the sunset with everyone's favorite palm tree, this teen nail design idea is an instant hit for Summer.
So try this 2023 summer nail trend and instantly relax to the sound of ocean waves and the sweet taste of coconut water.
Summer Picnic Nails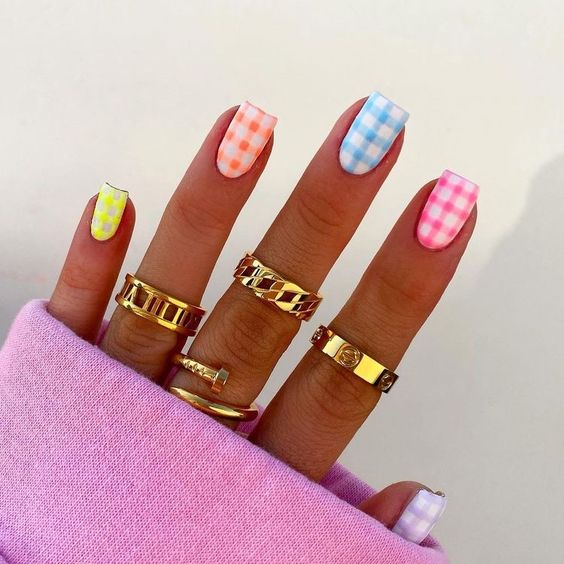 Our three favorite things about summer are the days spent outside, summer music, and of course, the outdoor picnics underneath the sun.
If you're also a big picnic fan, then you have to rock this picnic blanket inspired nail art this Summer!
So grab your favorite summer snacks with your picnic inspired nails and enjoy the best season of the year.
Related Post: 15 Popular Jeans for Teenage Girls
Graphic Summer Nail Designs for Teens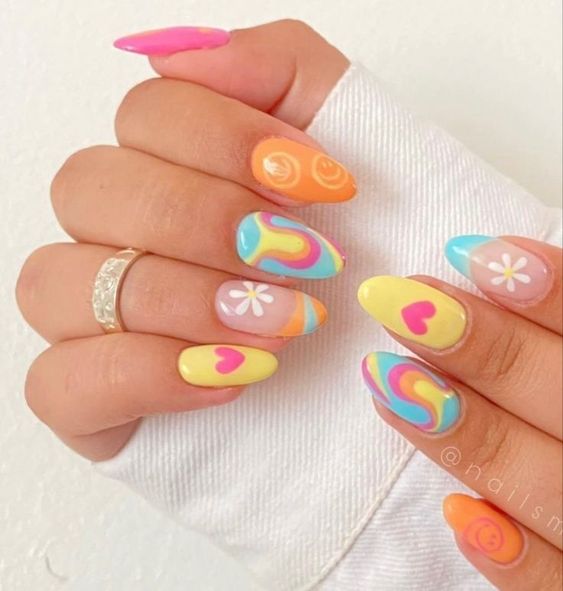 Sugar, spice, and everything nice, those are the ingredients to the perfect summer, and to this teen nail design idea.
If you're looking for a more cute and feminine nail design for summer, try this graphic nail trend this summer.
The best part is? You can easily create this on your own with different shades of nail polish on top of an at home Gel X nail set.
Summer Strawberries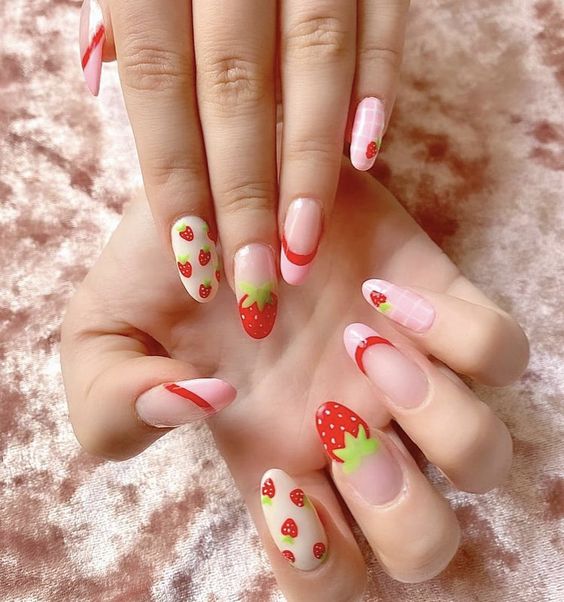 There is nothing better than eating a fresh and juicy batch of strawberries on a hot and sunny summer day, except for this super cute strawberry inspired nail design.
Why not take your love for strawberries and turn them into a super cute and trendy pink nail design this Summer?
You bet we'll be rocking this Summer nail art on the hottest weeks of the season.
Cherry on Top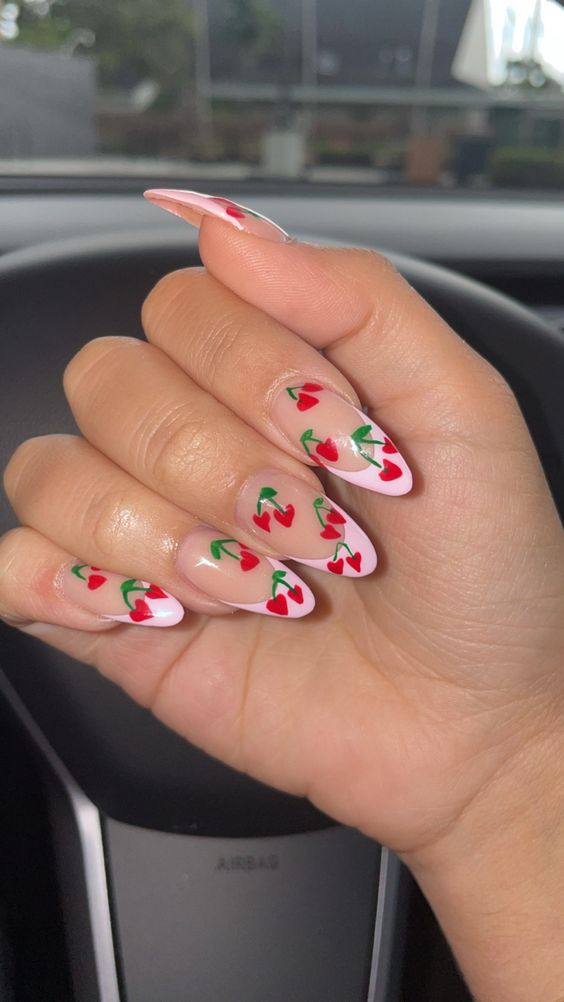 Put a cherry on top of your Summer, and your manicure, with this cherry French Tip nail design.
This manicure is inspired by all things pink, cherries, and summer, and is perfect for the teen who is looking for a cute and sweet nail design trend this season.
So what are you waiting for? Get your cherry on with the new trendiest manicure of the Summer.
Related Post: 15 Most Popular Shoes for Teenage Girls
Summer Lemons Nail Design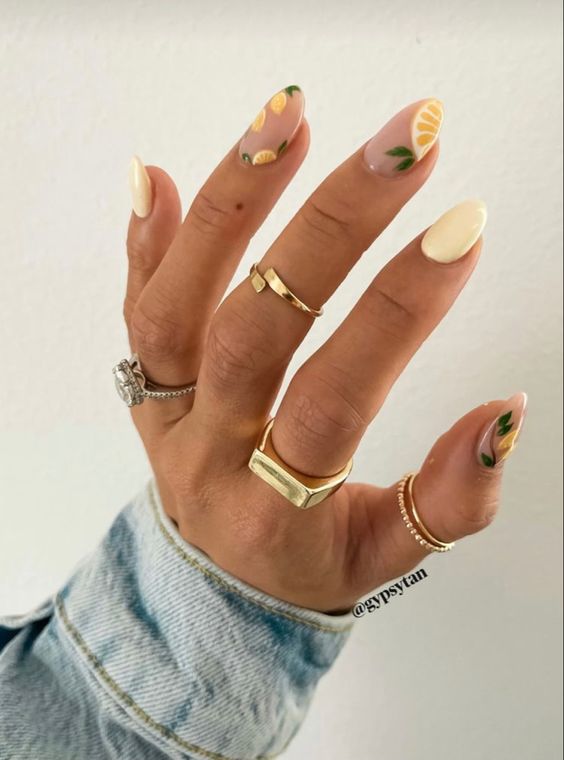 You can't end summer without at least trying a lemon inspired manicure at least once, it's the rule.
For all you teens looking for the next best Summer nail design idea, I think we've officially found it with this cute citrus patterned nail art.
You know what they say, when life hands you lemons, you make trendy nail designs from it.
Hopefully these 15 summer nail designs for teens gave you some inspiration for your next manicure!
If you have any comments, questions, or suggestions leave them down below. Thanks for reading!