Don't know how to decorate your senior jeans and need some inspiration? Here are the 15 cutest senior jeans ideas in 2023!
This senior jeans list includes a variety of ideas, ranging from the simple color-coordinated jeans, to the more intricately detailed embroidered designs for a personalized style.
Plus, we've included some unique and unseen senior jeans ideas that may make you think twice about your senior jeans choice.
Want more senior year ideas? Check out these posts:
Let's dive in!
Senior Jeans Ideas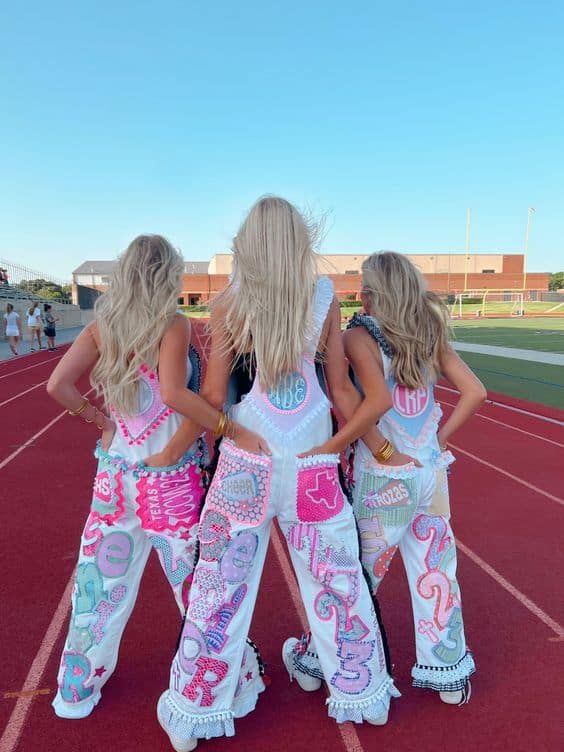 Following the Barbie craze that's taken over the world, a matching pink & white overall senior jean idea is a must with you and your besties.
Everything from the added fringe, monogram initials, and the pink bubble letters makes this the perfect senior jeans idea.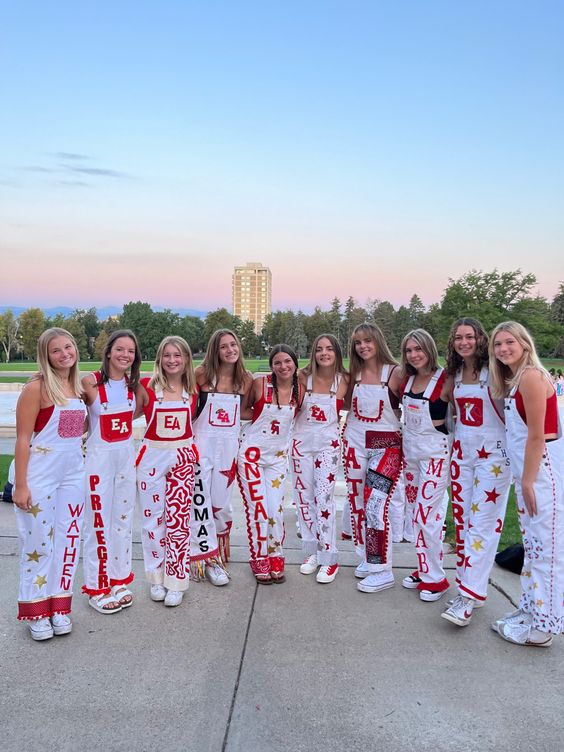 There's nothing quite like repping your school spirit with your senior jeans ideas, especially if you're matching with your girl squad.
We love how each overall is unique to the girl but still matches in this cute group photo.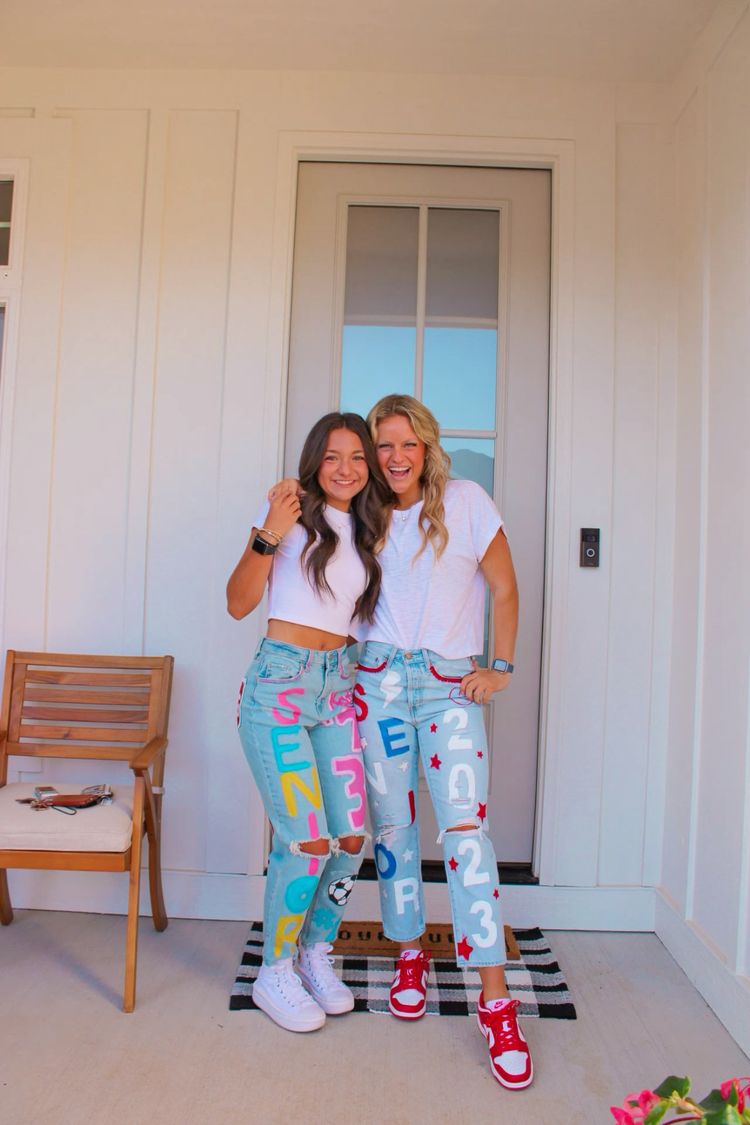 Hand painting your school year and grade are an easy and cute senior jean DIY that any girl can do.
Whether you stick with school colors or branch out with something more vibrant and colorful, you can't go wrong with this simple senior jean idea.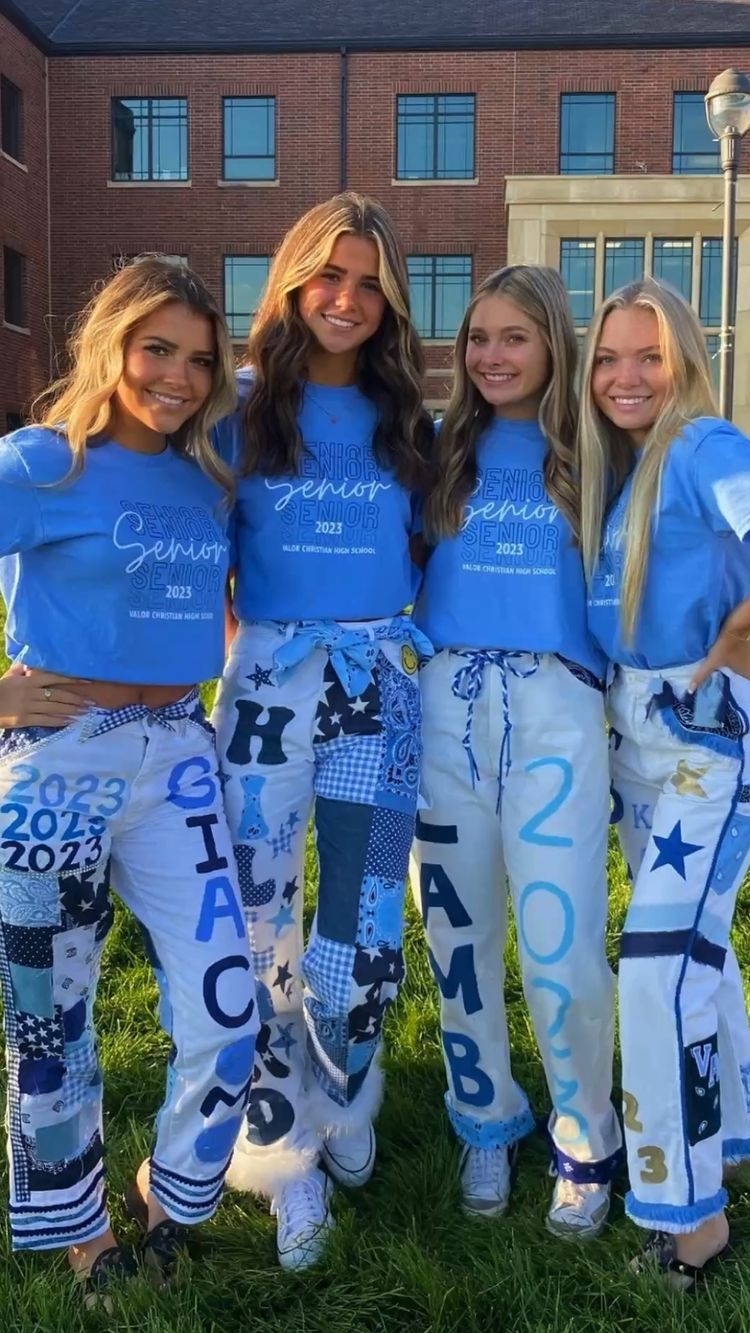 Get creative with your senior jeans ideas by adding a blue patchwork design over the legs.
Patchwork can be done with all different types of fabrics from your local craft or fabric store.
This is such a great idea for getting creative with your friends!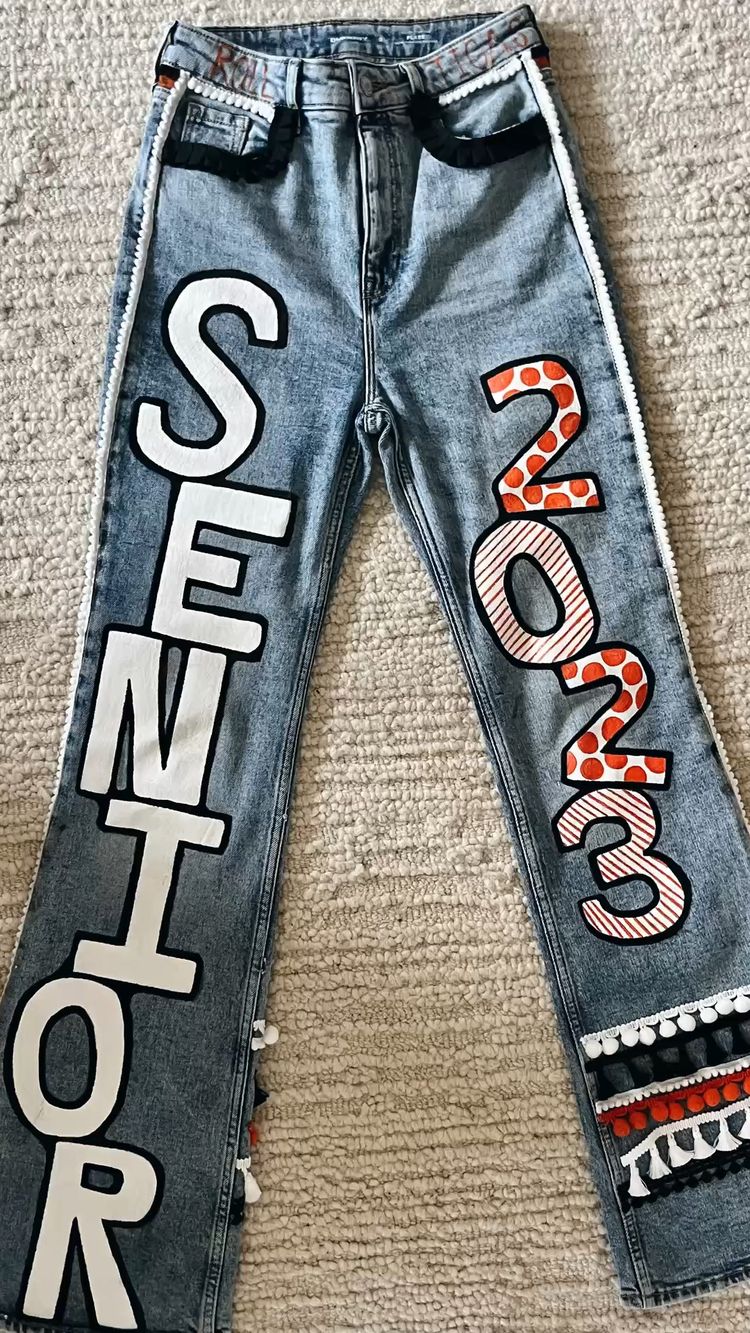 Something as simple as outlining your hand painted letters can go a long way with your senior jeans.
The black outline and colorful tassels will help make your senior year jeans pop in all photos.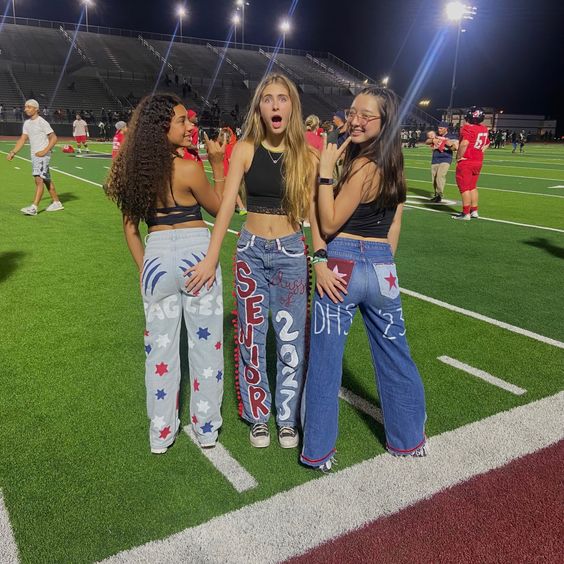 Feel like a senior year star with this super cute senior jean idea for girls.
Whether you iron on star patches or hand paint them yourself, you can't go wrong with this star spangled trend.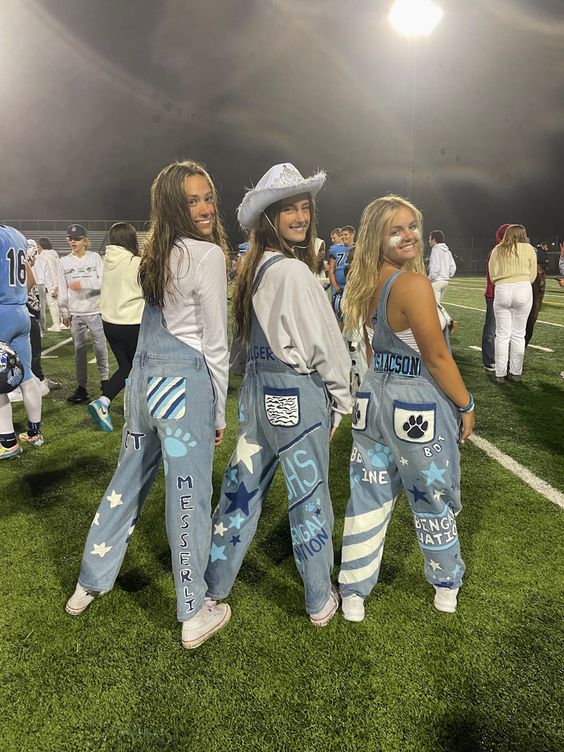 If you're loving the idea of stars but want something all to make your senior jeans pop, try adding in stripes!
We love how these three overalls have unique designs but all incorporate stars and stripes.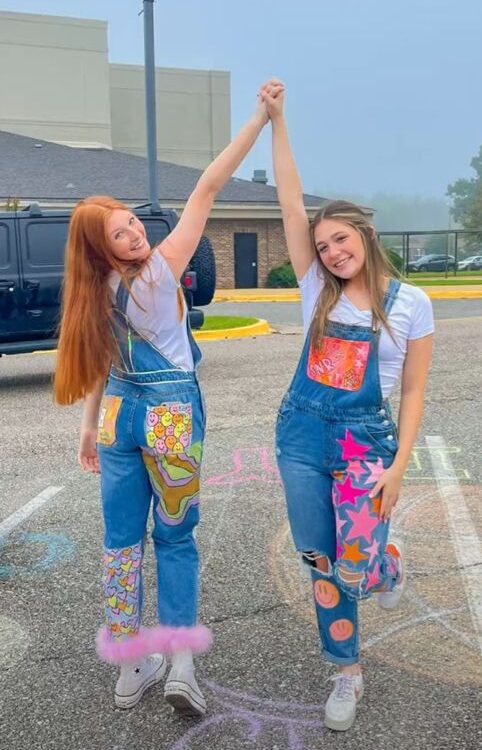 Get groovy with your senior year jeans with this 70's inspired look.
We're obsessed with how the bright vibrant colors and funky designs turned this set of overalls into something truly unique and amazing.
Talk about the perfect senior jeans!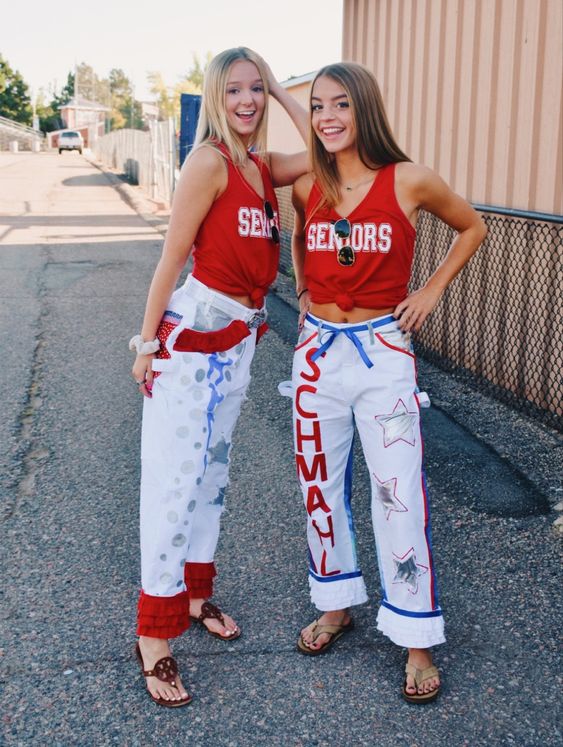 If you want something unique, girly, and channels Love Shack Fancy, try adding some ruffle details to your senior year jeans.
This is an easy DIY that will help your senior jeans stand out from the rest of the crowd.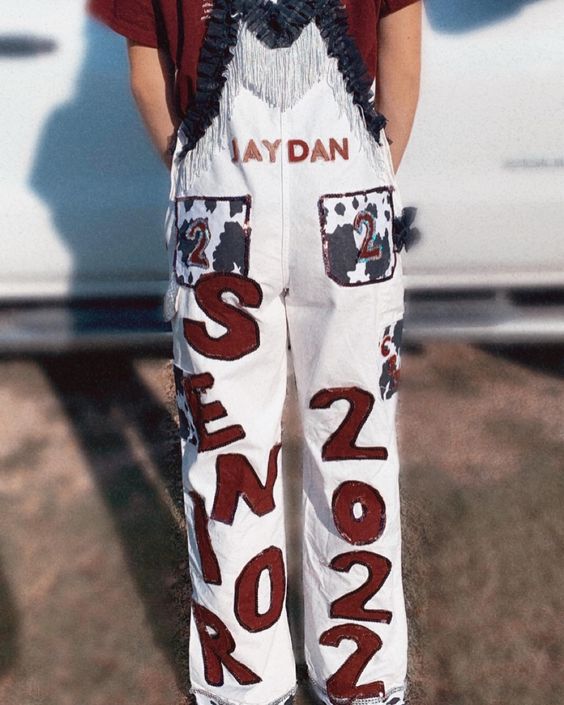 Channel your inner cowgirl for the cutest jean idea for seniors you'll see in 2023.
From the fringe detailing to the cow prints, we're truly obsessed with this senior jean idea.
And you know what it pairs with perfectly? Your new trendy cowboy boots.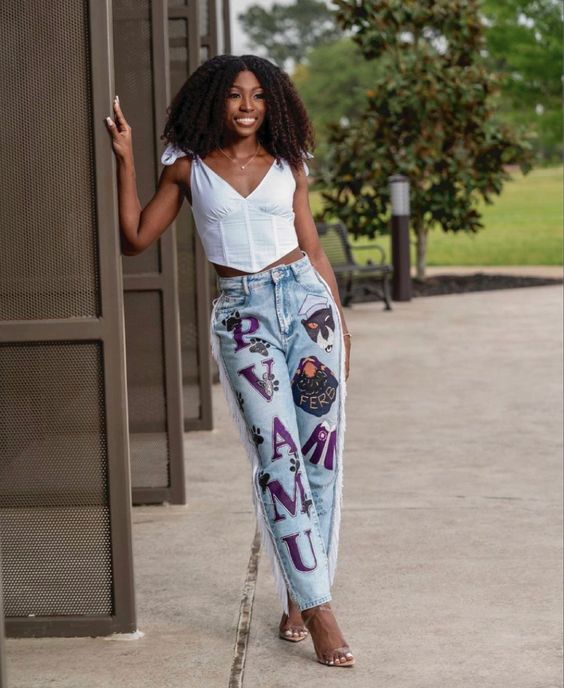 Nothing says school pride more than repping your mascot in your high school colors.
Whether you're a cheerleader, in student council, or just absolutely love your school, this is the senior jean idea you'll want to recreate. Definitely one of our favorite senior jeans ideas.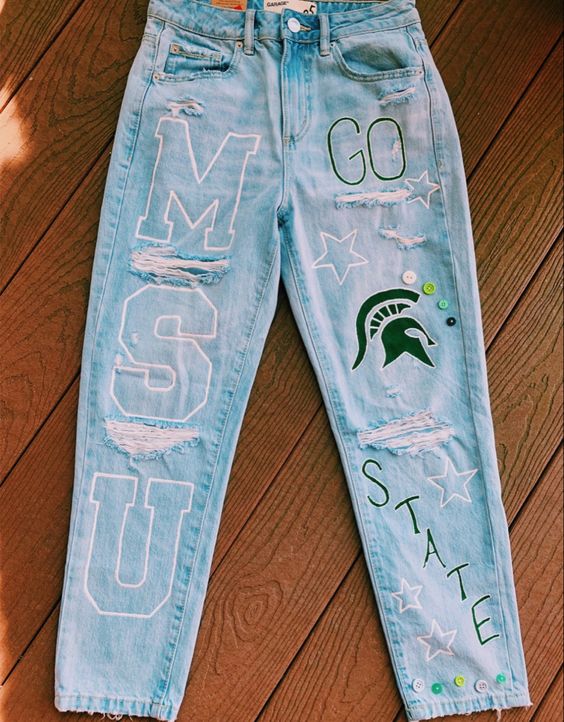 Sure painting your senior jeans are cool but what about taking it a step further and embroidering them?
This DIY might not be for the faint of heart but if you're up for a challenge, they will easily be the coolest in your school.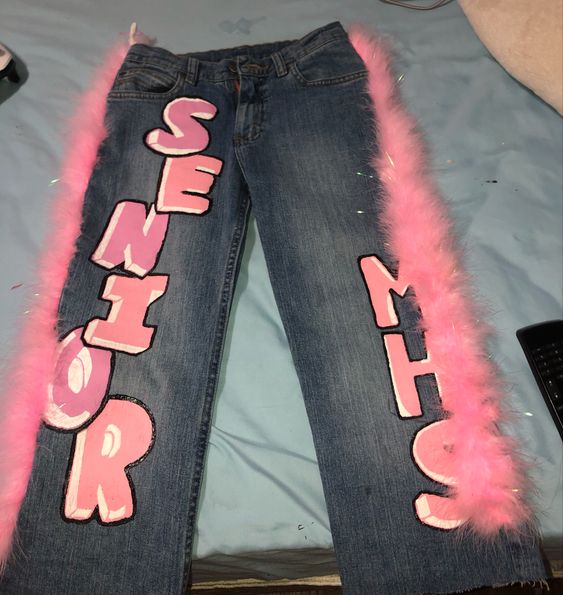 Call us officially obsessed because these feather trim senior jeans have stolen your hearts.
The hand painted letters paired with the pink feather trim are the perfect combination for any one of our DIY senior jeans ideas for girls.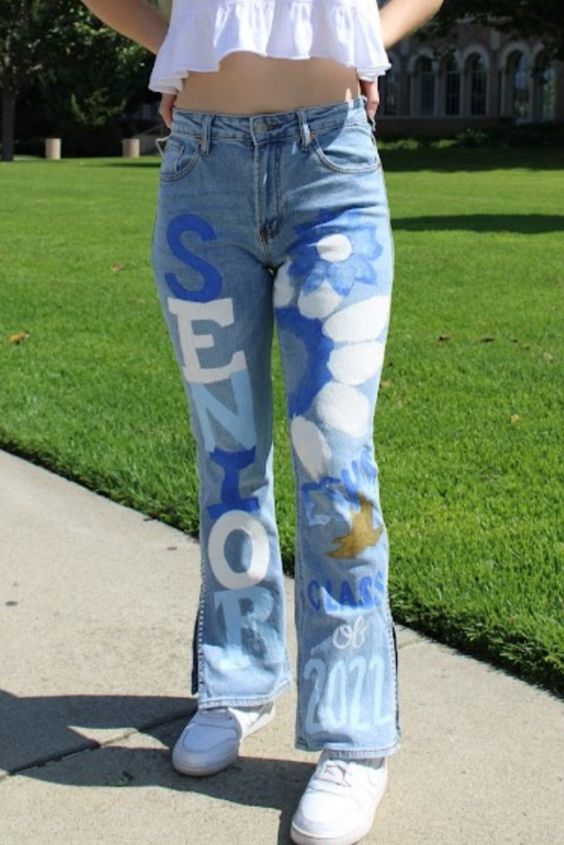 Add a bit of sunshine to your senior jeans with hand painted flowers.
We're loving how the flowers add a bit of something special to these senior jeans without taking away from the overall design.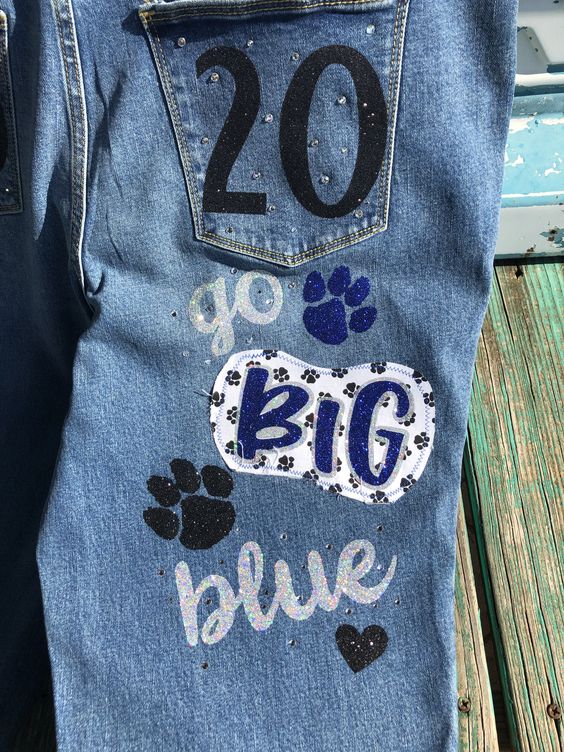 The trend we're obsessed with for girls in 2023? Rhinestones and glitter.
Trust us when we say, everything looks better with added rhinestones and glitter.
What Are Senior Jeans?
Senior jeans are the staple accessory for all girls in their senior year of high school. It's when you and your besties customize jeans to show off that you're finally in your senior year.
Usually senior jeans are made in your school colors and have the words "senior" on them plus the year you're graduating.
They can be fully customized however you want but the point is to have fun and enjoy your last few months in high school in style.
What Do You Paint Senior Jeans With?
Senior jeans can be made in a ton of different ways, but the recommended way is with colorful fabric paint and iron on letters or accessories.
Fabric paint can be puffy or flat depending on the vibe you're going for with your senior jeans.
You can find fabric paint at your local craft store, Walmart, Target, or online on Amazon.
What Do You Need to Make Senior Jeans?
Senior jeans can be as simple or as complex as you want them to be but there's a few things you'll need no matter what:
We highly recommend getting your senior jeans from Old Navy, Amazon, Target, or somewhere else that has affordable and comfortable jeans.
Senior Jeans Decorating Tips
We have a few tips for any girls looking to decorate senior jeans for high school:
Have fun with your jeans! Don't be afraid to be bold and try new things like

feathers

and rhinestones.
Don't be a perfectionist. You'll make mistakes with painting and gluing but that's okay, these are not meant to be perfect.
Make sure you decorate them somewhere where you don't mind making a mess. Paint and glue may or may not go everywhere.
Decorating is better with friends. Make a plan to decorate your senior jeans on the weekend with your besties. This is such a fun activity to do as a group, especially if you all want to match.
Hopefully you've found your favorite senior jeans idea after reading this post!
If you have any comments, questions, or suggestions leave them down below. Thanks for reading!