Trying to find a cool back to school outfit to make a good first impression? Here are 25 cute back to school outfits for high school!
In this list you'll discover classy color-themed looks, as well as attention-grabbing outfits that might suit someone's preferences.
Plus, we've included some unique back to school outfits that you might not have though of.
Want more outfit ideas? Check out these posts:
Let's dive in!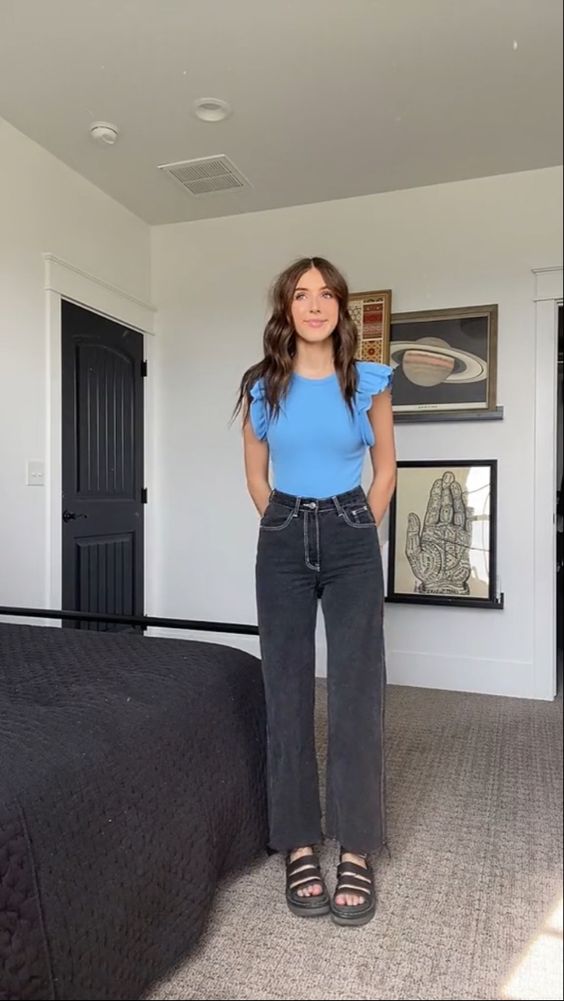 Summer is over and school is back in session, which means it's time to break out your darker colors as the seasons get cooler.
This black and blue outfit is simple, cute, and perfect for heading back to class.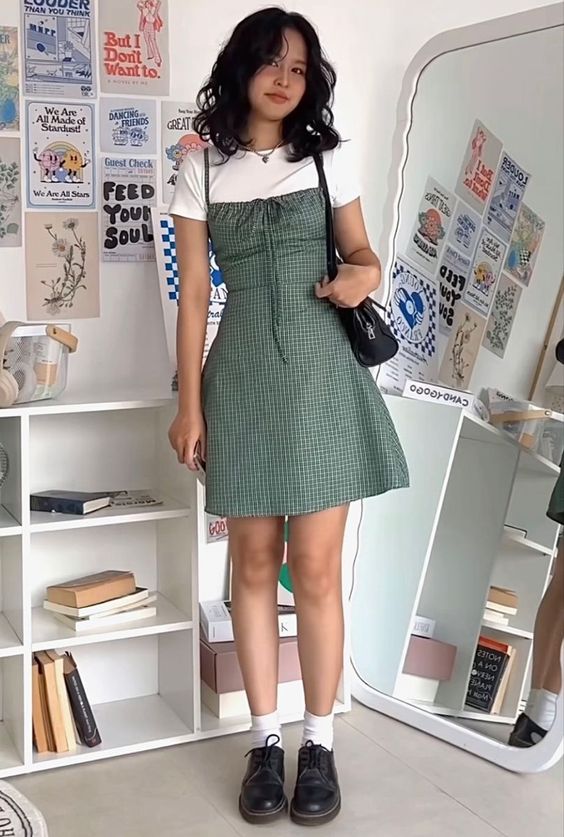 Just because you're going back to school doesn't mean you have to abandon all of your favorite summer dresses.
Layer your dress on top of a baby tee for a cute Fall back to school outfit you'll want to wear every week.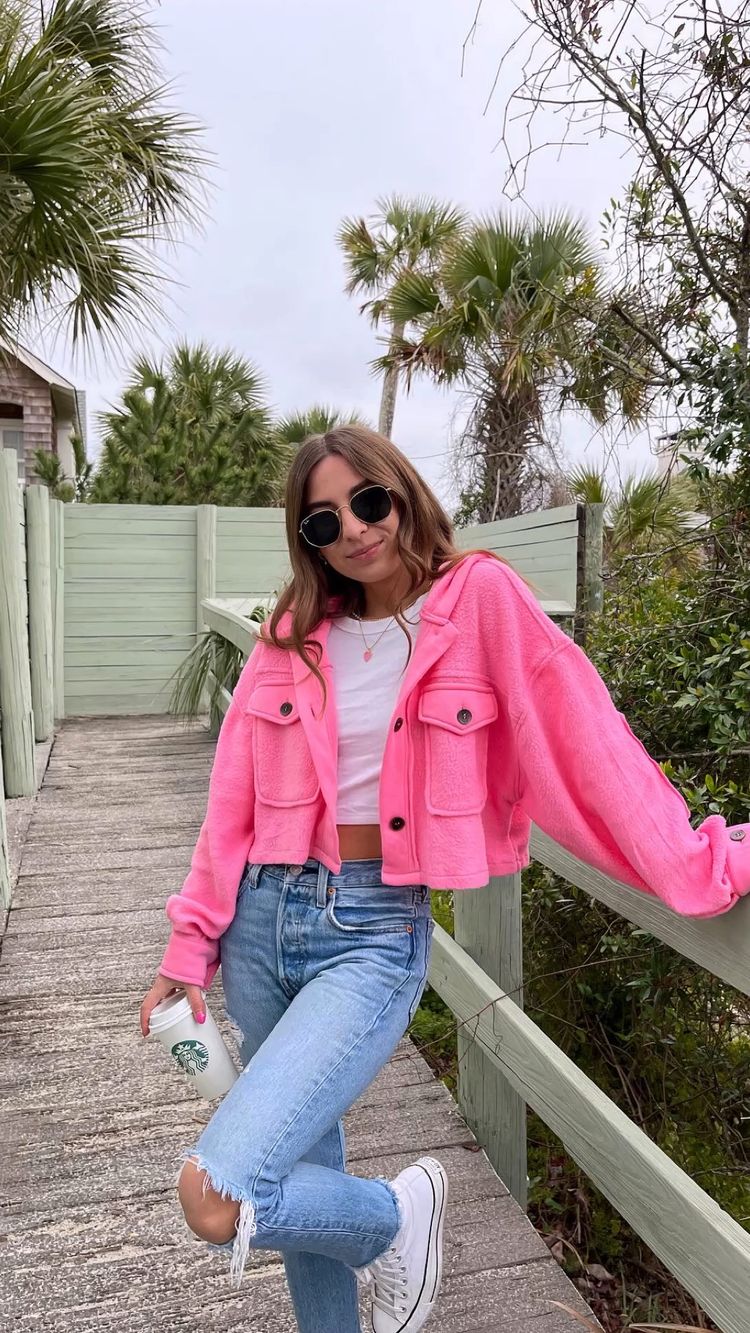 What's better than a comfy and cozy fall shacket? A Barbie pink one.
We're all about channeling our inner Barbie girl for this cute back to school outfit idea.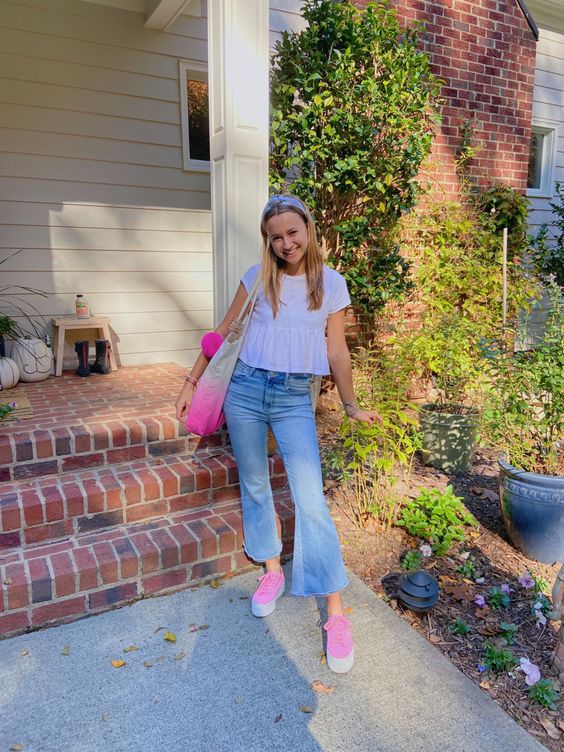 Boho is the name of the game this Fall so get ready to fill your closet with flowy tops and flare jeans.
This simple boho outfit is comfy, stylish, and perfect for high school girls.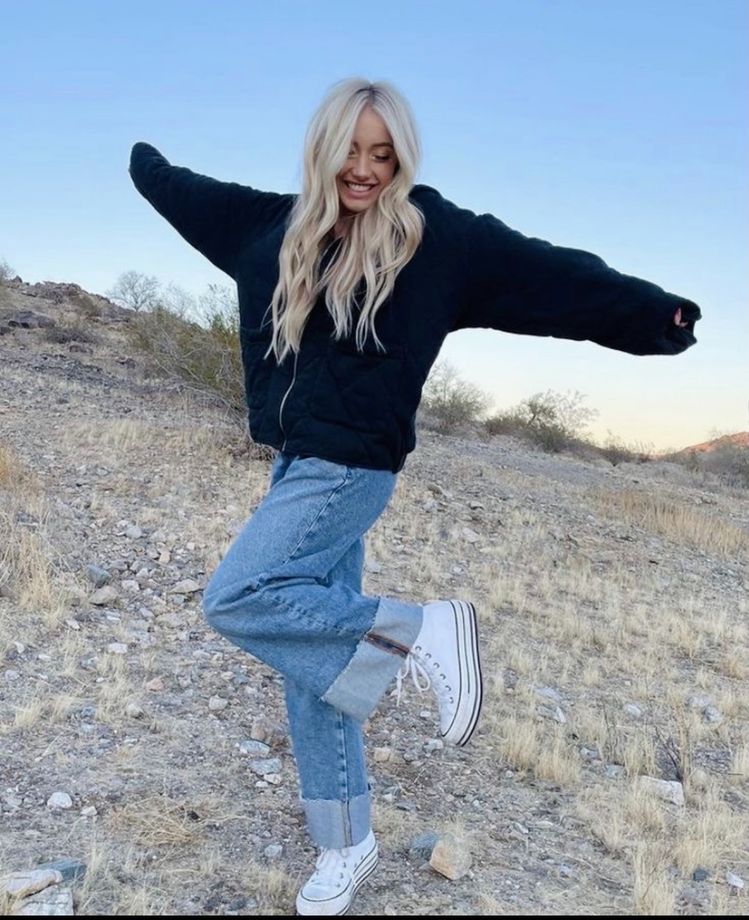 It can be hard to go back to school after months of a Summer vacation, so being comfy should be your top priority.
You can still rock an oversized zip-up and be cute, especially when you pair it with trendy wide leg jeans.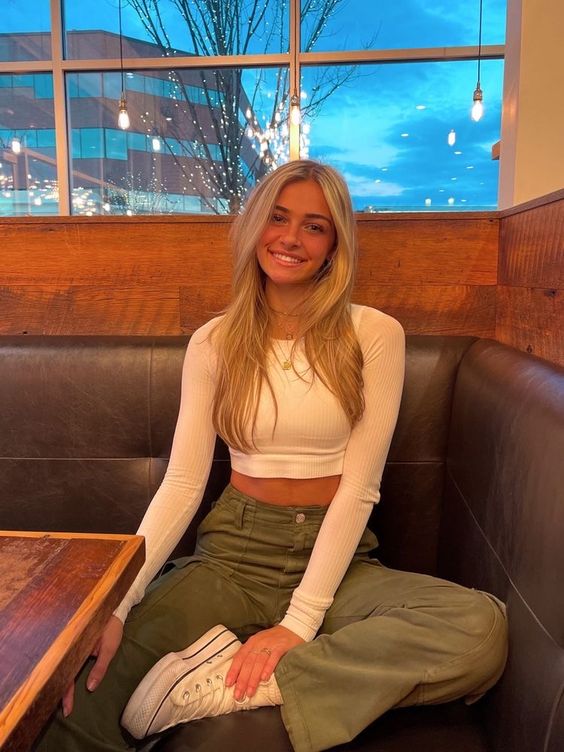 You can never go wrong with cargo pants as your back to school outfit staple.
We love how well these green cargo pants go with the white top and sneakers.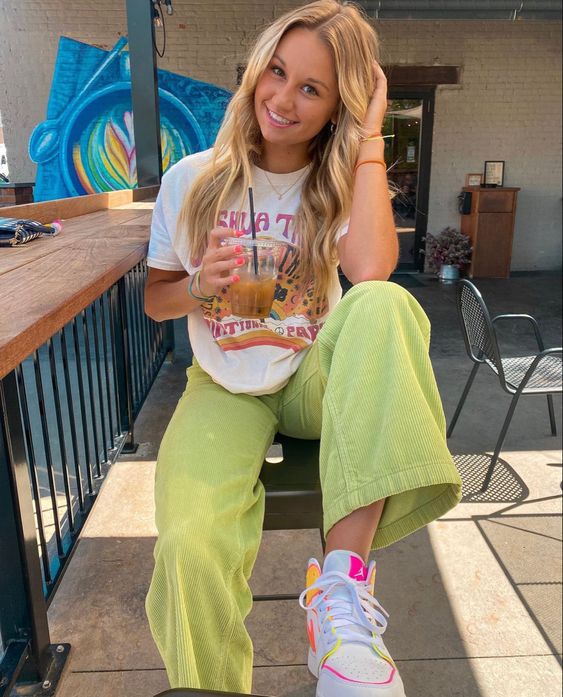 If there's one thing we love for back to school outfits, it's wearing bright colors!
From the graphic tee all the way to the neon accent sneakers, this outfit is easily one of our favorites for 2023.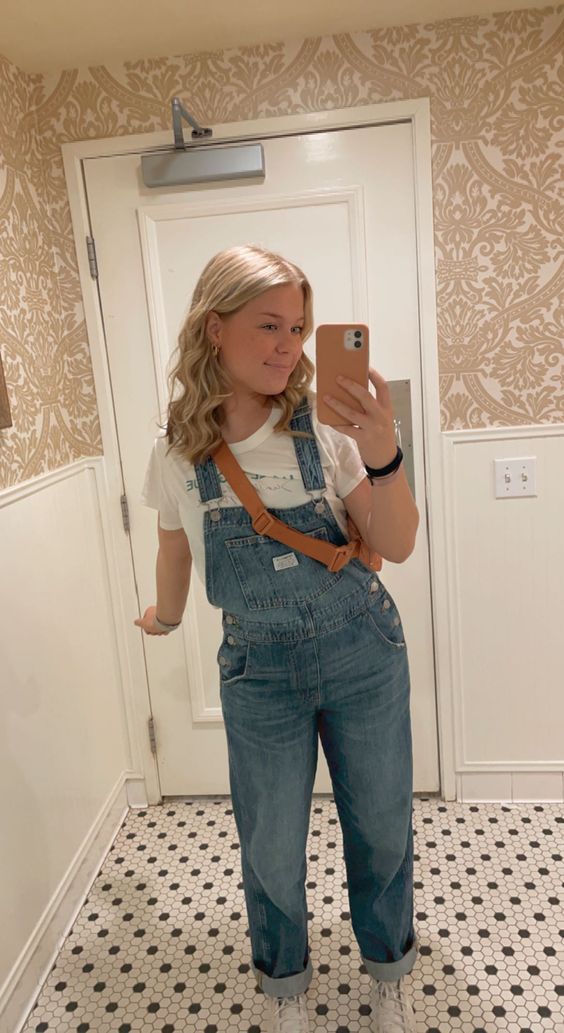 Denim overalls are one of the best back to school outfit pieces that you can throw on right before heading out the door.
If you're running late to school, overalls have got your back.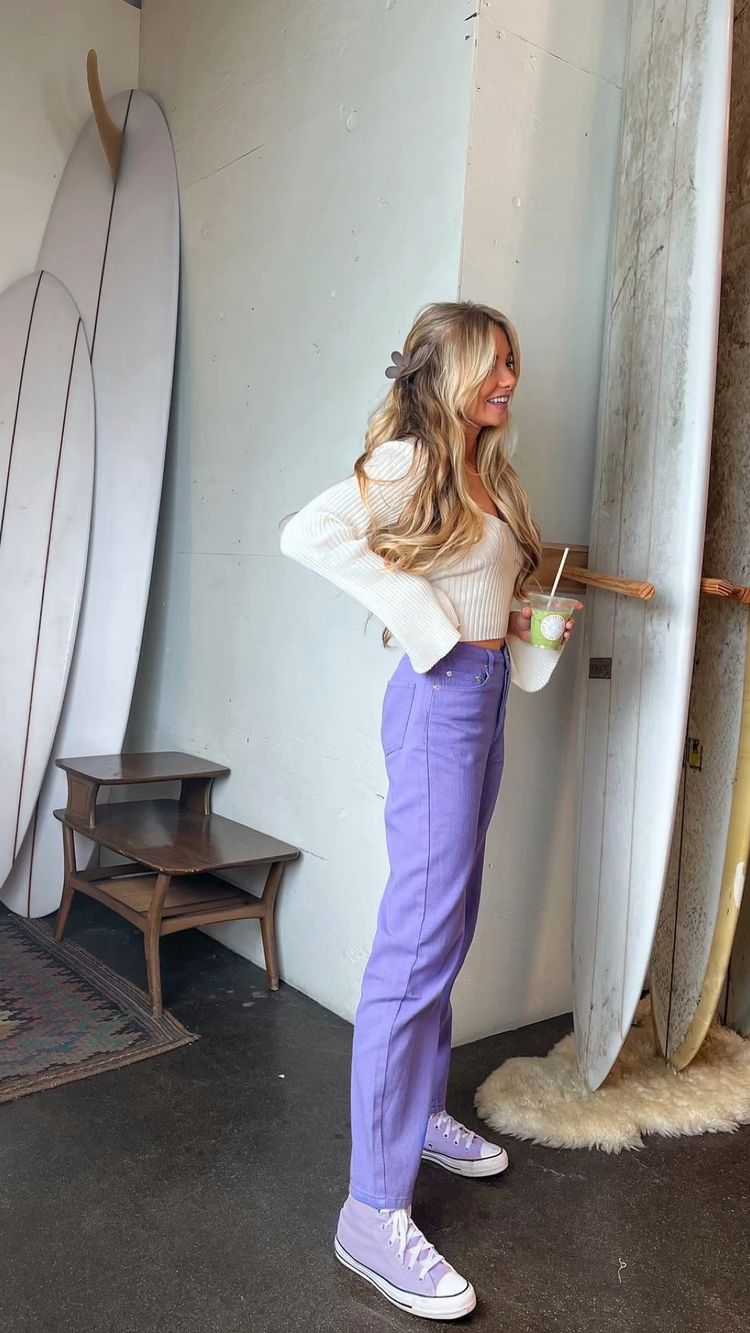 It's the 2023 color we can't stop obsessing over: purple.
Adding purple to your look is easily a back to school outfit idea for high school girls you'll want to try.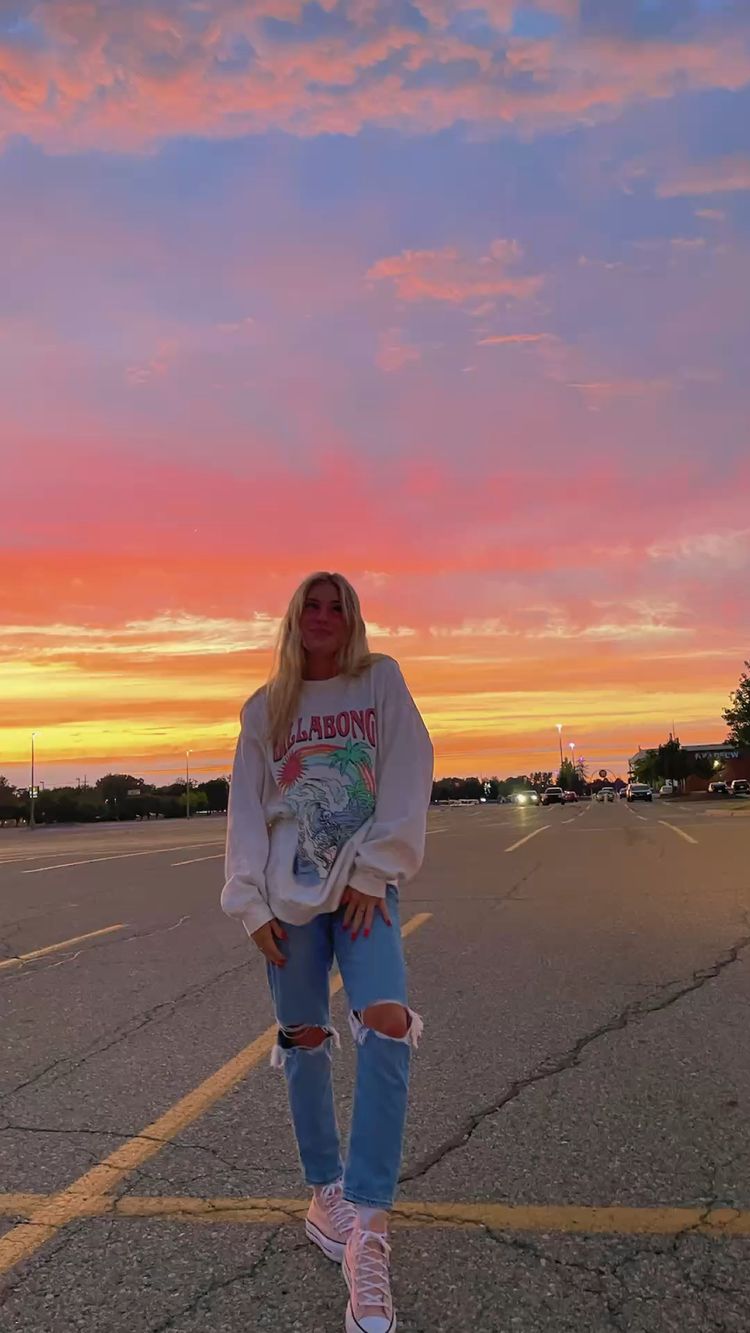 Every high school girl knows a graphic hoodie is always a great go-to for a last minute back to school outfit.
And if you don't have any we highly recommend finding some vintage pieces at your local thrift store.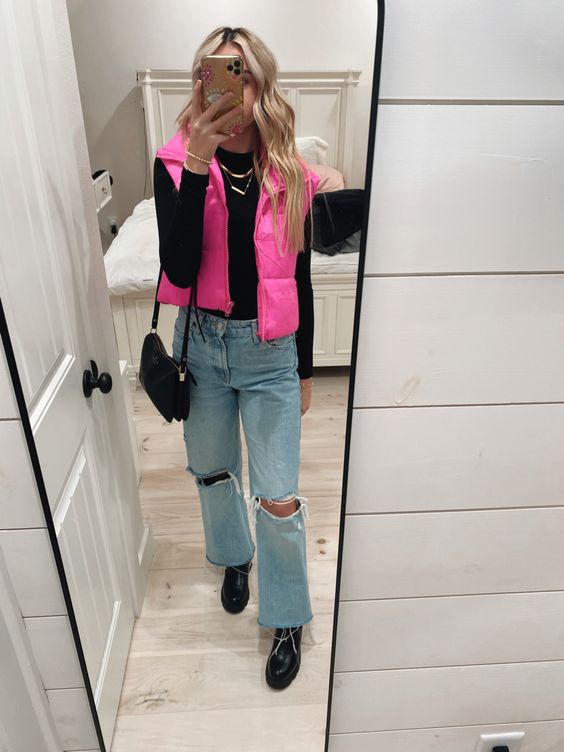 If you feel like your back to school outfit idea is a little boring, add a trendy cropped puffer vest on top.
Puffer vests are an easy and affordable way to layer and accessorize your outfit.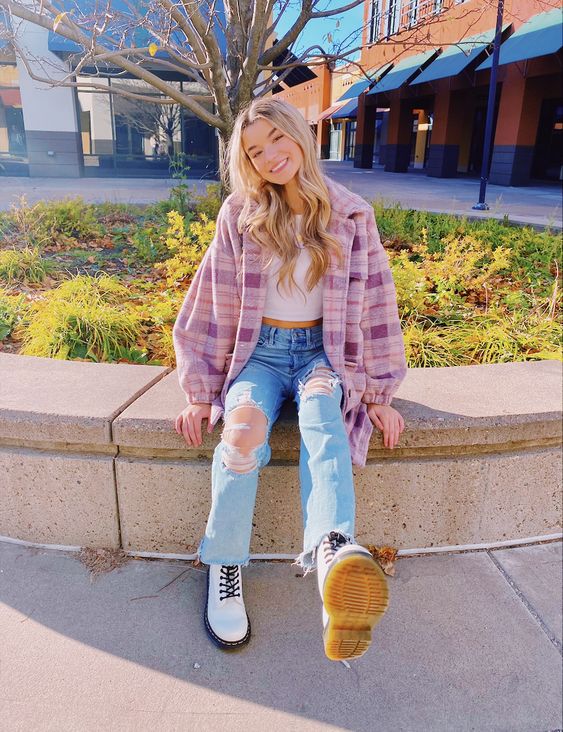 Looking for the perfect cozy back to school outfit idea for high school girls?
Look no further than your trusted oversized flannel.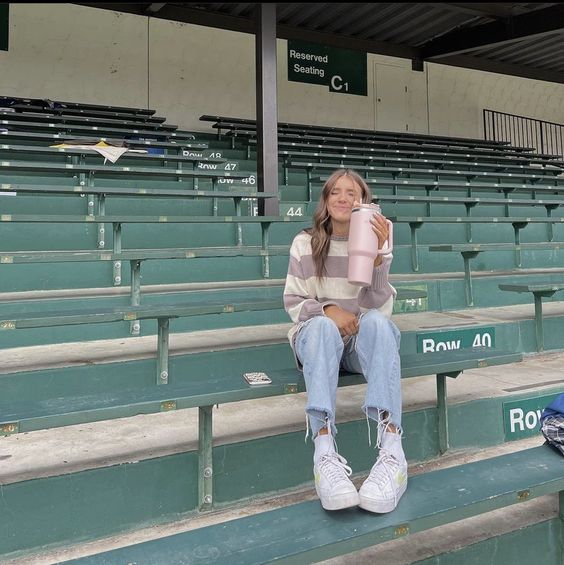 The best time to wear a striped sweater is all the time.
But more specifically, it's the best time to wear in the Fall when you're headed back to school.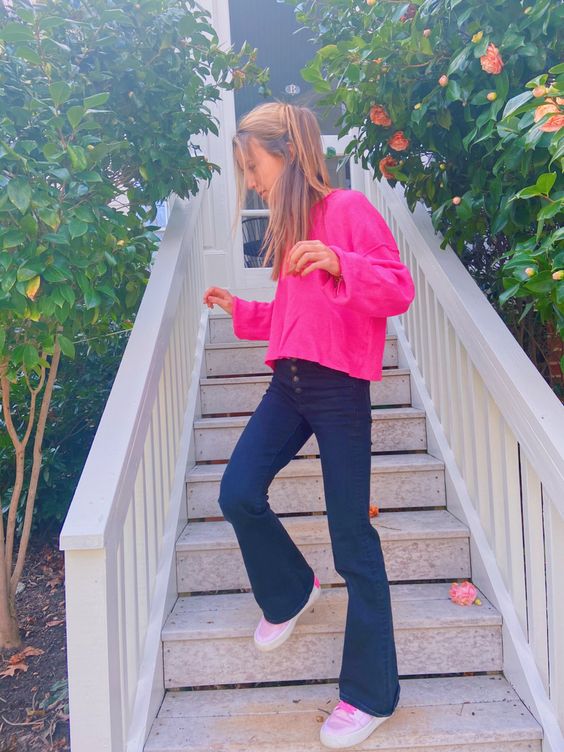 Trends come and go but one thing that has never changed is our love for bootcut jeans.
You can style them with sweaters, t-shirts, blouses, or hoodies, and you'll always look trendy.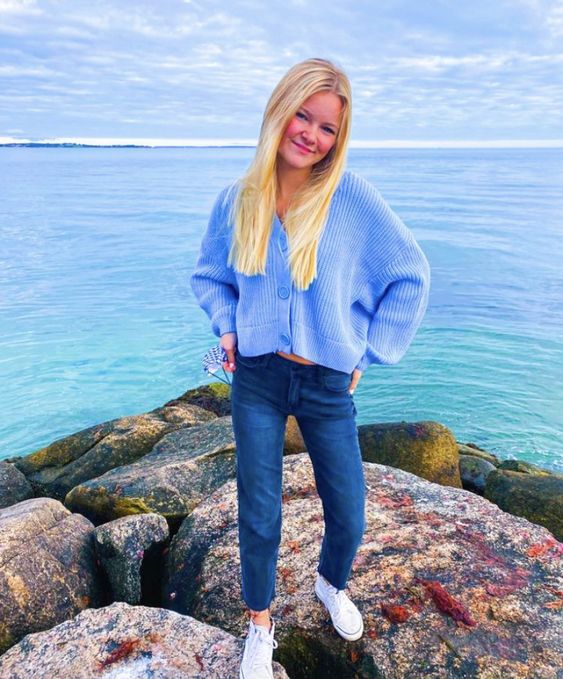 We love all things blue for Fall and Winter and this cardigan and jean combo has stolen our hearts.
So if you're still looking for the perfect back to school outfit idea, make sure to bookmark this one.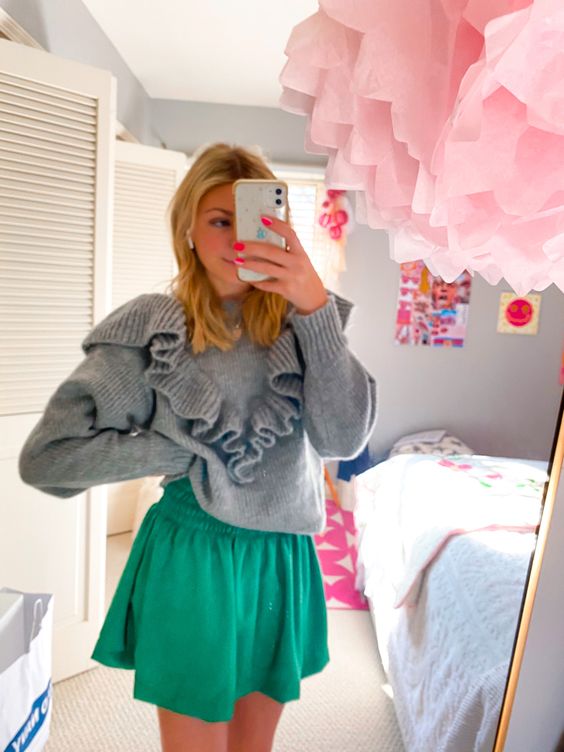 The Fall back to school outfit combination of our dreams: a sweater and skirt.
This combination is such a great way to transition your Summer clothes into the cooler months.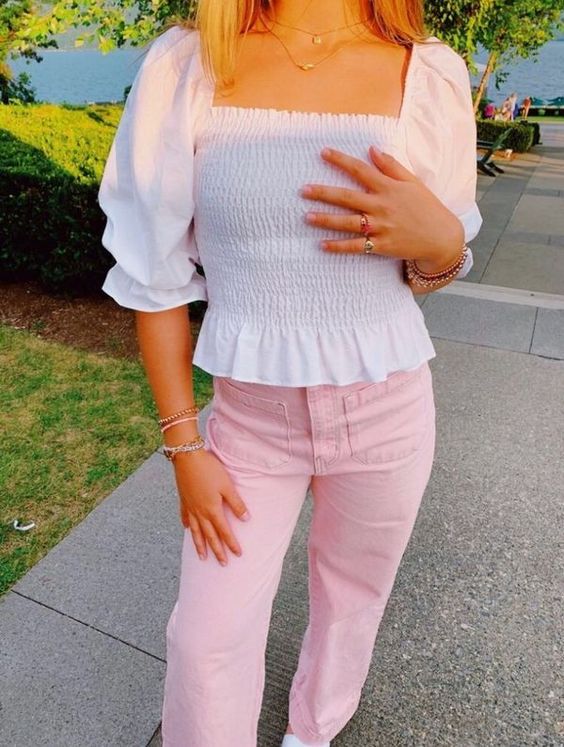 Calling all the girlie-girls that are looking for a cute and feminine back to school outfit for high school girls.
This white and pink outfit combines all things girly and frilly into a cute and stylish look for school.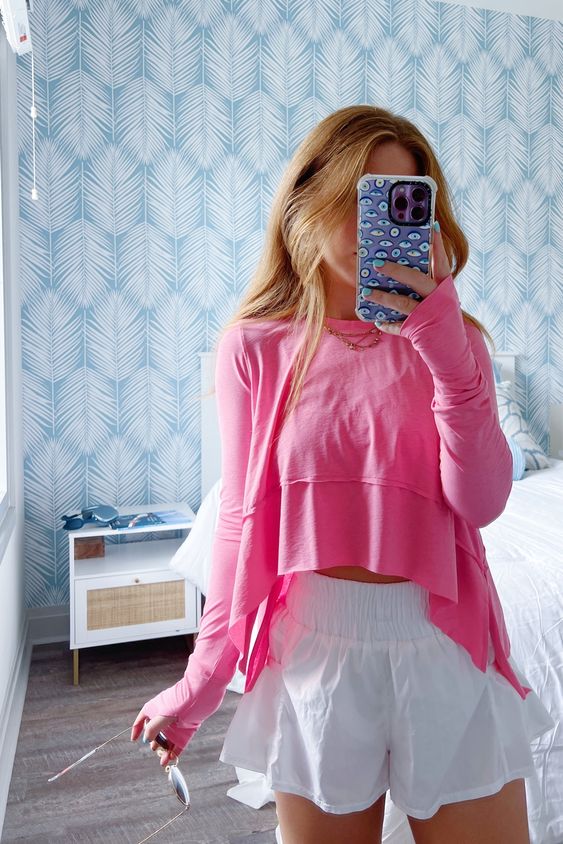 Try the sporty look this Fall as you head back to school.
We love how girls are starting to turn their athletic clothes into cute everyday outfits in 2023.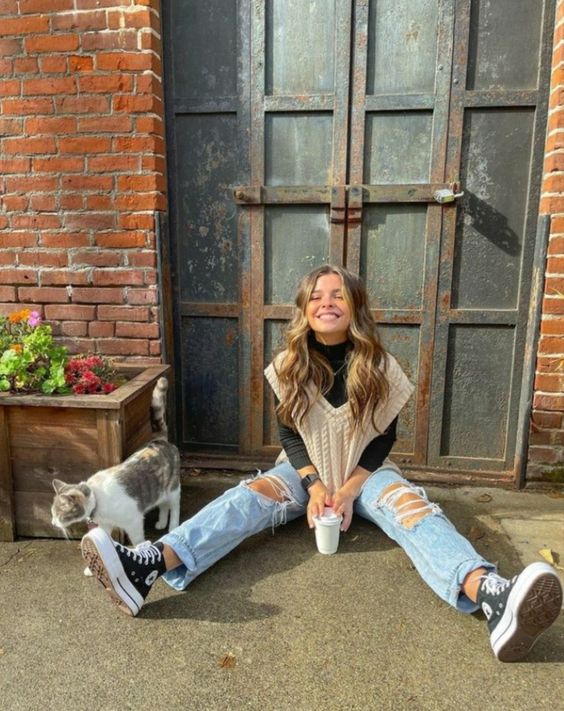 It's back to school time so get ready to add on those layers.
There's nothing we love more than a layered chunky sweater vest on top of an already cute Fall outfit.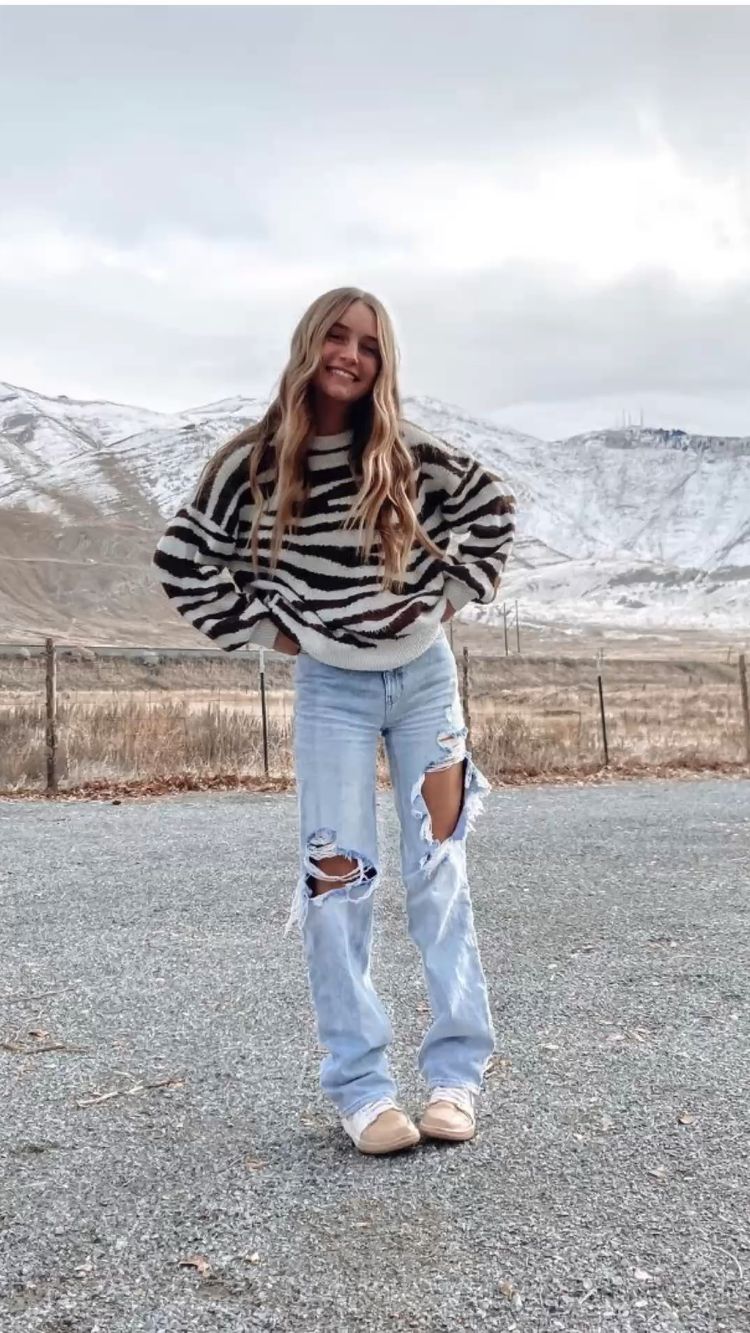 Don't be boring this year when you plan your back to school outfit ideas, have fun with them!
Rock fun colors and wild prints, because life is too short to always live in beige.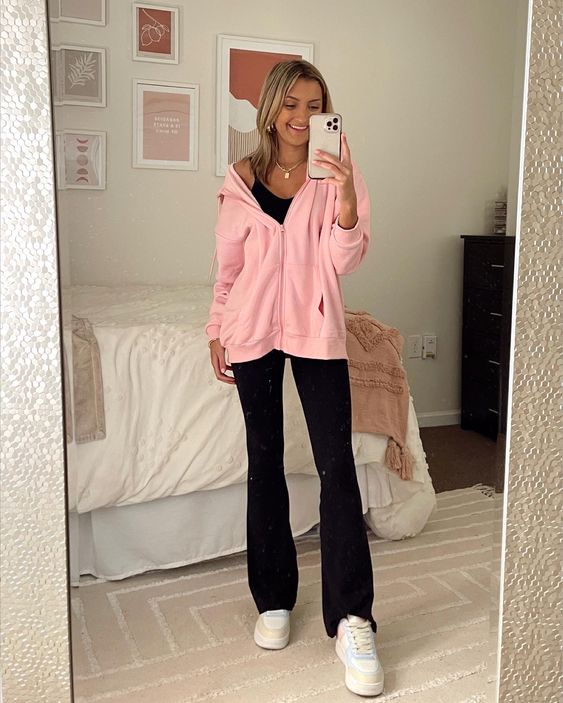 Flared leggings are going to be your new best friend if you're someone who hates wearing jeans all day.
Flared leggings still look super cute and trendy and will have you feeling your best all throughout your school day.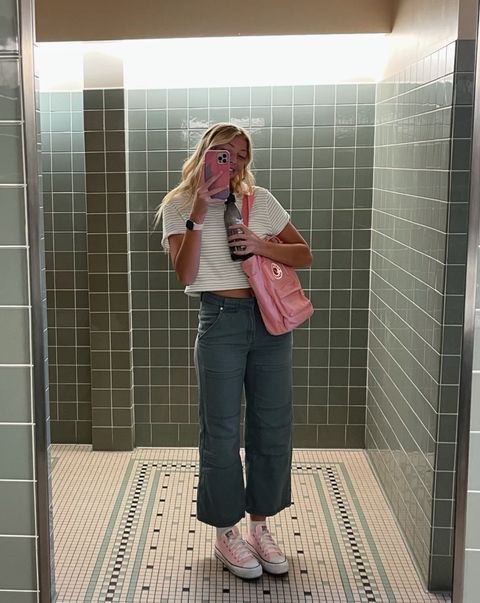 Add a pop of color into your neutral back to school outfits with colorful accents.
You can even try matching your backpack, shoes, and phone case to really bring the outfit together.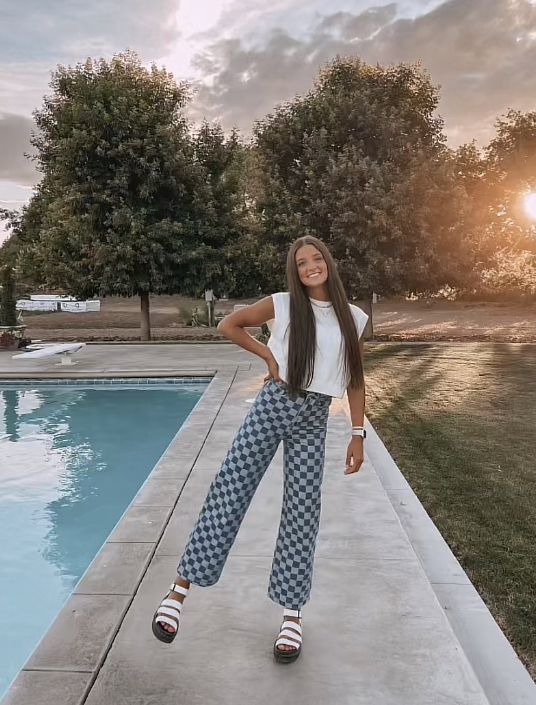 Going back to school means stepping up your outfits and printed pants are a great way to do that.
Whether you're rocking checkered, striped, or animal print pants, this is an outfit that everyone will love.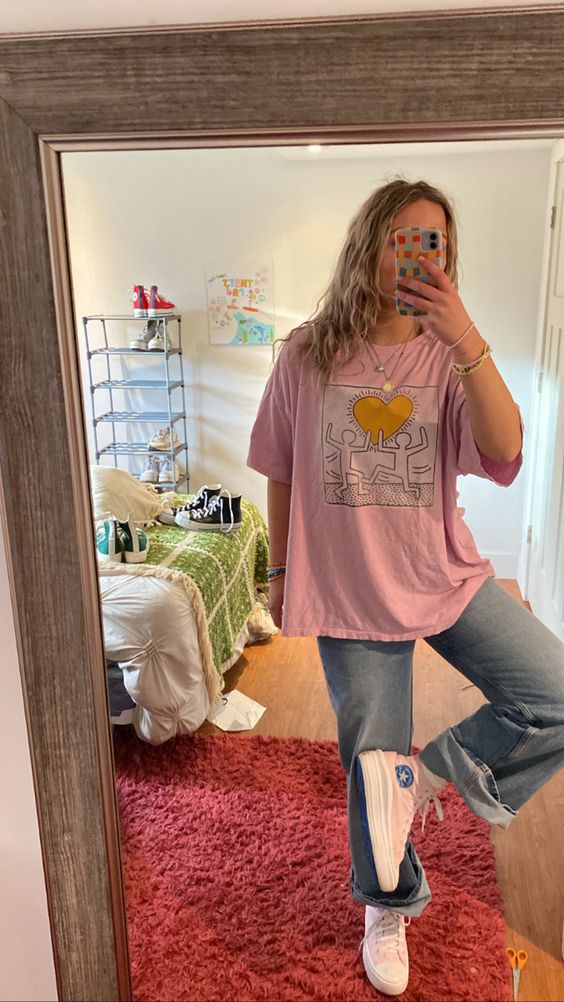 You can rock an oversized t-shirt and still look cute, we promise!
It's all about how you style it and this girl did a great job of it.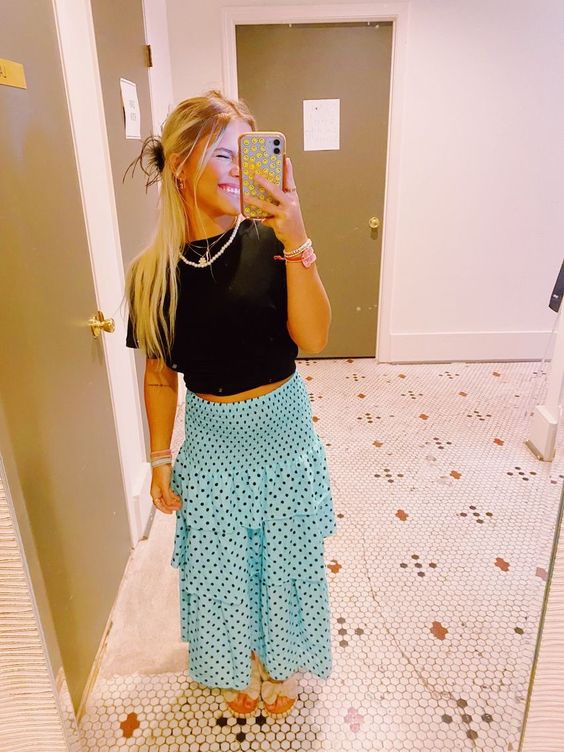 No matter the color, style, or print, we will always love a maxi skirt outfit.
Maxi skirts are so easy to wear and look cute with anything you wear with it.
Hopefully you've found your favorite back to school outfit after reading this post!
If you have any comments, questions, or suggestions leave them down below. Thanks for reading!