Are you a teen girl looking for some inspiration for your next haircut? Here are the 15 best hairstyles for teenage girls with short hair!
Having short hair comes with many perks. For one, it usually requires a lot less maintenance than classic long hair looks.
Plus, bad hair days are a little bit less of a problem. However, finding a good hairstyle isn't always easy.
Whether you have thick hair, curly hair, or straight hair, you'll be sure to find a short hairstyle that fits you in this list!
Let's dive in!
Short Hair Beach Wave Bob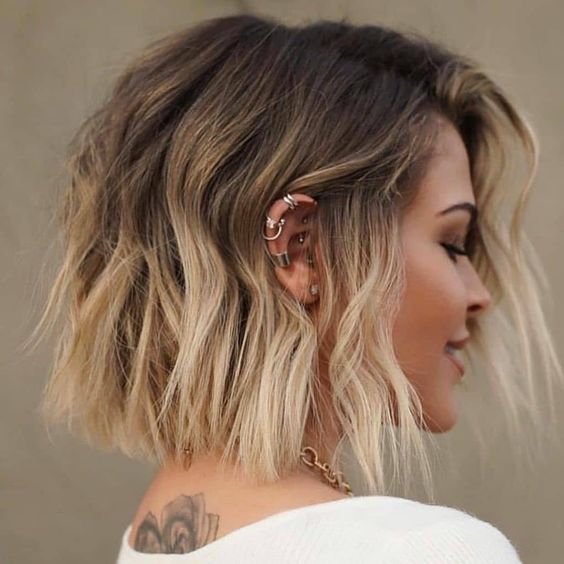 If you're looking for a trendy and stylish way to style your short hair – then this look will be your new best friend.
All it takes is adding in loose waves to your short bob hairstyle and shaking it out for an effortless and easy look.
The Beach Wave Bob will have everyone envying your hairstyle and wondering which beach you just came from!
Rose Gold Highlights
Are you ready to spice up your short hair in a way that's easy, effortless, and super cute? Then adding in colored highlights is the way to go for you!
We highly suggest the rose gold highlight look, especially if you have blonde or brunette hair! This color combination looks incredible all year round and really emphasizes the highlights of your face.
Pair the color with a blunt bob to really add the edge and spice to make this look rock.
Short Hair Space Buns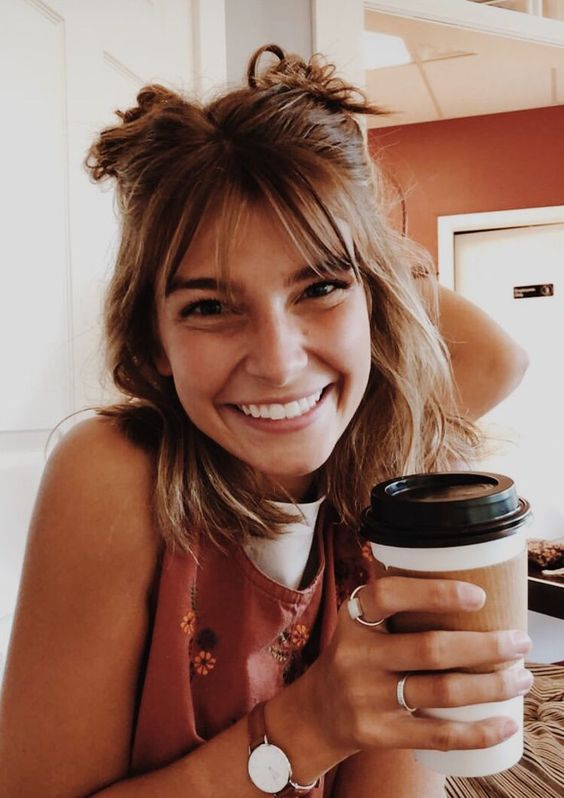 Despite what you may think, you can rock space buns, even with short hair!
Short hair space buns is one of the best hairstyles for teenage girls with short hair to look super cute.
Instead of pulling all of your hair back into space buns, only do the top half of your hair!
This is a great hairstyle for someone who wants to elevate their look into something cooler, but doesn't want to go with a ponytail or braid.
If you have bangs, leave them out to add an extra layer of volume and dimension to this hairstyle.
Elegant Headband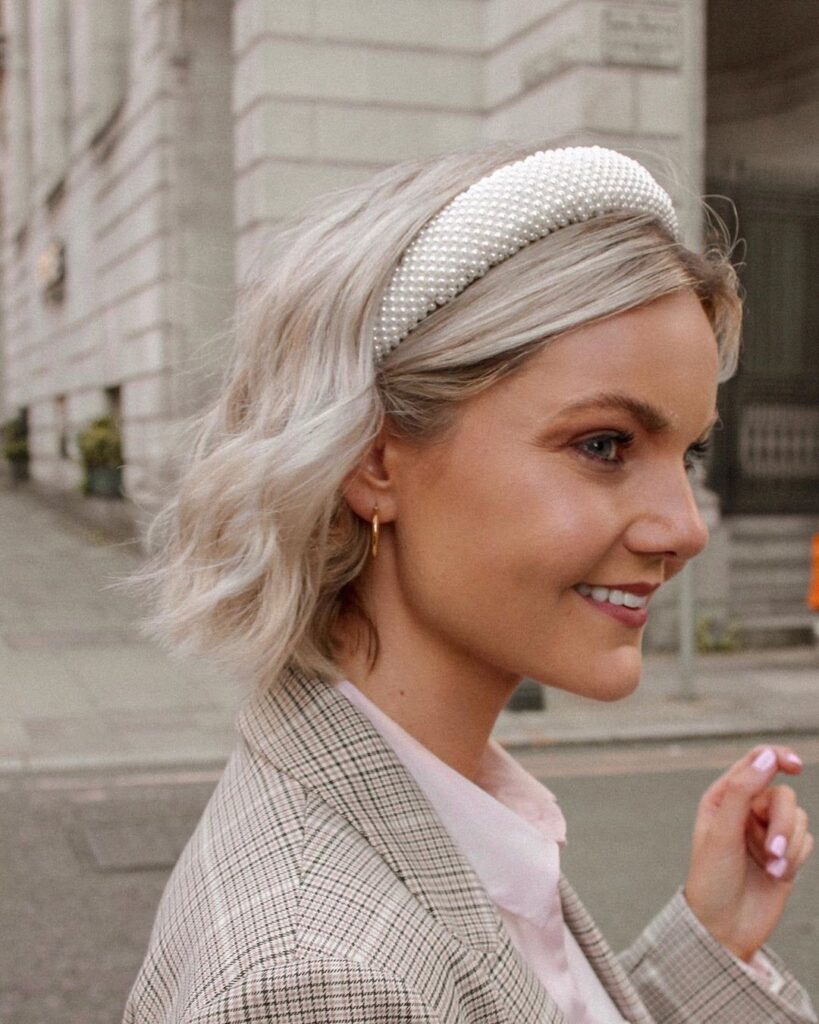 An easy and effortless way to look extra chic throughout your day is with a classy and elegant headband. Just pull your hair back and add in the headband of your choice!
To take this look a step further, add in curls for a preppier look, or straighten your hair for a more classy night-time look.
You can never go wrong with a silk neutral colored headband!
Related Post: 15 Best Hairstyles for Teenage Girls with Curly Hair
Chic Parisian Bangs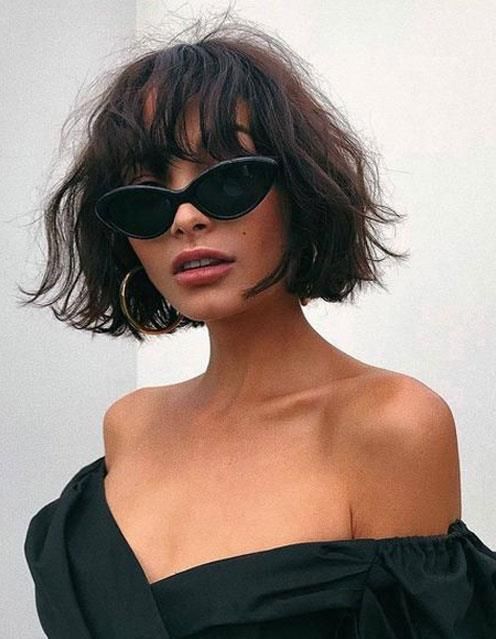 Nothing says chic more than the cool-girl Parisian look. If you're sporting a short hairstyle, add some feathered bangs into your look to really nail the effortless Parisian vibe.
This hairstyle is classic, timeless, and oh-so-cool!
Grab your croissant and cafe au lait and head to the hairdresser so you can embody the chic Parisian girl on your Pinterest board.
Ultra-Long Side Bangs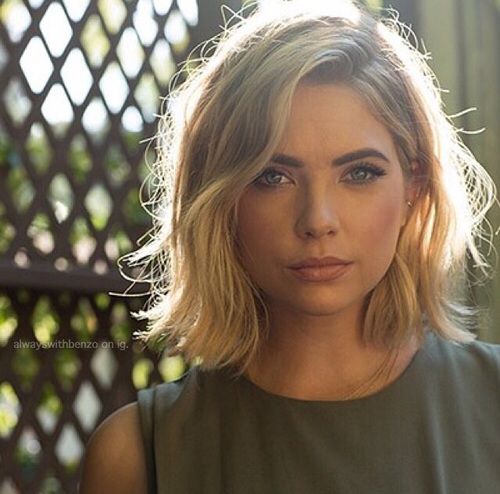 Ashley Benson is the queen of short hair – and for a reason! She makes every girl want it.
If you're not into the "middle-part" trend, then this hairstyle is perfect for you!
Extra long side bangs help to frame your face while keeping your hair voluminous and filled with texture.
So take a page out of Ashley's playbook and get a cut that will steal the show!
Half Up-Do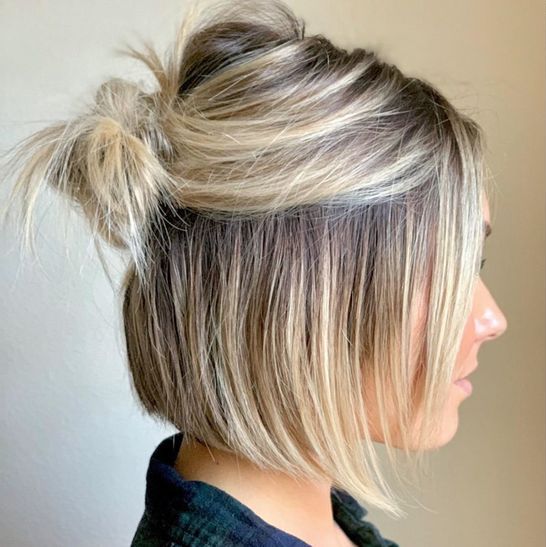 The Half Up-Do is a chic and effortless hairstyle perfect for any teenage girl with short hair, especially if you have tons of layers.
This look is super easy to achieve – all you have to do is section off the top part of your hair and throw it up in a cute ponytail or bun.
Have fun with this look and accessorize with colorful scrunchies and hair ties.
Claw Clip Perfection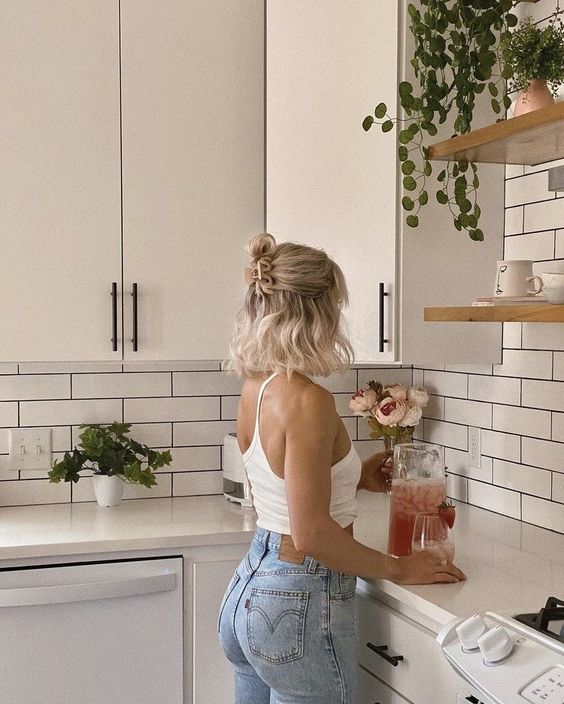 If you think your hair is too short to rock the claw clip trend then you are 100% wrong!
In fact, we might be biased because we think claw clips look even better with short hair!
Claw clips can be worn several ways but we're partial to the half up, half down look with cute and bold claw clips!
It makes for an easy short hairstyle for teenage girls to rock no matter the occasion.
To add extra volume, ask your hairdresser for extra layers and texture to your haircut!
Short Streak of Color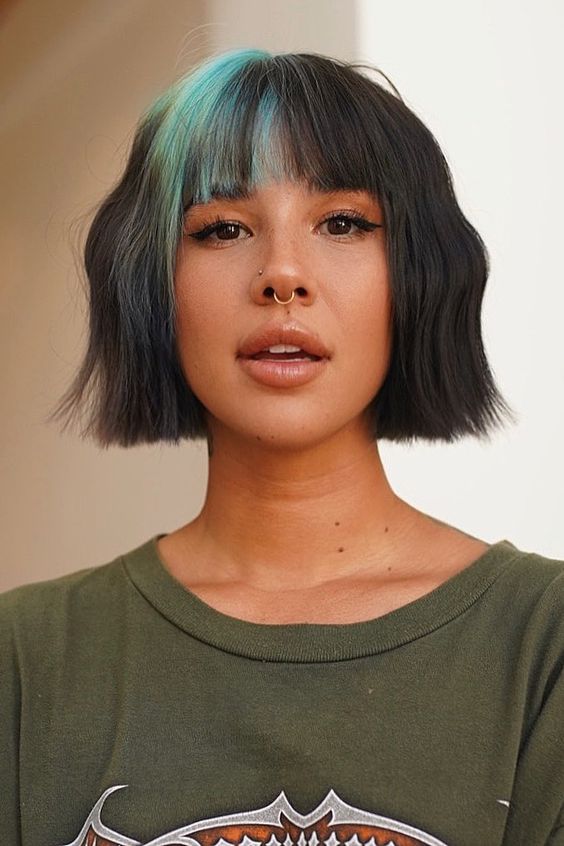 Did someone say the coolest girl in school? Because that is who you will be if you rock this look!
This streak of color is the perfect way to add some extra pop and pizzazz to your look without going overboard. We are loving how effortlessly the color looks in the bangs!
Before heading to your local drugstore to get some semi-permanent hair dye, talk to your hairdresser first to make sure this look won't damage any hair!
Related Post: Stylish Fall Fashion Trends for Teenage Girls
Short Curly Rubber Band Pullback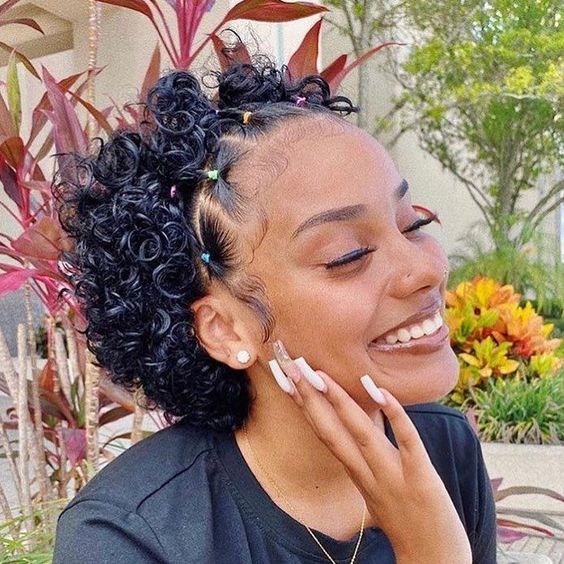 If you have super curly and short hair, this is a great way to not only keep the hair out of your face, but look super cute and trendy!
All you have to do is grab the small colorful hair ties from your local drugstore and section the pieces of your hair from ear to ear that you want to pull back.
Leave the ends of your hair natural and curly to create a look filled with volume!
Mini Ponytails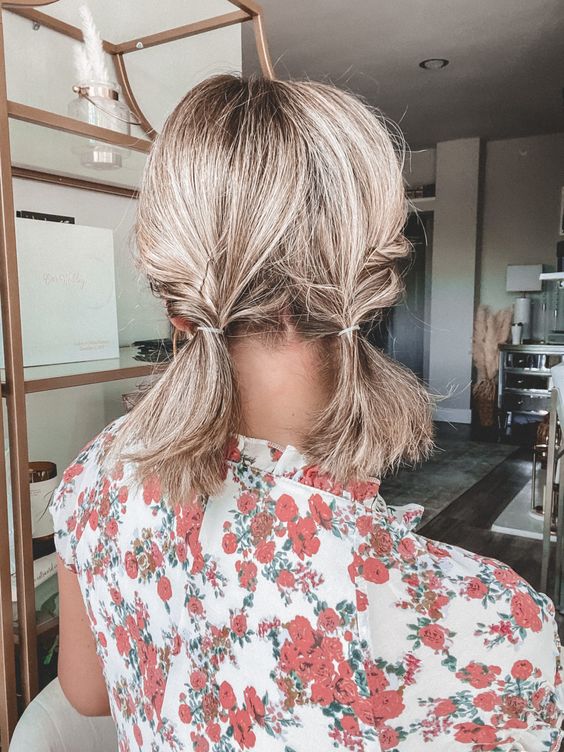 Having short hair can be tricky when attempting to pull your hair back. The best thing to do is to split up your hair into two sections and tie them back into two low ponytails!
Mini ponytails are one of the cutest hairstyles for teenage girls with short hair. Not to mention… they're super easy to style!
Because your hair is short, having higher ponytails will be tricky so this look is perfect to have all your hair pulled back neatly and still look super chic.
Add in a few braids at the bottom to really nail this look!
Messy Bun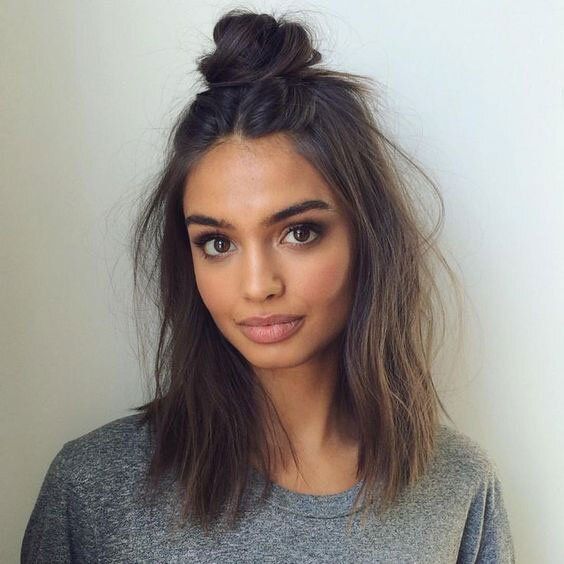 We aren't going to lie, we are partial to buns and this look takes the cake. In fact, we're on our way to the hairdresser now to get this look!
Messy buns are a great way to keep your hair back but still look like the effortless cool girl you've always envied.
Add in a few braids or twists to elevate this look and change it up from time to time!
Half French Braid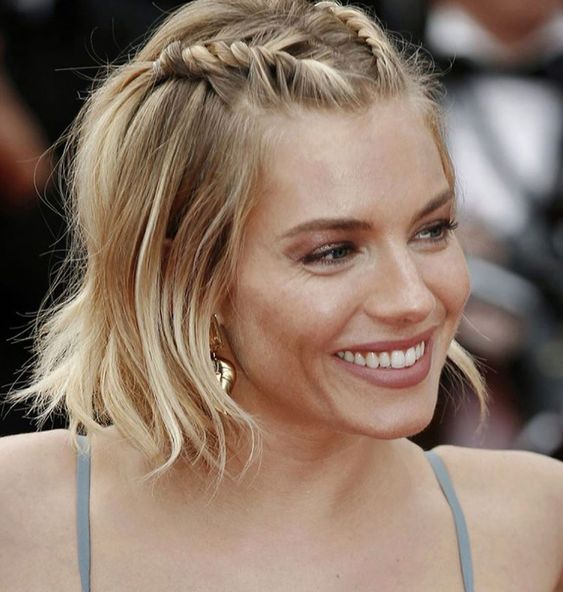 If you're struggling to put your hair into a full braid now that it's shorter, then you might want to switch it up to trying a look like this.
With two half french braids, your hair will not only be super stylish and trendy, but you won't have to worry about your hair falling out throughout the day!
This look is great for dressing up your normal hairstyle without putting in too much work.
Blunt and Layered Bob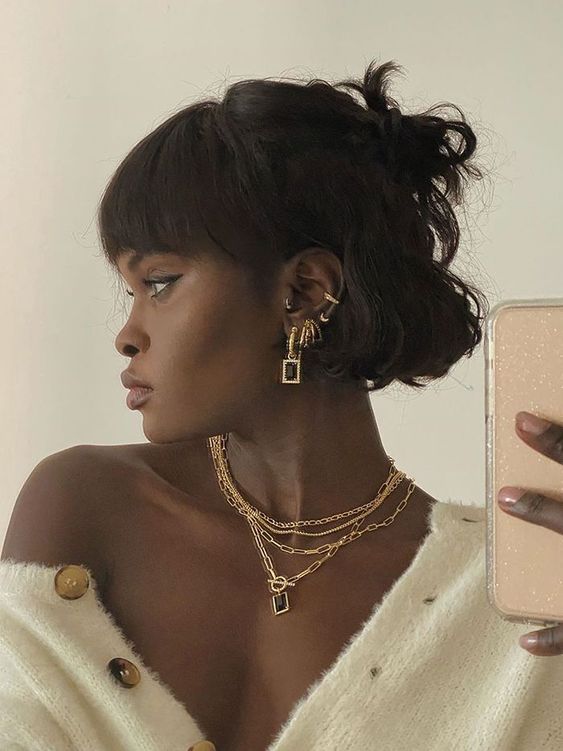 If you're about to cut your hair short but don't know how short to get it cut or what you want it to look like, then let this image be your inspiration!
The layered bob is one of the trendiest hairstyles for teenage girls with short hair! This look is perfect for someone with a lot of hair who wants a cut that's dramatic and edgy.
Make sure you ask for a blunt bob with bangs with tons of layers if this is the look you're going to go for!
Related Post: Stylish Winter Fashion Trends for Teen Girls
Ultra-Straight Bob
No one says style better than Dua Lipa, so who better to take hairstyle advice from?
This ultra-straight bob is killer on Dua and will look even better on you!
With a perfect middle part and a length that just barely touches the shoulders, this bob is the definition of chic.
Hopefully these 15 best hairstyles for teenage girls with short hair gave you a bit of inspiration for your next haircut!
Which one are you going to try out?
If you have any comments, questions, or suggestions leave them down below. Thanks for reading!