Not sure what to wear as a couple for the rave and want some help? If so, here are the 25 best couple rave outfits in 2024!
From the simple color matching outfit to the more creative options that include subtle accents to the outfit that match your partners'. You'll be sure to find one that is to your liking in this list.
Also, you'll find some accessories for the outfits that you can incorporate into your own, which could make your stand out even more.
Want more festival ideas? Check out these posts:
Let's dive in!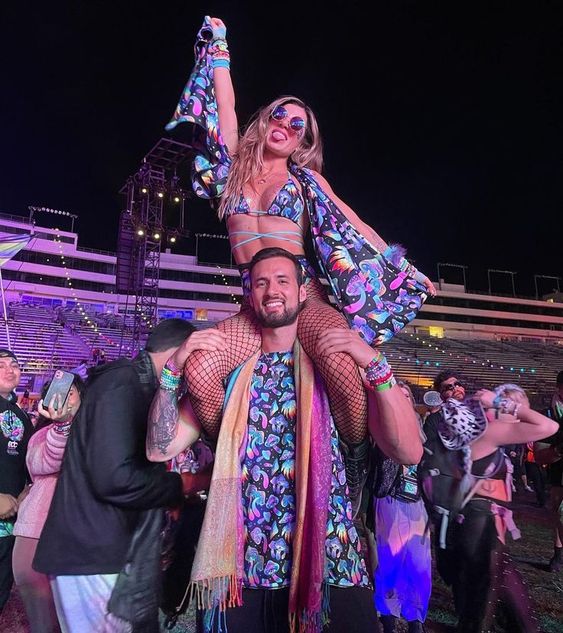 It wouldn't be a couple rave outfit article without a psychedelic mushroom print.
This couple's rave outfit idea makes for the perfect photo-op. Definitely one of our favorite couple rave outfits in this list.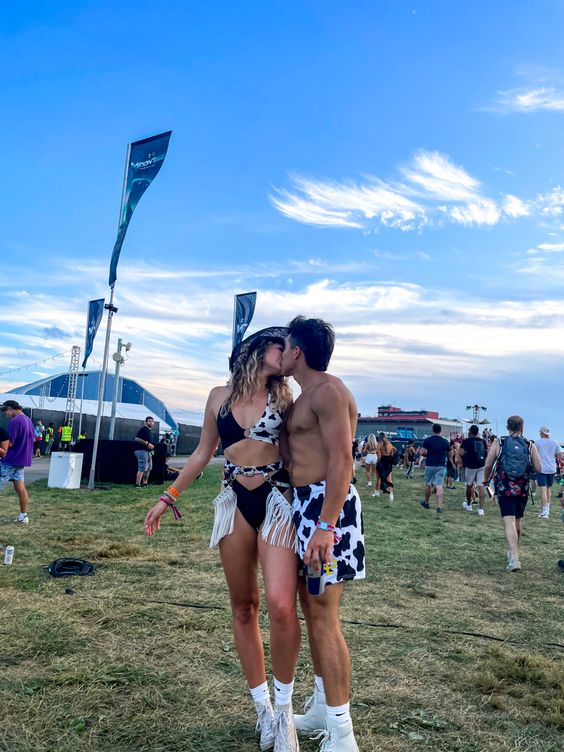 If you didn't already know, cow prints have taken over the fashion world, and it's even made its way into rave fashion.
This cow print matching rave outfit for couples is one we can't stop thinking about.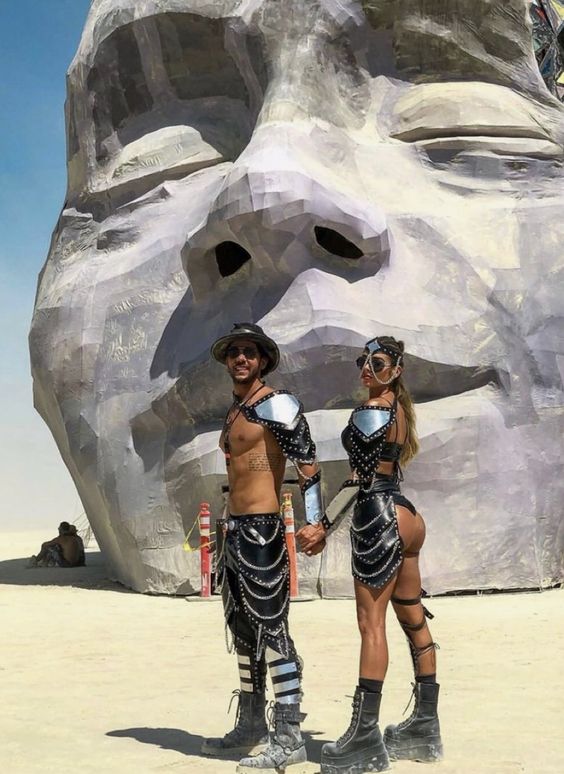 This matching couple's rave outfit is truly out of this world.
From the matching silver plates to the chain accents, we're obsessed with this cool futuristic look for a 2024 rave.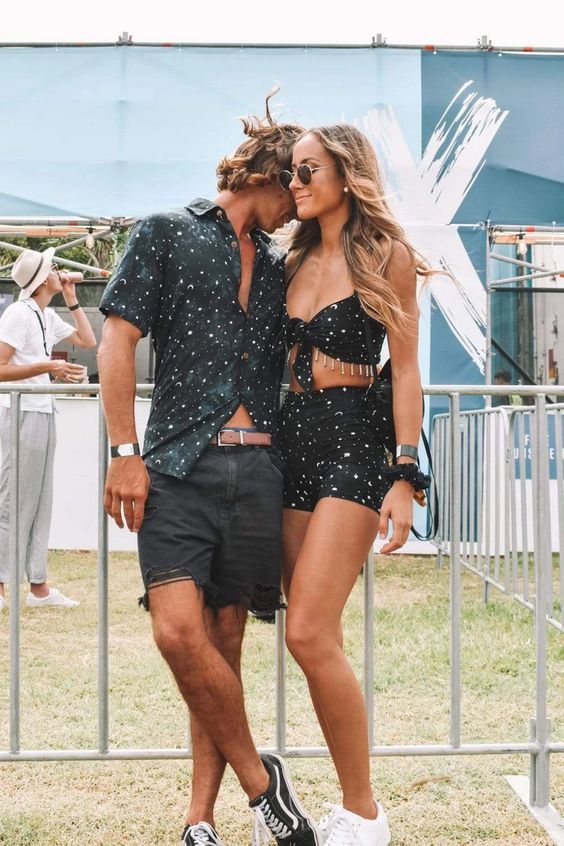 We're seeing stars with this cute black matching rave couple outfit.
This is an easy couple's outfit that's also a bit more on the modest side.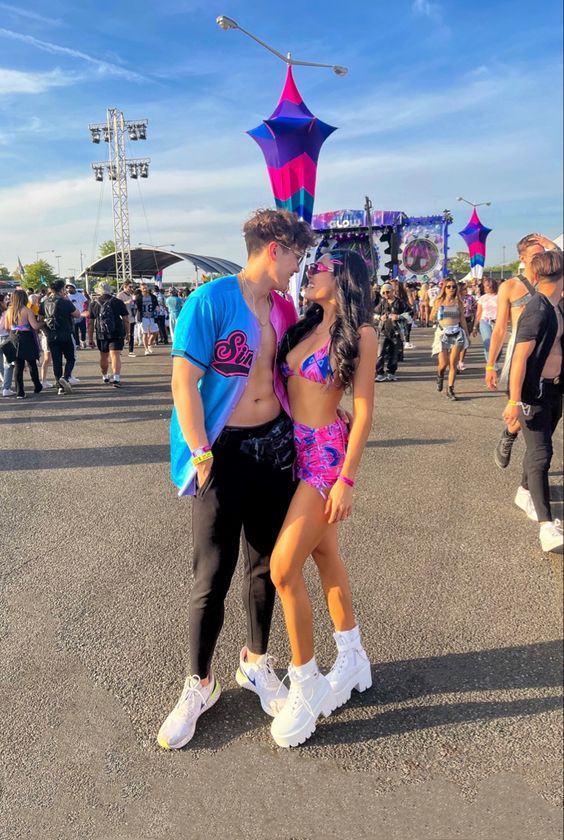 Stand out from the crowd with your partner in bright neon colors.
This is a great matching couple's rave outfit for the couple who don't want to blend in with the rest of the crowd.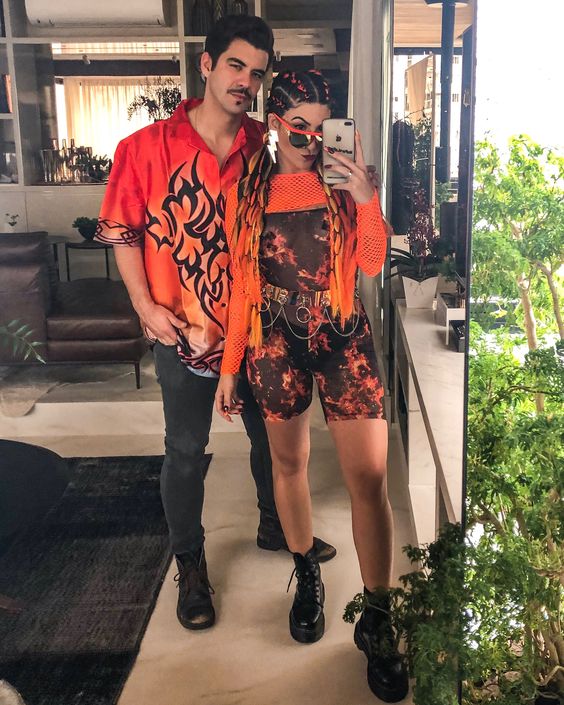 Is it getting hot in here or is it just us?
We're in love with this couple's rave outfit that features bright orange and flames.
We also think Guy Fieri would approve.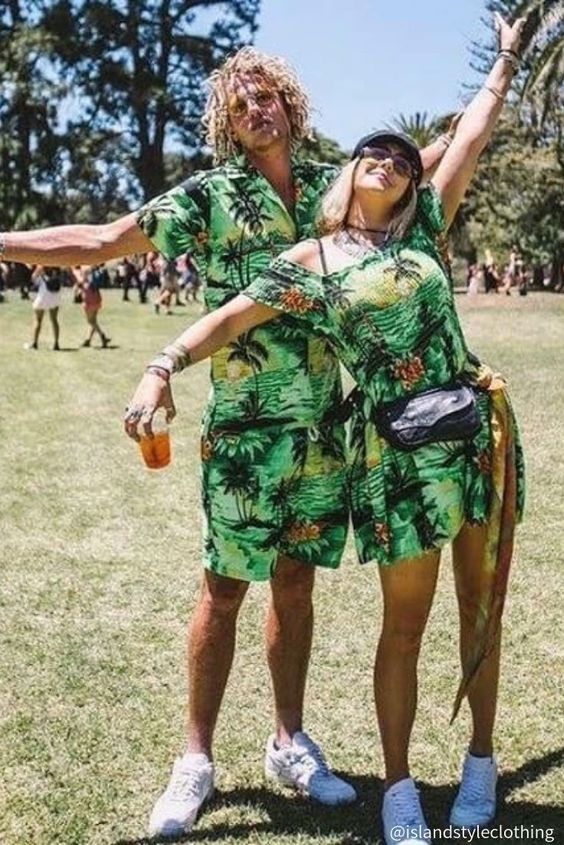 You can have a modest matching couple's rave outfit and still look cool.
This tropical matching set is a perfect example.
So if you're wanting to be more covered, we highly recommend grabbing this set for you and him.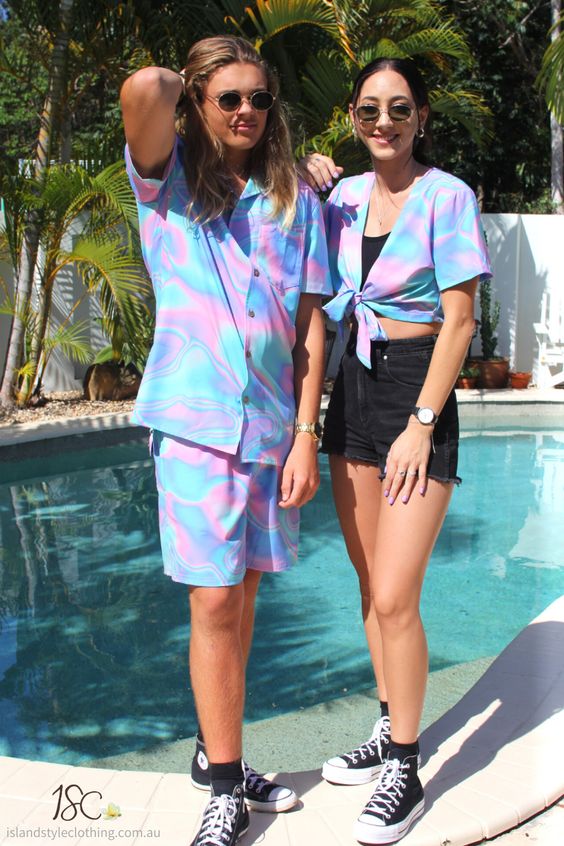 We love a blue & purple trippy psychedelic print.
You'll see these colors a lot at raves but it doesn't make this matching rave outfit any less cool.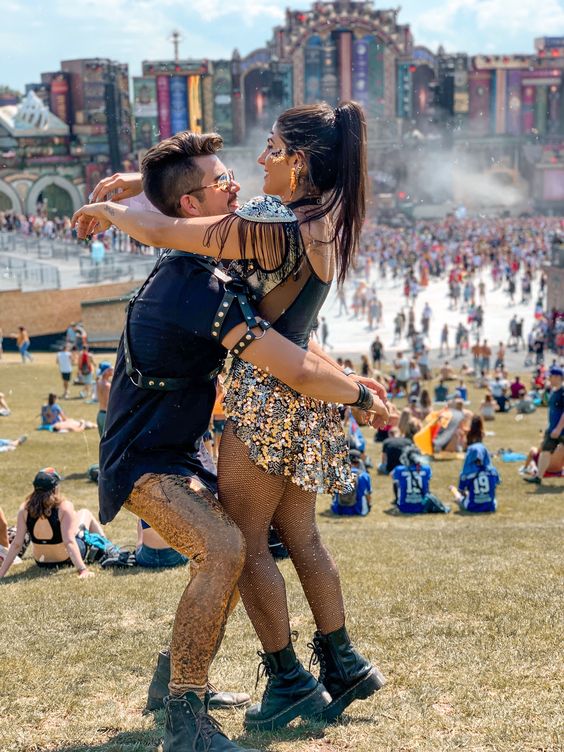 If there is any color we'll always rock at a rave, it's a shiny and glittery gold.

Gold perfectly catches the sunlight and makes for the perfect photo opportunity in the sunshine.
So if you want a killer IG photo with you and your boyfriend, you'll want to grab this black & gold couple's rave outfit.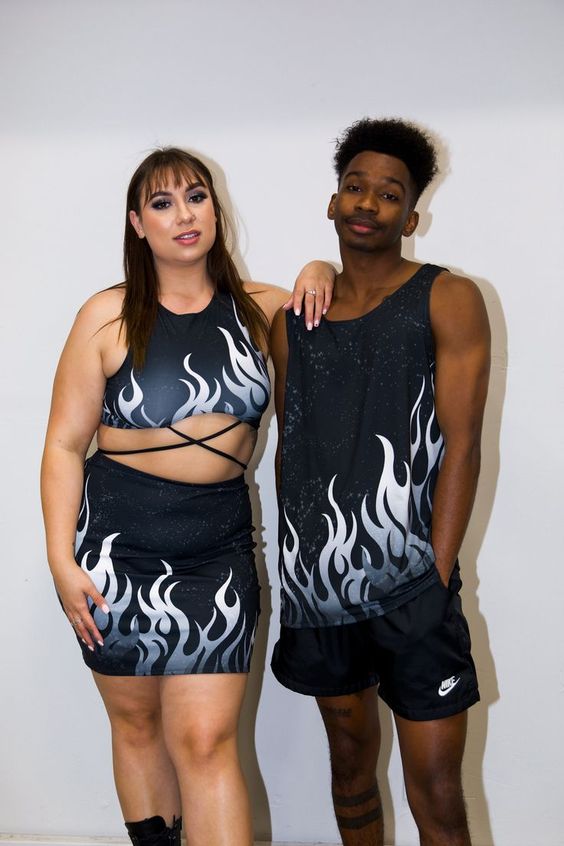 The flame trend is hot for 2024.
This black & white matching couple's festival outfit is one that's guaranteed to bring the heat to any rave.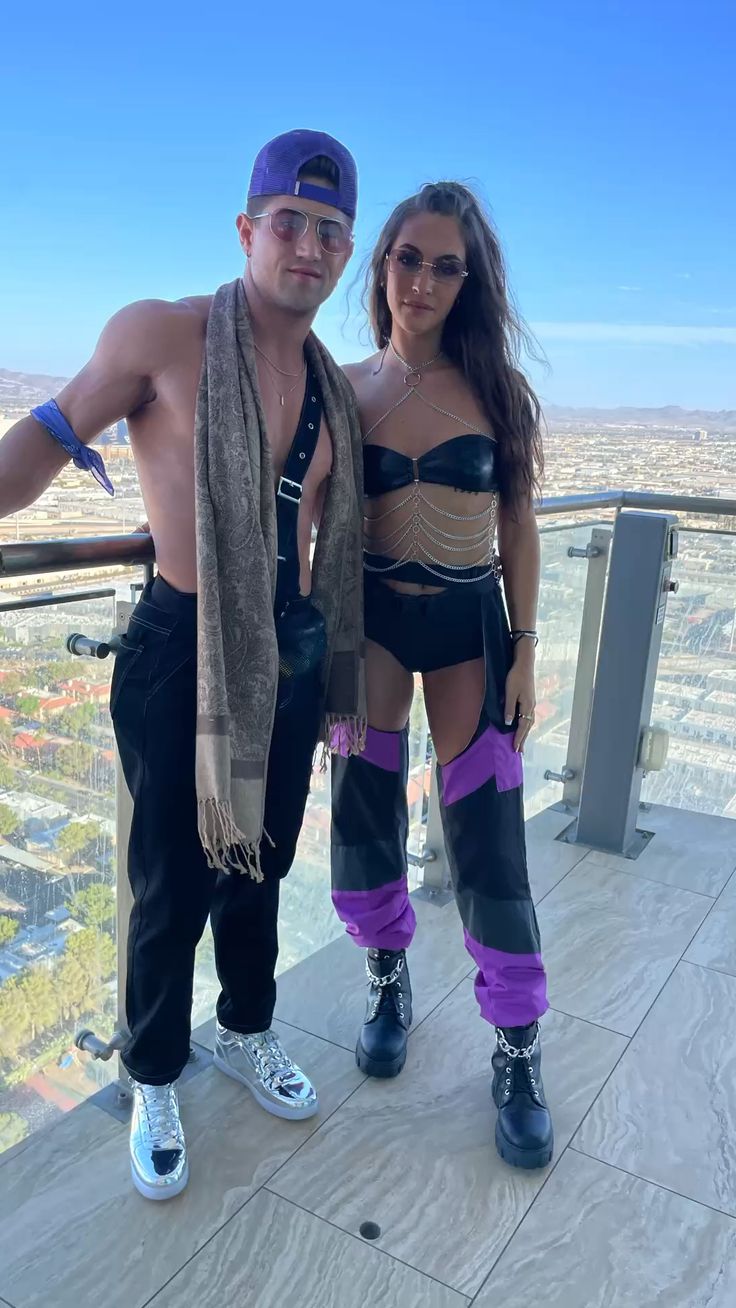 Purple is a great accent color for any matching rave outfit.
Wear all black and add on purple accents, like a hat or scarf, for an easy and affordable couple's look.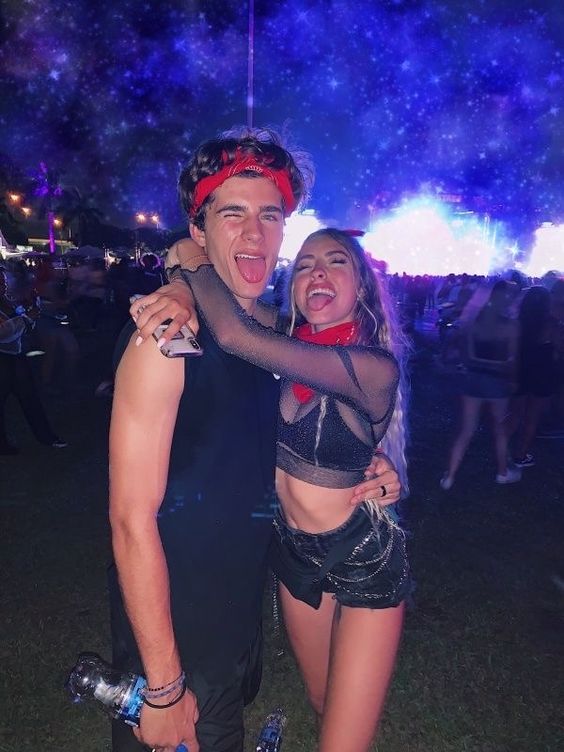 Red is another great accent color to add onto any black matching couple's rave outfit.
You can just add red in a bandana or scarf and you're good to go.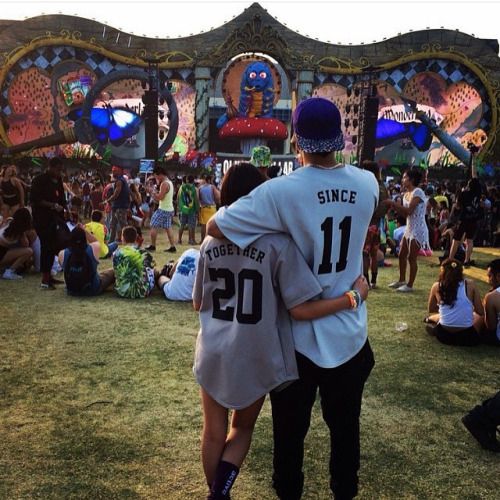 For the baseball lovers that also want to show off their love for each other, this custom couple's baseball jersey is a win.
This is such a unique couple's outfit that makes for the perfect Instagram pic.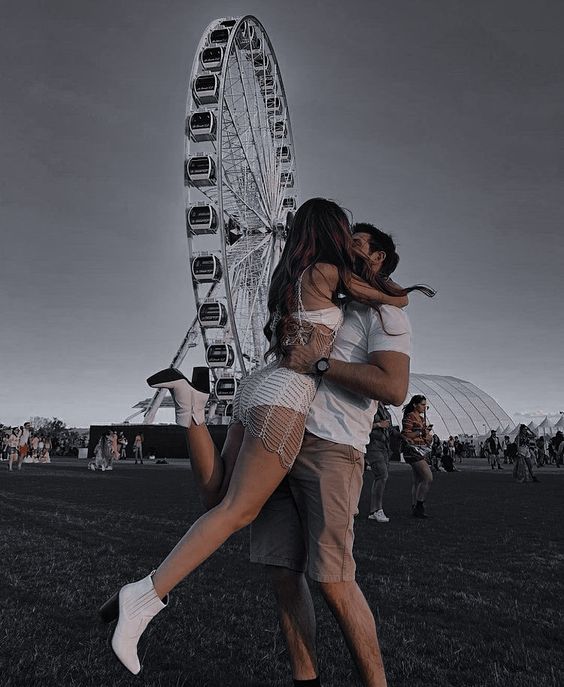 White will always be an instant favorite at a rave.
It's bright, easy to pair with accessories, and looks great all day and night long.
We love the idea of a white matching couple's rave outfit.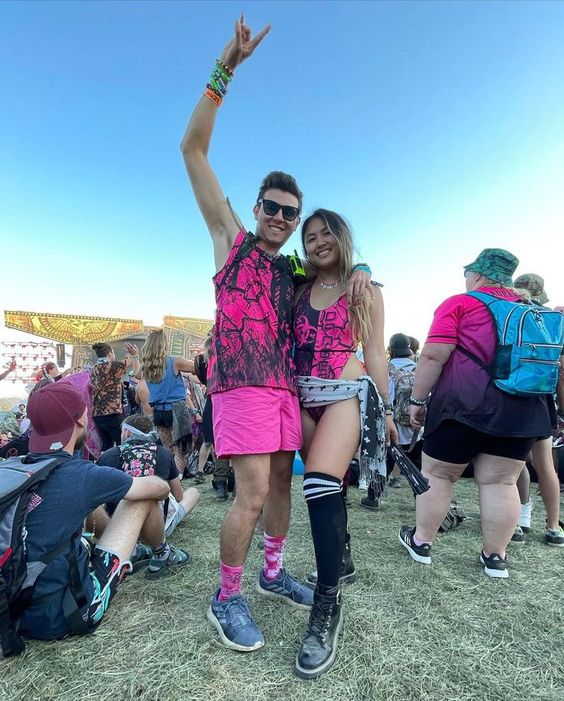 Neon pink is the way to go for any matching couple's rave outfit.
Plus, any real man wouldn't be afraid to rock pink.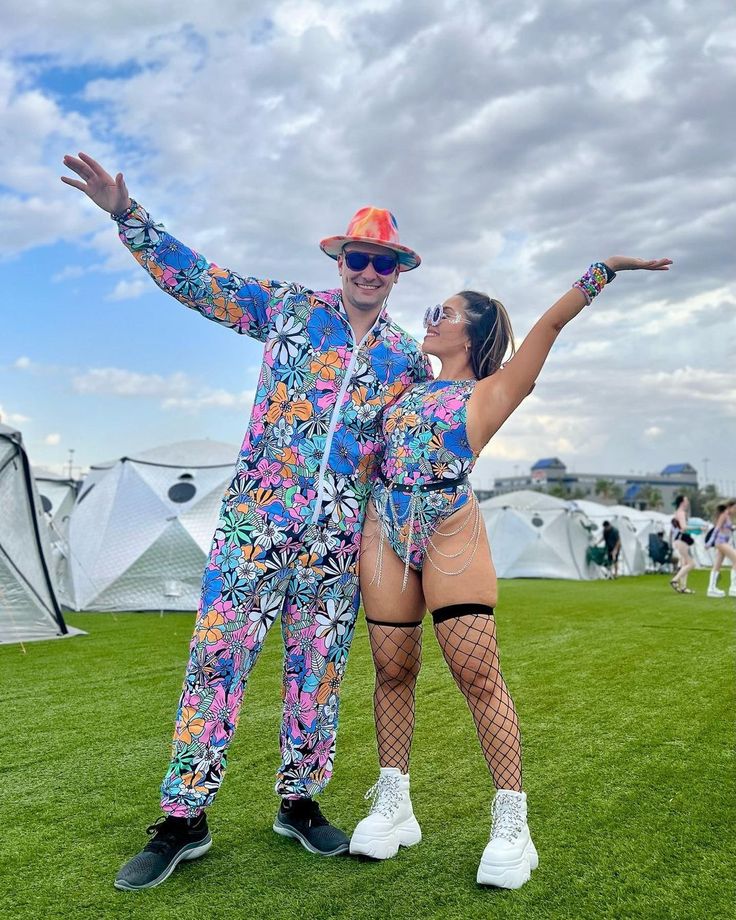 Channel your inner 70's hippie with a flower power couple's rave outfit.
While your man rocks his onesie, you can rock a matching floral bodysuit.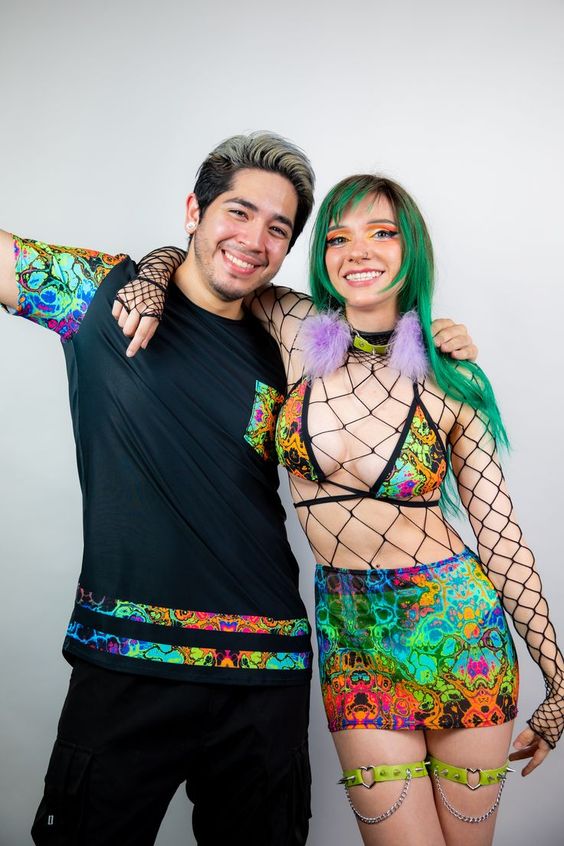 The best rave outfits are ones that are bright and colorful.
This outfit is one of our favorite couple rave outfits because of all the rainbow patterns.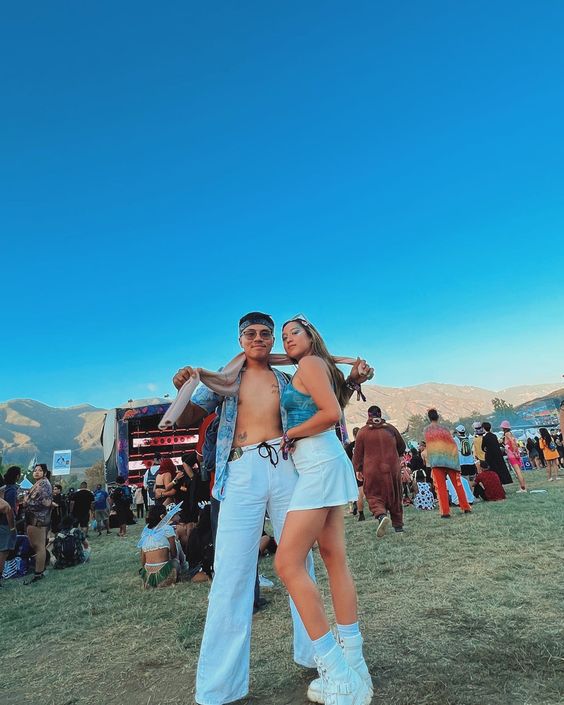 You don't have to have entirely matching outfits to have a cute couple's rave outfit.
Although the rest of their outfits are different, the white bottoms help bring this couple's outfit together.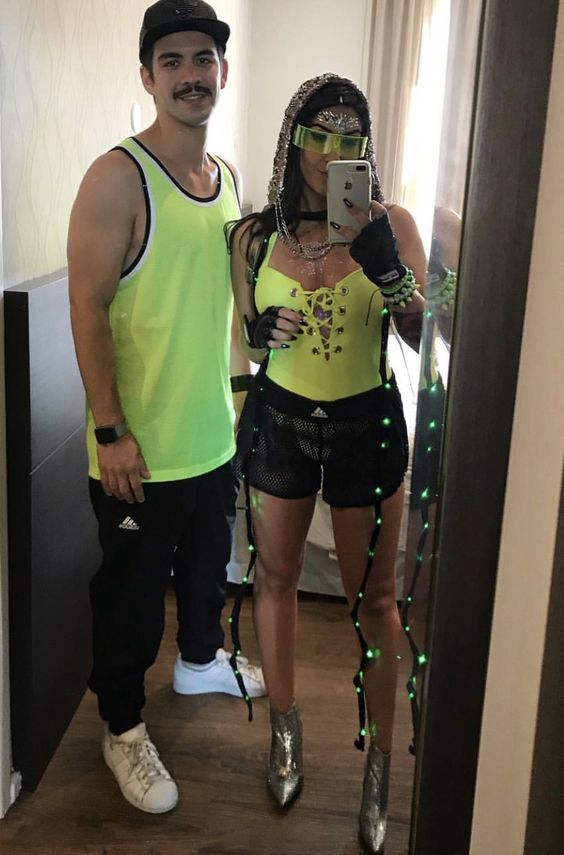 If there's one color we're obsessed with at raves, it's highlighter green.
This color looks great during the day, but really comes to live as it lights up in the dark with your flash photos.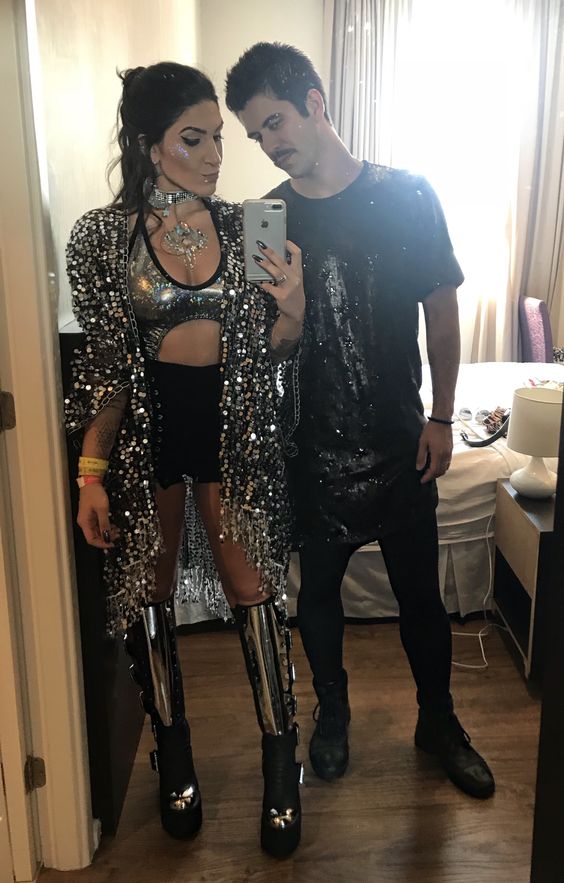 Shine bright like a diamond all night long with this black & silver rave outfit for couples.
Get creative with this outfit and add in all the silver accessories you can think of.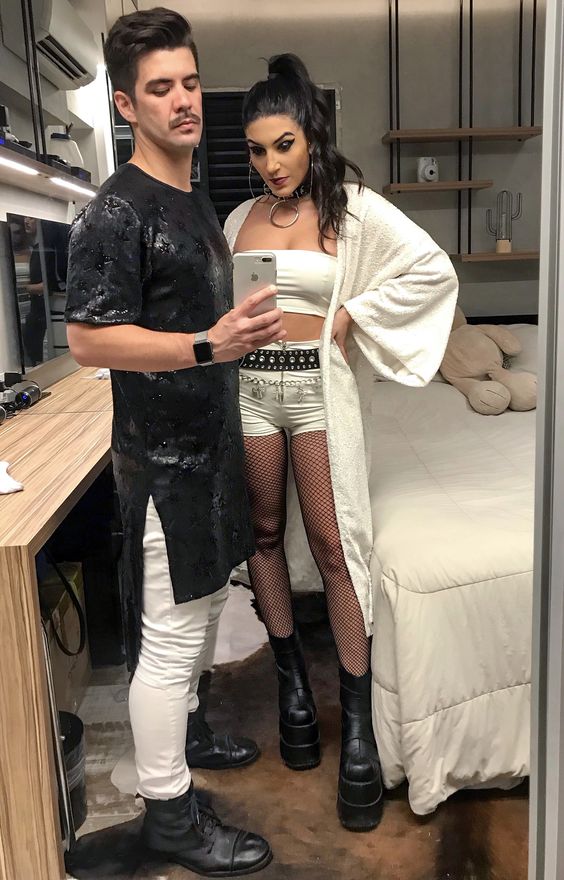 Sometimes, the best couple's outfit is the one that is the opposite of matching.
This is such a fun way to coordinate your rave outfits without going over the top with your matching.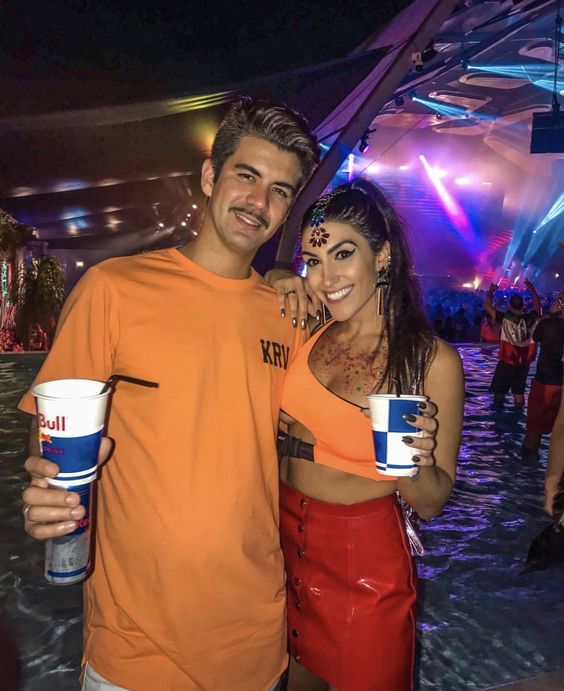 What's one unique color that you won't see too often at a rave? Orange.
We aren't sure why that is, but if you're wanting to stand out from the crowd with your partner, go for orange!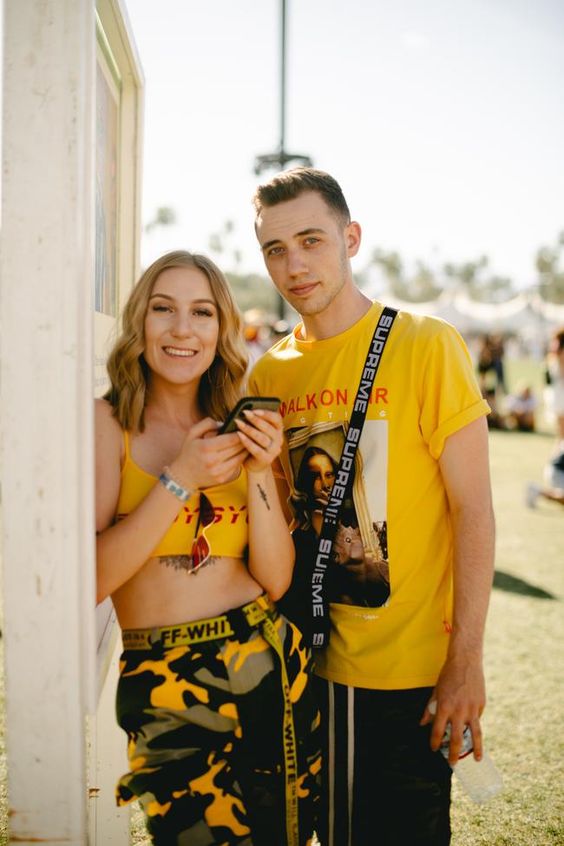 Wiz Khalifa called, he approves of this Black & Yellow outfit.
If you don't know what we're talking about, listen to the hit song, "Black & Yellow," while getting dressed in one of these coordinating couple rave outfits.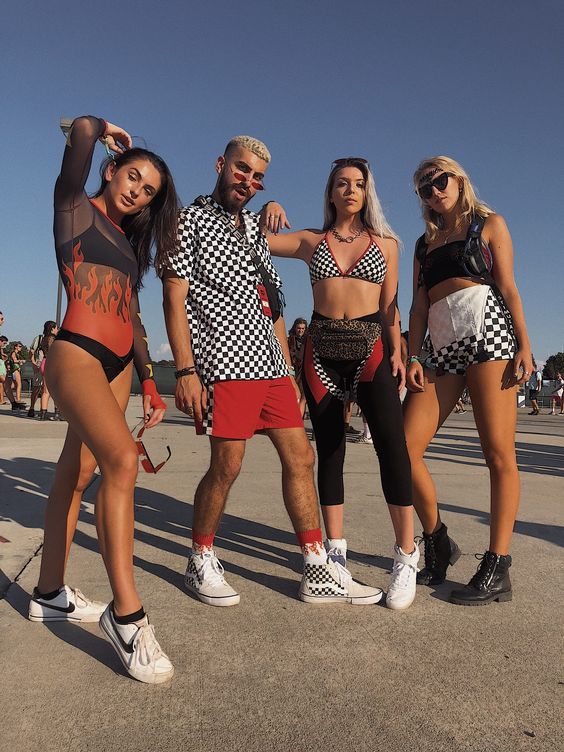 Whether you're a fan of Nascar, Indy Car, or Formula 1, this is the perfect couple's rave outfit for you.
Bring in the iconic checkered flag to your matching couple's rave outfit in 2024 for a creative and unique look.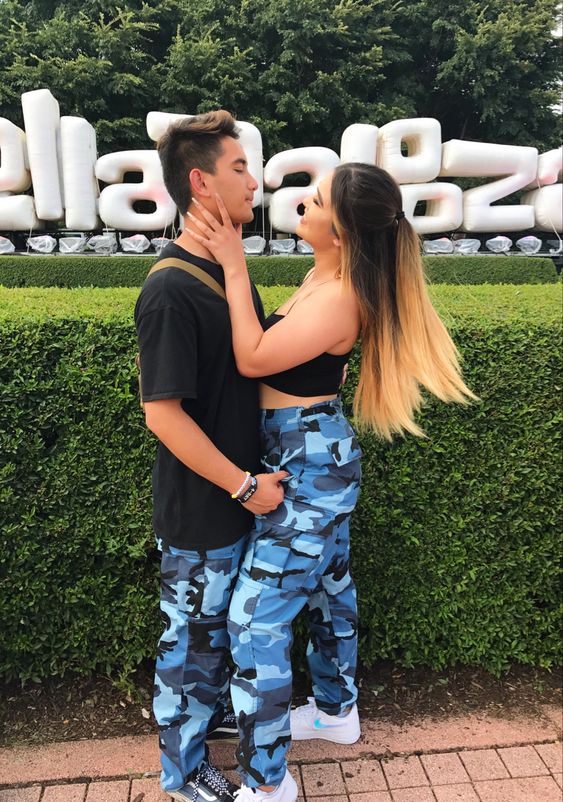 Camo is the new trend and it's here to stay in 2024.
Consider getting matching camo pants, whether they're blue, green, or beige, for a matching couple's rave outfit.
Hopefully you've found your favorite couple rave outfit after reading this post!
If you have any comments, questions, or suggestions leave them down below. Thanks for reading!