Need some outfit inspiration for what to wear in college this year? Come pick from these 15 cool college guy outfits that won't disappoint!
These outfits include casual, stylish, denim, shorts, and plenty more options.
No matter what your style is, you'll be sure to find an outfit that matches your preferences!
Let's dive in!
Casual Comfortable Fit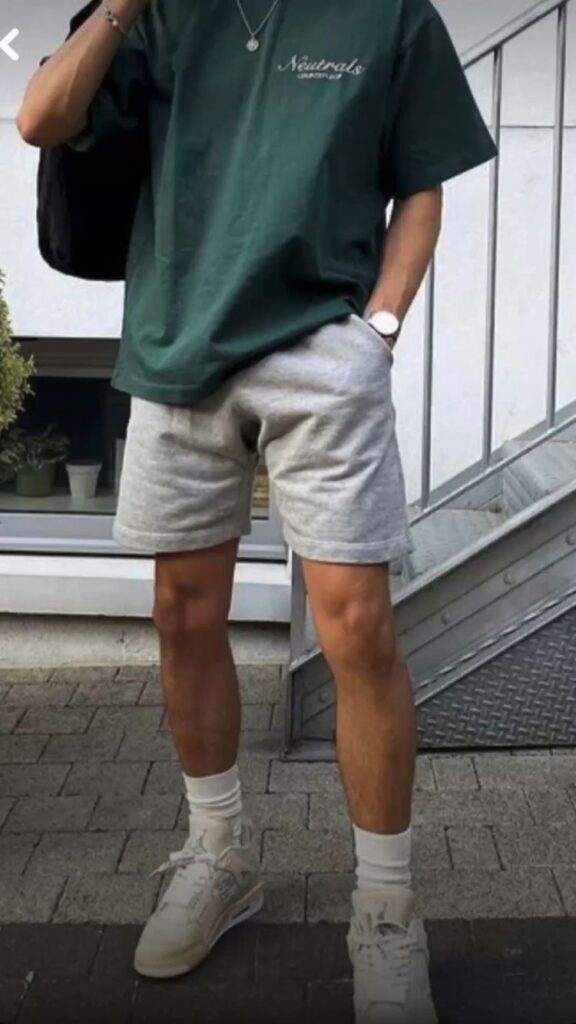 When you're running late to class or spending all day in lectures, you want an outfit that's comfortable and easy to wear all day long.
These casual college guy outfits are simple. Just pair a cotton tee shirt, jogger shorts, and your favorite sneakers.
Instantly you've got yourself the perfect comfortable outfit for a full day of classes.
Basic Tee Outfit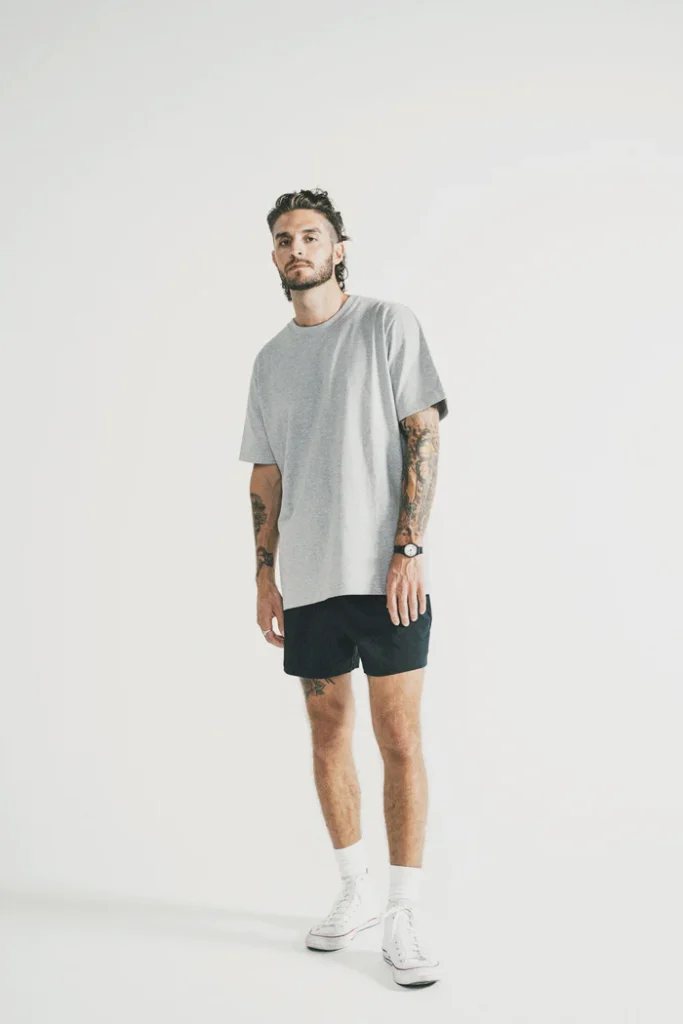 You don't have to go all out to look cool, especially in college. Sometimes, simple really is better.
This basic tee outfit is easy to create and lucky for you, super trendy right now.
All you need is a fresh, crisp tee shirt, a pair of athletic shorts, and your much loved Converse High Top sneakers.
Trendy Preppy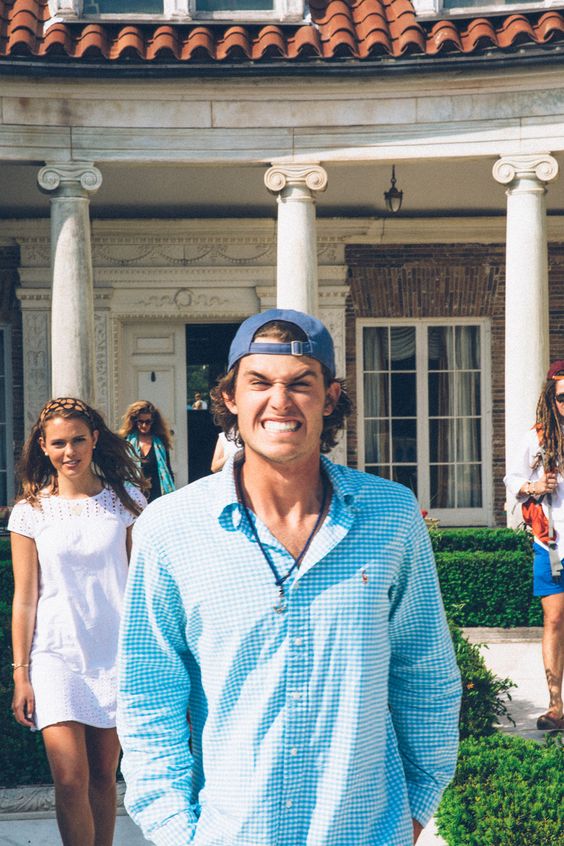 If you're looking for a way to be preppy with your outfits, but still look stylish and trendy, then this outfit is for you.
Try mixing your seersucker button downs with a matching baseball cap for a more casual and trendy look.
You can either add on your Sperry boat shoes, or go even more casual with a pair of Converse or Vans.
Related Post: 40 Best Outfits for Teenage Guys
Graphic Crewneck Outfit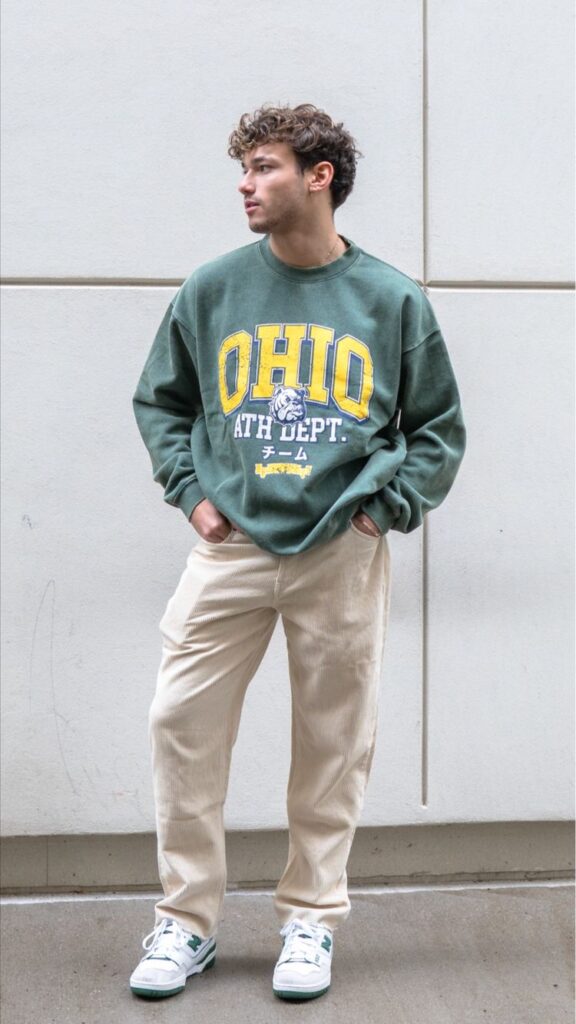 A great outfit to wear in college is one where you represent your school, but in a cool and trendy way.
Styling a crew neck is easy and you get bonus points if you create a coordinating look with your college sweatshirt.
Try matching your denim jeans and shoes to the colors of your crewneck for a stylish look that goes beyond the "I just woke up" look from your classmates.
Denim Button Down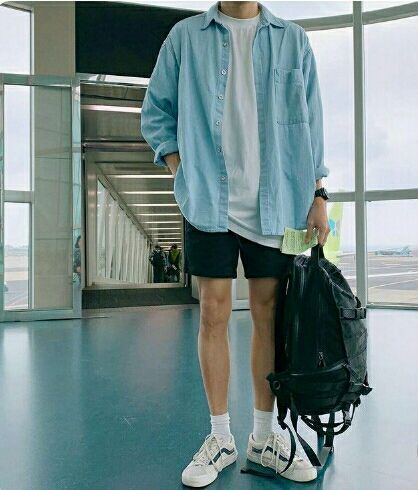 You can never go wrong with a denim button down, especially when you're looking for the perfect college guy outfits this Fall/Winter.
A denim button down pairs easily over a simple tee shirt, coordinating shorts, and fresh white sneakers.
So next time you want to add a little something extra to your outfit without trying too hard, grab your denim button down and head out the door.
Flannel Fit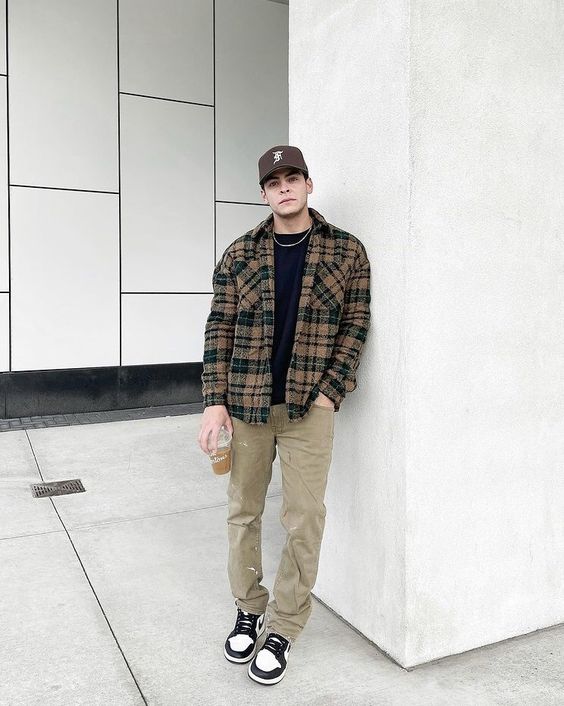 The next time you're wondering what outfit to wear as a college guy, look no further than everyone's favorite, the flannel.
Wearing a flannel on top of a simple tee and khaki pants creates a trendy and casual look that's perfect for the upcoming seasons.
We highly recommend this outfit if you're going to a party at night, or better yet, going on a date with the student you've had your eyes on all semester.
Vintage Graphic Tee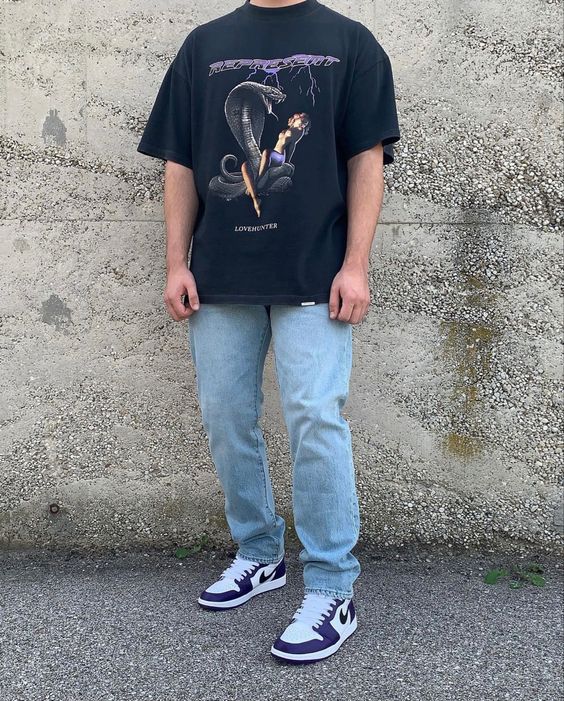 You can never go wrong with a vintage graphic tee, especially as a college boy outfit.
The vintage tee is easy to rock with some vintage inspired denim jeans and can easily make a statement about who you are depending on what graphic you're rocking.
So dead to your local thrift store and find yourself some vintage tees of your favorite old school bands.
Related Post: 60 Best Hairstyles for Teenage Guys
North Face Puffer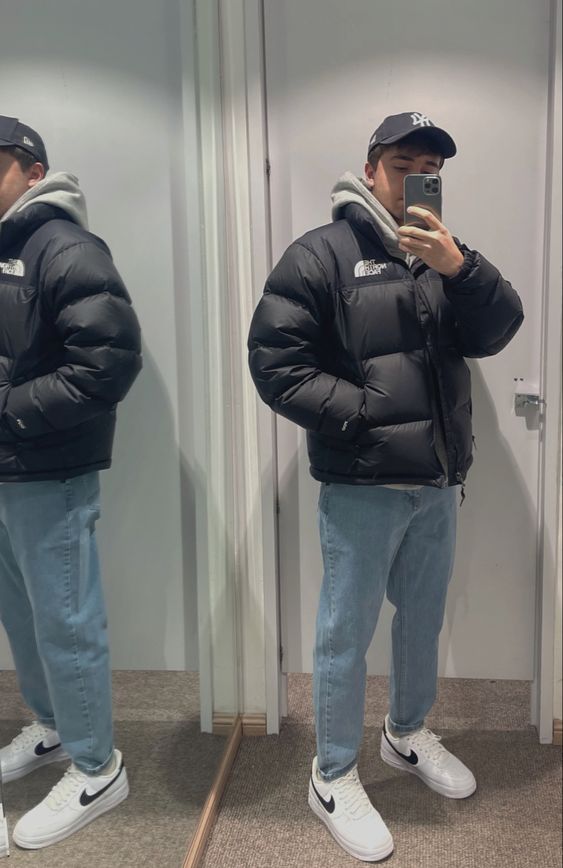 We get it, you might not go to school in California where it's sunny all year round, and you need an outfit that will actually work with your weather. Well fear not, we got you covered.
This North Face Puffer jacket is a killer outfit for any college guy, especially those on the East Coast.
This outfit is trendy, stylish, and will be sure to keep you warm. Just pair your puffer on top of a sweatshirt, some tailored denim jeans, and your freshest pair of Nikes.
The Shacket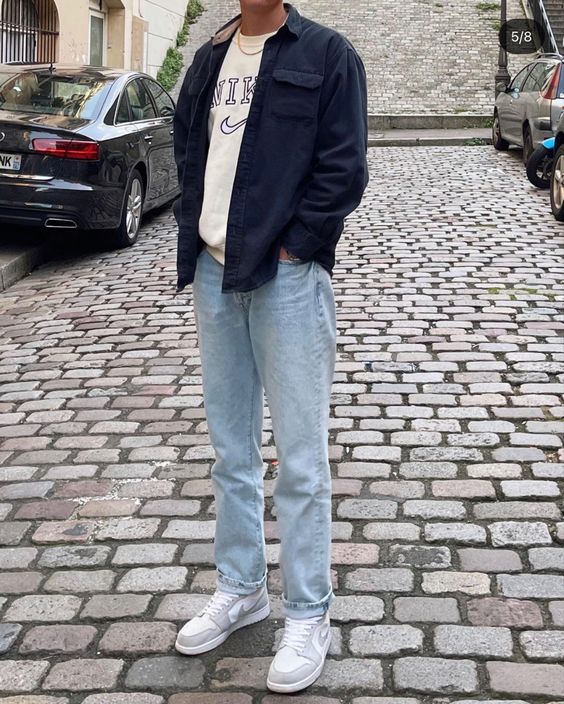 If you don't know what a shacket is in 2023, then you must be living under a rock.
The shacket (shirt/jacket) is the best thing to happen in guy's fashion and you should definitely be adding one of these to your closet ASAP.
The next time you're putting together an outfit as a college guy, add in a Navy or Black shacket on top of your outfit for a look you'll want to rock all year round.
Baggy Tailored Jeans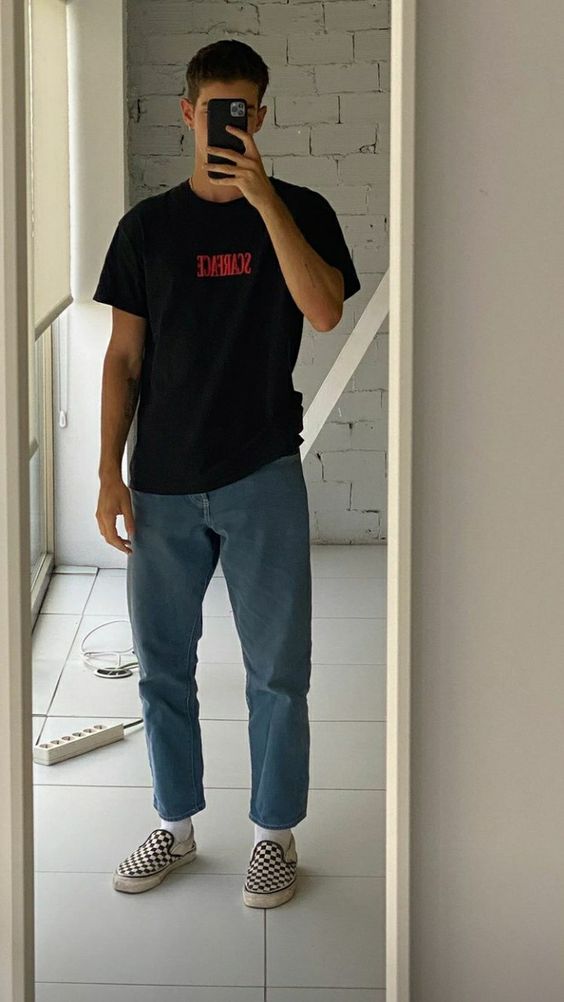 Skinny jeans are out, and baggy jeans are in, especially when they're tailored to end right above your ankle.
This look gives you that "cool guy" outfit you've been trying to find without you having to be uncomfortable in your high school skinny jeans.
Get yourself a good pair of tailored baggy jeans, a simple graphic tee, and your favorite Vans for the ultimate college guy outfit.
Coordinating Fit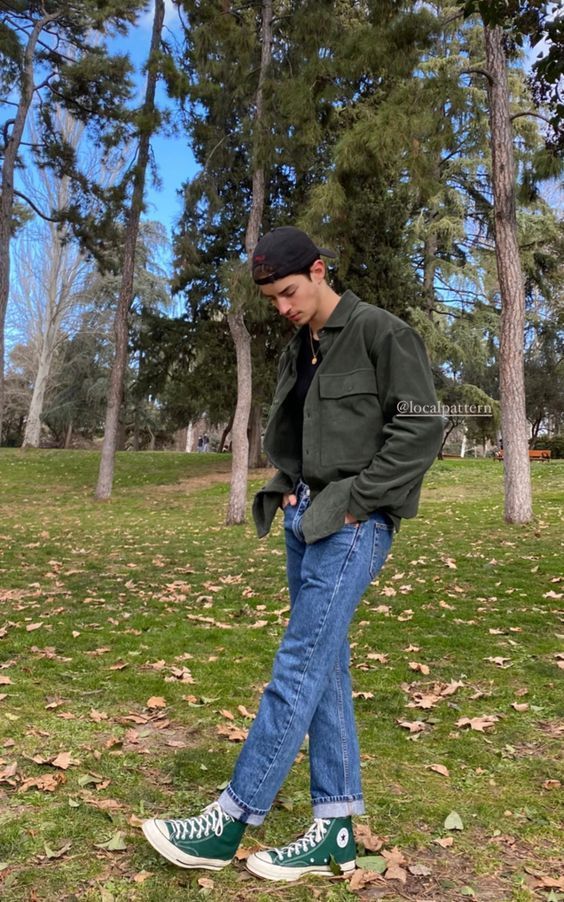 If you want one of the coolest college guy outfits in 2023 that are easy to pull off, then opt for this look!
Try centering the color scheme of your outfit around one piece of clothing, in this case, your colored high-top sneakers.
Just by adding in another coordinating element to your outfit, you immediately make your outfit way cooler.
Light Colored Pants
We know you love your simple black denim jeans, but we've got to try new things. Incorporate light colored pants into your everyday college outfits.
Light colored pants are a great way to add extra style into your outfit without trying too hard.
Whether you go for a beige, khaki, or white, adding in these lighter colors will elevate your look.
Plus, you'll look like the trendy college guy you've always wanted to be.
Related Post: 15 Popular Jeans for Teenage Guys
The Vintage Rugby Shirt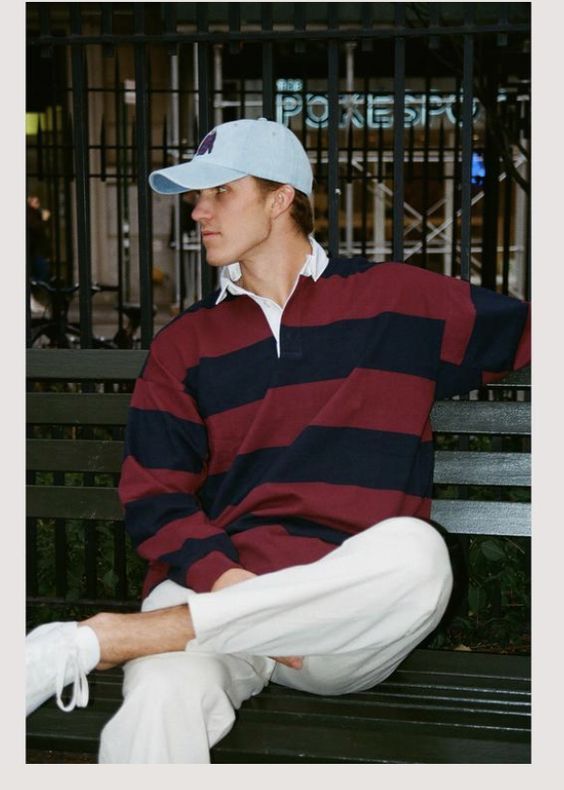 You can't go throughout college without a vintage rugby inspired long sleeve.
This long sleeve is the perfect addition to any college guy's closet. It will instantly make you look like the trendiest guy in the room.
The best part of this shirt is that it can be paired with anything; denim, cargo pants, khakis, etc. Whatever you want to wear it with, you can!
Old School Classic Fit
Go for an old school trendy outfit in college that is more fashion-forward than just a simple tee.
Pair an open short sleeve button down on top of a tucked in tank top for a classic look.
This outfit is easy to wear and immediately makes you look ten times cooler. It's an awesome fit to rock on a date too!
Cargo Pants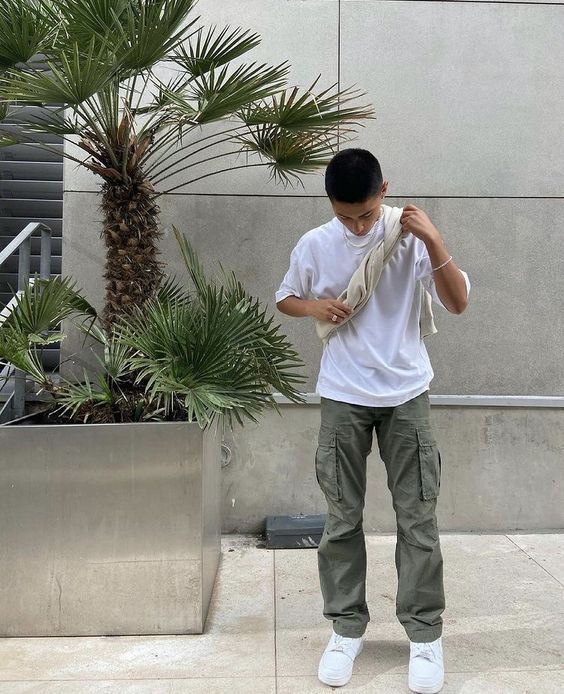 Out with the denim, and in with the cargo pants.
Cargo pants are the perfect element to any college guy's outfit and makes you look stylish without even trying.
Plus, you can fit way more in your pockets.
Hopefully these 15 college guy outfits gave you some inspiration for what to wear in college!
If you have any comments, questions, or suggestions leave them down below. Thanks for reading!