Do you need a trendy outfit to go with your Jordan 1's? Here are the 25 best Jordan 1 outfit ideas for women in 2024!
From the trendy hoodie and jeans outfit, to the more comfortable sweats and leggings look, you'll be sure to find one that matches your style.
Plus, we've included some more elegant outfits to complement your Jordans if you prefer a more understated look.
Want more outfit ideas? Check out these posts:
Let's dive in!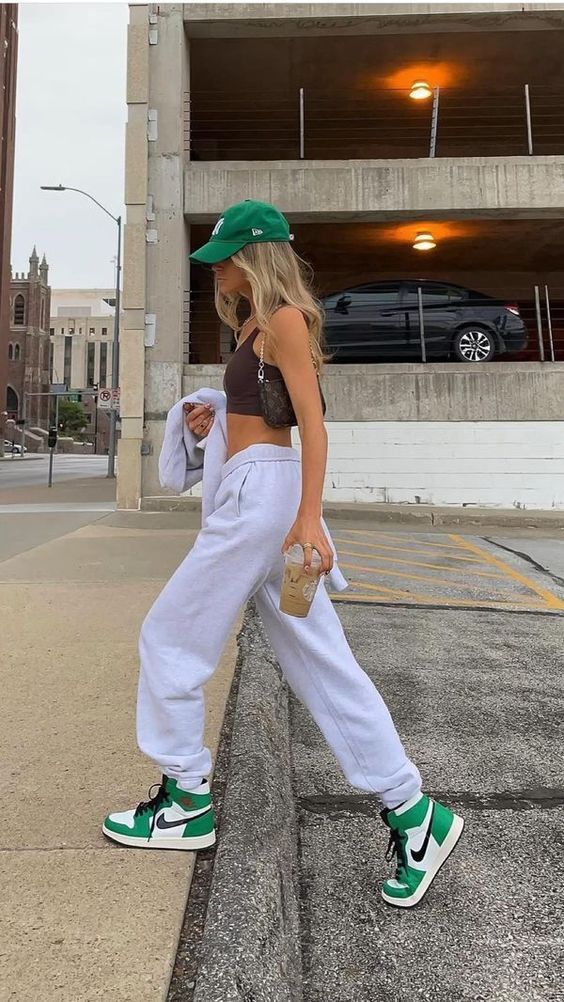 Sweatpants don't have to be basic, boring, and unkept. They can be chic, especially when paired with Jordan 1 sneakers.
This Jordan 1 high outfit is perfect if you are running errands on the weekend or going to be on-the-go for the day.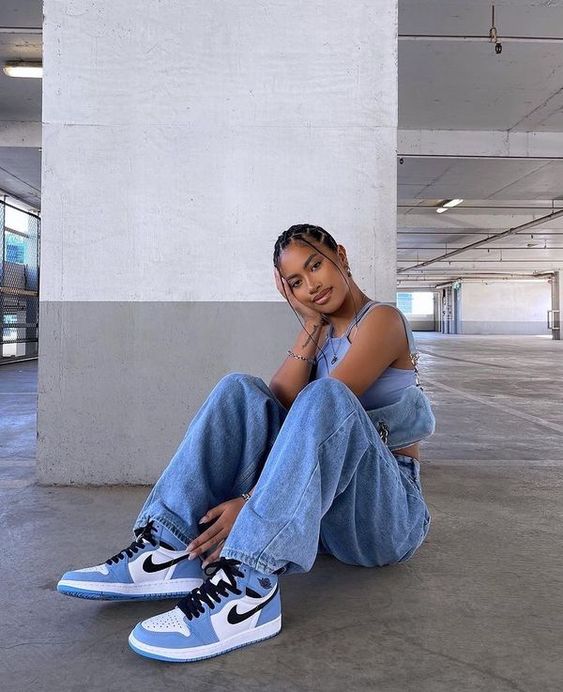 Why match your shoes to your outfit when you can match your outfit to your shoes?
We're truly obsessed with how stunning this all blue Jordan 1 high outfit is.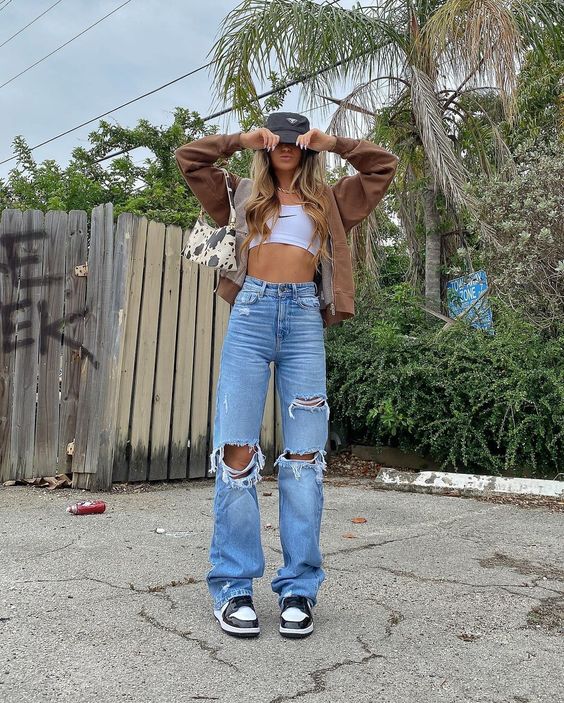 We're all about the ripped jeans trend, no matter what the boomers might say.
From the Nike sports bra to the ripped jeans, this Jordan 1 mid outfit is one we're adding to our Pinterest board. This is definitely one of our favorite Jordan 1 outfit ideas for women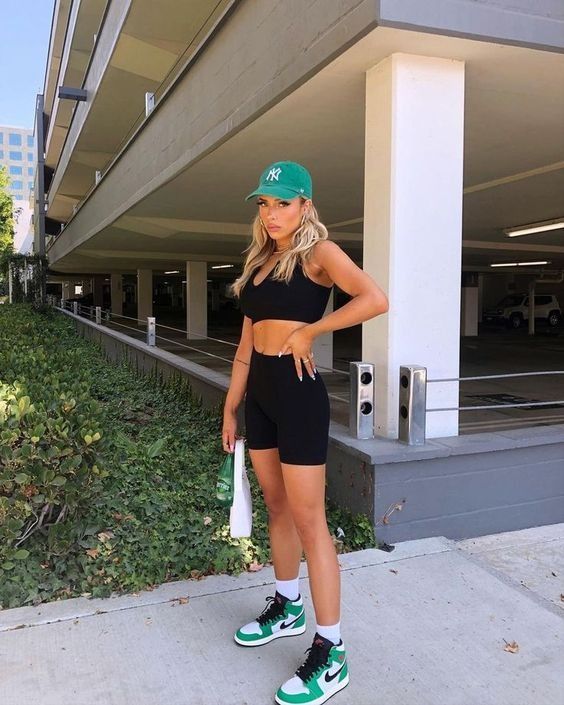 Leave it to Delaney Childs to always be at the front of our fashion inspiration lists.
If you haven't heard of her, she's best known as being one of the OG Instagram influencers who always shares the latest fashion trends.
So if she's rocking the biker short chic look with her Jordan 1 highs, then we're going to also.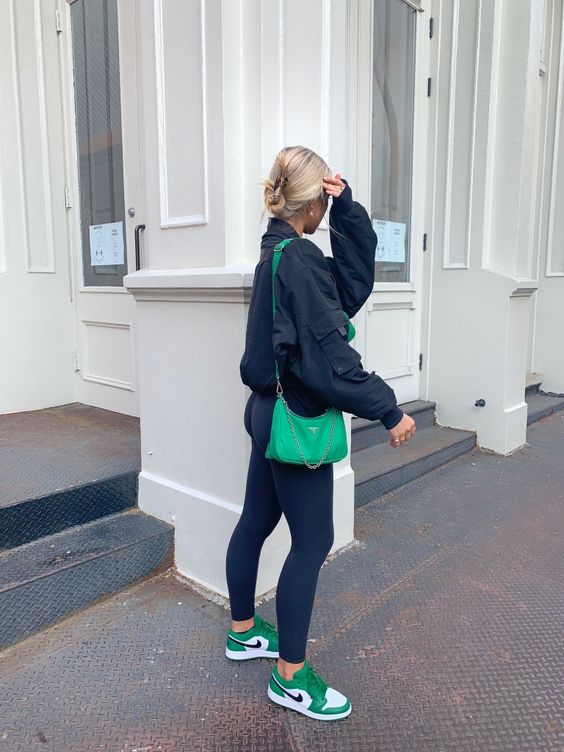 This has to be one of our favorite Jordan 1 outfit ideas for women because it's realistic.
We practically live in our leggings so getting inspiration on how to dress them up is always on the top of our fashion list.
So if you thought you can't rock leggings in your Jordan 1 low outfit, think again, because all you need is color coordination.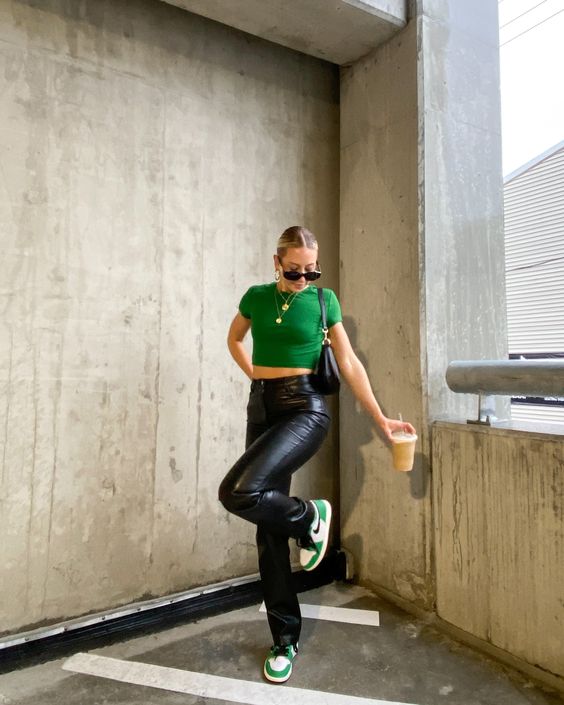 This has to be one of our favorite outfits to wear with Jordan 1s in the Fall.
If you didn't already know, leather pants are a Fall staple and we're obsessed with how she paired them with a color coordinating baby tee.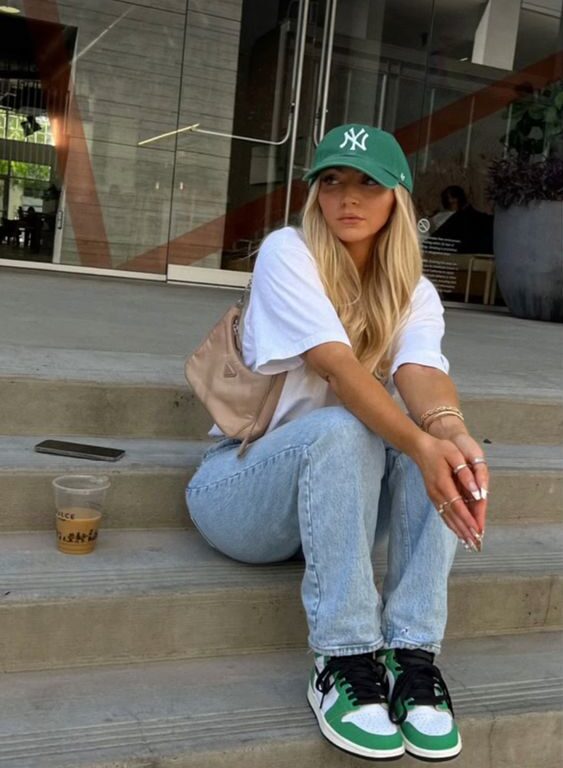 Street Fashion meets casual cute with this trendy Jordan 1 mid outfit for women or girls.
Just take an oversized tee, light-washed denim jeans, and a matching hat and you've got your street casual look complete.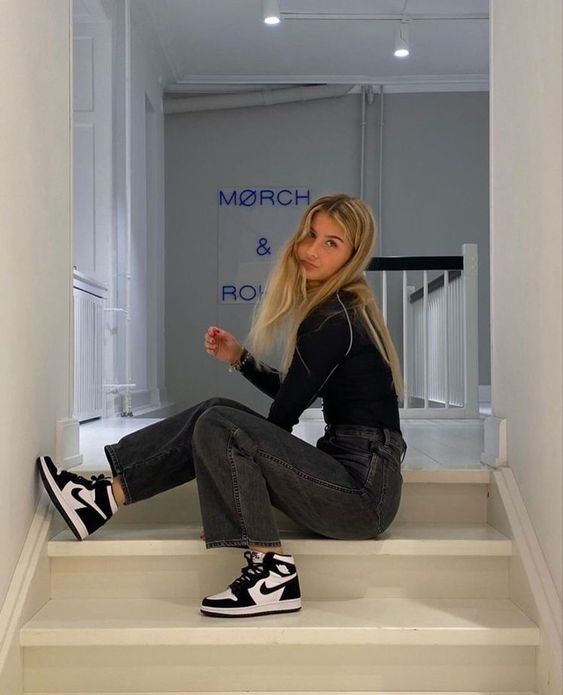 Another great Jordan 1 outfit idea for women is to go all black to match your black and white Jordan 1 highs.
This simple outfit looks great because of the monochromatic look, and we bet you can rock this with clothing you already have in your closet.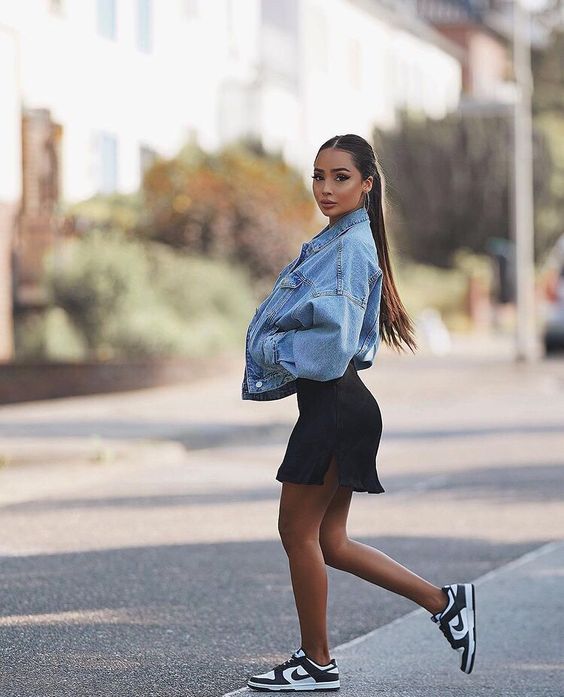 Fall is all about transitioning your Summer outfits into the cooler weather, and this does that perfectly.
Take your favorite summer mini skirt and pair with an oversized denim jacket for the ultimate Fall Jordan 1 low outfit.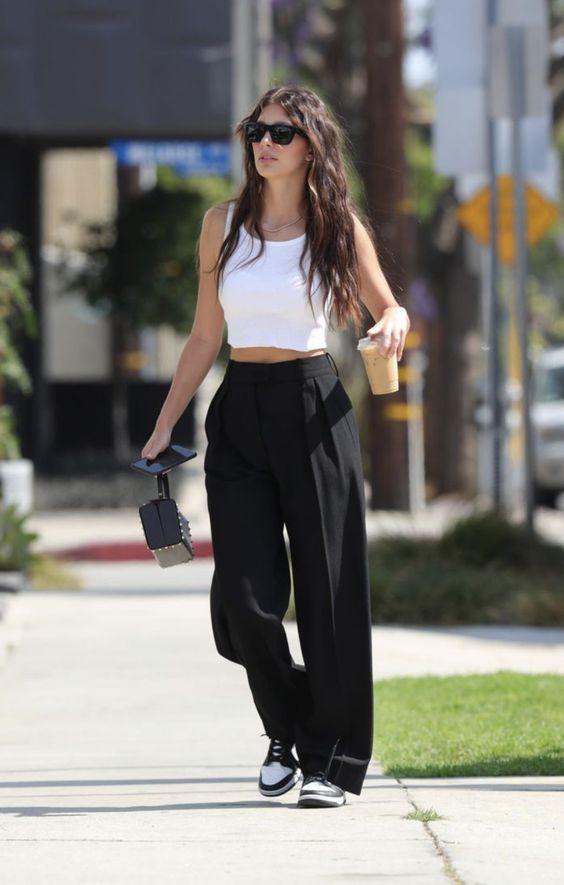 If there's one place we love to get our Jordan 1 outfit ideas from, it's from celebrity street style.
This effortless and chic outfit is so easy to make and looks so put together.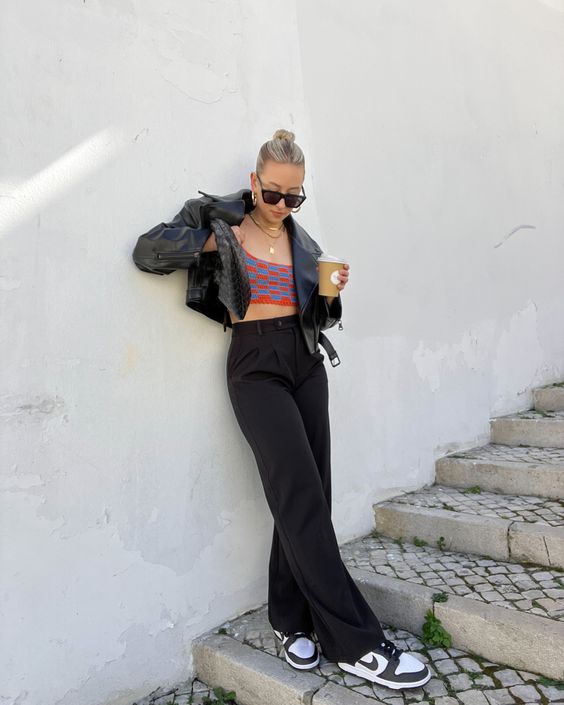 If you're rocking the black and white panda Jordan 1 lows and are looking for the perfect outfit to wear with them, then look no further.
Adding in a pop of color to your Jordan 1 outfit is always a win in our book, especially when paired with cool girl accessories like this leather jacket.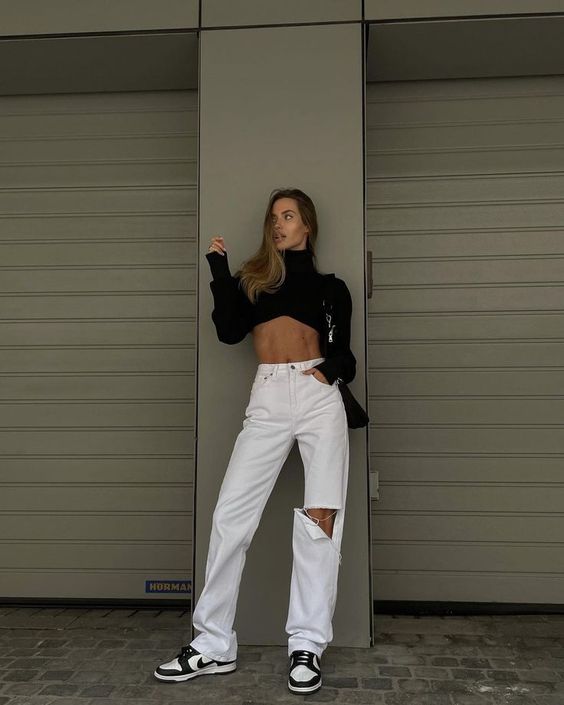 This is one of the coolest Jordan 1 outfit ideas for women that we've ever seen, and it's so simple.
Just rock your Jordan 1 lows with white denim jeans and coordinating crop top for the cool girl look you're trying to achieve.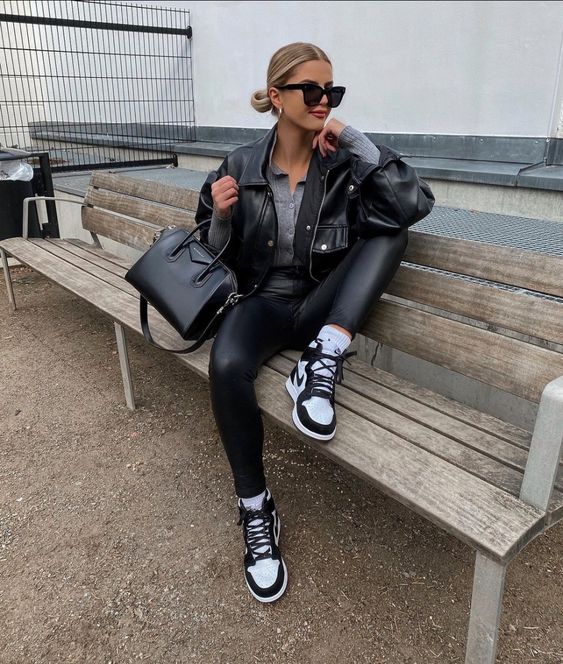 If you're looking for a Fall and Winter approved outfit to wear with Jordan 1s, we recommend grabbing all the leather you can get.
These leather leggings paired with an oversized leather jacket make for the perfect combo in this Jordan 1 high outfit.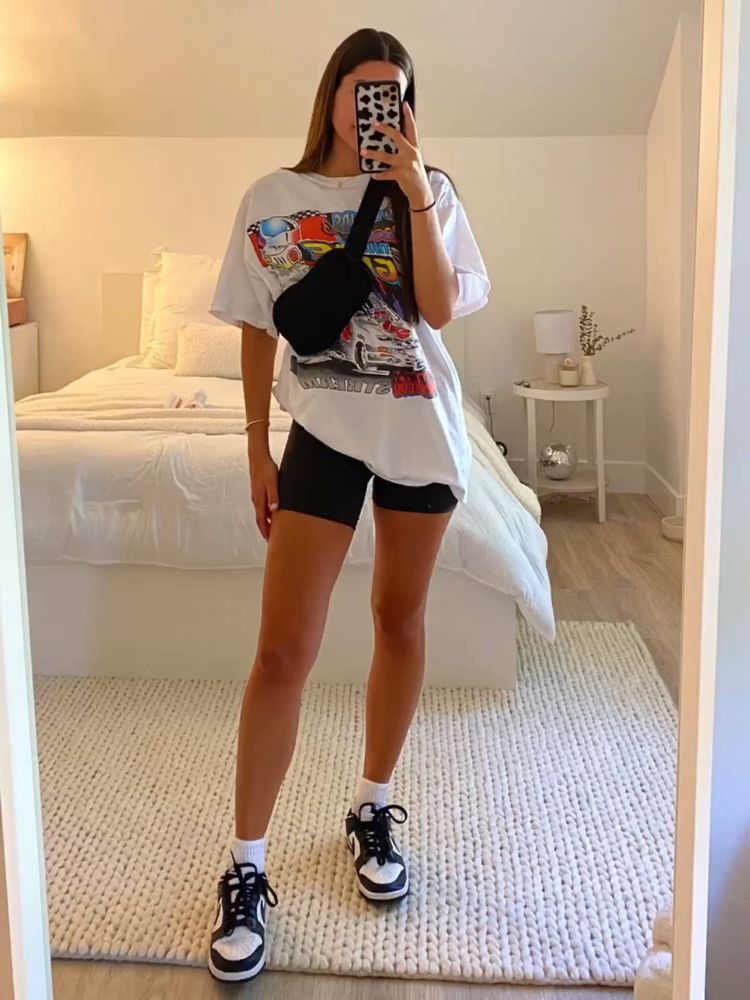 This might be the easiest and comfiest outfit you'll ever wear with your Jordan 1 lows.
An oversized graphic tee and biker shorts became the "it" girl staple last year and we're still seeing all the cool girls rock it into 2024.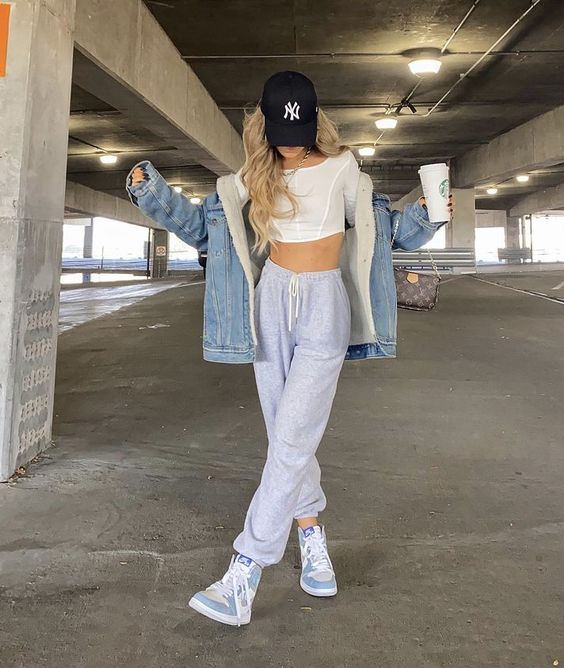 We call this Jordan 1 outfit idea for women the Sunday Special because it's all we want to wear on a Sunday morning when we're grabbing coffee.
So the next time you're looking for the perfect outfit to wear with your Jordan 1s on a Sunday, just grab your oversized denim jacket and comfy sweatpants.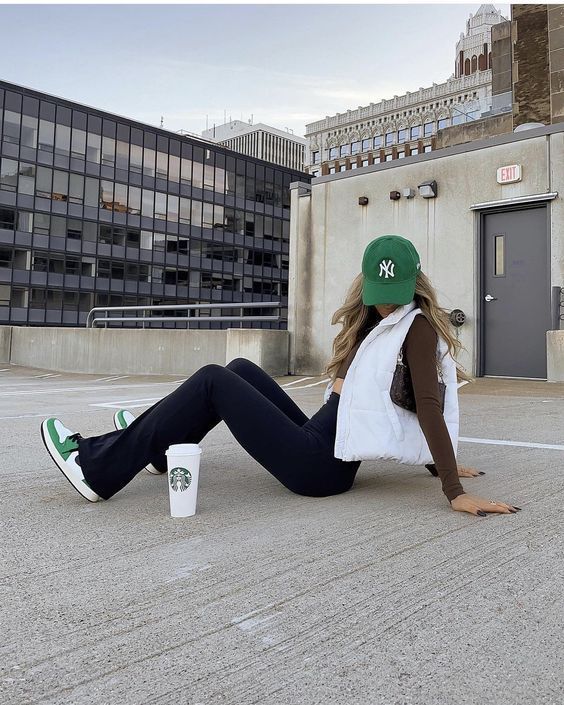 If there's one thing we think every girl and woman should have in her closet for year-round use, it's flare leggings.
Thai flare legging Jordan 1 outfit idea for women is a winner in our book, especially with the white puffer vest.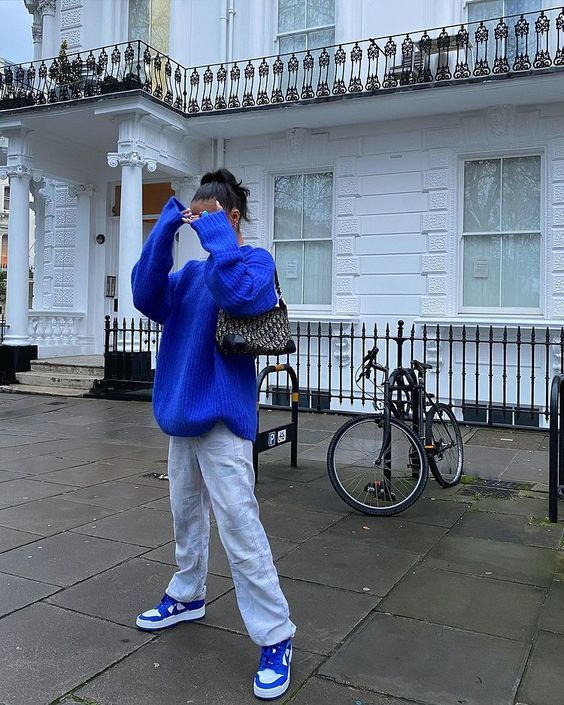 We will always be fans of outfit inspiration that involves an oversized chunky knit sweater, no matter what season it is.
The color-coordination on this outfit is perfect and we're already adding all of these items to our cart.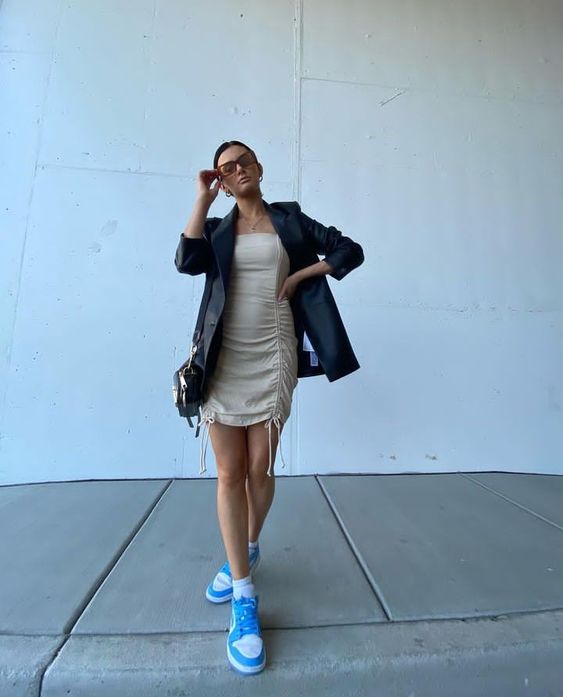 Whoever said you can't rock your Jordan 1s with a mini dress in Fall clearly never saw this picture.
We can't stop obsessing with how these Jordan 1s add the perfect pop of color to this night out Fall outfit.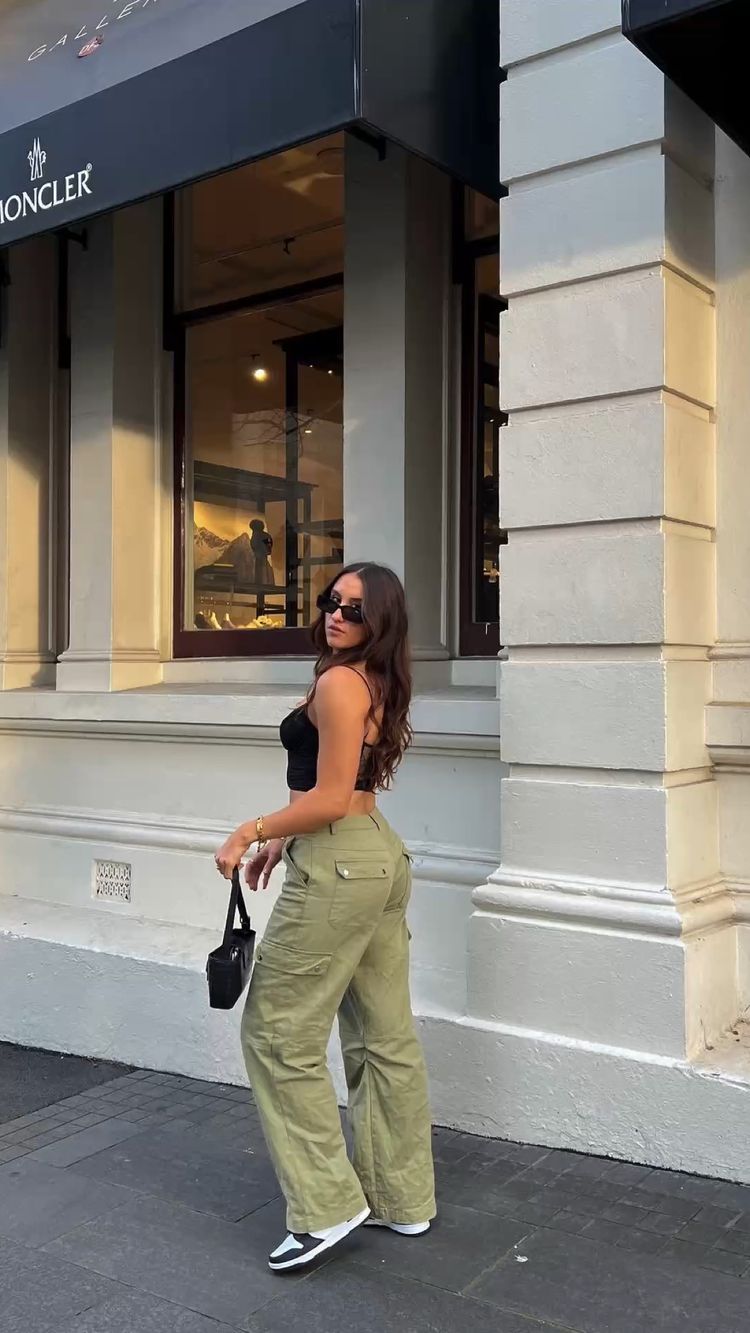 The best pants to pair with your Jordan 1 outfit will forever and always be cargo pants, and we're not here to debate that.
Cargo pants can never not look good with Jordan 1s.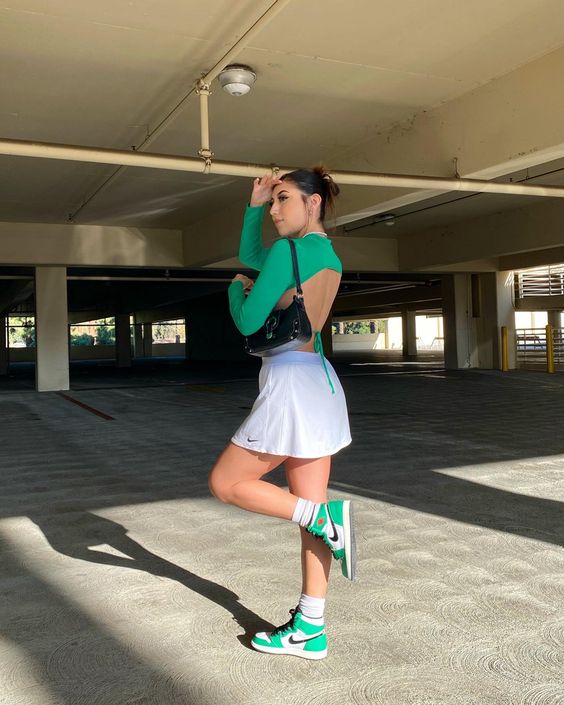 Channel your inner athlete with this chic Jordan 1 high outfit for women.
Your Jordan 1s will look incredible when paired with a Nike athletic skirt and color coordinating top.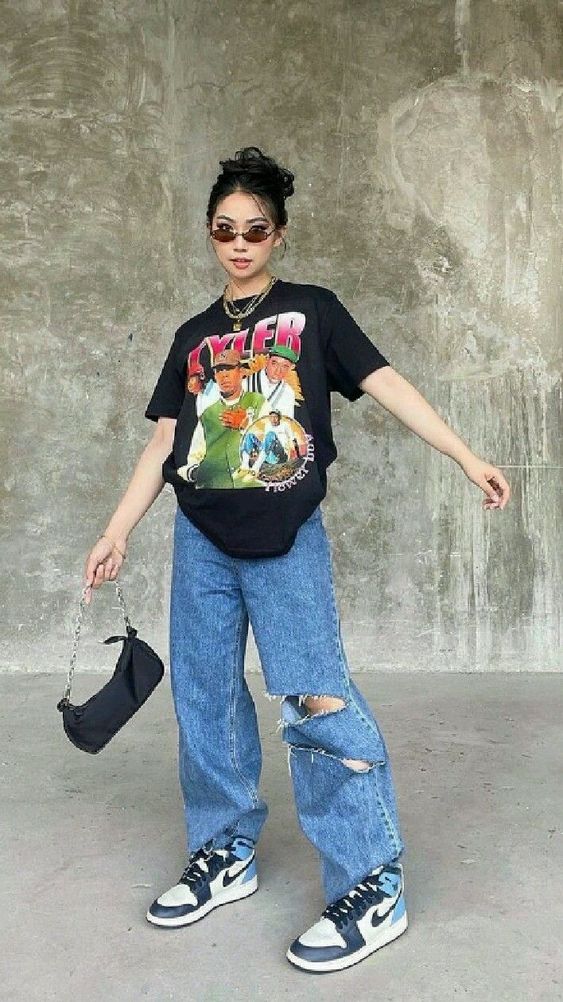 Sometimes we have to admit when baggy jeans are the right move to make with your outfit, and in this look, we'll admit that.
The baggy jeans paired with the oversized concert tee is just screaming "cool girl" and that's the look we want to rock this Fall.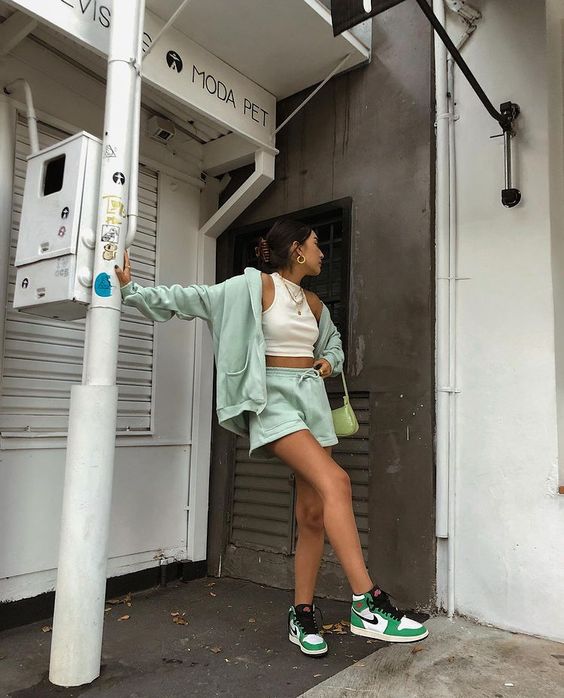 A matching sweat shorts set can be the perfect outfit for any lazy day around the house or if you're running out to grab something to eat.
This look works with any type of sneakers so you can rock it with your Jordan 1 highs or lows.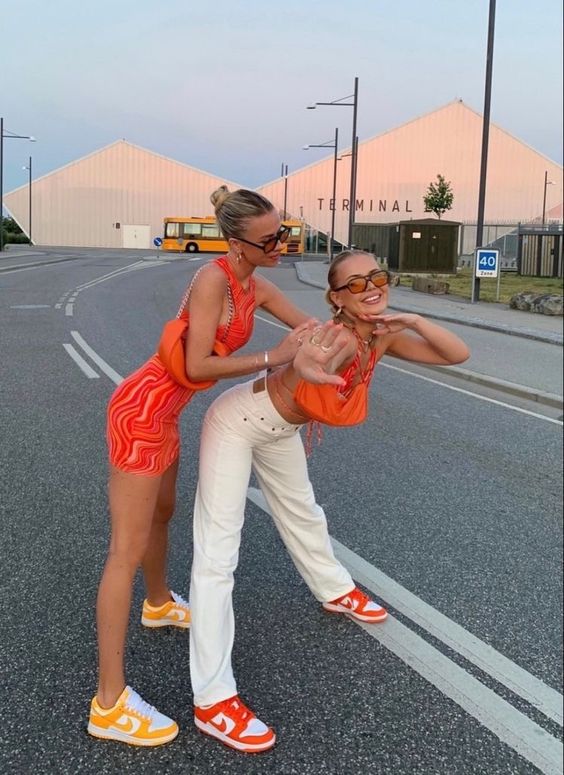 Going out with your girls? We've got your outfit inspiration covered.
If you have any of the bright colored Jordan 1s, pair them with equally as bright crop tops or mini dresses for the cutest going out look.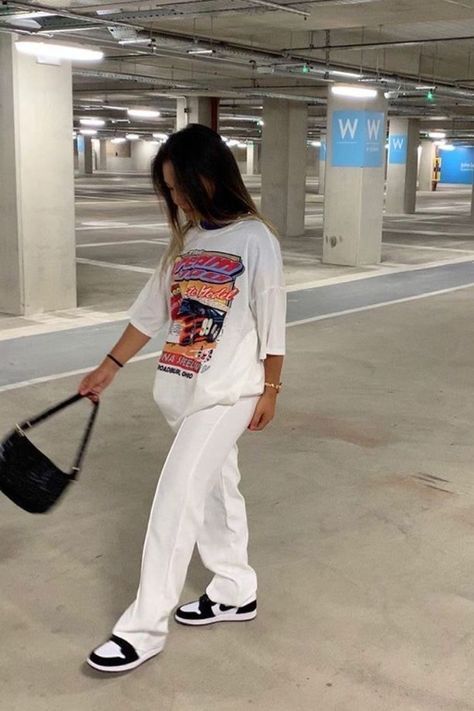 Monochromatic looks are the way to go in 2024 and we're here to say the all white look is our personal favorite.
Rock this "white-out" look with loose fitting clothing for a more street-style cool girl aesthetic.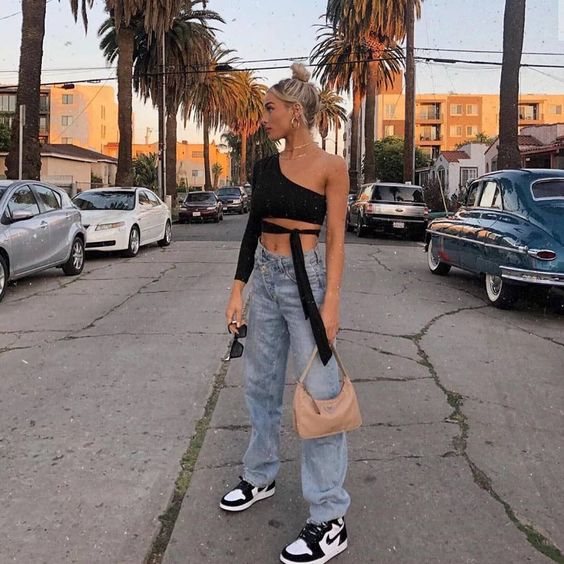 Channel your retro cool-girl with this easy and trendy Jordan 1 outfit for girls.
With denim jeans and a basic black crop top, you too can have this effortless chic look.
Hopefully you've found your favorite outfit idea with Jordan 1's after reading this post!
If you have any comments, questions, or suggestions leave them down below. Thanks for reading!