Are you looking for some outfit inspiration to match your new Jordan's? Here are the 25 best Jordan 1 outfit ideas for men in 2023!
These ideas will include outfits for low, mid, and high Jordan 1s, so you'll be able to match with any shoe type.
Whether you're looking to dress up or down, summer or winter, street style or minimal, you'll be sure to find an outfit that matches your preferences!
Let's dive in!
Matching Neutrals + Jordan 1s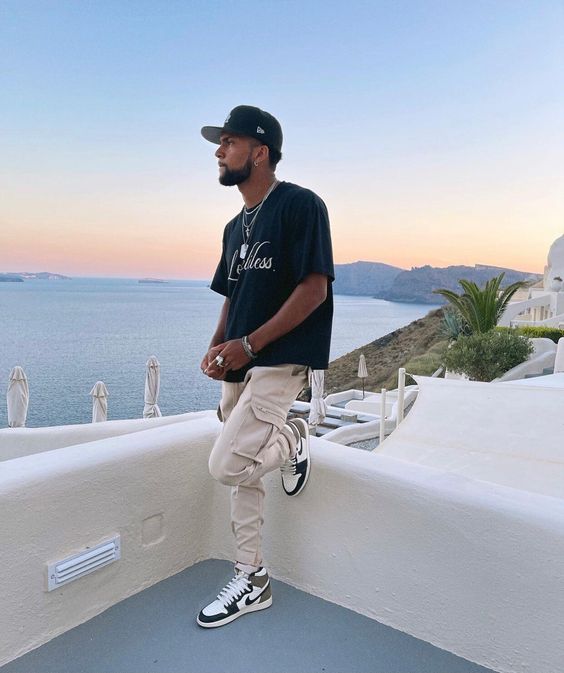 One of our all-time favorite Jordan 1 outfit ideas for men has to be a matching sneaker and outfit combination in a neutral colorway.
These Jordan 1 highs look so fresh and clean against a simple black tee and neutral cargo pants.
Sweatshirt & Shorts + Jordans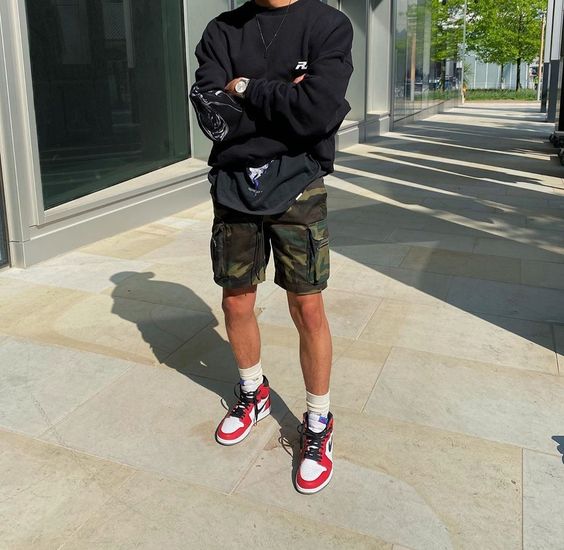 Sweatshirts and shorts can easily look like a boring outfit, but when you add the right Jordan 1s, it can look like the perfect summer street fit.
Pair your Jordan 1 highs or mids with a black sweatshirt, camo shorts, and some neutral calf-length socks for this simple, yet perfect, fit.
Related Post: How to Style Yeezys 350 + Outfit Ideas
Pop of Color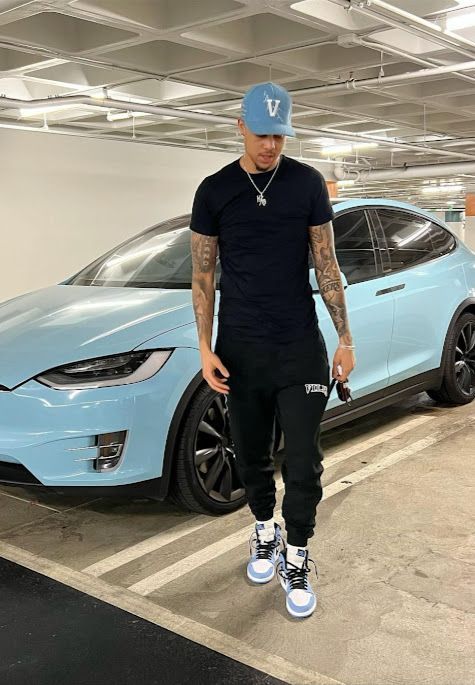 If you're wondering what the perfect Jordan 1 outfit for men is, then we have three words for you: pop of color.
Make your Jordan 1 high outfit pop by making your sneakers the center of attention.
Wear an all black outfit and use your Jordan 1 highs as the pop of color, and even add matching color accessories, like a hat, for the freshest fit.
Graphic Tee + Matching Jordan 1s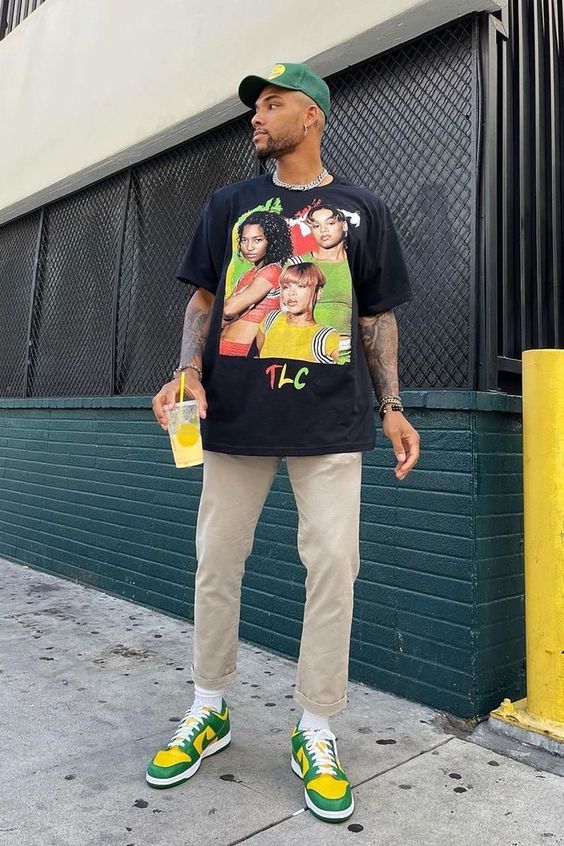 A super cool and fun Jordan 1 low outfit has to be when you match your colorful Jordans with an equally as colorful graphic tee.
Take a picture of your Jordan lows and head to your local thrift store so you can grab a few matching vintage tees for this look.
Mix & Match Your Jordan 1s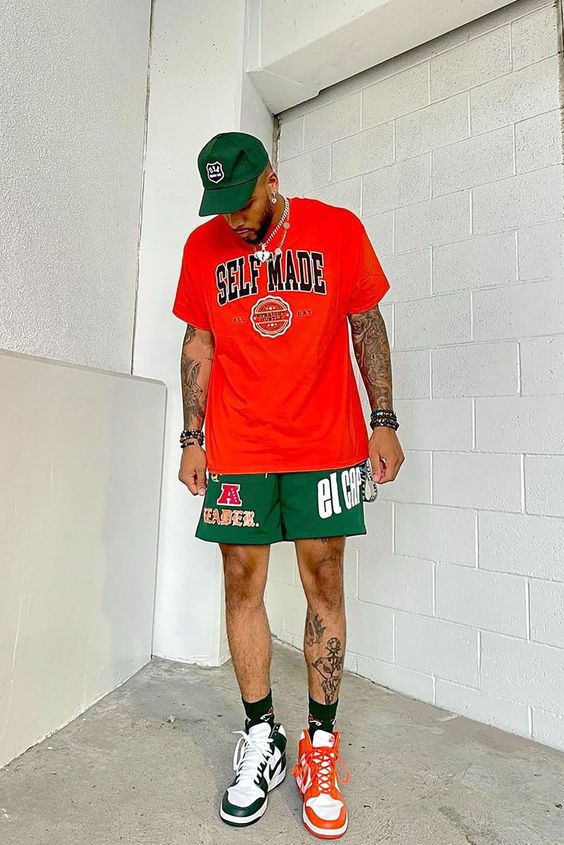 What better way to put together a two-tone outfit than with a matching mix & match Jordan1 outfit.
If you have two mid or high Jordans in distinct colors, try matching a two-tone outfit to them to recreate this fresh outfit.
All Black Everything + Colored Jordan 1s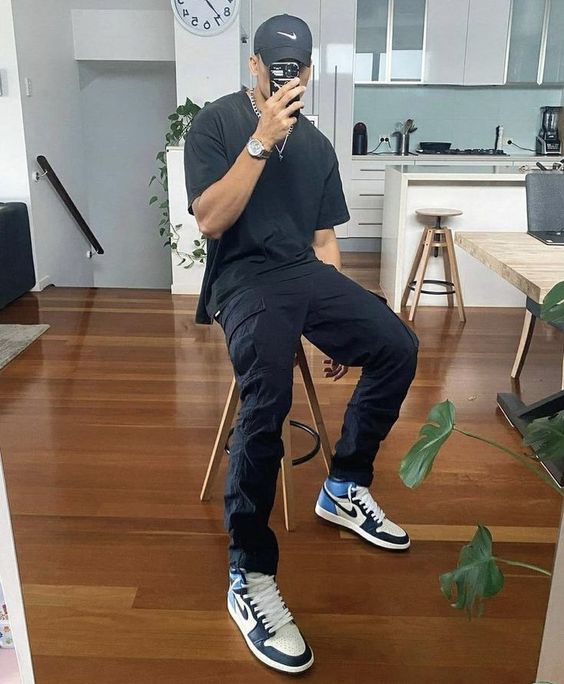 If you need one of the simplest Jordan 1 outfit ideas for men, then you can't go wrong with all black.
A simple black tee paired with matching cargo pants and hat looks perfect with a two tone Jordan 1 mid sneaker.
Related Post: 40 Best Outfits for Teenage Guys
Blue Jeans + Blue Jordan 1s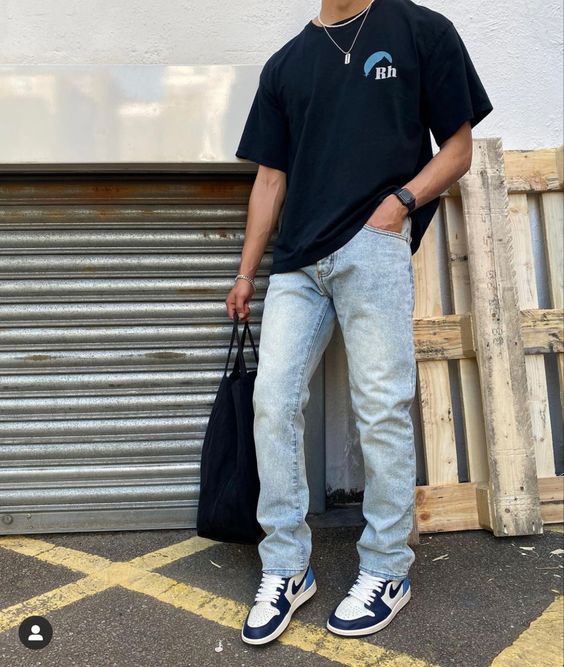 An easy and casual Jordan 1 outfit idea for men involves two things:
An oversized simple t-shirt
This outfit is so easy to create that if you already have Jordan 1s, we can guarantee that you can put this together from what you already have in your closet.
Red & White Jordans Outfit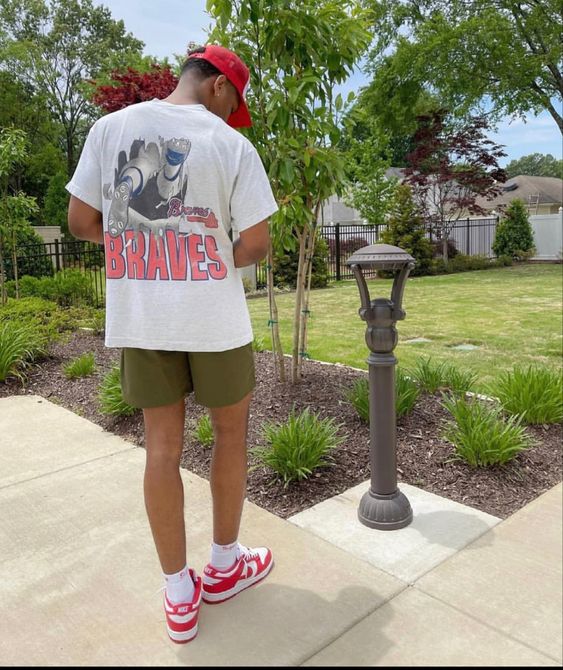 We love the look of red Jordan 1s and this simple Jordan 1 low outfit is perfect for any guy.
To get this look, try finding a matching white and red graphic tee at your local thrift store or Walmart and pair it with a red hat and neutral shorts.
Matching Jordans + Sweatpants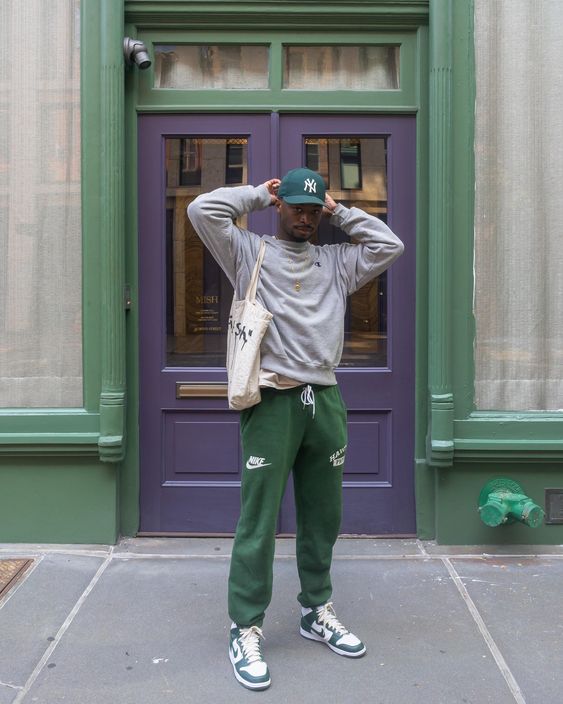 To have a fresh outfit, you don't have to be uncomfortable.
This simple, casual, yet super cool outfit was made just by pairing matching sweatpants and a neutral sweatshirt to Jordan 1 mids.
Denim on Denim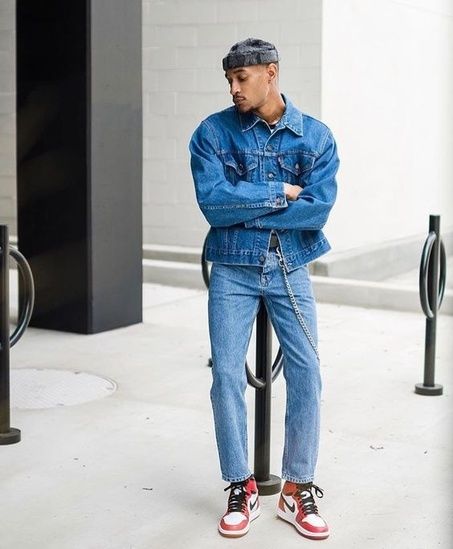 The Canadian tuxedo is back and here to stay, especially when they're paired with Jordan 1 highs.
This denim on denim look is so fresh and can easily be made by a denim jacket, blue jeans, and a pair of high top Jordan 1s.
Bomber Jacket Outfit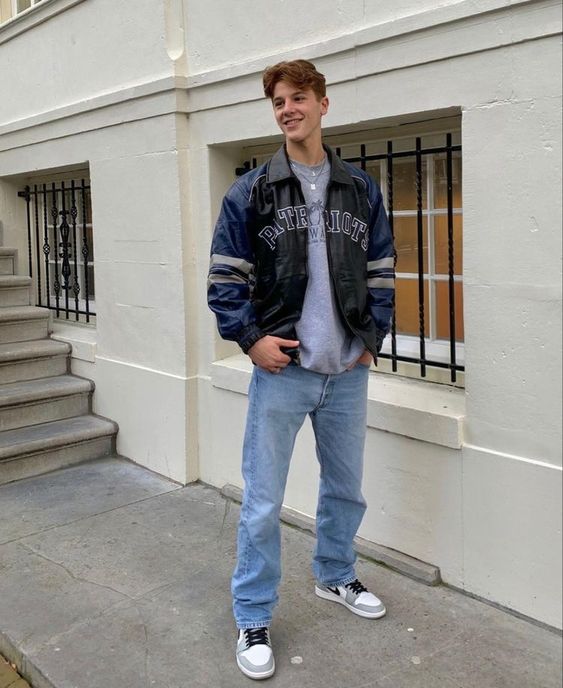 2023 is the year of thrifting one-of-a-kind pieces, and a bomber jacket should be the first to add to your list.
So when you're wondering what outfits to wear with your Jordan 1s, grab a unique thrifted bomber jacket, sweatshirt, and your favorite worn-in blue jeans.
Old Money Leisure + Black Jordan 1s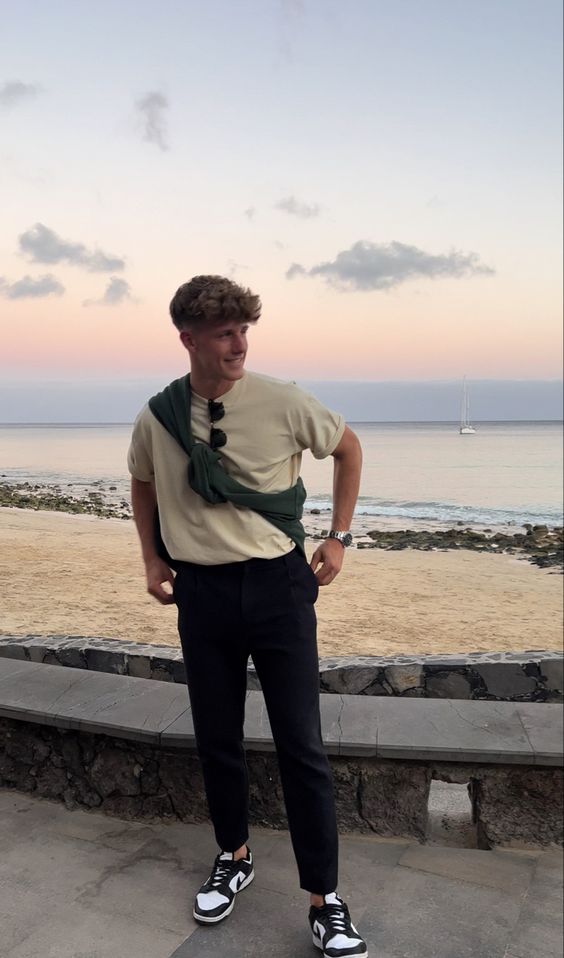 Get the classy old-money casual look by with this Jordan 1 low outfit.
Pair your black Jordan 1 lows with a matching tailored pant, a tucked in neutral shirt, and a cardigan tied around your chest for an outfit that screams old-money.
Related Post: 15 Most Popular Shoes for Teenage Guys
All Blue Jordan 1 Outfit Idea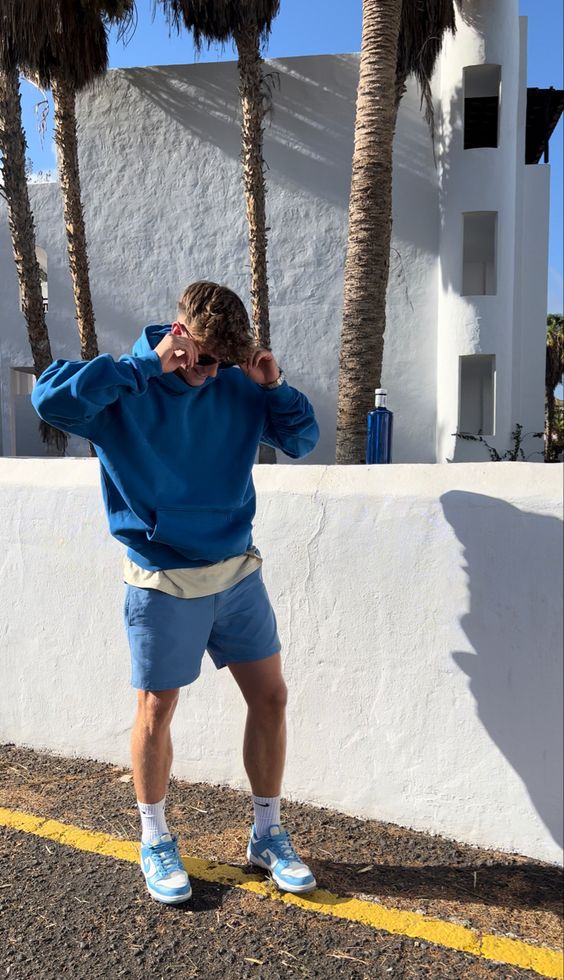 If you're in the mood for blue, then we have the Jordan 1 outfit idea for you.
This Jordan 1 low outfit idea for men is perfect for the Spring and Summer months and can easily be achieved with a blue sweatshirt and shorts.
Red & Black Jordans Look
Your red and black Jordan 1 mids need the perfect outfit to go with them, and this is it.
With a simple red graphic tee, black shorts, and white calf socks, you have the perfect casual Jordan 1 outfit for men.
Orange Halloween Vibes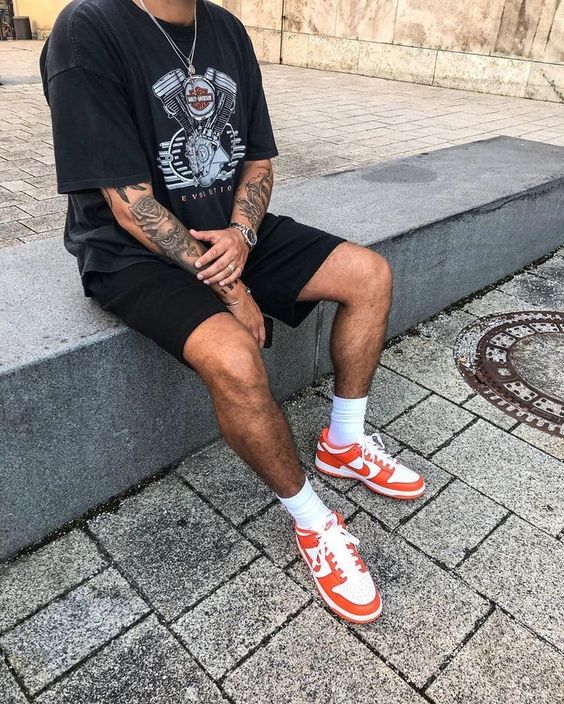 Rock the Halloween vibes all year round with a black and orange Jordan 1 outfit idea for men.
With an all black outfit paired with your orange Jordan 1 lows, you'll have your new favorite go-to casual fit.
Black Sweatsuit + Colored Jordan 1s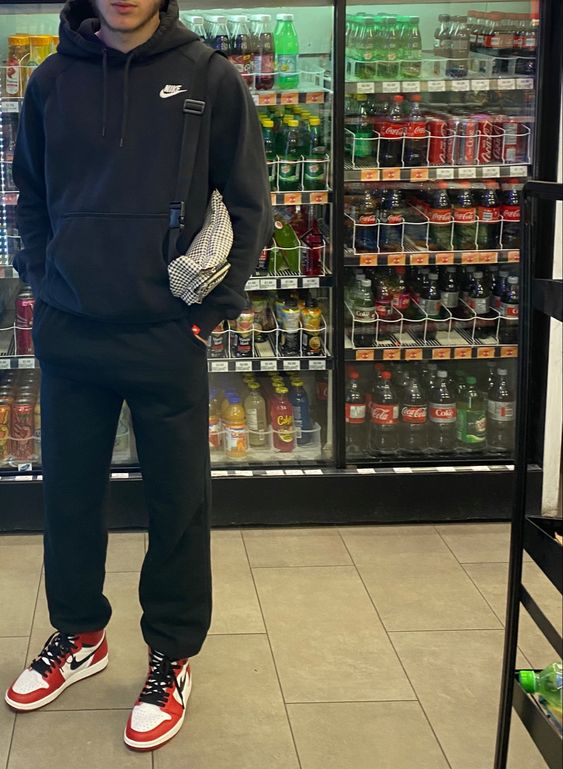 You can never go wrong with an all black sweatsuit, especially when worn with the classic red and black Jordan 1s.
This Jordan 1 mid outfit is easy to rock, so comfortable, and still looks street ready.
Denim Jacket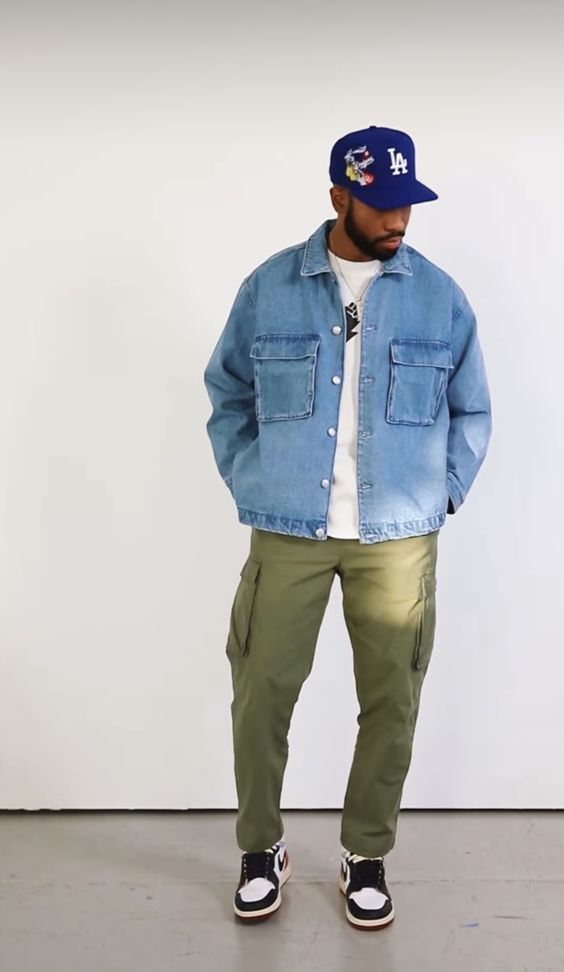 For the easy cool-guy Jordan 1 outfit, we highly recommend layering a denim jacket on top of a simple white t-shirt, cargo pants, and a matching baseball hat.
This Jordan 1 high outfit is perfect all year round, but the best in Fall.
Oversized Flannel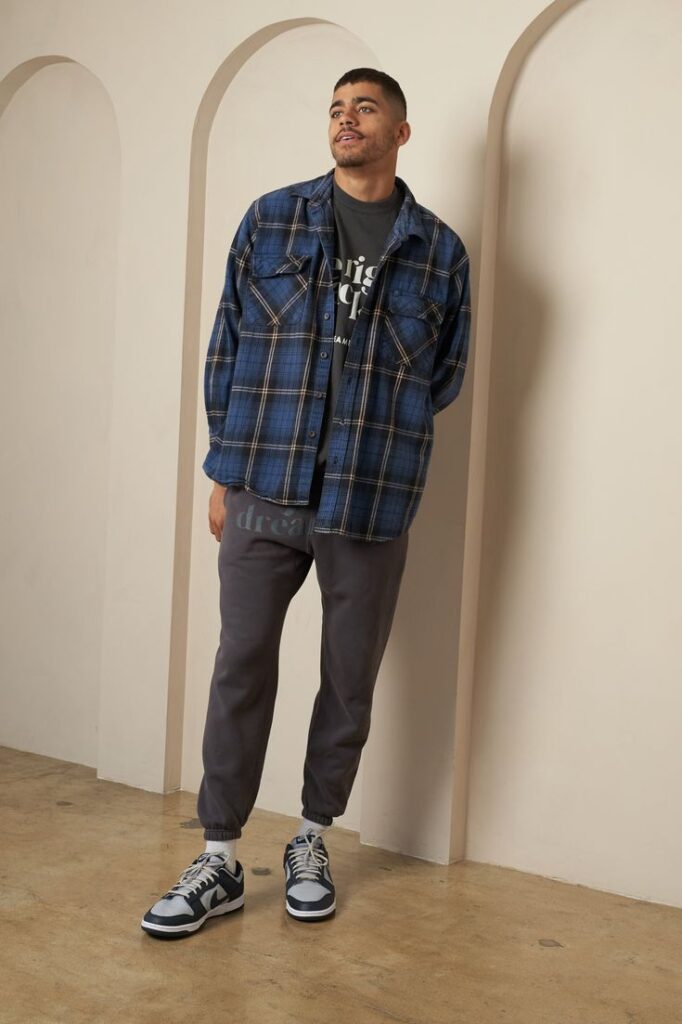 A Jordan 1 outfit idea for men that's perfect in the Fall and Winter simply involves one thing, an oversized flannel.
If you don't already have one, then you need to run to your local thrift store and get a matching oversized flannel to your favorite Jordan 1 lows.
Green & Orange Outfit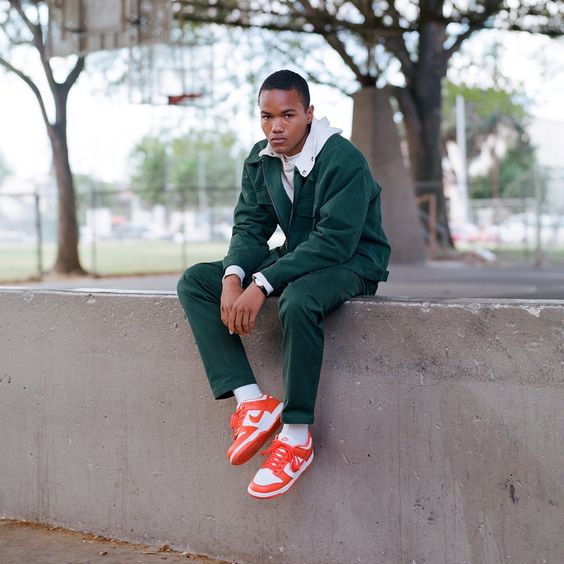 For an elevated Jordan 1 low outfit idea, try rocking a green jacket + pant set on top of the fan favorite Dunk low orange blazes.
This Jordan 1 outfit idea for men is simple yet so effective in achieving an elevated look that you can rock on dates or for running errands around your city.
Matching Cardigan + Jordans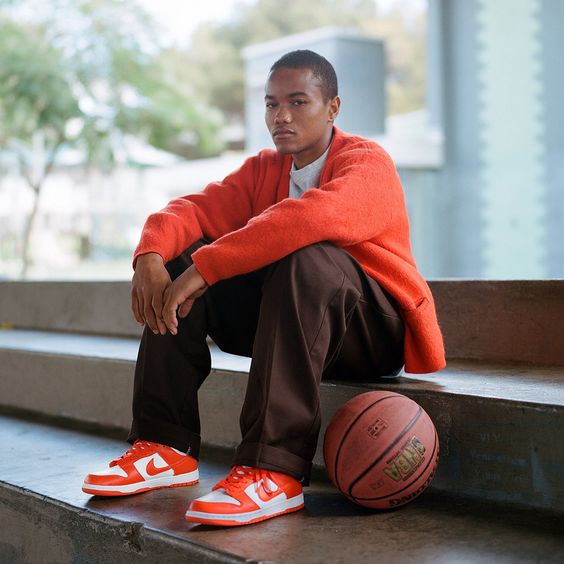 A color-coordinating cardigan is a great way to style up your Jordan 1 outfit, especially if you're just wearing a simple t-shirt and pants.
We're loving this Jordan 1 outfit and it doesn't have to be orange, you can get a matching cardigan to any color Jordans you own.
Gray Jordan 1s + Sweatpants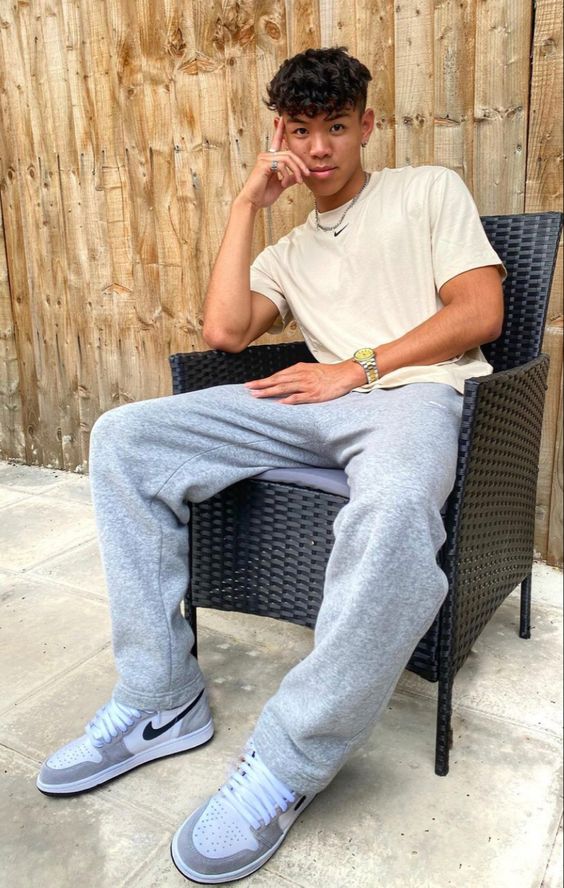 When it's cold, it's gray sweatpants weather, and this is the perfect cold-weather comfy outfit.
Match your Jordan 1 high outfit with color-coordinating gray sweatpants and neutral tee for a fashionable Netflix-and-chill look.
Simple gray sweatpants make for one of the best Jordan 1 outfit ideas in 2023!
Related Post: 60 Best Hairstyles for Guys
Letterman Jacket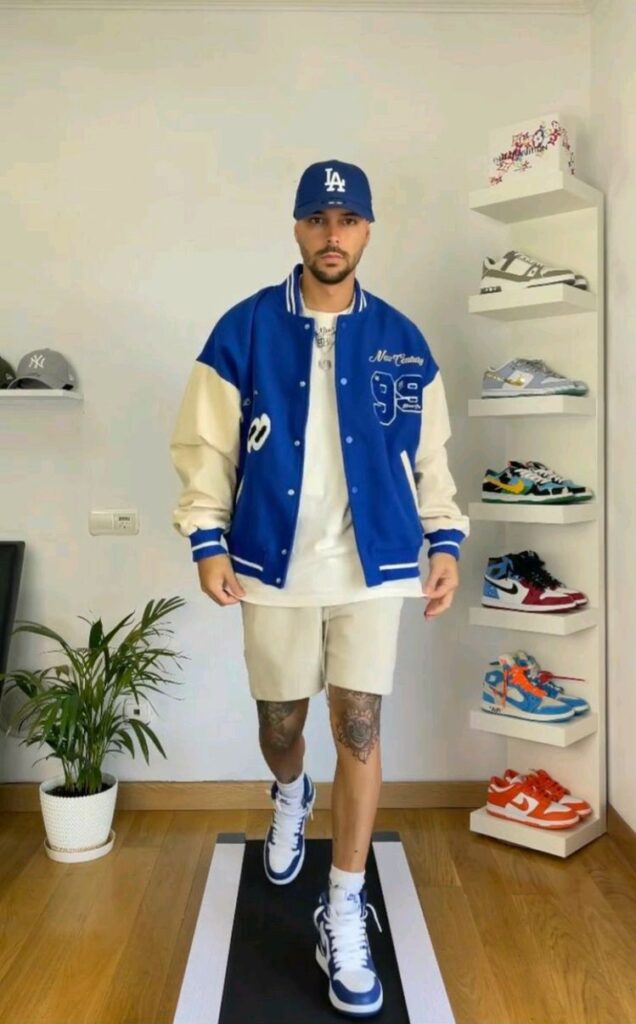 If you have a letterman jacket, then now's the time to grab it from the back of your closet and rock it in this Jordan 1 outfit idea for men.
Depending on what the colors of your letterman are, try building a color-coordinating outfit around it with matching Jordan 1s and accessories.
Fall Jordan 1 Outfit Idea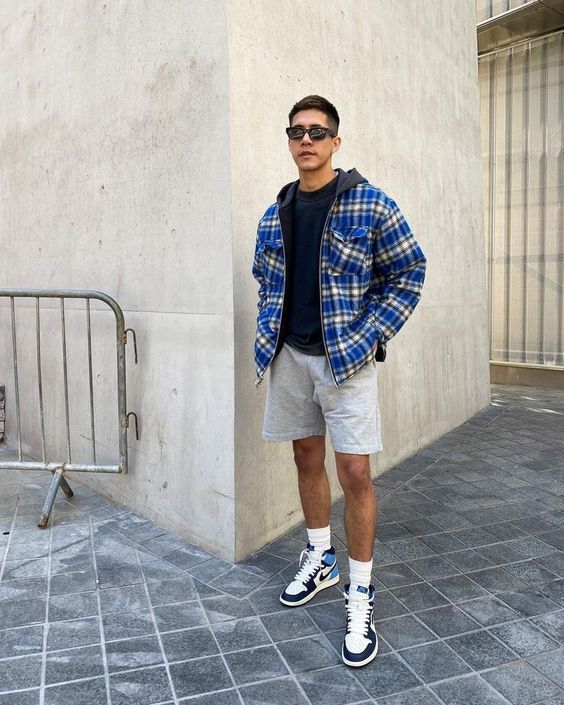 Fall was meant for layers, and Jordan 1st help create the perfect fall outfit you've been looking for.
Layer an oversized flannel on top of a simple sweatshirt, shorts, and crew socks for a Jordan 1 high outfit you'll want to wear all season long.
All White Jordans Outfit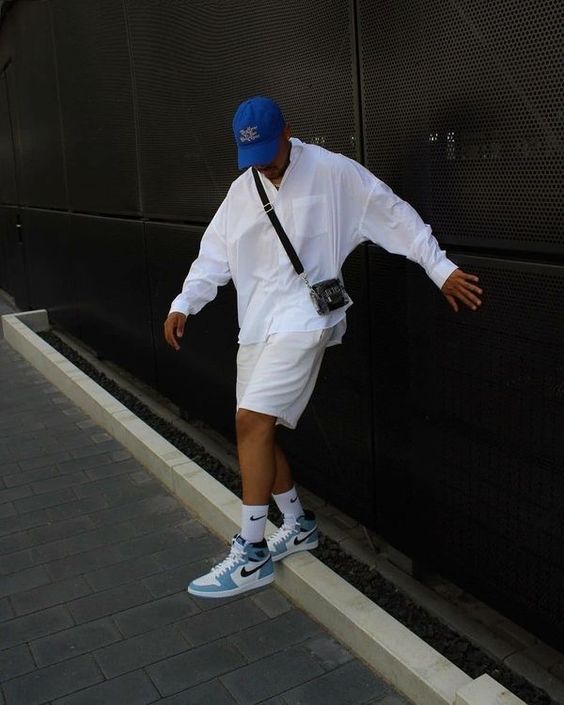 You can't go wrong with an all white outfit, especially when worn with the right shoes.
This Jordan 1 high outfit works best in Spring and Summer and only involves pairing white clothing with matching accessories to your sneakers.
Matching Green Streetwear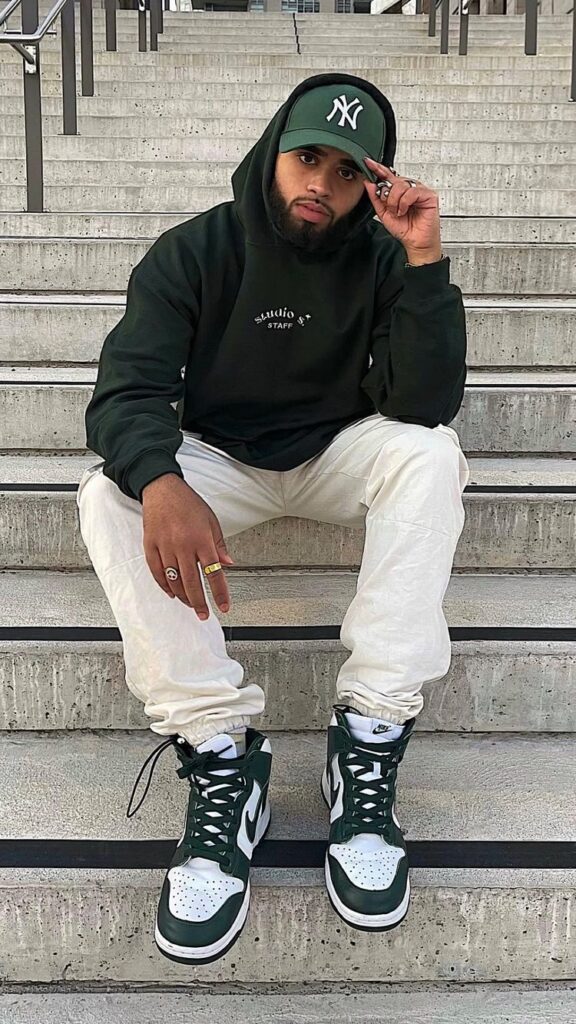 Green has been the go-to color in fashion the last few years and this streetwear outfit is perfect.
Pair your green Jordan 1 highs with color-coordinating green clothing for a look you can rock all Fall and Winter.
Hopefully you found your favorite Jordan 1 outfit that you can wear to look stylish when you go out.
If you have any comments, questions, or suggestions leave them down below. Thanks for reading!