Want some outfit inspiration for high school? Here are 10 stylish button up outfits for teenage guys that are actually practical!
As you head into 2022, you want to put your best self, and best outfit forward, which means button ups are now a wardrobe must have!
Button ups don't have to be the boring ones you've seen the older men around you wear. They can be fun, comfortable, and super easy to style.
In this article, we've rounded up 10 ideas for how to easily style a button up shirt, no matter what your personal taste in fashion is.
So get ready to add these looks to your cart ASAP because you don't want to miss out on these looks before they sell out!
Relaxed Casual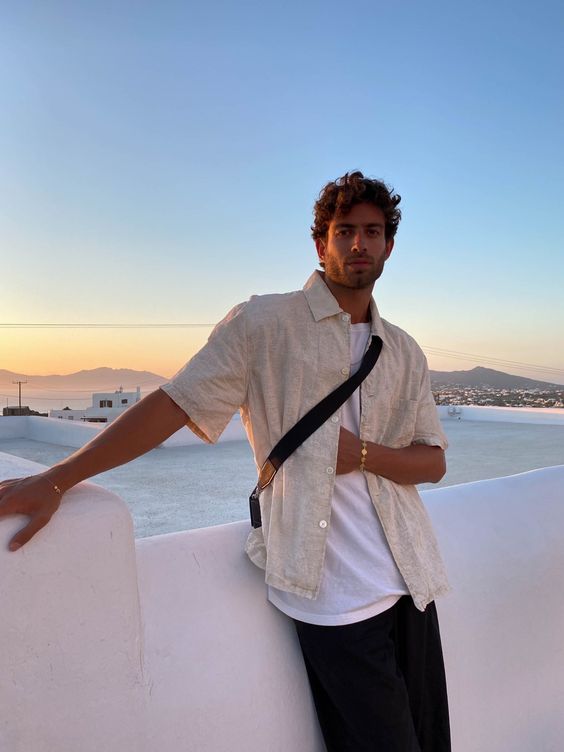 Button ups can be a great addition to any casual outfit to make it slightly more elevated than just wearing a plain shirt.
Wear a relaxed knit button up with a pair of your favorite joggers for the everyday casual look. It'll leave you looking fashionable and staying comfortable!
This look can be found from any H&Ms, Targets, or Zaras in your local area and is an easy and affordable look to rock.
Sophisticated Summer
Button ups are perfect all year round as they come in a variety of materials, lengths, cuts, and patterns.
Taking a fashion note from Channing Tatum. This short sleeve button up in a cool and trendy military green is a perfect example on how to rock this look in the spring or summer.
Pair it with matching chinos and you already look like the most fashionable teenage guy in high school.
Related Post: 40 Stylish Outfits for Teenage Guys
Modern Semi-Formal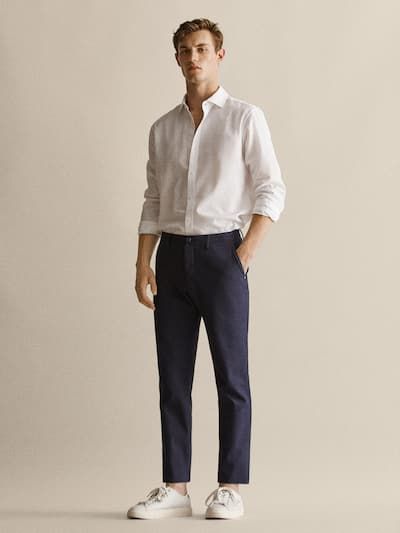 We love a modern take on a classic look and this one might be one of our favorites.
This outfits consists of tapered chino pants, a well-fitted crisp white button down, and white sneakers.
It's the perfect modern semi formal look for any teenage guy looking to elevate their style for a night out or a special occasion.
This trendy outfit is easy to put together and will instantly mark you as the go-to guy for all things fashion and style.
All About Neutrals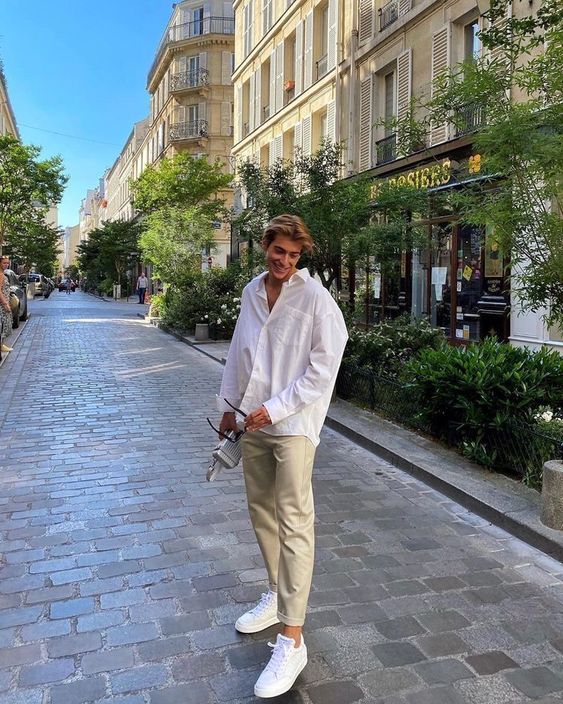 We love the monochromatic trend because of how easy it is to accomplish and how stylish it makes you look.
All you need to do is pair a simple, relaxed white button up with a pair of khakis and white sneakers.
These stylish button up outfits for teenage guys can easily be put together from items in your closet. You can also take a quick run over to H&M.
Being stylish doesn't have to be hard or expensive!
Half French Tuck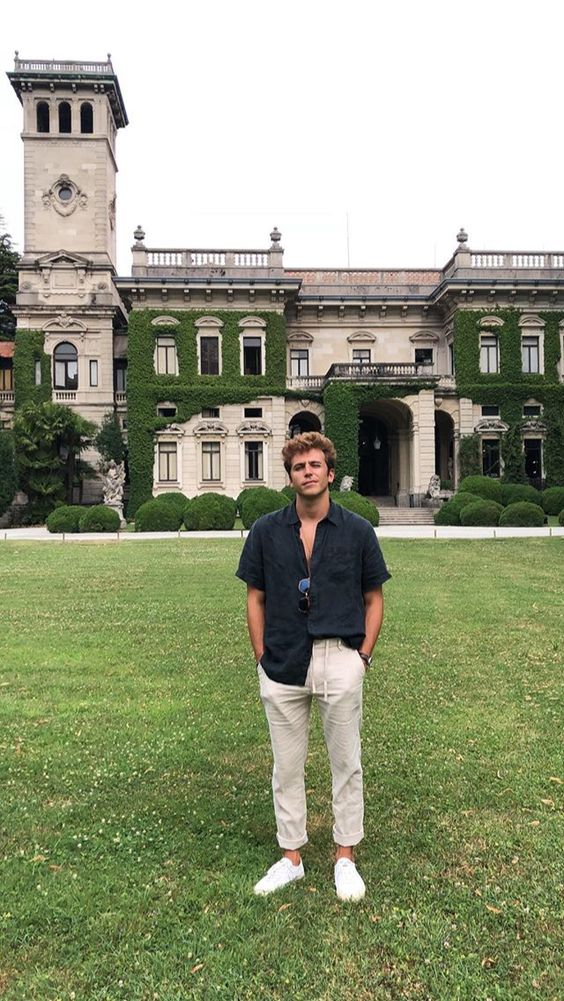 A great way to style a button up easily and quickly is by doing a simple half french tuck with one of the halves.
Leave the bottom few buttons unbuttoned and then tuck one of the halves into the waistband of your pants.
The half french tuck easily makes your outfit look more relaxed, so you can be the coolest teenage guy in school.
Matching Linen Set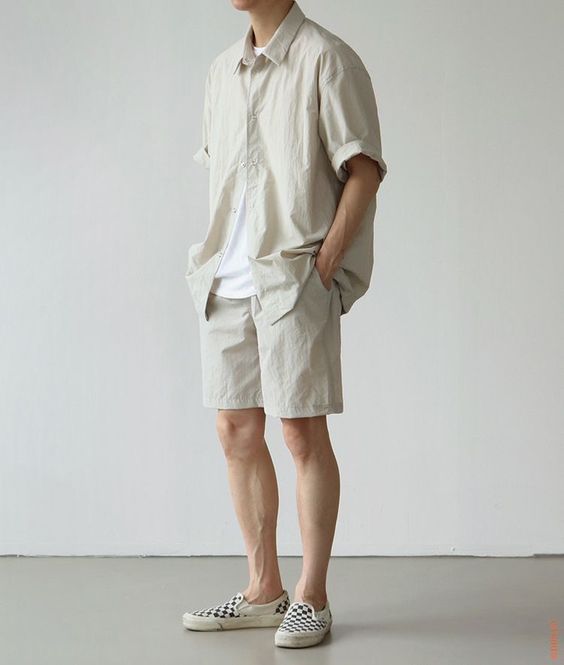 A great way to rock a button up on the hotter seasons is with a simple yet trendy matching linen set.
The great part about this look is how comfortable this outfit is.
An entire linen set feels like wearing your bedsheets all day long. However, you'll look like the guy who knows everything about fashion.
You can either keep the button up fully buttoned or layer it with an undershirt and keep it open faced for added dimension.
So get ready to rock this look in the upcoming seasons.
Related Post: 15 Popular Shoes for Teenage Guys
Rolled Up Sleeves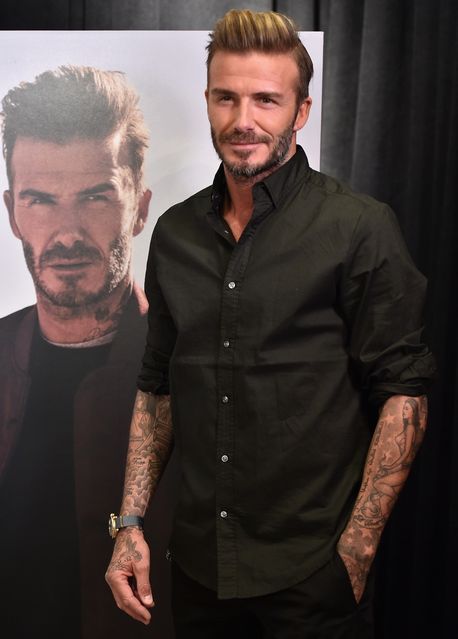 David Bekham is the king of button up street style. Did you know there is one thing he always has in common with these looks?
His secret is simple… roll up your sleeves!
David Beckham's sleeves are always rolled up when he's in a street style outfit.
This signature look has been mirrored by guys everywhere because of how effortless it makes your outfit look.
It can be easy to look too stiff and formal with black button ups. David shows us that it's easy to make it more casual with a simple sleeve roll.
Classic Full Tuck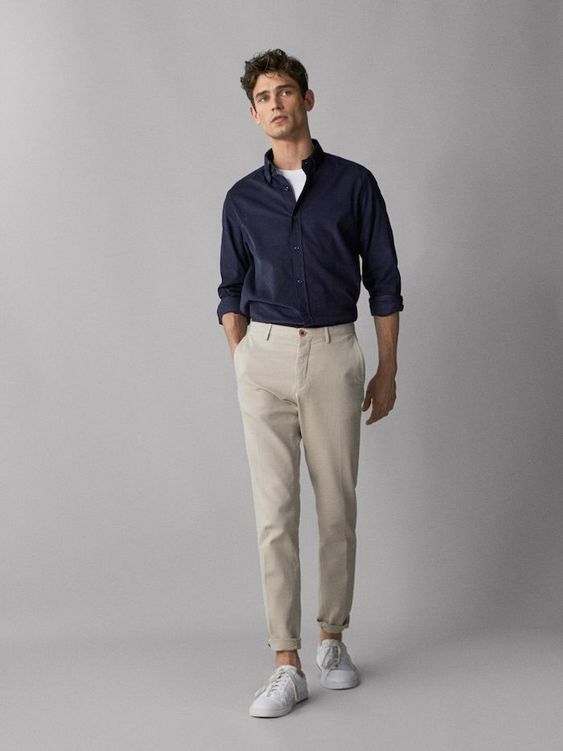 Want a more sophisticated and refined outfit to rock for a special occasion or a night out? Opt in for a crisp button up fully tucked into your nicer dress pants.
The classic full tuck is one of the best button up outfits for teenage guys!
It's timeless, refined, and will have you looking wiser and more mature than you've ever looked.
This is a great look to rock with a simple white, navy, or black button down.
Oversized Short Sleeve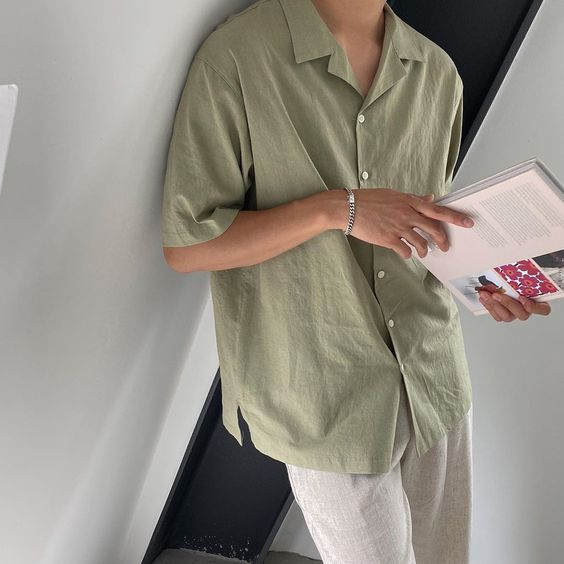 One of the biggest style trends for teenage guys lately is the oversized short sleeve button up look.
This look is super easy to wear and will have you staying comfortable all day long.
These shirts are great for the warmer seasons and can even help prevent those unavoidable sweat stains that we all hate.
Go to your local thrift store to find these stylish items. They usually come in a ton of patterns, fabrics, and colors.
Related Post: 60 Best Hairstyles for Teenage Guys
Pinstripe Perfection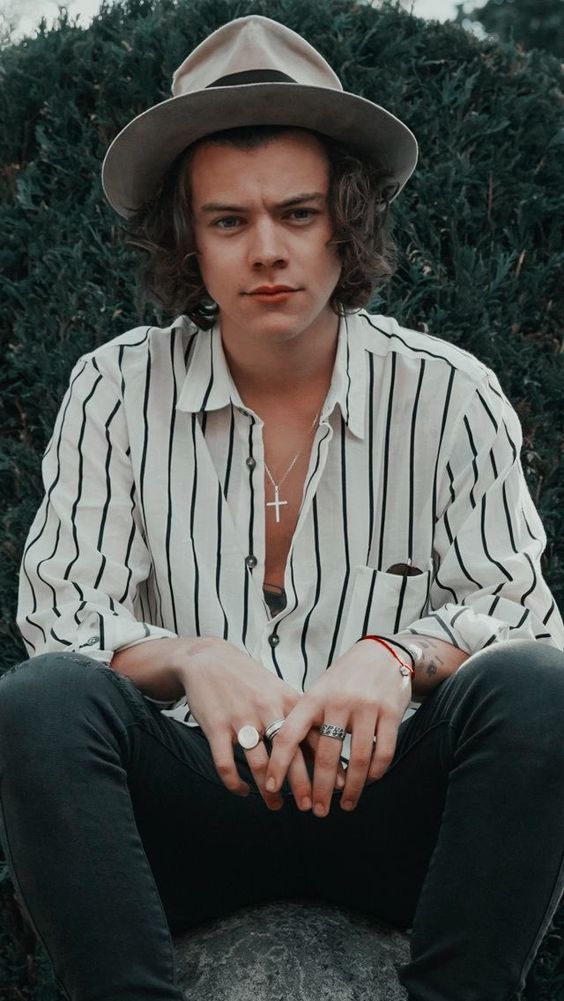 Harry Styles is undeniably the king of fashion and is always showing off new ways to style button ups.
The pinstripe button up look is a great way to elevate your wardrobe in a stylish and trendy way.
Pinstripe is a fancy word for "thin stripes used in clothing items".
This look can be worn with black jeans and desert boots. You can pair it with a neutral hat for extra style points.
Hopefully these button up outfits for teenage guys gave you inspiration for what to wear in high school and beyond.
If you have any comments, questions, or suggestions leave them down below. Thanks for reading!