Getting an apartment in college? You'll need a good desk to study! Here are the 10 best desks for college students to get work done!
School is officially in session, and you know that means – homework and studying are right around the corner.
We want you to perform at your best, so you're going to need one key thing, a college desk that works for you.
Whether you want to stand and work, or want a desk that is small and fits within your space, we've rounded up a list of the ten best desks that can work for you, no matter what your criteria is.
So get ready to be the most successful version of yourself in college, with the help of your incredible new desk.
Let's dive in!
What Makes for the Best Desks for College Students?
The best desks for college have a few key features:
Durability – Will it last long and hold heavy items?
Size – Can it fit in your apartment/room?
Storage – Does it come with drawers, shelves, or have the ability to add some?
Price – Is it affordable for a college student?
Extra Features – Sit/stand, adjustable, L-shaped, foldable, etc.
These are the 5 factors that we used to determine which desks are best for students.
If it's ergonomic, improves your studying, and knocks off most of these factors, then we're happy!
Why Do I Need a Good Desk for College in 2023?
Having a good desk in college ensures that you're keeping your schoolwork organized.
The wrong desk can clutter up your space, overpower a small apartment, and prevent you from working your hardest.
Plus, students sit in front of desks for hours everyday. Get yourself one that suits all your needs!
Best Desks for College Students
These desks range in size, color, features, and more. You'll be sure to find a desk that's right for you in this list!
If you're looking for a sturdy writing desk that will last you years of studying and homework, this Cubiker Computer Desk is perfect for you.
With a beautiful oak finish, sturdy steel finish, and built in storage for all your pencils, papers, and books, this desk is perfect for optimization of work and saving space.
No more worrying about a cluttered desk that won't be able to keep up with you. This desk is functional, reliable, and not to mention, aesthetically pleasing.
At only $59, there is no reason why you shouldn't be adding this to your cart right now.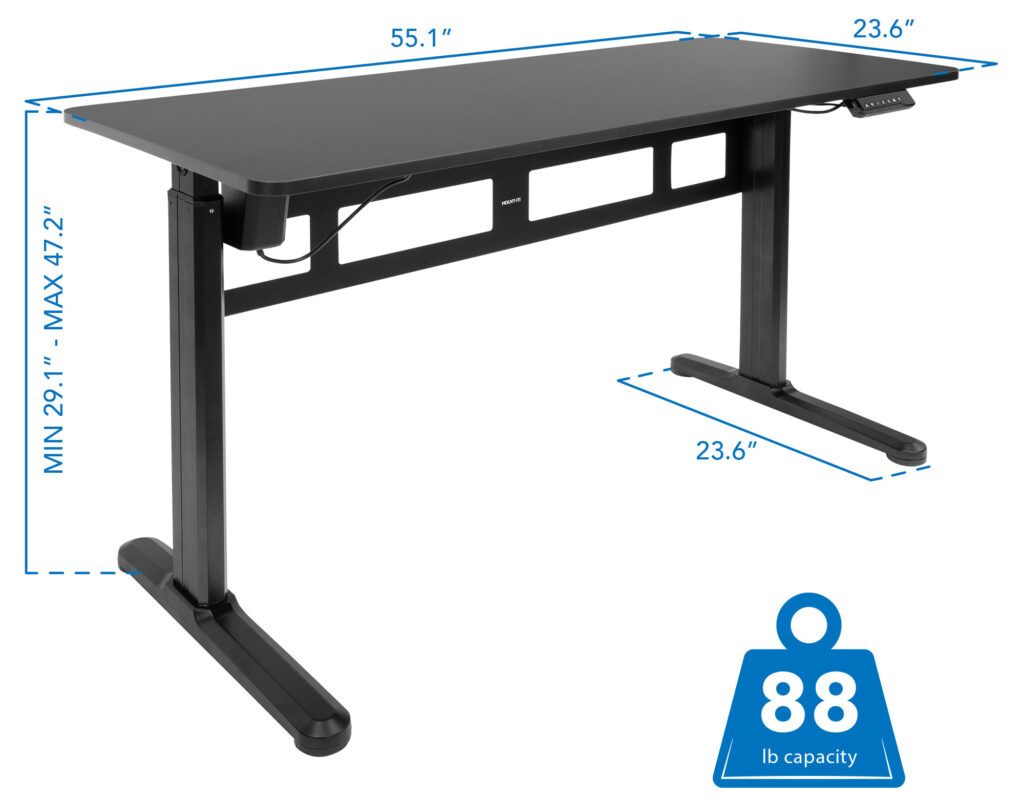 If you're anything like us, you love to have the freedom to sit or stand while you work.
The benefits of standing desks have been proven time and time again, and this desk ticks all the boxes.
Standing while you work improves focus, concentration, blood flow, and overall work ethic. If you're looking to optimize your academic performance, then look no further.
The Mount-It Electric Standing Desk is easy to use, sturdy, reliable, and functional. It's one of the best desks for college students!
It even has a memory control panel so your height settings are saved every time you're looking to switch up your position.
Once you go to an electric standing desk, you'll never go back! This desk is worth every penny!
If you're looking for a desk that is sturdy, will last you a long time, and will fit in your small space, then we've found the desk for you!
There's no reason to sacrifice performance because of space, so finding the right desk that will work with you in your room is key.
The Lemeberi Computer Desk is great for students with smaller rooms or packed dorms.
Starting at $46, this desk is the ultimate go-to for someone looking for an aesthetic desk that is affordable and can be moved wherever the years take you!
So no more having to sacrifice studying because of space. Add this to your cart ASAP (especially with the extra 5% off promo happening now) and get working!
Related Post: Best Coffee Makers for College Students
So you're a student who needs as much room as possible on your desk to work? We got you!
An L-Shaped desk will be your best friend throughout college with all the extra surface area you get!
What we love most about the SHW L-Shaped Corner Desk is that you can fit all of your textbooks, notebooks, and electronics all in one area.
No more having to put your textbooks in your lap because of a crowded desk.
This affordable desk will make those long nights of studying that much better!
You don't want to have to deal with an ugly and bulky desk in your space throughout college, and we hear you!
A desk should be functional and fitting to your style and personal taste.
The Lufeiya Small Computer Desk is the perfect balance between modern, sleek, and practical. It's the best small desk for college students!
This white and black desk has the industrial look that works for any room aesthetic and at only 31" in length, can fit in any room!
If you thought this desk couldn't get any better, think again. This desk even comes with built-in storage so your items will no longer be in the way of you working!
We have three words for you: add to cart!
What's better than a desk with a drawer for storage? A desk with multiple shelves built in for more storage than you can imagine!
If you like to keep all your textbooks, notebooks, electronics, and other work items organized in one place, then we've found your perfect match.
With 5 shelves of built-in storage, the Coavas Computer Desk will keep your work station organized throughout your college years to completely optimize and enhance your performance.
No more wondering where you left your textbook – it's right on the shelf with all the others!
Not to mention, the wood and white structure combination help it blend in with any room style.
Related Post: Best Desk Lamps for Dorm Rooms
A bookshelf and desk all in one? Say no more, we've already added this to our carts!
The Bestier Computer desk combines storage and functionality all in one. Who said a desk with storage has to be bulky?
This desk combines a bookshelf look with a sleek modern desk design to create one of the best desks for college students!
For anyone looking to save space in their room while keeping their dorm aesthetically on point, this is for you.
With four shelves for storage, a sleek black structure, and 6 colors to choose from, this desk will be the focus point in your room – and for the best reason!
As someone who personally owns this desk, it's truly a wonder of a desk to have!
The size is perfect for your computer, books, lamp, and extra monitor without the desk feeling too crowded.
It's also easy to set up and super user friendly. Just push the up and down arrows to control how high or low you want the desk!
This desk comes in white, black, and wood top so it works in practically any space!
Standing desks are highly recommended for anyone looking to get the most out of their workspace and be the best they can be in their academic and personal success.
Related Post: The Ultimate College Apartment Packing List
Sometimes simple really is better, and this desk makes that statement true!
This 55 inch black frame desk is perfect for someone who wants a simple, modern, and sleek desk in their space.
No more bulky desks or over the top built-in features. This one keeps it simple while still being sturdy and functional.
With 3 different colors and sizes to choose from, this college desk can work for anyone and in any room!
If you're someone who likes to move around when they work and not have to worry about another piece of furniture cluttering your room, then a folding desk is the way to go!
This GreenForest Folding Desk is the ultimate functional and practical desk for any small room!
Once you're done using it, all you have to do is fold it up and put it back in your closet or behind another piece of furniture.
With its lightweight feature, this desk can easily be moved around to different parts of your dorm or apartment.
You can switch up your workspace without the hassle of moving a clunky desk!
Choose from Walnut or Black and get ready to make your space work for you, no matter how you like to study.