Need a good costume idea for an ABC party? These are the 25 best anything but clothes costume ideas you should try next time!
Whether you're a girl or a guy, you'll be sure to find an outfit that matches your personality and your character in this list.
Take a look at these ABC costume ideas!
The Best Anything But Clothes Ideas
Hopefully these 25 ideas give you a bit of outfit inspiration for your party…
ABC Costume Party Ideas for Girls
If you're not sure what to wear to an ABC party as a girl, take a look at these costume ideas!
1) Caution Tape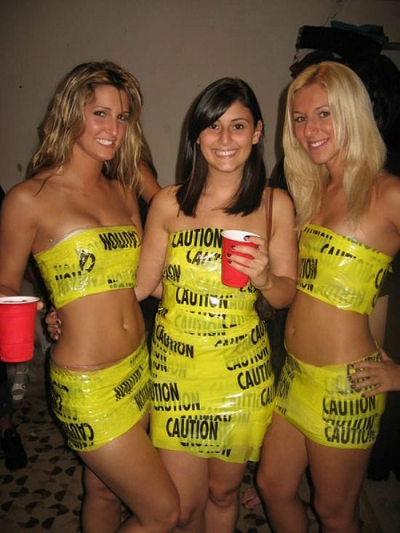 A caution tape outfit is an easy last minute ABC party idea to look good, creative, and impress your friends.
Caution tape is super cheap as well, making it super simple to put together.
You can make bikinis, shorts, or dresses. Get creative and see what you come up with!
2) Windshield Sun Shades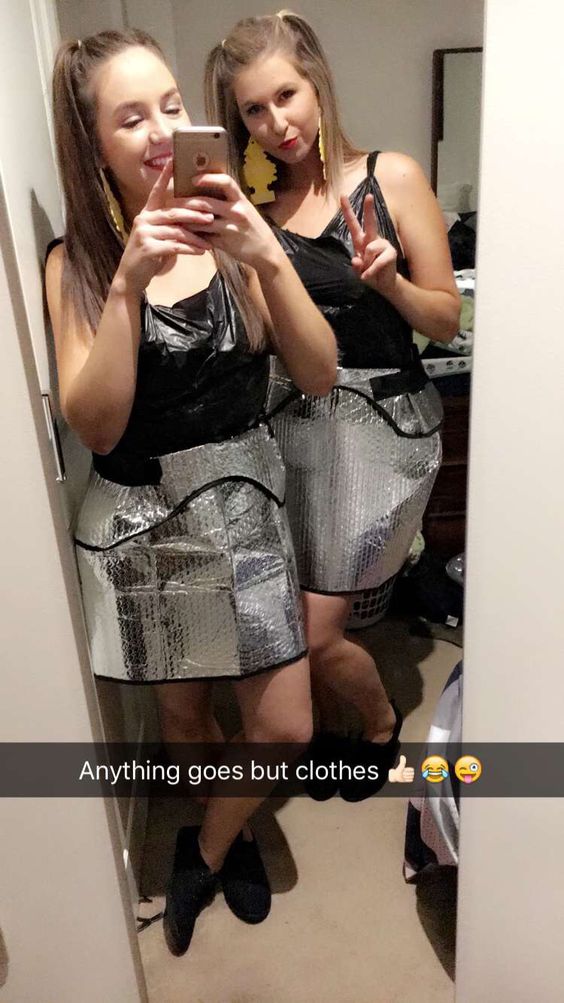 Steal your dads sun shades from the car and wrap it around yourself like a skirt!
It makes for one of the most unique anything but clothes costume ideas out there.
You can also pair it with a plastic bag for the upper body or take a second shade and wrap it around the top.
3) Paper Bag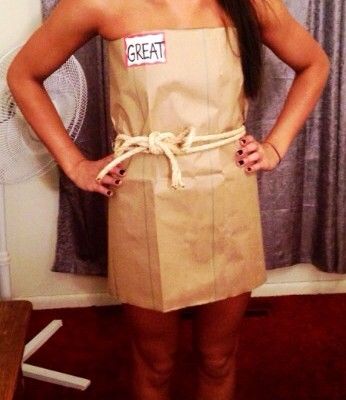 One easy anything but clothes party idea is the paper bag.
It's another simple costume that can be whipped up in a matter of seconds.
Combine a bunch of grocery bags, grab a string, and tie everything together!
You can also use gift wrapping paper to fashion a dress or two-piece outfit.
Related Post: 50+ Best Halloween Costume Ideas for Girls
4) Fake News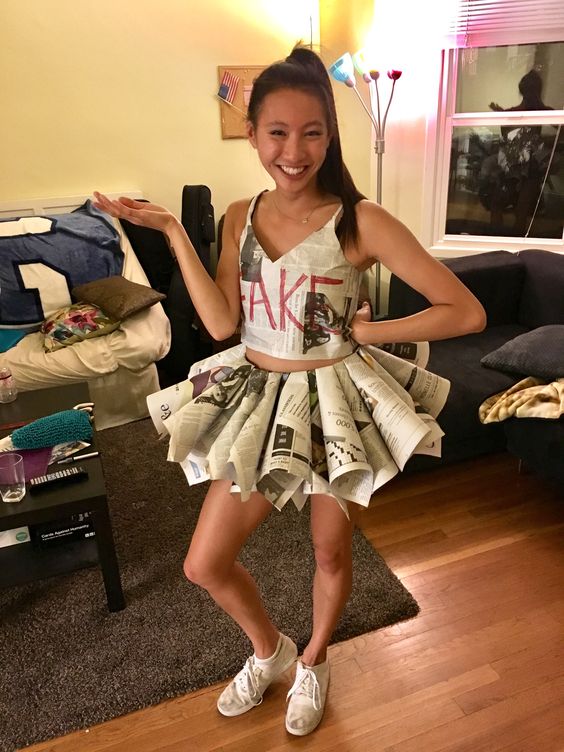 Name a more creative, yet easy anything but clothes costume idea than a bunch of "fake news" newspapers rolled into a skirt!
You can transform some more newspapers into a crop top to make the ultimate outfit for your party.
5) Pool Floaties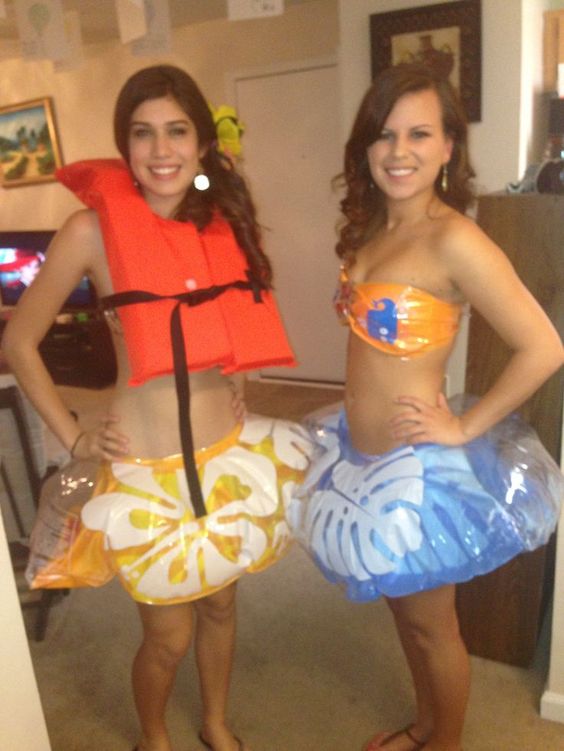 Pool floaties make for one of the best ACB party costumes for girls!
You can even mix things up with a life jacket, pool noodles, or any other swim-related pieces you got lying around.
6) Chip Bags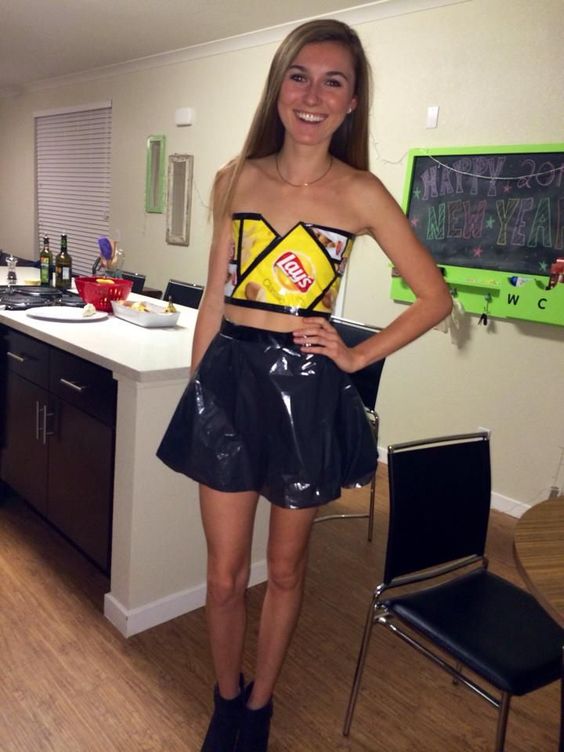 Everyone's got a few bags of chips around the house!
Eat the chips as a pregame snack, flatten out the bags, fashion yourself a fun costume, and you're all set!
7) Chipotle Burrito

This chipotle burrito is one of the best anything but clothes costume ideas for girls!
All you need is a bit of tinfoil to wrap around your entire body and a bit of duct tape to seal everything up towards the bottom.
As a bonus, adding the Chipotle logo from an old bag could really elevate the outfit.
8) A Loofa
One of the most creative anything but clothes costumes is the loofa.
The DIY skill you need for this can take a bit of work, but trust us when we say this outfit will pay off!
9) Envelopes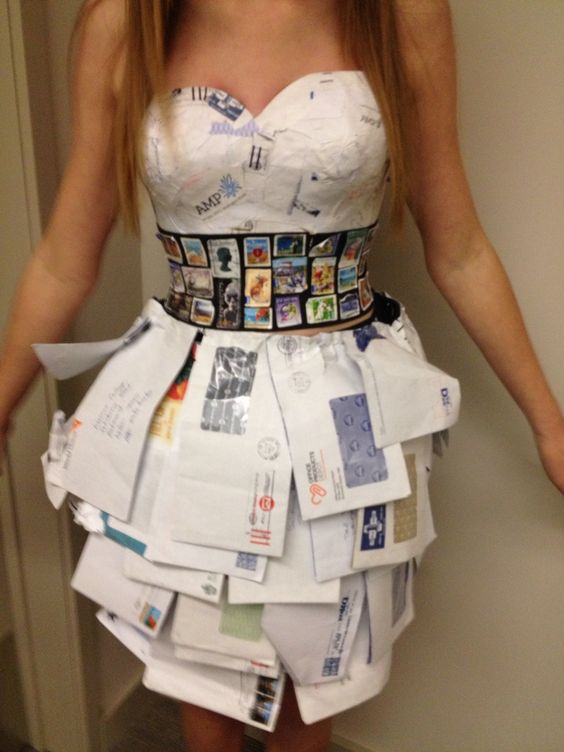 An envelope dress is really easy to put together if you have a bunch of old letters that you haven't thrown away.
The best way to keep everything together is with a bit of tape in the back and a center belt to stuff envelopes underneath.
Related Post: College Dorm Essentials Every Student Needs
10) Biscuit Bag Costume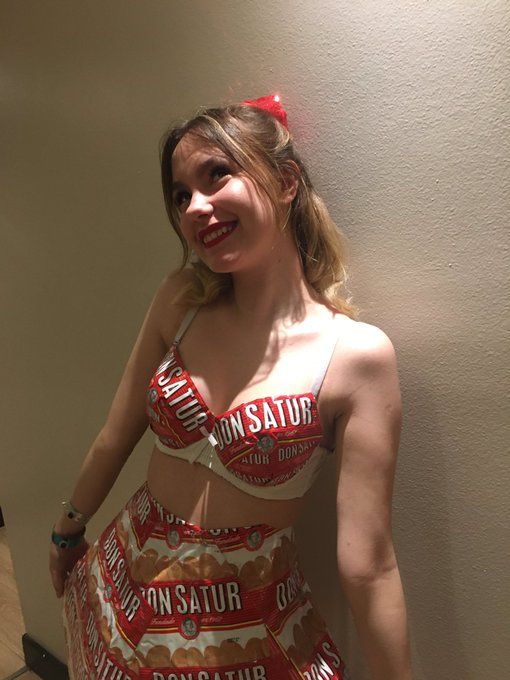 Can we all agree that this is one of the cutest ABC party costumes!?
The image above uses old biscuit/cookie bags to put together a separate top and bottom piece.
Any large snack bags can help you pull off this costume.
11) Vines
This costume is awesome for pulling off that greek goddess look!
You can find fake vines at a dollar store or online and make an entire outfit out of them.
12) Playing Cards Dress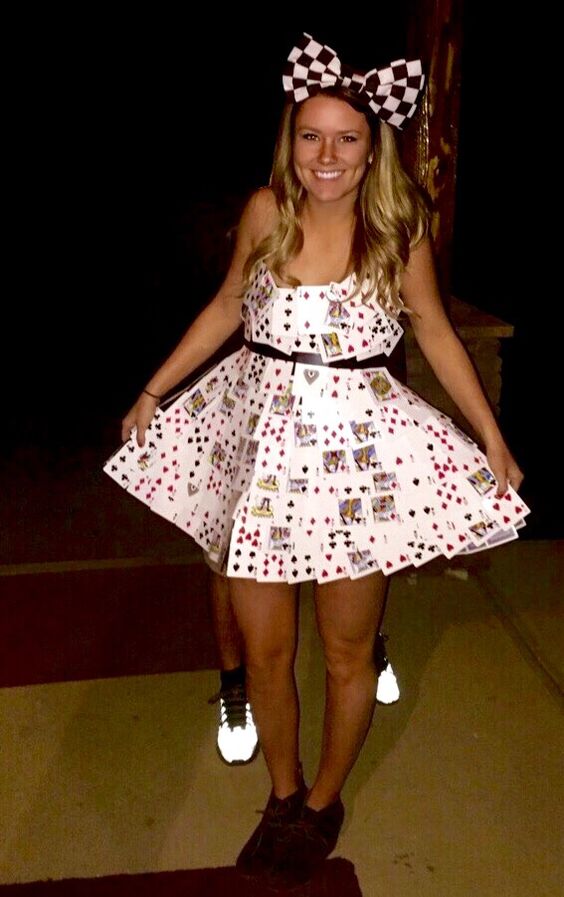 Grab a few cheap decks of cards and fashion yourself an awesome and colorful dress!
A little tape will keep everything together and a bow for your hair can finish off the outfit nicely.
13) Duct Tape Costumes
Duct tape is another cheap and last minute anything but clothes party idea that you can throw together in a pinch.
You can get creative and make any type of outfit you can think of.
Just don't forget to duct tape 2 pieces together before putting it on so you don't get stuck to your costume!
Related Post: 15 Things I Wish I Knew Before Starting College
ABC Party Outfit Ideas for Guys
If you need a few great ABC costume ideas as a guy, definitely check out these next few outfits!
1) Pizza Box
One of the best anything but clothes party ideas is a pizza box.
This is especially good for guys because you don't need to wear anything up top.
The entire outfit is just a pizza box! Plus, you'll get a good pregame meal before the party.
2) Condoms
Make yourself a little toga skirt made from condoms!
Everyone will get a laugh out of it and you'll definitely walk in the party as the most creative guy in the room.
3) Beer Box Thor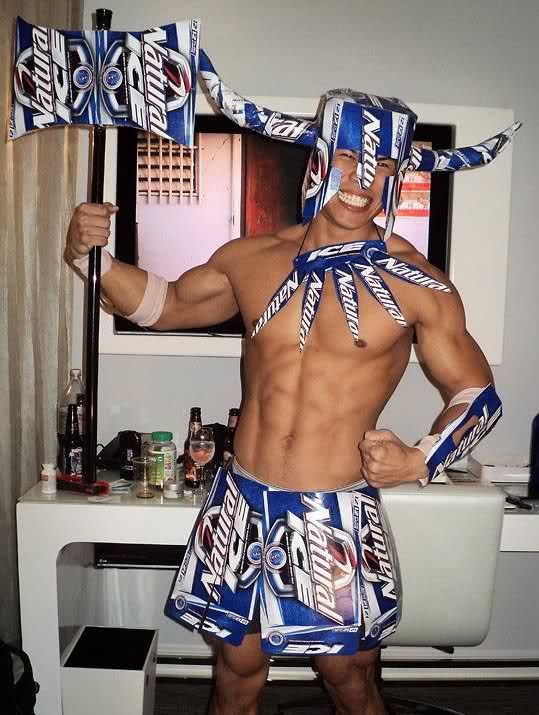 Beer boxes are fundamental pieces for anything but clothes costumes for guys.
Turning yourself into Thor, a knight, or any other superhero is made easy with printed cardboard!
4) Beer Box Transformer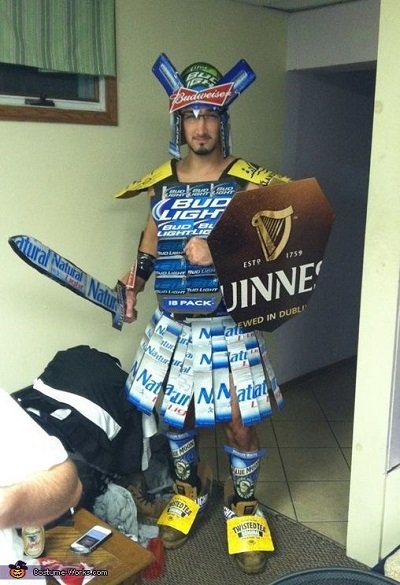 This is easily one of the best anything but clothes costume ideas for guys because you get to be a transformer!
Make yourself a mechanized suit out of any beer boxes and show up to the ABC party looking insane!
Definitely consider this outfit if you like to party hard and are looking for something funny to wear.
Related Post: How to Make New Friends in College
5) Beer Box Overalls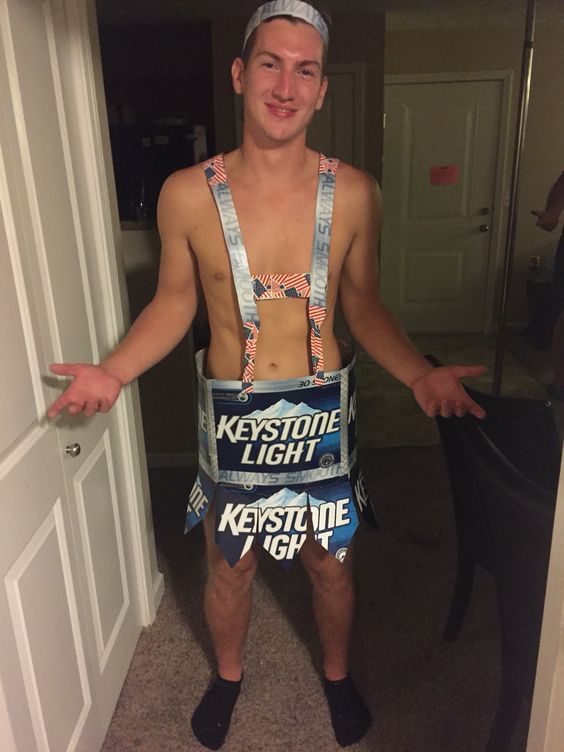 These beer box overalls require fewer boxes to create and don't need too much DIY.
This makes it a great last minute idea to put together when you need a quick ABC party costume.
6) Beer Box Vikings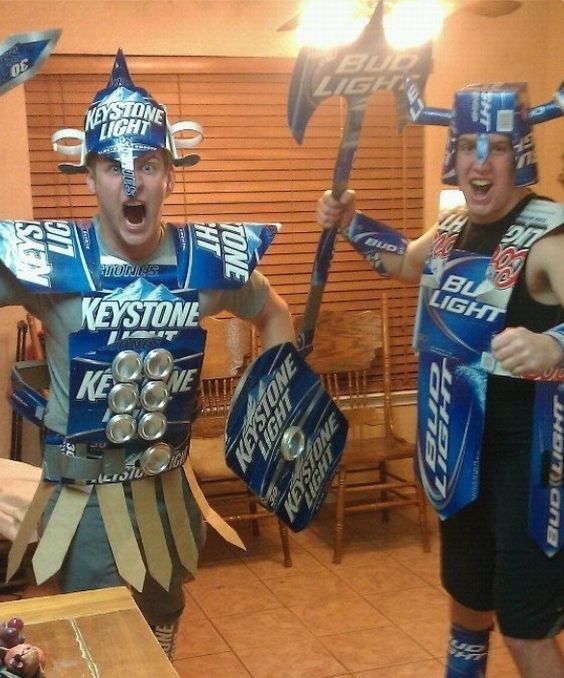 Grab a buddy or 2 and craft yourself some awesome viking armor out of beer boxes.
You can even include the cans in certain parts of the costume to make it look more metallic and give it your own personal touches!
7) Twister

If you've got an old Twister game lying around, you're going to love this one.
Cut up the Twister sheet and make a pair of shorts along with a fun top.
Finish it all off by placing the board itself in the middle of the costume!
8) Egg Cartons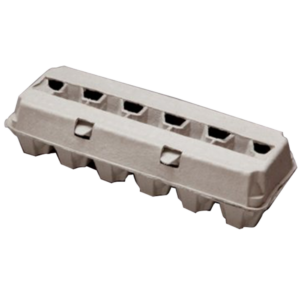 Egg cartons are easily accessible and make for really easy DIY ABC party costumes.
Cut them up, leave them whole, tape them together, and get creative. You can literally make anything with this idea!
9) Bicycle Cards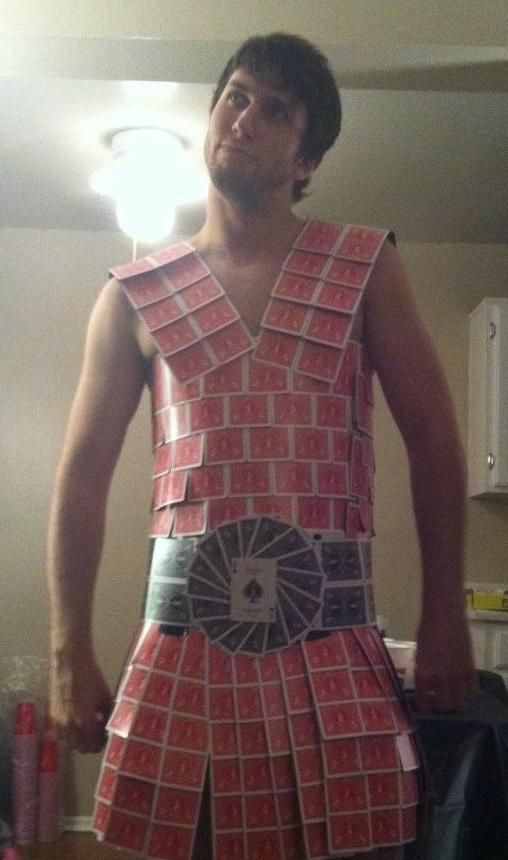 Mix and match the blue and red colored Bicycle cards to make yourself an awesome looking armor.
You can get real creative with these outfits because the individual cards give you a ton of freedom to play around!
Related Post: 10 Best College Student Benefit You Didn't Know You Had
10) Old Spice Guy (Towel)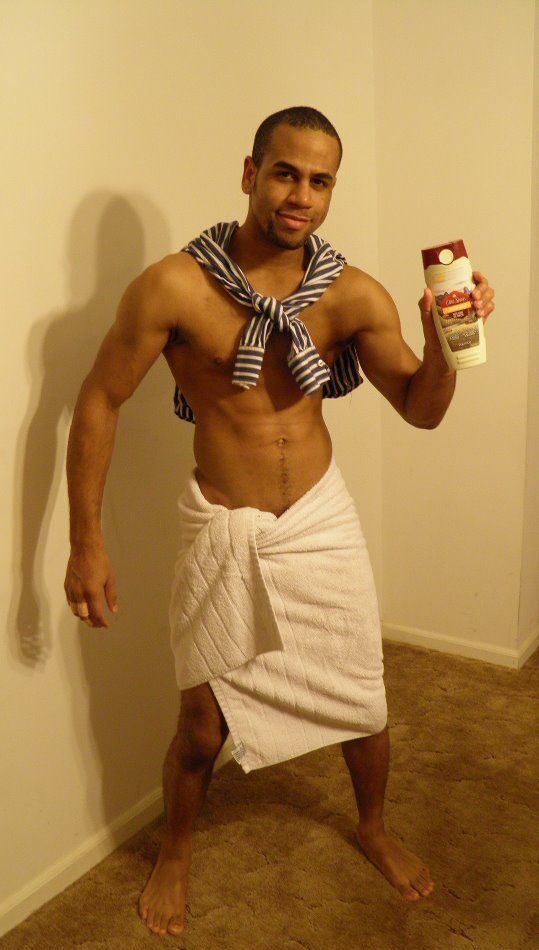 While this may be a risky one, showing up to a party with just a towel around your waist can be hilarious!
At the very least, maybe wear some boxers underneath 😉.
11) Monopoly Board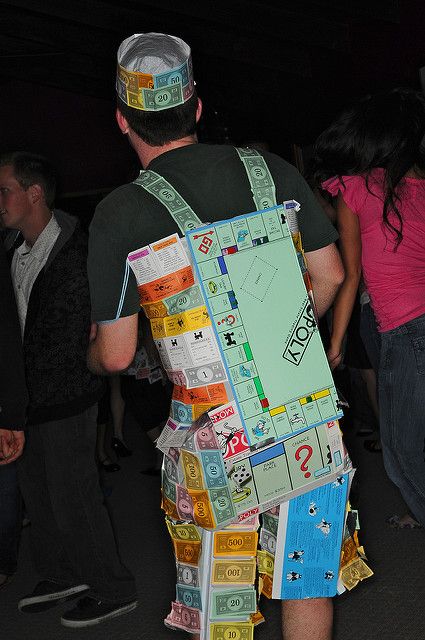 This monopoly board costume is one of the best anything but clothes costume ideas that has ever been made.
The amount of DIY this takes is honestly impressive. Needless to say that if you make something remotely close to this, you're probably getting laid that night.
12) Memory Foam Mattress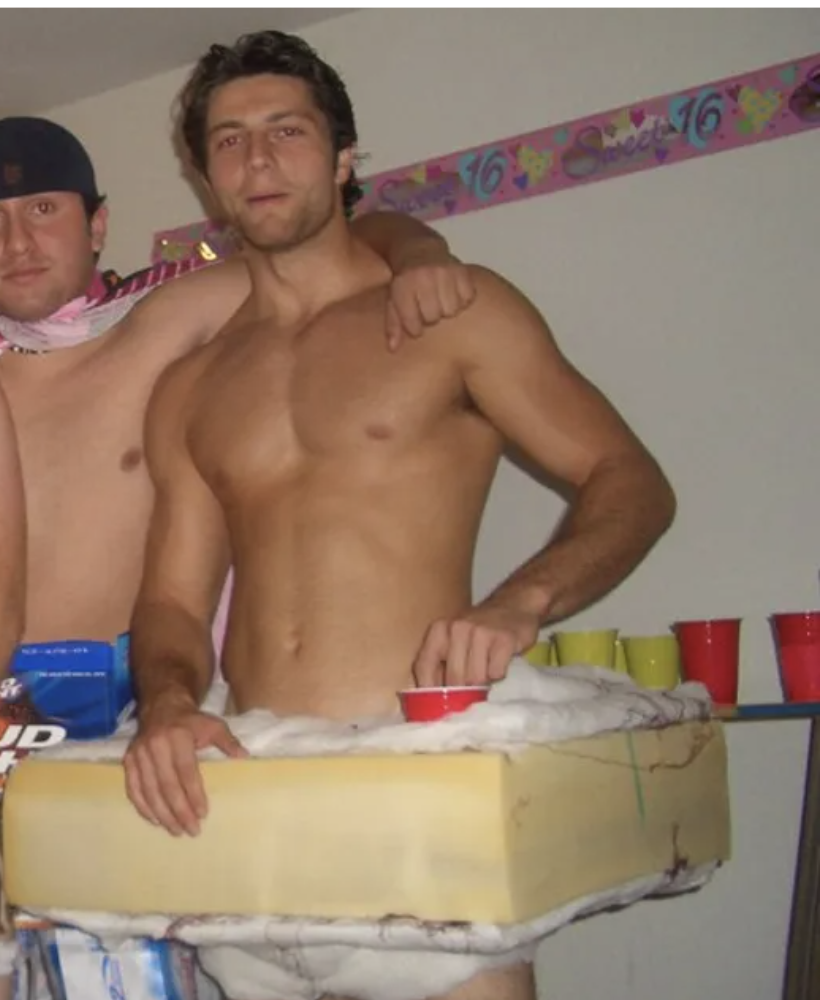 This memory foam mattress idea is pretty crazy and super funny!
Cut out a nice sized square from an old memory foam mattress and make a hole in the middle to fit your body through.
Just be careful not to bump into everybody in the party.
Other Anything But Clothes Party Ideas
If you're looking for even more ABC costume ideas to try, take a look at these ideas:
A Victoria Secret bag
Trash Bag
Plastic Bag
Red Solo Cups
Lily Pads
Rugs
Shower Curtain
Rubber Gloves
Party Streamers
Feathers
Candy Wrappers
Balloons
Yoga Mats
Table Cloth
Post It Notes
Keep in mind that most of these ideas can be fashioned into whatever you want. In other words, your options are basically endless!
Final Thoughts
Hopefully these 25 best anything but clothes costume ideas helps you out for a sick party!
So many cheap and simple options on the list can be whipped up in 10 minutes if you're looking for something fast.
Also, consider making some sort of DIY backpack or pockets to store your things while you're wearing silly outfits.
Have fun at your ABC party!
If you have any comments, questions, or suggestions leave them down below. Thanks for reading!